Sweet and Spicy Boneless Chicken Thighs
This post may include affiliate links that earn us a small commission.
These Sweet and Spicy boneless Chicken thighs are incredibly delicious and made on the stovetop. The dry spice rub is sweet-spicy and is a blend of brown sugar and other spices. This easy 15-minute recipe qualifies as a perfect midweek dinner.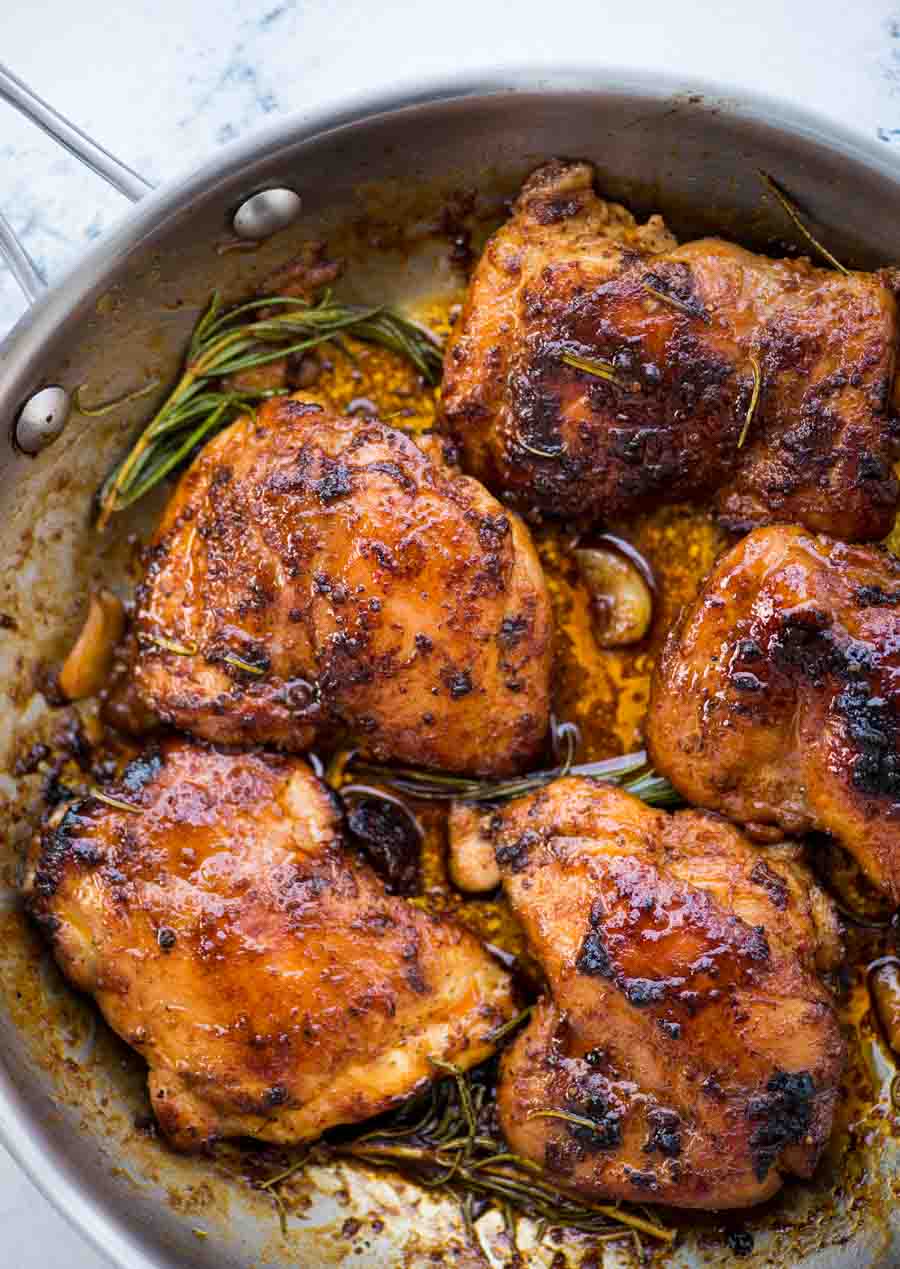 Coated with an incredible sweet and spicy dry rub, these boneless, skinless chicken thighs taste delicious. The sweet-spicy dry rub for the chicken is really simple and quick to make.
To add to the convenience, the rub has regular pantry staples. For days when you don't have your dinner planned or you are short on time, recipes like these come to the rescue.
Flavours In Your Inbox
Subscribe for recipes straight to your inbox
The chicken turns out crispy on the outside and has a juicy center. Seeing the golden crust, what would surprise you is that these are made on the stovetop in less than 15 minutes.
The stovetop version is as good as the oven-baked one but takes half the time. Quite simply, this is one of my top chicken thigh recipes.
Another great thing about this recipe is the sauce. It has plenty of sauce to drizzle, not to mention all the brown caramelized bits in it, and the sauce keeps the thighs moist for a long time.
Crispy skin-on chicken thighs are BAE. But crisping the skin on the skillet and then finishing it in the oven takes time. So I prefer to use boneless, skinless chicken thighs to speed up the cooking. And it is possible to get a golden, crispy crust on the stovetop.
As far as stovetop recipes go, this one is one of the best.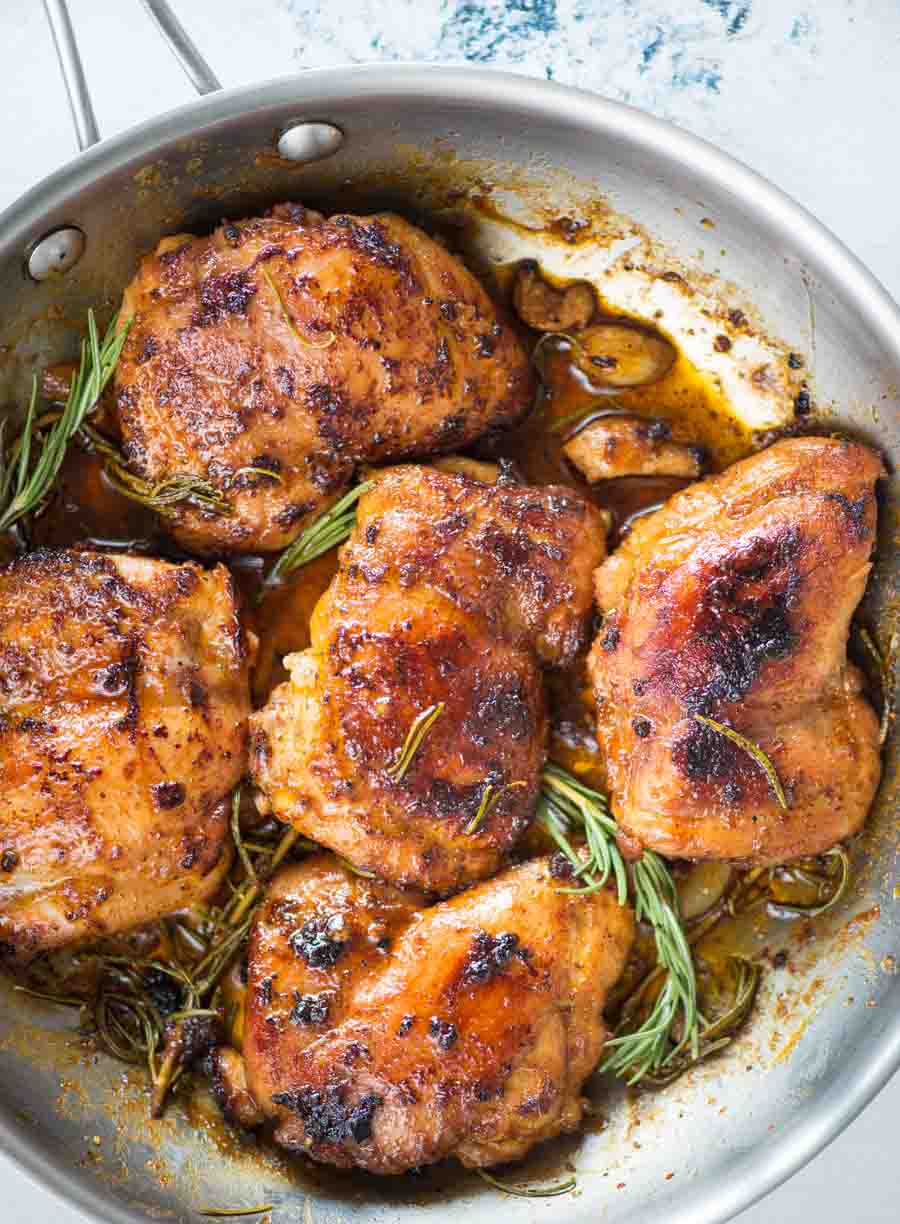 Epic Sweet and Spicy Dry Rub
This spicy rub is everything in this recipe. It is a blend of Brown sugar, garlic powder, onion powder, paprika, smoked paprika, salt, and pepper. All these ingredients are easily available.
Brown sugar doesn't make the seasoning very sweet. Rather, it brings together all the flavors. Smoked paprika gives off a smokiness that is so delicious.
The best thing about this seasoning mix is that you can make a big batch and keep it in an airtight container. It comes in handy.
Ingredients
Along with the above-mentioned ingredients to make the dry rub, you will also need the following:
Chicken thighs: I recommend skinless, boneless chicken thighs, which are ideal for this recipe and cook at the same time as the glazy sauce.
Butter and Oil: We add butter for more flavor, and oil is used to increase the burning point of butter.
Rosemary: Love the herb flavor of rosemary.
Chicken stock: Gives a body to the sauces.
Garlic: I have used cloves of garlic, which, when cooked along with the stock, infuses it with its flavor.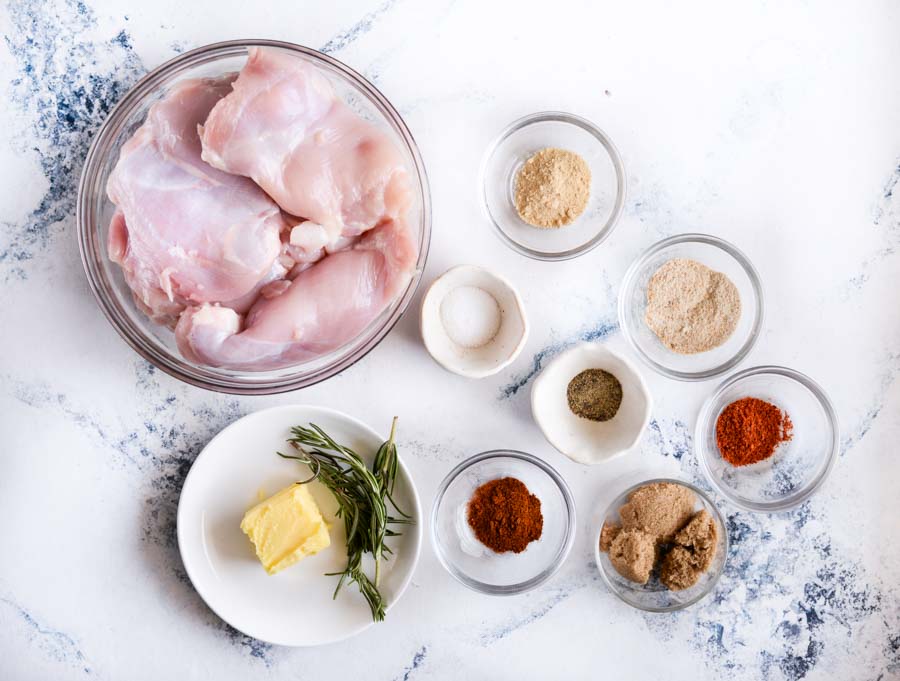 How to cook chicken thighs with dry rub
The entire process just takes 15 minutes and is very easy to follow.
Prep – First thing to do is to make the dry rub ready. In a small bowl, mix all the ingredients required to make the dry rub seasoning. Next, pat the chicken pieces dry with a kitchen towel. Sprinkle the dry seasoning on all sides and gently rub them over.
Sear the chicken – On a hot cast-iron skillet, with butter and oil, stir-in garlic cloves for 30 seconds. Place the seasoned chicken thigh pieces with their flat side down. Cook on medium heat for 5 minutes. Flip them and cook again for 2 minutes. The top surface should have a golden crust now.
Cook the sauce – Now, pour in the liquids like stock along with rosemary. Scrap the bottom of the pan to free those scraps stuck to the bottom. They have flavor and we want that in the sauce. Cover with a lid and cook on high heat for 2 minutes.
Reduce the sauce – Uncover the lid and reduce heat to low and let the sauce simmer. We do not want the sauce runny and with the lid open, you can watch it reduce to the desired consistency. Do not let it on for longer else the sauce will burn.
Serve and enjoy!
Cooking Tips
It is a good thing that cooking with chicken thighs is very forgiving. Unlike Chicken breasts, thighs don't get rubbery and dry if cooked for a little longer.
To get the best out of skinless boneless chicken thighs, cook it right.
A mix of butter and oil works always better. Butter gives richness to the sauce and oil prevents the butter from burning.
Do not overcrowd the pan with too many thigh pieces. The chicken pieces will steam instead of getting a sear. If you have a small pan, sear the pieces in batches.
I love garlic and always go a little overboard with it. It adds more flavor to the pan sauce.
Chicken and rosemary is a fantastic combination. It gives a freshness to the dish. You can substitute it with thyme or parsley if you prefer.
Frequently Asked Questions
How to get a crispy crust on chicken thighs?
For a crispy crust, sear seasoned chicken thighs in butter for about 2-3 minutes. Press with the back of the spatula, so that the boneless chicken thighs are almost flat on the skillet.
This ensures the chicken is seared evenly. Then lower the heat and cook slowly for another couple of minutes for the chicken to cook through.
Can this be made with Chicken Breast?
Chicken breast is the widely preferred cut. It is leaner and comparatively inexpensive. Yes, we can use chicken breast instead.
Cut chicken breast lengthwise to get a thinner uniform fillet and also adjust the cooking time accordingly.
For thicker cuts of chicken breast, you will have to pound them to form a softer and thinner slice.
Also, reduce the amount of chicken stock as the breast pieces cook much faster than the sauce can reduce to your desired consistency.
Can we use bone-in chicken thigh?
Note that bone-in chicken requires more time to cook and by that time there is a chance for the sauce to burn. So this recipe recommends boneless.

Yet if you have to do with bone-in chicken, the sauce might thicken and burn by the time the chicken gets cooked. So add more chicken stock when the sauce thickens to give more time for the chicken to cook while the sauce thickens up again and forms a glaze.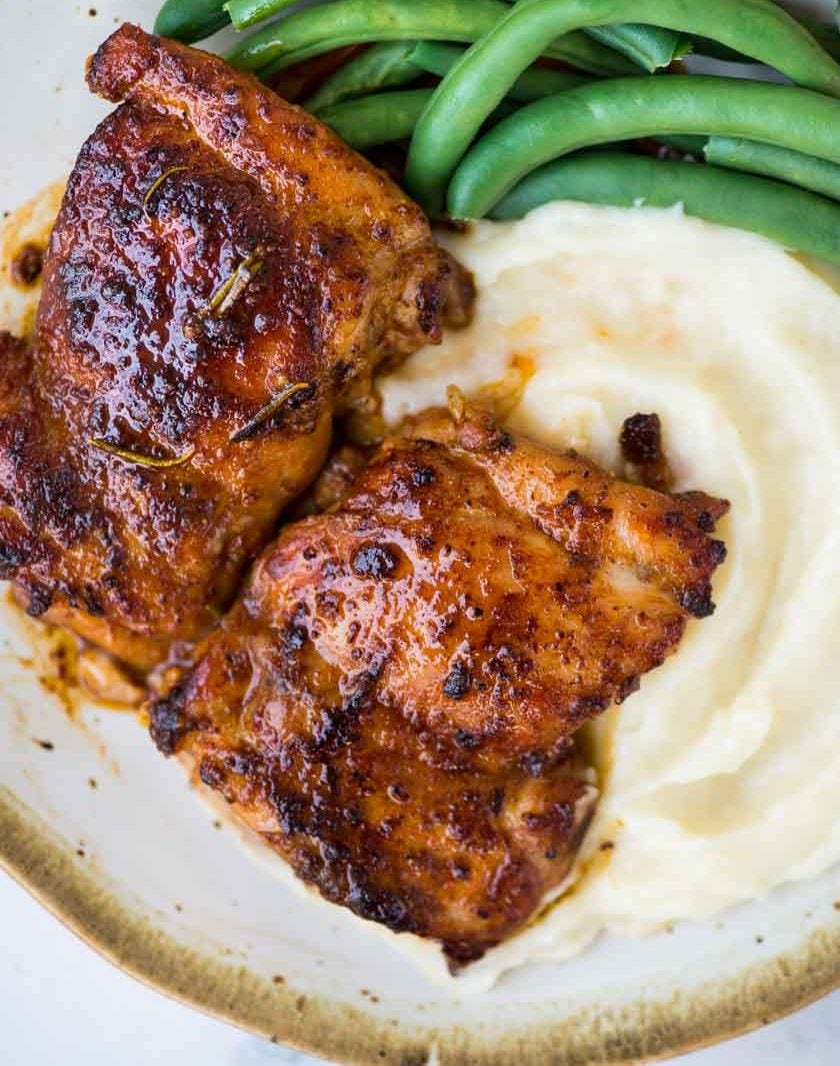 Serve With
These sweet and spicy chicken thighs are very versatile and go with a variety of sides.
Store
You may store the cooked chicken thighs as it is in either the refrigerator or freeze them. Always use an air-tight container or zip-lock to store them.
While taking them out from the refrigerator, just warm them in the microwave or on a pan for 5 minutes.
If you have frozen them, then let them thaw out until they come up to room temperature. Microwave or heat it on a pan.
We do not have to sear the chicken thighs again and the sauce just needs to be hot again and will warm the thighs too.
More Chicken Thigh Recipes
Have a look at some of the awesome dishes that you can make with chicken thighs –
Sweet and Spicy Boneless Chicken Thighs – Chicken thighs made on the stovetop with a delectable sweet-spicy dry rub featuring brown sugar and aromatic spices.
Honey Garlic Chicken Thighs – A sweet, sticky, and savory honey garlic sauce with seared thighs.
Slow Cooker Creamy Chicken Thighs – Tender, fall-off-the-bone chicken thighs slow-cooked to perfection, topped with a flavorful creamy sundried tomato sauce.
Garlic Butter Chicken Thighs – Deliciously juicy boneless skinless chicken thighs in a buttery garlic sauce – a quick and easy stovetop dinner ready in 30 minutes.
Oven-Baked Creamy Chicken Thighs – Try our oven-baked Crispy Parmesan Chicken Thighs recipe, featuring perfectly seasoned juicy chicken with crispy skin, making it an ideal choice for a quick and satisfying weeknight family dinner.
Chicken Paprikash – Discover the authentic flavors of Chicken Paprikash, a comforting Hungarian stew featuring tender chicken pieces braised in a creamy and flavorful paprika sauce.
Street-style Chicken Shawarma – As good as street-style shawarma, this has juicy and roasted chicken, a flavorful garlic sauce, and pickled veggies in soft pita bread.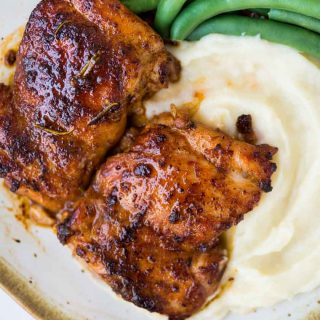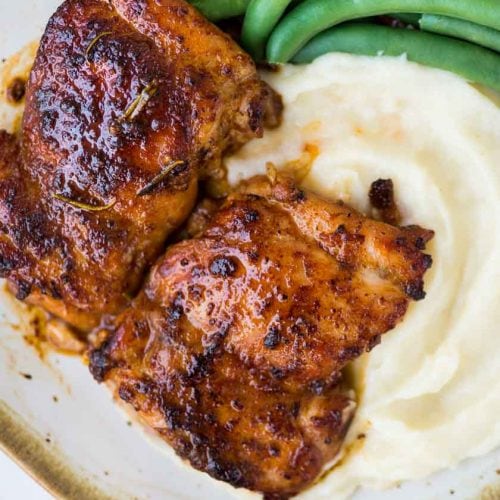 Sweet & Spicy Boneless Chicken Thighs Recipe
Boneless chicken thighs in a delicious Sweet and Spicy sauce, perfectly caramelized on the outside. A perfect mid-week dinner that you will make again.
Equipment
pan to fry and sear the chicken thighs as well as cook the sauce.
Ingredients
6-7 Boneless Skinless Chicken Thighs
1 tablespoon Butter
1 tablespoon Oil
2 Garlic Cloves
¼ cup Chicken Stock
2-3 sprigs Fresh Rosemary
For Spice Rub
2 tablespoon Light Brown Sugar
1 teaspoon Garlic Powder
½ teaspoon Onion Powder
½ teaspoon Smoked Paprika
½ teaspoon Chili Powder (ref note 3)
¼ teaspoon Black Pepper
½ teaspoon Salt
Instructions
Preparation
In a bowl mix all dry ingredients mentioned under spice rub.

Pat dry Chicken thighs with a kitchen towel.

Sprinkle the dry seasoning mix generously on both sides.
Sear the chicken thighs
Heat a heavy cast iron skillet. Add butter and oil.

Stir in garlic cloves and fry for 30 seconds. Garlic should look light golden in color and it loses the raw smell.

Place chicken thighs flat side facing down. Cook on medium-high heat for about 5 minutes, until it is crispy and golden.

Flip and cook the other side now for another 2 minutes on medium-high heat
Add liquids for sauce
Slowly pour 1/4 cup stock to the side of the pan. Add rosemary sprig. Scrap the bottom of the pan to release any brown caramelized bits.

Cover the pan with a lid and cook on high heat for another 2 minutes.

Uncover and simmer it for another minute or so for a thick sauce to form.
Serve
Serve along with rice, beans, or veggies with the sauce drizzled on top.

Watch how to make this with step by step instruction video after the recipe.
Notes
You might not need all the spice mixture here. Save any leftovers in an airtight container to use later. 
Don't overcrowd the pan, or else the chicken will not crisp up and will start to steam instead. If the pan is small, sear it in 2 batches. Then add all the chicken back to the pan and add stock and rosemary. 
Substitute Chili powder with paprika or adjust the quantity of chili powder as per taste. 
Nutrition
Serving: 100grams | Calories: 293kcal | Carbohydrates: 8g | Protein: 33g | Fat: 14g | Saturated Fat: 4g | Cholesterol: 169mg | Sodium: 491mg | Potassium: 440mg | Fiber: 1g | Sugar: 6g | Vitamin A: 374IU | Vitamin C: 1mg | Calcium: 23mg | Iron: 1mg