This post may include affiliate links that earn us a small commission.
A super easy salad with tender yet crisp broccoli with onion, a spattering of seeds, bacon, and nuts in a creamy and light yogurt-based dressing.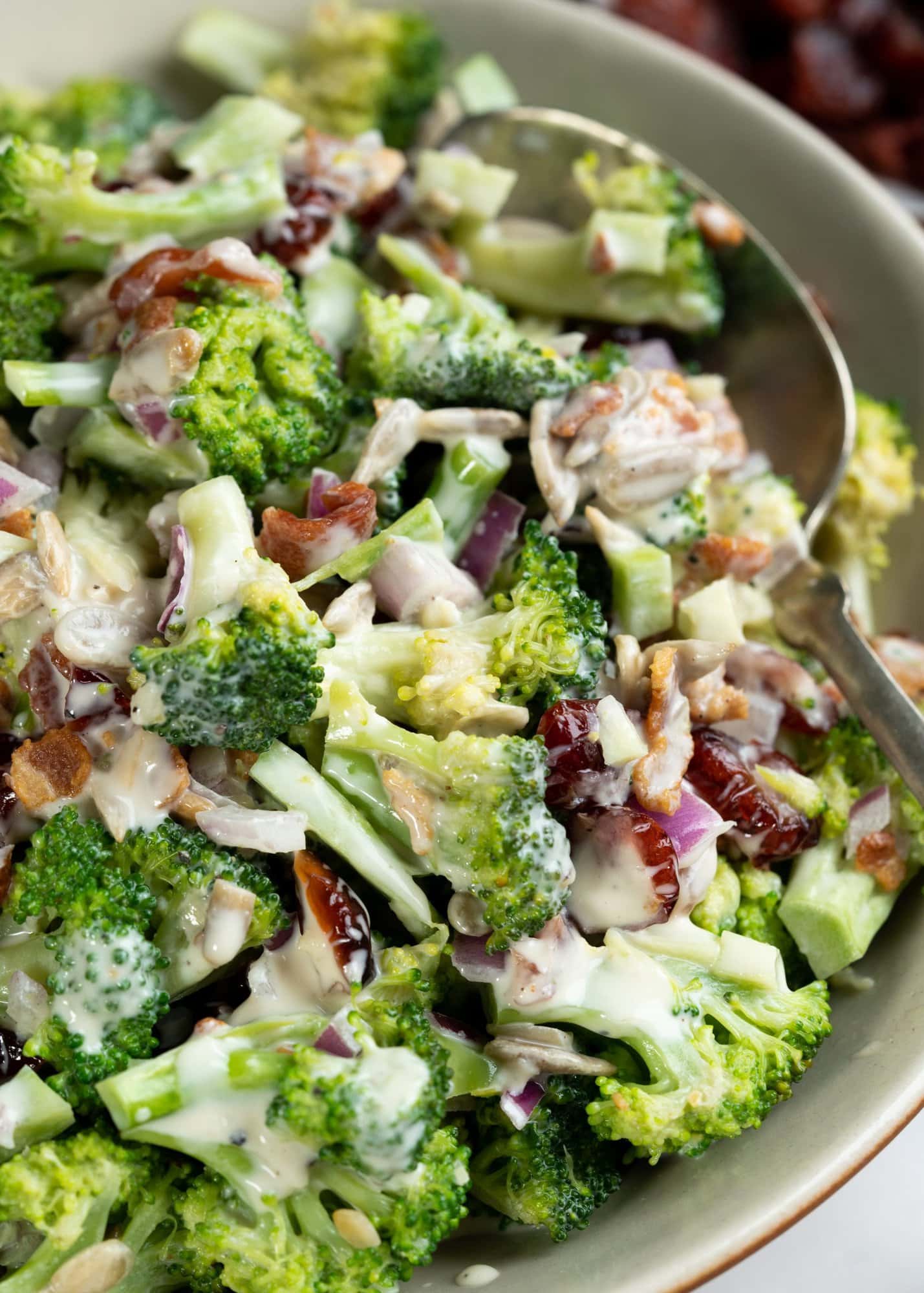 This winter salad recipe takes a healthy vegetable like broccoli, adds flavor-powers like bacon and onion, and makes it interesting with cranberries and sunflower seeds. It also has a light yogurt-based well-balanced dressing made with greek yogurt, little mayo, vinegar, mustard, and garlic.
This broccoli salad now has everything going for it – taste, a sharp, well-balanced dressing, nuttiness from the seeds, and a slight sweetness from the berries and dressing.
Flavours In Your Inbox
Subscribe for recipes straight to your inbox
I look to cook with seasonal produce as much as I can. Broccoli season spans autumn, winter, and fall, and I love to add this to my meals for its nutritional benefit. So, I constantly look to cook exciting recipes to make this not-so-popular vegetable appealing. Check out some of my recent broccolicious shares – Broccoli Cheddar Soup, Stovetop Chicken Broccoli Rice Casserole, Chicken Broccoli Pasta, and Airfryer Roasted Broccoli.
A tasty and creamy dressing with crisp broccoli fits the bill. This recipe is so easy I could have just mentioned "chop and toss" in the recipe card, and that wouldn't be a wrong summary apart from the bacon-frying part. If you get chopped veggies and bacon bits from the store, it is just tossing them.
Light and creamy yogurt-based dressing
Greek yogurt is best for making a creamy salad dressing. Made with whole milk, it has high protein-to-calorie ratios, making it desirable in all diets. It makes all dressing healthy, nutritious, and creamy while saving you from overly oily mayo-based dressings.
You are substituting the bulk of the usually-added mayonnaise with yogurt to make creamy dressings. But if you may, add a couple of spoonfuls of mayo to transform the dressing into a rich and indulgent one. It is optional and not too much, but it makes the dressing delicious.
You can make ahead this creamy dressing. Letting the dressing rest allows the ingredient's flavors to blend, creating a creamy, sharp, tangy, and slightly sweet taste. This dressing stays in the refrigerator for a few days and thus is excellent to make in bulk and use in salads and meat dishes.
Blanching for tender and crisp broccoli
Blanching is partially cooking vegetables, like broccoli, carrot, and peas, to prepare them for freezing, canning, and further cooking, or consuming them by adding them to dishes. We will blanch broccoli to cook it partially by making it tender but retaining its texture, color, and flavor, which get lost when you thoroughly cook it by boiling.
It involves briefly boiling broccoli in water and then immediately dipping them in ice water. The brief boiling kills enzymes and cleans the vegetable while the ice water stops further cooking, leaving the broccoli fresh, tender, yet crisp.
Once the broccoli is completely cooled, drain and pat them dry. At this point, the florets can be used in this salad recipe. You could also freeze or can them immediately.
Note – after removing the stem, you can blanch the broccoli florets or the whole broccoli itself. You can then chop the blanched broccoli to florets afterward.

Ingredients
For salad
Broccoli – Chop broccoli into small florets so you can taste everything in one spoonful.
Red onion – Red or yellow onions will do.
Bacon – uplifts the simple veg salad with flavor
Seeds – I chose sunflower seeds
Berries – Choose between cranberries or raisins or mix them up.
(Optional) – You can add some chopped nuts like pecan and almonds to this.
For dressing
Yogurt – Greek yogurt gives a creamy texture to the salad dressing.
Mayonnaise – just two spoonfuls to make the dressing rich and extra creamy.
Cider vinegar – gives a fruity taste and hint of sweetness, which works excellent for dressings where we do not use olive oil.
Dijon mustard – not very hot and mild mustard that adds a tangy and sharp flavor to the dressing.
Maple syrup – helps offset all that acidity and tanginess of the other ingredients with its sweetness.
Garlic – the best aromatic used in a wide variety of dishes.
Salt & pepper – use as per taste and tolerance
How to make
Make the dressing
The dressing is relatively easy to prepare. Mix all the ingredients in a bowl and let it rest for a few hours, if possible, to blend the flavors. Remember, you can make this dressing ahead of time and refrigerate it.
Blanch the broccoli
First, bring a pot of water to a rolling boil to blanch broccoli. Then, add the broccoli or chopped florets and cook them briefly for a minute. After that, remove the vegetables from the boiling water and immediately plunge them into a bowl of ice water.
If you have blanched the whole broccoli, you can now chop it into florets.
Cook bacon
The shortcut here is to use store-bought crispy bacon bits. To cook at home, chop the bacon strips using a scissor. On a hot skillet, cook them until they drain fat and become crispy. Keep the fried bacon aside.
Mix everything
Add the chopped broccoli, crisp bacon bits, seeds, and cranberries in a large mixing bowl. Drizzle half of the dressing and keep the rest. Toss everything well. Refrigerate for 30 minutes for the dressing to lightly marinate the broccoli and other veggies.
Serve it on a plate with some more dressing drizzled on top.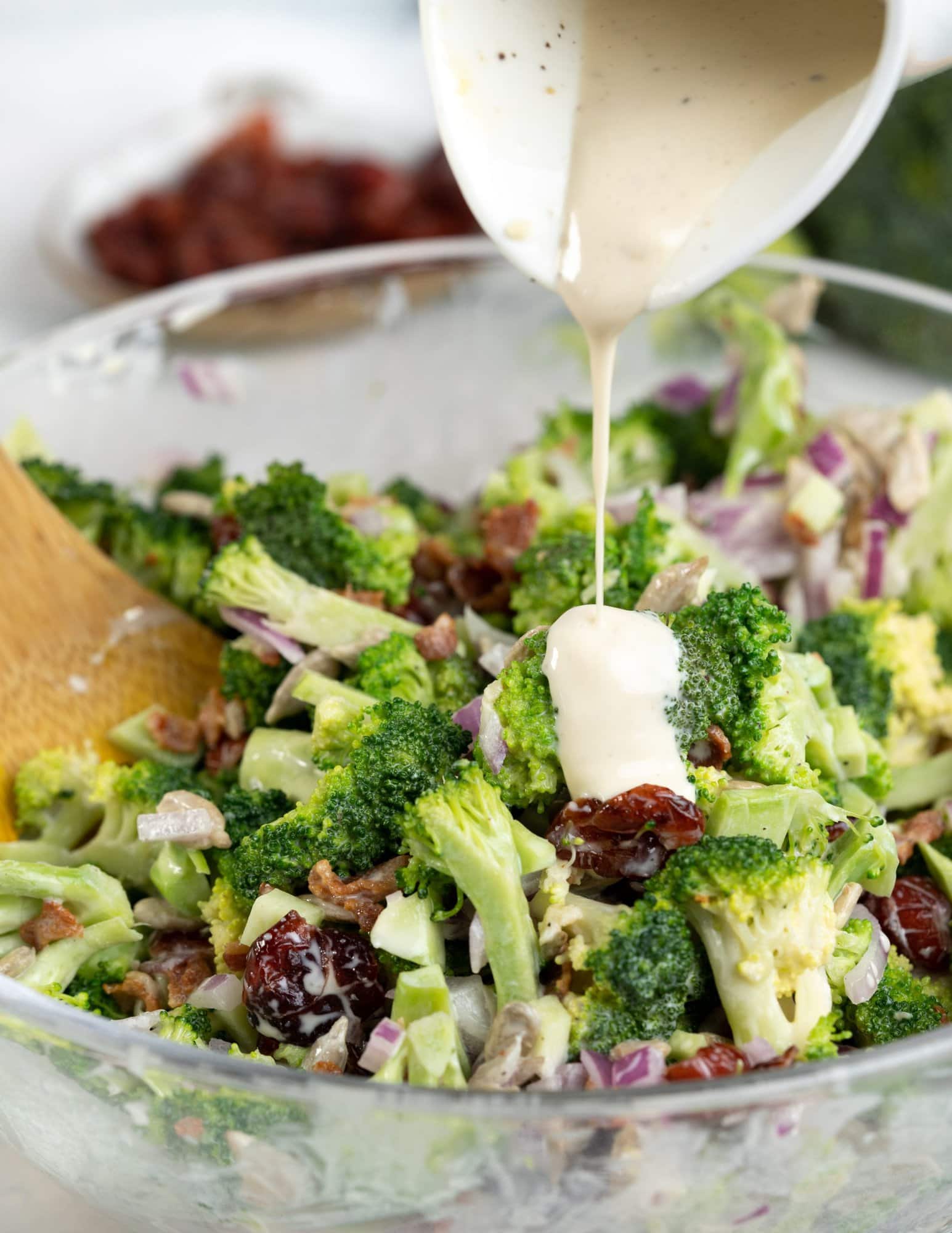 Store
Broccoli salad is kept very well in the refrigerator. You can keep it in an air-tight container or wrap an open container with foil and store up to 4 days.
Please do not add the bacon before you store it. Instead, toss the salad with bacon when you intend to serve it. Bacon tastes good when crisp but will get soggy by absorbing the liquid from the dressing.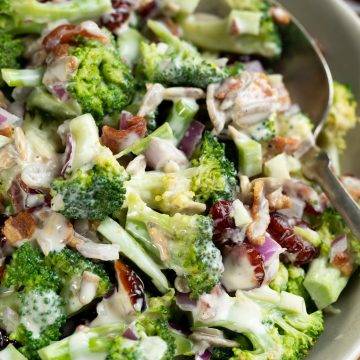 Creamy Broccoli Salad
Fresh crunchy broccoli, red onion, seeds, and bacon tossed in a creamy yet light yogurt dressing.
Ingredients
2 Heads Broccoli
½ cup cranberry
½ cup sunflower seeds
⅓ cup bacon
1 medium red onion diced
Creamy Dressing
⅓ cup yoghurts (full fat)
2 tablespoon mayo
2 tbsp apple cider vinegar
1 teaspoon Dijon mustard
1 tablespoon maple syrup
1 Garlic
Salt and pepper
Instructions
Creamy Yogurt Dressing
Mix all the ingredients for dressing in a bowl. The dressing can be prepared upto 2 days ahead and refrigerated. Resting the dressing helps to develop flavor.
Salad
Blanch whole broccoli head in a bowl of hot water with the stem up for 1 minute. Remove and put it in ice-cold water. Drain well and cut into florets. Also, chop tender stem.

Roughly chop bacon strips using a scissor. Cook in a hot skillet until crispy, drain fat, and keep aside. To save time use packaged crispy bacon bits.

In a big salad bowl add chopped broccoli, diced onion, bacon bits, cranberry, and sunflower seeds.

Drizzle half of the dressing and toss well. Keep refrigerated for 30 minutes.

Serve with more dressing drizzled on top.
Nutrition
Serving: 1serving | Calories: 377kcal | Carbohydrates: 33g | Protein: 16g | Fat: 24g | Saturated Fat: 5g | Polyunsaturated Fat: 9g | Monounsaturated Fat: 8g | Trans Fat: 0.04g | Cholesterol: 19mg | Sodium: 302mg | Potassium: 1213mg | Fiber: 10g | Sugar: 11g | Vitamin A: 1943IU | Vitamin C: 276mg | Calcium: 198mg | Iron: 3mg