Stovetop Chicken Broccoli Rice Casserole
This post may include affiliate links that earn us a small commission.
What's not to love about this one-pot Chicken Broccoli Rice Casserole made on the stovetop. This is a super simple and easy-to-make dinner recipe, that has creamy rice, juicy chicken, broccoli, and cheese.
Chicken and rice together are always a favorite and this Chicken Broccoli rice casserole is no different.
Flavours In Your Inbox
Subscribe for recipes straight to your inbox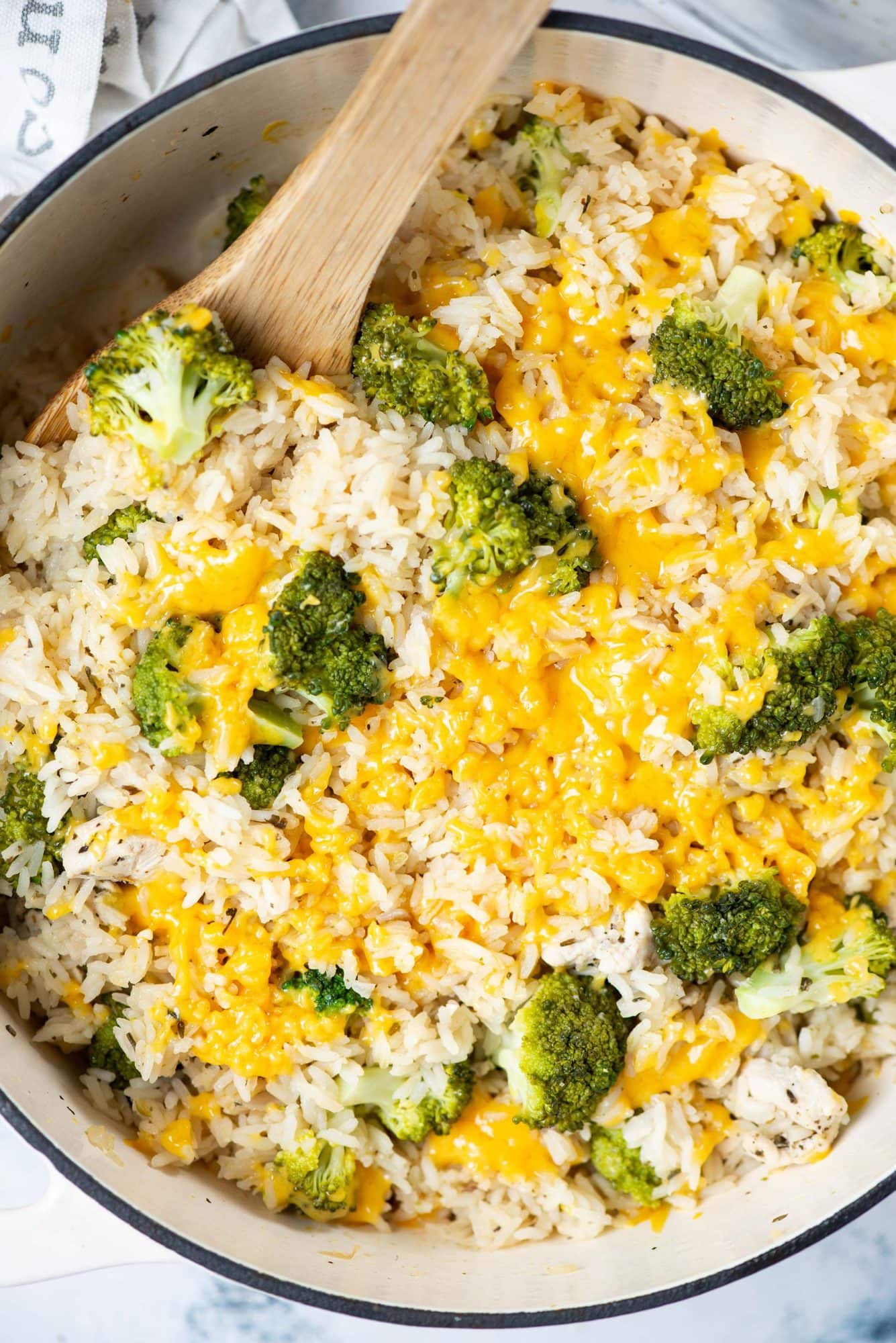 Rice, Chicken, broccoli and to make taste everything better there is cheese in this delicious one-pot dinner recipe. Nice fluffy flavourful rice, chicken, and broccoli is a complete meal in itself.
This version is not creamy, like other Chicken Broccoli Rice Casserole recipes. If you are looking for a creamy version, I have included instructions for that as well, but of course without using canned soup mix. I am not someone who would think of using a can of soup when you can make the same thing from scratch.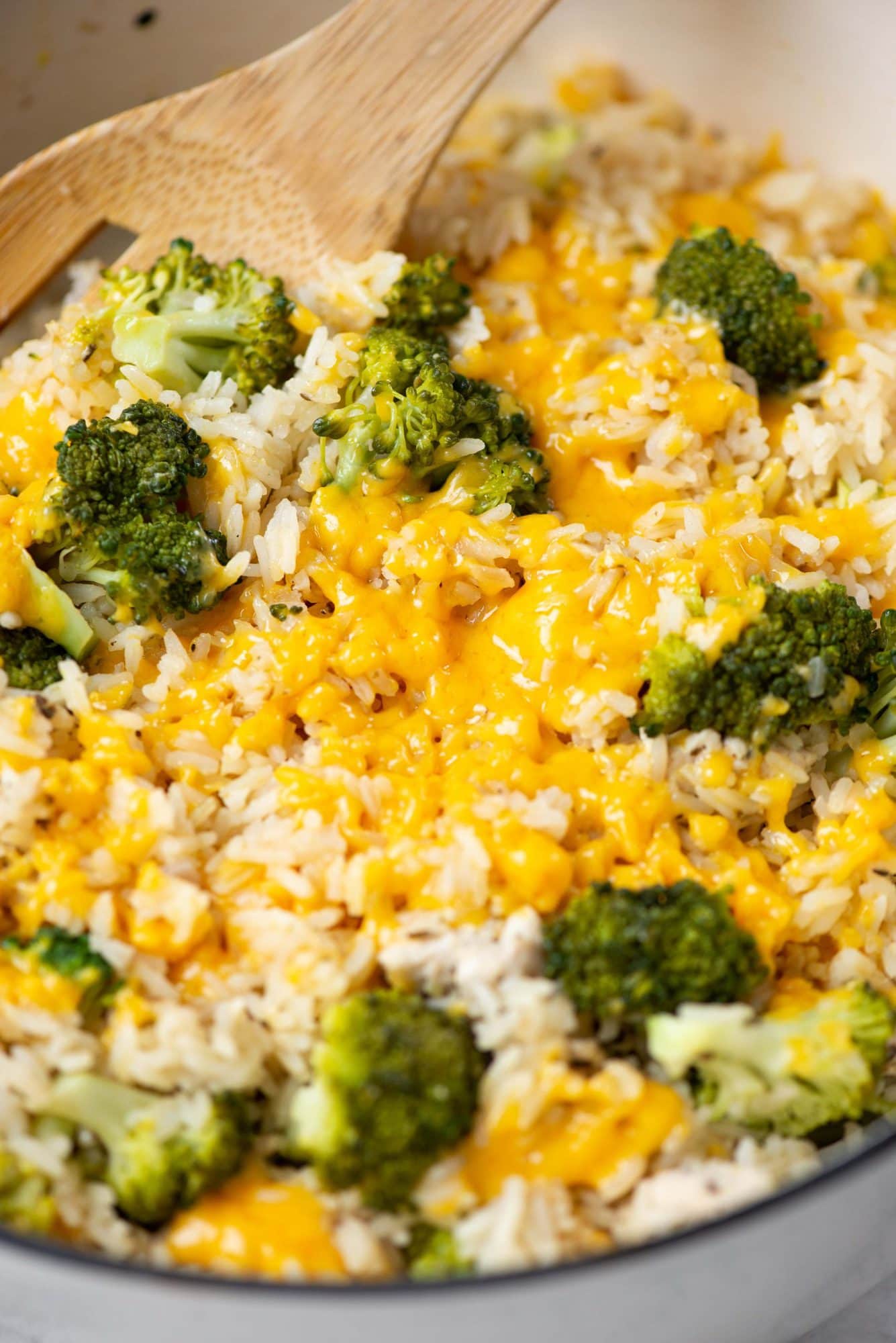 If you are looking for recipes with chicken thigh, check out –
Street-style Chicken Shawarma,
Rosemary Lemon Chicken Thighs,
Sweet and Spicy Boneless Chicken Thighs
Creamy Honey Mustard Chicken Tenders
Oven-Baked Creamy Chicken Thighs
Ingredients
The list of ingredients is small and you barely need any preparation.
I love to use regular long-grain white rice or regular white rice. If you wish you can wash and drain rice before use. But for this particular recipe, I haven't washed the rice.
Chicken breast cut into inch cubes works here, but you can substitute with Chicken thighs without any change in the cooking time.
For cooking the rice, add Chicken stock and milk. To fasten the cooking process add warm chicken stock and milk.
To prep Broccoli, I prefer blanching the florets for 20-30 seconds in hot water followed by ice-cold water. Blanching florets maintain the crunch and color.
Italian seasoning or any other mixed herbs will work.
Steps to make Chicken Broccoli Rice
Start by sauteing onion and garlic in butter until the onion has softened and the garlic is aromatic.
Then cook chopped chicken breast, and seasoning until the chicken is no longer pink.
Add rice, warm stock, and milk. Check the seasoning. Mix everything well, cover, and cook on low heat.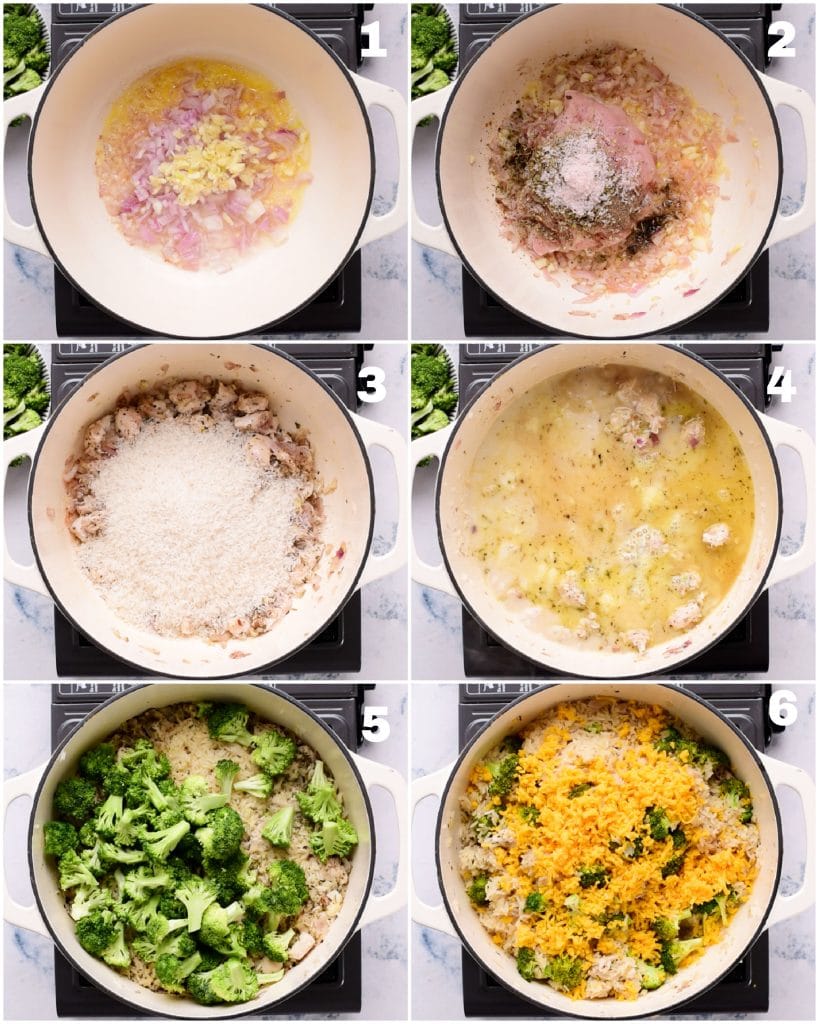 To make Creamy Chicken Broccoli Rice Casserole
With a little modification in the recipe, you can make this into a more creamy and comforting Chicken broccoli rice casserole.
Add 2 tablespoons of flour after cooking the chicken and cook for another 1 minute until the raw smell is gone.
Increase the amount of stock to 4 cups. And substitute milk with half and half.
Note: Adding the stock to the pot, scrape the bottom of the dutch oven to release any stuck bit of flour.
Storage
Leftovers can be stored in an airtight container for up to 3 days. It is a great recipe for meal prep.
To freeze, portion it into small containers and freeze for up to 3 months.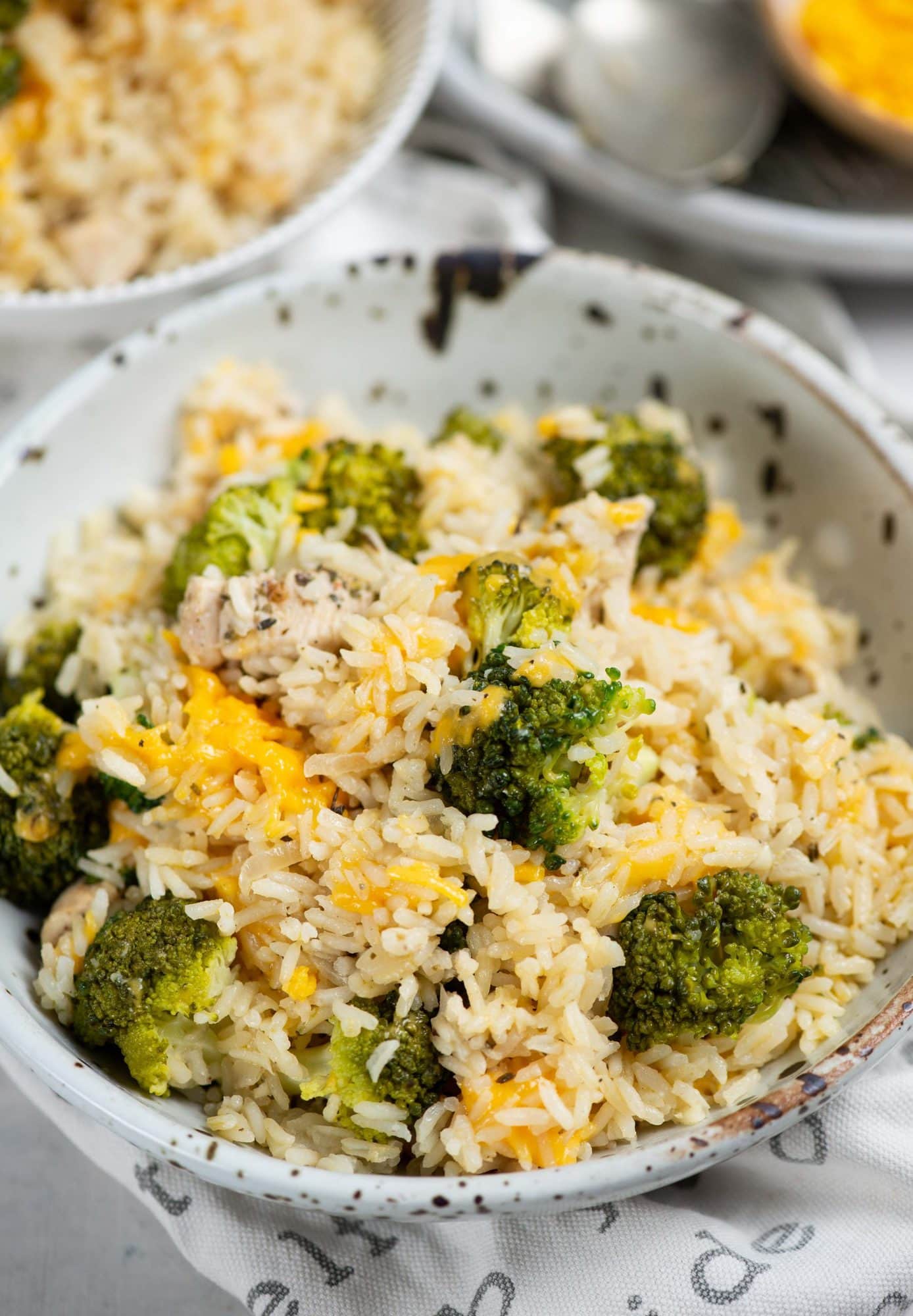 More Rice Recipe
Instant Pot Ranch Chicken and rice
Rice Pilaf With Dried Fruit and Nuts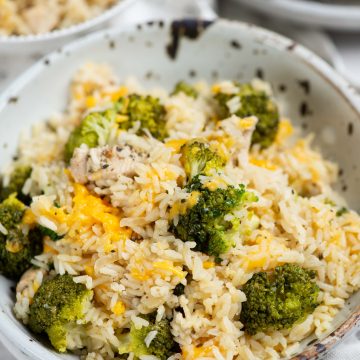 One pot Chicken Broccoli Rice
What's not to love about this stovetop Chicken Broccoli Rice casserole. This is a super simple and easy to make dinner recipe, that is even kids approved.
Ingredients
1.5 cup long grain white rice
500 grams Boneless Chicken Breast Cut into 1 inch cubes
2 medium Broccoli heads
2 tablespoon Butter
2 tablespoon Oil
1 small Onion Chopped
1 tablespoon Garlic Chopped
3 cups Chicken Stock
1 cup milk
2 teaspoon Italian Seasoning
½ teaspoon Pepper
salt to taste
Instructions
Cut broccoli into florets. Add the florets to a pot of boiling water for 30 seconds, remove and put it in a bowl of ice cold water. Drain and keep aside.
For Creamy Chicken Broccoli Rice
In a dutch oven melt butter and oil. Once hot add chopped onion and garlic. Saute for a minute. The onion should soften and garlic should be aromatic.

Add Chicken breast, Italian seasoning, salt and pepper. Cook Chicken breast for 2-3 minutes until it is no longer pink.

Add rice and stir it.

Add warm chicken stock, milk. Mix well, cover and simmer for 10-12 minutes.

When there is no liquid left at the bottom of the pot( tilt slightly to check if any liquid remaining at the bottom), take the pot off the flame. Let it rest for another 10 minutes.

Add broccoli florets. Gently mix everything. Sprinkle cheddar cheese, cover for another 5 minutes and let the cheese melt.

Serve warm. Enjoy!!
Nutrition
Serving: 1serving | Calories: 468kcal | Carbohydrates: 57g | Protein: 30g | Fat: 14g | Saturated Fat: 4g | Polyunsaturated Fat: 2g | Monounsaturated Fat: 5g | Trans Fat: 1g | Cholesterol: 70mg | Sodium: 332mg | Potassium: 1165mg | Fiber: 6g | Sugar: 7g | Vitamin A: 1474IU | Vitamin C: 183mg | Calcium: 168mg | Iron: 2mg