Street-style Chicken Shawarma
This post may include affiliate links that earn us a small commission.
Follow my tasty chicken shawarma recipe to make a warm, juicy, creamy, and spicy shawarma wrap at home. As good as street style shawarma, this has juicy and roasted chicken, a flavorful garlic sauce, and pickled veggies in soft pita bread.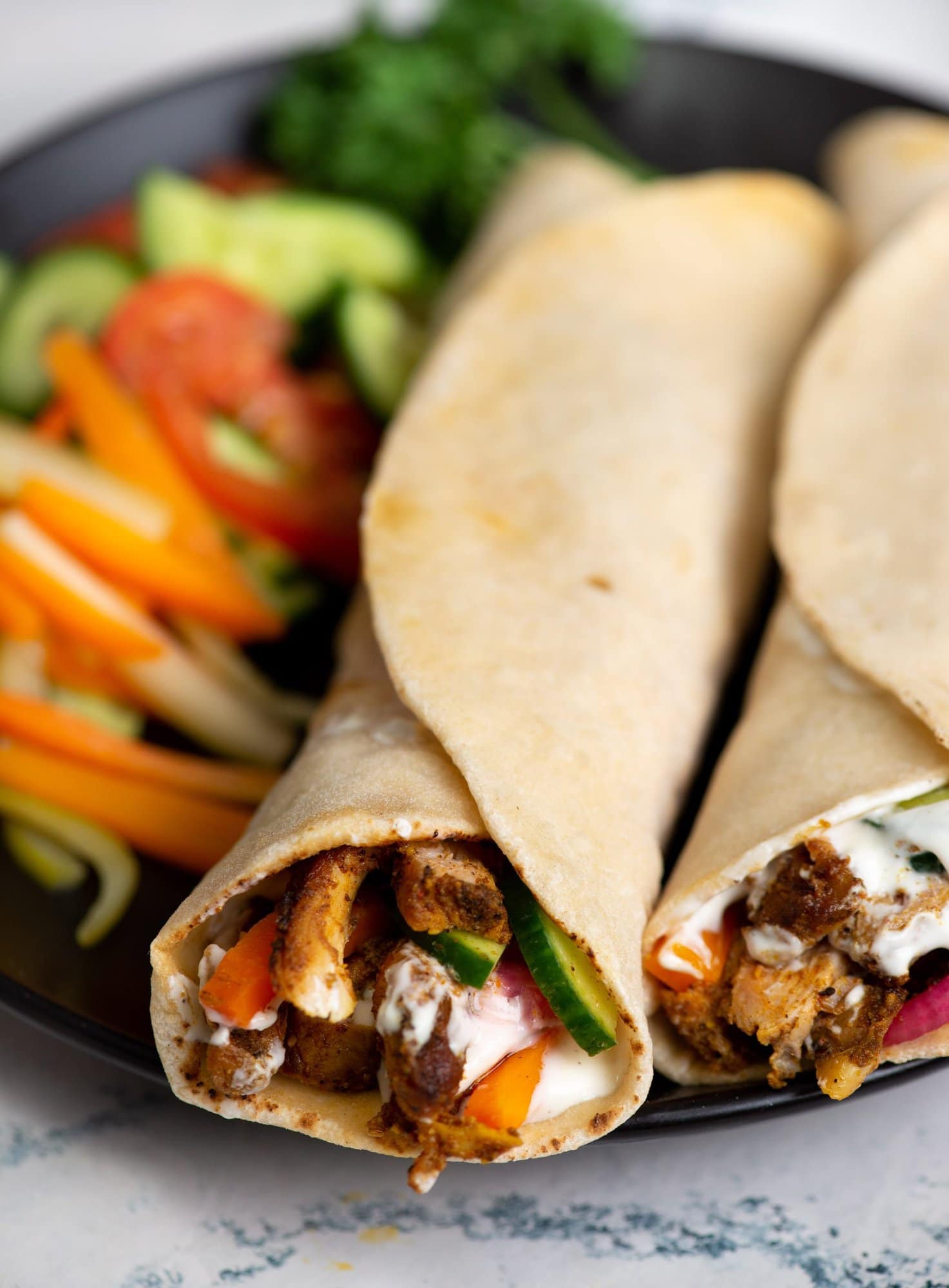 A dish from the Mediterranean that you can find the world over. Chicken shawarma has a balance of flavor, and roasted chicken with spices, garlic sauce, and pickled veggies. This fam us street food can be a healthy snack or a delicious dinner.
Flavours In Your Inbox
Subscribe for recipes straight to your inbox
Who hasn't heard of chicken shawarma? You can find it as street food in almost any city the world over, thanks to its ease of preparation, style, and balanced taste profile. This tasty wrap hits the sweet spot between spicy, sour, creamy, and grilled.
We have a lot of shops in every area in any major city in India. The experience of the chicken being sliced from the rotisserie is a treat to watch.
Moreover, shawarma has been adapted to each local, regional taste buds resulting in minor variations that still taste great.
Chicken Shawarma
Chicken Shawarma is authentically a Turkish dish and has its name from the Turkish word 'çevirme,' meaning rotisserie. It then spread across the Mediterranean and then to the rest of the world. Another variation – 'Doner Kebab' has been adapted so well in Germany that many mistake it as a traditional German dish.
My tasty variation on the traditional shawarma uses grilled chicken that has been done on the pan. Apart from that, it is made like authentic shawarma.
I do not have a rotisserie but would have loved to have it. It indeed would have been a party hit if I could scrap chicken from the sides and made those into shawarma rolls in front of my guests 🙂
This shawarma has a few elements, all of them are homemade, yet my chicken shawarma is as good as any restaurant-style shawarma.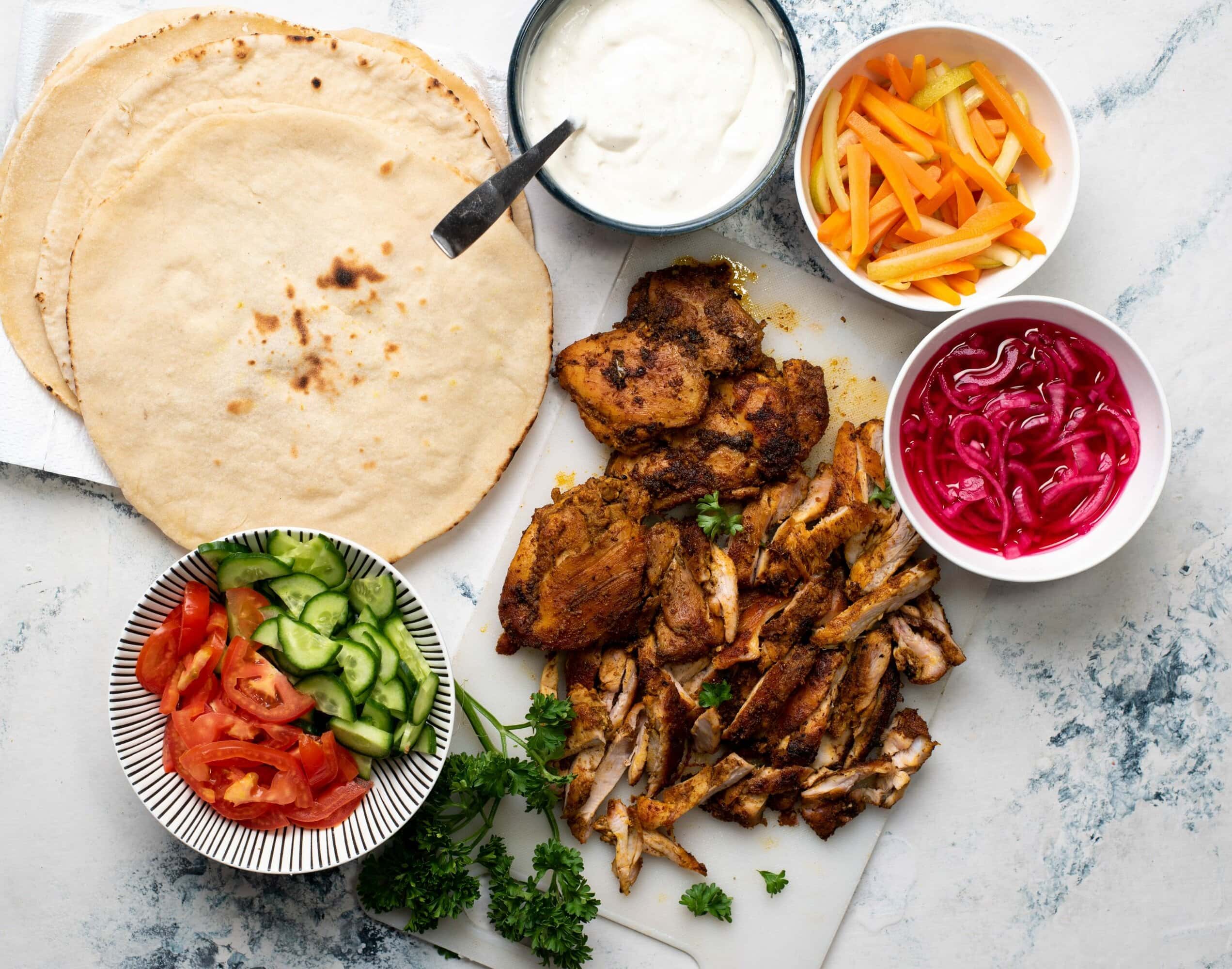 What's in a Chicken Shawarma
Pita bread – famous flatbread from the Mediterranean that can be made with pockets. Used to wrap the shawarma stuffing's.
Grilled Chicken – Chicken grilled in the rotisserie, pan, oven or air fryer.
Pickled carrots – Vegetables like carrots soaked in a salt bath and pickled in a vinegar brine.
Pickle Onions – Onions are pickled similar to carrots.
Garlic sauce – Another middle eastern dish used as a dip or spread. Garlic sauce has a creamy texture from yoghurt, mayo and flavor from chopped garlic.
Sliced Cucumber & Tomatoes – Sliced raw vegetables used in the shawarma roll along with above stuffing.
Ingredients you need
For grilled chicken
The chicken grilled and stuffed in the shawarma should be juicy and flavorful. I have a twist by combining classic middle eastern spices with pepper and cayenne. These spices would already be in your kitchen or available in nearby stores. I have not gone for other not-easily available herbs like zaatar.
Chicken thighs – Recommend boneless skinless chicken thighs. Thighs are excellent for grilling.
Minced garlic – for its flavor to the marinated chicken
Spices – typical middle eastern spices

Coriander powder
Ground cumin
Cardamom powder
Cinnamon powder
Turmeric
Black pepper powder
Smoked paprika – gives a nice color to the grilled chicken pieces.
Cayenne – for some spicy heat. Use as per your tolerance.
Nutmeg – gives that extra 'something' when used on meat.

Lime juice
Salt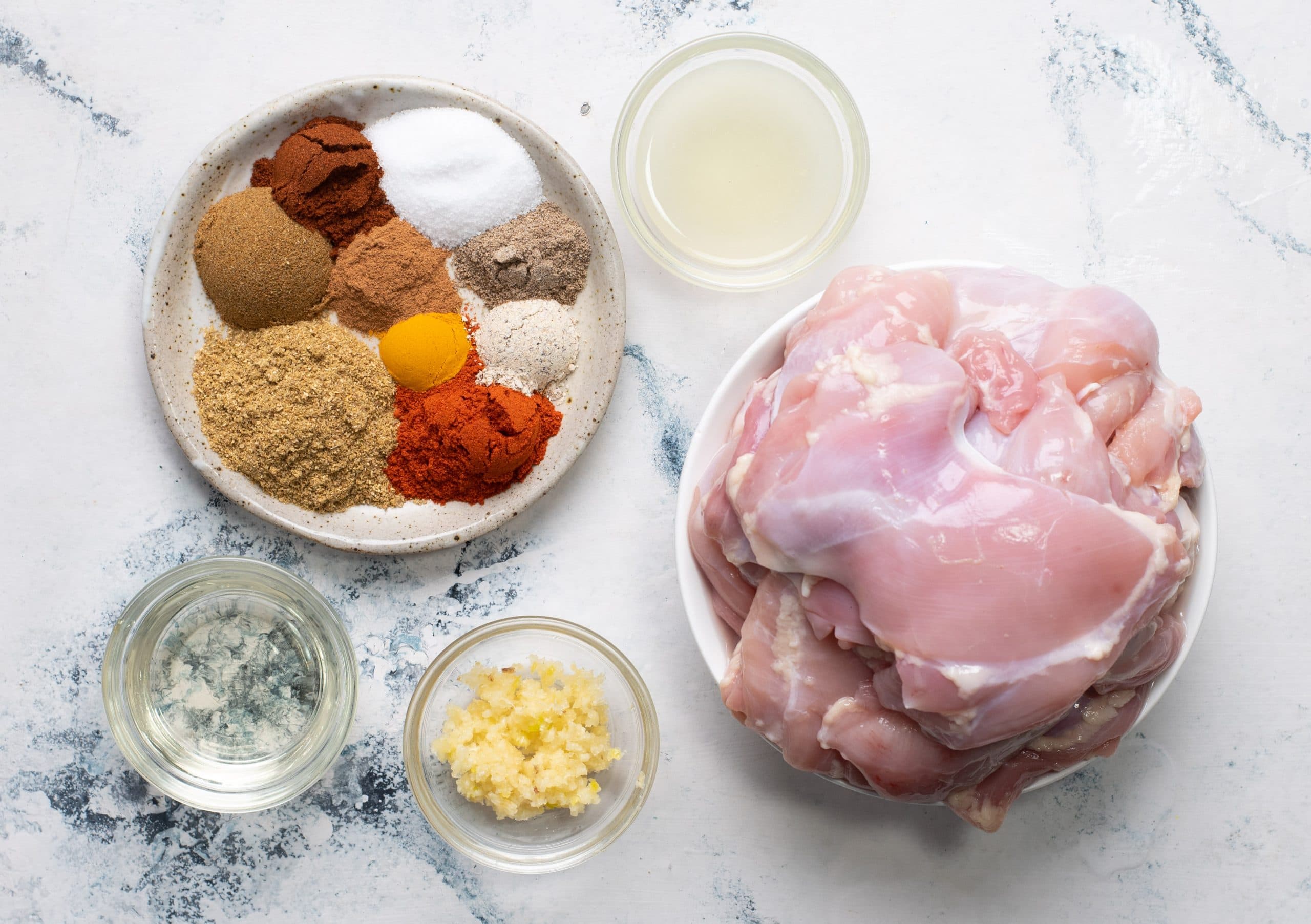 Homemade Garlic Mayo Sauce
Making homemade garlic mayo sauce is very easy, and you can make this instantly using a hand blender or food processor. It is different from the Levantine dish – Toum has fewer ingredients and uses just olive oil and does not have yogurt and mayo.
Yoghurt – serves as the base of the garlic sauce
Mayo – makes it creamy and rich
Lemon Juice – a hint of acidity helps to sharpen the flavors
Sugar – used to balance the sourness and salt.
Pepper – gives a bit of heat
Minced garlic – the hero flavor in the sauce
Salt – makes all the flavors pop and balances the taste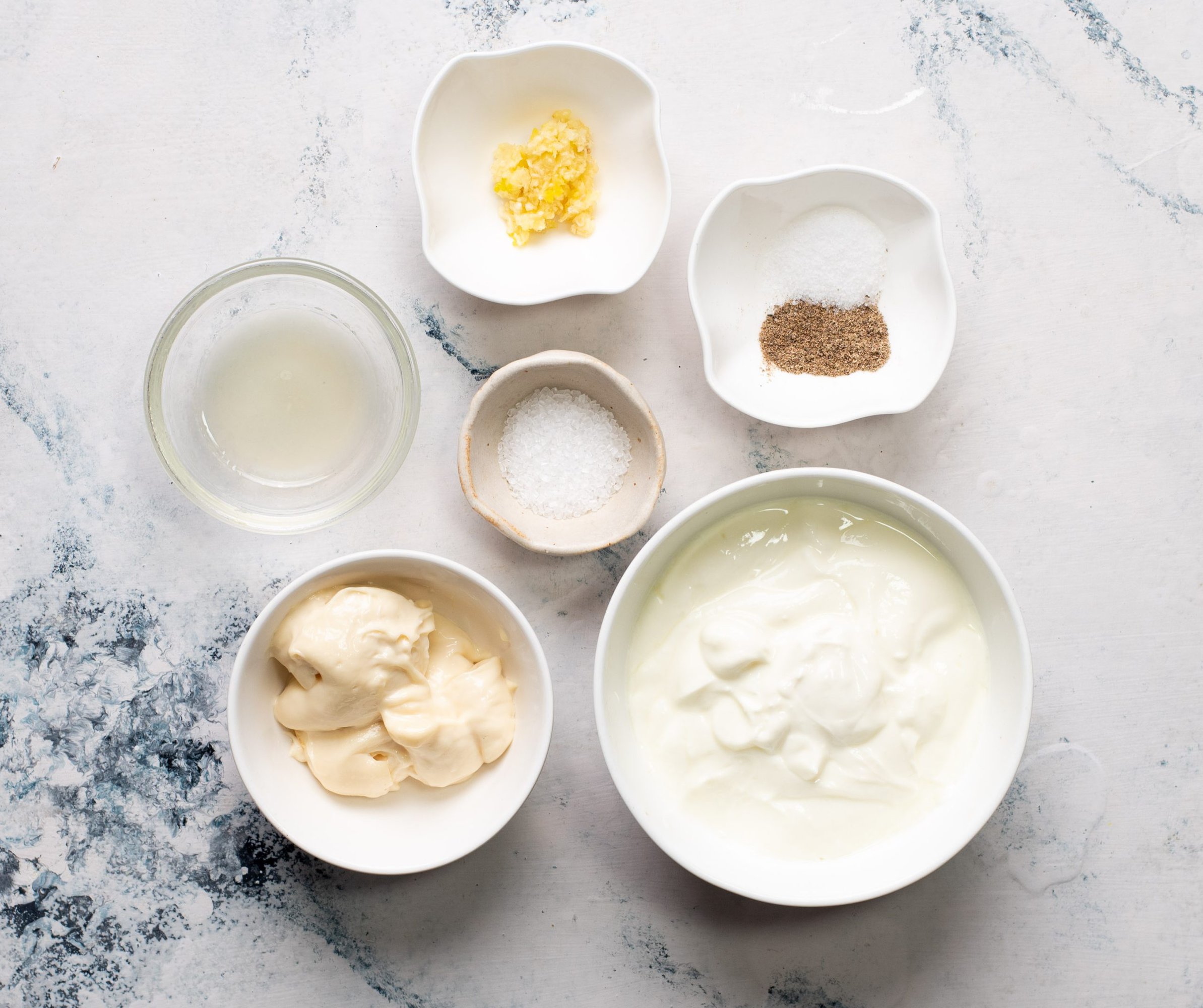 Stuffing's
Carrots – cut into long thin pieces and pickled
Sliced onions – pickled
Chopped tomato – chopped into thin pieces
Cucumber – cut into thin pieces so that can be wrapped along with chicken and pickled veggies.
Coriander leaves – chopped
How to make
As many elements go into shawarma, we will talk about how to prepare and make each aspect ready, and then at the end, I shall tell you how to roll it and make the perfect tasty chicken shawarma roll.
Buy or make pita bread
I had to make pita bread at home, and while preparing shawarma, I made pita the day before. It helps reduce my time as I focus on the rest of the element. You can also use store-bought pitas which are good enough.
I will soon share the recipe for making pita bread quickly at home. Making pita at home ensures that you can avoid any preservatives they might use to make it last longer on the shelves.
Prepare Grilled chicken
Marinate chicken with all the spices and salt. Nothing fancy here, and the marination is quite simple. Keep it aside for at least an hour, and the longer, the better. Ideally, 24 hours gives the best results.
Take a pan and heat oil in it. When you see the oil smoking, add these chicken and stir fry them until they are cooked, and you get those grilled marks on them.
Pickle veggies
Pickling vegetables is easy, and it just needs a little bit of time. You can make it in bulk and store it for a long time. Just take out as much as needed each time, and it is a nice convenience trick. I have used pickled carrots and onions here, and you can pickle them the same way.
Make a strong salt water solution with salt and water. Soak the cut vegetables in them.
Make a vinegar brine and put it in pickled jars.
Take the salted vegetables from the salt water and put it in the brine in the jars.
Make garlic sauce
Homemade garlic sauce is another element that you can make ahead and use as and when needed. Garlic sauce is full of flavors and takes the wrap to another level.
For a healthier version of shawarma, you can also substitute garlic sauce with hummus. It has the added health benefits of chickpeas, and you can also skip a lot of oil in that. In another post, I have detailed steps on making the best creamy hummus.
Chopped veggies
I have used chopped tomatoes and sliced cucumber as vegetable elements in this shawarma. Just chop tomatoes into small pieces and slice the cucumber. Keep in mind to cut them into small enough sizes as these need to fit in the wrap.
Roll it
Lay the pita flatbread open on a flat surface. Arrange grilled chicken pieces, pickled carrots, and onions, chopped veggies along the center of the wrap in a straight line. Spoon garlic sauce or hummus generously over the stuffing.
Hold one end of the pita wrap and cover it over the stuffing. Gently but firmly roll the wrap towards the open end. The filling should get adequately covered. When you have moved the wrap fully, close one end of the wrap by folding the bread and closing it.
You may wrap the pita further in thin paper or foil. The stuffing and sauce are now nicely enclosed in the pita wrap.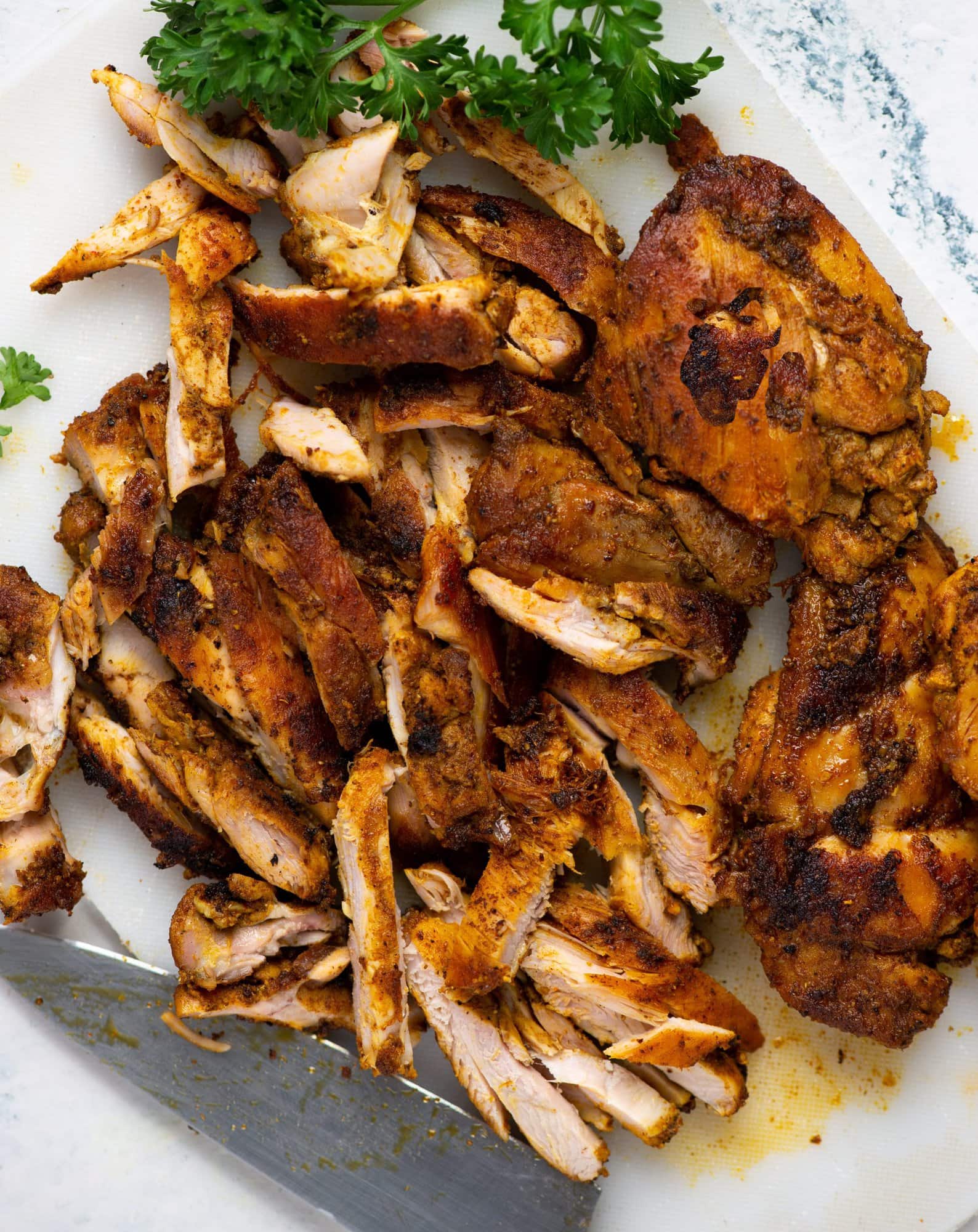 How long does it take to make shawarma
Though there are a few elements to making chicken shawarma, you can reduce the making time by getting grilled chicken, pita bread, pickled carrots & onions, or garlic sauce from a nearby store. Or you may make any of these elements ahead, like the pita bread, pickled veggies, and the garlic mayo sauce.
Make them a day or two ahead and use them while making the shawarma. You should marinate the chicken ahead (preferably 24 hours). If you reduce the prep time by making these elements ahead, just grilling chicken and rolling up the shawarma is pretty quick in 30 minutes. To reduce the grilling time, use an air fryer.
Serve With
Shawarma contains creamy garlic sauce, chicken, and vegetables. So it is a complete meal by itself if you like. You may serve it with some fresh or roasted broccoli or any other spicy dip.
Store
You can store the individual elements of the shawarma like pickled veggies, garlic sauce, pita bread for many days.
Pita bread should be stored outside rather than in the refrigerator and can last up to 5 days.
Pickled veggies can stay outside for a long time in a vinegar solution.
Homemade garlic mayo sauce can also be stored in a container in the refrigerator for up to 4 days. Store-bought ones have a longer shelf life and, once opened, can last safely till a week.
Other Chicken Recipes
Baked Honey Garlic Chicken Wings
Crispy Baked Sweet and Sour Chicken Wings
Tandoori Chicken (Oven & Stove Top)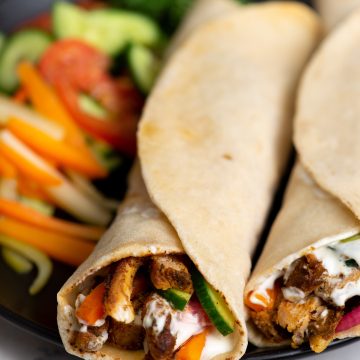 Chicken Shawarma Recipe
Ingredients
For Marinating Chicken
1 kg Boneless Chicken thighs
1 tablespoon Minced garlic
1 tablespoon Coriander powder
1 tablespoon Ground Cumin
1 teaspoon Cardamom powder
½ teaspoon Cinnamon
½ teaspoon Turmeric
1 teaspoon Smoked Paprika
½ teaspoon Pepper
1 teaspoon Cayenne reduce to 1/2 teaspoon for less spicy
pinch of nutmeg
1.5 teaspoon salt
2 tablespoon Fresh Lemon Juice
3 tablespoon Olive oil
For Garlic Sauce
1 cup Greek yoghurt
¼ cup Mayo
½ teapoon Minced garlic
¼ teaspoon sugar
1 teaspoon Fresh lemon juice
¼ teaspoon pepper
salt to taste
For Making Chicken Shawarma
7-8 pita bread / flatbread
1 cucumber sliced
1 large tomato sliced
pickled onion, carrrots
Instructions
To make Chicken
Mix all the spices mentioned for marination. Add chicken thighs, mix well and cover. Let it marinate for at least one hour(up to 48 hours).

If chicken is refrigerated, take out 30 minutes before cooking it.

Heat a cast-iron or heavy bottom skillet. Put 3-4 marinated chicken skin side down. Cook undisturbed for 3-4 minutes. Flip and cook for another 3-4 minutes.

Cook chicken in batches. If the skillet is crowded, the chicken will get steamed instead of roast.

Slice chicken
Garlic Sauce
Mix all the ingredients well. (note: if the yoghurt is sour, skip lemon juice)
Making Chicken Shawarma
Take pita bread, spread 2 tablespoons of garlic sauce.

Top it with sliced chicken, pickles, sliced cucumber, tomatoes.

Roll and serve.
Nutrition
Serving: 1serving | Calories: 543kcal | Carbohydrates: 32g | Protein: 28g | Fat: 33g | Saturated Fat: 8g | Polyunsaturated Fat: 8g | Monounsaturated Fat: 14g | Trans Fat: 1g | Cholesterol: 127mg | Sodium: 855mg | Potassium: 475mg | Fiber: 2g | Sugar: 3g | Vitamin A: 588IU | Vitamin C: 8mg | Calcium: 110mg | Iron: 3mg