This post may include affiliate links that earn us a small commission.
Ahh!! the joy of biting into a perfectly crispy Spring roll, with crunchy vegetables and juicy chicken filling. These fried spring rolls are much better than takeaways and can be easily made at home.
Appetizers are my go-to dishes while hosting a party or having something delicious to complement a dinner. Look at some other Asian appetizers and side dishes like Sticky Korean Chicken, Grilled Teriyaki Chicken, and Vietnamese Grilled Shrimps. Baked chicken wings with a sweet and sour sauce is a party favorite.
Flavours In Your Inbox
Subscribe for recipes straight to your inbox
What is Spring Rolls?
Spring rolls are delicious rolled appetizers with crispy, flaky wrappers and stuffing inside them. You would have definitely heard about them. A once seasonal recipe is available in most Asian restaurants throughout the world.
Ever dined or taken out from a Chinese restaurant? you would see Spring rolls without fail in every menu. They are so popular and have an ardent following.
The stuffing is usually sliced or ground pork/chicken for meat and sliced vegetables for vegetable spring rolls. I am sharing the recipe for chicken fried spring rolls.
The recipe details every way of making a spring roll – Deep-fry, Bake and Air-frying it.
Spring Roll – Chinese vs Vietnamese
This recipe is of a Chinese fried chicken spring roll. The difference between Chinese and Vietnamese spring rolls lies in the wrapper and stuffing.
Chinese roll wrappings are made of wheat flour. It is the more popular of the two and is widely available. You can ask for Chinese spring roll wraps in nearby Asian stores. The wraps are thin and have gluten in them and that makes them easy to work with.
Vietnamese wraps are made from rice flour. They are very thin, almost transparent and you can see the stuffing from outside. Not so widely available and a reason why many resorts to using Chinese spring roll wrappers.
Vietnamese roll stuffing has usually the raw or pickled vegetable filling. It can go with cooked meat but grounded or minced. I haven't had this version and am waiting for a chance to do so in an authentic joint.
Another important difference is that while Chinese spring rolls are fried, Vietnamese rolls are made of thin rice wrappers and fresh veggies inside can be eaten fresh.
Chinese spring roll stuffing has sliced vegetables and ground meat cooked in oil with sauces. That's the one I have had and loved it.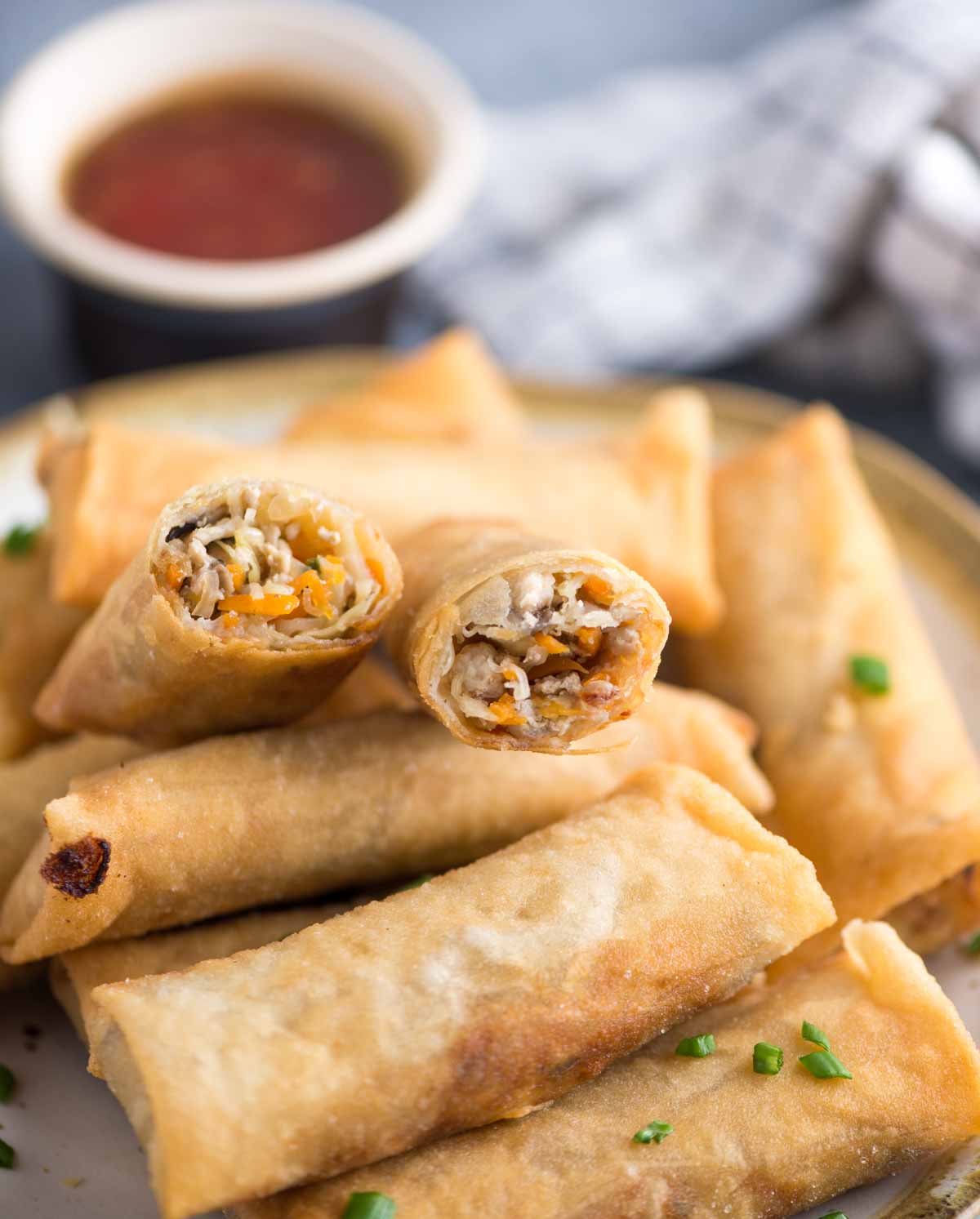 Spring roll vs Egg roll
How to know which is what? Just look at them. Egg rolls have small bubbles on their surface. Spring rolls are smooth.
Spring roll surface looks flaky like most pastries. Egg rolls are crunchy an chewy and thick.
Spring rolls have thinner wrappers. They can be made of wheat flour (usually fried or baked) or rice flour (eater fresh).
Egg rolls have thicker wrappers and always deep-fried. When you order spring rolls or egg rolls in most Chinese joints in places other than Asia, this is what you get. The thick wrappers often feel soggy and spurt oil when you bite into them. Not a fan here.
Egg rolls are made of wheat and egg hence the slightly chewy feel. They are the American adaptation of the roll if you can call it that.
📖 Air-fried, Baked & Deep-fried
Well, you can fry, bake or steam to make spring rolls.
Make them with a good thin wrapper and it comes out with a shattering crispy wrapper and nicely juicy, cooked fillings. I feel it's one of the best dim sum appetizers and deserves its popularity.
The regular fried roll available everywhere is the deep-fried roll. I tried in the Airfryer to get a more healthy version of the typical fried roll.
And boy has it turned out good? Deb and kid have turned fans of the air-fried version. He just loved the nice crispness (didn't miss the crisp and crustiness of the deep-fried) and the roll just tasted great.
So here you have two options every time you think about frying your spring roll – want a tasty yet healthier roll, take out your air fryer.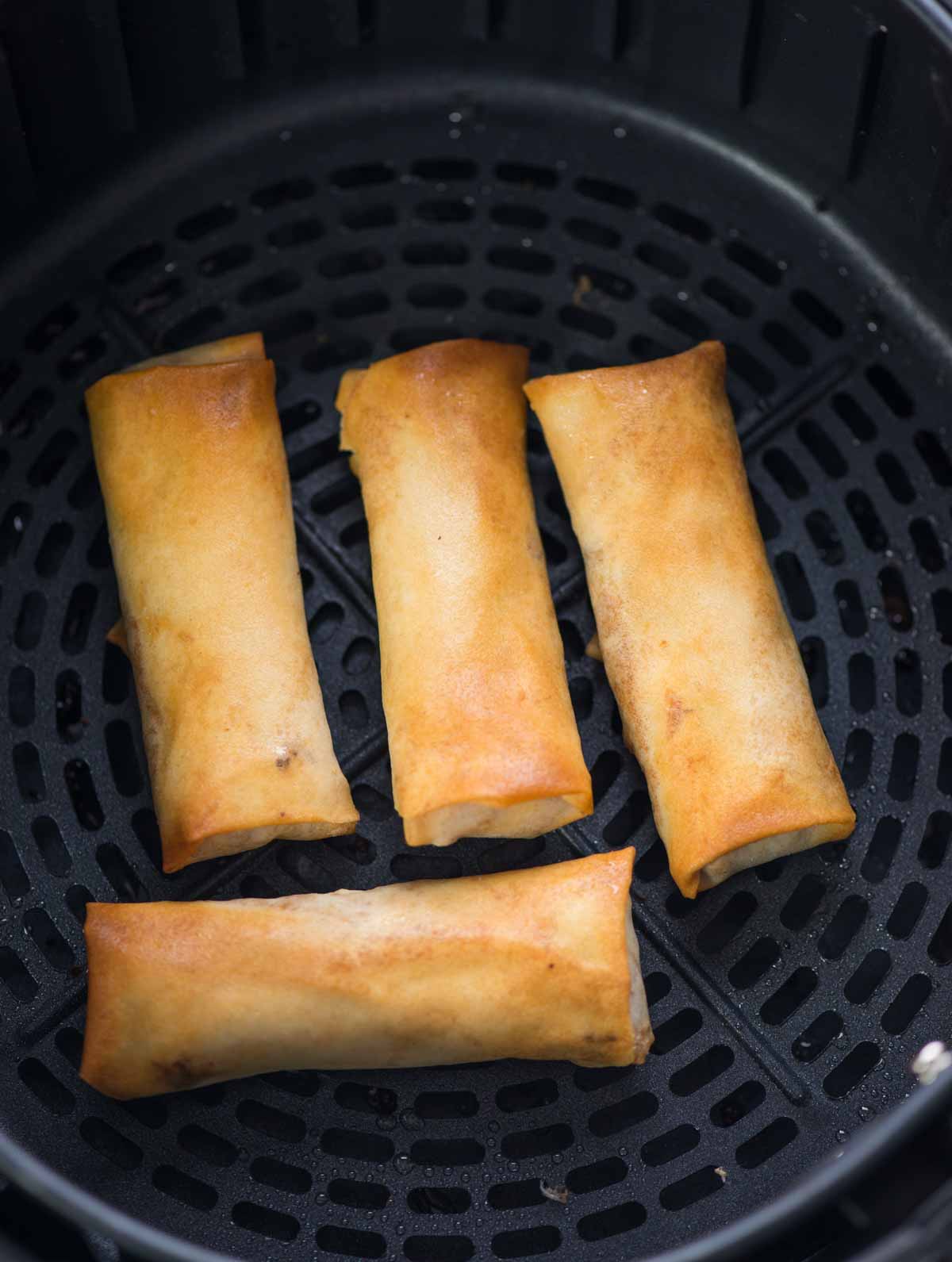 🥘 Ingredients
Spring Roll Wrappers
I have picked a Chinese spring roll wrapper from a nearby store. The brands can be different everywhere, but you can check the thinness of the wrappers. The thinner, the better.
These thin pastry sheets size used is 8 x 8 inches. Traditionally they use flour, oil, water, and salt to make them.
All about fillings
A good spring roll is also about its filling. What to add to the stuffing to take it to the next level and beat your takeaway rolls?
Ground chicken – One of the workman ingredients in the kitchen. Easy to mix with other shredded vegetables and you get the chicken flavour in every bite.
Shredded cabbage – I prefer Chinese cabbage instead of regular cabbage because of its sweet flavour.
Mushroom – I have used sliced mushroom to add some flavour.
Sauce – Oyster sauce and soya sauce for umami.
Pepper – It adds some heat to the otherwise neutral ingredients.
Cornstarch – helps in soaking up moisture in the filling.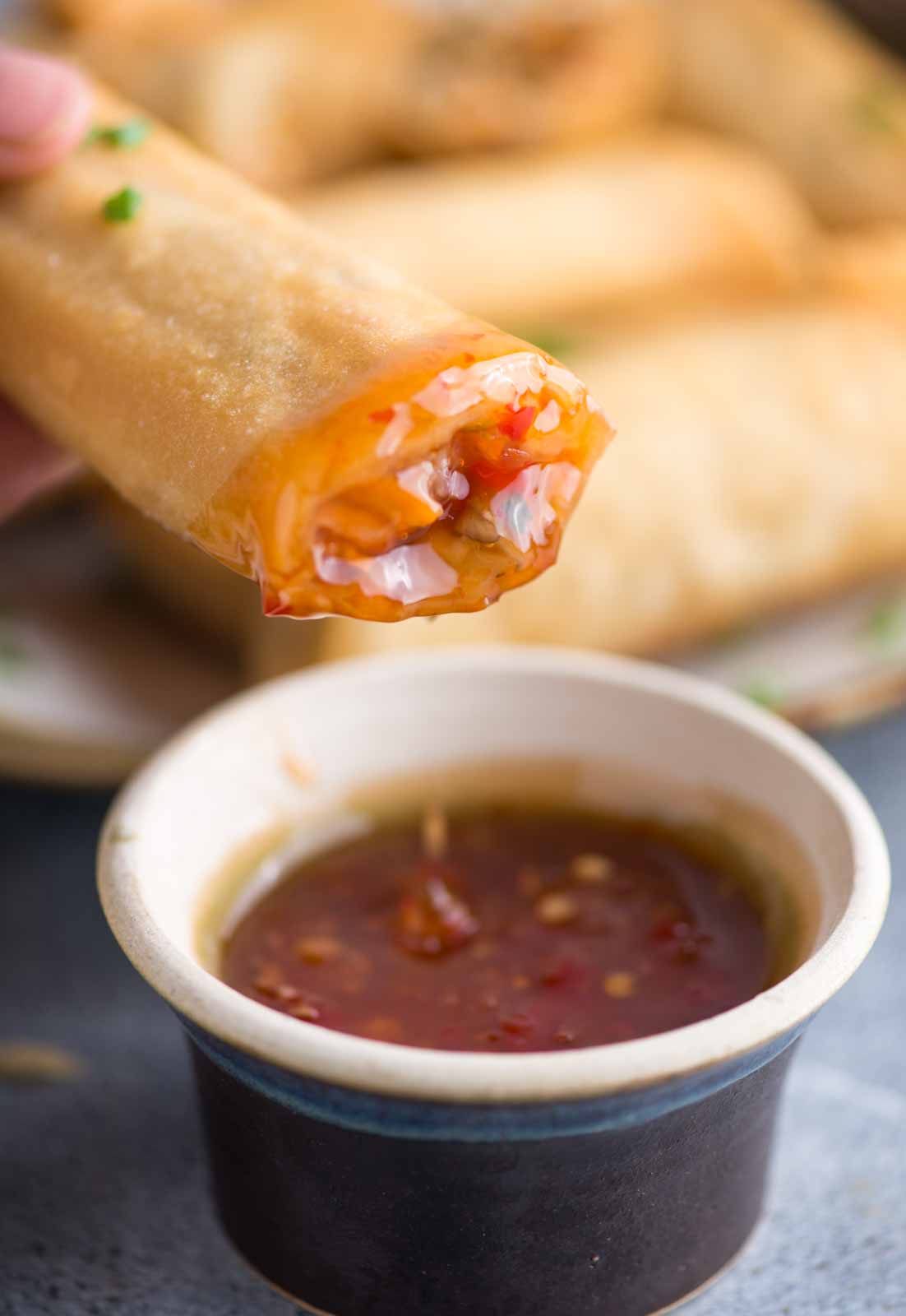 🔪 How to make
Cook the stuffing
Chicken – add garlic and sauté chicken. Season with Oyster sauce and soya sauce.
Add shredded cabbage, carrot, sliced mushroom, and green onion to the pan. Stir in vegetables, although not too much. The veggies should still be crunchy.
Add pepper and cornstarch (to soak the water/moisture from the ingredients like chicken).
Once it has cooled down, add salt as per taste.

Shaping / Rolling
Lay the square pastry sheet on a flat counter with one corner facing you in a diamond shape. Place a tablespoon of stuffing in the bottom corner.
Roll the pastry sheet gently upwards the opposite corner, but stop midway. Note: this is a corner-to-corner rolling and not edge-to-edge.
When you have rolled till the middle of the sheet, fold the adjacent corners towards the middle and over the stuffing.
Continue rolling towards the opposite corner.
Frying & Baking
The recipe card has detailed instructions on how to deep-fry, bake and air-fry spring rolls.
While deep-frying is about getting the temperature of the oil right to help reduce the bubbles that get formed on the crust, baking and air-frying are about spraying oil on the rolls properly and keeping some distance between each other so they get done evenly.
For air-frying, you will need to flip the rolls midway so that the wraps get crispy and flaky evenly on either side.
Storage Instructions
Spring rolls are best eaten hot. It looses its crispiness and flakiness when it turns cold.
If you do not plan to serve it soon, best to prep and make the rolls ahead and freeze it. Just fry/bake it when you would like to serve it.
Make the stuffing and the rolls.
Arrange the rolls neatly in a tray and cover them with a sheet. Store in a zip-lock bag.
Before an hour of serving, take them out of the freezer and thaw for an hour.
Deep fry or air fry them as you wish.
🥗 Dipping sauce
The authentic preferences are Sweet chili sauce or Chili garlic sauce. You can try out my homemade hot and sweet pineapple sauce, which tastes amazing with Chinese appetizers.
💭 Top tips
Get the thinnest Chinese roll wrappers available in your nearby store. Thick wrappers hold some oil while frying and it squirts when you bite.
Add salt after cooking and cooling the filling as per taste. Adding salt while cooking the filling makes the chicken and veggies release water, making the rolls soggy.
To cool the filling after cooking, place it in the refrigerator for up to 20 minutes.
It is important to get the temperature of the oil right while deep-frying the roll. Bubbles appear on the wrap surface if the oil is too hot. Heat the oil in a medium flame.
To bake/air-fry, spray oil evenly on the rolls. Flip them and spray again on the upside.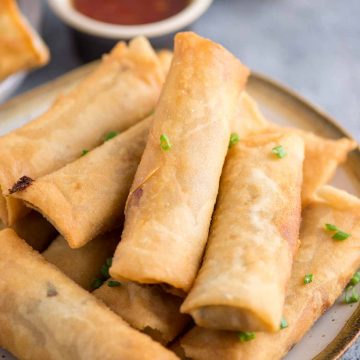 Crispy Spring Roll
Crispy spring roll filled with a delicious chicken and vegetable filling. Deep fry, bake or make it in an airfryer, these are far less greasy than the takeout version.
Ingredients
12-15 spring roll wrapper
300 grams minced pork/ chicken
2 cup shredded cabbage
1 cup shredded carrot
200 grams mushroom sliced
⅓ cup green onion
1 teaspoon minced garlic
2 teaspoon oil
3 teaspoon soy sauce
1 tablespoon oyster sauce
1 teaspoon sesame oil
½ teaspoon pepper
2 teaspoon cornstarch
salt to taste
4 cups oil (for deep frying)
To seal spring roll
1 tablespoon cornflour
½ tablespoon water
Instructions
Prepare Filling
Heat oil in a pan on medium flame. Add minced garlic. Saute for 10 seconds.

Add minced pork/chicken and saute in high heat for a minute.

Stir in soy sauce and oyster sauce. Break big lumps of chicken if any.

Add shredded cabbage, carrot, mushroom and green onion. Saute until they are just wilted.

Add corn flour, pepper and sesame oil. Toss everything well until there is no liquid in the pan. The filling should be dry. Soggy watery filling = soggy rolls

Quickly transfer the filling to a bowl or a rectangular tray. Keep it in the refrigerator for 20 minutes, for it to cooldown completely.

Taste the filling and add salt if required
Shaping and frying Spring roll
Make a paste of cornflour and water

Carefully peel off one spring roll wrapper, keep the others covered under a damp tea towel to prevent from drying

Place the wrapper in a diamond position. Place heaped tablespoon of filling on the bottom. Roll up halfway, fold sides in, then finish rolling. Use cornflour paste to seal. ( refer to the step by step images on how to shape in the post)

Pour enough oil in a wok. Heat on medium high until hot. When you put the handle of a wooden spoon it the oil starts to bubble around the handle rapidly, the oil has reached the right temperature.

Carefully slide 3-4 spring rolls to the pan, avoiding over crowding the pan. Cook until it looks light golden brown in color on all the sides.

Carefully take out the spring roll using a slotted spoon, drain extra oil and keep it on kitchen towel.
To Bake
Place spring rolls on a rack and place the rack on a tray. Spray very generously with oil all over . Bake 180C/350F for 20 to 25 minutes until golden and crispy.
To make it in Airfryer
Place 3-4 spring roll spaced little apart in the Airfryer pan. Spray with oil on both the sides.

Set the temperature to 180 degree Celsius and cook 25-30 minutes flipping once half way.
Notes
The stuffing has sauces that already are salty. So it is essential that you cook the stuffing and let it cool down. Taste the stuffing and add salt as per taste.
Cooling the filling also dries it any water released during cooking. Dry stuffing does not make the rolls soggy.
For deep-frying, make sure that the oil is not too hot. Hot oil makes too many bubbles on the wrap surface. It doesn't affect the taste but might not look too pretty.
Spray a generous amount of oil to get a crispy and flaky crust on the rolls when you bake or air-fry them.
Cabbage is traditionally used in spring rolls because they are light on water content. When you add any other vegetables keep in mind the water content in them. High moisture or water content in veggies will eventually release water while cooked and make the stuffing and roll soggy.
Nutrition
Serving: 1serving | Calories: 93kcal | Carbohydrates: 12g | Protein: 6g | Fat: 3g | Saturated Fat: 1g | Polyunsaturated Fat: 1g | Monounsaturated Fat: 1g | Trans Fat: 1g | Cholesterol: 19mg | Sodium: 175mg | Potassium: 212mg | Fiber: 1g | Sugar: 1g | Vitamin A: 1459IU | Vitamin C: 5mg | Calcium: 17mg | Iron: 1mg