Easy and Zesty Quinoa Salad
This post may include affiliate links that earn us a small commission.
Rich in protein and vegetable-packed, this Quinoa salad is a staple in summer. Quinoa, fresh vegetables, and salty feta are tossed in a zesty olive oil vinaigrette.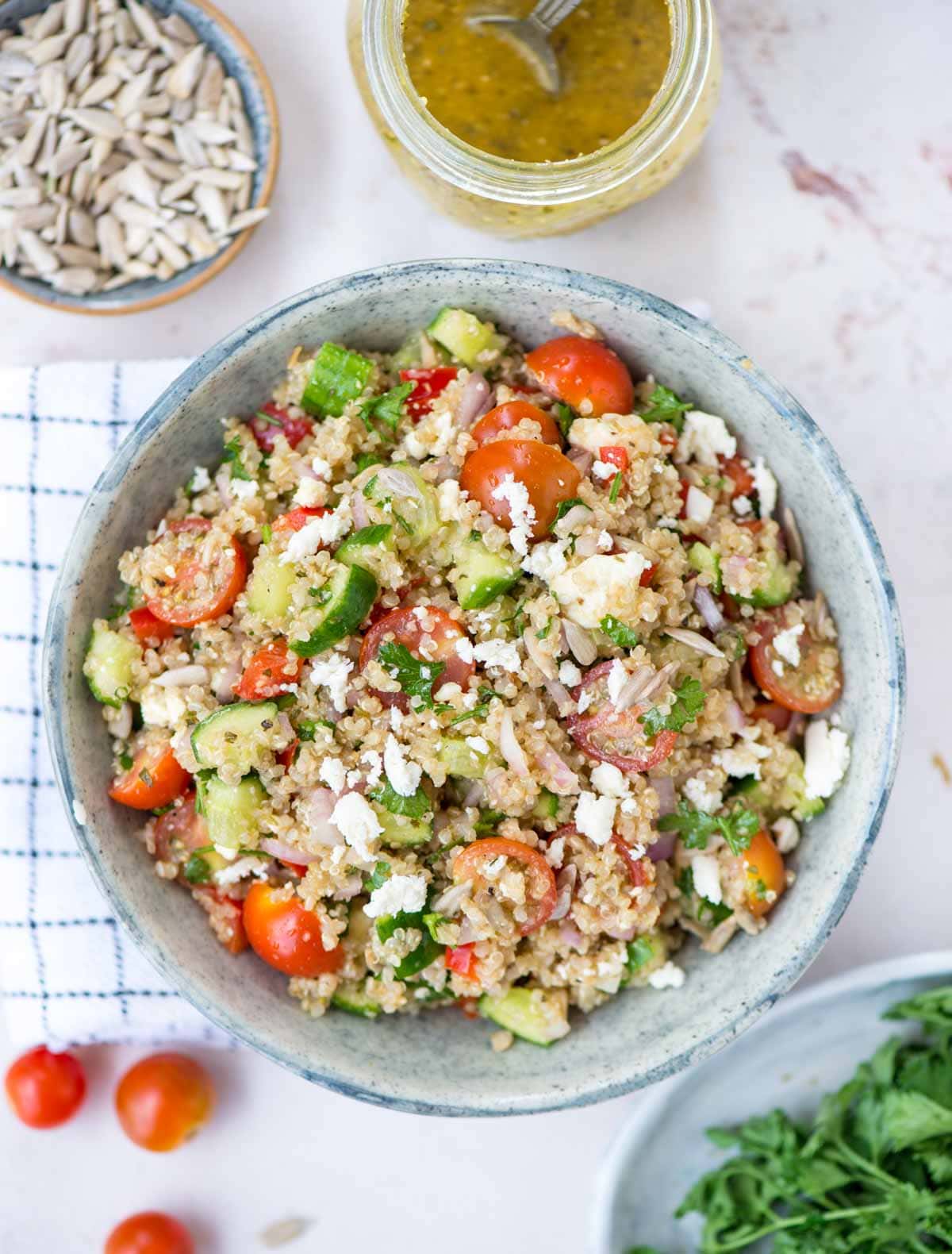 It's summer and Salad Time again! I am sharing this wonderful quinoa salad recipe that we tried this week. Having varieties of salad recipes in your kitchen repertoire is very useful; there can never be too many.
Don't want to keep on beating the same dish again? Want to up the nutritional aspect of your salad? This quinoa-based recipe gives a super healthy and tasty salad variation.
Flavours In Your Inbox
Subscribe for recipes straight to your inbox
We top up quinoa with various vegetables and fresh herbs for all-around nutrition and to add crunch and vibrant colors. We need a great quinoa salad dressing with a good mix of zesty flavors for a cereal that is not high on taste.
For this, we go with a red wine vinaigrette, a classic salad dressing combining acidity from the red wine with the richness of olive oil. It's a delightful blend that adds a zesty and slightly fruity punch to your salads. For some savory and herby notes, we use garlic powder, dijon mustard, and fresh herbs.
I have shared a few salad recipes over the years. Salads are healthy and a refreshing way to have lunch. You may check out these salad recipes – Italian Chopped Salad, Roasted Corn Salad, or even one based on an Asian dressing like Asian Cucumber Salad.
Quinoa Salad
We have all heard about the nutritional benefits of quinoa – High fiber, low carbs, good protein, and plenty of vitamins and minerals.
Here are a few reasons why I made and loved this –
Super easy to make a refreshing, nutritious salad. Just prep and arrange the ingredients and toss them together.
A superfood added to other healthy ingredients makes a super healthy dish.
If you are like me, not a big fan of Quinoa, this is a nice way to have it in a zesty and flavor-packed dish.
Is Quinoa salad healthy?
Yes, it is a Superfood. Packed with vitamins, minerals, protein, healthy fats, and fiber, it is healthier than your regular rice, wheat, oats, and other grains and cereals.
In addition, quinoa has anti-inflammatory nutrients, which help in reducing inflammation and thus preventing and curing disease.
Eating quinoa daily is OK because it's a nutritious grain. But it packs many carbs, so if you are into a diet plan, use it judiciously.
It may not be the right food for your keto/low-carb diet since it is high in carbs. You may include it in a very small portion and other high fiber and protein.
It has 50% higher carbs than brown rice and as much as white rice. Thinking of carbs, it is a good substitute for white rice in your meals. It is an easier choice because it has twice the protein and more fiber than white rice.
If this is your first time, watch out if your body shows signs of allergy or intolerance to Quinoa.
Quinoa can be served hot or cold but is typically served cold as a side dish or in salads.
For a hot and savory dish made with quinoa, check out Quinoa Chicken Broccoli Casserole made in a slow cooker. It is hearty, savory, and filling with chicken and has the goodness of quinoa and broccoli.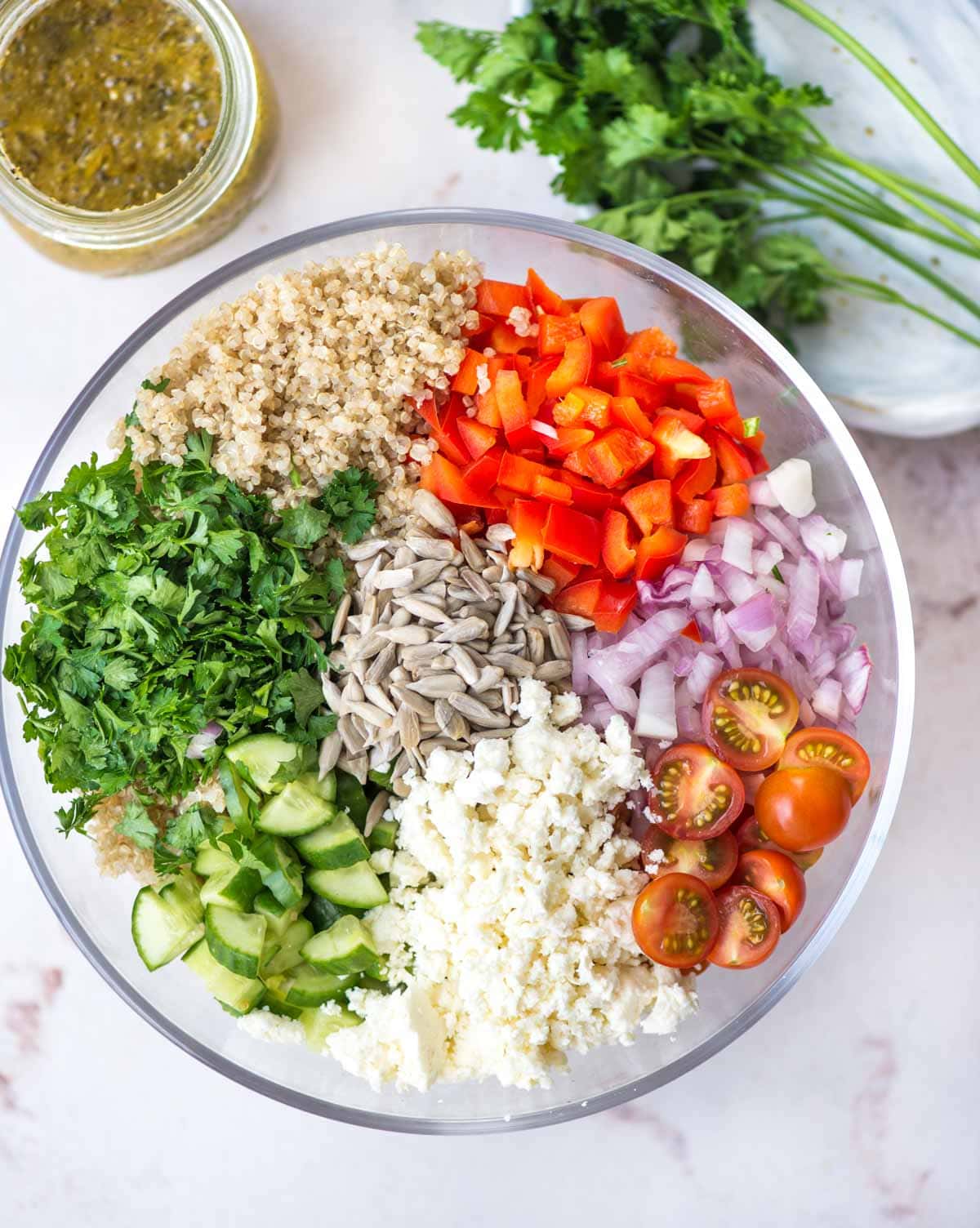 Ingredients
For salad dressing
To make a salad with quinoa, the dressing has to be interesting. I have made this vinaigrette dressing flavored with herbs, spices, salt, pepper, sugar, and other ingredients. These are your everyday ingredients and are most probably available in your pantry.
Olive oil – is the best dressing for a salad. It not just improves the taste but also helps in absorbing nutrients from the vegetables. Recommend extra-virgin olive oil.
Red Wine Vinegar – Gives a pinkish color, bringing acidity and sweetness to the dressing. It can substitute with other wine-based vinegar like sherry, white wine, or champagne vinegar.
Garlic powder – a bomb of flavor. You will find garlic in most of my recipes.
Sugar – to provide sweetness to the dressing and salad
Dijon Mustard – It adds zest and flavor to the vinaigrette. Dijon mustard is stronger in flavor and a bit spicier than regular mustard.
Oregano and parsley – commonly used herbs to make the salad base more interesting.
Salt and pepper – for seasoning as per taste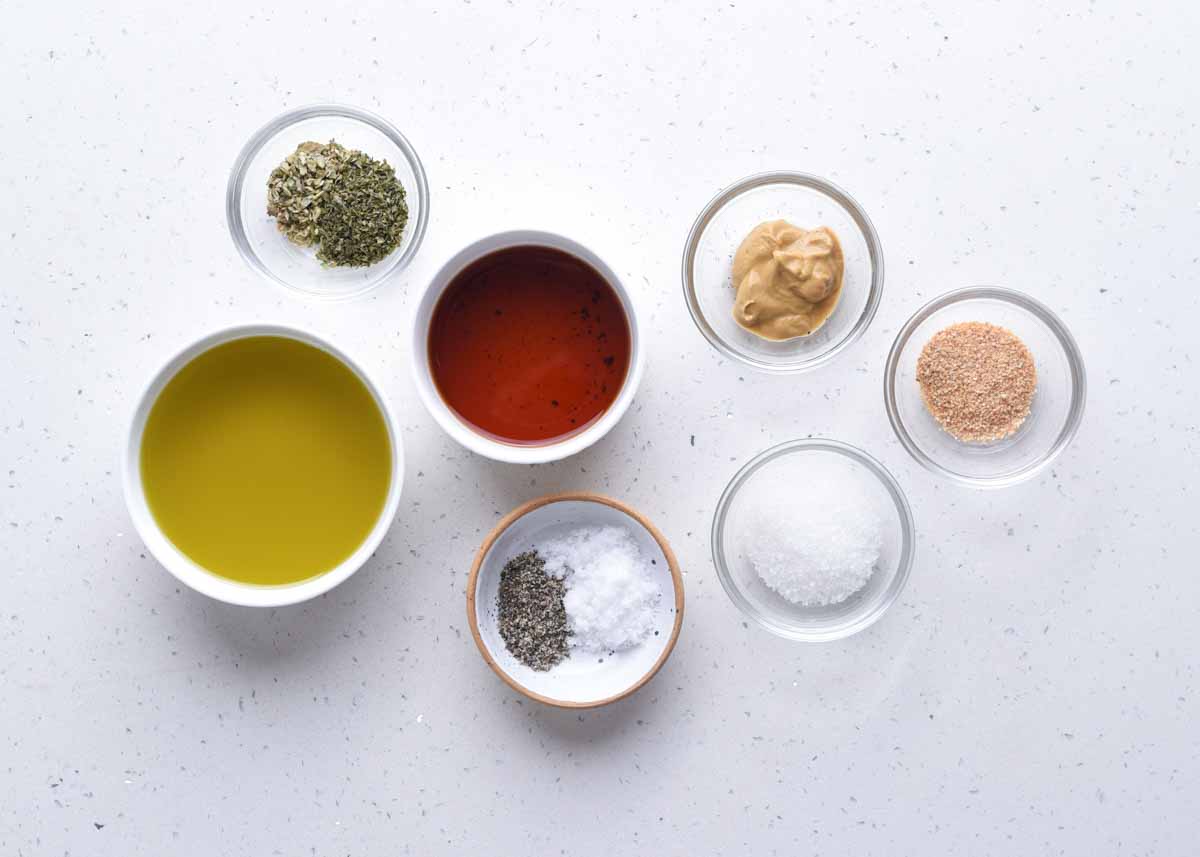 For salad
Quinoa – I prefer red quinoa. Unfortunately, I could not get it nearby this time. White will do it, too, but red adds more color to the dish, is chewy and works beautifully in salads. From nutritional aspects, all three color variants – white, black or red are similar.
Vegetables – Cucumbers, red bell pepper, cherry tomatoes, and red onions are the usual culprits here.
Feta cheese – Popular and one of the best cheeses for salad. Salty and tangy work very well with olive oil-based dressings. Omit the cheese to make a gluten-free and vegan version.
Sunflower seeds – Another superfood to the mix.
Fresh herbs – Parsley adds freshness and a trace of slight bitterness and goes perfectly with quinoa-based salads. Fresh cilantro is a good option too.
(Additions) – You can also add cooked chickpeas, olives, shredded carrots, avocado, etc. You may choose to squeeze a spoonful of lemon juice for that citrus flavor.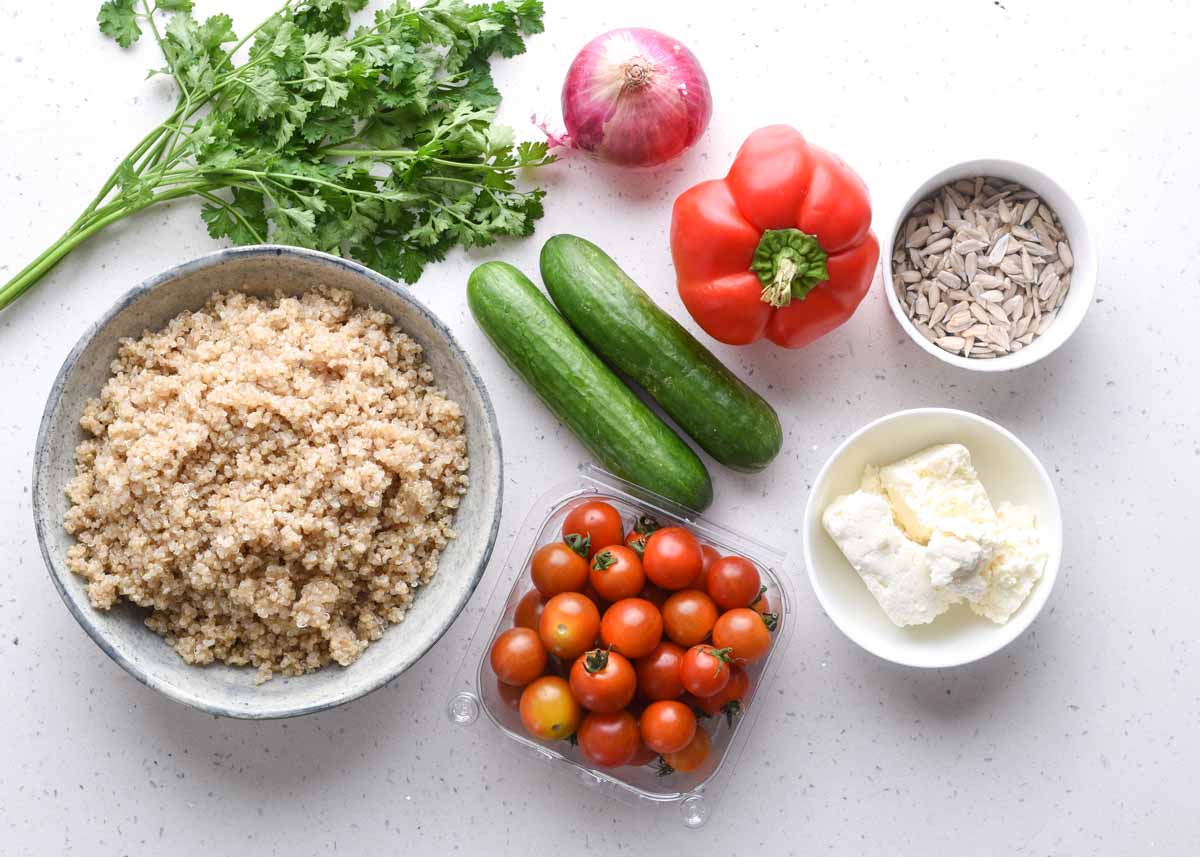 How to Cook Quinoa?
I am sharing with you all that is required to cook Quinoa properly. It will take 20 minutes at the most for two cups of quinoa.
Advisable to rinse quickly and thoroughly before cooking. The reason being Quinoa grains have a bitter coating on their hull called Saponin. This gives it a bitter taste which we would like to avoid.
Put quinoa in a strainer or coffee filter. Put the strainer under running water and gently rub the grains with your fingers. This is enough to remove the saponin.
Take the rinsed quinoa and put it in a pot. Once you have brought it to a boil, reduce heat and bring it to a simmer until the grains puff up and double the quantity. The color lightens up once done, so these can be your visual mark.
Drain the excess water by keeping it in a mesh.
Let the quinoa cool down to normal temperature before you add it to the salad.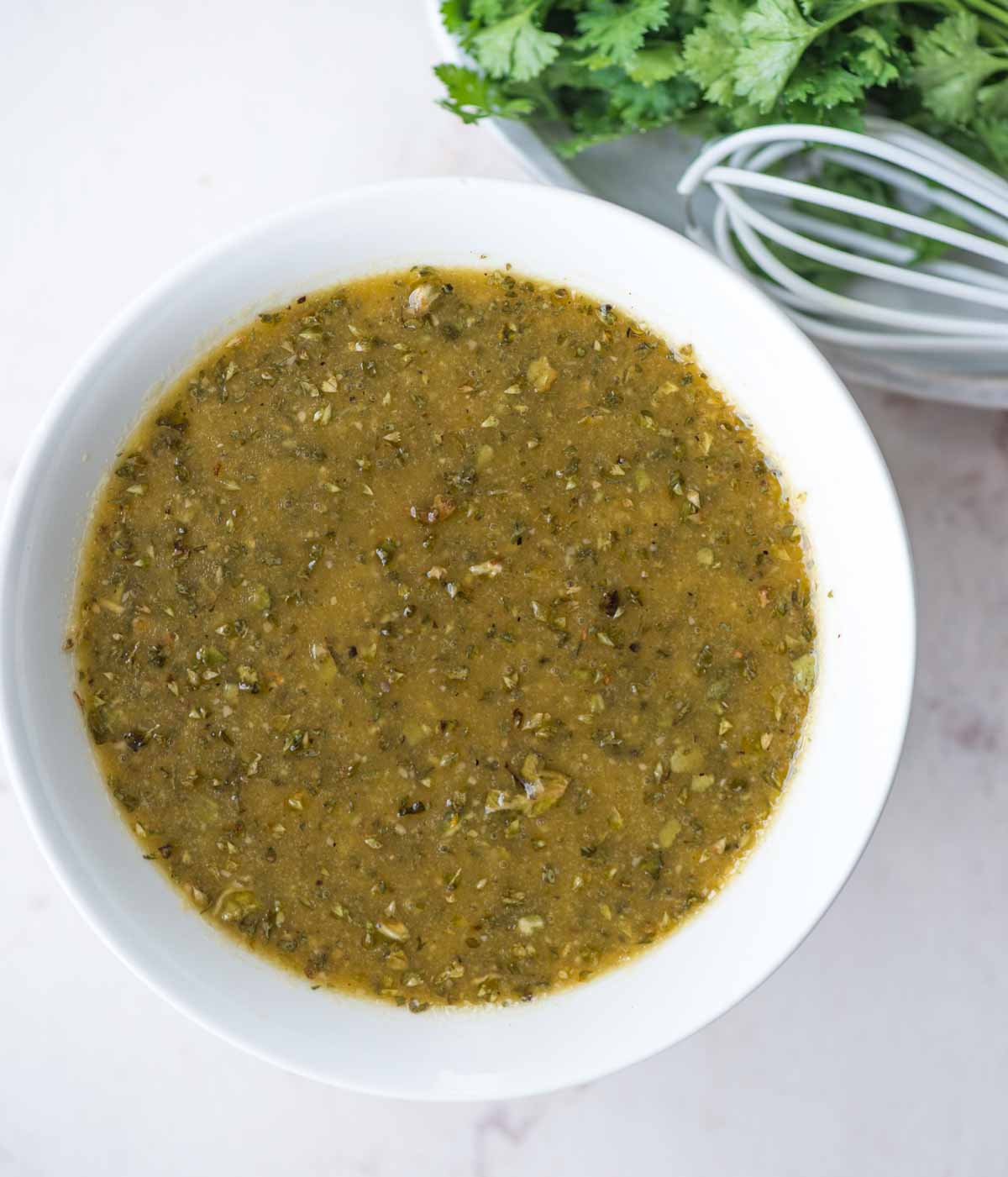 Steps – how to make
As simple as it gets. You can prepare this salad in four easy steps
Prepare the dressing

Mix all these common ingredients in a bowl. Whisk it well and keep aside.

Cook the quinoa

Rinse the quinoa under running water for a minute and transfer it to a sieve to drain excess water. You may roast the quinoa, giving it a very nice nutty flavor.

Chop the vegetables

Chop the vegetables into bite-sized pieces to get all the different things in each mouthful.

Toss

Assemble the quinoa, all the veggies and seeds in a bowl. Add the fresh herbs. Drizzle the salad dressing on top. Toss everything well.
Top Tips
Take care while cooking the quinoa. If that is done well, you are clear on this. The rest of the recipe isn't too hard.
This salad has many ingredients, and tasting as many as possible in each mouthful is preferable. Chop your vegetables into bite-sized pieces accordingly.
Pick a cheese (if you don't have feta) that is not too soft. The cheese to be added should be able to crumble or shred.
Shake the ingredients of the vinaigrette well so that olive oil emulsifies when it comes in contact with vinegar. The result is a nice creamy texture.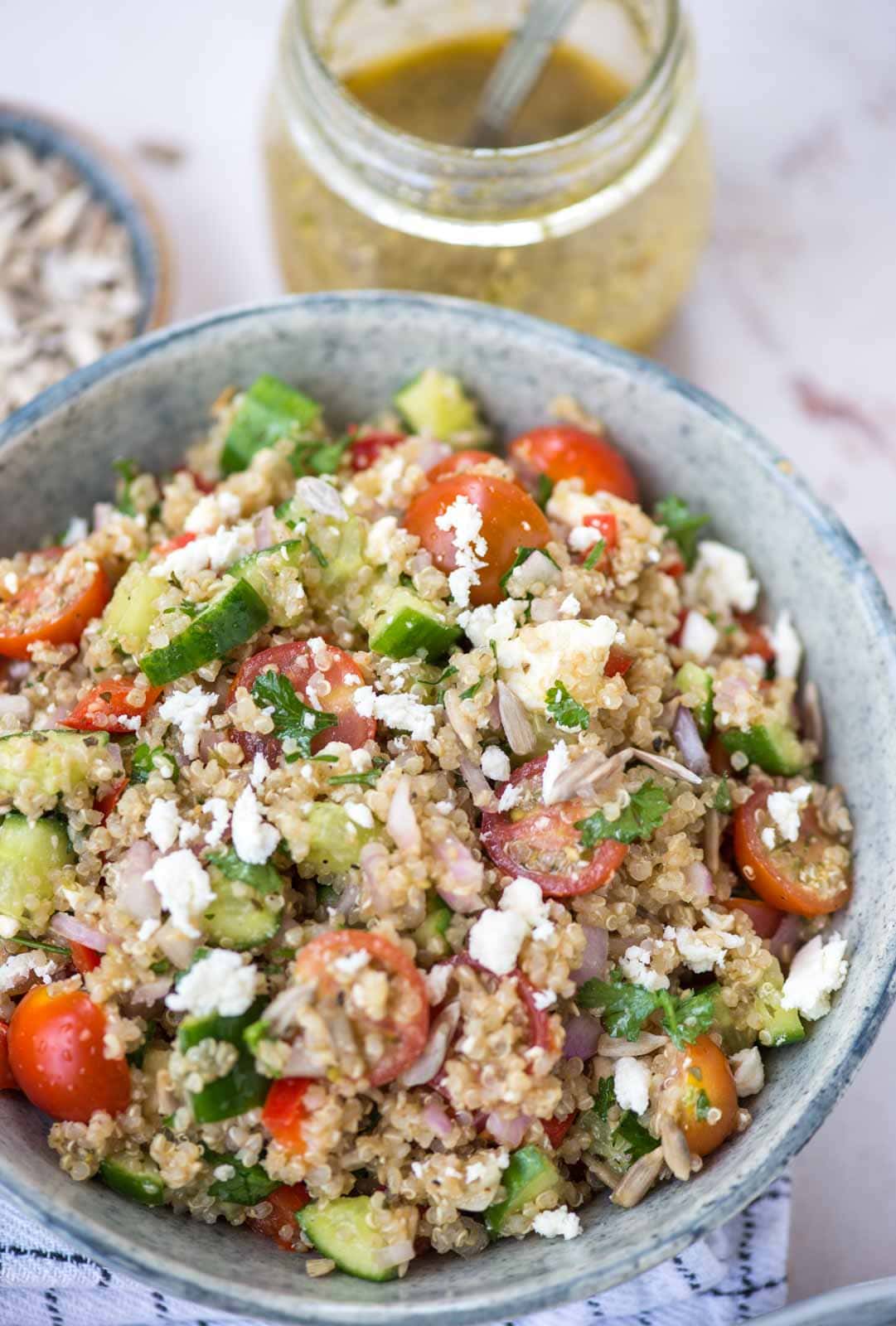 Make ahead
This salad has grains and many low moisture content veggies, so it stays well. It wilts with time, but you can have it later without losing taste or form.
Prepare the quinoa and the dressing if you plan to make it ahead. You may keep the veggies chopped and ready. On the consumption day, toss them together in a bowl, and it's as fresh as ever.
Store and freeze
You can freeze this in the refrigerator for up to seven days. While storing it, pack it in zip-lock bags or any air-tight containers and save it in the refrigerator.
This salad can be eaten hot or cold. When you are ready to eat it, take it out and let it warm up to room temperature if you prefer to eat it warm.
Serving Suggestions
It is a versatile dish. You can serve the salad either hot or cold. Works very well with cold salads that are refreshing in summer.
Moreover, because of the amount of quinoa in it, it is a meal by itself. Quinoa, because it contains loads of carbs, is very fulfilling. The salad also has the required amount of green vegetables, superfoods (sunflower seeds), and herbs.
You can also serve this with a plate of proteins like grilled or fried meat. Suggest chicken wings, Tortilla Chips, Baked Fish Bites, or Crispy Fried Chicken Tenders.
Some breads, side and meat dishes that pair well with this salad are –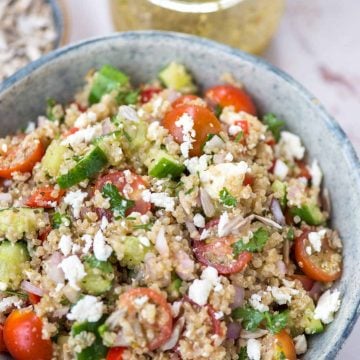 Quinoa Salad
Easy, Zesty, and the perfect summer Quinoa Salad that's refreshing and healthy.
Ingredients
1 cup Qunioa
2 English Cucumber
250 grams Cherry Tomatoes
⅓ cup Onion
⅓ cup Sunflower seeds
1 Red bell pepper
½ cup parsely
For salad dressing
½ cup Olive oil
¼ cup Red wine vinegar
1.5 tablespoon Sugar
2 teaspoon Dijon Mustard
1 teaspoon Garlic powder
1 teaspoon Dried parsley
1 teaspoon Dried oregano
1 teaspoon Salt
½ teaspoon Pepper
Instructions
Make Salad dressing
In a jar add all dressing ingredients. Shake really well, it will look creamy and thick.

You can make the dressing a couple of days ahead and refrigirate.
Cook Quinoa
Wash quinoa under a running tap. Rub the grains between both palms a couple of times while washing.

In a saucepan heat 5 cups of water. When the water is hot, add washed quinoa. Cook until it is cooked well and almost has doubled in quantity.

Shift the cooked quinoa from the pan to a colander and drain all the water. Let it cool down.
Prepare vegetable
While quinoa is cooking, prep the veggies.

Chop cucumber, red bell pepper. Chop onion, parsley. Cut tomatoes in half.
Assembling Salad
Add cooled quinoa, chopped veggies and sunflower seeds to a salad bowl.

Drizzle the required amout of dressing. Toss well.
Nutrition
Serving: 1serving | Calories: 535kcal | Carbohydrates: 46g | Protein: 11g | Fat: 36g | Saturated Fat: 5g | Polyunsaturated Fat: 7g | Monounsaturated Fat: 23g | Sodium: 627mg | Potassium: 779mg | Fiber: 6g | Sugar: 11g | Vitamin A: 1419IU | Vitamin C: 58mg | Calcium: 78mg | Iron: 4mg