This post may include affiliate links that earn us a small commission.
An easy 15-minute Tuna Pasta salad recipe that is light and healthy with the goodness of tuna, macaroni, veggies, and olive oil. A perfect cold salad to serve during summer.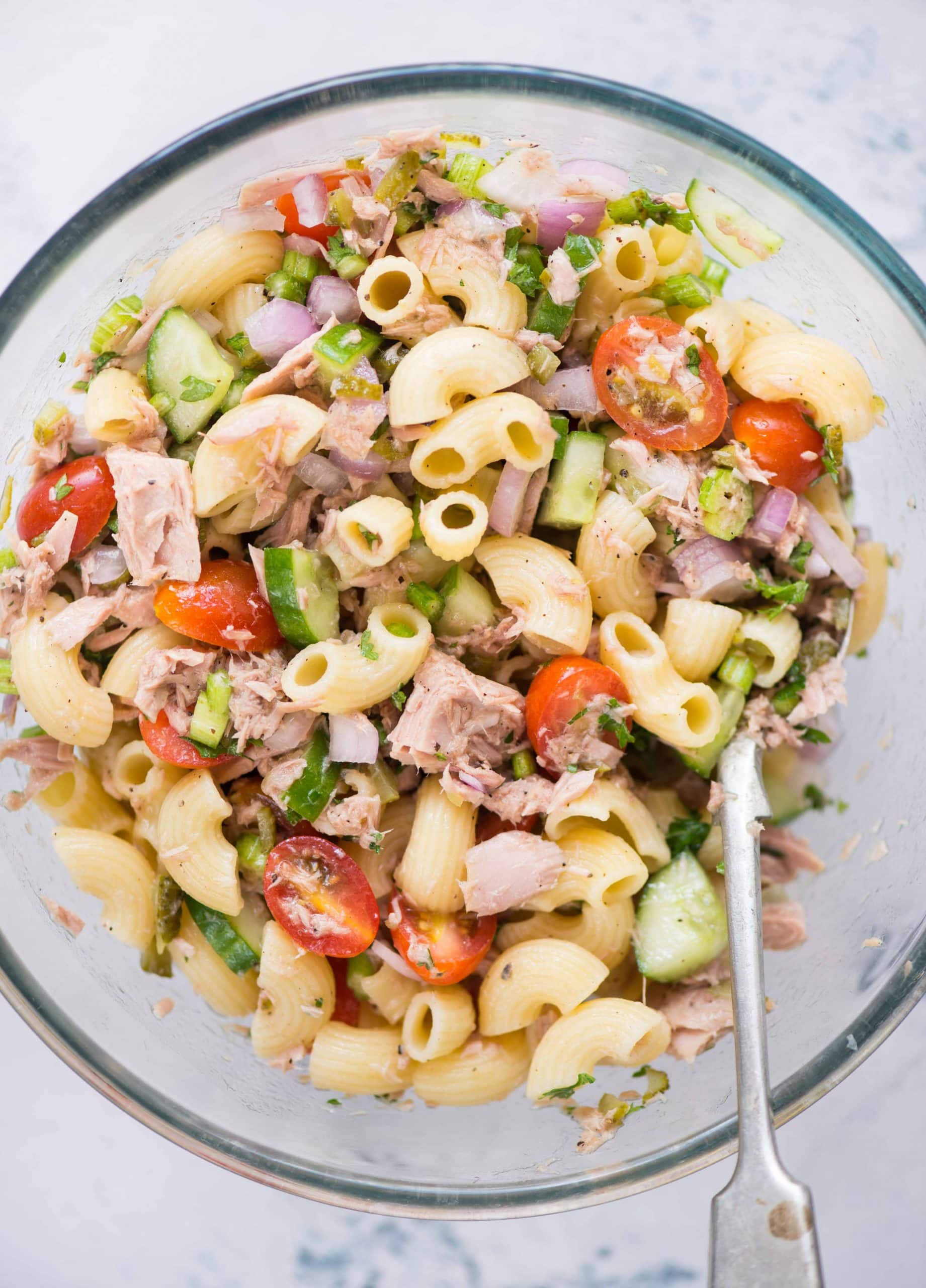 Salads are soul food for the summer! Right? Well, it is true. I would certainly go one up. I love my salads all year round. Between all the indulgent cooking and baking, producing all the delicious but rich or spicy food, I need a salad occasionally.
Flavours In Your Inbox
Subscribe for recipes straight to your inbox
Light dressings for the summer and heavy, creamy, and cheesy dressings for the winter. That's the formula I run with.
Cold Tuna Pasta salad – No Mayo & No Creamy version
This light, refreshing, tangy tuna pasta salad fits the memo, and I enjoyed having it twice in the past week. Classic Tuna pasta salad recipes commonly have a mayo-based dressing which is heavy. A creamy dressing can be made by substituting some mayo with sour cream or Greek yogurt. I have a Creamy Tuna Pasta Salad recipe with Greek yogurt used for half of the mayo.
For this season, my palette wanted a lighter version, with no mayo and cream, and I wanted it served cold. This is the perfect recipe for a chilled tuna pasta salad.
I had canned tuna and pasta in the pantry, and all I had to do was throw in a vinaigrette-based dressing in the bowl.
This recipe does not have any mayo or cream but is nonetheless tasty because of the tangy element from the vinaigrette. When you finish it from the bowl, pat yourself for your choice of a dish light in calories.
Is Tuna Pasta Salad healthy?
When you look at this salad, you will see lots of fresh and healthy ingredients. Tuna is one of the healthiest things around. This pasta salad is packed with nutrients and is rich with –
Great source of protein in tuna
Omega 3 fatty acids help in immunity and are good for the heart
Loaded with fiber to aid in digestion
It has many essential minerals like sodium and potassium, which are required for general well-being.
It is low in fat because of the healthy vinaigrette dressing.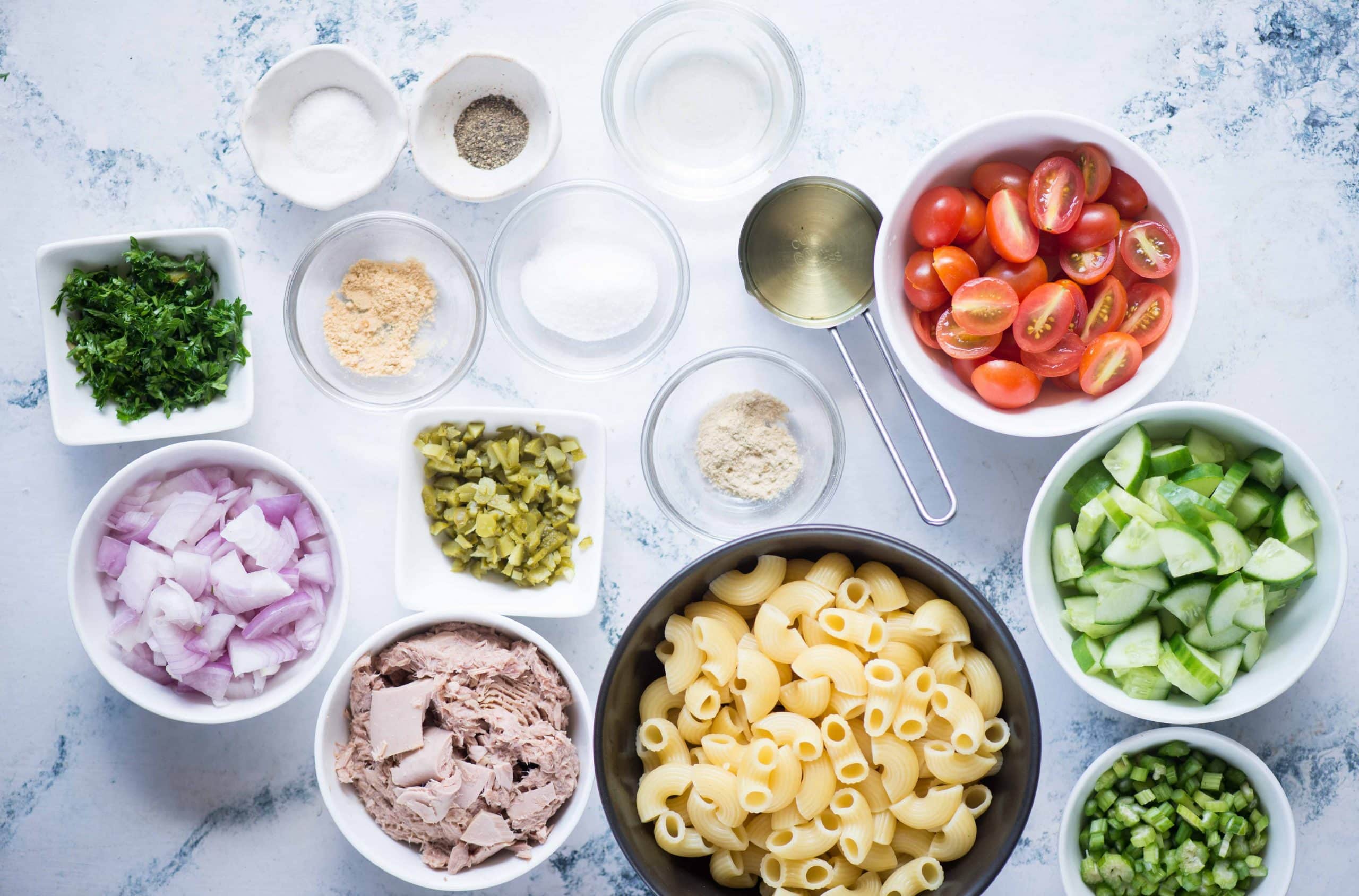 How to refrigerate tuna pasta salad?
You can pack the freshly made salad or any leftovers in air-tight containers and refrigerate them for 3-4 days. If you do not have an air-tight container, you can still put them in an open bowl or pan and clingwrap it. This will ensure it retains its moisture and does not get too dry.
Can this be prepared in advance?
Definitely yes! An important tip here is to make sure that you chop, mix, and prepare only the veggies and tuna in a bowl a few hours in advance. Do not mix the salad dressing at that stage. The pasta will soak all the dressing and become soggy while the dressing dries when you serve. Mix the salad dressing just before you serve.
Ingredients for Tuna Pasta Salad
Tuna

Alternatively, you can add chicken pieces or other fish like salmon
Omit fish or meat altogether to make it vegetarian. You can add tofu as a substitute for tuna and get your proteins from it.

Pasta

Any bite-sized pasta which is dry. The dressing sticks better to short pasta.
Penne, Shell, or Fusilli pasta is good for a salad.

Veggies
Herbs

Parshley
You can use celery, dill, or fresh basil too

Olive oil-based vinaigrette

Olive oil
Garlic powder, onion powder
Pickle juice
Alternate Salad dressings – What other dressings can I use for this salad?

Mayonnaise or Greek yogurt
You can add parmesan cheese.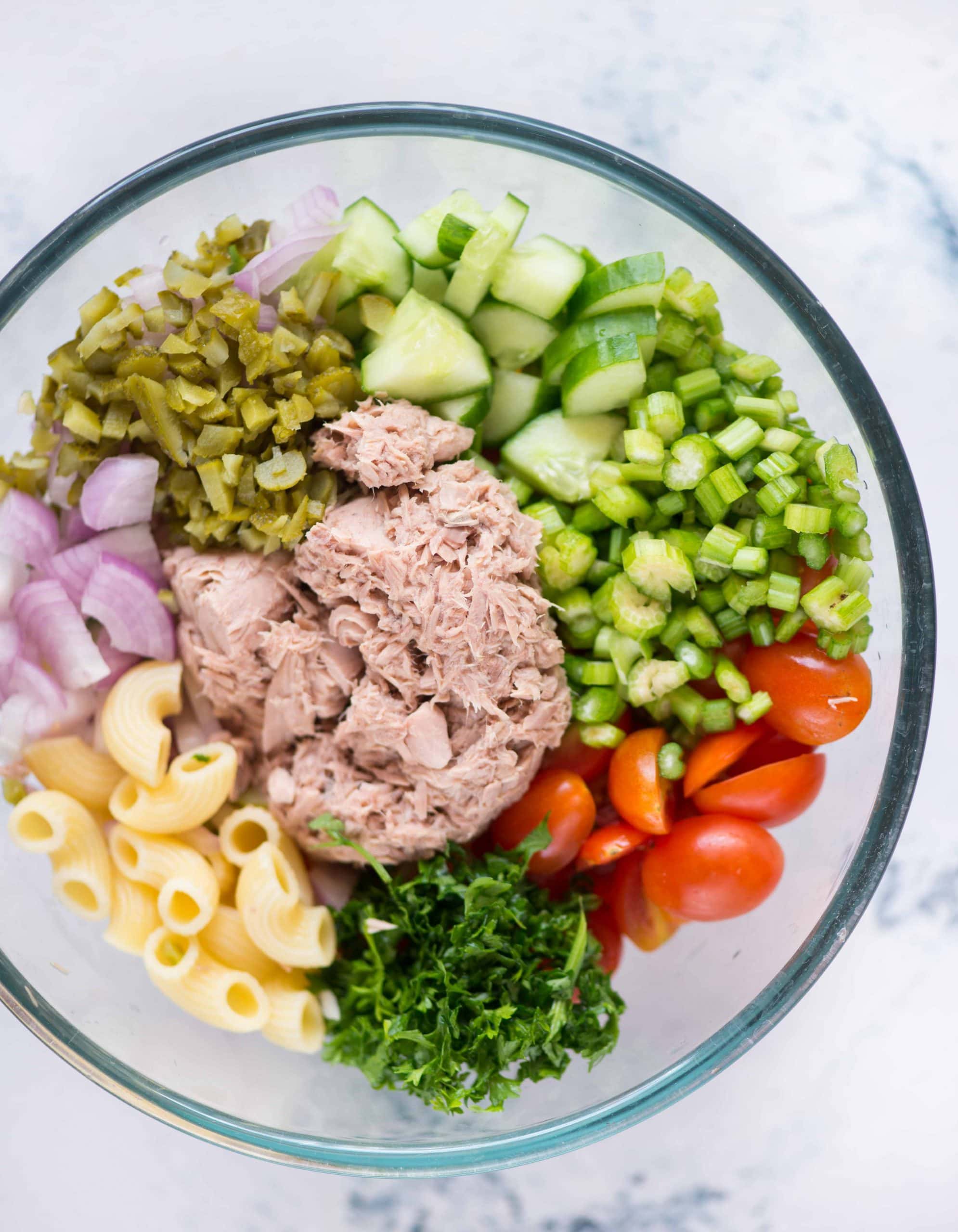 How to make Tuna Pasta Salad
Oil is our friend to make a Tuna Pasta Salad minus the Mayo or creamy. Adding olive oil to your vinaigrette preparation helps bring that creamy element to the salad dressing.
The first thing to do is make the vinaigrette dressing. Mix the oil with pickle juice, garlic powder, and onion powder. Keep it ready to mix with the pasta once it is boiled.
Boil the pasta as per the instructions on the packet. Turn off the heat when you feel the pasta is soft. Mix the pasta now with the dressing since it best absorbs all the dressing when warm and soft. Toss it gently in the dressing and serve it.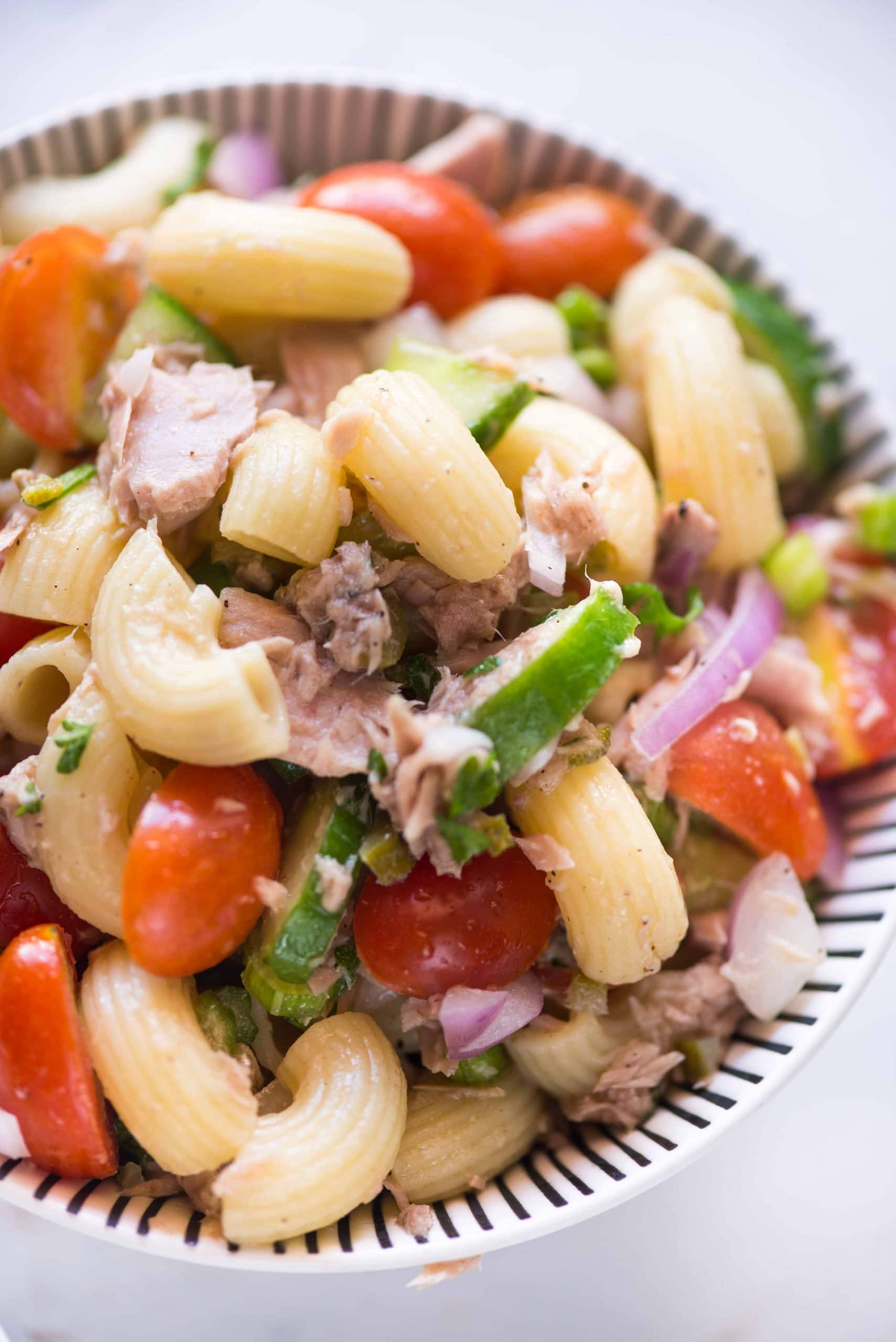 Tips for Making the Best Creamy Tuna Pasta Salad:
Use good-quality canned tuna packed in water or olive oil for the best taste.
Drain the tuna well to lose all the excess liquid so it does not make the salad watery.
Ensure the pasta and peas are cooked al dente to maintain their texture in the salad. Refer to the packet instructions to cook pasta properly.
Season wisely by tasting the salad before you add salt since the tuna already contains salt.
Customize the salad with your favorite vegetables, herbs, or spices to make it uniquely yours. You can use bell pepper (for some crunch and spiciness), cucumbers, or pickles.
Serve chilled – Leave the salad in the refrigerator for at least 2 hours to make it cold, then serve. This time allows the pasta to absorb the flavors from the dressing.
Storage
It is recommended to store the salad ingredients and the dressing separately in the refrigerator. The dressing can stay for a week, and the other ingredients for up to 3 days.
Wrap the salad ingredients with plastic wrap or shift to an air-tight container and refrigerate them. For the dressing, store it in an air-tight jar.
Mix the dressing with the salad ingredients right before you serve them, or you can chill the mixed salad for a couple of hours before serving.
Serve with
Have it as a light lunch or dinner while the pasta makes it fulfilling, or let this corn salad's fresh and vibrant flavors shine along with other mains.
More Summer Salad Recipes…
Roasted Corn Salad – Charring adds flavor to sweet corn and pairs well with a lemony, savory dressing.
Italian Chopped Salad – Authentic Italian salad with fresh greens, tomatoes, and onions tossed in a light vinaigrette.
Chinese Chicken Salad – Asian flavors from crispy noodles and chicken stir-fried in a sesame dressing.
Chicken Pasta Salad – Grilled chicken is tossed with pasta and veggies in a lemon-herb dressing.
Vegan Macaroni Salad – A creamy salad recipe with pasta and crisp vegetables.
Pesto Pasta Salad – Classic Italian salad made with homemade pesto tossed with pasta, veggies, and greens.
Easy and Zesty Quinoa Salad – Quinoa, vegetables, and feta cheese with an olive oil vinaigrette.
Cherry Tomato Salad – Seasonal cherry tomatoes, red onion, and basil tossed in a light olive oil red wine dressing.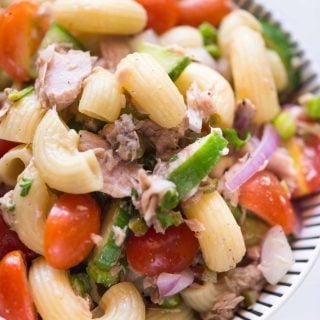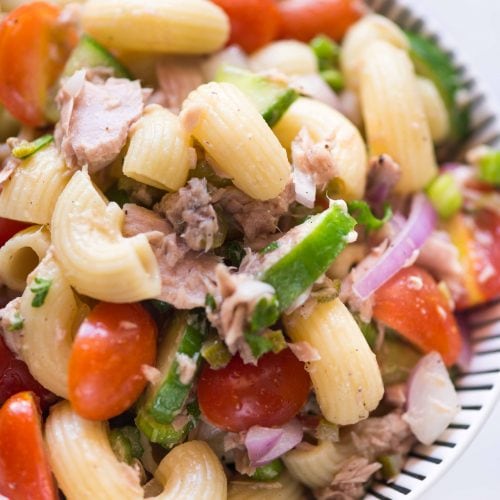 Healthy Pasta Tuna Salad
An easy 15 minutes Tuna Pasta salad recipe that is light and healthy with the goodness of tuna, veggies, and olive oil. Perfect cold salad to serve during summer. 
Ingredients
1 can Canned Tuna in Water 6 oz (ref note 1)
2 cups Cooked pasta (ref note 2)
1 cup Cherry Tomatoes
1 cup Cucumber
½ cup Celery
⅓ cup Chopped Pickle
⅓ cup Chopped Onion
2 tablespoon Parsely
For Olive Oil Dressing
¼ cup Olive Oil
2 tablespoon Pickle Juice
½ teaspoon Garlic Powder
½ teaspoon Onion Powder
1 teaspoon Sugar
½ teaspoon salt
¼ teaspoon Pepper
Instructions
In a glass jar, add all the ingredients mentioned under salad dressing. Close the lid and shake until the mixture thickens and looks creamy.

Drain excess liquid from tuna in a colander.

In a big salad bowl add cooked pasta, halved cherry tomatoes, chopped cucumber, chopped Onion, Tunna, Chopped pickle, parsley.

Drizzle the dressing on top. Toss everything well.

Serve immediately or refrigerate and serve it cold.
Notes
Use canned tuna in saltwater. Tuna in oil will make the salad too oily. 
Use any short pasta for this recipe. 
Because tuna and cooked pasta already contains salt, add salt accordingly to the dressing. 
Nutrition
Serving: 1g | Calories: 275kcal | Carbohydrates: 24g | Protein: 13g | Fat: 15g | Saturated Fat: 2g | Cholesterol: 15mg | Sodium: 523mg | Potassium: 281mg | Fiber: 2g | Sugar: 4g | Vitamin A: 287IU | Vitamin C: 11mg | Calcium: 28mg | Iron: 2mg