Quick and easy Shrimp stir fry with zucchini, pepper, and tossed in Thai Sweet chili Sauce. This an easy 15-minute dish to serve with your favorite rice or noodles.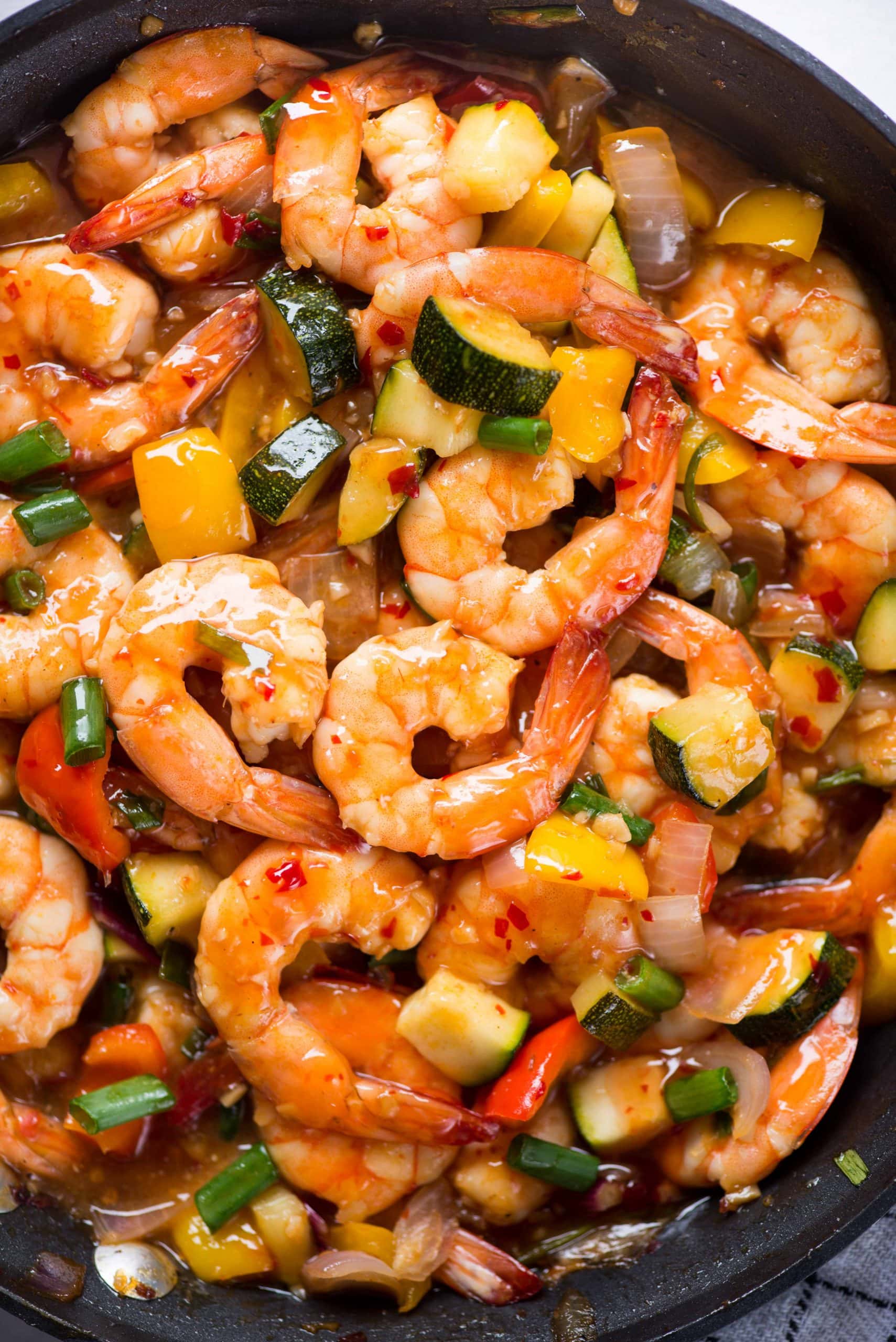 These Shrimp stir fry recipes are what you need on a busy day—loaded with vegetables, and protein and tossed in a delicious sweet and spicy sauce.
Thai dishes are a favorite of all at home. So are Shrimps. What better way to please everyone with a delicious Sunday lunch than to toss Shrimp in a sweet chili sauce and serve it with rice or noodles? Easy and quick and, to top it all, healthy too.
If you are on a hunt for Thai recipes, you may have a look at Thai Grilled Chicken, Thai chicken noodle soup, Thai Shrimp Curry, Thai Chicken Coconut Soup (Tom Kha soup), Thai Cashew Chicken Stir Fry, or Thai Butternut Squash Curry.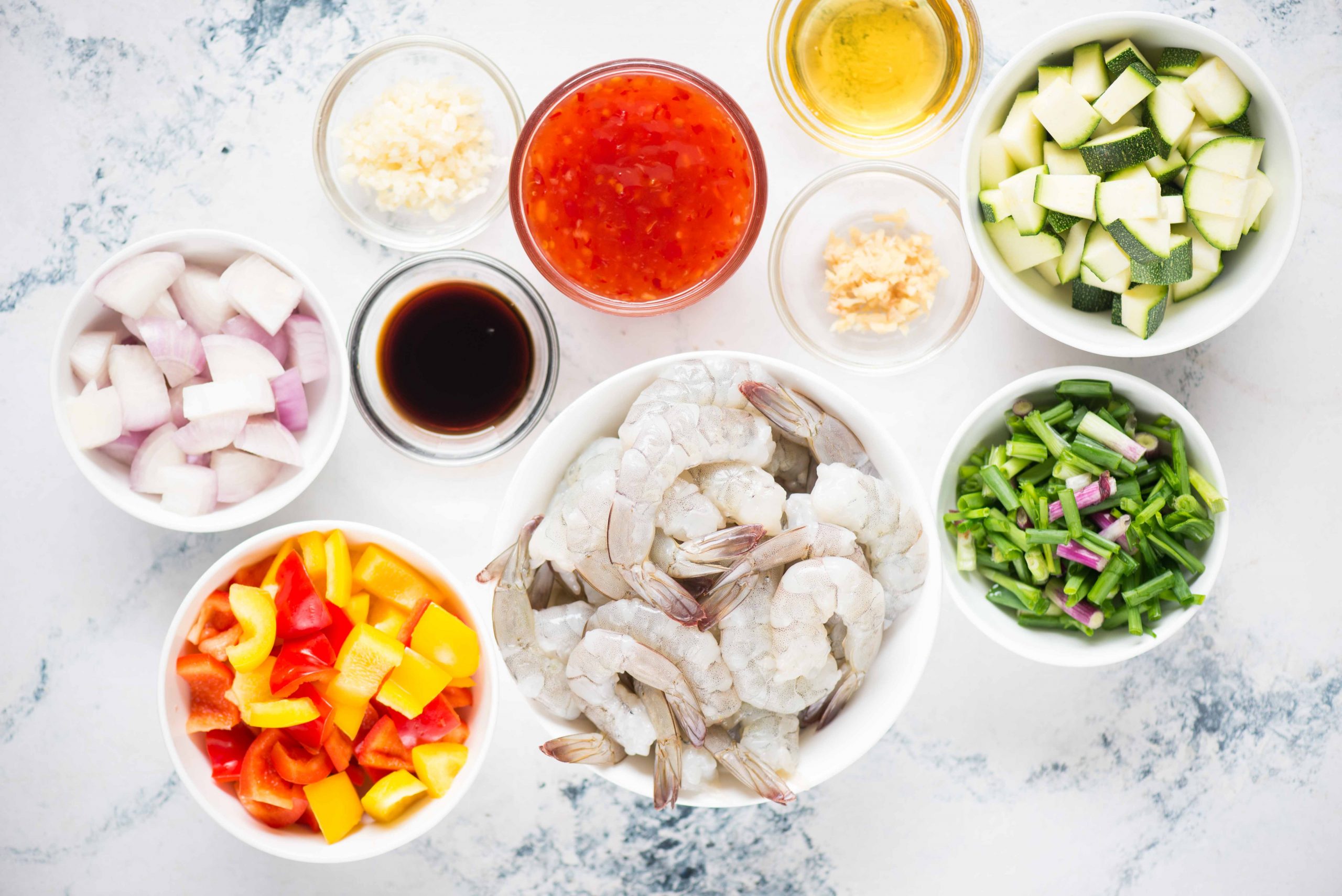 Ingredients
Shrimps - Shrimps come in a wide variety of sizes. For this stir fry, I would go with medium-sized ones. A good reason for this is we will serve this on top of rice or noodles; one bite can have a mix of shrimp, rice, and veggies.

I have left the tail on because I like the crunch of it,

and the tails make it easy to pick the shrimp. You may prefer to remove the tails,

especially if your children do not like them.

Ensure the shrimps you buy are cleaned properly with their head removed and deveined. An effective way to devein is to place a toothpick in the back where the blue line of the vein is visible and pull it out.

Vegetables - You can choose several vegetables that go well with this dish. I have gone ahead with Zucchini, Green onions. I love the flavor and color that Red and Yellow peppers bring to the dish. You could also choose between -

Brocolli

Asparagus

Green beans

Bok choy

Sauce - This sweet chili shrimp stir fry has Soy sauce and Thai sweet chili sauce.
Aromatics - This recipe calls for both Garlic and Ginger. You can be a bit generous with garlic because nothing adds flavor like garlic
Oil - You can use plain old Vegetable oil or sesame oil.
Rice or Noodles - This Shrimp stir fry is best had when it is either served on top or tossed with rice or noodles in the wok. White or brown rice is both good. For noodles, thin or flat noodles will do too. I had this earlier with thin noodles and loved it. So this time, I tried it with white rice, and the result was the same 😊. You can also serve it with Fried rice.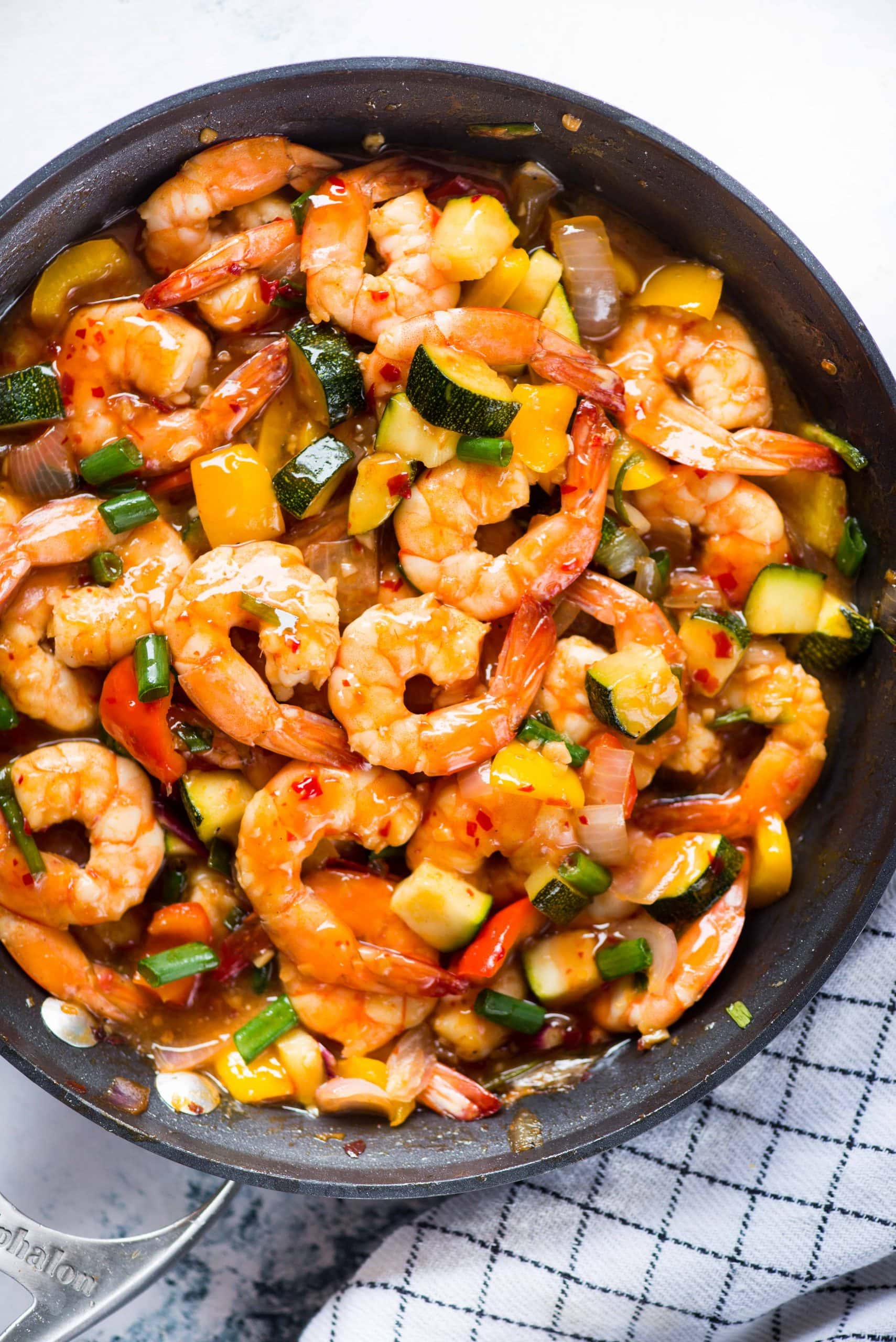 How to make Shrimp Stir fry
The important trick here is to sear the shrimps first. They should not be cooked along with other veggies as the cooking time for shrimp is short, and we do not want them overcooked. Overcooking shrimp will make them rubbery, and they will not be juicy anymore.
You have to cook the shrimp in batches. Decide on the number of batches depending on the size of your pan. Place a batch of shrimp on the pan some distance apart. Shrimps tend to release moisture; doing too many together makes them sticky.
Cook the rest of the veggies in the pan next. The cooking time for veggies shall be longer than that of the shrimp. Veggies should be crisp and not too soft and mushy.
Add the cooked shrimp to the veggies and follow it up with the sauces.
Toss them all together until they are coated well with the sauce. Plate it as per the style you prefer.
Detailed instructions are in the recipe below.
How to cook frozen shrimp
You can get your supply of shrimp in frozen packets from the supermarket. I prefer getting raw shrimp because it is fresh. If you already have a packet of frozen shrimp in the freezer, take that out and let it thaw to room temperature. You can speed up the process by placing it under tap water for some time. This will bring it to room temperature much faster.
Another way I tried was to dip the packet in a bowl of warm water. This helps in thawing it faster without cooking it.
How to store shrimp stir fry
Shrimp stir fry, once made, can be stored in an air-tight container in the freezer. Just bring it out of the freezer to thaw for two hours when you need to serve it.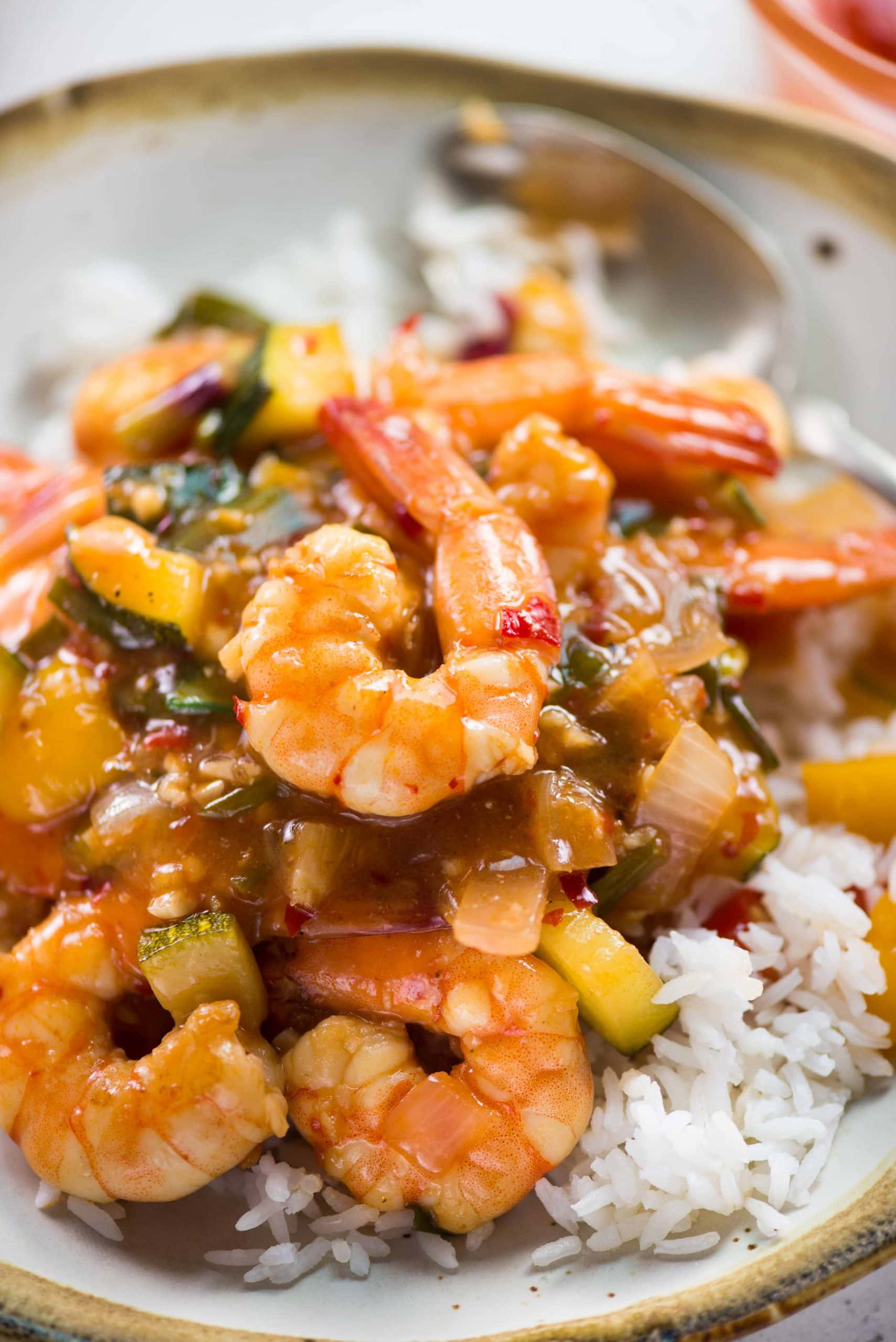 More Asian recipes
Chicken Meatballs with Asian sauce
📖 Recipe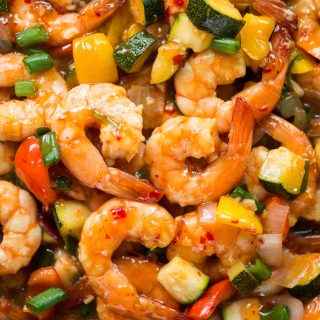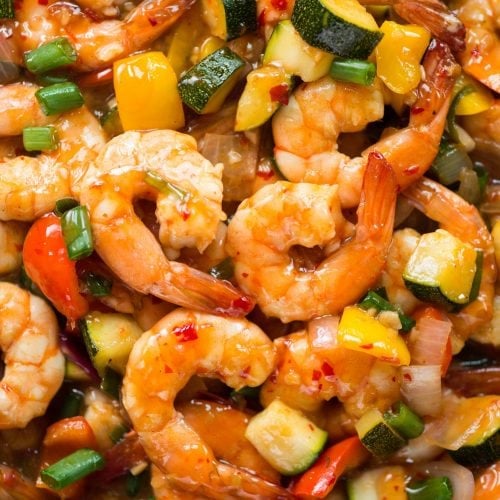 Sweet Chili Shrimp Stir Fry
Shrimp stir-fried and tossed in a Thai sweet chili sauce with your favorite veggies.
Print
Pin
Rate
Ingredients
500

grams

Shrimp

Cleaned and Deveined

2

tablespoon

vegetable oil

1

tablespoon

garlic

minced

1

teaspoon

ginger

minced

½

cup

Onion

Chopped

1.5

cups

peppers

Chopped

1

cup

zucchini

chopped

½

cup

Thai sweet chilli sauce

2

tablespoon

soy sauce

½

cup

green onion

salt & pepper per taste
Instructions
Prep Veggies - Chop your veggies into little squares preferably.

Prep the oil - Heat only half of the oil i.e. 1 tablespoon in the pan. This is to sear the Shrimps first. The rest of the oil will be used after this to stir fry the veggies.

Cook the Shrimps - Place a batch of shrimps on the pan with some distance apart.

Sear the shrimps on each side for about 2 minutes on medium-high heat. The shrimps would have a light pink color on them. Keep the fried shrimps aside.

Saute Garlic & Ginger - Add the remaining oil i.e. 1 tablespoon that is left to the pan. Heat until you see smoke. Add onions, garlic, ginger to the pan. Saute until the onion has just softened and there is no raw smell from ginger and garlic,

Stir fry the veggies - Add the chopped veggies and stir fry them for about 4-5 minutes. The veggies should be crisp yet cooked through.

Add Shrimps and Sauce - First, add shrimps, and then add soy sauce, Thai sweet chilli sauce and green onion Toss them until all the shrimps and veggies appear coated with the sauce. This should take 2 - 3 minutes.

Serve - Serve the sweet chili shrimp stir fry onto a plate and serve with your choice of rice or noodles.
Nutrition
Serving:
1
serving
|
Calories:
231
kcal
|
Carbohydrates:
19
g
|
Protein:
23
g
|
Fat:
7
g
|
Saturated Fat:
5
g
|
Cholesterol:
252
mg
|
Sodium:
1440
mg
|
Potassium:
289
mg
|
Fiber:
2
g
|
Sugar:
15
g
|
Vitamin A:
315
IU
|
Vitamin C:
48
mg
|
Calcium:
167
mg
|
Iron:
3
mg