This post may include affiliate links that earn us a small commission.
Delicious Thai Shrimp Curry simmered in Thai Green green curry paste and creamy coconut milk takes less than 20 minutes to make.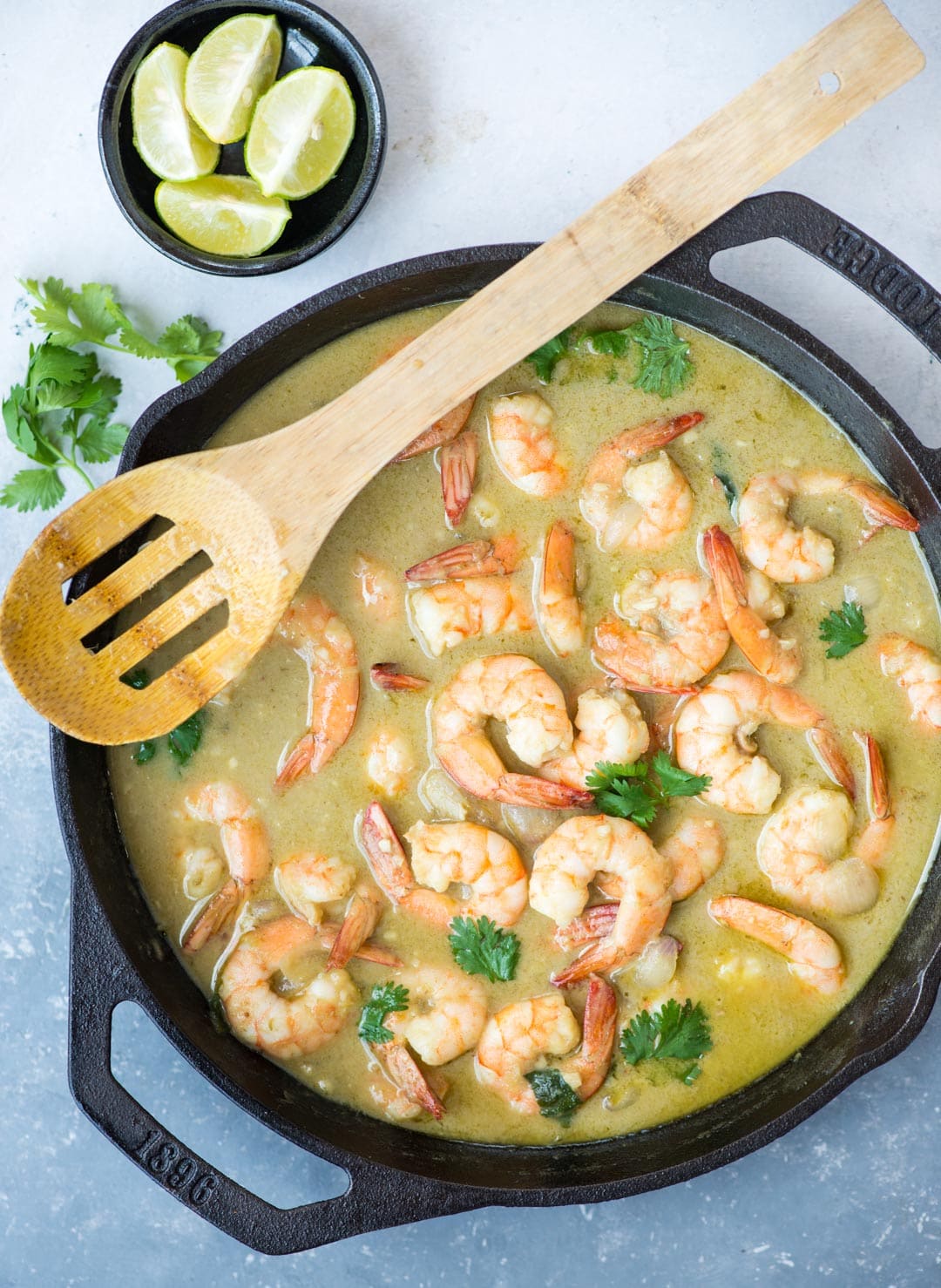 Another curry recipe and again one of our favorites. This Shrimp Curry is made with Thai green curry paste, Shallots, ginger, garlic, creamy coconut milk, and other aromatics. Pair this luscious curry with a bowl of Jasmine rice and I am sure you can't stop yourself asking for more.
Flavours In Your Inbox
Subscribe for recipes straight to your inbox
It is so quick and easy to put together Thai Curry at home. I mostly make Chicken Thai curry but of late I am making Thai Shrimp Curry a lot.  Thai Green Curry paste has Lemongrass, galangal, Coriander stems, Cumin, Green Chili, Shrimp paste.
Homemade curry paste is always the best. But It is always not feasible to get hold of all the ingredients and make it from scratch.
If you are on the lookout for Thai recipes, you may also look at Thai Red Curry, Thai Chicken Noodle Soup, Thai Chicken Coconut Soup (Tom Kha soup), Thai Butternut Squash Curry, and Thai Basil Chicken.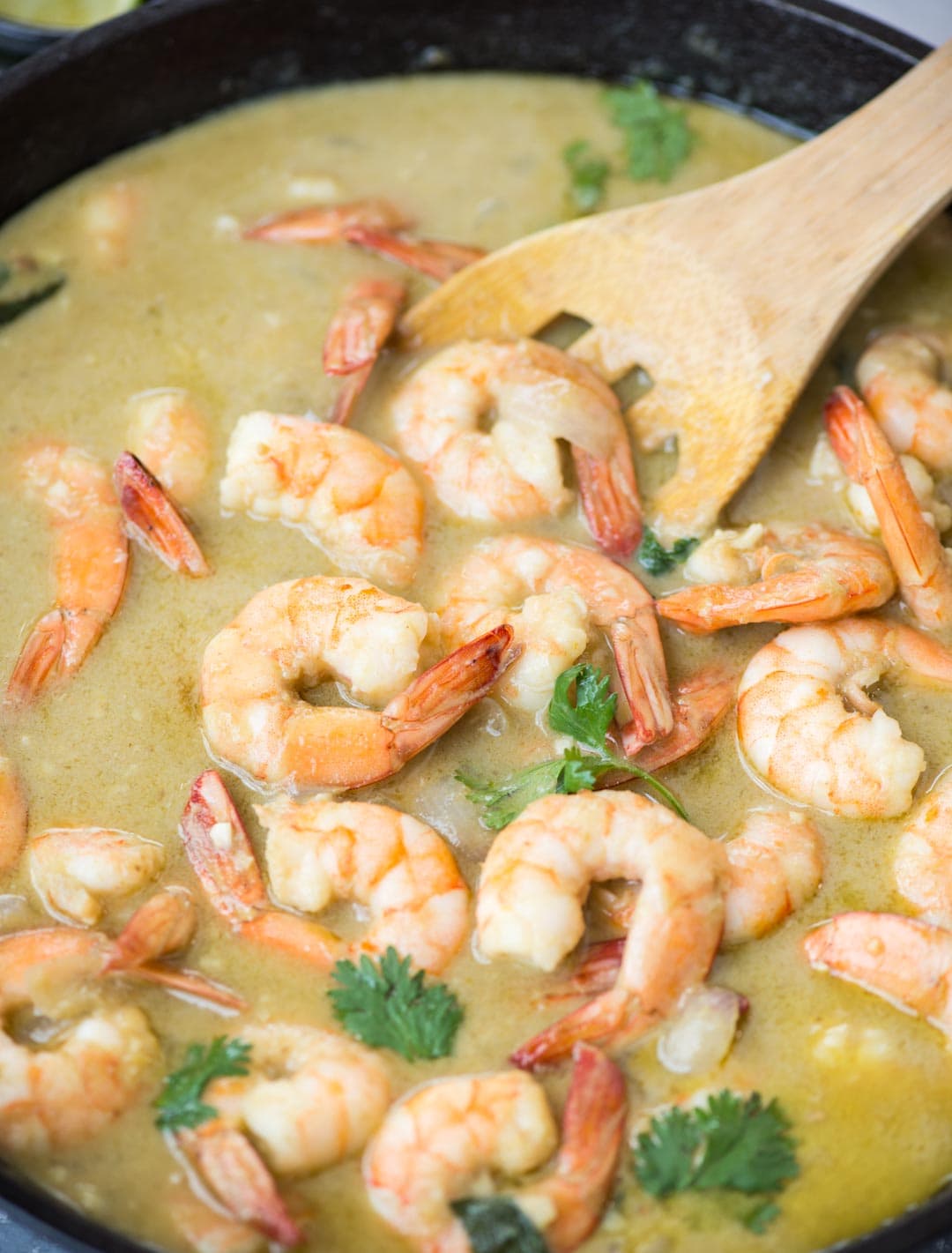 Why Will You Fall In Love With This Thai Shrimp Curry?
Delicious curry made in less than 20 minutes with a handful of easily available ingredients, You gotta love this curry without any doubt.
I don't always have the luxury of making Homemade curry paste from scratch, so I keep a bottle of Green Curry pastes in the refrigerator.
Along with bottled curry paste, I add fresh aromatics like Lemongrass, galangal, Kaffir lime leaves, Thai Basil leaves as per the availability. Any good brand Curry paste does more than a decent job and will not disappoint you.
Tips To Make Thai Shrimp Curry
Use fresh or frozen Shrimps that are clean and deveined. Thaw frozen shrimps to room temperature and drain any extra liquid before adding.
Use good brand Green curry paste for real Thai flavours.
I like to use slightly Thick Coconut milk for extra creaminess. As per my observation thickness of coconut milk varies slightly for different brands. You can also add a 1/4 cup of coconut cream to make the sauce extra creamy.
Shrimp doesn't take long to cook. So add shrimp towards the end and cook for 4-6 minutes depending on the size.
Try to add at least 1-2 two fresh ingredients to the curry for enhancing the flavour. In this recipe, I have added fresh Thai Basil at the end.
Add a couple of slice of galangal/slightly crush about 1-inch long lemongrass(only the white part)/ 2-3 Kaffir lime leaves to the curry. as per the availability. Scoop out the galangal/Lemongrass/Kaffir lime leaves before serving.
The fish sauce might not have a pleasant smell but it makes a big difference in any Thai Curry.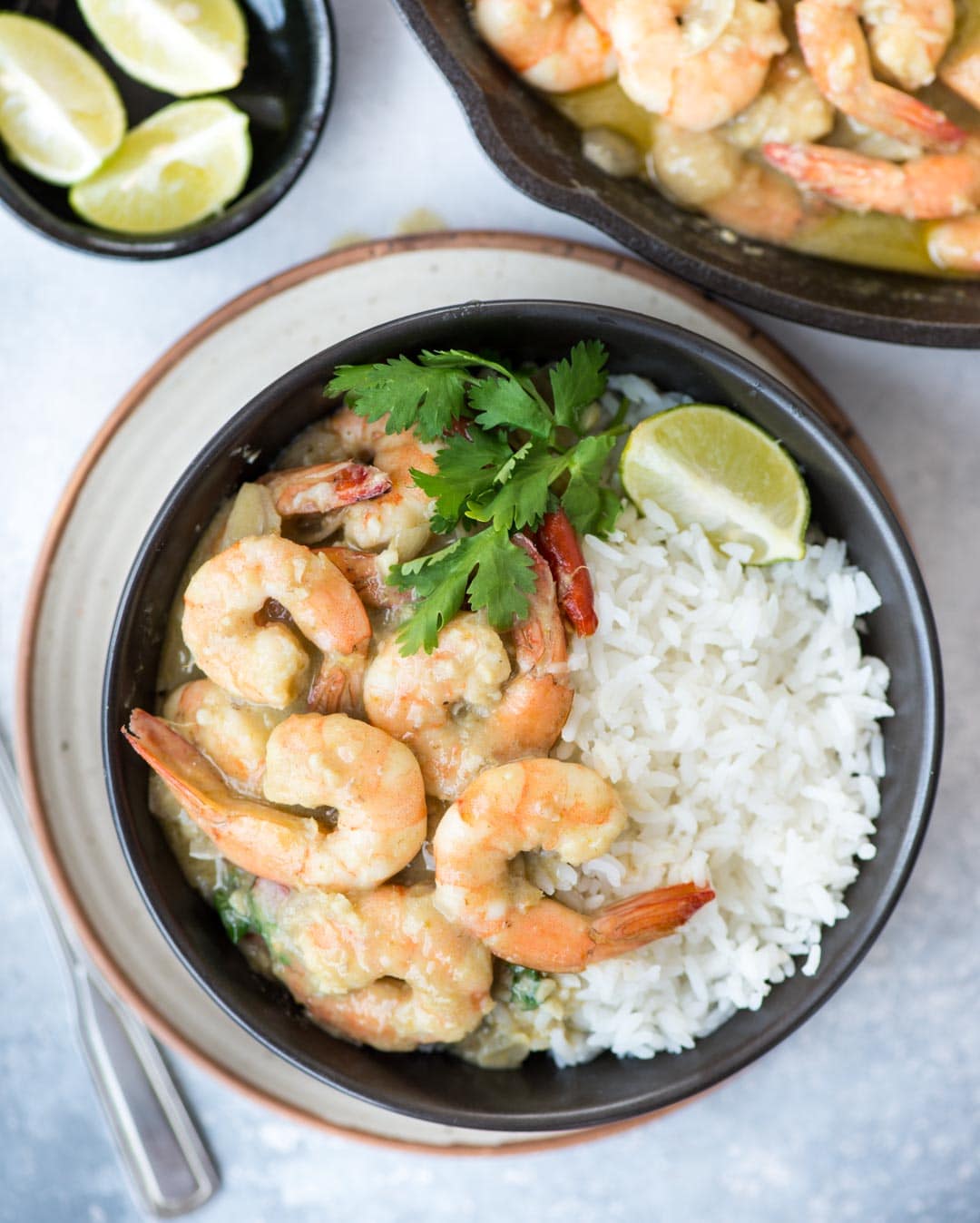 How About Adding Vegetables To The Curry?
You can add varieties of veggies to this curry. Zucchini, baby eggplants, Red bell peppers go really well with the Thai flavor. You can also add broccoli, carrot, green beans, etc.
Keep in mind each vegetable has a different cooking time depending on its toughness. Shrimp needs not more than 4-5 minutes to cook. So if you are adding any vegetables, add tougher vegetables first followed by soft tender veggies. Add Shrimps towards the end.
More Delicious Curry Recipes…
Slow Cooker Coconut Chicken Curry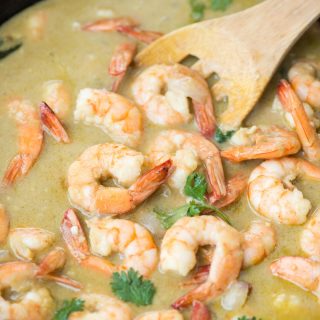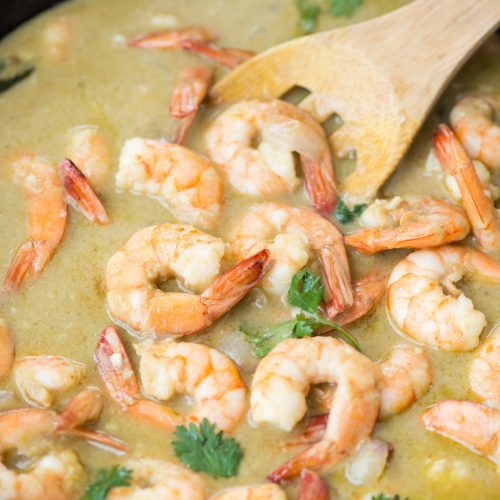 Thai Shrimp Curry
Delicious Shrimp Curry simmered in Thai Green green curry paste and creamy coconut milk takes less than 20 minutes to make.


Ingredients
500 grams Shrimps Cleaned
2 tablespoon Oil
½ cup Shallots Chopped
1 tablespoon garlic Minced
1 teaspoon ginger grated
2 tablespoon Thai Green Curry Paste
1 can Thick Coconut Milk 400 ml
1 teaspoon Brown Sugar
1 tablespoon Fish Sauce
¼ cup Thai Basil Chopped
2 teaspoon Lemon Juice
Fresh Coriander leaves to garnish
Instructions
Heat oil in pan. Add chopped shallots. Cook 2-3 minutes until it is softened and looks translucent.

Stir in garlic and ginger. Fry until the raw smell is no more.

Add green curry paste. Saute for 30 seconds.

Pour in coconut milk. Stir well.

Season with brown sugar and fish sauce. Let the sauce come to a boil.

Add Shrimps to the pan. Let it cook for 3-4 minutes.

Switch off the flame. Stir in chopped basil and fresh lemon Juice.
Notes
2 heaping tablespoons of green curry paste was enough for flavour and it was spicy enough. Adjust the amount of curry paste depending on how intense the curry paste is. 
Nutrition
Serving: 100g | Calories: 394kcal | Carbohydrates: 6g | Protein: 28g | Fat: 30g | Saturated Fat: 19g | Cholesterol: 315mg | Sodium: 1338mg | Potassium: 323mg | Fiber: 1g | Sugar: 2g | Vitamin A: 1260IU | Vitamin C: 8.6mg | Calcium: 215mg | Iron: 6mg