One-Pot Chickpea Curry (Chana Aloo)
This post may include affiliate links that earn us a small commission.
Chickpea curry with potato or Chana Aloo curry is packed with flavor, is nutritious, and needs less than 30 minutes to make. This one-pot chickpea curry is best served with rice or naan.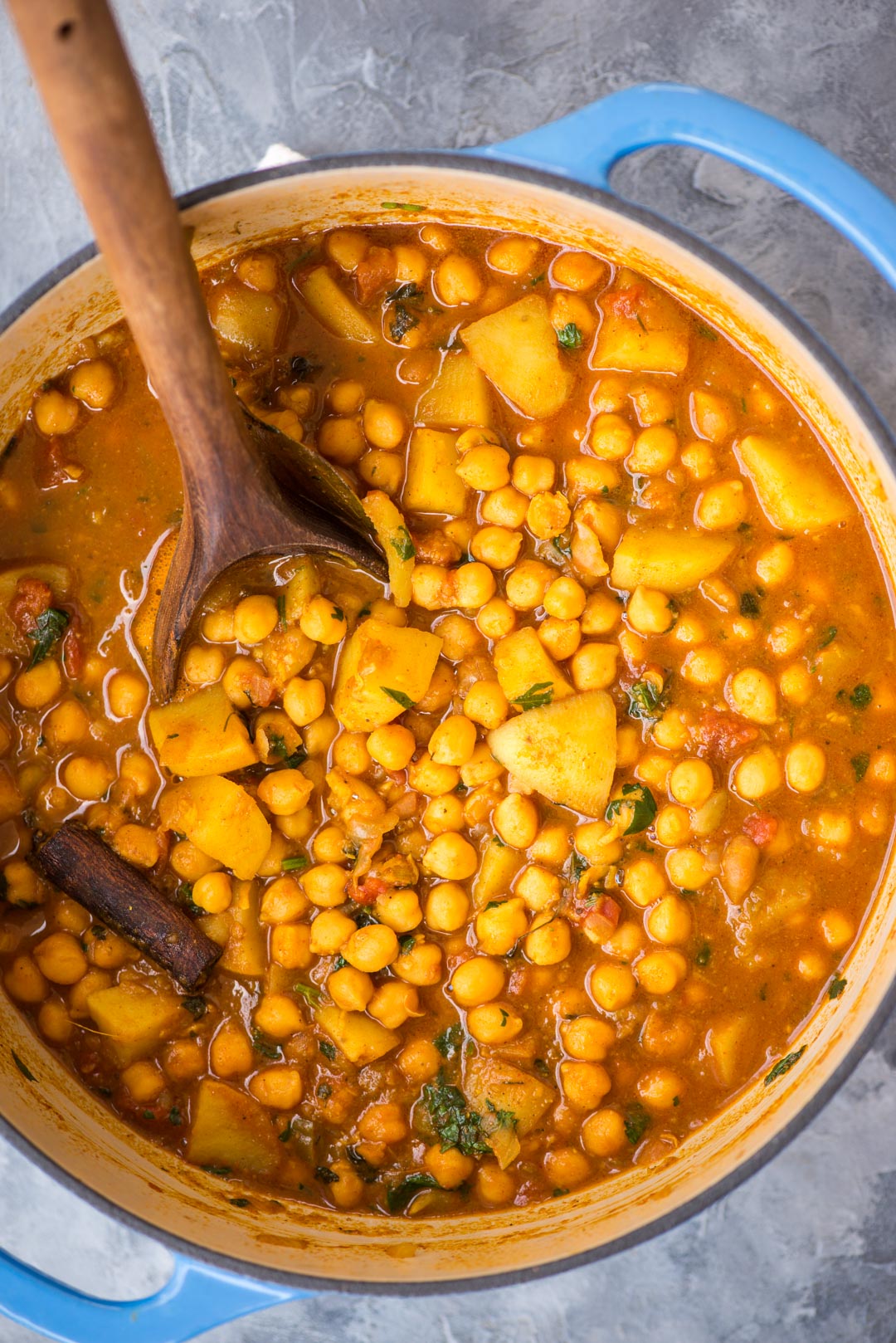 Chickpea curry with potato in a spicy thick gravy and a bowl of rice or roti(flatbread) is comfort food for me. A simple hearty curry made with onion, ginger garlic, regular Indian spices, and tomatoes is packed with complex flavors.
This meatless curry is rich in protein, fiber, good carbs and is super healthy. This fabulous Chickpea Curry is gluten-free and Vegan too.
Flavours In Your Inbox
Subscribe for recipes straight to your inbox
We eat curries frequently at home. It never occurred to me to share Indian curry recipes on the blog, until I got requests from my readers. I will be sharing quite a few Indian recipes frequently.
And after seeing the request I thought why not? I will be sharing a few easy Indian Curry recipes which don't need any special spices or elaborate preparation.
I have a few more chickpea curries on the site. While this Chana Aloo recipe is cooked in a dutch oven, I have Sweet Potato Chickpea Curry done in an Instant Pot and a Chickpea Sausage Stew prepared in a crockpot (Slow Cooker).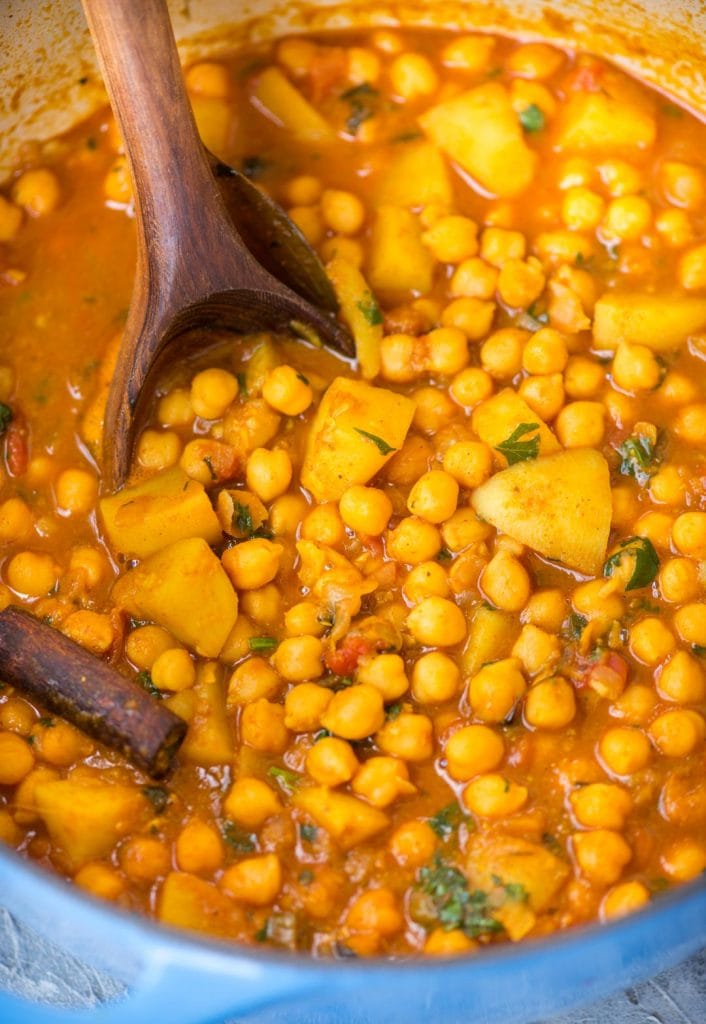 Dry Chickpea Vs Canned Chickpea
I have never used canned Chickpea in my life. Here in India, we use dry chickpeas all the time. Soak it overnight, pressure cook, and then use. I know it sounds like too much work, but we are kind of used to it.
Another method of cooking chickpeas when you are short of time or you forgot to soak ahead is to soak chickpeas in medium-hot water and let them soak covered for 1 – 1.5 hours. Then cook in a pressure cooker or Instant Pot.
On the other hand, canned chickpeas come really handy when you are in a hurry. So dry or canned chickpea both work in this recipe.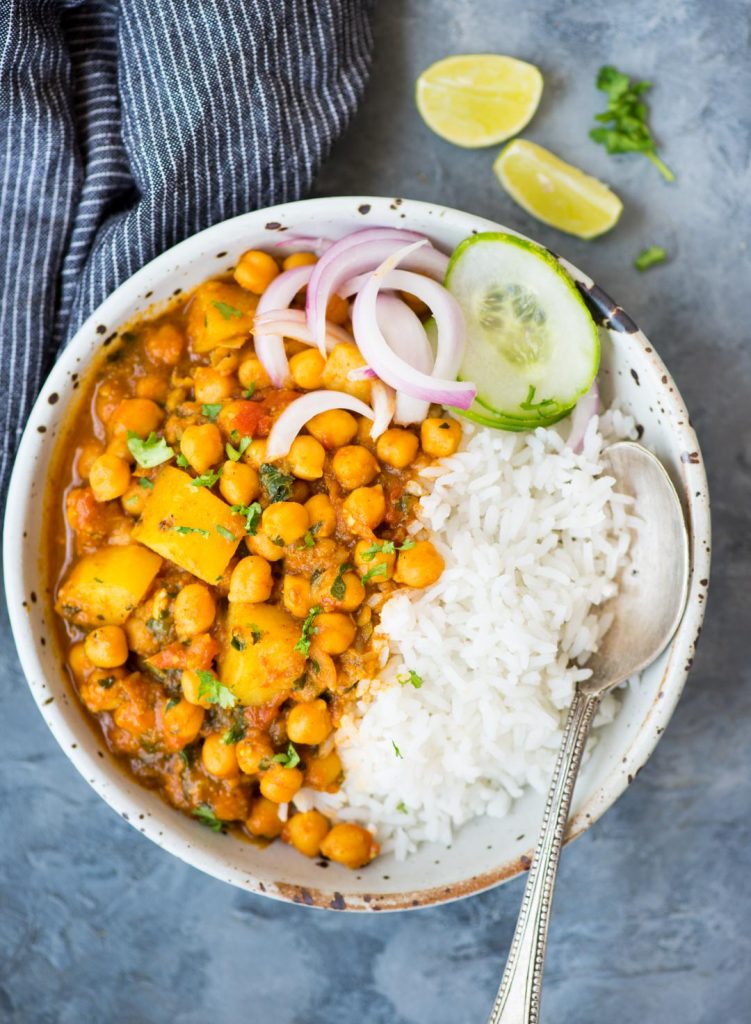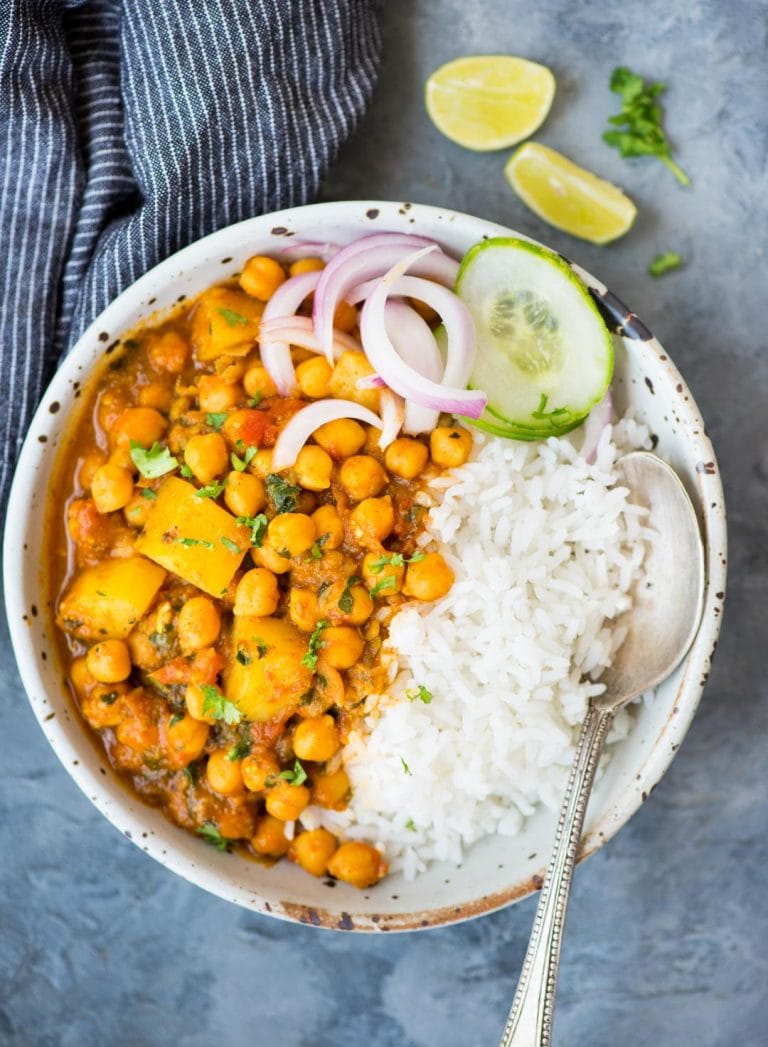 Ingredients
The list of spices for chickpea curry might look long but I am sure you must be having most of the ingredients in your pantry right now. If not, these spices can be procured easily from any Asian store. The combination of spices gives the curry a robust flavor – Turmeric, Chili powder, coriander powder, Cumin powder, and Garam Masala.
In Indian cooking, Garam masala is often used. If you don't have access to a good garam masala, do not worry. There is a very handy substitute for this. And when you use this substitute, you do not have to use coriander or cumin powder either.
That substitute is Curry Powder. Substitute all three ingredients – garam masala, coriander powder, and cumin powder with curry powder. Curry powder comes in different intensities of spice like hot, mild, etc. So you need to adjust the quantity as per your spice tolerance.
Another ingredient used in Indian curries is dried fenugreek or Kasuri Methi. It adds a lot of flavor to the dish, if you don't get it then you can certainly skip it.
How to make Chickpea Curry
Like any other Indian curry, first, the base of the curry needs to be done. It might seem like an extra effort but these extra steps would really make a difference.
Saute onion, ginger, garlic until fragrant.
Then add tomatoes and cook again until the tomato is soft and mushy.
After adding the dry spices, saute further until the entire mixture comes together and the oil starts to separate. These two steps help to bring out the flavours and also thickens the curry.
Roasting potatoes for a while before adding chickpeas is optional and you can skip it.
Serve Chickpea Curry With
Chana Aloo is best served with Basmati rice or Indian bread. You may even serve this with regular white rice or brown rice. It also goes well with fried rice, pulav, or vegetable biriyani.
Even roti, paratha, or naan (Indian flatbread) is commonly had with chana aloo. You will enjoy scooping the curry with pieces of naan.
Store
You can easily double the recipe and make a big batch of it. It's a great dish to make ahead and refrigerate. In fact, it develops flavor and tastes even better the next day.
Other curry recipes you might like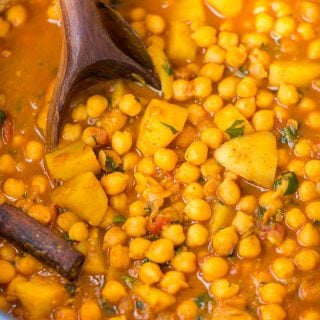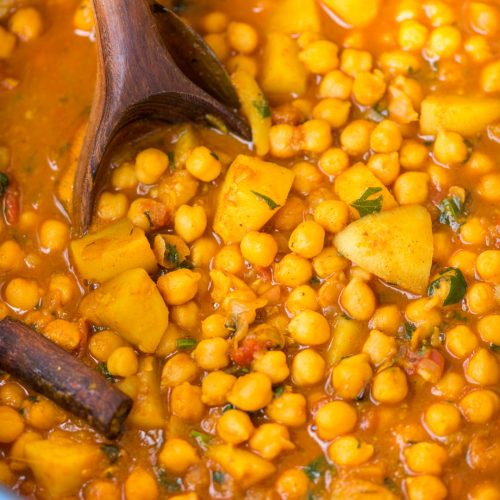 Chickpea Curry with Potatoes
Chickpea curry with potato or Chana Aloo packed with Indian flavors, nutritious and needs less than 30 minutes to make. This one pot chickpea curry is best served with rice or naan.


Ingredients
250 grams Dried Chickpeas (Ref. note 1)
2 tablespoon Oil
1 Bay Leaf
1 inch Cinnamon
1 medium Onion finely chopped
2 teaspoon Garlic minced (Ref. note 2)
1 teaspoon Ginger grated
1 green Chili (optional)
2 large Tomatoes chopped
½ teaspoon Turmeric Powder
2 teaspoon Coriander Powder
1 teaspoon Cumin Powder
1 teaspoon Chilli Powder
1 teaspoon Garam Masala
Salt to taste
2 medium Potato peeled, cubed
2 cups water
½ cup fresh coriander leaf chopped
2 tablespoon kasuri methi (optional)
Instructions
Soak Dried chickpeas overnight. Cook in a pressure cooker / Instant pot until it is cooked through, soft but still holds shape.

In a heavy bottom pot, add oil.

Once the oil is medium hot, throw in bay leaf and cinnamon. fry for 20-30 seconds untill aromatic.

Add chopped onion to the pot. Cook for 2-3 minutes, until the onions has softened and starts to brown.

Add ginger,garlic and chopped green chilli (if using). cook for another 1 minutes until the raw smell of ginger and garlic is gone.

Add chopped tomatoes and cook until it is soft and mushy.

Add all the spices turmeric, coriander, cumin , chilli powder and garam masala. Stir everything well and cook for 1 minute to let the spices infused in the oil. If the mixture sticks to the bottom and start to burn , sprinkle little water.

Add chopped potatoes and fry in onion tomato spice mixture for 1-2 minutes.

Stir in the chickpeas.Add water to the pot. Mix everything well and cover.

Let it cook on low medium-medium until potatoes are cooked and tender. (for around 20-25 minutes.)

At the end of cooking the curry would have a nice and thick gravy. If the amount of liquid is too little, then add warm water for desired consistency. (Ref. note 4)

Switch off the gas. Stir in chopped cilantro and kasuri mathi(if using).
Notes
Use 2 cans of drained Chickpeas instead of dried one.
 Use 1 heaping tablespoon of ginger garlic paste instead of minced garlic and grated ginger instead. 
If using Curry Powder – Skip Coriander powder, Cumin powder, Garam Masala and add 2 tablespoons of mild curry powder. 
The curry gets bit thicker ones it cools down, so add water accordingly. 
Nutrition
Serving: 100g | Calories: 313kcal | Carbohydrates: 48g | Protein: 13g | Fat: 9g | Saturated Fat: 1g | Sodium: 68mg | Potassium: 1009mg | Fiber: 13g | Sugar: 9g | Vitamin A: 760IU | Vitamin C: 25mg | Calcium: 99mg | Iron: 6.5mg