Instant Pot Chicken in a creamy tomato sauce with juicy chicken thighs, is incredibly delicious and takes less than 30 minutes to make.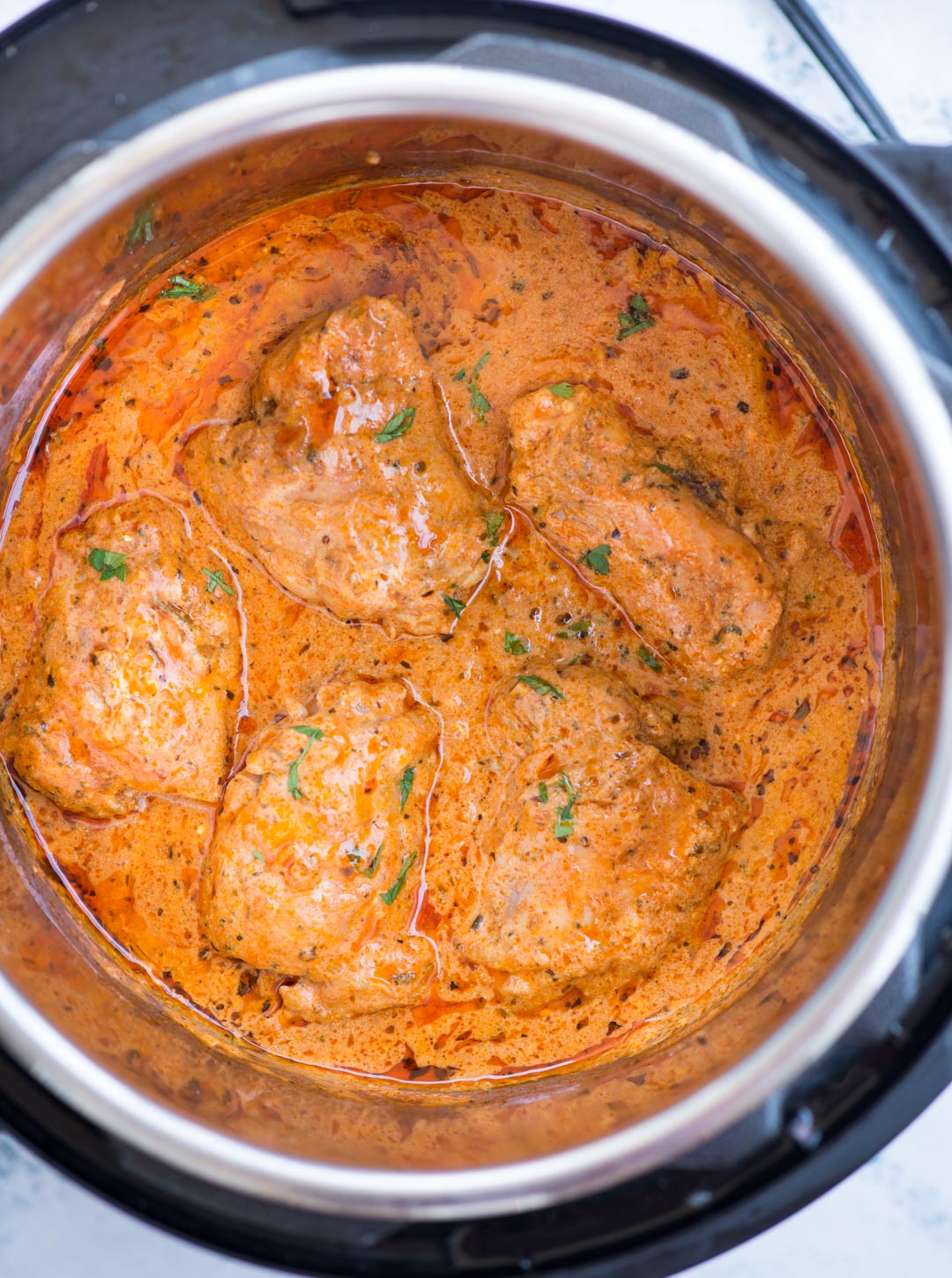 This Instant Pot Chicken recipe is going to blow your mind. The tomato sauce is so creamy, buttery, tangy with a hint of sweetness to it. The sauce is perfect to toss some pasta in it or keep it simple and serve the chicken with a side of greens.
I can't have enough chicken recipes, no one can. It is one of the most frequently eaten protein at home and there is always a demand for new chicken dishes. I have tons of chicken recipes on the blog and I keep adding more and more to the collection. Like most of my recipes, this recipe is also done entirely in the instant pot. It is quick, easy and so so delicious.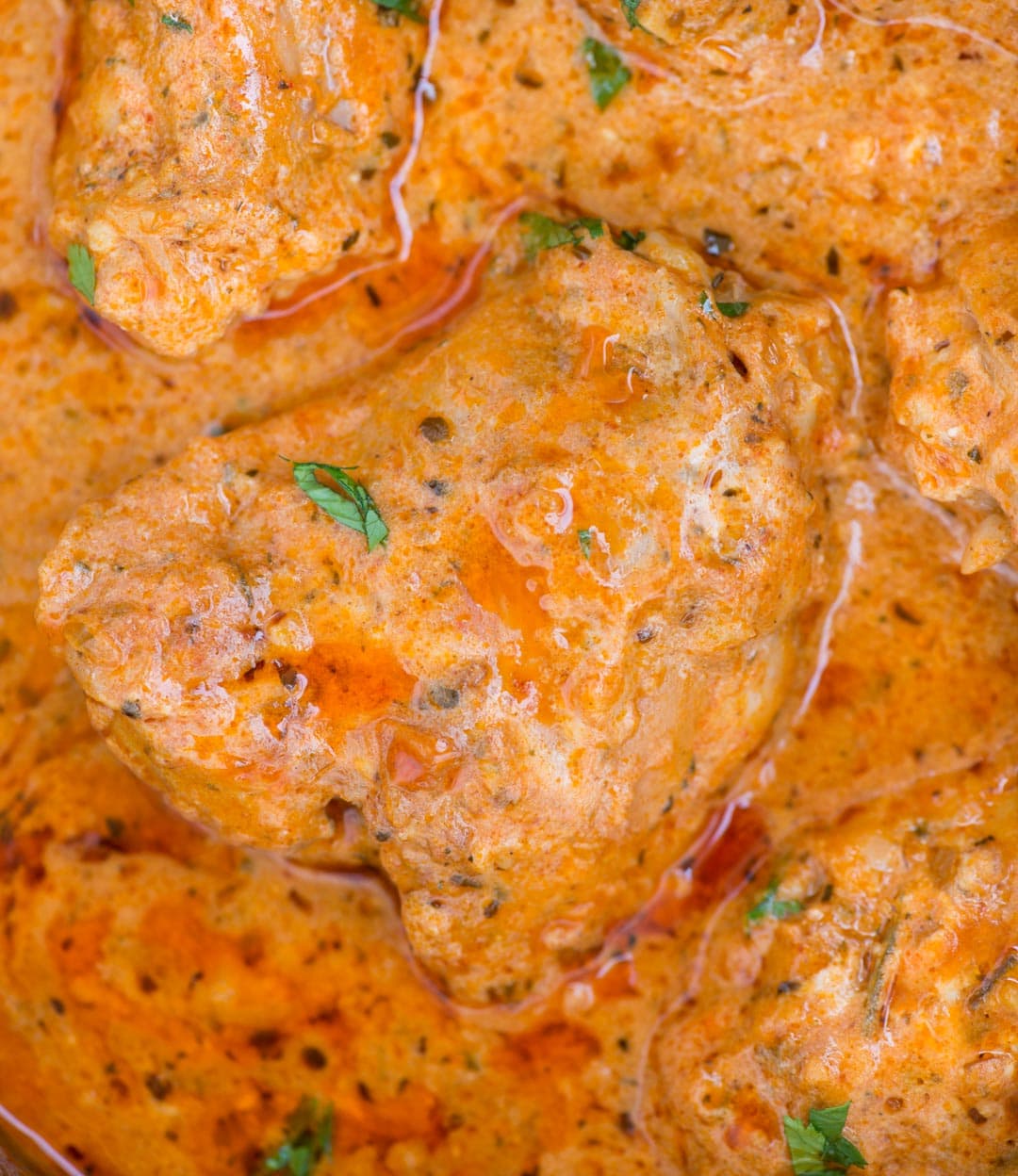 Tips For Making Instant Pot Chicken In Tomato Sauce
The ingredients for this recipe is really simple and available in most of the kitchens. All you need is butter, onion, garlic, Italian seasoning, Tomato sauce, cream, to make this luxurious tomato cream sauce.
I prefer to use chicken thighs with bone-in and w/o skin. I remain juicy and soaks up all the flavours well. Roasting the chicken thighs first helps to build up the flavour. So first season the chicken thighs and roast each side for 2-3 minutes until little brown spot start appearing.
The next thing we need to keep in mind is the cooking time for chicken thighs in the instant pot. Because we have already roasted the chicken for about 4-5 minutes, the chicken is partially cooked. So instead of the usual cooking time of 8 mins, we are going to cook the chicken for only 5 minutes. This ensures the chicken is not overcooked and still juicy.
Butter makes the sauce rich and also adds flavour. A dash of oil along with butter keeps the butter from burning.
Mince onion and garlic really fine, so that the sauce has a smooth texture to it.  While sauteing in butter make sure the garlic and Onion are aromatic and start to brown a little bit. Slightly caramelized onion and garlic give the depth of flavour.
Now the important step is when to add the cream. One of the most common issues I hear is the cream splits and makes the sauce grainy. So here is a little tip, make sure the gas is off while adding the cream to the pan ( in this case the Instant Pot should be off). After adding the cream mix everything well and don't boil the sauce.  So it is always recommended to add cream to the end.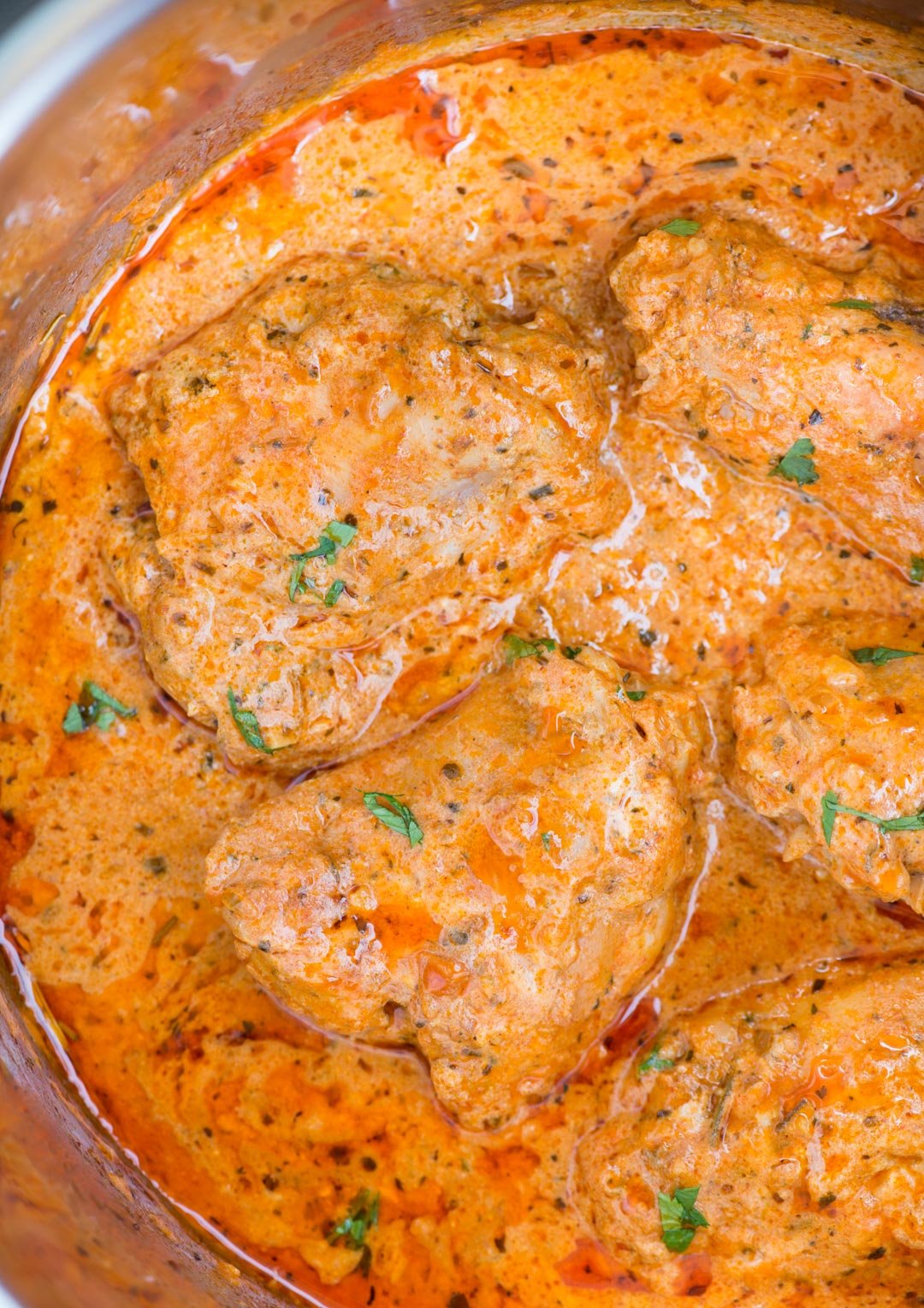 Can I Use Frozen Chicken Thighs?
One of the beauties of the instant pot is, it lets you cook chicken directly from the freezer. There are a couple of factors when it comes to cooking frozen chicken in the instant pot. First, the cooking time increases from 10 mins to 15 minutes and with a natural pressure release of 10 minutes.
Second, cooking frozen chicken in Instant pot tends to release more liquid than the fresh one. To adjust the total amount of liquid in the recipe.
In this recipe, you can alternatively use frozen chicken thighs. The only step that you need to skip is the browning of the chicken. If using frozen chicken thighs with skin, once the chicken is cooked take the skin off (because No browning of chicken thigs = rubbery skin when cooked).
So start with browning the onion and garlic in butter in saute mode. Then add wine to deglaze the pot, followed by tomato sauce and seasoning ( I would add a teaspoon more because the chicken is without seasoning). Add frozen chicken thighs and cook on high ( full pressure) for 15 minutes, followed by natural pressure release for 10 minutes. Release any remaining pressure manually and open the lid.
If the amount of liquid is more, put the pot back to saute mode. Cook for 5 minutes more to evaporate the extra liquid and get the desired consistency. Switch off the instant pot and add cream to it. Mix everything well.
Can I Use Chicken Breast Instead?
Chicken breast cooks beautifully moist in Instant Pot. You can use chicken breast instead of chicken thigh in this recipe as well with minor changes to the recipe. Chicken breast gets cooked in fairly less time. I have tried this recipe with chicken breast with a couple of variations.
Browning chicken breast and then cooking it on high pressure(reduced it to  4 minutes) resulted in dry rubbery chicken. The chicken also didn't absorb any flavours.
On the second try, I skipped browning the chicken and cooked on high pressure for 7 minutes, followed by natural pressure release for 10 minutes. Chicken breast turned out to be moist and flavourful.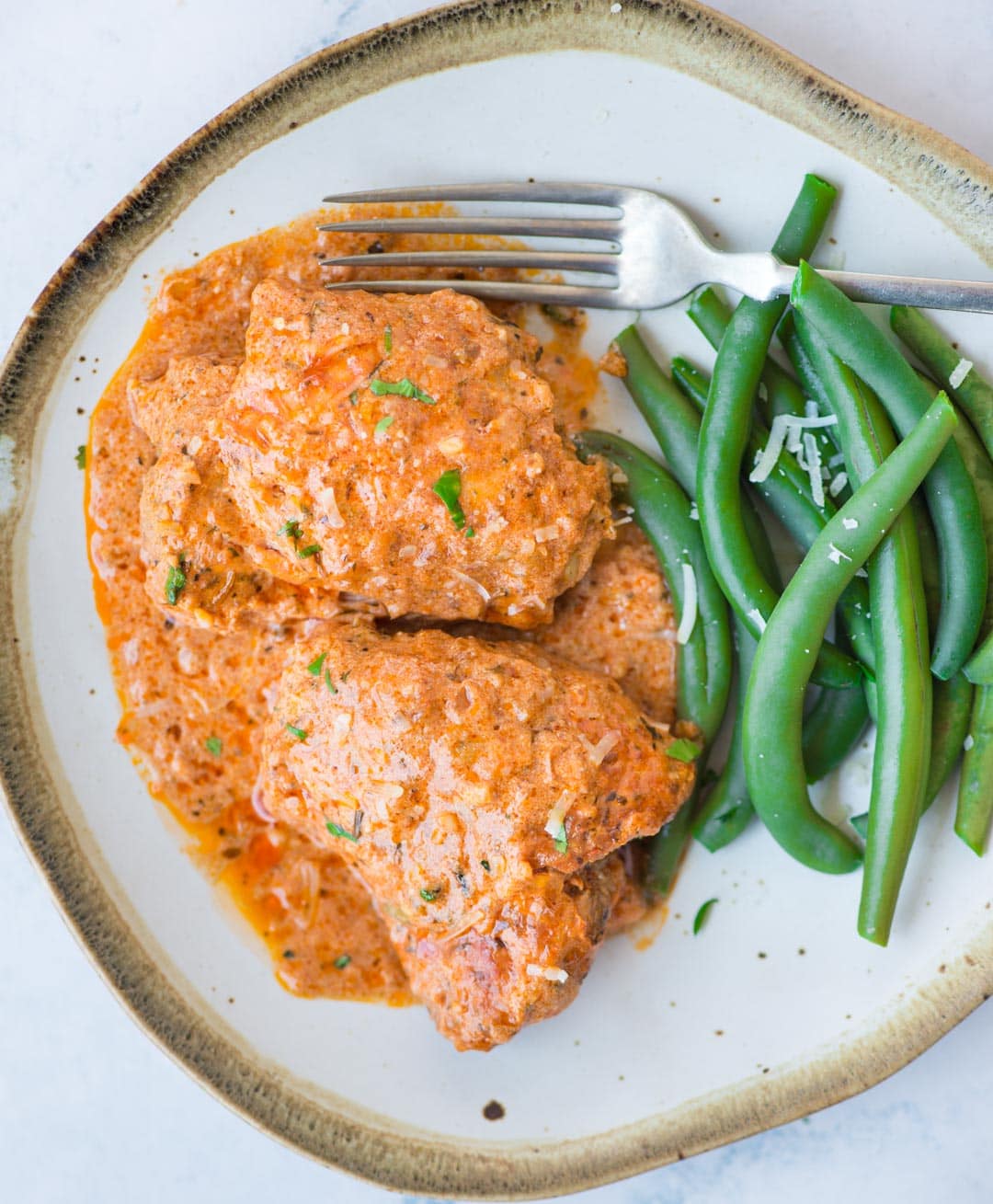 To Avoid Burn Notification In Instant Pot?
Getting burn notice while cooking on instant pot is quite annoying, especially while you have a hungry family to feed.
First of all, every time the pot is giving a burn notice doesn't mean something has burned. It might be an indication that the bottom layer of the pot has some brown bits stuck. So it is very important to deglaze the pot to release any brown patches from the bottom. Like in the above recipe, White wine is added to deglaze the pan.
Another reason for the burn notice could be because of very little liquid in the pot. In the recipe, the amount of tomato sauce is enough for the chicken. Also when the chicken thigh gets cooked it releases liquid.
The last reason could be the Inner pot is very hot, while setting it to manual high-pressure mode. In this recipe, first, chicken thighs are being sauteed followed by onion and garlic. If you tend to get frequent burn notification in your IP, then after you saute the chicken thighs, switch off the IP and let it cool down a bit. Then again switch to saute mode and start cooking onion and garlic.
Other Instant Pot recipes you might like
Instant Pot Garlic Herb Chicken & Rice
Instant Pot Creamy Balsamic Chicken & Potatoes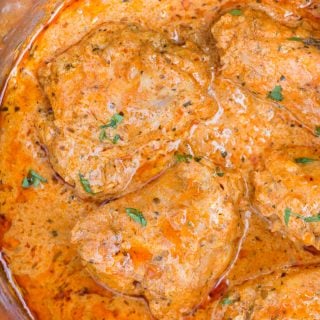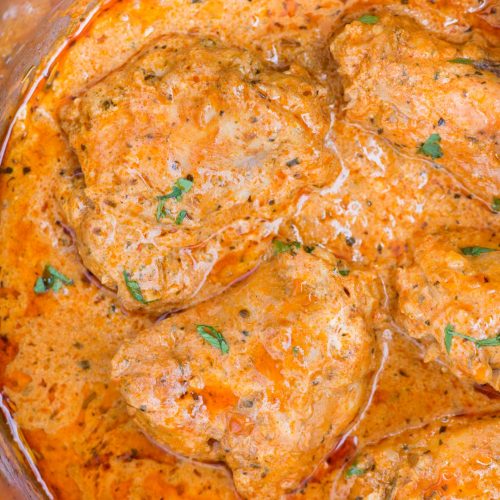 Instant Pot Chicken in Creamy tomato Sauce
Instant Pot Chicken in a creamy tomato sauce with juicy chicken thighs, buttery tomato sauce is incredibly delicious and takes less than 30 minutes to make.
Print
Pin
Rate
Ingredients
6

chicken thighs

with bone

2

teaspoon

Unsalted Butter

1

teaspoon

Oil

1

Medium

Onion

Chopped

1

tablespoon

Garlic

Minced

¼

cup

white wine

(Refer note 2)

2

cup

tomato sauce

(without salt)

1.5

teaspoon

Italian Seasoning

½

teaspoon

Paprika

½

teaspoon

pepper

½

teaspoon

salt

(Refer note 1)

½

cup

cream
For seasoning Chicken
½

teaspoon

salt

½

teaspoon

Italian seasoning

½

teaspoon

Paprika

½

teaspoon

Garlic powder
Instructions
In a mixing bowl add all the ingredients mentioned under seasoning. Mix well.

Add Chicken thighs to the above seasoning and toss to coat the chicken.

Turn on the Instant Pot to saute mode.

Once the pot is hot enough, add 1 teaspoon butter and oil.

Place the seasoned chicken thigh skin side down and let it brown for 2 minutes.

Flip the chicken and let it brown for another 2 minutes. Remove the chicken and keep aside.

Add rest of the butter to the pot, followed by chopped onion and garlic.

Saute onion and garlic for about 1-2 minutes, until it has softened and not smelling raw anymore.

De-glaze the pan with wine. Scrap the bottom of the pot well to release any stuck brown bits.

Add tomato sauce, Italian seasoning, paprika, salt and pepper. Stir well.

Place the browned chicken thighs in a single layer.

Cover the lid. Switch to manual mode. Cook on high (full pressure) for 5 mins.

Let the pressure release naturally for 10 minutes. Then do a quick release for any remaining pressure.

Switch back to Saute mode.

Stir in the cream and mix everything well to coat the chicken with the sauce.

Once the sauce looks creamy and chickens are coated well, switch off the pot. ( Cream will split and the sauce will look grainy if the sauce is cooked for too long after adding the cream).

Serve the chicken with creamy tomato sauce over pasta or sides of greens.

Don't miss the step by step detailed video down after the recipe.
Notes
Many readers who have tried the recipe has reported that the amount of salt was a bit more for their taste. I have mentioned the amount of salt that I have used as per my taste. Please use ½ teaspoon salt to season chicken and add ¼ teaspoon to the sauce later. Once the Chicken is done, Check the seasoning again and add more salt if required.
Wine definitely adds a lot of flavours and when added it deglazes the pot. You can substitute the wine with low sodium chicken stock as well. If using Chicken stock instead of wine, adjust the amount of salt accordingly.   
Nutrition
Serving:
100
g
|
Calories:
375
kcal
|
Carbohydrates:
9
g
|
Protein:
20
g
|
Fat:
28
g
|
Saturated Fat:
11
g
|
Cholesterol:
141
mg
|
Sodium:
912
mg
|
Potassium:
557
mg
|
Fiber:
2
g
|
Sugar:
4
g
|
Vitamin A:
950
IU
|
Vitamin C:
7.5
mg
|
Calcium:
50
mg
|
Iron:
1.9
mg
Products we recommend
[table id=2 /]
Disclosure: This post contains affiliate links to products that we use or recommend. While it is at no additional cost to you, these links help us earn a commission from any purchase that happens through them.