Instant Pot Creamy Balsamic Chicken and Tomatoes
This post may include affiliate links that earn us a small commission.
This Instant Pot Creamy Balsamic Chicken and Potatoes with delicious rich Cream Sauce takes only 15 minutes to make. With amazing Balsamic cream sauce, this Instant Pot Chicken with Potatoes is a family friendly dinner.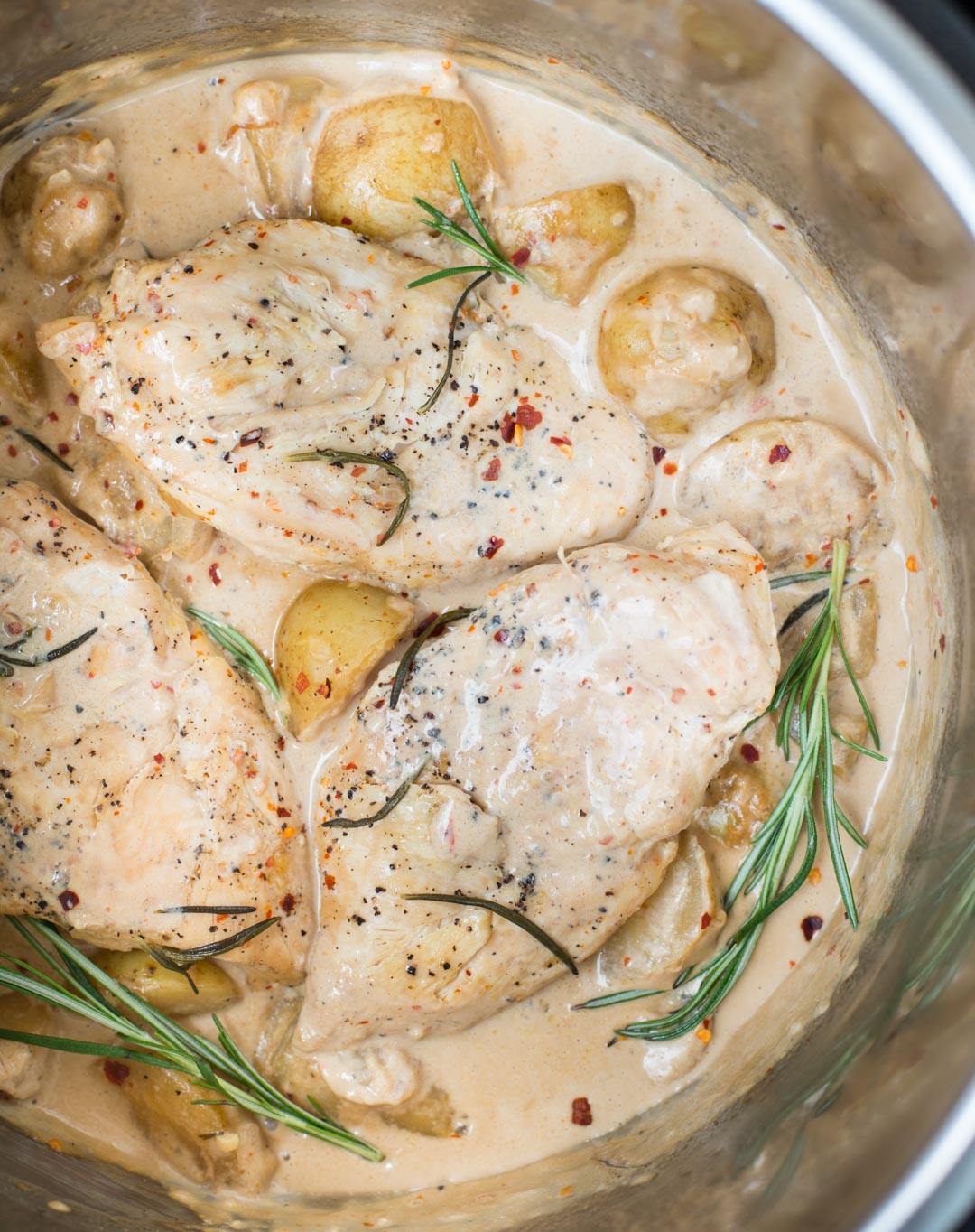 Juicy Chicken Breast, tender Potatoes in a delicious creamy sauce and mind-blowing flavours.  It is sweet, spicy and slightly sour because of the Balsamic Vinegar. The sauce has very delicate flavours.  Instant Pot Chicken and Potatoes is a fulfilling meal in itself. Serve this Creamy Balsamic Chicken and Potatoes alongside with some greens for a restaurant style meal.
Don't get mad at me for sharing one Instant pot recipe after other in a row. I am kinda obsessed with this cool Pressure cooker.  After getting an amazing response to GARLIC HERB CHICKEN AND RICE, I am thrilled to share more Instant Pot recipes.
Flavours In Your Inbox
Subscribe for recipes straight to your inbox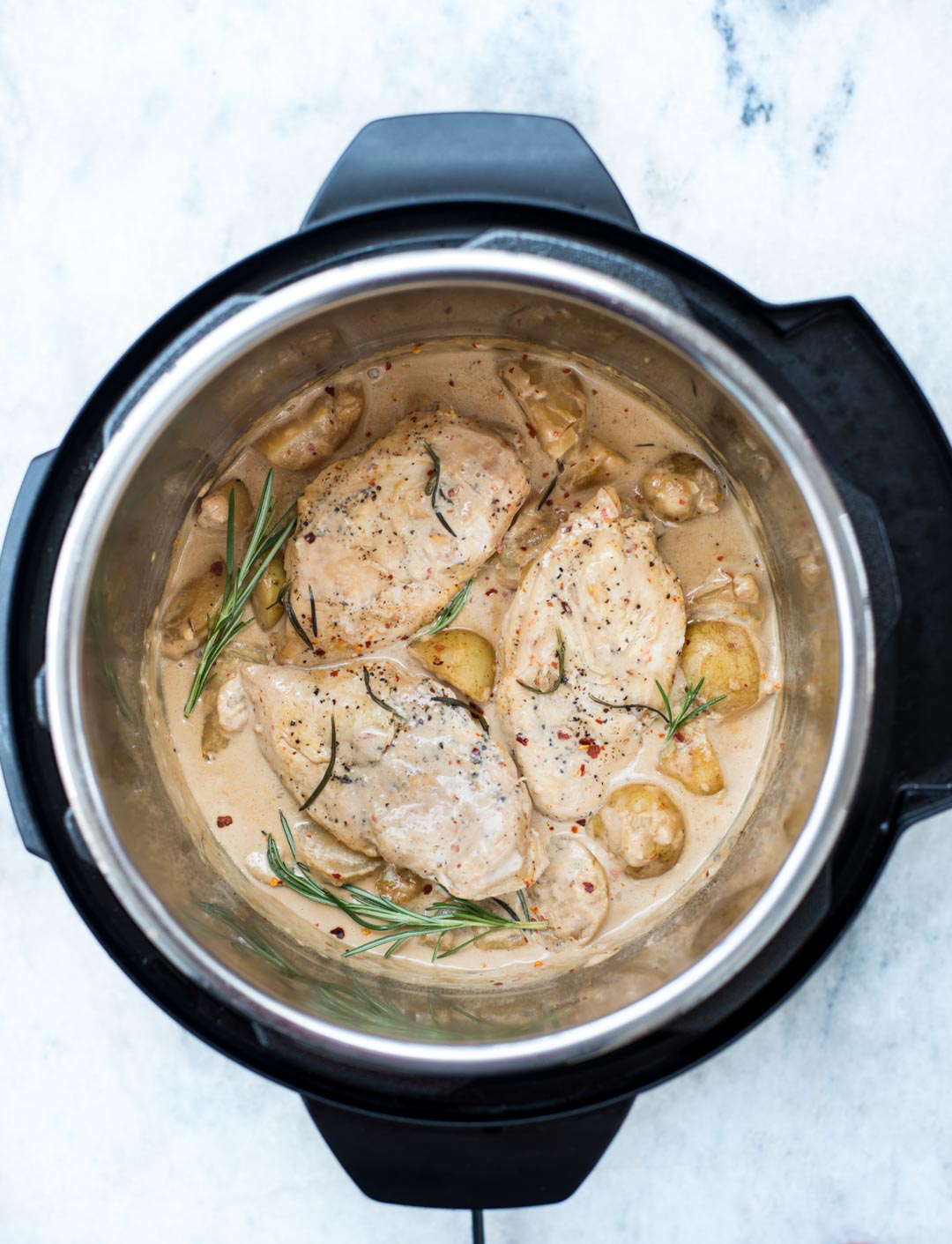 TIPS FOR INSTANT POT CHICKEN BREAST
Instant Pot Chicken is a game-changer altogether. Cooking Chicken Breast in a pressure cooker can sound scary. But Instant Pot Chicken is one of the quickest (and easiest) ways to cook chicken breast.
I know many are worried to cook a Chicken breast, as they turn out to be hard no time. And who likes rubbery Chicken breast after all. No matter how you cook the Chicken breast, you need to master the time in each method.  If you are looking for a foolproof way to cook chicken breast on the stove top, then check out EASY GRILLED CHICKEN BREAST WITH BUTTERMILK MARINADE. I have shared tons of tips for perfect Juicy Chicken Breast
Instant Pot chicken breasts are so much better than out of the slow cooker, and so much easier than anything on the stove top or oven. You can even cook Chicken Breast directly out of the freezer( we will talk about this some other time though).
Begin by pounding the chicken breast to an even thickness. Use a meat tenderizer or a simple rolling pin, keep the fillet in between cling film and gently flatten the thick side of the fillet. I never skip this step.
To cook regular Chicken breast in the Instant Pot, add broth, water or any other liquid to the Pot. Cook Chicken Breast for 8 minutes in High Pressure. 8 minutes works best for a medium-sized Chicken breast ( roughly 180-200 gms each). Once it is cooked, let the pressure release naturally for about 10 minutes.
TO MAKE CREAMY BALSAMIC CHICKEN AND POTATOES IN THE INSTANT POT
This Instant Pot Creamy Chicken and Potatoe is easy to make with very few ingredients. But the flavours are simple and Just spot on.
Start with searing the Chicken Breast. Searing Chicken breast locks in all the juices and caramelized bits of Chicken adds a lot of flavours. It also reduces the total cooking time in the end.  Use a mix of butter and oil while searing Chicken breast, again to for maximum flavours.
Next is to roast the potatoes before carmelizing onion and Garlic. Tell me who doesn't love potatoes with crispy golden edges. Another reason for cooking or roasting the potatoes is, to par-cook them before cooking it with Chicken.
Got the point? Ok, Let me explain. When you sear Chicken, you cook it partially. To the end when you pressure cook Potatoes and Par Cooked Chicken breast together, by the time Potatoes get cooked properly, Chicken would have overcooked.
Then caramelized onion and garlic along with potatoes. Add stock to the pot. Place seared chicken breast to the pot. Rosemary works very well with potatoes and chicken. Cook it on high pressure for 5 mins. Release pressure manually after 10 minutes of natural pressure release.
This Instant Pot Creamy Balsamic Chicken and Potatoes has just the right amount of cream in it. Startch from cooked potatoes also ads to the thickness. So no need of loading it with gallons of cream. To balance the sour balsamic vinegar, I have added honey to it. Chilli flakes and pepper to give a spicy kick.
TO SERVE CREAMY BALSAMIC CHICKEN AND POTATOES
This dish is a meal in itself. I would serve this with greens like broccoli or Sauteed Green Beans. This can also be served with rice or pasta. This has enough sauce to toss in some pasta into it.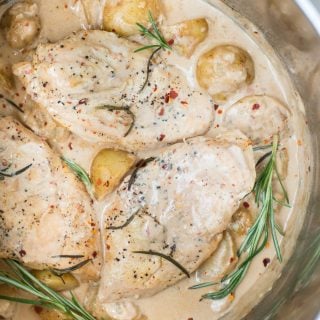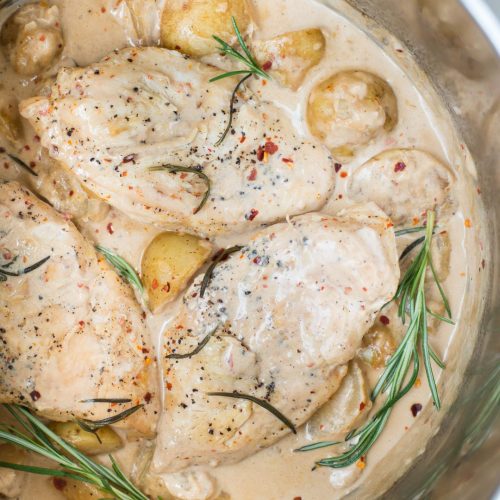 INSTANT POT CREAMY BALSAMIC CHICKEN AND POTATOES
Perfectly Juicy Chicken breast and Potatoes in creamy balsamic sauce, made in an Instant Pot in under 20 minutes.
Ingredients
3 Medium Boneless Chicken Breast
200 grams Baby Potatoes Cut into halves
1 tspn Olive oil
1 tbsp butter
1 small Onion Chopped Finely
1 tbspn Garlic Minced
2 sprigs Fresh Rosemary
1 tbsp Honey
1 tbsp Balsamic Vinegar
½ tspn chilli flakes
¾ cup Chicken stock
¾ cup half and half
salt as per taste
pepper as per taste
Instructions
Set Instant Pot to saute mode. Once hot, add oil followed by butter.

Season Chicken breast with salt and pepper. Sear 2 minutes each side in hot Instant Pot. Keep aside.

Keep the Instant pot in saute mode and throw in potatoes. Fry for 4-5 minutes, stirring in between. Potatoes will begin to look light golden brown.

Stir in minced garlic. Cook for 30 seconds. Then add chopped onion. Cook 2-3 minutes until it has softened and starting to caramelize.

Pour in chicken stock. Place chicken breast at the top. Throw in rosemary.

Switch Instant Pot to the Manual Mode and set the timer to 5 minutes. Let it go do high-pressure mode and then the countdown will begin.

Once the timer is over, the switch of the Instant Pot. Let the pressure release for 8 minutes. Then release pressure manually using back of a spatula.

Remove chicken breast, keep aside covered.

Set back to Saute Mode. Add half and half, honey and balsamic vinegar. Season with salt and pepper. Add chilli flakes if desired. Stir well.

Add Chicken breast back to the Pot and coat with cream sauce.
Notes
TO COOK WITHOUT SEARING CHICKEN BREAST AND POTATOES
Searing chicken breast and Potatoes is optional. You can directly start with sauteing onion and garlic. Once they look caramelized, add chicken stock. Add halved baby potatoes and Chicken Breast. Switch to manual mode and set the timer to 8 minutes. When it is done, let the pressure release naturally for 10 minutes. Then release pressure manually. 
Nutrition
Serving: 300g | Calories: 232kcal | Carbohydrates: 26g | Protein: 5g | Fat: 12g | Saturated Fat: 7g | Cholesterol: 35mg | Sodium: 155mg | Potassium: 476mg | Fiber: 1g | Sugar: 9g | Vitamin A: 380IU | Vitamin C: 16.9mg | Calcium: 86mg | Iron: 0.7mg
PIN IT FOR LATER