Instant Pot Honey Garlic Chicken
This post may include affiliate links that earn us a small commission.
Instant Pot Honey Garlic Chicken with a delicious Sweet and Savoury Sauce takes only 15 minutes to make. This Instant pot Chicken is perfectly moist and tender.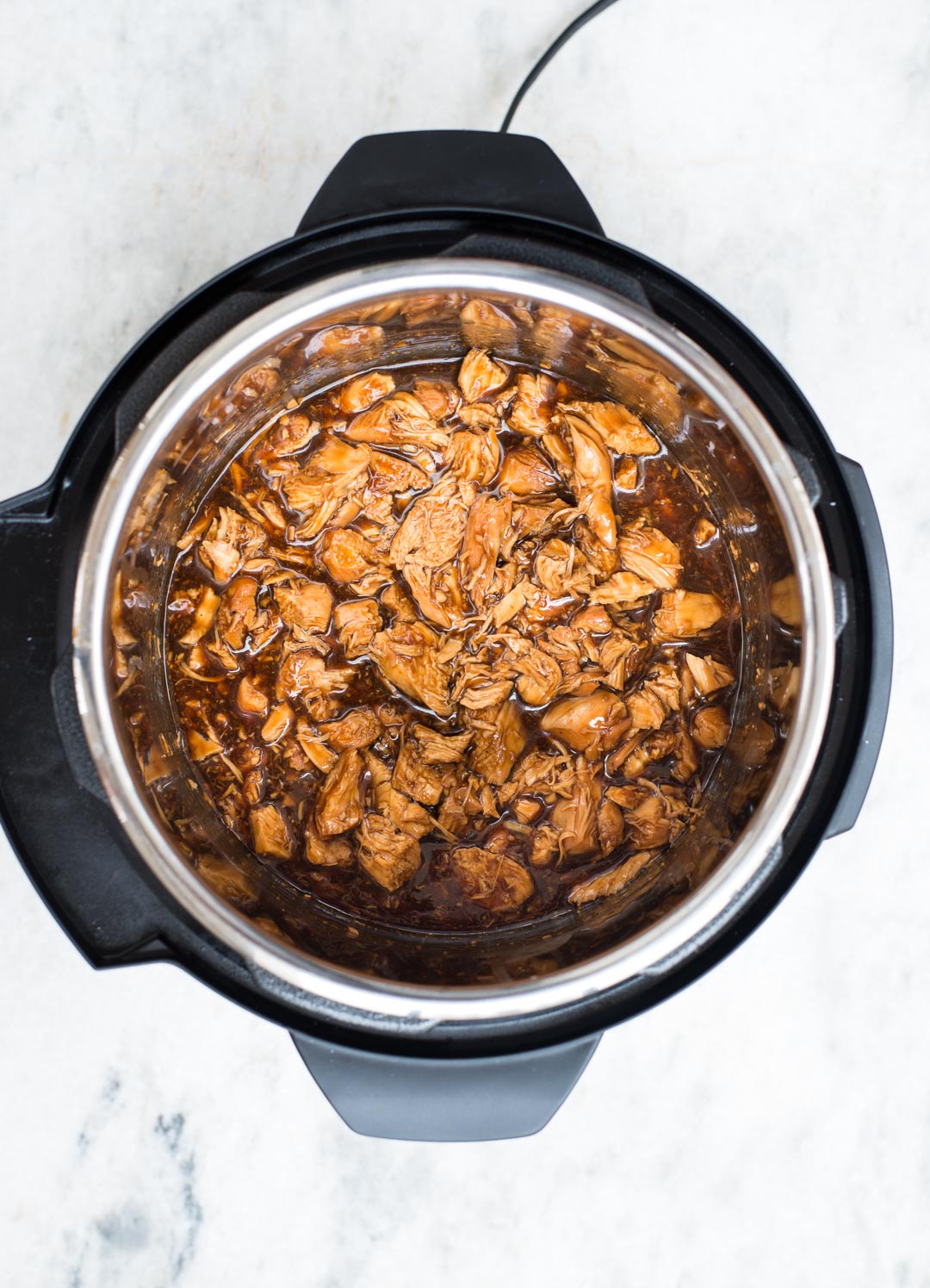 Today I am going to share another easy, quick and super delicious Instant Pot Chicken Recipe. This Instant Pot Honey Garlic Chicken has most incredible Garlicky, Sweet and Savoury sauce. The Pressure Cooker Chicken is super juicy and tender. I have also included instructions to cook on the Stovetop, in case you don't own an Instant Pot.
Flavours In Your Inbox
Subscribe for recipes straight to your inbox
The chicken cooks up tender and juicy with a delicious Asian inspired honey garlic sauce. I served this Honey Garlic Chicken with rice and broccoli.
This is going to be my third Instant Pot recipe in a row. I am not to be blamed, because this electric Pressure cooker is super cool. It has made my life so easy. I want to cook just everything and anything in it. 3 more Instant Pot recipes are in the queue but after this, I am going to gives you guys a break.
I have made GARLIC HERB CHICKEN AND RICE so many times and it comes perfect every single time. I have been getting amazing feedback from my readers who have tried this Instant Pot recipe. So, if you haven't given this Instant Pot rice a try, you are definitely missing something.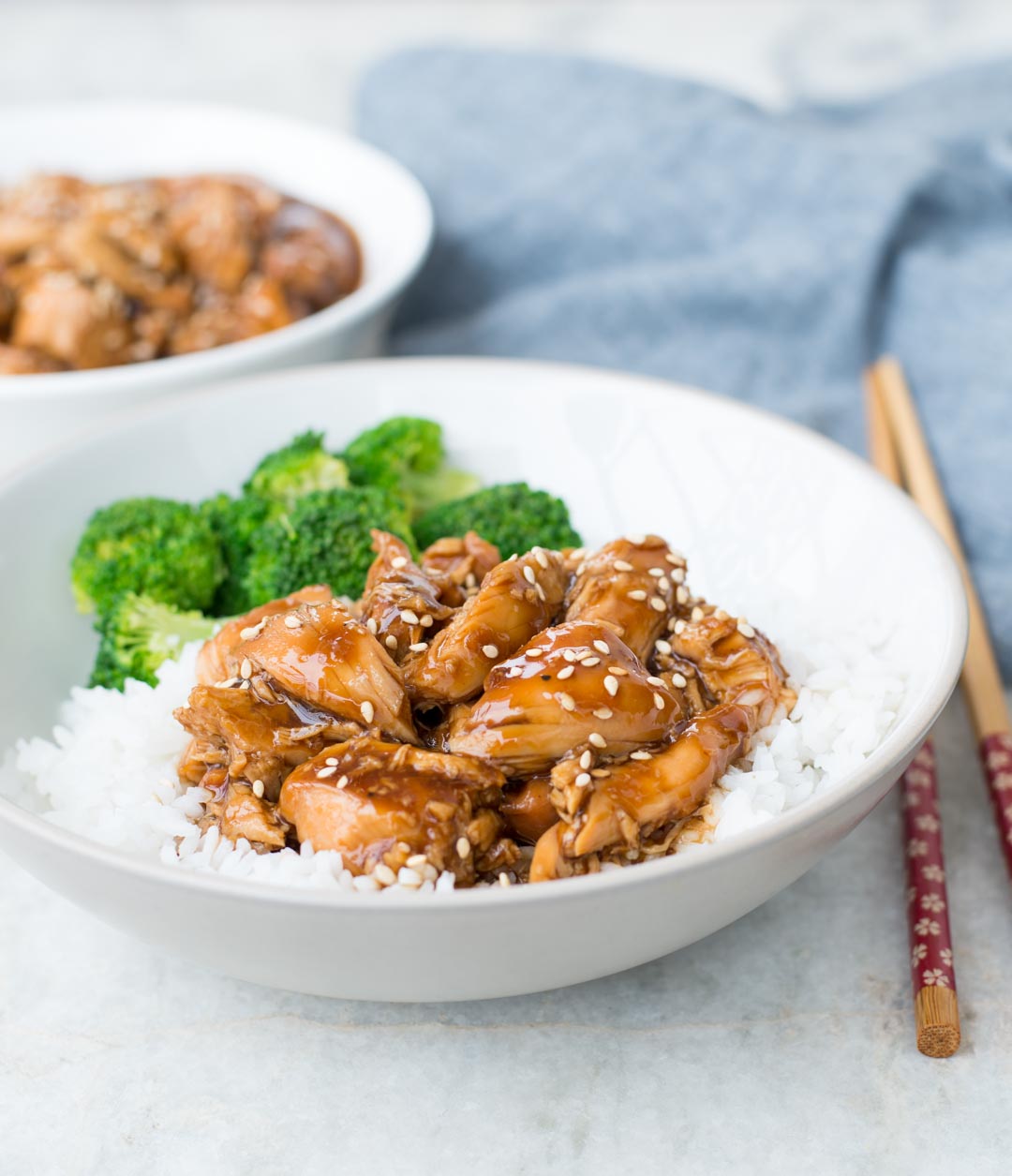 Before we get into the details of making this Instant Pot Chicken in Honey Garlic Sauce, let's talk about cooking Chicken breast in an Instant Pot. Chicken breast is a tricky thing to cook, I am sure you would agree. But if cooked the right, Chicken breast can be as tender and Juicy as Chicken thighs.
If you are looking for tips and tricks to cooking Chicken breast on the stovetop, Check out this GRILLED CHICKEN BREAST WITH BUTTERMILK MARINADE. For Instant Pot Chicken Breast below are few tips to get perfectly cooked Chicken Breast.
Tips For Cooking Chicken In Instant Pot
Cooking Chicken Breast in an Instant Pot is a really easy and foolproof way to get juicy Chicken Breast every Single time. The time needed for cooking Chicken in a pressure cooker depends on its thickness. It takes usually 7 mins to cook a medium-sized Chicken breast, weighing each around 180- 200gms. After high pressure cooking for 7 mins, 8 minutes of natural pressure release followed by a quick release.
For larger Chicken breast increase the time to 8 minutes with 10 minutes of natural pressure release followed by a quick release.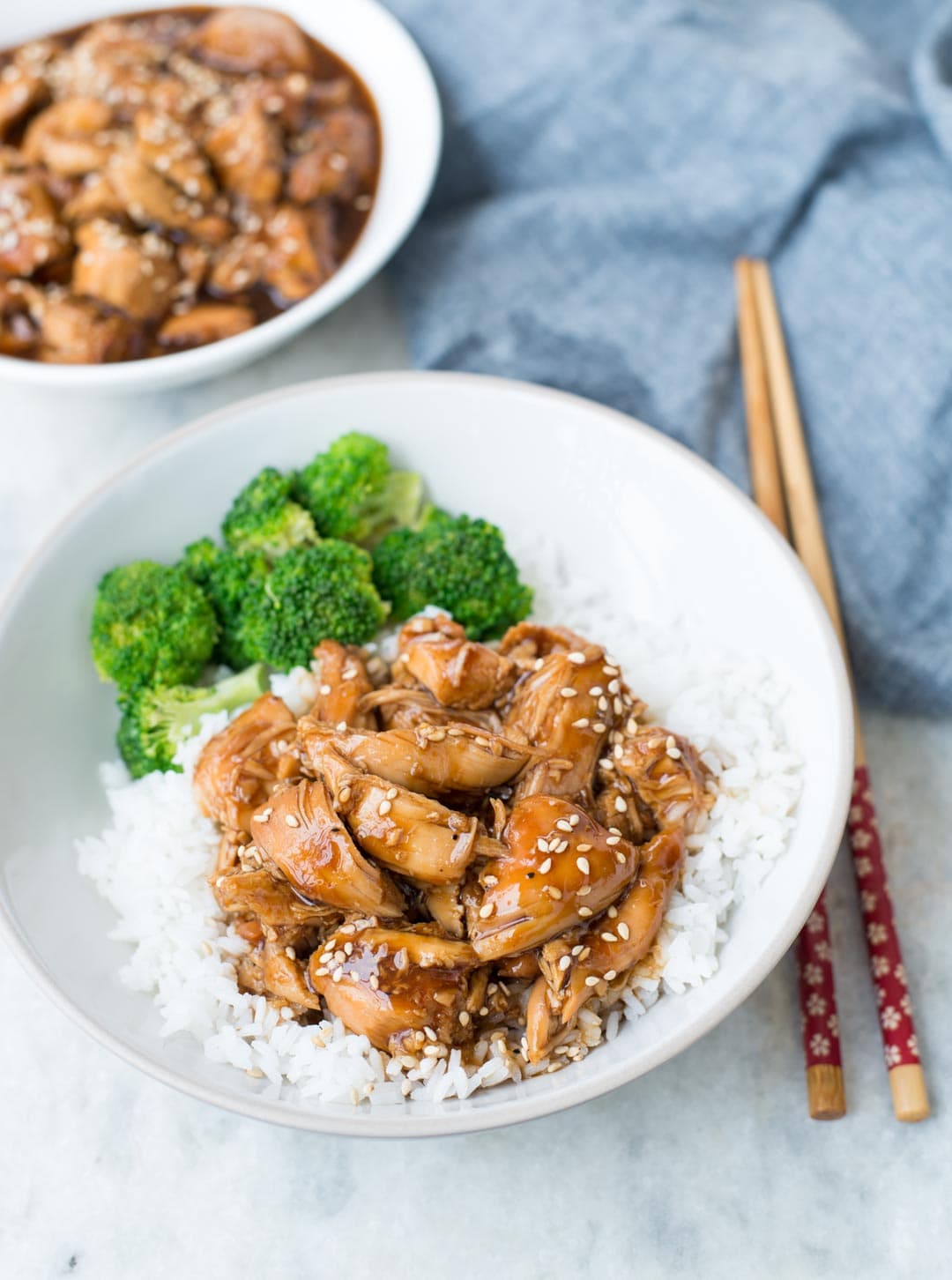 Instant Pot Chicken Breast In Honey Garlic Sauce
Making Honey Garlic Chicken in an Instant Pot is easy and it is one pot. You need the only a handful of ingredients to make this. You would need
Chicken Breast
Stock
Garlic
Honey
Soy sauce
Sriracha
Salt and pepper.
Cornstarch slurry
It is as simple as adding all the ingredients to one pot and your dinner is ready. Shredded Chicken breast and adding back to the Honey Garlic sauce makes it even more delicious. Each chunk of chicken breast coated thick honey garlic sauce just melts in the mouth. You can certainly go with whole chicken breast, but I would insist on shredding the chicken.
The sauce has a just-right balance of sweet and savoury, with a garlicky flavour.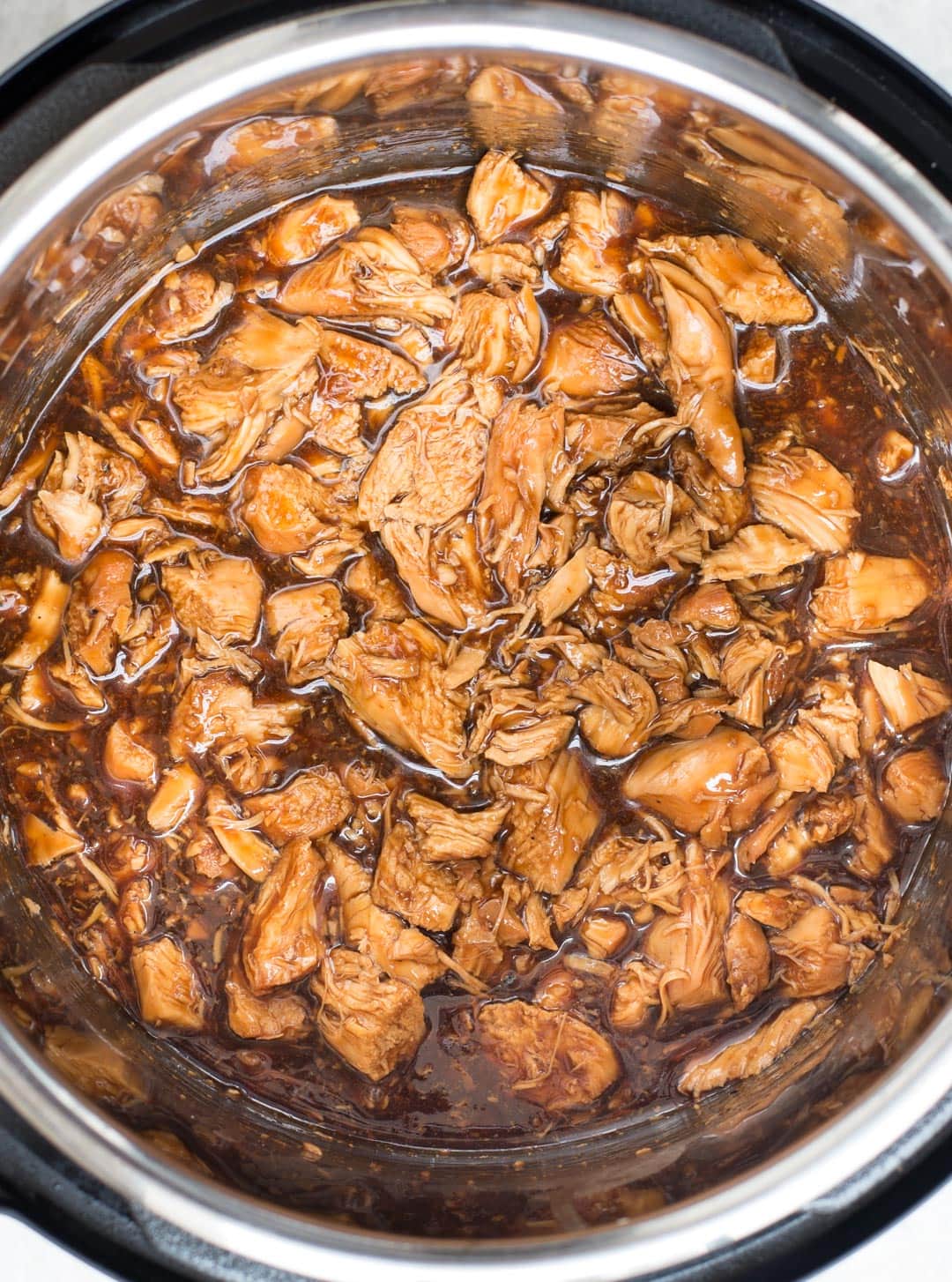 Can I Use Frozen Chicken Breast?
Of course, you can use Frozen Chicken breast. Increase high-pressure cooking time to 10 minutes and then a natural pressure release of 8 minutes, followed by a quick release.
Cooking frozen chicken breast releases more liquid than the fresh chicken breast when cooked. So skip adding the stock to avoid runny sauce.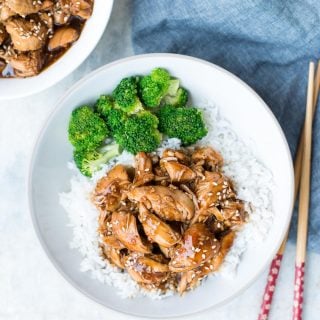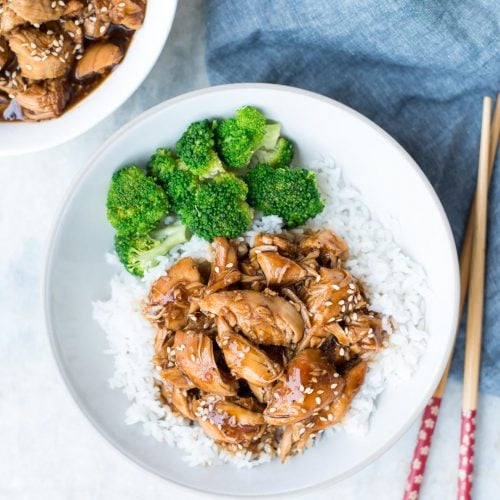 Instant Pot Honey Garlic Chicken
Juicy Instant pot Chicken in a sweet and savoury Honey Garlic Sauce is very quick and easy to make. Detailed recipe video below.
Ingredients
4 Boneless Chicken Breast (roughly 500-600gms in total)(ref note 1)
¼ cup Chicken Stock
⅓ cup Soy Sauce
1 tbsp Garlic Minced
1 tspn Ginger
½ cup honey
1 tbsp Sriracha
¼ cup Water
2 tbsp Cornstarch
Instructions
Place boneless chicken breast to the inner pot of Instant Pot.

Pour in all the above ingredients except cornstarch and water.

Set Instant Pot to Manual Mode and 7 minutes. Once the pressure builds up, the countdown will start.

When the time is off, let the pressure release for 8 minutes. Then do a quick release.

When the pressure is completely released, remove the Cooked chicken breast and place covered.

Set Instant pot to saute mode, make the slurry by mixing water and cornstarch. Add slowly to the Pot.

Let it cook for about 5 minutes or until the sauce thickens to the desired consistency.

While the sauce is being cooked, Shred Chicken using forks.

Once the sauce is cooked, switch off the instant pot. Add back the chicken and mix well.

Serve on top of rice along with broccoli or green beans.
Notes
 If the Chicken breasts are too large, use 3 instead. 
      2. To cook frozen chicken breast, please find detailed instructions above in the blog post. 
Nutrition
Serving: 1serving | Calories: 422kcal | Carbohydrates: 41g | Protein: 51g | Fat: 6g | Saturated Fat: 1g | Cholesterol: 145mg | Sodium: 1453mg | Potassium: 915mg | Fiber: 1g | Sugar: 35g | Vitamin A: 68IU | Vitamin C: 6mg | Calcium: 21mg | Iron: 1mg