Sweet Corn Chicken Soup (Instant Pot and Stove Top)
This post may include affiliate links that earn us a small commission.
Thick and Creamy Sweet Corn Chicken Soup is an Indo-Chinese Soup that takes just 20 minutes to make from scratch. Watch the detailed video to learn how to make this easy Corn Chicken soup in an Instant Pot. I have included stovetop instructions in case you don't have an Instant Pot.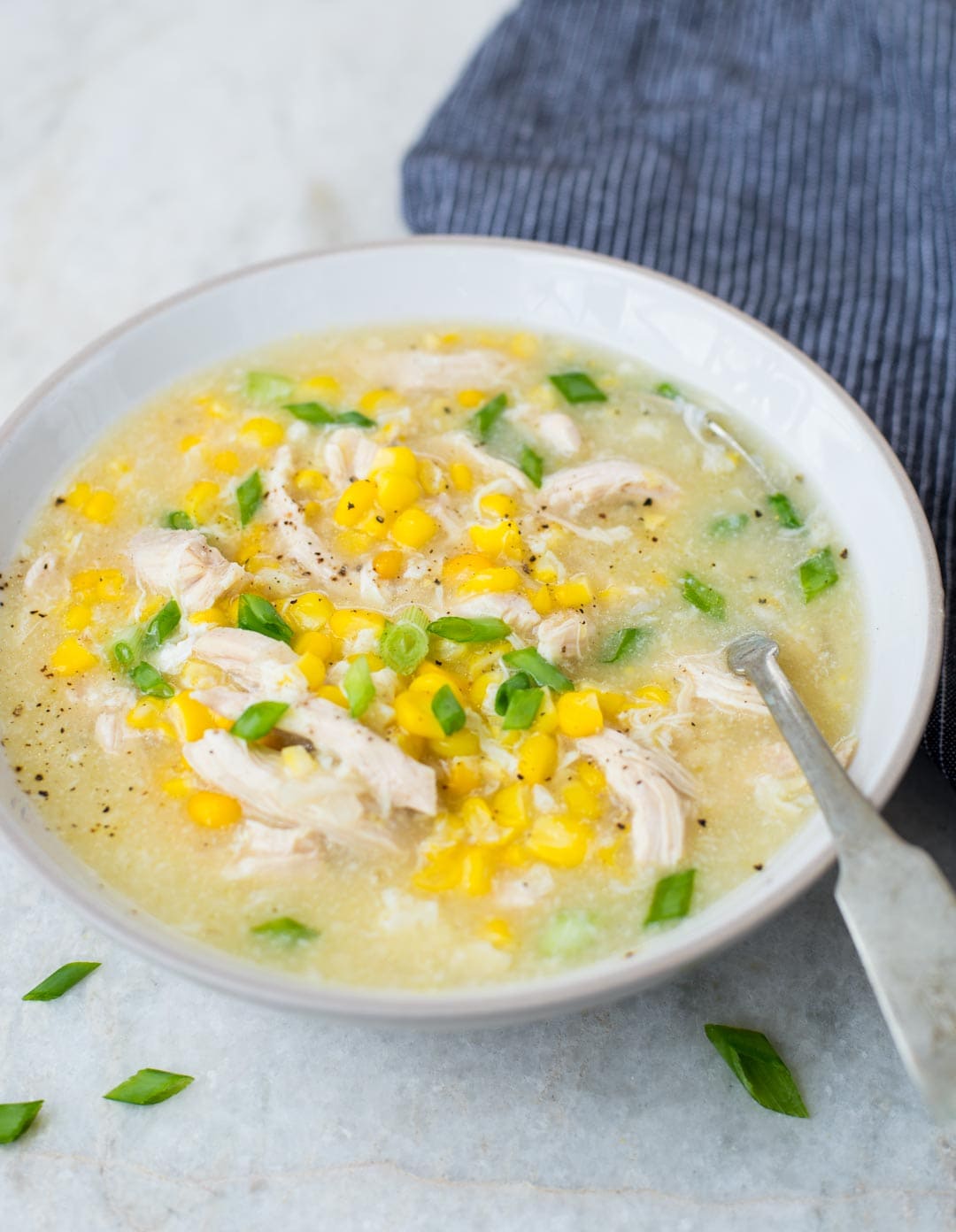 Growing up, sweet corn soup was one of the most frequently ordered restaurant soups because it is slightly sweet and has mild flavors. I love corn a lot, which is another reason to love this soup.
Flavours In Your Inbox
Subscribe for recipes straight to your inbox
This is comfort food that you can enjoy throughout the year but is more appreciated during cold winter. Whether it is to chase away the chill or you desire to have something heartwarming, this recipe is perfect. What's more, you can make this in 20 minutes using healthy ingredients.
Now that I have a toddler at home, this soup works best for the whole family. You can always sneak in vegetables like carrots, peas, and mushrooms into this soup. But I prefer it the classic way.
Sweet corn is a versatile ingredient and I have used it in dishes for a variety of occasions. Take the classic corn chowder which you can make in a jiffy with Instant Pot, or a variatin that pumps up the flavors with bacon and shrimp too. Make a savory and rich appetizer with these Crispy and Cheesy Corn Fritters.
You can go to picnics and potlucks with Corn Pasta Salad and Roasted Corn Salad. A delicious side to take with appetizers is the Chessy Corn Dip.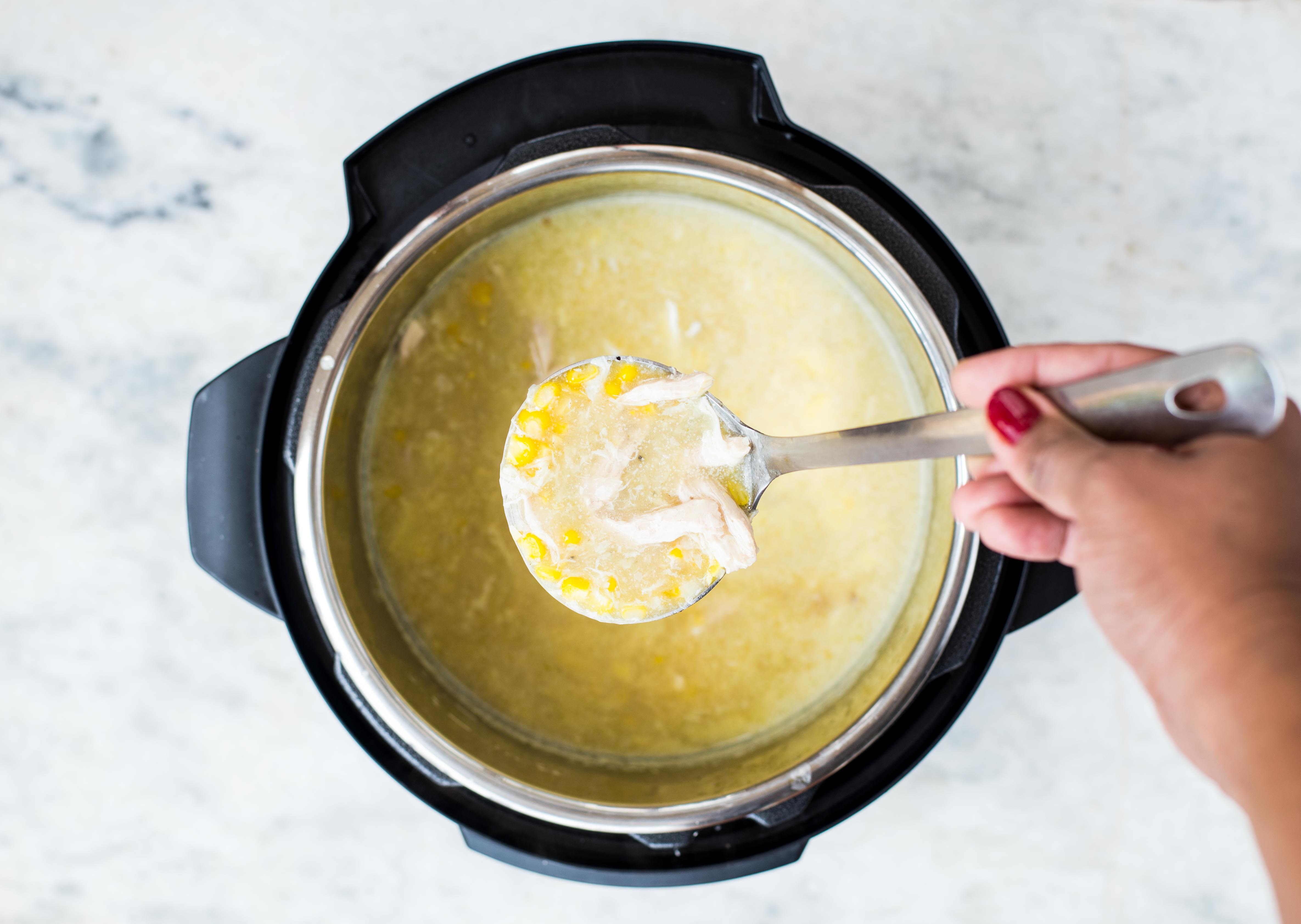 Ingredients – What you need
Chicken breast – I always have some chicken breast lying around in the refrigerator, and it comes in handy when you are clueless about what to make for dinner. Recipes like Buffalo Chicken Wrap Recipe and Air Fryer Crispy Chicken Breast are a few of my favorites. This Sweet Corn Chicken soup is another recipe that gets ready quickly. And if you are using Instant Pot, your effort is reduced by half.
Aromatics – Chicken breast is cooked in onion, ginger, garlic, and broth for extra flavor. Creamed corn makes the soup more creamy and rich.
Eggs – Another key ingredient in this soup is the egg. When the egg is whisked into the simmering broth, it creates ribbon-like structures and gives the soup some body.
Seasoning – This Sweet Corn Chicken Soup is mildly seasoned with salt, and freshly cracked pepper.
Soy sauce – adds umami to the soup.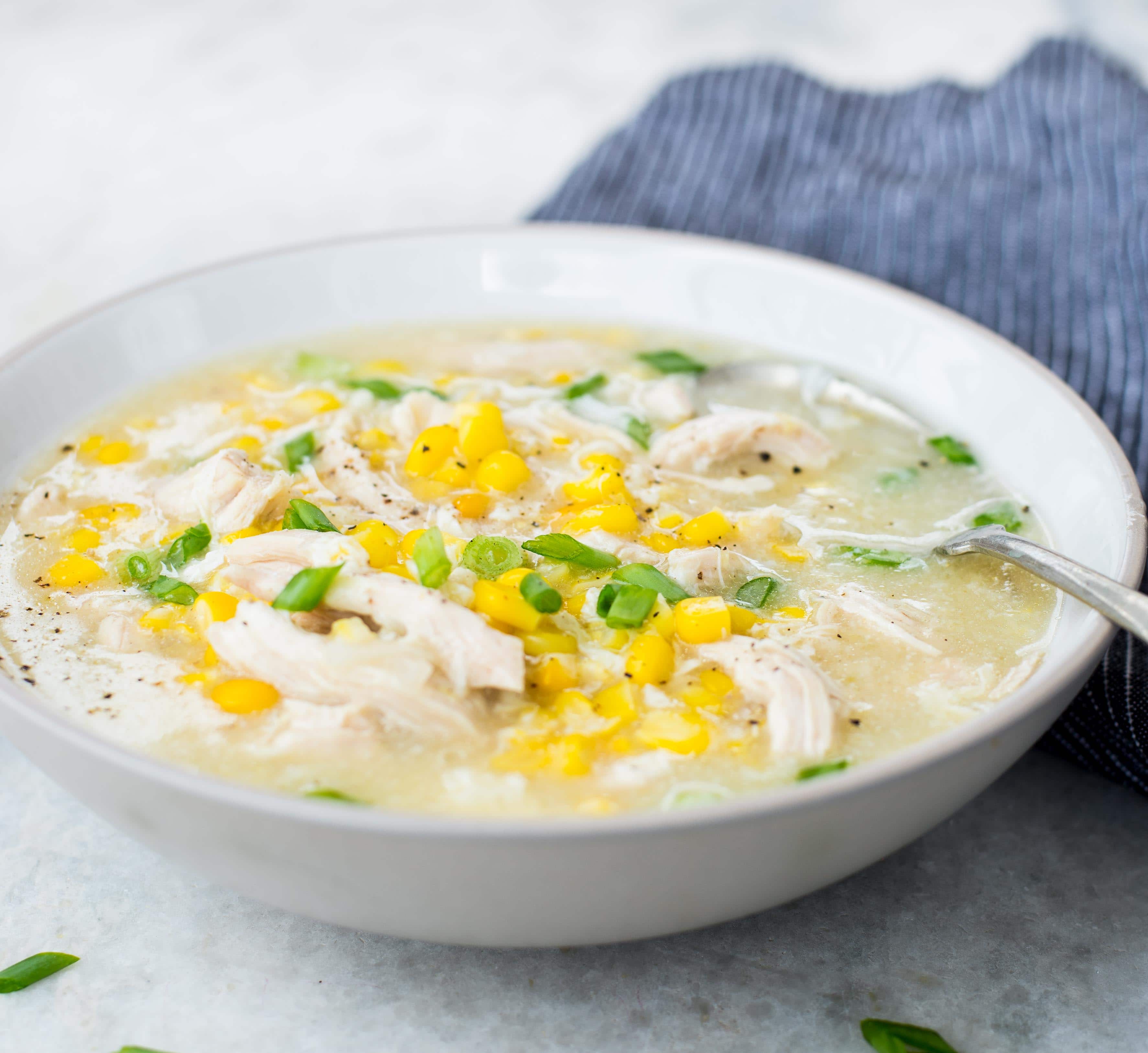 Frequently asked questions
Can I use frozen chicken breast?
Without any doubt, you can use frozen chicken breast in this recipe. That's the beauty of using the Instant Pot. Cooking frozen chicken breasts in an instant pot is quite convenient. You don't need to thaw the chicken before cooking.
Just adjust the cooking time depending on the chicken breast size. Cooking frozen chicken breast releases more liquid than regular chicken, so reduce the amount of liquid in the recipe.
In this Sweet Corn Chicken Soup recipe, reduce the chicken stock by 1 cup.
Can I make it on a stovetop?
Before I got my Instant Pot, I used to make this soup on the stovetop. The whole process is the same as with the Instant Pot.  You need to adjust the cooking time of the chicken breast. Use a heavy-bottomed pan to make the soup.
Allow the soup to cool to room temperature before storing it. You can freeze it in an airtight container or freezer bag. Allow some space above to accommodate any expansion when you freeze it.
You can refrigerate this soup for up to 3 days. Since it has onions, garlic, and everything else, it would not stay fresh beyond this.
The good news is that you can safely freeze it in an airtight container for up to 3 months. Freezing preserves the taste and texture of the soup.
When it is time to remove this from the freezer/fridge, just let it thaw so that you can see liquid forming again while it comes closer to room temperature. You can thaw it in the refrigerator overnight if you have frozen it. Microwave it in a safe container before serving.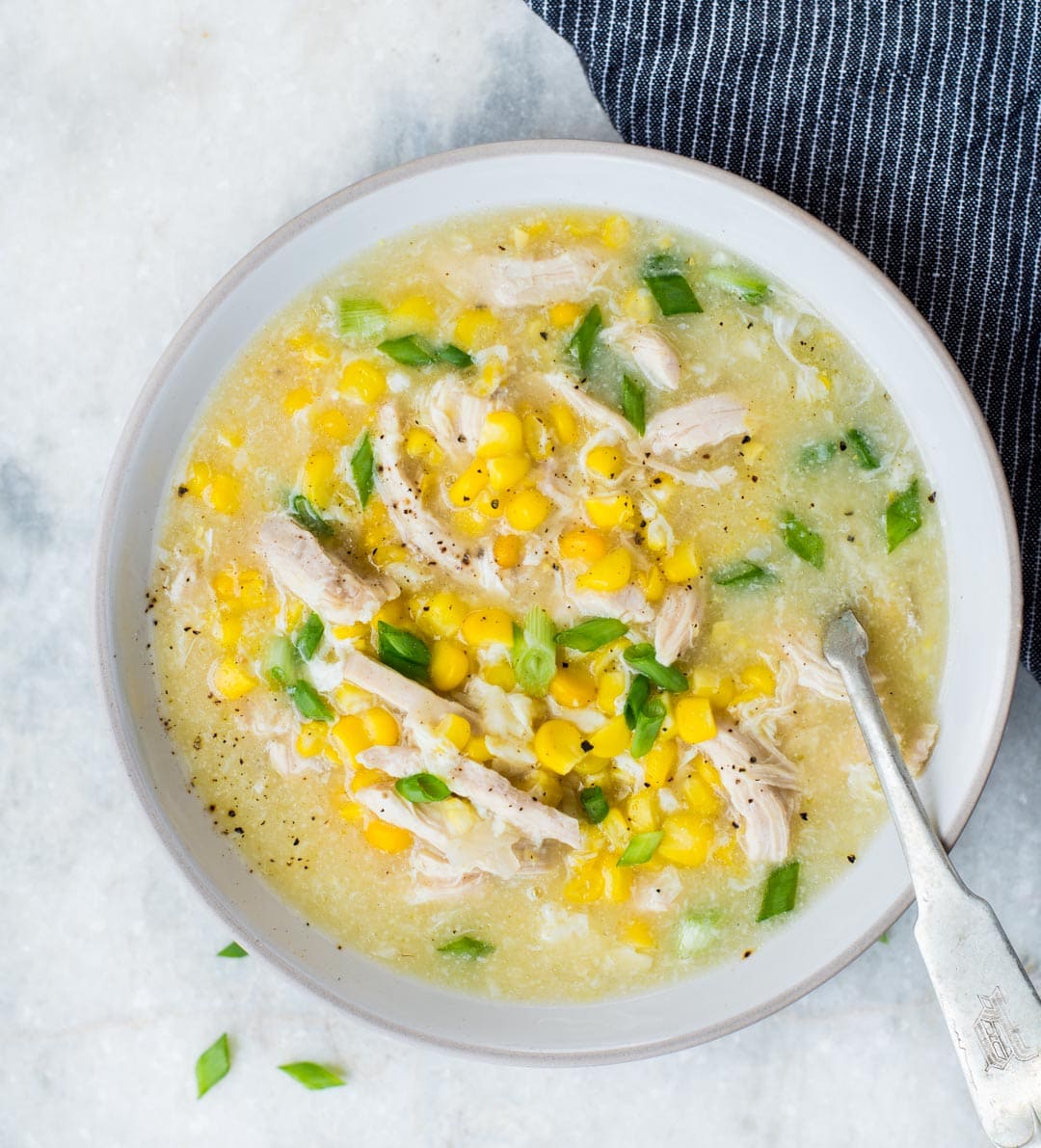 Serve with
This comforting and flavorful dish can be stored with a variety of side dishes.
Other Instant Pot soup recipes
Cauliflower Soup – This is a healthy, low-carb, keto-friendly recipe that is also creamy and delicious.
Chicken and Gravy – Tender chicken breast and thick, creamy gravy made from scratch.
Creamy Vegetable Soup – A healthy, gluten-free recipe made with loads of vegetables and the richness of parmesan cheese.
Potato Soup With Sausage – Potato and Italian sausage in a light and flavorful soup.
Pumpkin Sweet potato Soup – A fall-favorite classic with pumpkin and sweet potato which is creamy and velvety smooth in texture.
Sausage Tortellini Soup – Tomato-based broth, sausage, and cheesy tortellini make this soup filling and flavorful.
Sweet Corn Chicken Soup
Thick and Creamy Sweet Corn Chicken Soup is an Indo-Chinese Soup that takes just 20 minutes to make from scratch. Watch the detailed video to learn how to make this easy Corn Chicken soup in an Instant Pot. Stove Top instructions also included in case if you don't have an Instant Pot.
Equipment
1 Instant Pot or you can make on stove top too
Ingredients
1 tbsp Oil
½ cup Onion chopped
1 tbsp Garlic Minced
½ tbsp Ginger Minced
4 cups Chicken Stock
2 medium Chicken breast
½ cup Fresh Corn Kernel
1.5 cup Creamed Corn
1 tbsp Soy sauce
1 egg
2 tbsp Cornstarch
¼ cup water
Salt and Pepper per taste
Green Onion for garnishing
Instructions
1. To Make in the Instant Pot
Instant Pot Settings
Set Instant Pot in Saute mode. Once the timer is off and the sign says 'ON', add oil.
Saute aromatics
When the oil is hot, add chopped onion. Cook for a couple of minutes until it has softened and looks translucent.

Stir in ginger and garlic. Saute for a minute, until the raw smell is gone.
Cook chicken
Pour in Chicken Stock. Season with salt. Add Chicken Breast to the pot.

Close the lid. Set to 'Manual Mode' and 6 minutes. Put the vent to sealing position. Let it cook on high pressure for 6 minutes.

When the countdown is over, let the pressure release naturally for 10 minutes. Then do a quick release.

Remove cooked chicken using a spatula and keep aside covered.
Saute mode and thicken soup
Set Instant Pot to saute mode again. Add corn kernel and Creamed Corn. Stir well

Mix cornstarch and water. Stir gradually to the soup using a slotted spoon. Let it come to a boil. At this point, the soup will start to thicken.

Beat egg using a fork. Stir slowly to the soup in two parts. While pouring the egg using one hand, keep stirring the soup slowly and continuously with a fork in another hand.

Let the soup get cooked for a minute.

Meanwhile, shred chicken using two forks. Add shredded chicken to the pot. Followed by Soy Sauce. Mix everything well.
Season & Serve
Switch off the Instant Pot. Adjust seasoning.

While serving sprinkle green onion on top.
2. To Make soup on Stove Top
Take a heavy bottom soup pot. Follow the first 4 steps as above.

Close the lid and let the Chicken Breast in low-medium heat for about 8 minutes.

Once the Chicken is cooked through, remove and keep it aside. Follow step 8-12 as mentioned above.

Switch off the flame. Adjust seasoning and serve.
Notes
Fresh corn has an inherent sweetness but you can surely go with frozen corn for its convenience.
Vegetable stock is an alternative to chicken stock.
Adjust the cornstarch-water ratio to get your desired thickness in the soup.
While adding beaten eggs, stir the soup gently so as to get silky threads and not break them too much.
Nutrition
Serving: 200g | Calories: 256kcal | Carbohydrates: 37g | Protein: 10g | Fat: 8g | Saturated Fat: 1g | Cholesterol: 48mg | Sodium: 889mg | Potassium: 486mg | Fiber: 1g | Sugar: 9g | Vitamin A: 165IU | Vitamin C: 8.3mg | Calcium: 24mg | Iron: 1.3mg