Bacon Shrimp Corn Chowder
This post may include affiliate links that earn us a small commission.
Thick and Creamy Shrimp Corn Chowder with Bacon is a hearty soup to keep you warm and cozy on a cold winter night.  It is easy, one pot, and takes less than 30 minutes to make.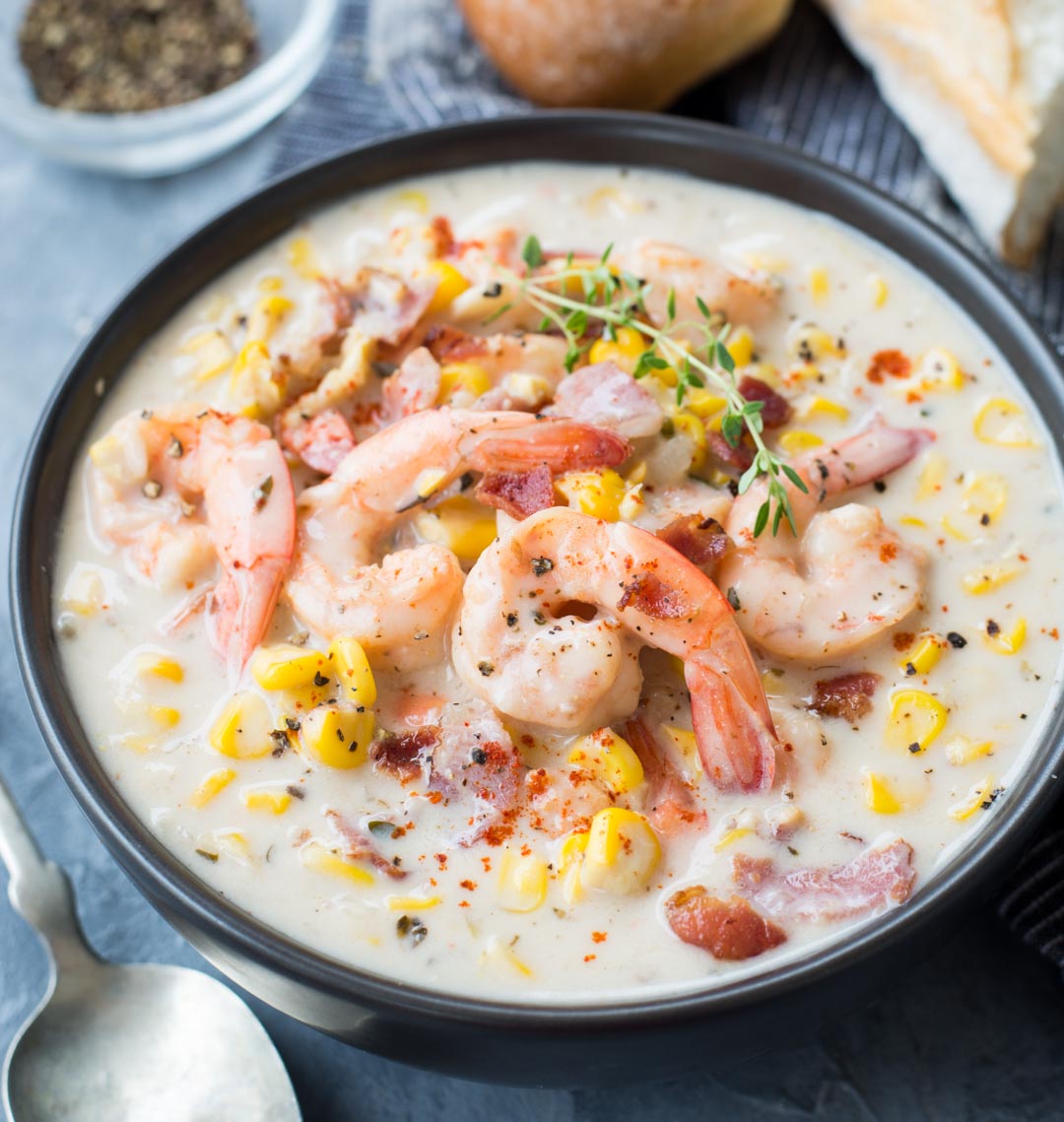 Shrimp and Corn Chowder with Bacon is the kind of soup you would need to cozy up on a chilled winter night. It is creamy and comforting. There is shrimp, fresh corn, creamy broth and to make everything better there is bacon. So make a big pot of this creamy deliciousness and settle down on a couch with a bowl full of it.
Flavours In Your Inbox
Subscribe for recipes straight to your inbox
It has been raining here every other day. It is cloudy and gloomy. Glad that I had made a big batch of this Fresh Corn Chowder. We dunked some rustic baguette to the creamy broth. It was satisfying.
My husband declared it one of the best soups to date. He happily had this for two days in a row. I am telling this because he is not a fan of corn, be it in any form.
WHAT IS CHOWDER?
Chowder is a creamy soup made ideally with seafood, Potato, onion, garlic, and cream. It is said to be of French Origin. It is thick, creamy, and chunky. It is thickened with a roux or heavy cream.
Though Seafood is commonly used in chowder, you will come across a lot of variation. Corn, Chicken, Bacon, and even vegetables.  Nevertheless, which variation you make, chowder is delicious and extremely satisfying.
Along with the cream, vegetables like Potato, when gets cooked helps to thicken the chowder.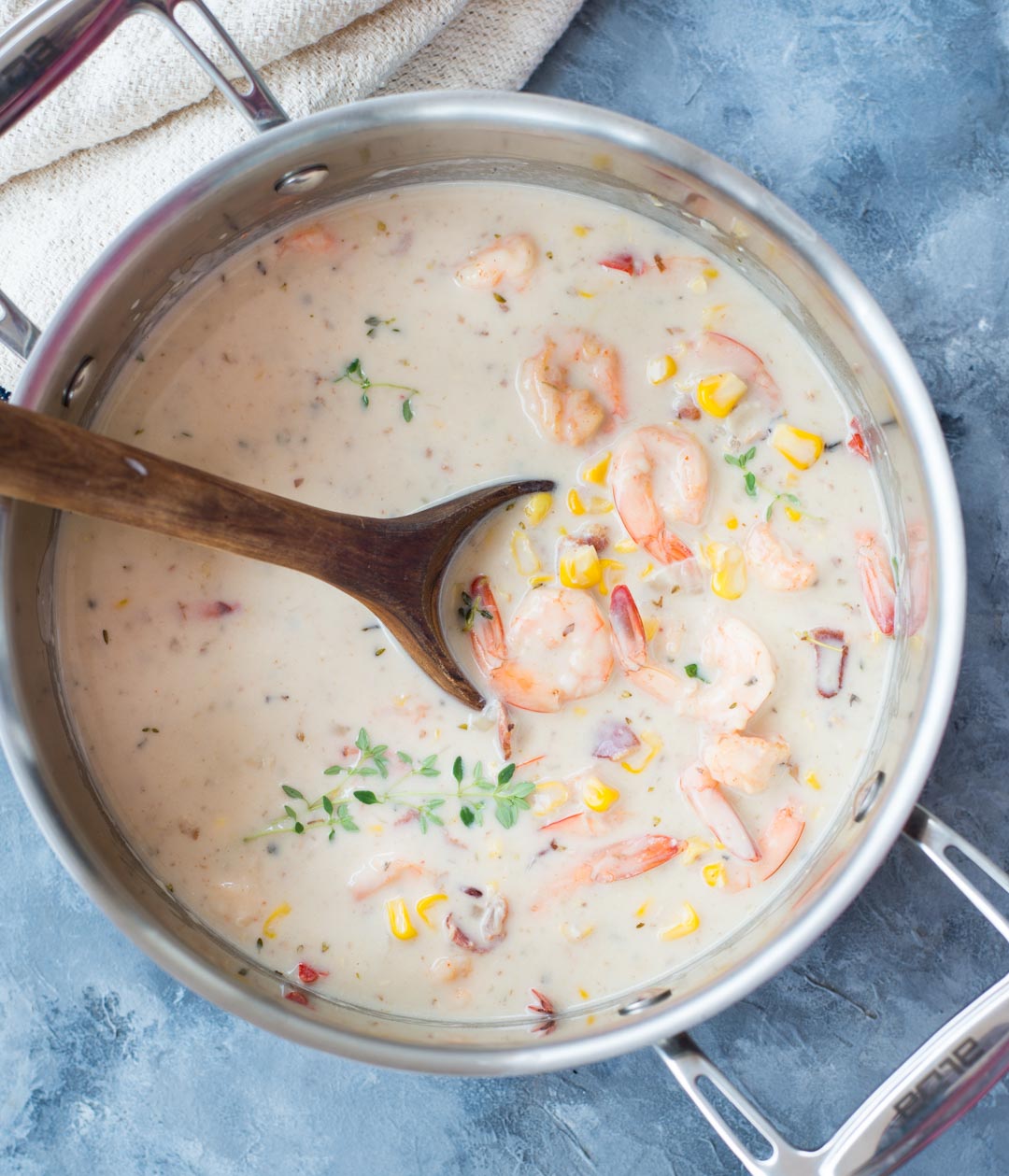 Ingredients For Making Shrimp Corn Chowder
For making Shrimp Corn Chowder, you would need
Shrimp
Fresh Corn
Bacon
Onion
Garlic
Roux
Cream
Herb and seasoning
Salt & Pepper – as per taste and tolerance
I have not used any potatoes. The roux and cream are enough to thicken the soup. You can use frozen corn and shrimp in this recipe as well.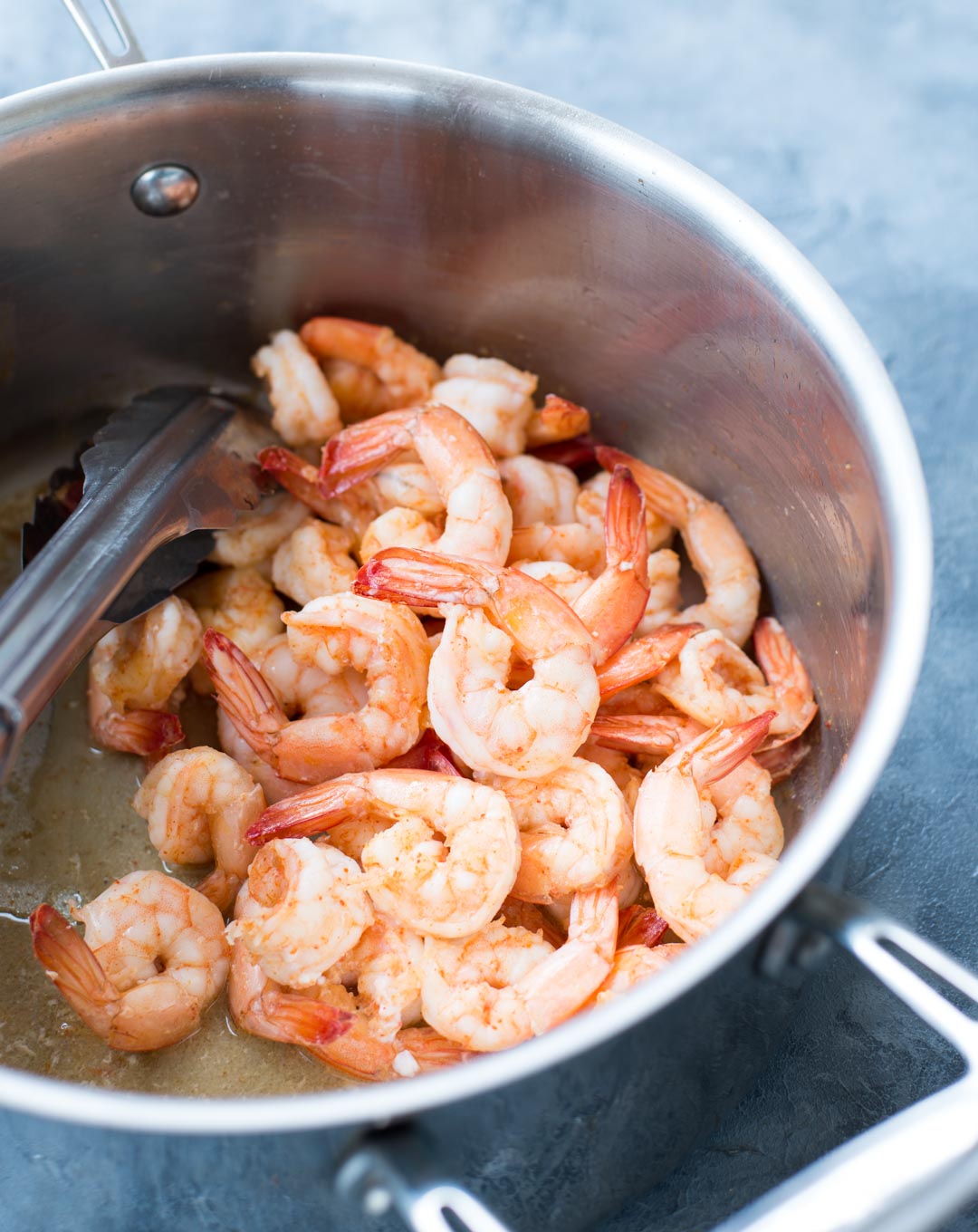 Steps To Make Shrimp Corn Chowder
The corn chowder recipe is pretty simple and easy. You need only one pot and less than 30 minutes to make.
Start with preparing the ingredients. Clean corn and devein shrimps. I prefer keeping the tail on because it adds much more flavor to the broth.  If using frozen shrimp, keep it out on the kitchen counter to thaw.
When the prep is done, begin with cooking bacon and make them brown and crispy. It is tempting to let go of that bacon fat, but the flavor would be overpowering. So remove extra bacon fat from the pan.
The next step is to saute the shrimp in butter till it turns pink. Remove from the pan and keep aside. (This step is completely optional)
To the same pan, add minced garlic and onion. Cook until it has softened and no more raw smell is there. We are not browning onions too much because it would change the color of the soup.
Next is to make the roux.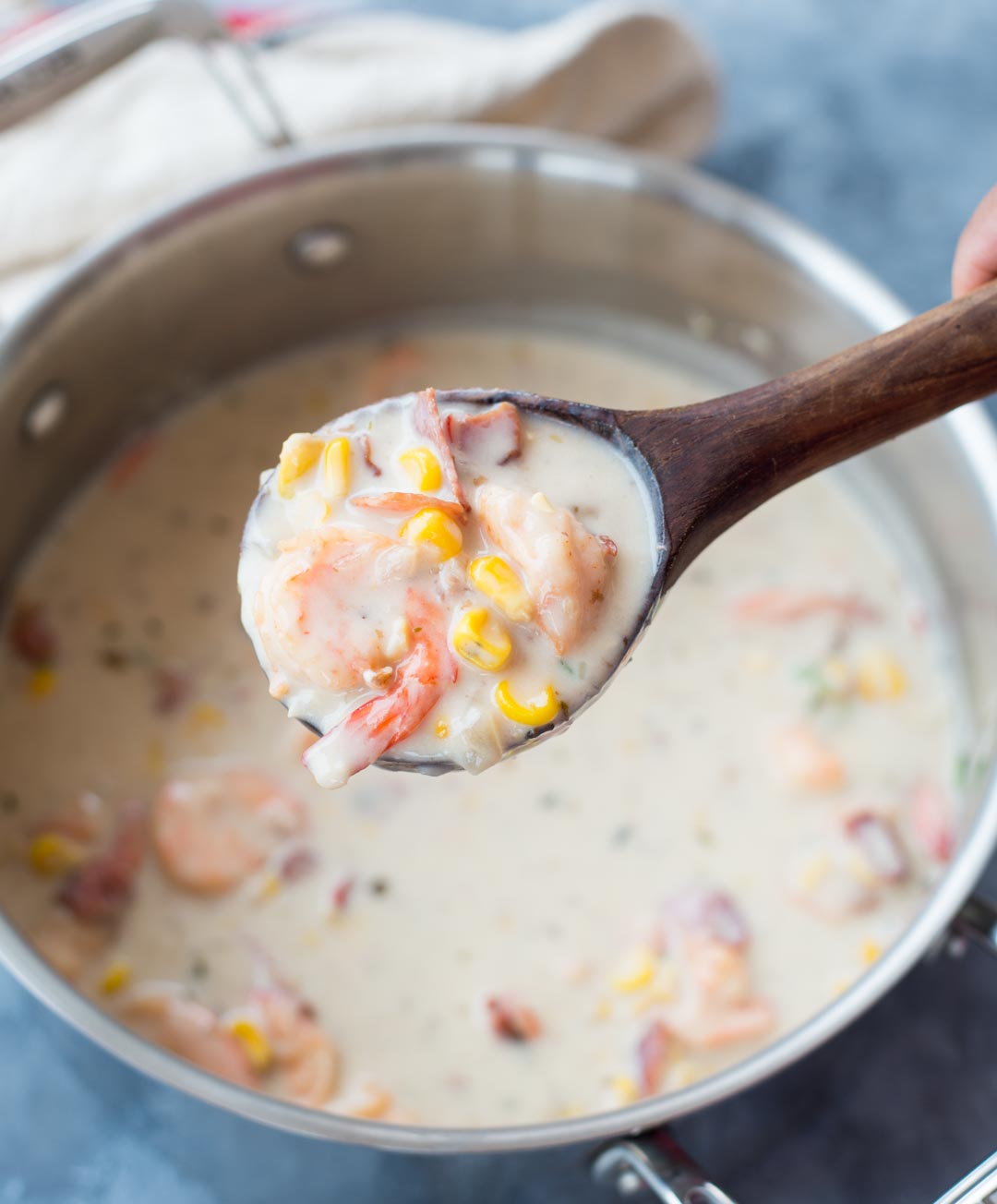 Then to the pan, add corn and herbs. Add stock to the pan and simmer for 12-15 minutes. Toward the end of the cooking add shrimps. Stir in cream. After adding cream, don't cook for too long. Stir in the bacon. And it is done.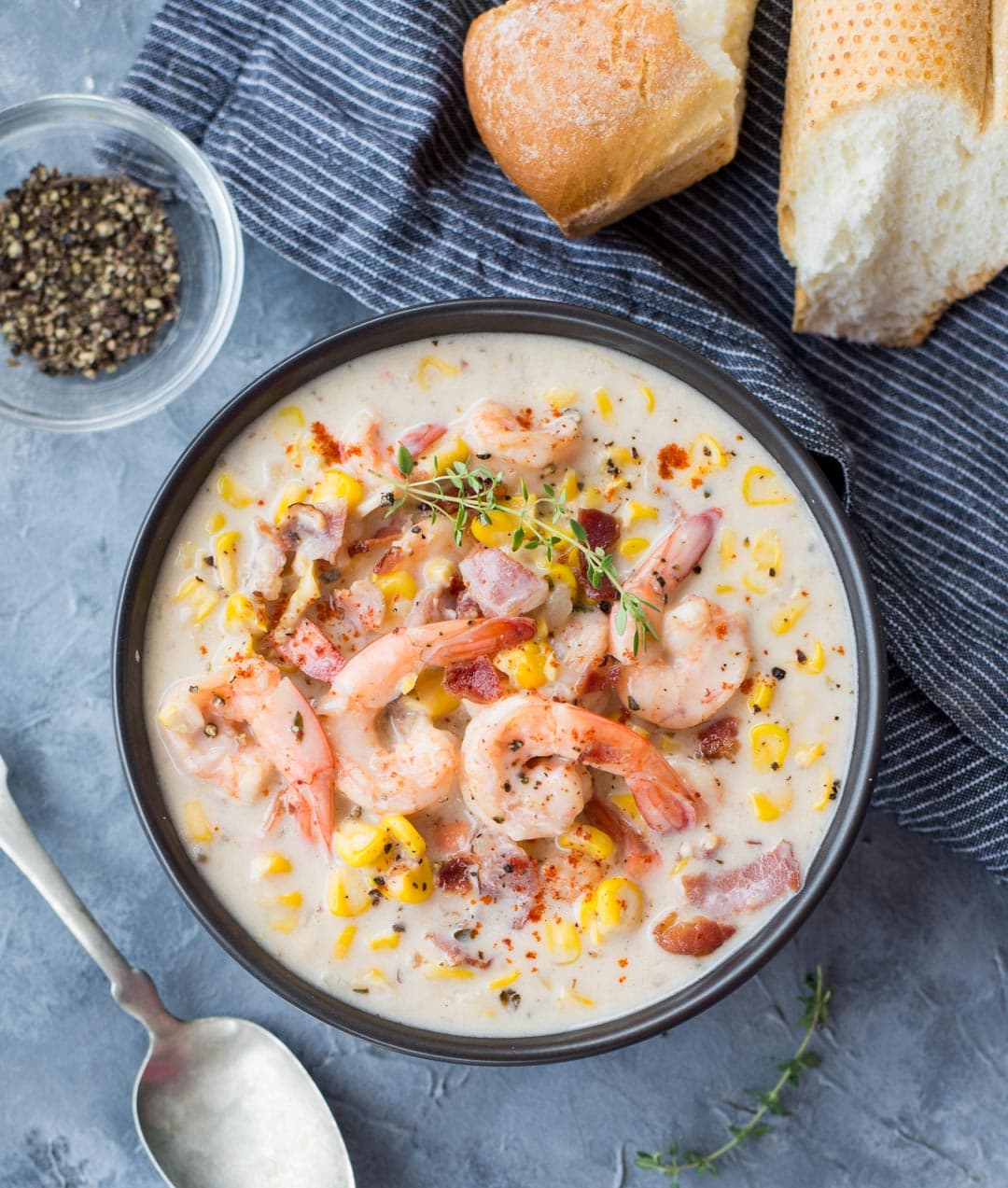 Storing Suggestion
I had made a big batch of this Corn Chowder and it stayed well in the refrigerator for 3 days. I have not really frozen it, so can't really help with that. You can have as it is or serve with a piece of crusty bread.
More Comforting Soup Recipes
LOW CARB CABBAGE CHICKEN TACO SOUP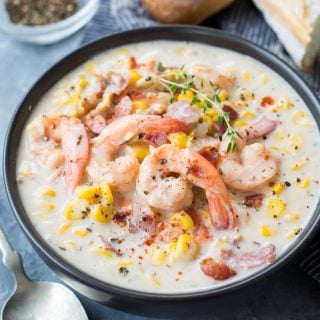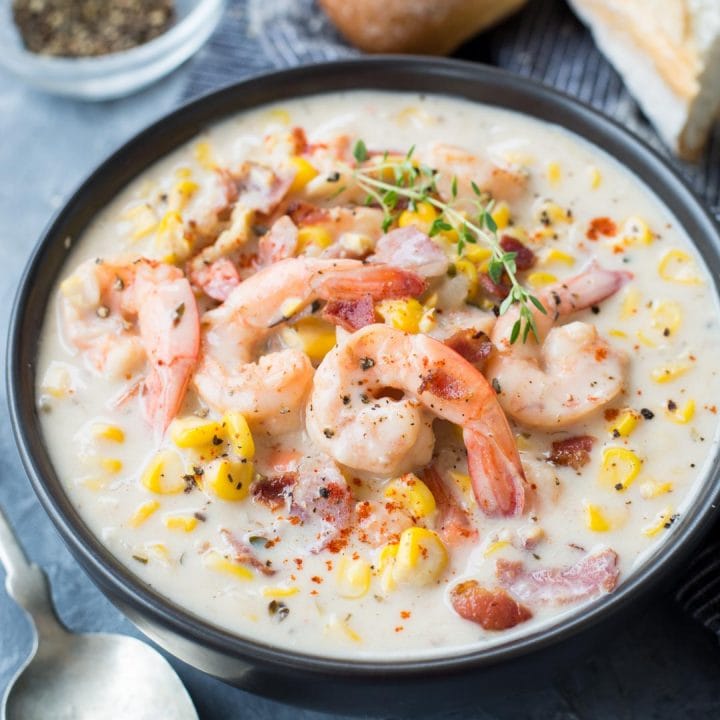 Shrimp and Corn Chowder with Bacon
Thick and Creamy Shrimp Corn Chowder with Bacon is a hearty soup to keep you warm and cosy on a cold winter night. It is easy, one pot and takes less than 30 minutes to make.
Ingredients
4-5 Bacon Strips
4 tablespoon Butter
1 Medium Onion
1 tablespoon minced Garlic
3 tablespoon Flour
1 pound Shrimps Cleaned and deveined
1.5 cup Fresh Corn Kernels
1 teaspoon Dried Oregano
½ teaspoon Fresh Thyme
½ teaspoon Chilli flakes
2.5 cups Chicken Stock
1 Cup Cream
Salt as per taste
Instructions
Start with cooking bacon pieces.  Let it cook until crispy. Keep aside cooked bacon. Discard any extra fat from the pan.

To the same pan add butter, followed by chopped onion and minced garlic. Cook till the raw smell is gone and the onion has softened.

Stir in the flour. Saute for a couple of minutes.

Slowly add half of the stock and continue stirring with a spatula with the other hand to avoid any lumps.

The mixture will start to thicken fast, pour in the rest of the stock, and keep stirring until there are no lumps. let it come to a slight boil.

Stir in corn kernels, Shrimp, herbs, and seasoning. Cover and simmer for 10 minutes.

Stir in cream and crispy bacon. And switch off the flame.

Serve with crusty bread.
Nutrition
Serving: 1g | Calories: 446kcal | Carbohydrates: 20g | Protein: 25g | Fat: 30g | Saturated Fat: 17g | Cholesterol: 322mg | Sodium: 1002mg | Potassium: 391mg | Fiber: 2g | Sugar: 6g | Vitamin A: 1125IU | Vitamin C: 9mg | Calcium: 180mg | Iron: 3mg