This post may include affiliate links that earn us a small commission.
Homemade Crockpot Chicken Stew is loaded with vegetables and is gluten-free. Coconut milk makes it thick and creamy. It is the only comfort food you would need to cosy up to on a cold winter night.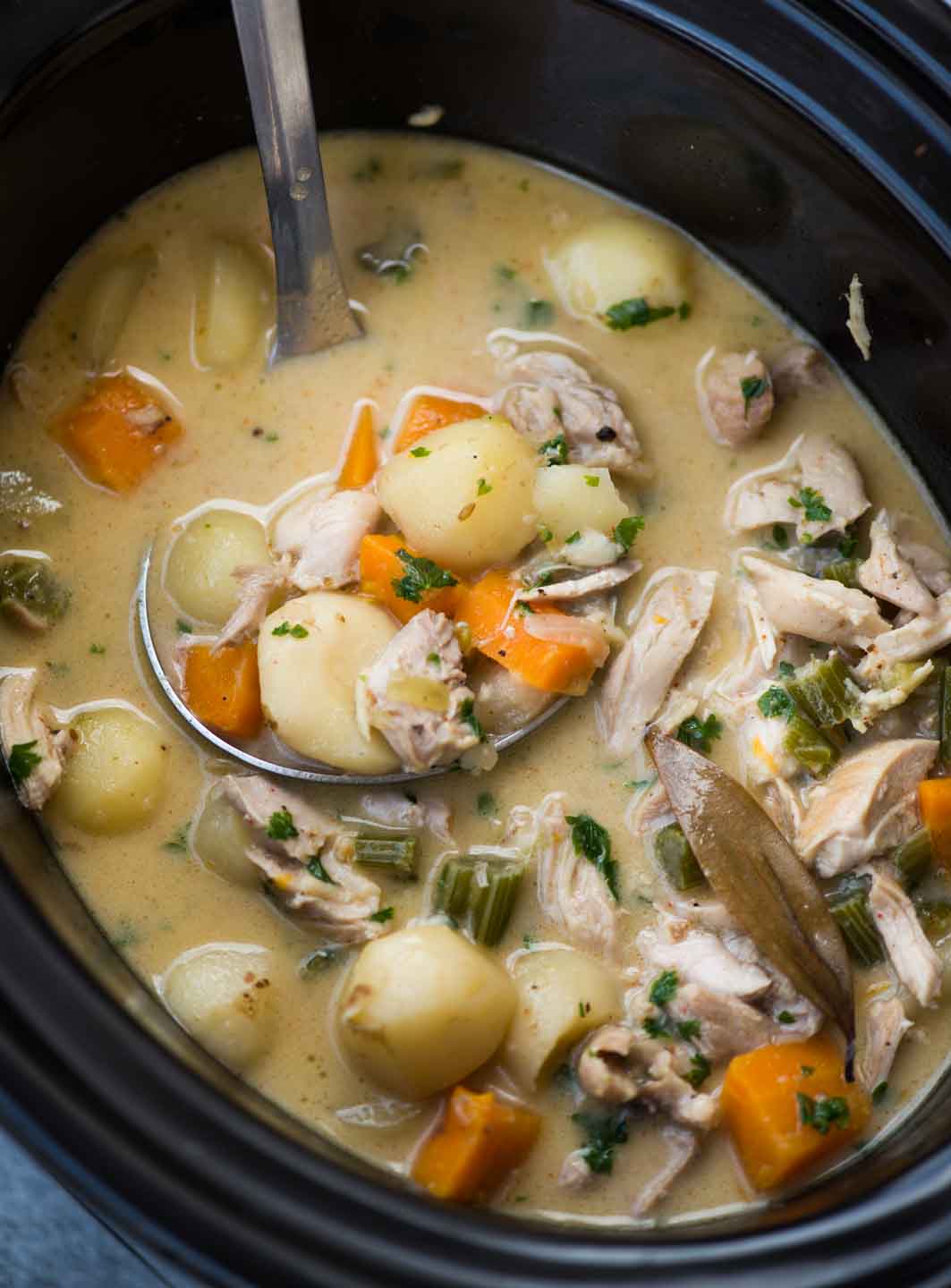 Chicken Thighs, Potato, carrots, celery and spices are simmered in the crockpot for maximum flavour. This cosy Crock Pot Chicken Stew is not loaded with gallons of cream. It is light, healthy and has a deep flavour because of slow cooking. Enjoy it with a piece of crusty bread for a complete meal.
Flavours In Your Inbox
Subscribe for recipes straight to your inbox
This Chicken stew is crazy delicious. Before you put this Easy Chicken Stew into sick food category, let me tell you how healthy and delicious it is. Instead of following the normal method of slow cooking, I browned onion, garlic and chicken. All the caramelized bits from onion and chicken gives a deep flavour to the stew.  It is so good that you will want to have this Homemade Stew all through the winter.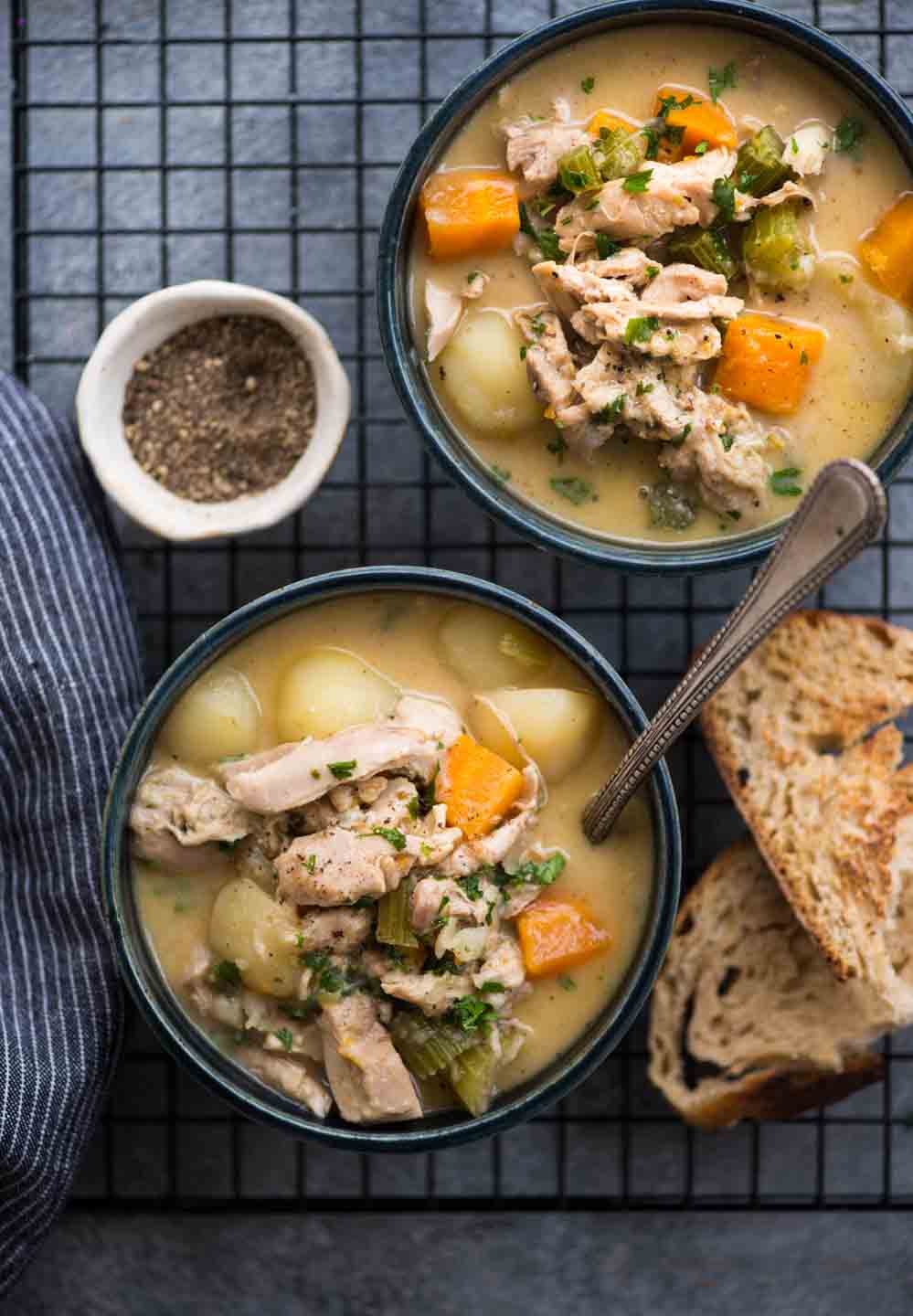 Ingredients For making Chicken Stew in Crock Pot
With Boneless chicken thighs, tender vegetables this Stew with wholesome ingredients and quite filling. The ingredients can be prepared in a matter of 10 minutes.
Chicken- I have used Boneless Chicken thighs in this recipe. You can also use Chicken Brest here. To prep, the chicken, cut any excess fat and cut into medium-sized pieces. I prefer adding a few bone-in chickens for the broth to be more flavourful.
Vegetables– You can use a range of vegetables like Potatoes, carrot, beans, peas. Cut tougher vegetables like potatoes and carrots to medium size pieces. Because the vegetables are going to be cooked slowly for a good amount of time, the veggies will be tender at the end.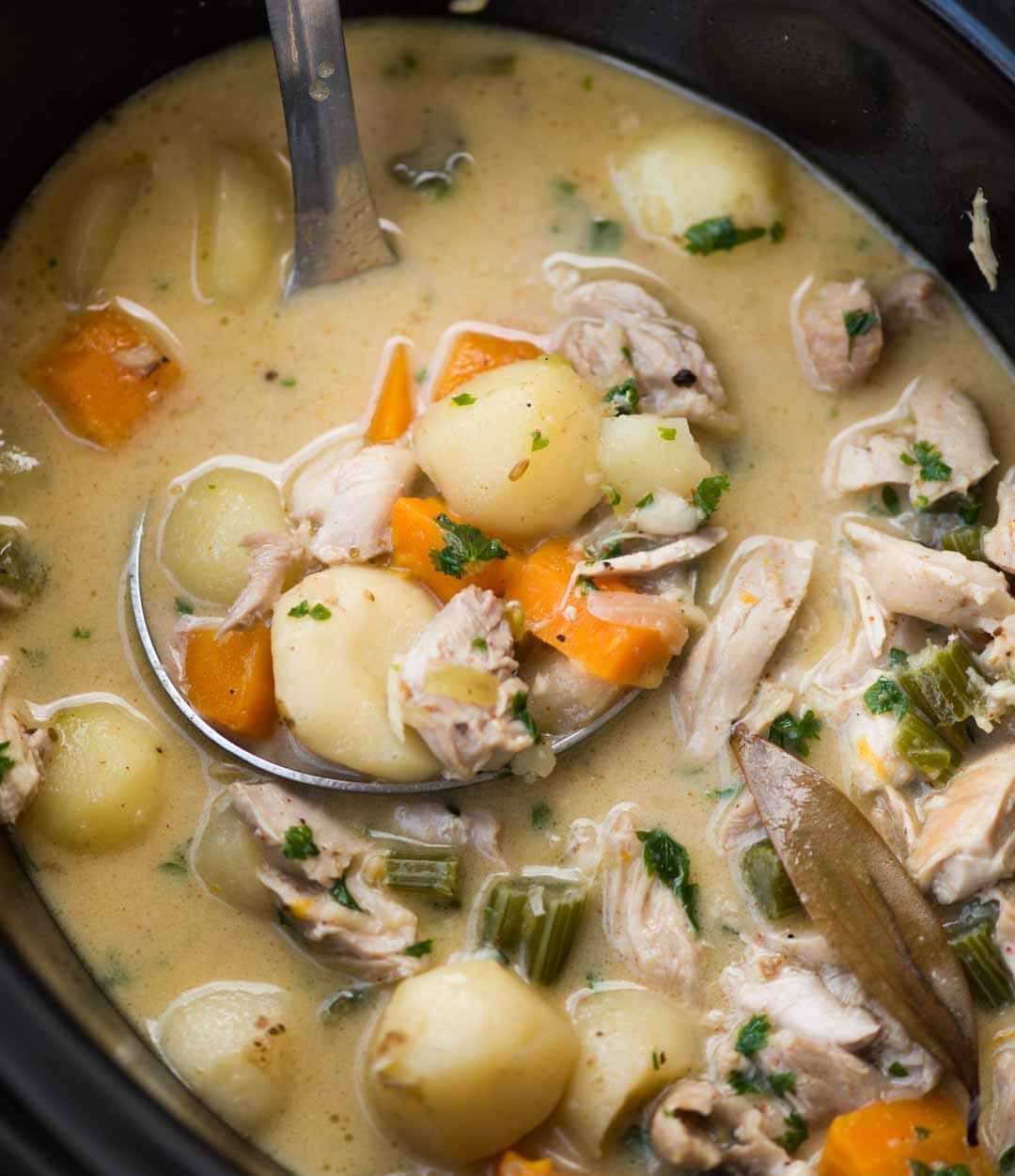 Aromatics– Onion and garlic are being caramelized in oil before adding it to the Crockpot for more depth of flavour. Searing chicken and caramelizing it before slow cooking also helps to add more flavour.  There are very fewer spices used in the stew and the flavours are very subtle.
To Thicken the Stew – When all the vegetables get cooked, it starts to thicken the stew. I have added coconut milk towards the end to make it more creamy, rich but not very heavy. You can also add half and half instead of Coconut Milk.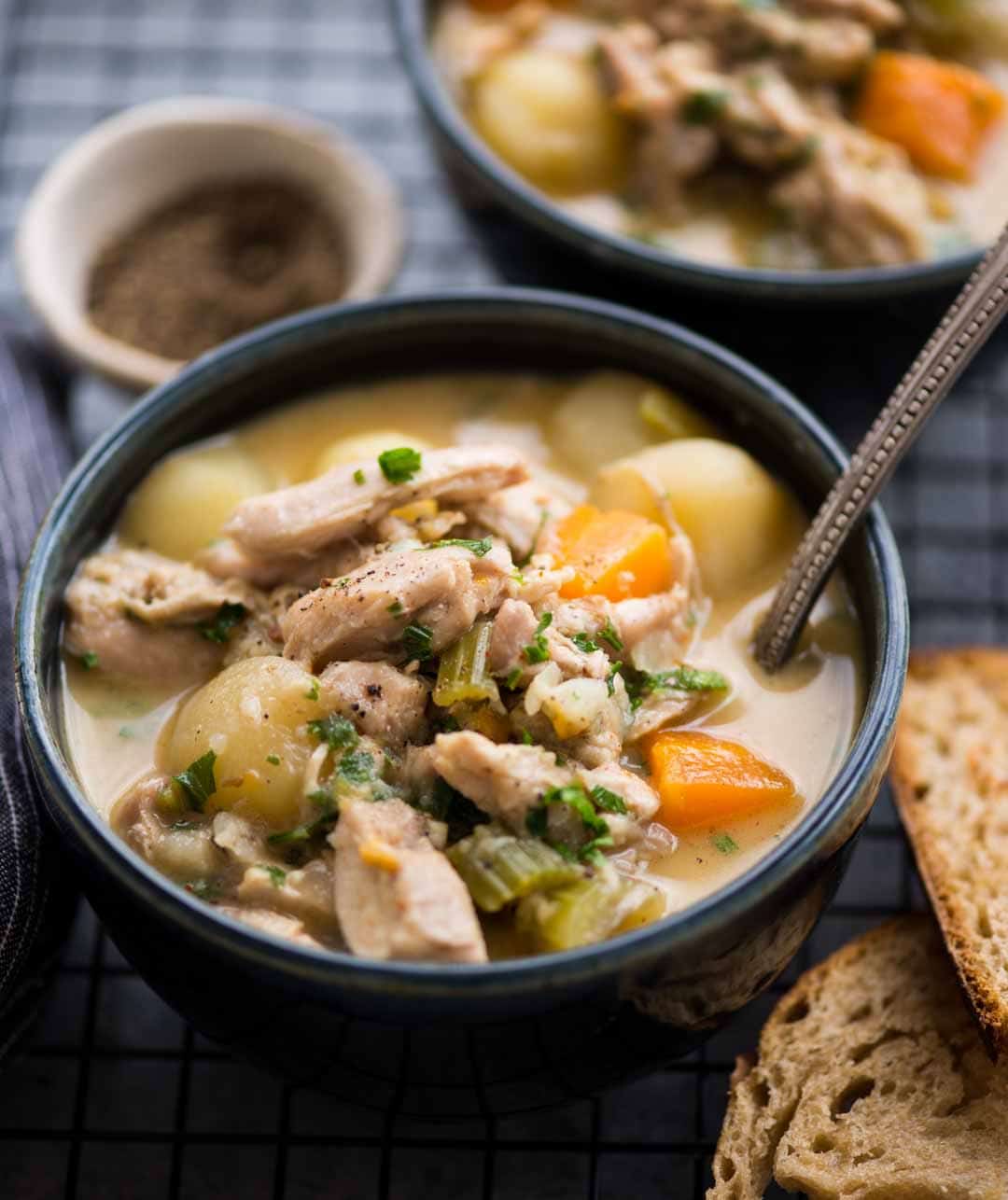 How To Make Chicken Stew On Stovetop?
You can make the chicken stew in one pot on the stovetop, instead of the crockpot. Use a heavy bottom soup pot or a dutch oven to make it.  First fry onion, garlic and then add chicken to it. Sear chicken until brown bit appears and then add rest of the ingredients(except coconut milk). Let it cook slowly for 30-45 minutes until vegetables are cooked and tender.
Few more slow cooker soup/stew recipes you might like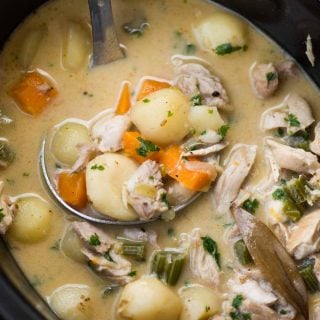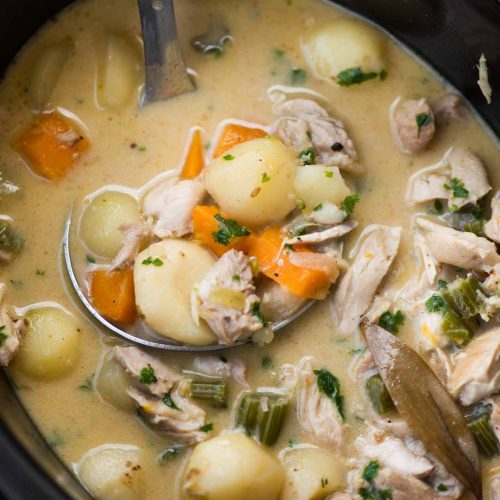 SLOW COOKER CHICKEN STEW
Homemade Chicken Stew recipe is made in crockpot is loaded with vegetables. Coconut milk makes it thick and creamy. It is gluten-free and healthy.
Ingredients
400 gram Boneless Chicken thigh Cut in to small pieces
200 grams baby potatoes/regular Potatoes Cut into cubes
2 medium Carrots Cut into medium Chunks
2 stalks celery about 3/4 cup
1 medium onion
1 tablespoon fresh minced garlic
1 Bay leaf
1 teaspoon roasted Cumin
2 teaspoon Cooking Oil/Butter
2 cups chicken stock
1 cup Thick coconut milk
Salt and freshly Ground Pepper
chopped fresh parsley For Garnishing
Instructions
Start with preparing Chicken. Trim any extra fat and cut into medium pieces. Season with little Salt and pepper. Keep Aside.

Heat Oil in a pan. Add Onion and Garlic. Cook until the raw smell is gone and Onion looks soft. Remove from pan and add it to the Slow Cooker.

Add Seasoned Chicken pieces to the same pan and sear for 2-3 minutes until brown bits appear. Remove from the pan and add to the slow cooker.

Deglaze the pan in which chicken was cooked with 1/2 cup of chicken stock. Add it to the slow cooker.

Add rest of the ingredients to the slow cooker except Coconut Milk. Season with salt. Cook on high for 3 hours.

Towards the end of cooking, add coconut milk. Cook for 30 minutes more.

While serving garnish with fresh parsley and serve with crusty bread.
Nutrition
Serving: 100g | Calories: 452kcal | Carbohydrates: 19g | Protein: 23g | Fat: 32g | Saturated Fat: 16g | Cholesterol: 102mg | Sodium: 300mg | Potassium: 860mg | Fiber: 3g | Sugar: 5g | Vitamin A: 5263IU | Vitamin C: 12mg | Calcium: 69mg | Iron: 5mg