This Slow Cooker Chickpea Sausage Stew is simple, hearty and flavourful. Just throw in all the ingredients and your delicious dinner is ready when you get back home.
Here is my second Slow Cooker recipe.The depth of flavor in this comforting soup comes soup comes from slow cooking.  With simple ingredients, this Slow cooker chickpea sausage stew is perfect for a cozy winter night.  Some crusty bread on the sides will make a complete meal.  I won't mind this stew with a bowl of steamed white rice though.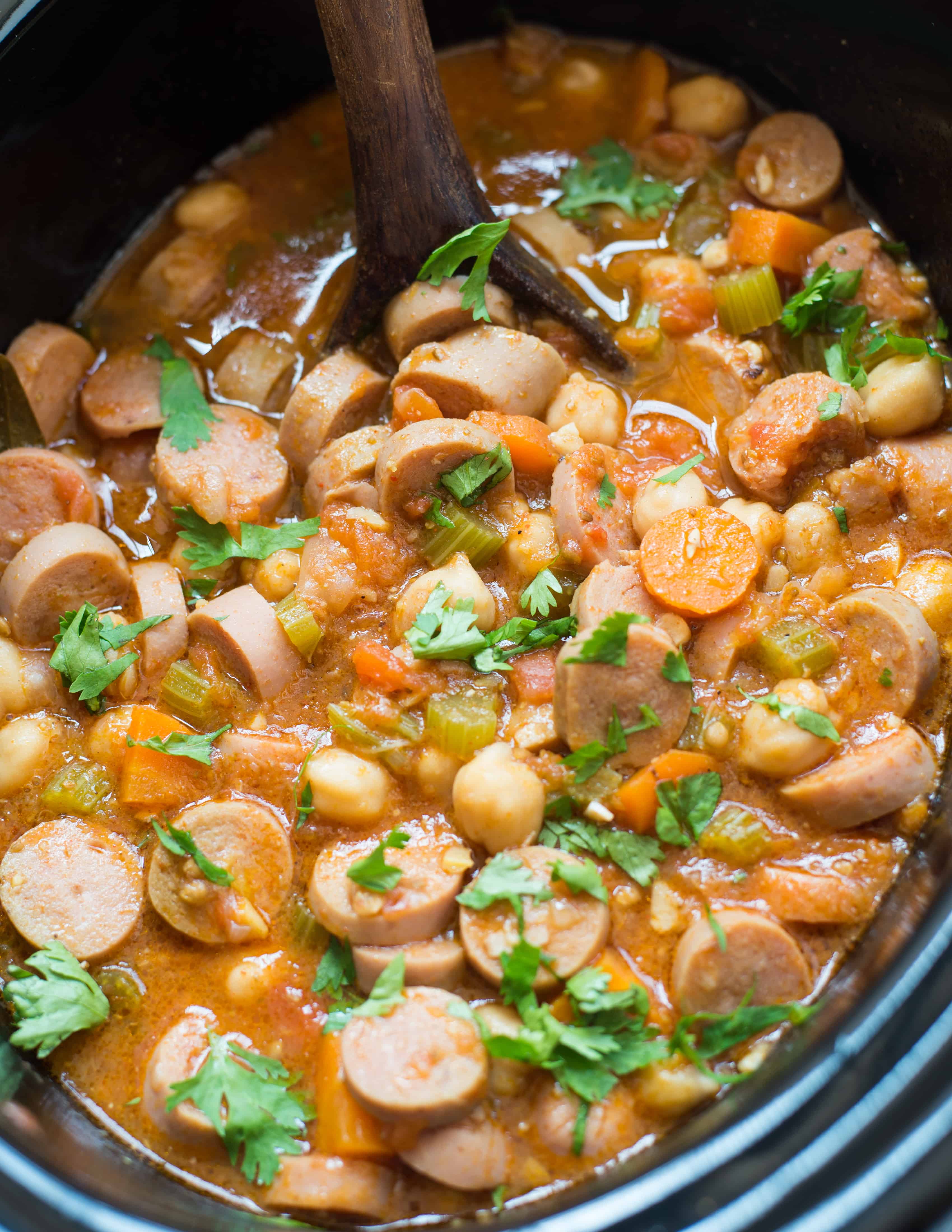 Along with festive season, it is also the wedding season here in India.  With so many family weddings lined up in coming months, I will be traveling a lot. While love weddings, family reunion, and the food, I absolutely hate the packing and unpacking part. I am the best example of a procrastinator.  I always start packing just a day before we are supposed to leave and the unpacking doesn't get over for a couple of weeks.  ANy amount of planning doesn't work in this case.  Until the panic mode is on, I really don't start wrapping up my things.
On days like these, all you need is a quick, fuss-free recipe to cook.  This Slow cooker Chickpea Sausage Stew is the perfect dump everything and forget it kinda recipe.  I had made this Soup just a day before leaving for my brother-in-law's ring ceremony.  My home was a complete mess.  The house help didn't turn up for a week.  With all that extra workload, I had to complete few recipe testing and shooting.  I also had to clean up my refrigerator before leaving. Usually, when I run out of vegetables, I soak some beans for the next day.
With all the last minute prep, I just dumped cooked chickpeas, leftover veggies, and some sausage.  By the time I was done with my work I was dead tired.  But the good thing was, I had my dinner ready. There was some leftover No knead rustic bread, that I toasted.  This stew is light and with delicate flavors. A bowl of this is surely going to give you the comfort on a cold winter night.
Here is the detailed Step by Step video recipe :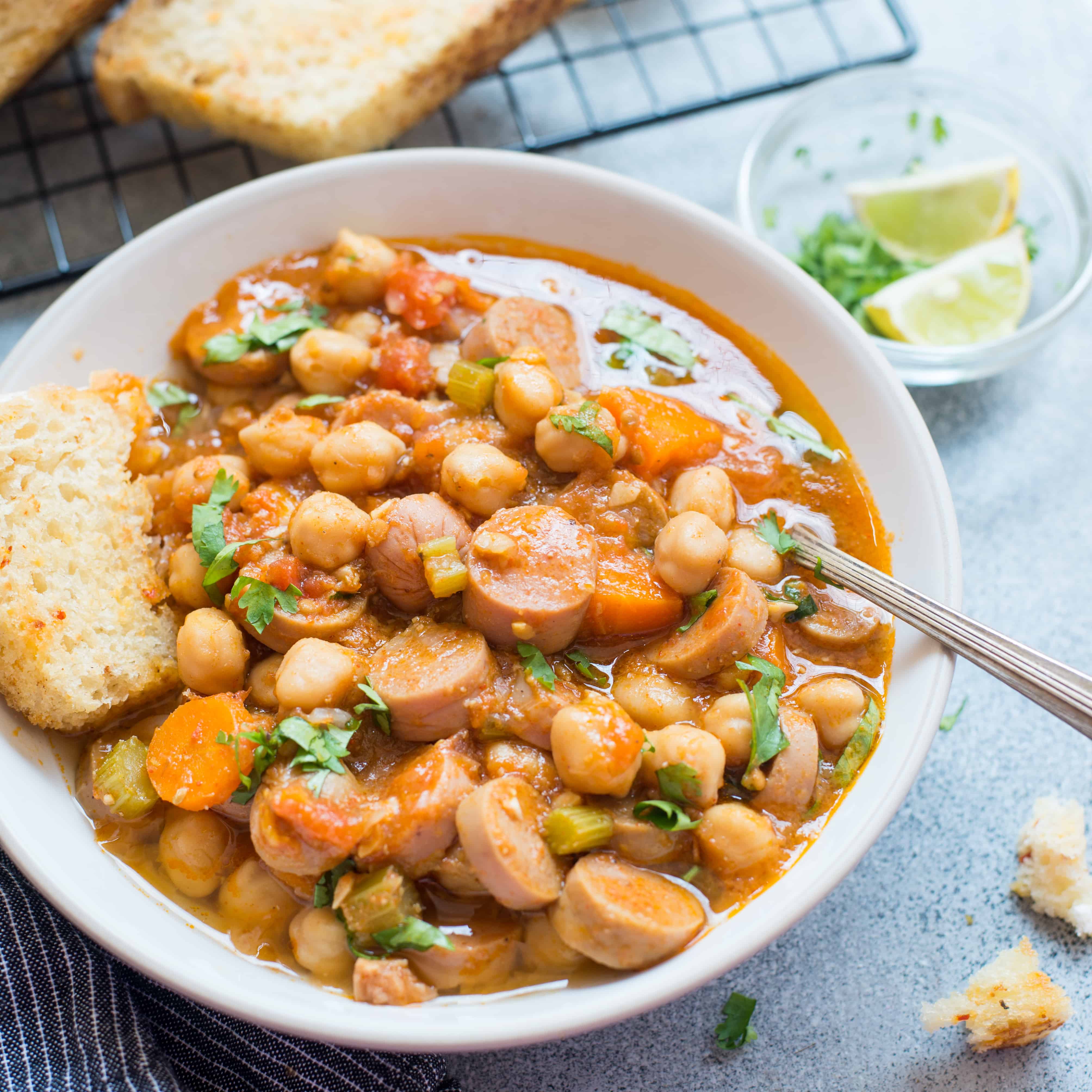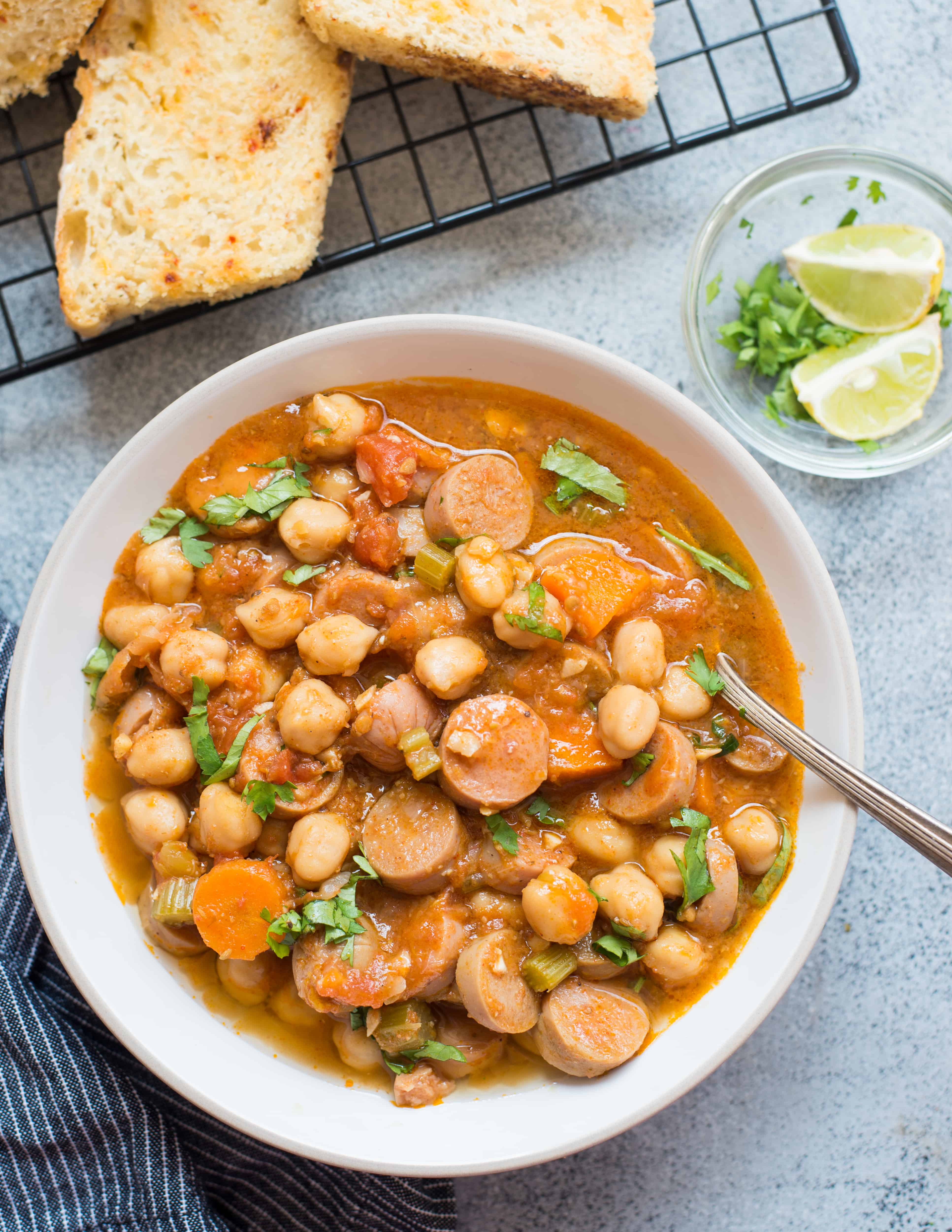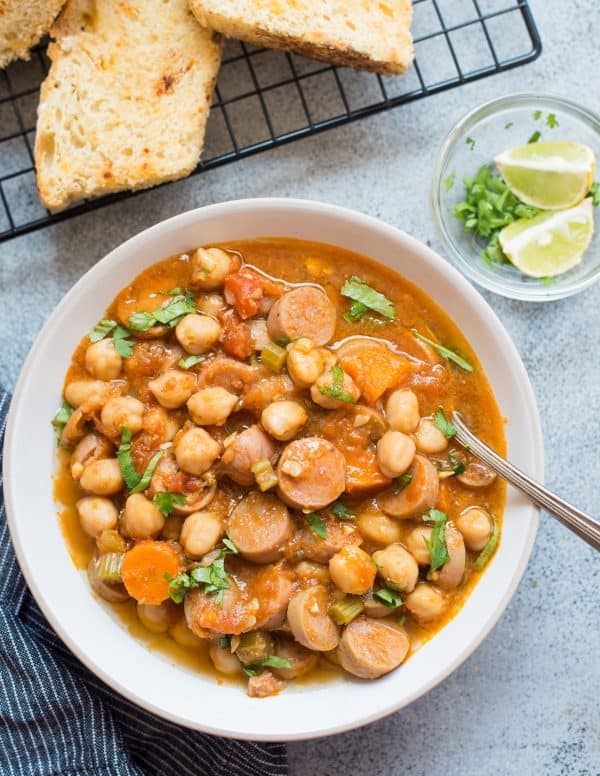 | | |
| --- | --- |
| | |
Heat Oil in a pan. Add Garlic. Fry for 30 seconds.

Add Onion. Saute till onion is translucent.

In the Slow Cooker add all the ingredients, except coriander leafs. Cook on high for 4-5 hours.

At the end, smash few chickpeas with the back of the spoon. It will make the stew bit thick.

Garnish with fresh cilantro leaves before serving.
*  I soaked dry chickpea overnight. Then cooked until just cooked.  You can also use canned chickpeas. Darin all the liquids and measure.
**  I blanched roughly 4 tomatoes. You can substitute it with canned tomatoes.
***  You can also add red bell peppers to the stew. Adjust the spices as per your preference.
**** You can cook on low for up to 8 hours.  TO quicken the cooking process add warm stock.