Instant Pot Sweet Potato Chickpea Curry
This post may include affiliate links that earn us a small commission.
You need only 30 minutes to make this delicious Instant pot Sweet Potato Chickpea Curry. Pair it with a bowl of rice for a wholesome dinner.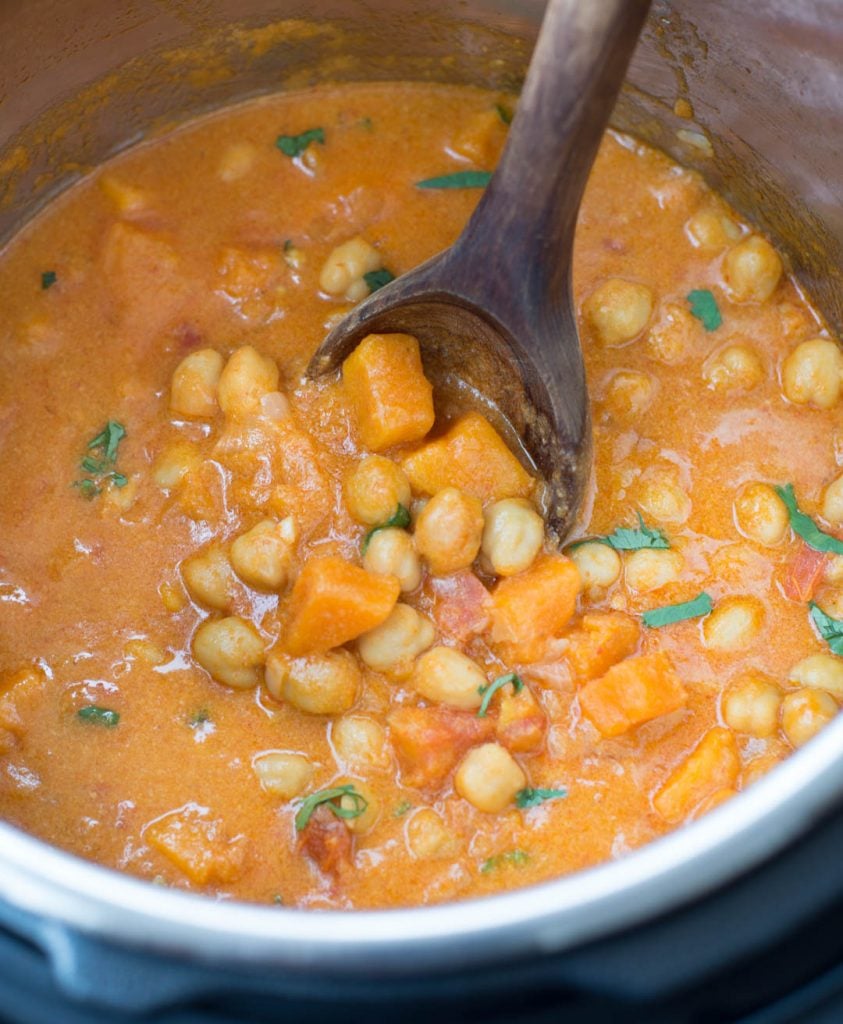 Instant Pot Sweet Potato Chickpea curry is incredibly delicious and easy to make. The silky smooth gravy has that fantastic Thai flavors from the Red Curry paste.
It is the kind of curry, that I would label as the ultimate comfort food and can have all around the year. Using an Instant Pot instead of the stovetop method doesn't make this curry any less delicious.
Flavours In Your Inbox
Subscribe for recipes straight to your inbox
By the way, this is my first Instant Pot Recipe on the blog. Yes!!!! Finally got my hands on the popular electric Pressure Cooker. For more than a year, I have been eying to get one.
But honestly, I used to wonder what's so great about Instant Pot. After all, it is just a Pressure cooker and I have been seeing my mom using one since I am a kid. Why is everyone going gaga about this?
But after I got one and explored it, It changed my perception. I am quite impressed with the gadget. It is definitely better than the regular Pressure Cooker. If you have never cooked in a regular pressure cooker before I am sure it will scare the hell out of you. But on the contrary Instant Pot is easy to use with good safety features. It is even quicker than a pressure cooker and it has multiple functionalities. I am definitely going to explore it and try new recipes.
Now back to this Instant Pot Sweet Potato Chickpea Curry. With incredible flavors, this curry is healthy and nutritious.
It is a great recipe for meal prep, with bare minimum preparation. Make a big batch and divide between glass containers.
I have a few more chickpea curries on the site. While this Sweet Potato Chickpea recipe is cooked in an Instant Pot, I have done Chickpea Curry or Chana Aloo in a Dutch Oven and a Chickpea Sausage Stew prepared in a crockpot (Slow Cooker).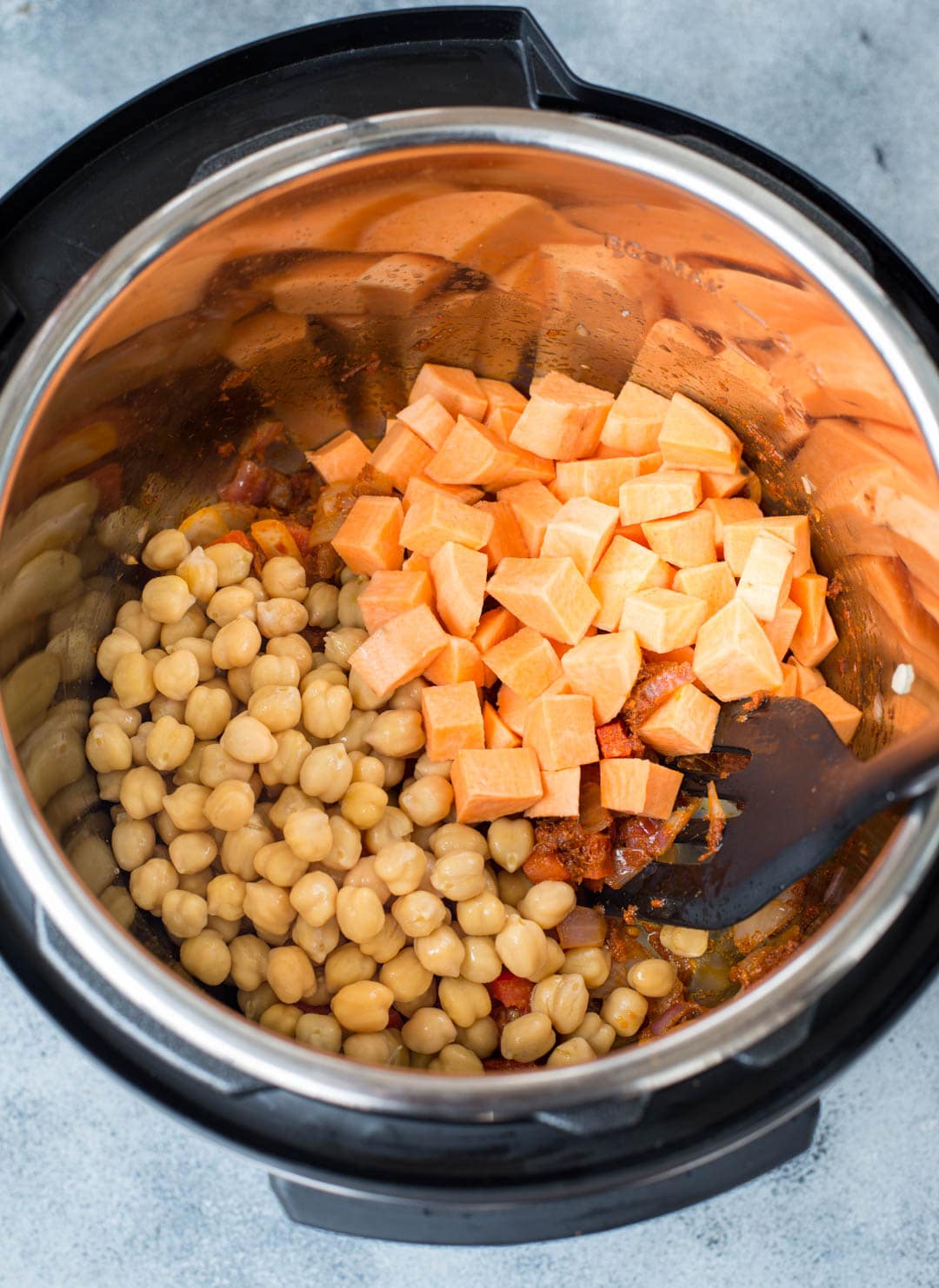 Ingredients
The ingredients required for this Sweet Potato Curry are also very few. Store brought Red curry paste will work here, so no making from scratch business. To make it more aromatic, there is onion and garlic.
I have used dry beans and had soaked them overnight. Add tomatoes to form the body of the gravy along with onions.
The aromatic flavor of this curry comes largely from the red curry paste and fish sauce. Fish sauce is a very potent flavoring agent used in Asian curries. Herbs like cilantro and lemon are used as a garnish.
Can I use canned chickpeas?
I am always used to soaking dry beans overnight and the next day cooking in a pressure cooker till tender. But surely you can use canned beans in this curry. Using canned beans makes the entire process one step easier.

How to make
If you are using dried chickpea for the recipe, then soak dried beans overnight. The next day, cook soaked chickpeas with enough water in a Pressure Cooker or Instant pot for 25-30 minutes. Let the pressure release naturally for 10-15 minutes, then release the remaining pressure by placing the vault in the venting position.
Cooking Chickpea along with other ingredients while making the curry is not advisable, because it may result in overcooked Sweet Potato.
Onion, garlic, and tomatoes are to be sauteed so that they lose their harshness, impart flavor to the curry base and also form the gravy of the curry.
Adding Lemon Juice and Fish sauce at the end brings all the flavors together.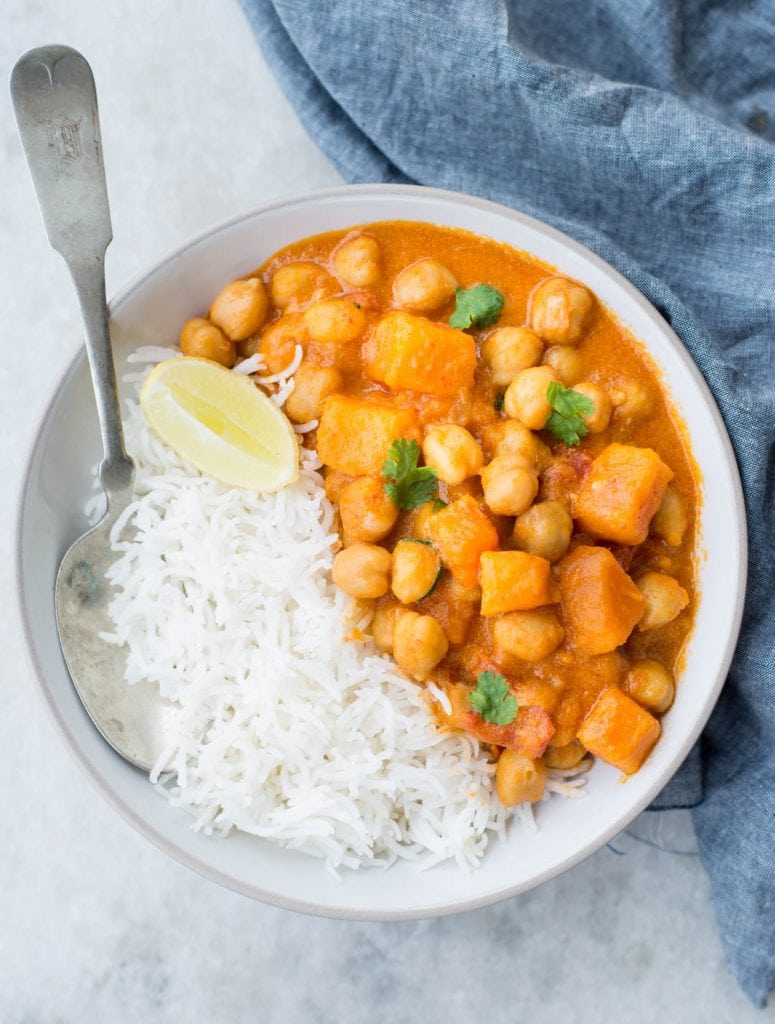 Serve With
Serve this curry over white, brown, or basmati rice in a bowl. You may also serve this with quinoa or any grain. Add fresh cilantro, and a good squeeze of lemon while serving.
Store
You can easily make a big batch of it and refrigerate it. You can easily heat it again in the microwave or in a suitable container over the stovetop. Just heat it till you see bubbles in the curry and that should be enough.
Other Curry Recipes You Might Like
Give me a bowl of rice with any curry and I am a happy gal. Have you checked other curry recipes I have shared earlier? Here are a few of my favorites –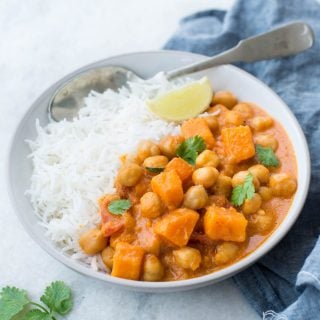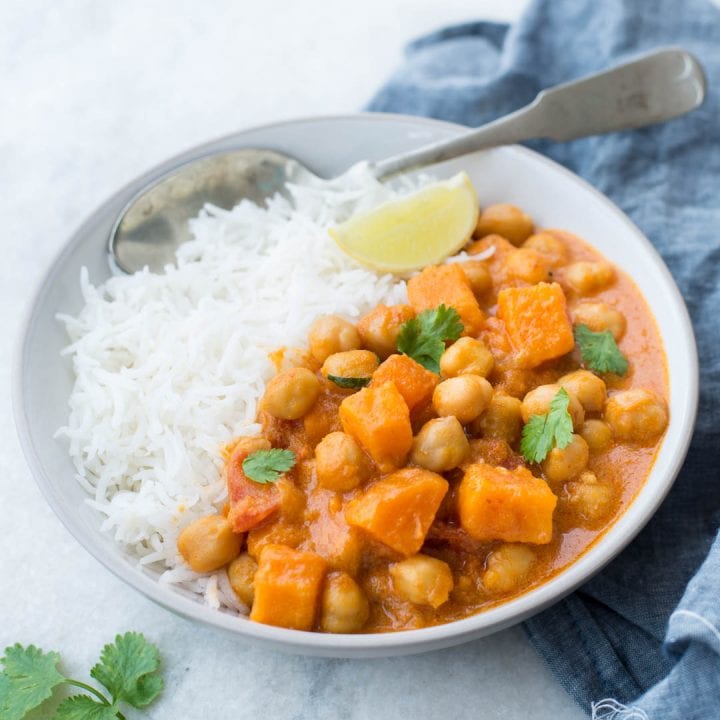 Instant Pot Sweet Potato Chickpea Curry
Sweet Potato Curry made in an Instant Pot, needs only 30 minutes. A great mid-week recipe and great for meal prep too.
Ingredients
200 grams Dried Chickpea
400 grams sweet potato
2 teaspoon cooking oil
1 Medium onion Finely Chopped
1 tablespoon Minced garlic
50 grams Thai Red Curry Paste (around 1.5 – 2 tablespoons)
1 medium Tomatoe chopped
1.5 Cup coconut milk
Salt to taste
1 tableSpoon Fresh Lemon Juice
1 tspn fish sauce
Fresh Cilantro leaves for garnishing
Instructions
If using dried Chickpea, soak it at least for 6 hours or preferably Overnight.

Cook soaked chickpeas in a traditional pressure cooker on high flame for 3-4 whistle, then lower the flame and cook for 10 more minutes. Switch off the flame. Let the pressure release naturally.

Alternatively, you can also cook it an Instant Pot. Add soaked chickpeas and water to an instant pot. Cook on high for 25 minutes. Let the pressure release naturally.

If you are using canned chickpea, ignore above 3 steps and Start from the following step

Turn Saute mode on in the Instant Pot. Once its ready, Add Oil and let it warm.

Add chopped onion. Saute/ fry until it has softened and starts to brown.

Add minced garlic and cook until the raw smell is gone.

Add Red Curry Paste. Mis well and fry for 30 seconds.

Add chopped tomato. Cook untill tomato has softened and mixed with onion garlic mixture.

Add cooked / Canned Chickpeas, Sweet Potato. Mix everything well.

Add in Coconut milk to the Instant Pot. Season with salt. Mix everything well.

Turn Manual mode to 'ON' . Set time to 15 mins. Put the valve to 'Sealing' mode. Close the lid and let it cook.

When the timer is off, let it rest and let the pressure release naturally for 10 minutes. Then release pressure manually by moving the valve to 'Venting' position with the help of the back of a spoon.

Add fresh lemon Juice and Fish Sauce. Stir everything well.

Garnish with fresh cilantro leaves, Serve with rice and more lemon wedges.
Notes
For Vegan version, skip Fish sauce and add a teaspoon of soy sauce for the umami. And also use Red curry paste which is vegan. 
For gluten free , make sure the thai red curry paste that you are using is glutenfree. 
Nutrition
Serving: 100g | Calories: 483kcal | Carbohydrates: 57g | Protein: 13g | Fat: 24g | Saturated Fat: 16g | Sodium: 99mg | Potassium: 1019mg | Fiber: 12g | Sugar: 11g | Vitamin A: 16255IU | Vitamin C: 11.5mg | Calcium: 125mg | Iron: 6.9mg