No Oil Chicken Curry – Yes it is possible. This curry has zero-oil but it is as delicious as any regular curry. Indian Curry has always been picturised as heavily spiced with a layer of oil floating on the top. Unfortunately, most of the Indian restaurants serve that kind of dishes. But when you go to a normal Indian household, the food is always simple and well balanced. One would see minimal usage of oil and spices, yet very delicious food.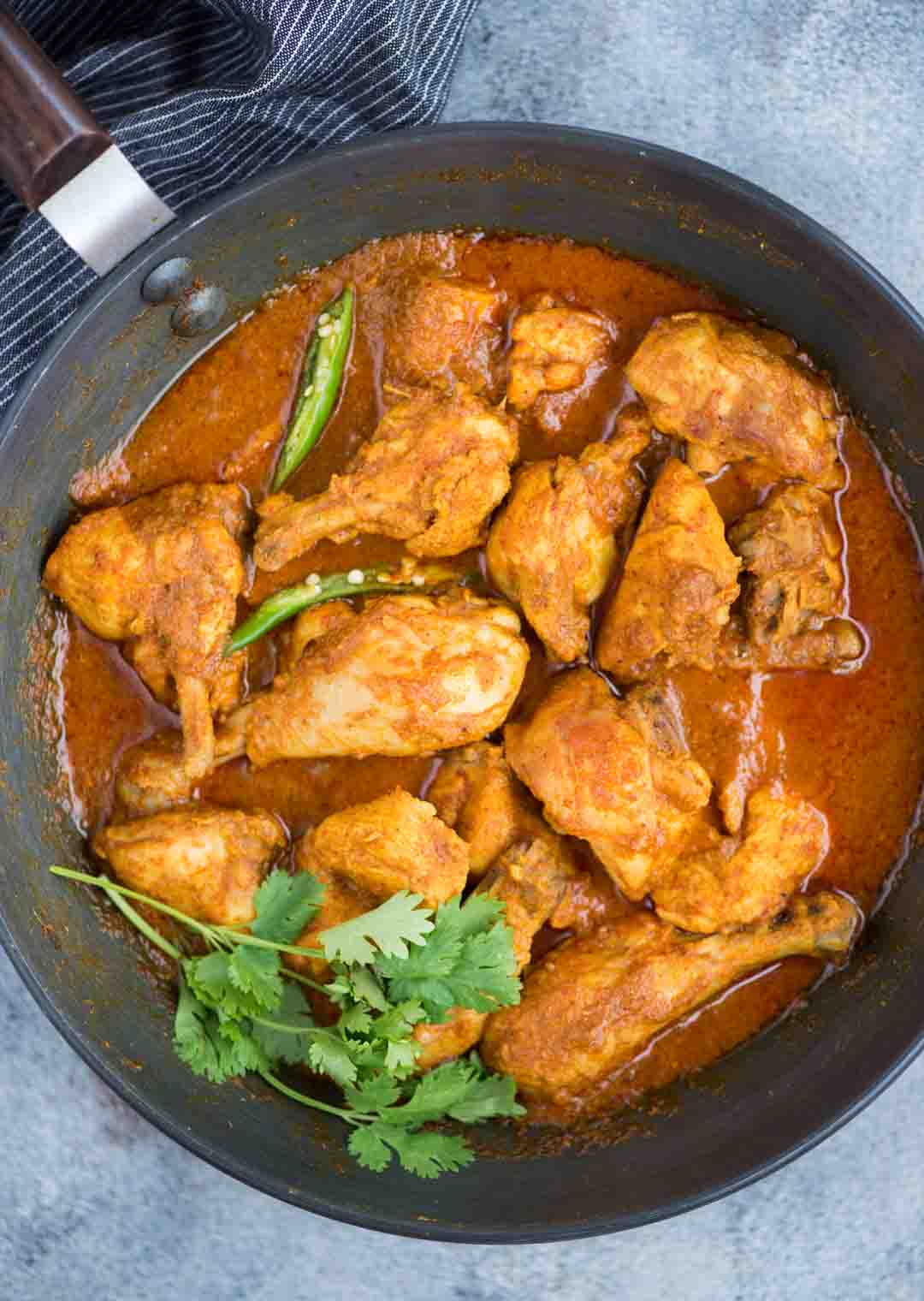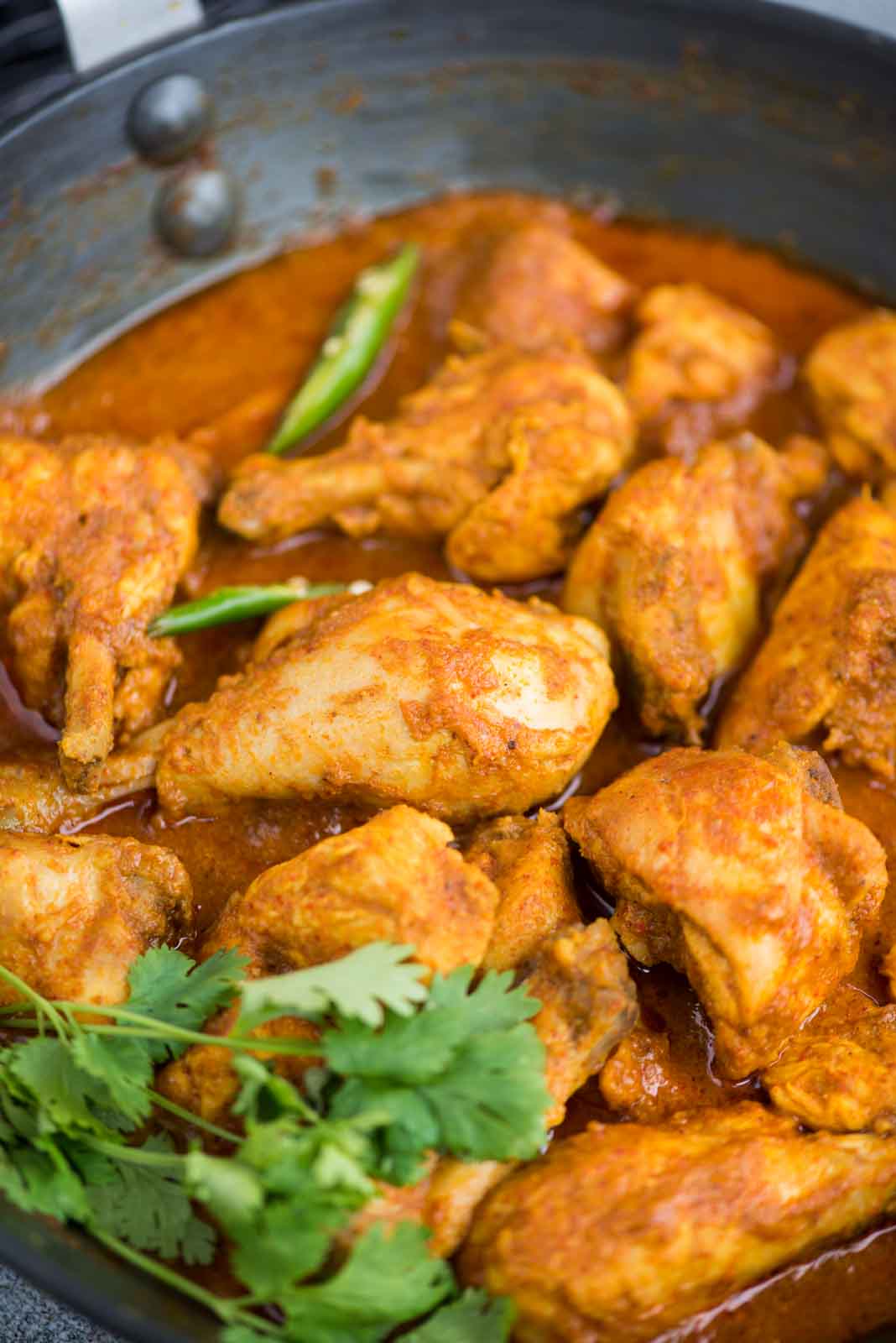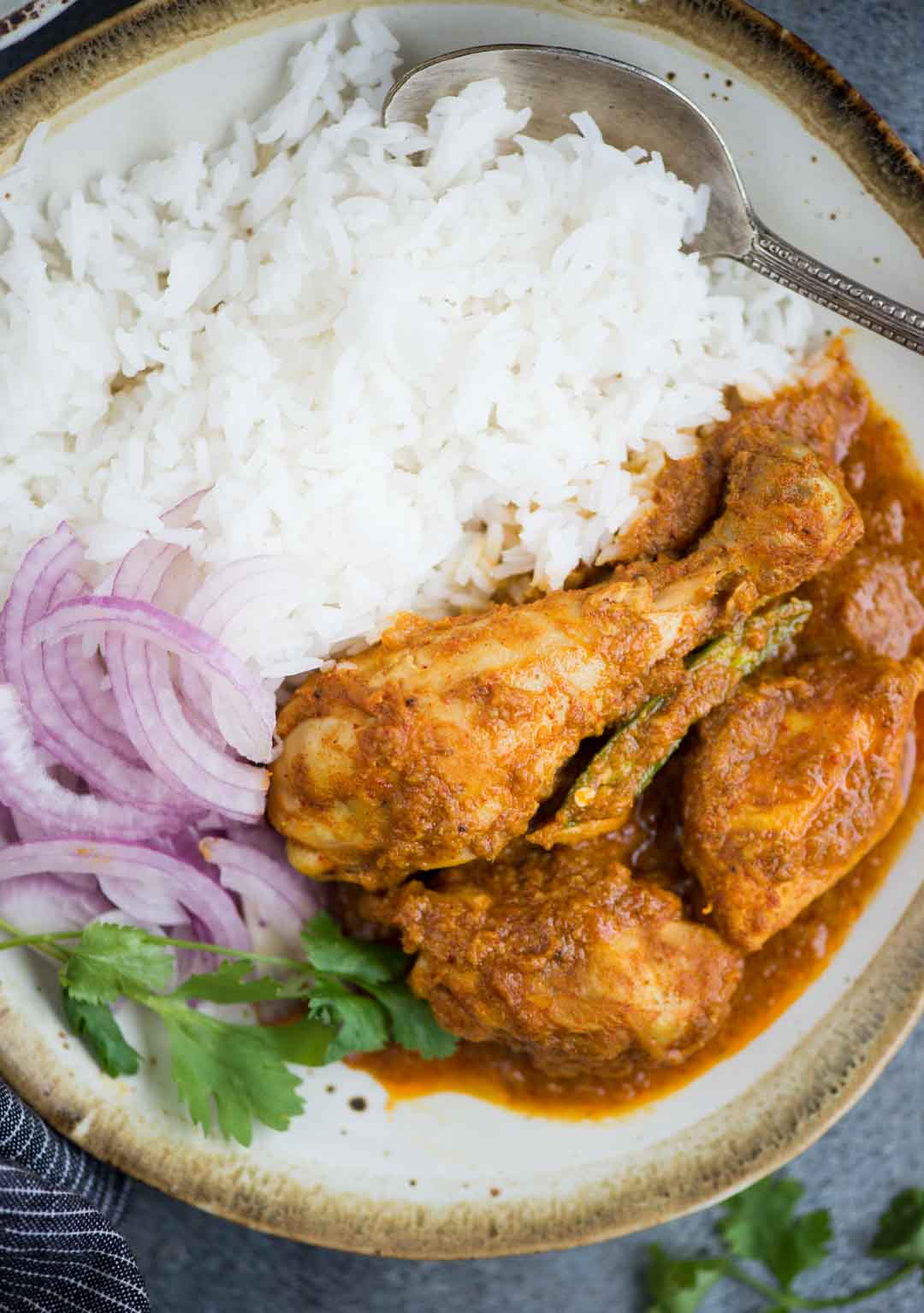 Usually, Indian curry is prepared by first bhunoing (sauteing ) the masalas(onion, ginger garlic paste and other spices) followed by adding meat or veggies. At home, I always prepare following the above process and we absolutely love our curries. But sometimes we prefer having a lighter version of it.
This chicken curry is so easy to prepare and healthy too. After taking off from work my first agenda was to workout and shred some extra kilos. And when you target to reduce weight exercise and a healthy diet goes hand in hand. So far I have been successful in maintaining a workout regime and it has definitely started showing the result (happy dance).
Now comes the tough part, the dieting. When you spend your days browsing through Pinterest and Instagram for recipes, how can you stop yourself from having delicious food? I am still making an attempt to keep a watch on my food. Let's see how it goes. Wish me luck.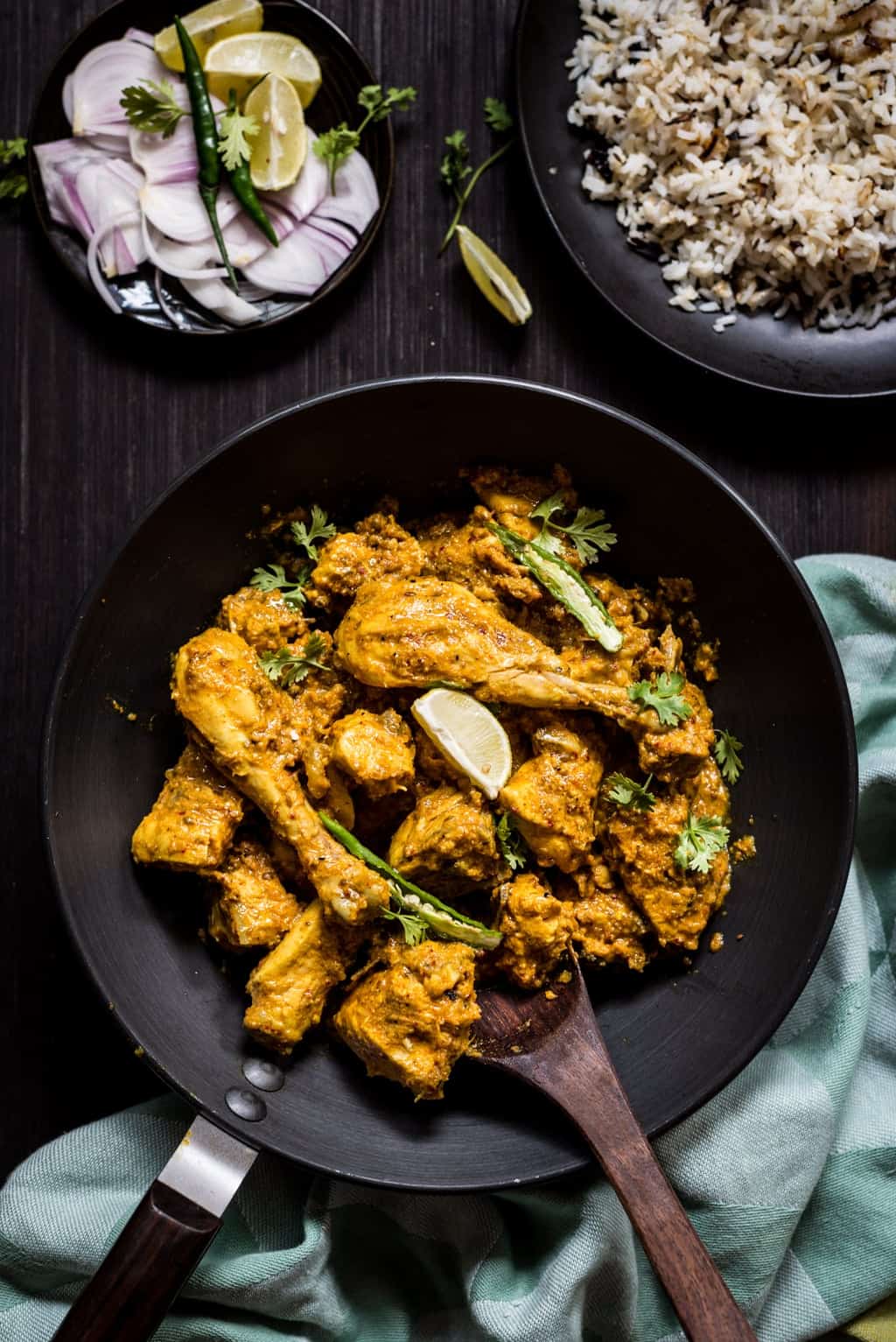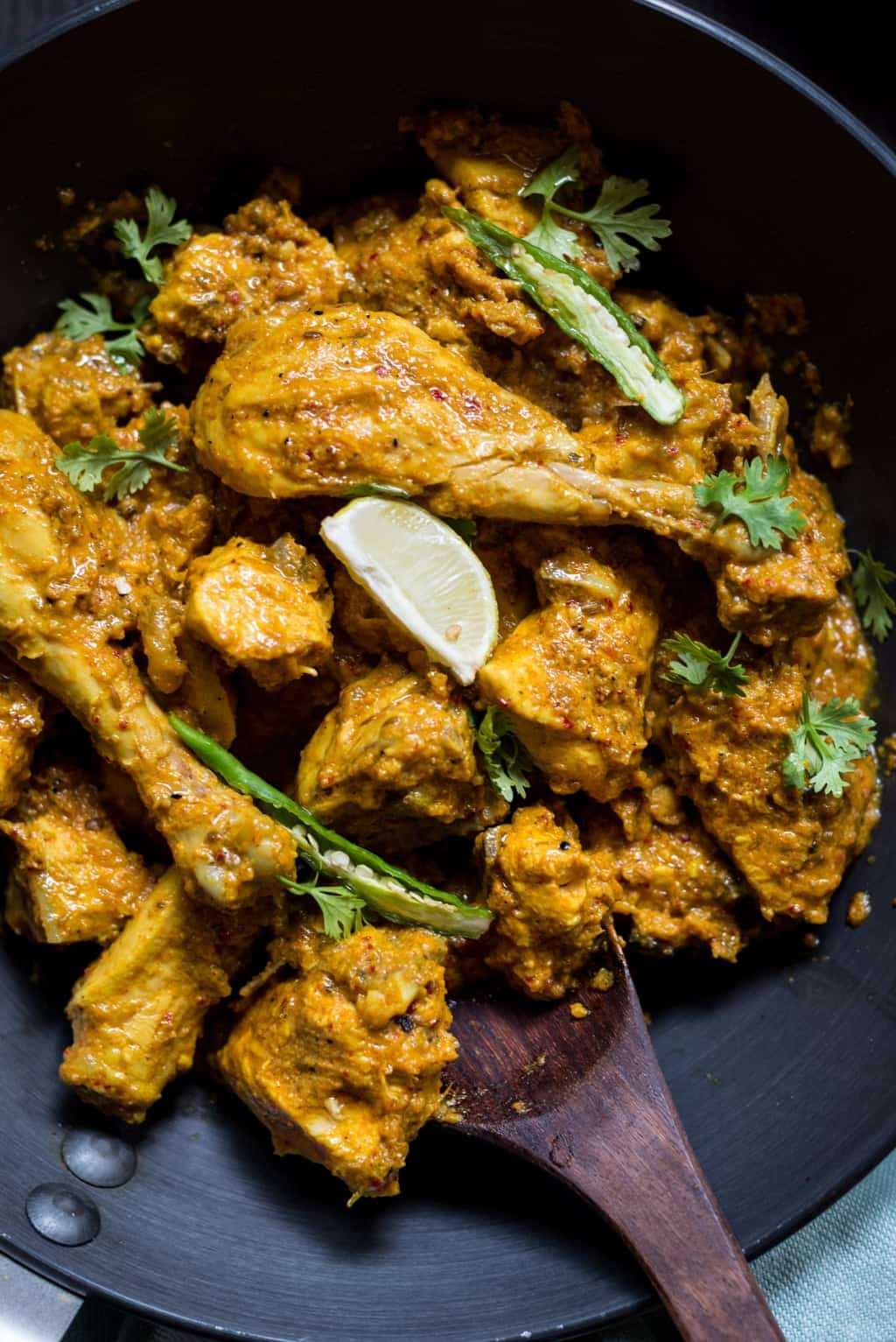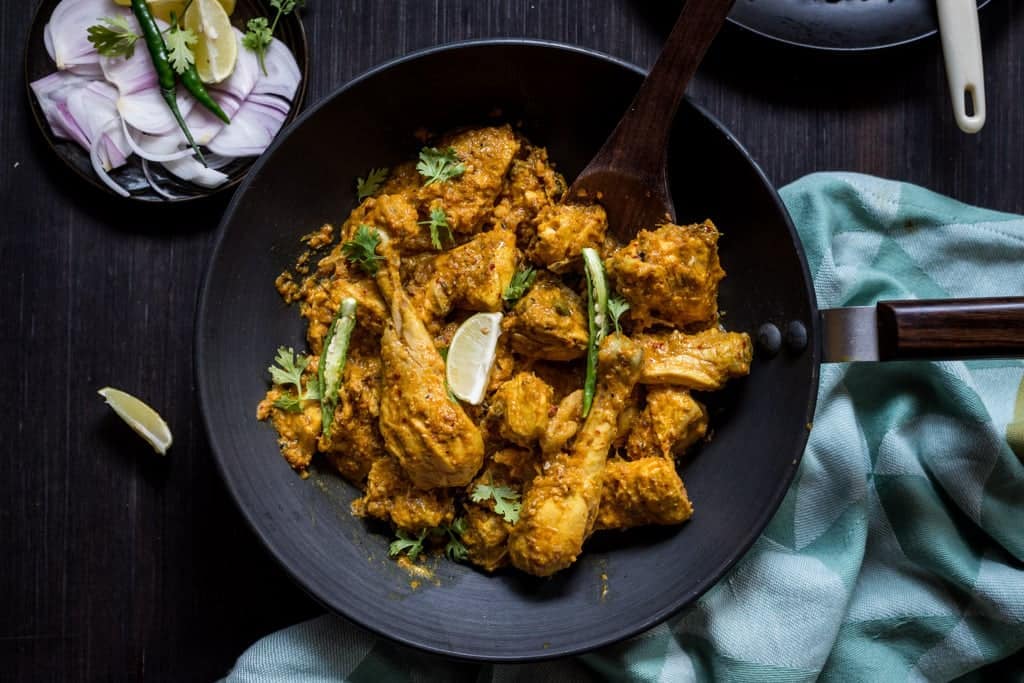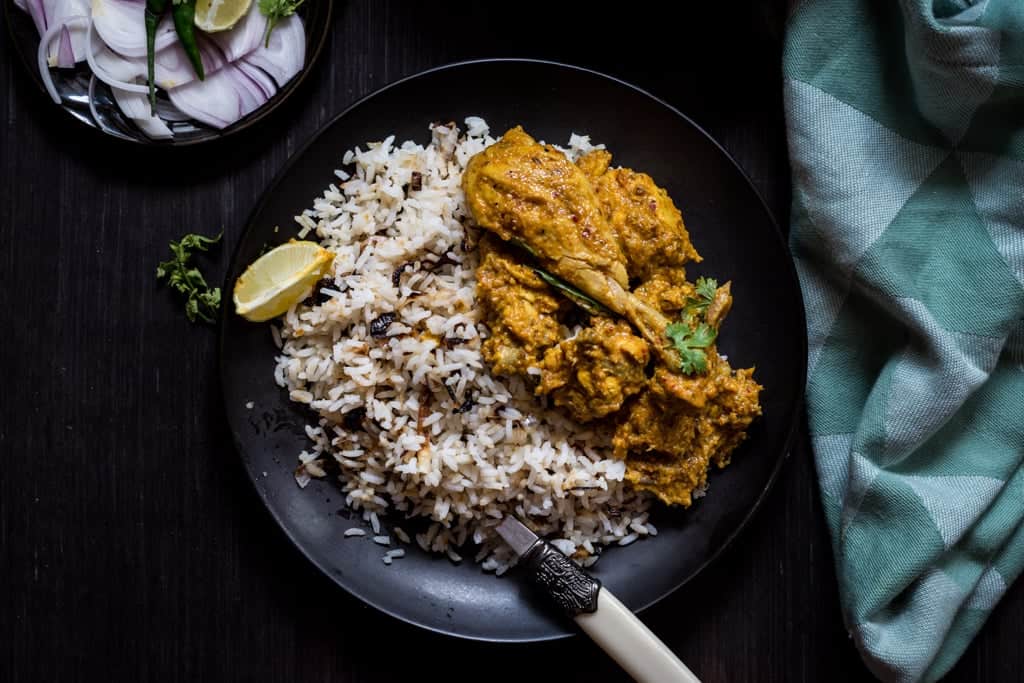 This chicken curry will taste best when you use fresh ground spices.So don't go for shortcut and use readymade powders.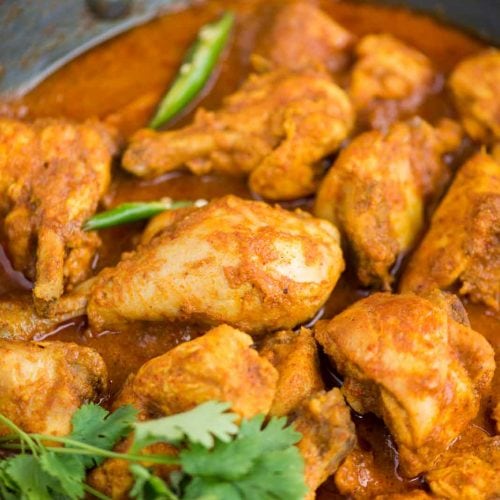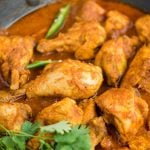 Print Recipe
ZERO-OIL CHICKEN CURRY
Zero-Oil Chicken Curry - Yes it is possible. This curry has zero-oil but it is as delicious as any regular curry. Made with fresh ground spices for best result.
Ingredients
750

gm

chicken

, cut into small pieces

1

cups

curd

fresh

2

Onions

large

1

inch

ginger

piece

8 - 10

cloves

garlic

of

1

tbsp

Coriander seeds

1

tbsp

Cumin Seeds

1

tsp

turmeric

1

tsp

chilli

powder

3 - 4

red chili

Whole Kashmiri

4

cardamom

green

4

cloves

1

bay leaf

to taste

Salt

Green chili coriander leaves

and fresh for garnishing
Instructions
Cut onion into quaters and boil in enough water for 10 mins. Discard water and let the onions cool.

Hang curd in a sieve or muslin cloth and drain as much water as possible.

GRind together boiled onion,ginger, garlic and whole Kashmiri red chili to a fine paste.

Dry roast whole coriander seeds and cumin seeds in a pan. Once aromatic let it cool slightly and make to a coarse powder using mortar and pestle.

In a big mixing bowl add clean chicken pieces,hung curd,onion ginger garlic paste,coriander cumin powder, turmeric, chili powder,salt.

Mix everything well and marinate in refrigerator for atleast 2 hours or overnight.

Remove marinated chicken at least 1 hour before preparation.

Heat a deep pan. Add marinated chicken along with any leftover marination. Add bay leaf.

Let it cook on high flame for 10 mins. The mixture will release lot of water.

Meanwhile slightly roast cardamom, clove and Cinammon stick. Pound to a coarse powder.

Add freshly ground spices to the chicken. Cook till the chicken is cooked and desired gravy consistency is achieved.

Serve hot with steamed rice or Indian bread.