This post may include affiliate links that earn us a small commission.
This curry ticks all the marks of delicious chicken curry and the added bonus is it is super healthy with no oil in it. The thick gravy goes very well with rice or roti.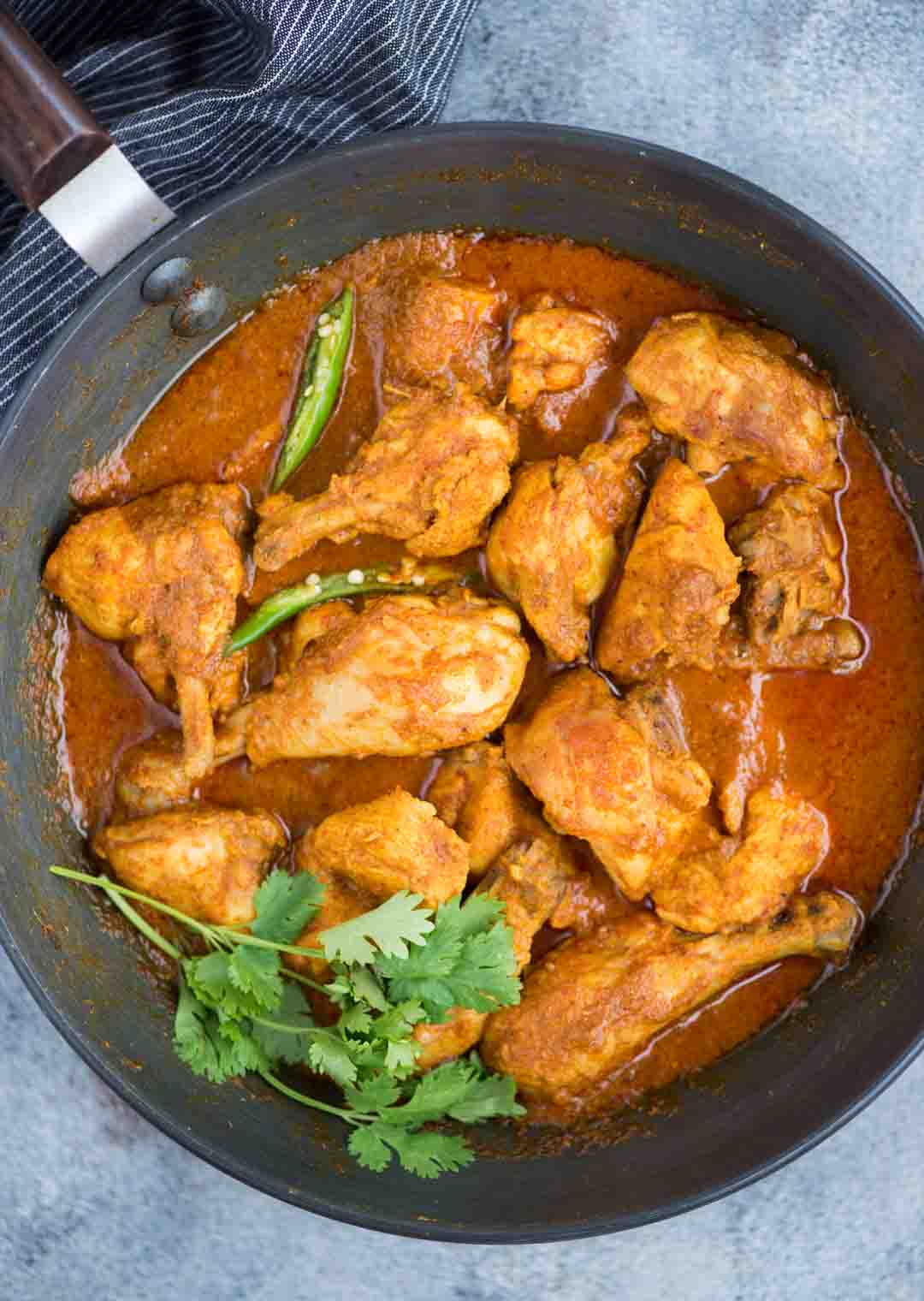 No Oil Chicken Curry – you heard it right. This curry has zero oil but it is as delicious as any regular curry. This curry has everything that you need to make your regular curry except oil. The gravy is thick, has a creamy consistency and really flavourful. If you are wondering about the layer of oil (fat) at the top, then it's the fat from the chicken and yoghurt.
Flavours In Your Inbox
Subscribe for recipes straight to your inbox
Indian Curry has always been picturised as heavily spiced with a layer of oil floating on the top. Unfortunately, most of the Indian restaurants serve that kind of dishes. But when you go to a normal Indian household, the food is always simple and well balanced. One would see minimal usage of oil and spices, yet very delicious food.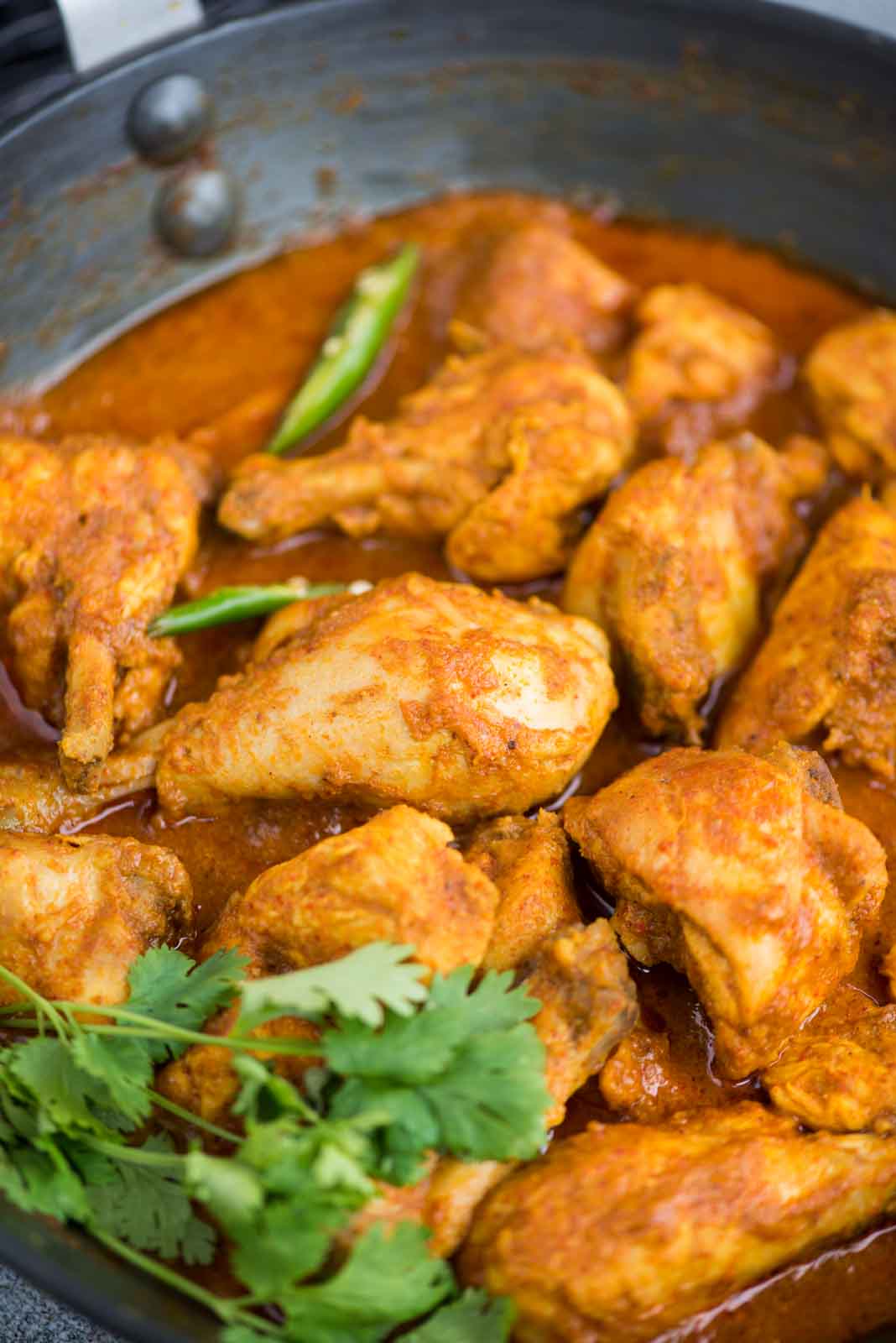 How to make Chicken Curry?
Usually, Indian curry is prepared by first bhunoing (sauteing ) the masalas(onion, ginger garlic paste and other spices) followed by adding meat or veggies. I love the aroma when onion and other spices are beating caramelized in oil. It gives the depth of flour to the curry. But in for this recipe, we are going to follow a different approach.
The purpose of sauteing the aromatics is to get rid of the raw smell and caramelize the onion, garlic, ginger to develop flavour. For this recipe to avoid the raw smell, we are going to boil them in water. Add chopped onion, garlic and ginger to boiling water and cook.
Next step is marinating the chicken. Try to use full fat thick yoghurt for a rich gravy. Yoghurt tenderises the chicken and keeps it juicy. Add freshly ground spices, cooked onion, ginger, garlic paste to the chicken and marinate at least for 1 hour and up to 48 hours. Longer marination ensures juicy and succulent chicken.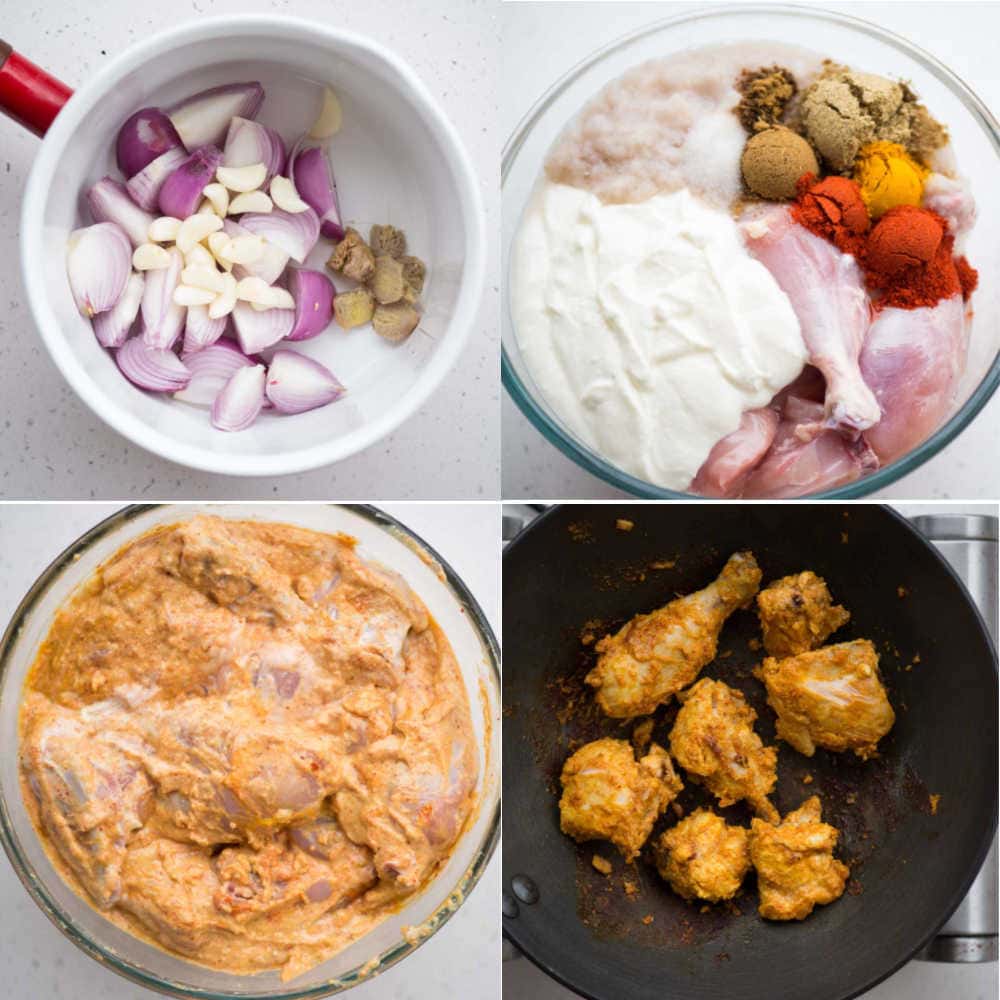 After marination, the next step is to caramelize the chicken to develop flavour. Take a few pieces of chicken at a time, shake off excess marination and saute in medium-high heat for 3-4 minutes. When a few brown spots start appearing, remove from the pan and add few more pieces.
Next step is to add everything back to the pan along with any marination and cook until the gravy has thickened.
Tips to Make Perfect Chicken Curry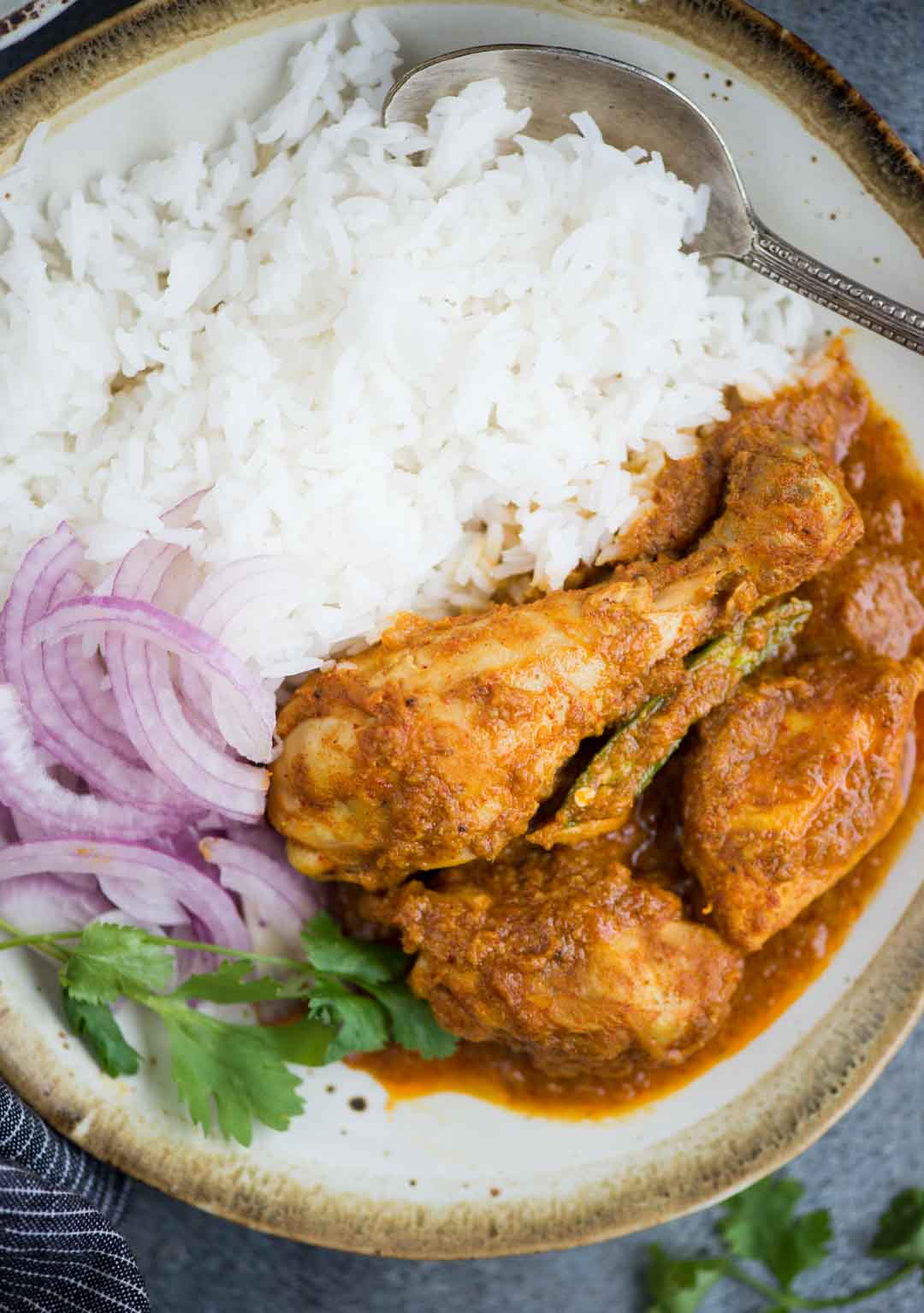 More Curry Recipes…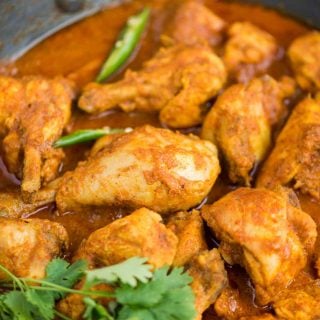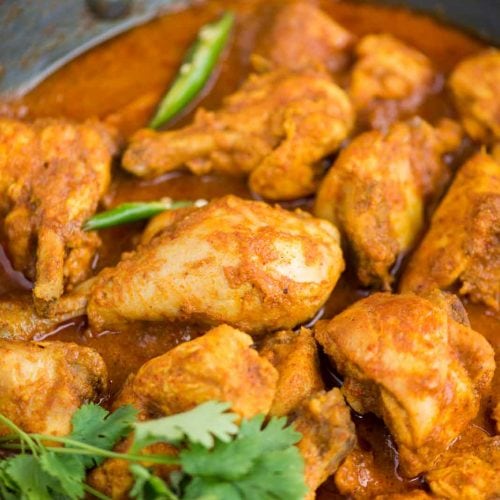 ZERO-OIL CHICKEN CURRY
Zero-Oil Chicken Curry – Yes it is possible. This curry has zero-oil but it is as delicious as any regular curry. Made with fresh ground spices for best result.
Ingredients
1 kg chicken cut into small pieces
1 cups Yoghurt fresh
2 Onions large
1 inch ginger piece
8 – 10 cloves garlic of
1 tablespoon Coriander powder
½ tablespoon Cumin powder
1 teaspoon Turmeric
1 teaspoon Chilli powder
1 teaspoon Red chilli powder Whole Kashmiri
1 teaspoon Garam masala
Instructions
Cut onion into quarters. Boil onion, garlic and ginger in enough water for 10 mins. Discard water and let everything cool.

Grind together boiled onion, ginger, garlic to a fine paste.

In a big mixing bowl add cleaned chicken, Yoghurt, onion ginger garlic paste, all dry spices and salt to taste.

Mix everything well and marinate in the refrigerator for at least 1 hours or overnight.

Remove marinated chicken at least 1 hour before preparation and let it come to room temperature.

Shake off the extra marination and add a few pieces of chicken to a hot pan. Stir fry on medium-high heat for 3-4 minutes until you see small brown spots. Take out of the pan and keep covered.

Repeat the above step and cook the rest of the chicken, few pieces at a time.

Once all the chickens are browned, add all the browned chicken back to the pan and any leftover marination.

Add 1/4 cup of water, cover and cook on low heat for 20 minutes or until the gravy has thickened.

Garnish with fresh coriander leaves while serving.
Nutrition
Serving: 1g | Calories: 419kcal | Carbohydrates: 9g | Protein: 34g | Fat: 27g | Saturated Fat: 8g | Cholesterol: 130mg | Sodium: 146mg | Potassium: 507mg | Fiber: 1g | Sugar: 4g | Vitamin A: 392IU | Vitamin C: 11mg | Calcium: 101mg | Iron: 2mg