Thai Butternut Squash Curry
This post may include affiliate links that earn us a small commission.
Butternut Squash Curry with tofu has a perfect balance of sweet and spicy. This is creamy and has amazing Thai flavors. Make use of all those fall-favorite Butternut Squash in this delicious curry.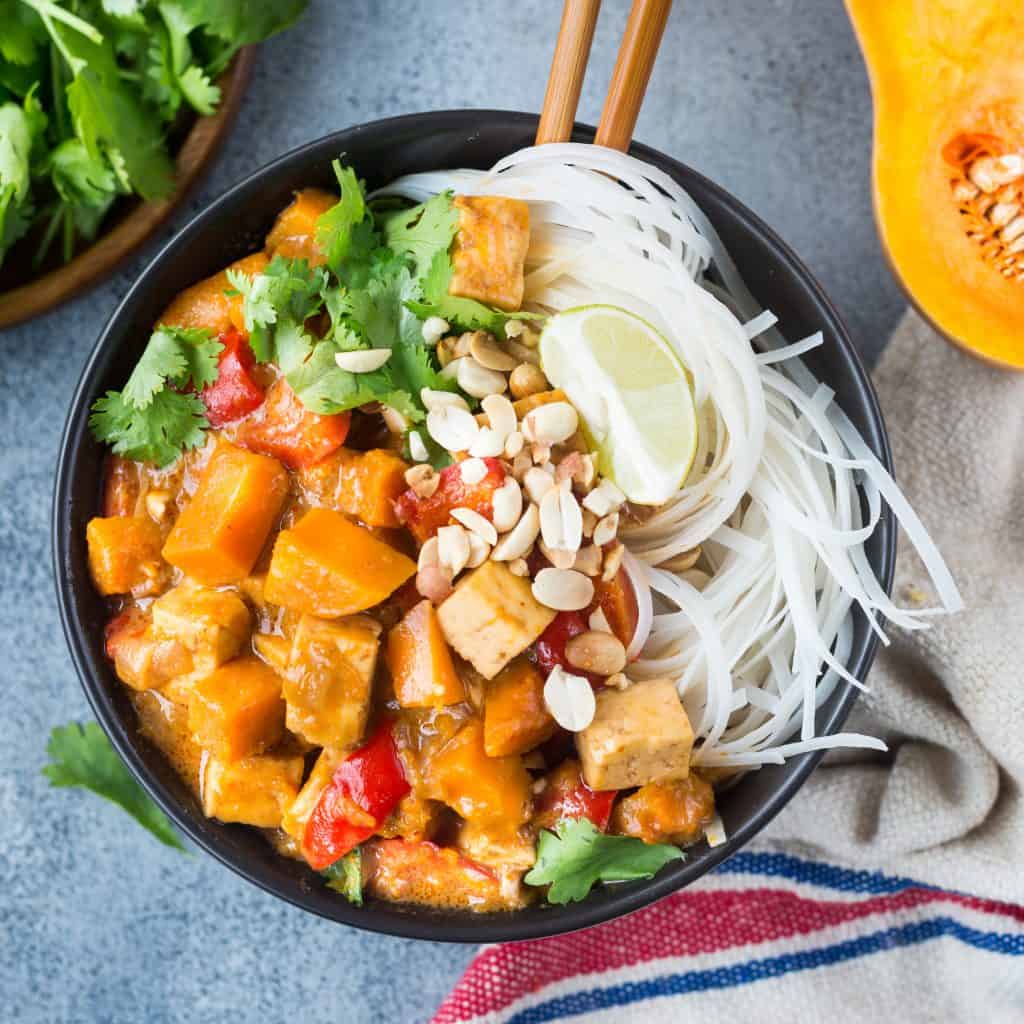 Hearty Thai Butternut Squash Curry tastes amazing when served with noodles or even with a bowl of rice. Sweet chunks of butternut squash, Tofu, red pepper in a creamy aromatic Thai curry base are difficult to resist.
Flavours In Your Inbox
Subscribe for recipes straight to your inbox
Finally, we are in the best part of the year. Winter is my favorite for all the good reasons. Winter means warm woolen wear, cozy long nights, and of course comfort food. Today was such a day when I was craving some warm soup or a curry. As all the ingredients were pretty much available in my refrigerator, ended up making this lip-smacking Thai Butternut squash Curry.
I used readymade red curry paste in this recipe. I usually make my own red curry paste, when I have all the ingredients available. But I also keep readymade paste always handy. We love Thai curry and it is easy to make if you have some curry paste available.
If you are on the lookout for Thai recipes, you may also look at Thai Red Curry, Thai Grilled Chicken, Thai Shrimp Curry, Thai Chicken Coconut Soup (Tom Kha soup), Thai Cashew Chicken Stir Fry, and Thai Basil Chicken.
Ingredients
Butternut Squash: Use in-season sweet butternut Squash for the best result. You can also substitute with Pumpkin.
Tofu: To make it more nutritious and rich in protein. You can skip if you are not a fan of Tofu.
Red Curry pastes: Any good brand of Thai red curry paste would work. If you want to make Vegan, then make sure the curry paste doesn't contain shrimp paste.
Aromatics: Onion, garlic to add more flavors to the curry.
Fish Sauce and Soy Sauce: My take – Thai curry isn't the same without Fish Sauce. I prefer to add a dash of soy sauce for extra umami to the butternut squash Curry. For the vegan version, you will have to omit Fish sauce. For the Gluten-free version, use Gluten-free Soy Sauce.
Coconut milk and Vegetable Stock: Coconut milk and vegetable stock give body to the gravy. Coconut milk makes the curry creamy in texture and balances flavor from all the other ingredients.
Palm sugar: Sugar is added to balance the saltiness and sourness of the soy sauce.
Tips for a delicious Curry
Recently I am growing lemongrass in my little kitchen garden. It is so easy to grow and low maintenance too. Cut the lemongrass stalks' stems and put the roots in a glass of water half submerged. In a few days you will see roots growing, then remove from water and put them in the soil.
Whenever I use readymade curry paste, I add some minced fresh lemongrass to it. It makes the curry flavourful and more refreshing.
Though I make a non-veg version of this either using chicken/prawn, this vegetarian version is equally good.
Squash gives mild sweetness and gives the gravy a smoothness. One thing you need to keep in mind is, don't overcook the squash. Keep them a little chunky.
To make the gravy a little creamy, press a few chunks of the squash using a slotted spoon.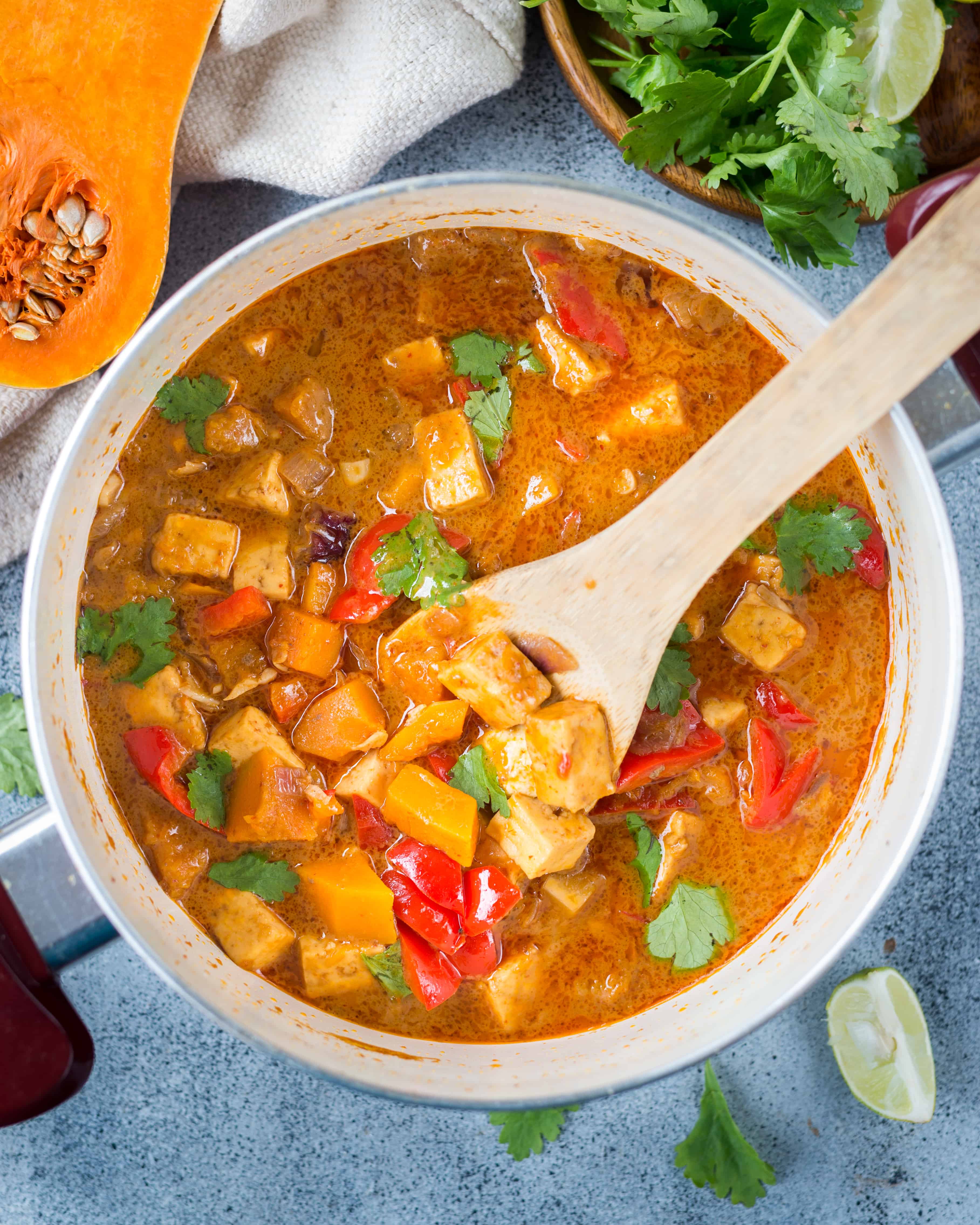 How to make
Prep:
Cube the butternut squash
Chop onions, red bell pepper and coriander leaves
Mince garlic cloves and crush peanut
Sauté Onions and Garlic: Sauté onions and garlic on a hot pan until the onions turn soft.
Add butternut squash: Add the cubes of butternut squash and let it cook for 5 minutes
Make the gravy: Add the curry paste, sauces, sugar, coconut milk, and stock. Mix them well and bring them to a boil. Then lower the heat and let it simmer for 10-12 minutes. Check the butternut squash cubes. It should have become soft yet still hold shape.
Add tofu: Add the red bell pepper and tofu. Switch off the flame.
Garnish: Sprinkle chopped coriander leaves and crushed peanut before serving.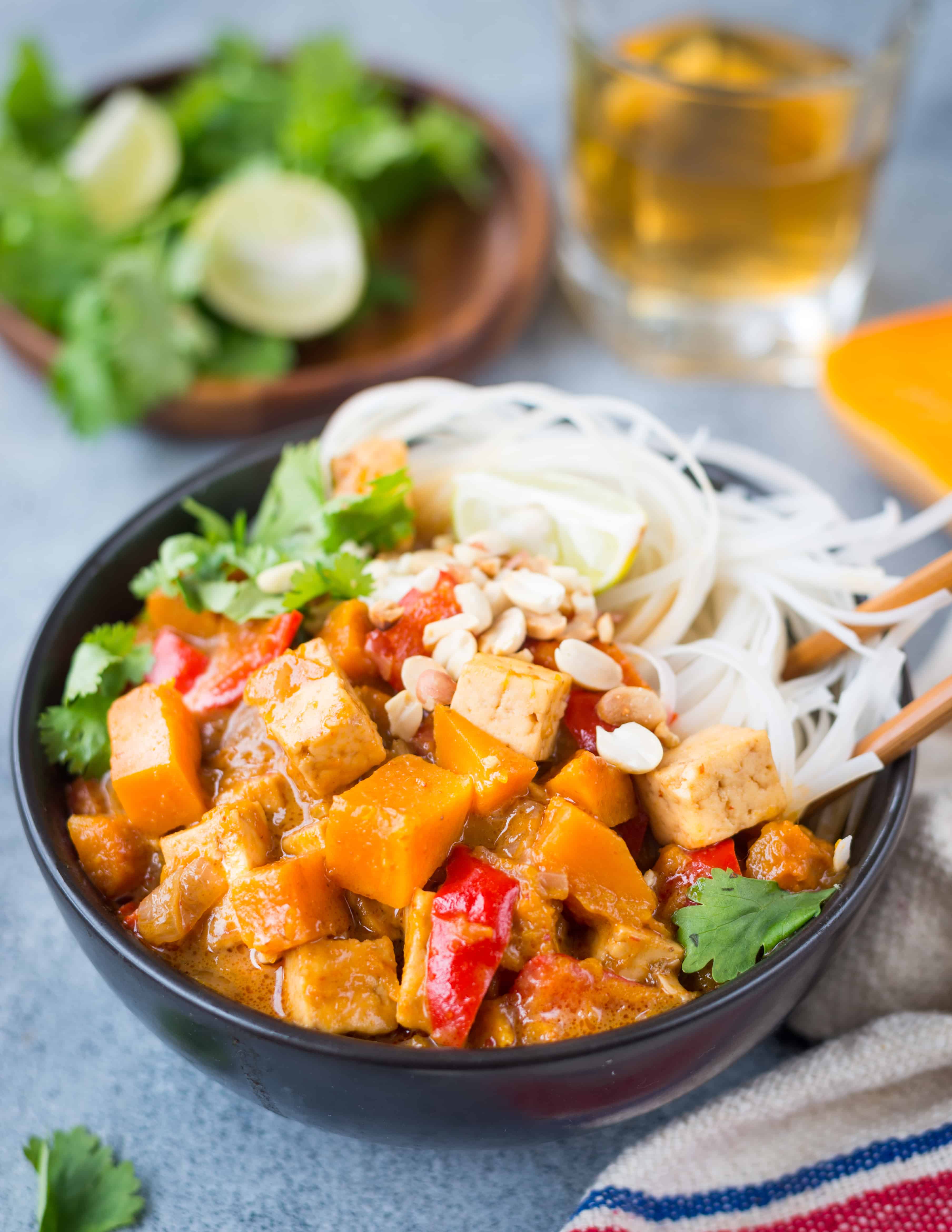 Store
This gravy can be refrigerated in an air-tight container for up to 4 days. If you would like to store it longer, freeze it for 6 months.
When you are ready to consume it, take it from the refrigerator and microwave it or heat it on a skillet. Make sure not to heat too much so as to overcook the butternut squash.
While taking it from the freezer, thaw it until it comes to room temperature and reheats it.
Serve with
Serve this creamy butternut squash curry with plain rice or noodles.
This recipe has been a favorite of many readers on Pinterest. Please share this pin below with your near and dear ones.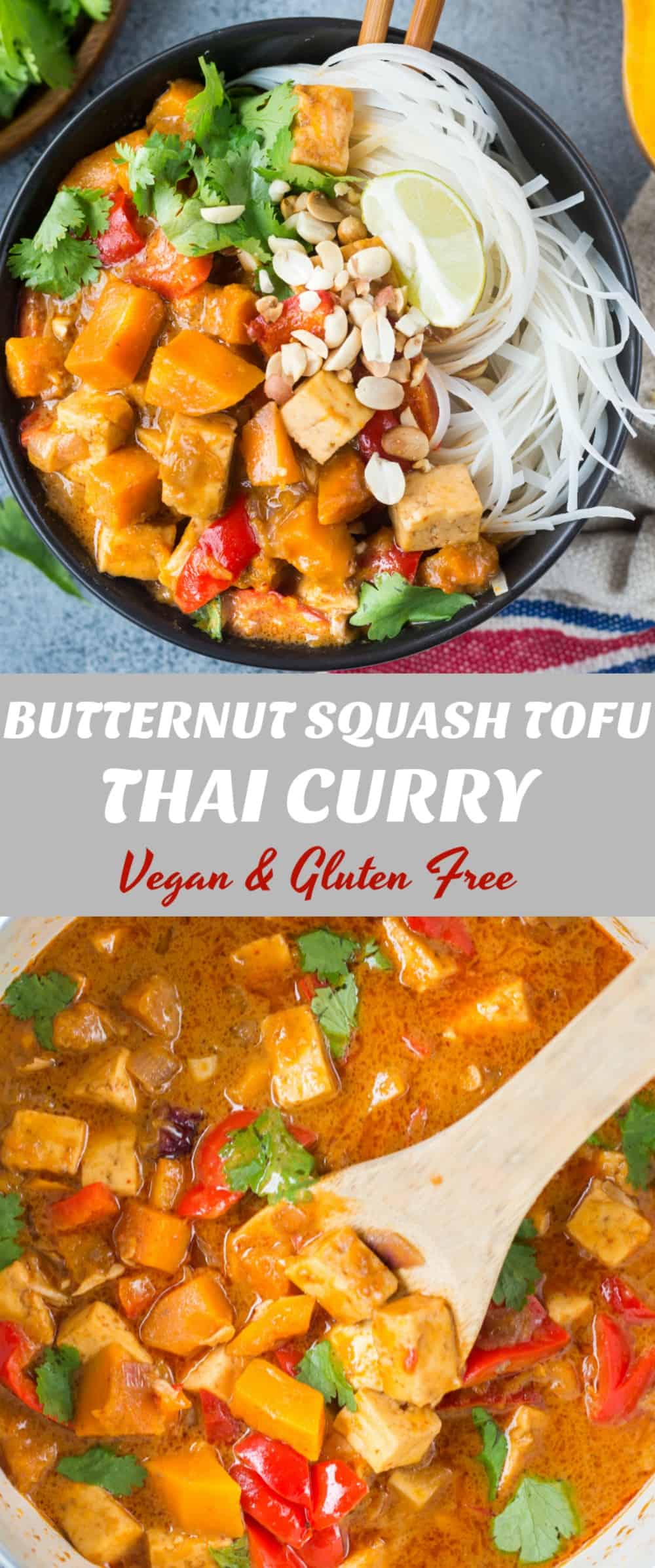 Other Asian Recipes
Chicken Meatballs with Asian sauce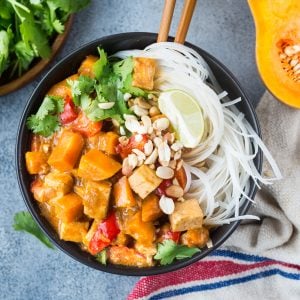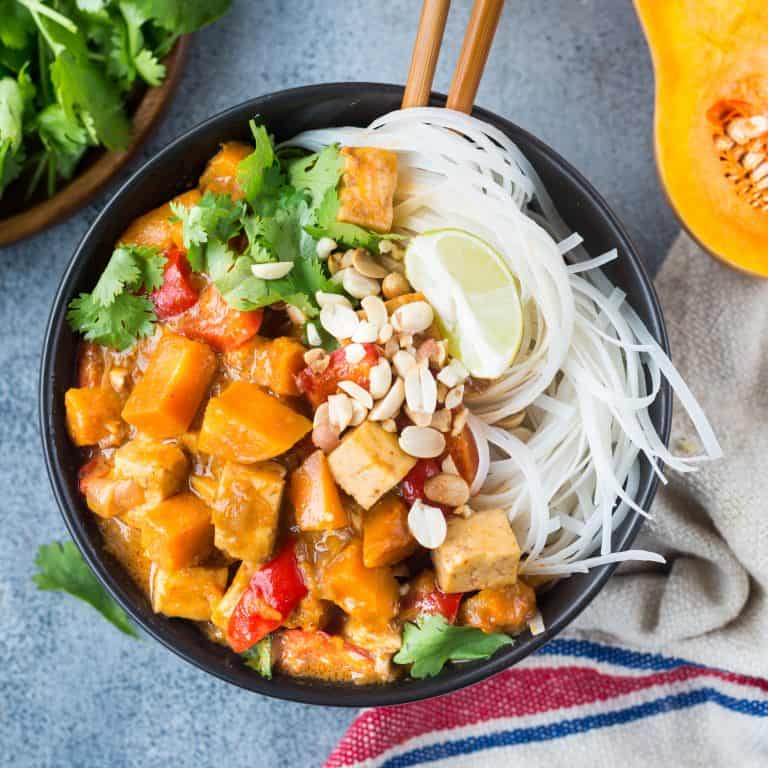 Thai Butternut Squash Curry
This Thai Butternut Squash Curry with Tofu is perfect for winter. It is creamy and with amazing Thai flavours. Make use of all those fall favorite Butternut Squash in this delicious curry.
Ingredients
400 gms Butternut Squash Cut in to Cubes
250 gms firm tofu Cut into Cubes
1 tbsp cooking oil
1 medium onion Chopped
.5 tablespoon Garlic Cloves Minced
2 tablespoon Thai Red Curry Paste
1 tablespoon soy sauce
1 tablespoon brown sugar / Palm Sugar
1 tablespoon fish sauce
1.5 cup coconut milk
½ cup chicken vegetable stock
1 red bell pepper Chopped into chunks
¼ cup Fresh coriander
½ teaspoon Fresh Lemon jiuce
Salt and Pepper as per taste
Instructions
Heat oil in a pan. Once the oil is hot, add sliced onion. Saute onions till it is softened.

Add minced garlic. Cook for 30 seconds.

Add cubed butternut squash. Cook for 5 minutes.

Add red curry paste, soy sauce, fish sauce, and browns sugar. Mix well.

Add coconut milk and stock. Cover and bring everything to a boil. Then simmer for 10-12 minutes until squash cubes are cooked through, are soft yet holds shape.

Add red bell pepper and tofu. Let it simmer on low heat for 5 minutes. Switch off the flame.

Stir in lemon juice. Garnish with fresh coriander leaf and crushed peanuts while serving.

Serve on a bed of plain steamed rice or noodles.
Nutrition
Serving: 1g | Calories: 228kcal | Carbohydrates: 16g | Protein: 7g | Fat: 17g | Saturated Fat: 11g | Sodium: 417mg | Potassium: 443mg | Fiber: 3g | Sugar: 6g | Vitamin A: 8540IU | Vitamin C: 42mg | Calcium: 105mg | Iron: 3mg