Roasted Butternut Squash Pasta
This post may include affiliate links that earn us a small commission.
This roasted butternut squash pasta topped with crunchy garlicky parmesan breadcrumbs is cozy and has all the fall flavors. Roast together butternut squash, onion, garlic, and herbs, and blend to make the creamiest pasta sauce ever.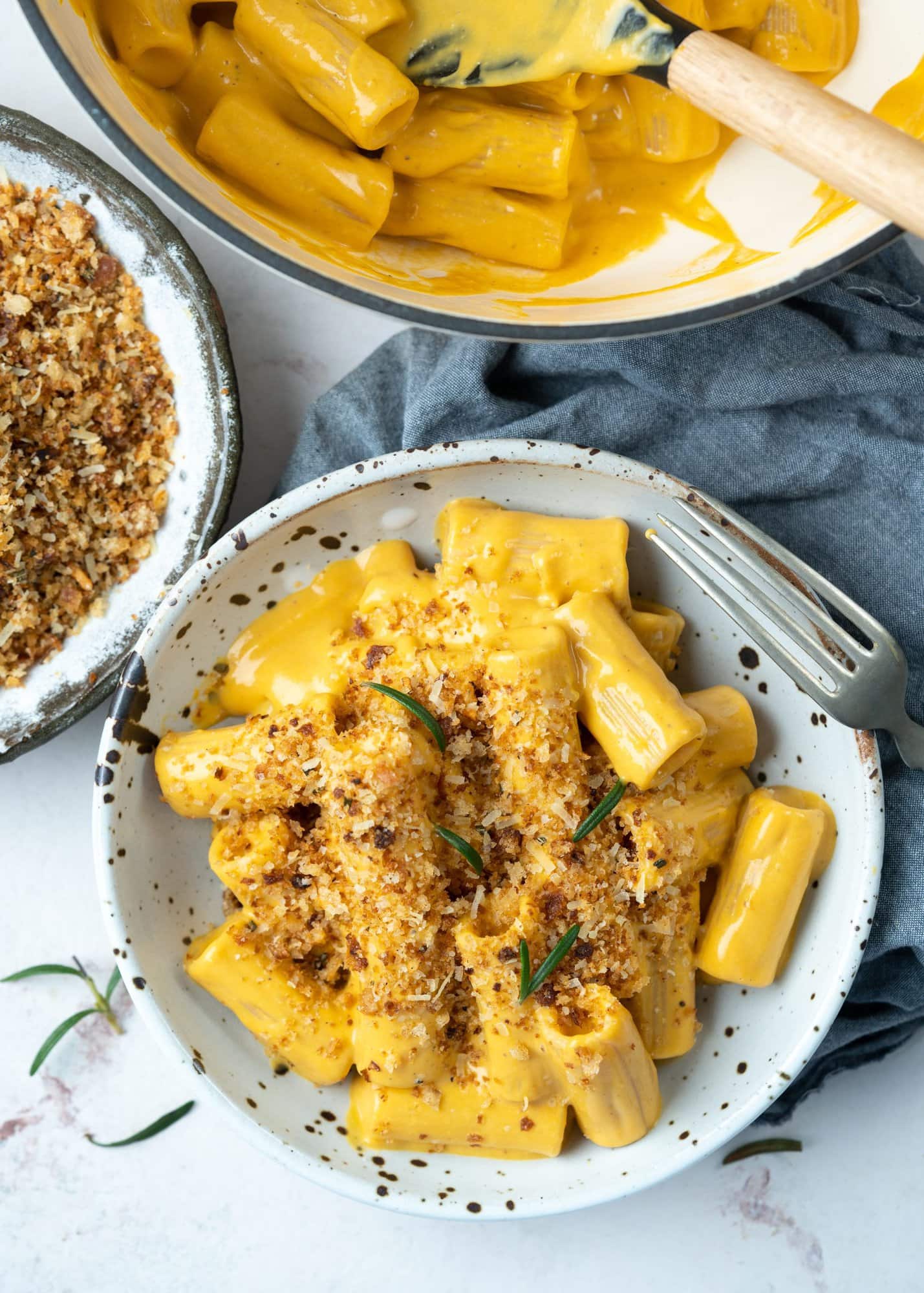 This roasted butternut squash pasta sauce is a great way to use the abundance of butternut squash available in the fall and winter. Butternut squash cubes are roasted along with onions, garlic, and herbs until caramelized. Roasting butternut squash intensifies the flavor and sweetness.
Flavours In Your Inbox
Subscribe for recipes straight to your inbox
Blend the roasted veggies with some heavy cream and chicken stock to make a velvety smooth, rich pasta sauce that sticks perfectly to the pasta. And to balance the sweetness, there is a crunchy, garlicky parmesan breadcrumb topping. This bowl of butternut squash pasta is like a bowl of mac and cheese but with a fall/winter vibe.
More Winter Squash Recipes
Among the rich produce of winter, I take a liking to winter squash. These are very durable and versatile vegetables, which have a hard and thick skin and tender texture inside. You can get a variety ranging from sweet to savory tasting.
And there's no one way to make them. You can puree it and pair it with other fall produce like sweet potatoes into soups like in this Sweet Potato Pumpkin Soup done in an Instant Pot. Enjoy the sweetness of a simple Pumpkin Soup.
Make classic Italian comfort food like risotto with butternut squash or use sweet chunks of it with a Thai curry base and make this Thai Butternut Squash Curry.
Cutting Butternut Squash
Butternut squash is a hard variety of winter squash. Probably the only time-consuming part of this recipe is peeling and cutting the squash. But a sharp knife, a vegetable peeler, and a sturdy chopping board should do the job.
Start by trimming off both ends. This will make peeling and cutting easy. Peel the squash whole, then cut it into half lengthwise. Using a spoon, scrape out the seeds.
Cut into 1–1.5-inch cubes. Smaller chunks take less time to cook.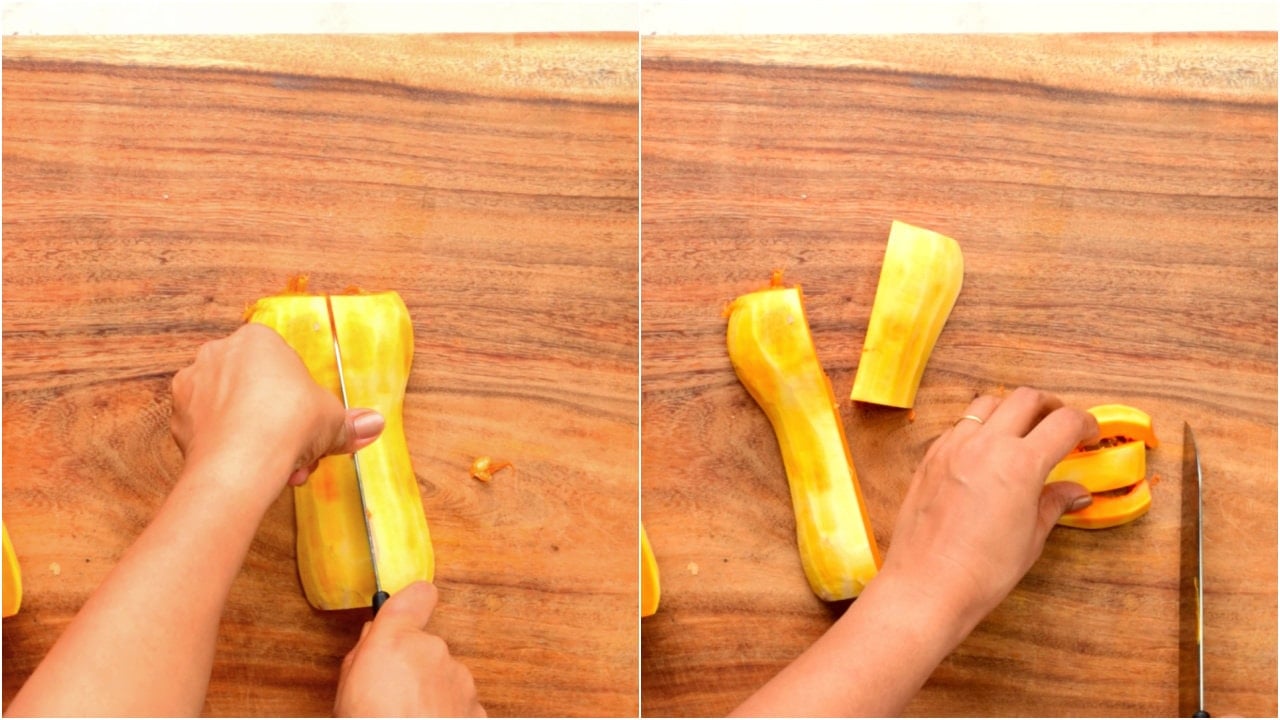 One more reason to love this pasta is that you can easily sneak in the veggies, and any fussy eater would devour it.
If the number of steps and time taken to make this worries you, the good news is, that you can plan this cook over 2–3 days. Few of the steps are make-ahead. You can roast the squash and veggies a day or two before. Then, while you cook the pasta, blend the sauce and make the breadcrumb topping.
To make clean-up easy, line the baking tray with parchment paper.
Steps to Make Butternut Squash Pasta
Cut the veggies: Cut butternut squash into 1-1.5 inch cubes. Roughly chop onions and peel garlic.
Roast: Toss chopped squash, onion, garlic, rosemary springs, salt, and pepper along with olive oil. Roast until the squash is fork-tender and caramelized.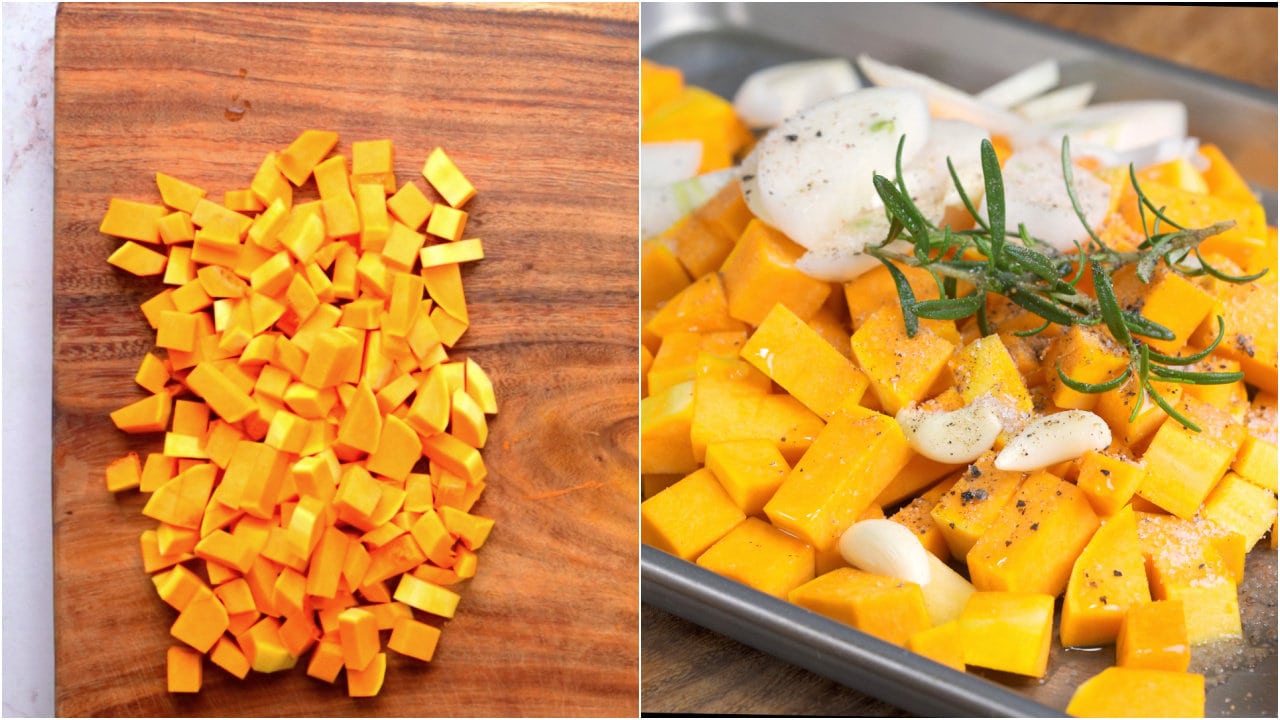 Parmesan Breadcrumb Toppings :
Melt butter and sauté garlic until aromatic. Add breadcrumbs and finely chopped rosemary. Saute until the bread crumbs are crunchy and golden brown in color.
Let the breadcrumb come to room temperature, then add shredded parmesan cheese. Mix everything and keep it aside.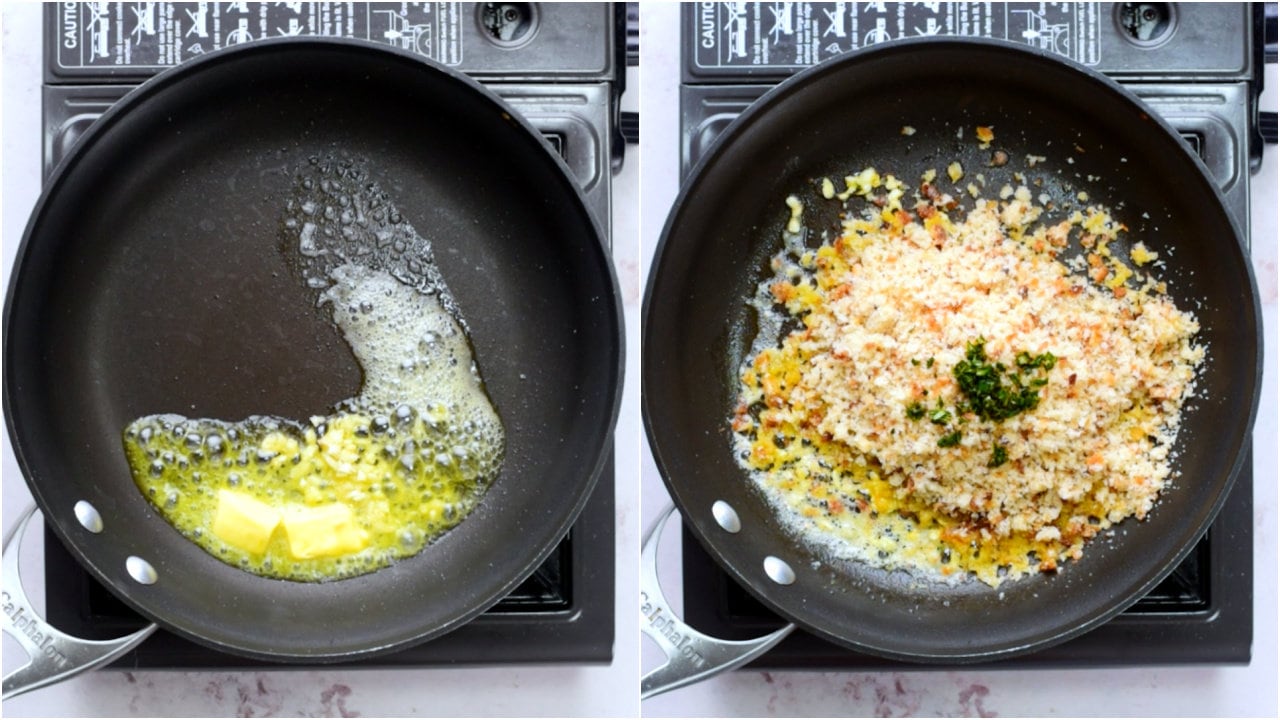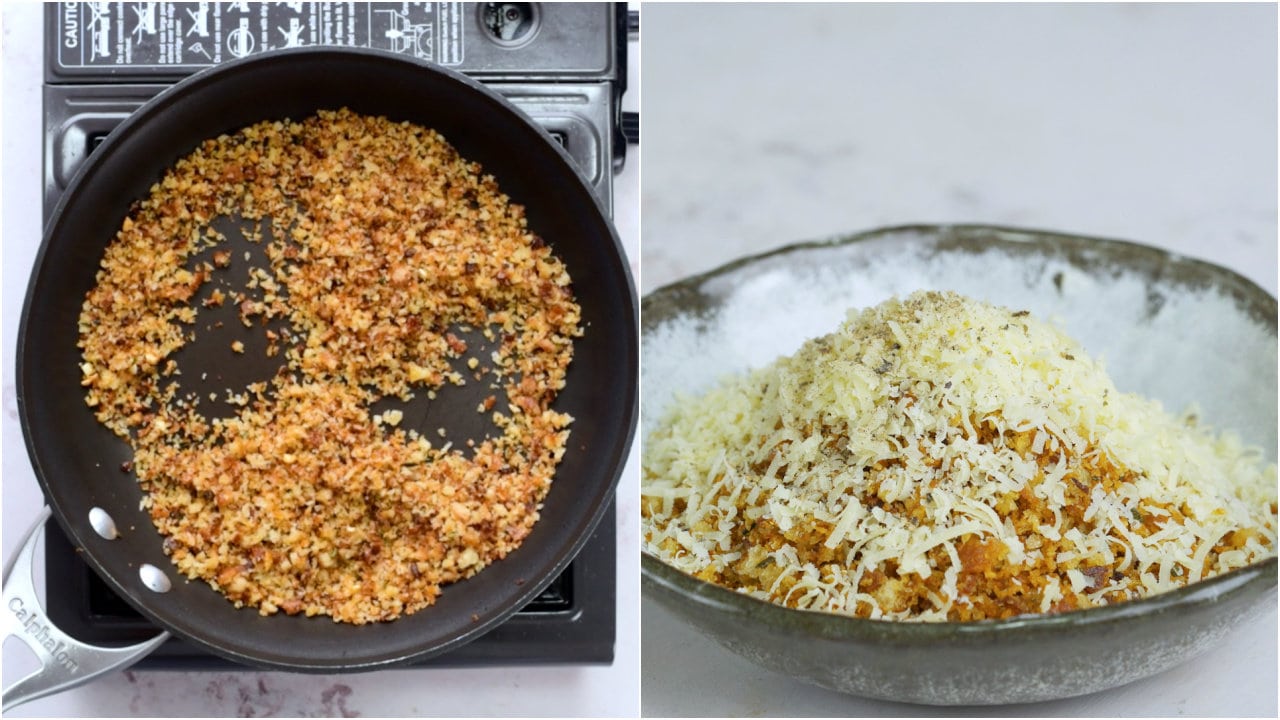 Cook Pasta: While the veggies are in the oven, bring a pot of water to boil. Salt it well and cook pasta al dente. Reserve 1 cup of pasta water, to use later if required.
Blend: Scrap the veggies from the baking tray. Blend it along with chicken stock and heavy cream, to a smooth sauce.
Add the butternut squash puree to cooked pasta and a small pinch of nutmeg. Mix gently using a spatula. Add reserved cooked pasta water to adjust the consistency.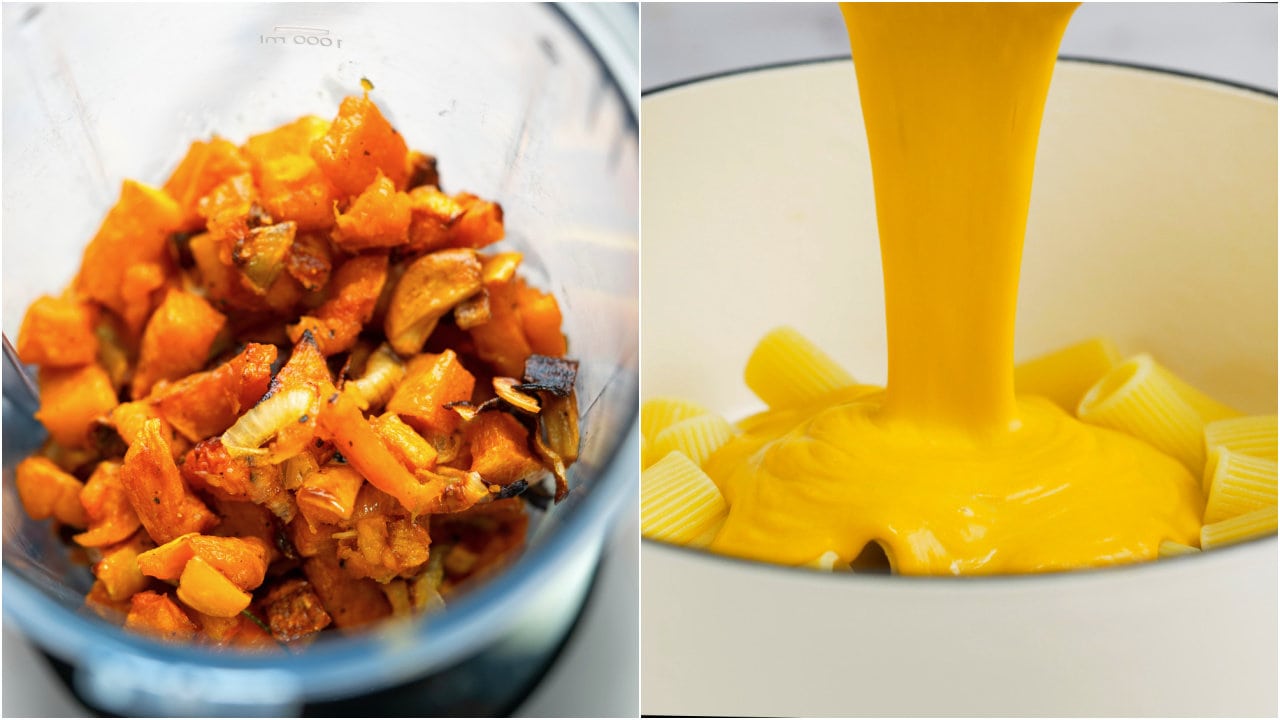 Substitutes
I prefer using tubular pasta like penne or rigatoni. Fussili also holds the sauce well. But you can use any pasta you prefer.
Rosemary, thyme, or sage all of these herbs work really well and have fall flavors.
What can I use instead of butternut squash?
Any winter squash will do. The most common winter squashes are acorns or pumpkins. It needs to be ripe and sweet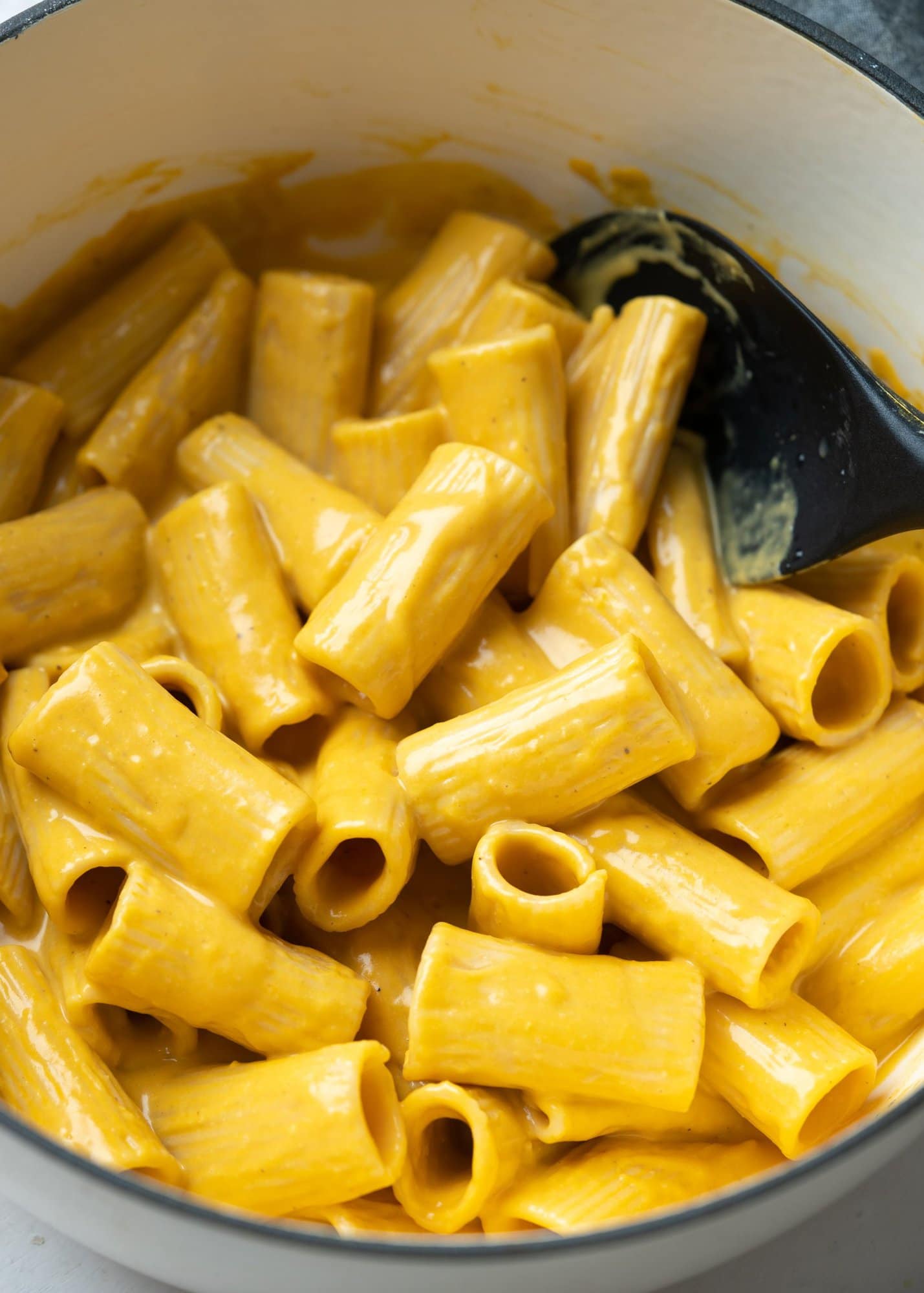 Make Ahead and Storing Leftovers
If making ahead you can roast the veggies 2 days prior and refrigerate. On the day of serving while you cook pasta, blend roasted veggies to make the sauce.
You can also make the pasta sauce 2 days in advance and refrigerate.
Leftovers can be stored in the refrigerator for up to 2 days. The pasta might soak up the sauce, so you can add some warm chicken stock or water to loosen it.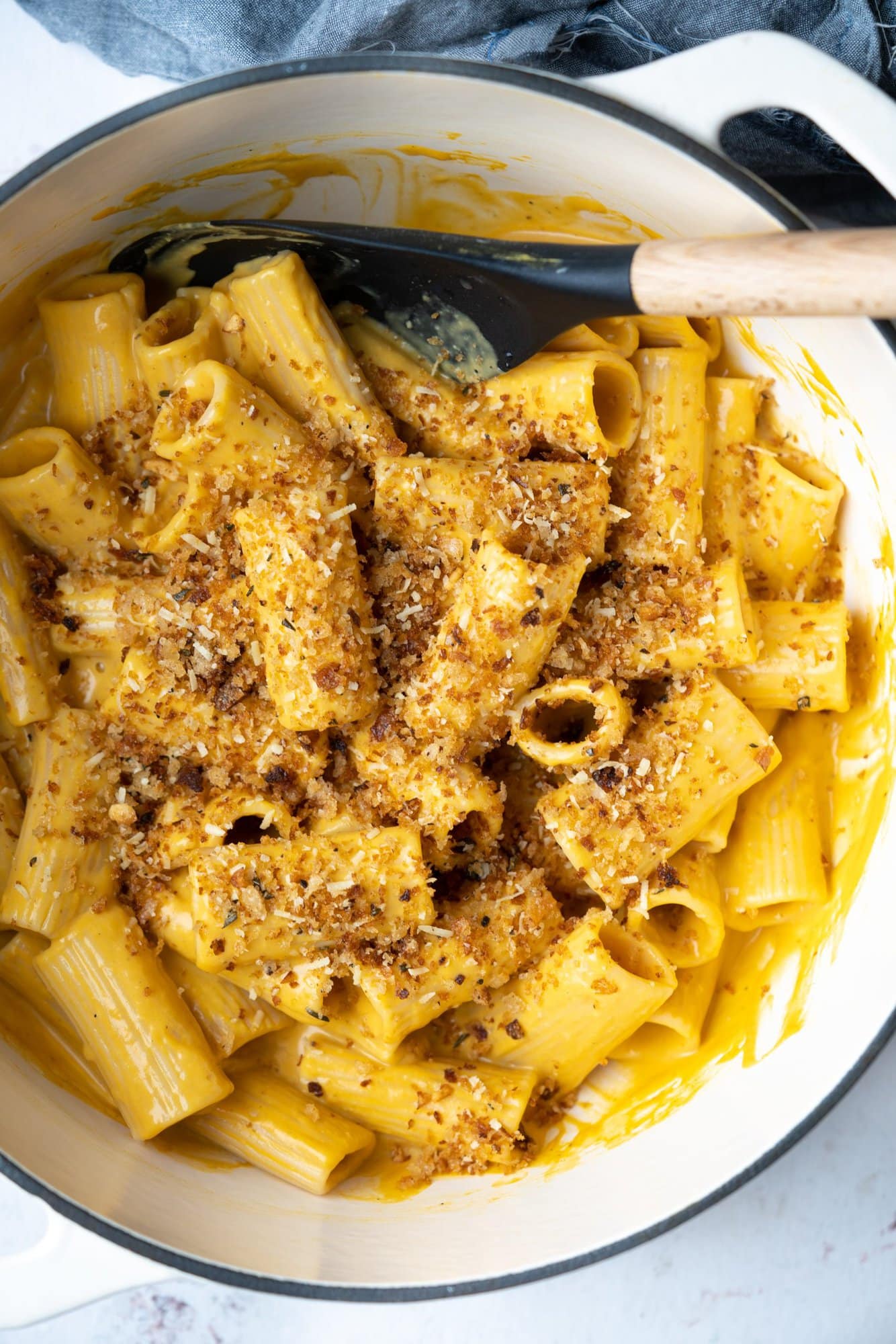 Serving Suggestion
Along with the breadcrumb topping, crispy bacon bits pair well. A few other options for sides are: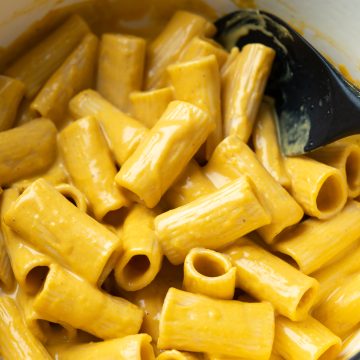 Roasted butternut squash pasta
Butternut squash is roasted along with onion and garlic until caramelized. The roasted butternut squash pasta sauce is creamy and silky smooth. To give some crunch while serving top the butternut squash pasta with seasoned crispy parmesan breadcrumbs.
Ingredients
250 grams Dry Pasta
1 medium Butternut Squash
1 medium Onion
5-6 cloves Garlic
2 tablespoons Olive oil
2-3 sprigs Fresh Rosemary
1 cup heavy cream
1 cup Chicken stock
Salt and pepper to taste
pinch of nutmeg
For Crunchy Breadcrumb topping
½ cup Panko Breadcrumbs
⅓ cup Grated Parmesan Cheese
1 teaspoon Garlic
1 tablespoon Salted Butter
1 teaspoon chopped rosemary
Instructions
Roasted Butternut Squash Pasta Sauce
Peel and chop the butternut squash into 1-inch cubes.

In a large baking tray add chopped butternut squash, roughly chopped onion, Rosemary sprigs, and whole garlic cloves. Generously season with ground black pepper and salt. Drizzle oil. Toss everything together.

Bake in a pre-heated oven for 30-35 minutes @ 400 °F (200 °C).

The squash should be soft, tender, and caramelized.

Shift everything from the baking tray to a blender (Add only one sprig of rosemary and discard the rest).

Add chicken stock and cream to the blender. Blend until smooth.

While the butternut squash is in the oven, bring a big pot of water to boil. Season with salt. Cook pasta as per package instructions.
Parmesan Breadcrumb Topping
In a skillet, melt butter. Add minced garlic and saute for 30 seconds.

Add breadcrumb to the pan along with chopped rosemary. Fry breadcrumbs until light golden brown and crispy.

Let the breadcrumb cool completely and add parmesan. Mix.
Roasted Butternut Squash Pasta
Add butternut squash sauce to cooked pasta and a pinch of nutmeg. Gently mix with a spatula. Add reserved pasta cooking water to get the desired sauce consistency.

Serve with a good topping of crunchy breadcrumbs.
Notes
While Baking line the baking tray with foil or parchment paper for easy clean up.
Nutrition
Serving: 1serving | Calories: 553kcal | Carbohydrates: 70g | Protein: 13g | Fat: 26g | Saturated Fat: 13g | Polyunsaturated Fat: 2g | Monounsaturated Fat: 9g | Trans Fat: 0.05g | Cholesterol: 58mg | Sodium: 189mg | Potassium: 806mg | Fiber: 6g | Sugar: 8g | Vitamin A: 16683IU | Vitamin C: 35mg | Calcium: 149mg | Iron: 3mg