This post may include affiliate links that earn us a small commission.
Apple crisp is a modern classic dessert recipe symbolic of the fall season. This delicious apple dish is made of baked apples with spicy notes from cinnamon and nutmeg, and the highlight is the citrus twist from lemon zest and juice. Serve it warm with a scoop of ice cream on top.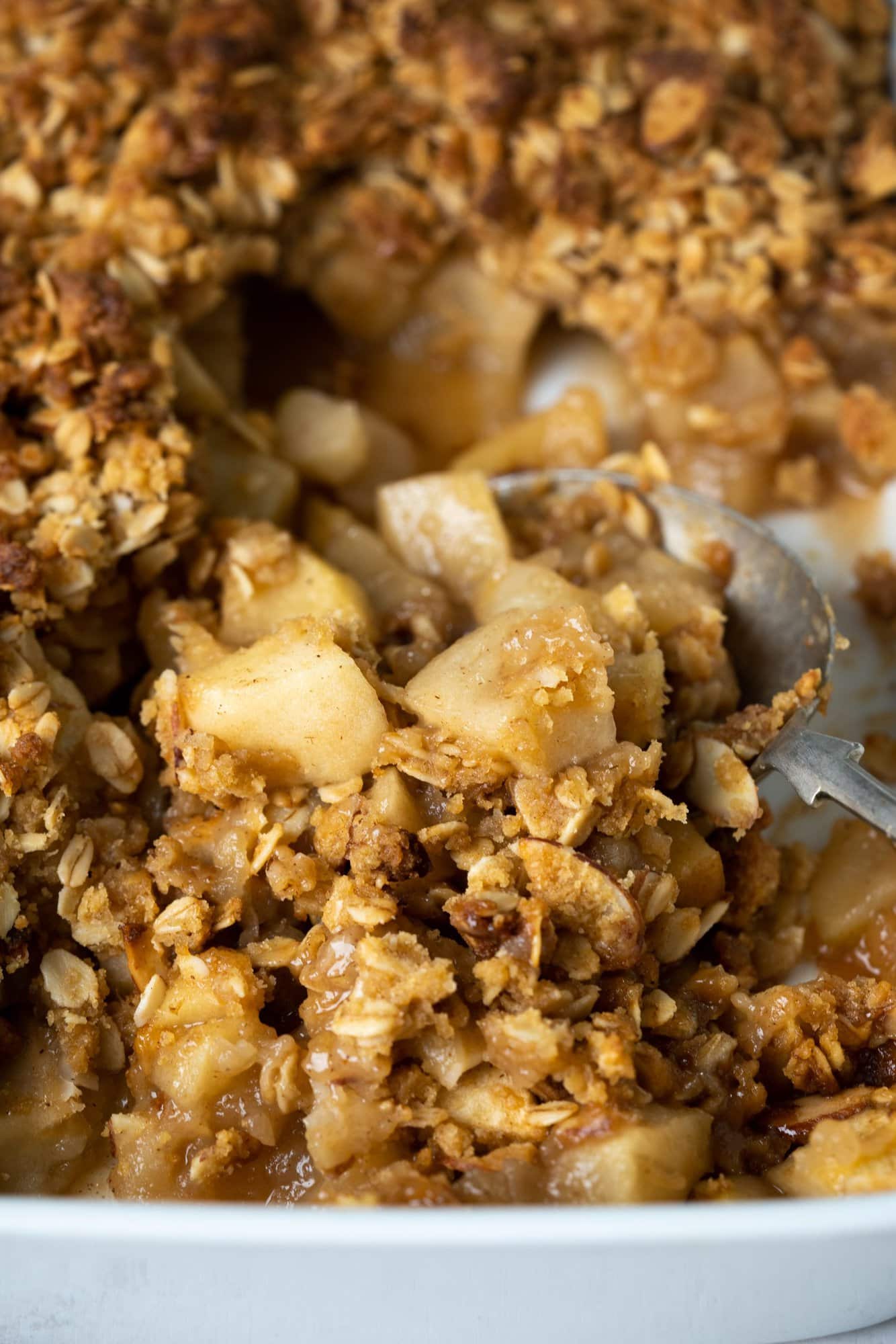 When it's apple season, apple crisp is a great dessert to make. The sweet-tart taste from the apple filling and the crunchiness of its oats-based topping is a great combination. Serve it with ice cream or whipped cream, which quickly becomes a family favorite.
Apple crisp is a simple baked apple dish with a crisp streusel topping. A streusel topping consists of flour, butter, and sugar accentuated with oats, nuts, and spices. This recipe for apple crisp has a crunchy topping with a spicy twist of cinnamon and nutmeg.
Flavours In Your Inbox
Subscribe for recipes straight to your inbox
Think of fall, and apple crisps, apple cake, and apple pie are some of the best bakes to make with these red beauties. This easy apple crisp recipe will win you over with its ease and convenience.
The apple crisp filling has a nice sweet-tart taste, with granny smith being the apple of choice. The crust becomes crisp thanks to the oats used in the topping. The almond flakes and granulated sugar help in the crunch too.
Ingredients
For apple filling
Apples – You may use granny smith or pink ladies' apples. These hold firm for long baking times and have got the right sweet-tart balance in taste. What you do not want is mushy apples when baked, which happens with many of the sweeter and soft varieties. You can also go for a mix of apple varieties.
Brown Sugar – it balances the tartness of the apples with sweetness.
Spices – add Cinnamon and Nutmeg to add some spicy and savory characteristics to the filling.
Lemon zest & juice – for a citrus flavor that enhances the overall taste profile by balancing the tartness and sweetness in the dish. Also, when exposed to air, cut apples quickly turn brown because of oxidation. Lemon juice, being acidic, prevents the apples from turning brown.
You can substitute the lemon juice with half the cider vinegar or double the amount of orange juice. Both being acidic prevents the apples from turning an unappealing brown.
Flour – is used to thicken the batter and avoid it becoming runny. You may substitute all-purpose flour with your favorite gluten-free flour.
Pinch of salt – all you need is a pinch of salt to balance the rest of the flavors.
For crisp topping
All-purpose flour – binds all the other ingredients and keeps the body of the crumble together.
Rolled oats – add the characteristic crunch to the crumble.
Sliced Almond Flakes – will toast when baked, and the crunch gives a nutty taste to the toppings. You may substitute with Walnut or Pecans. You can chop or slice the nuts before sprinkling them over the toppings.
Granulated Sugar – you may use castor sugar too, but granulated sugar gives a nice sweet crunch to the topping. Used in combination with brown sugar for a depth of flavor and sweetness.
Light Brown Sugar – adds a depth of flavor and a caramel taste to the crisp topping. Brown sugar has fewer molasses which retains a little moisture, thus giving the topping a subtle sweetness and less softness.
Ground Cinnamon – a sweet, spicy profile to the crunchy topping.
Baking Powder – makes the topping bake and rise. It acts as a catalyst for mallard reaction, giving a dark brown color and flavor.
Vanilla extract – giving apple crisp its characteristic flavor.
Unsalted butter – bring butter to room temperature before adding it.
Pinch of salt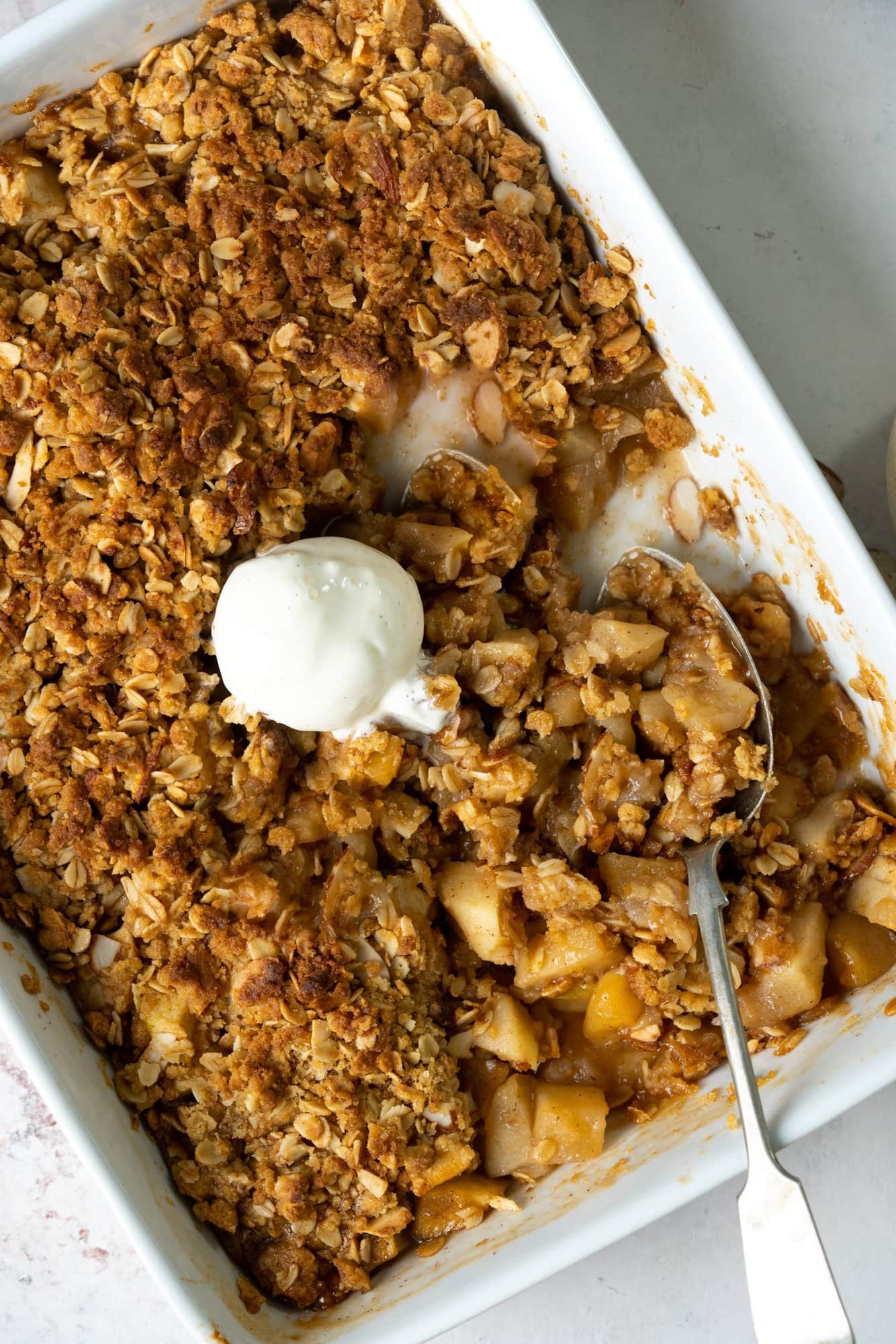 Steps to make easy and best apple crisp
Apple crisp is one of the easiest baking recipes to make with apples in season. The longest time is spent baking it, while the preparation is very simple.
Peel, core, and slice the apples
You may choose to peel the apples. Some like it with the skin on, but kids like my daughter might not like it. So, I usually start by peeling the apples with a peeler. Next, core the apples and cut them.
Cut them into 1-inch size cubes. Even size of the chopped sizes ensures they all are cooked, and the baked pieces have an even bite. You should not have some parts with a baked tart bite and others with a raw apple taste in the middle.
Prepare the filling
Place the chopped apples in a mixing bowl. Sprinkle lemon juice all over them. The acidity in the lemon juice prevents the open slices from oxidizing and getting that unwanted brown color to the apples.
Add the rest of the ingredients and toss everything well. Take an oven-proof baking tray or pan and spread the filling throughout.
Prepare the topping
Add all the ingredients to make the topping in a bowl, except butter. Add butter which should be at room temperature. Dust some of the dry mixtures over the butter and start mixing. This way, the butter doesn't stick to your fingers. Stir so that the texture of the crumb should look moist and clump together.
Sprinkle the crumb evenly over the filling. Bake for up to 40 minutes. The top should look golden brown.
Remove the baking dish from the oven and let it rest for up to 6 minutes.
Serve with ice cream for a delicious experience.
Frequently Asked Questions
What is the difference between apple crisp, crumble, and cobbler?
Apple crisp and apple crumble are very similar apple desserts. Both use a crunchy topping on baked apples. Both terms in the US and Canada refer to the same dish, whereas crumble is a similar dish made in the UK, Australia, and New Zealand.
 
Where they differ is the topping – Crisp, a modern recipe, uses nuts, oats, spices like cinnamon and nutmeg, and flour, butter, and brown sugar. Crumble topping is a dry mixture that resembles bread crumbs and has mainly flour, butter, and brown sugar.
 
Apple cobbler is another similar baked apple dish with a different topping – you sprinkle clumps of a mixture from the batter, piecrust, or powdered biscuit.
How to make apple crisp crispy?
To have a crispy crumb on top of the baked apple, take care of a few things while making the topping. First, evenly distribute the butter with the rolled oats, flour, and sugar. And do not go light with the butter. Butter helps bake and crunch everything, so we need little bits of butter all over the crumbs.
 
Second, you must bake for the recommended time and at the right temperature. If baking is less, the topping mixture hasn't had enough time to bake and crisp.
 
As recommended in the recipe, the mixture of flour, oats, sugar, and butter is important.
Why is my apple crisp runny?
If you have followed this recipe properly, it should not be runny. A runny apple filling could be because of less flour in the filling mix. Flour binds the rest of the ingredients and gives body to the dish. It also soaks up water released by the apples when they cook.
 
Second, use a tart and firm apple like Granny smiths. Sweeter apples like red delicious or Fiji apples release much more water. You may need to compensate with more flour in the mixture.
 
Bake for the recommended time, giving the apples time to release water and for the water to evaporate. If you doubt your oven temperature and if it becomes hotter than what you set, use an oven thermometer. A very hot oven will cook the outside crisp quickly, making it appear brown, but the inside might not be cooked enough and will be soggy while it cools down.
Why does my crumble become soggy?
To turn crisp, your topping needs the right flour, butter, and sugar ratio. Increase the flour if you have changed the suggested amount of butter or sugar.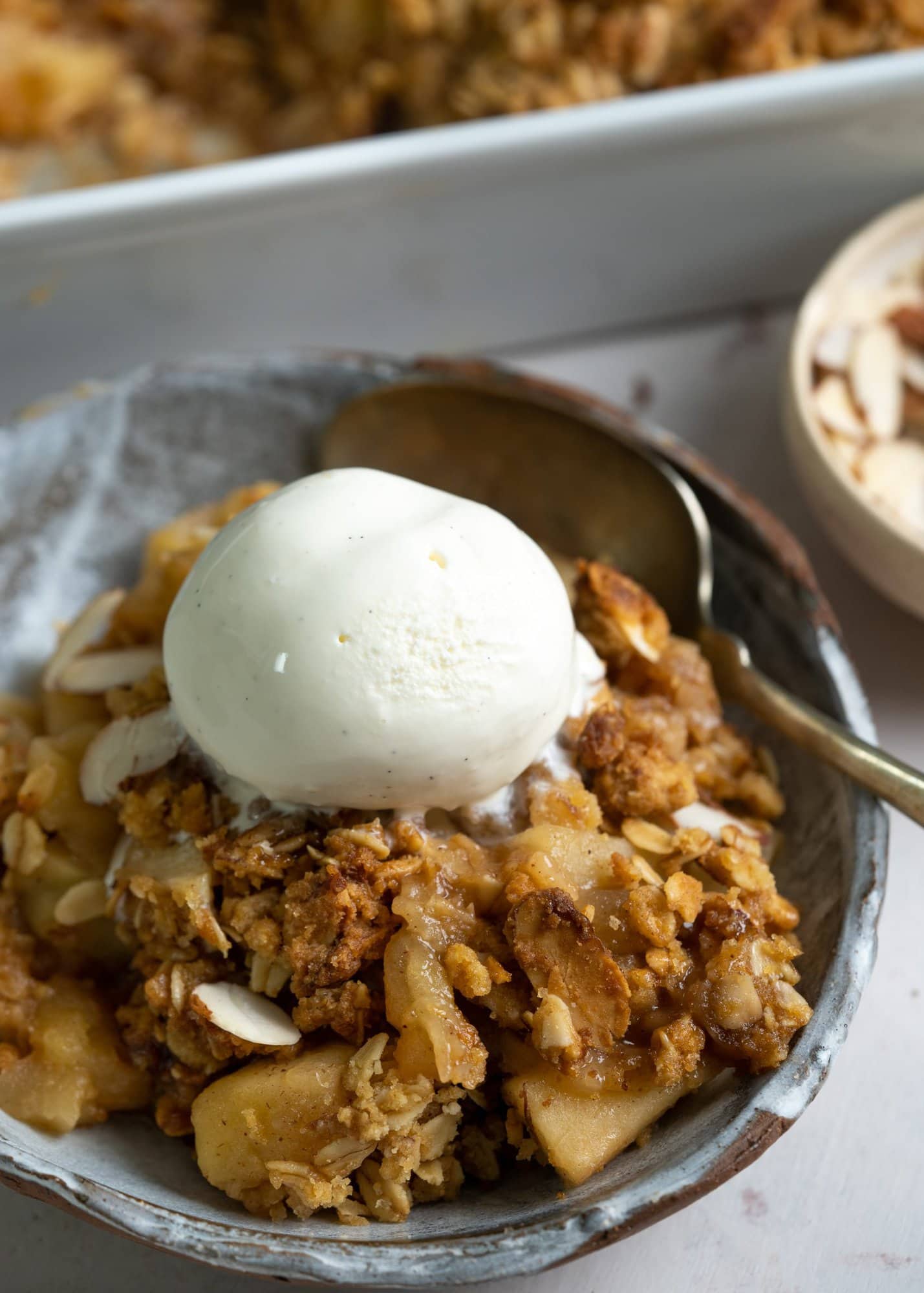 Storage instructions
Can you freeze apple crisp? Yes, you can easily freeze apple crisp for up to 4 months. Make the apple crisp following the instructions in this post, and allow it to cool completely. Cover the dish with plastic wrap and double-layered aluminum wrap too. This ensures that there is no exposure whatsoever.
To consume frozen crisp, first, take them out to the refrigerator and allow it to thaw overnight. Next day, reheat it in the microwave or bake it for 10 minutes. If you do not plan to consume the whole thing, cut it into individual portions and reheat them.
You can also refrigerate the apple crisp for a good 5 days. Just wrap it in a single-layer aluminum foil. Reheat it for 10 minutes before consuming.
Serve with
It's a sin to serve a hot apple crisp without a scoop of vanilla ice cream or dollops of whipping cream. The combination is classic and delicious enough to make you wait for the next fall season.
Other apple recipes
Apple Kale Salad With Apple Cider Vinaigrette
Creamy Apple Slaw With Cranberries
Eggless Apple Peanut Butter Microwave Mug Cake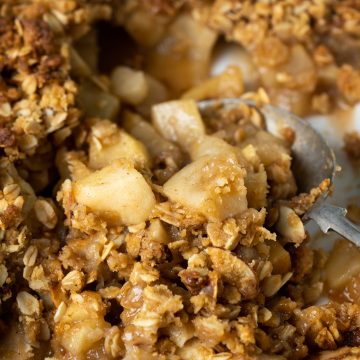 Apple Crisp
Fall classic dessert- Apple crisp has saucy tender apple packed with warm cinnamon flavour. adding rolled oats and almond flakes makes the topping extra crispy.
Ingredients
Apple Filling
3 pound Granny smith apples (or mix of 2 varities of apples)
¾ cup Light Brown Sugar
¾ teaspoon Ground cinnamon
⅛ teaspoon nutmeg
pinch of salt
1 teaspoon Fresh Lemon Zest
2 teaspoon Lemon Juice
1 tablespoon Flour
Apple Crisp Topping
1 cup Flour
¾ cup Rolled Oats
½ cup Sliced Almond Flakes
2 tablespoon Granulated Sugar
¾ cup Light Brown Sugar
1 teaspoon Ground Cinnamon
½ teaspoon Baking Powder
2 teaspoon Vanilla extract
125 grams Room temperature Butter
Pinch of salt
Instructions
Preheat oven to 350F/180C.
Apple Crisp Filling
Core and peel the apples. Cut into 1-inch cubes.

Place chopped apples in a bowl. Add fresh lemon juice and toss well.

Then add light brown sugar, ground cinnamon, nutmeg, flour, salt, and fresh lemon zest. Toss well.
Apple Crisp Topping
In another bowl mix all the ingredients for crisp topping except butter.

Add cubed room temperature butter. Dust the dry mixture on top of soft butter (to prevent butter from sticking to your finger, see video) and start mixing. The crumb should look moist and clump together.

Spread apple filling in the oven-proof baking dish. Sprinkle crisp topping evenly on top of apple.

Bake for 30 to 40 minutes. The top should look brown and you can see small bubbles around the edges.

Remove the baking dish from the oven and let it rest for 5-6 minutes. Serve warm with vanilla ice cream.