This post may include affiliate links that earn us a small commission.
Chicken spaghetti bake has the best of both worlds- baked cheesy deliciousness on top of yummy spaghetti in tomato sauce with seasoned chicken.
Some magic happens when good pasta with a delicious sauce comes through. It only gets better when it is topped with soft, molten cheese that stretches when you use your forks. Meet the dish that makes all this happen – Chicken spaghetti bake.
Flavours In Your Inbox
Subscribe for recipes straight to your inbox
Baked chicken spaghetti or chicken spaghetti casserole is a southern-american recipe, that makes the yummy worlds of a good bake and spaghetti meet. It has boneless chicken, too, that is seasoned enough and cooks in all the lick-worthy sauce.
This baked spaghetti recipe is as simple as a regular spaghetti recipe. It may even be simpler as there is no stirring in the pan. Pour it onto a baking tray or casserole dish and bake it in the oven.
It is a quick recipe as it takes around 20 minutes to bake chicken spaghetti in the oven, and that is not too long for all this cheesy, creamy deliciousness.
I have a few other drool-worthy pasta recipes which are baked in the oven – Tuna Pasta Bake, Loaded Vegetable Pasta Bake and Chessy Pasta Bake With Sausage.
Baked spaghetti vs. Regular spaghetti
What is the difference between making baked spaghetti and regular spaghetti? You use thin spaghetti noodles in baked spaghetti as those are easier to cut and serve from the baking tray.
The cooking of pasta differs in baked spaghetti recipes. In regular spaghetti dishes, you boil the spaghetti till done i.e. al dente and then add sauce to them in a pot. In baked spaghetti, you have to cook it till half-done, lay it on a baking tray between layers of cheese sauce and then transfer it to the oven, where it cooks further.
Look at a few reader's favorite spaghetti recipes – Garlic Mushroom Spaghetti With Bacon and Spaghetti in red chilli pesto and roasted tomatoes.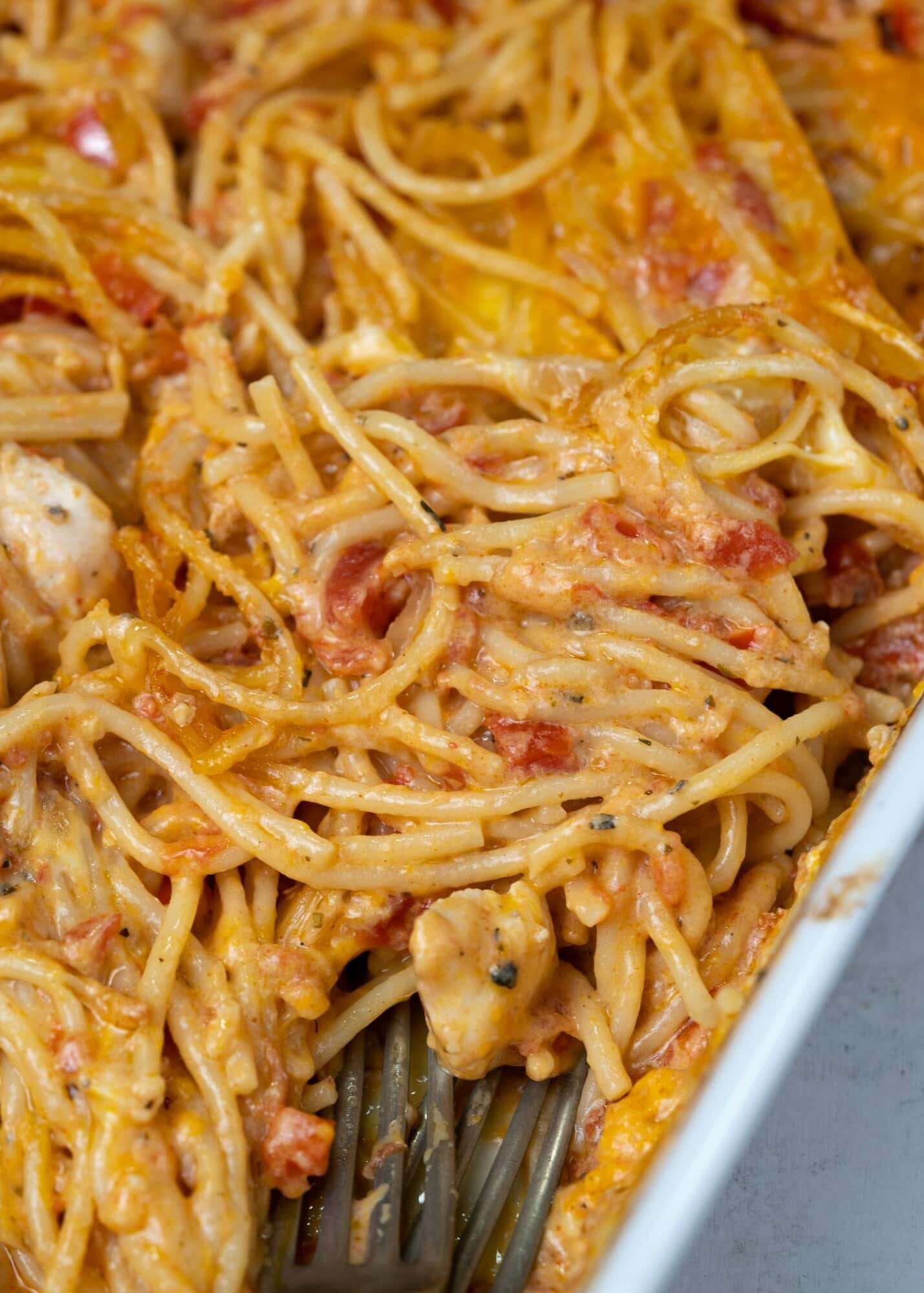 Ingredients
Dry Spaghetti – Thin spaghetti serves better when baked, and then cut, or sliced from the baking tray than wide pasta.
Boneless chicken breast– boneless chicken pieces are recommended. Trying to cut pieces with a bone while slicing the baked spaghetti in the tray is no fun. You may use chicken breast or chicken thigh, but chicken breast is preferred as it is leaner meat. Chicken thigh has more fat that may taste greasy with the dish's cream, oil, and cheese.
If you use chicken thigh, you will have to cook it longer in the pan in the first step.
Other options are to use grilled or rotisserie chicken instead.
Chicken stock – is added to the sauce as it gives the primary flavor of the sauce. Chicken broth can also be used.
For chicken seasoning – A simple seasoning of salt, black pepper, and garlic powder gives enough flavor to the chicken.
For the sauce – Making the sauce starts with sautéing minced garlic, chopped onion, and red bell pepper. Traditional pasta ingredients like diced tomatoes and Italian seasoning are added for flavor.
Fat – the medium to cook the chicken in olive oil. You may use any other neutral oil, like vegetable oil. Both olive oil and butter are used to sauté ingredients for the sauce, as the combination gives much better flavor.
Heave cream is added to the sauce for creaminess and a rich texture.
Cheese – I have used a mix of cheddar cheese and shredded mozzarella. Mozzarella is a soft cheese that melts and stretches, and cheddar has a bold flavor and taste. This mix gives the baked spaghetti a bold, stretchy, cheesy taste and texture.
How to make
Cook spaghetti – Cook spaghetti by following the package instructions. You may leave it half done as it will get fully cooked during baking in the oven.
Season & cook chicken – In a small bowl, mix salt, pepper, and garlic powder. Rub the boneless chicken pieces with this mix. The chicken pieces are then cooked in olive oil until they turn white and are no longer pink.
Make the base of sauce – start making the base by sautéing the onion, garlic, and red bell pepper in a combination of butter and oil. Add flour to form a body of the sauce. Stir while adding chicken stock which forms the flavor base of the sauce. Mix the cream to add a level of creaminess to the sauce.
Tomatoes give the characteristic red saucy color and texture, and Italian seasoning gives the typical taste. Mix everything well. Stir in half of the cheese to end, making the sauce.
Bake in the oven – Spread half of the sauce mix on a baking tray. Lay the cooked spaghetti and pour the other half of the sauce on the spaghetti. Top it with the remaining cheese and bake it covered for 25 minutes. Move it to the upper rack and broil for 2 minutes.
Serve it hot & enjoy !!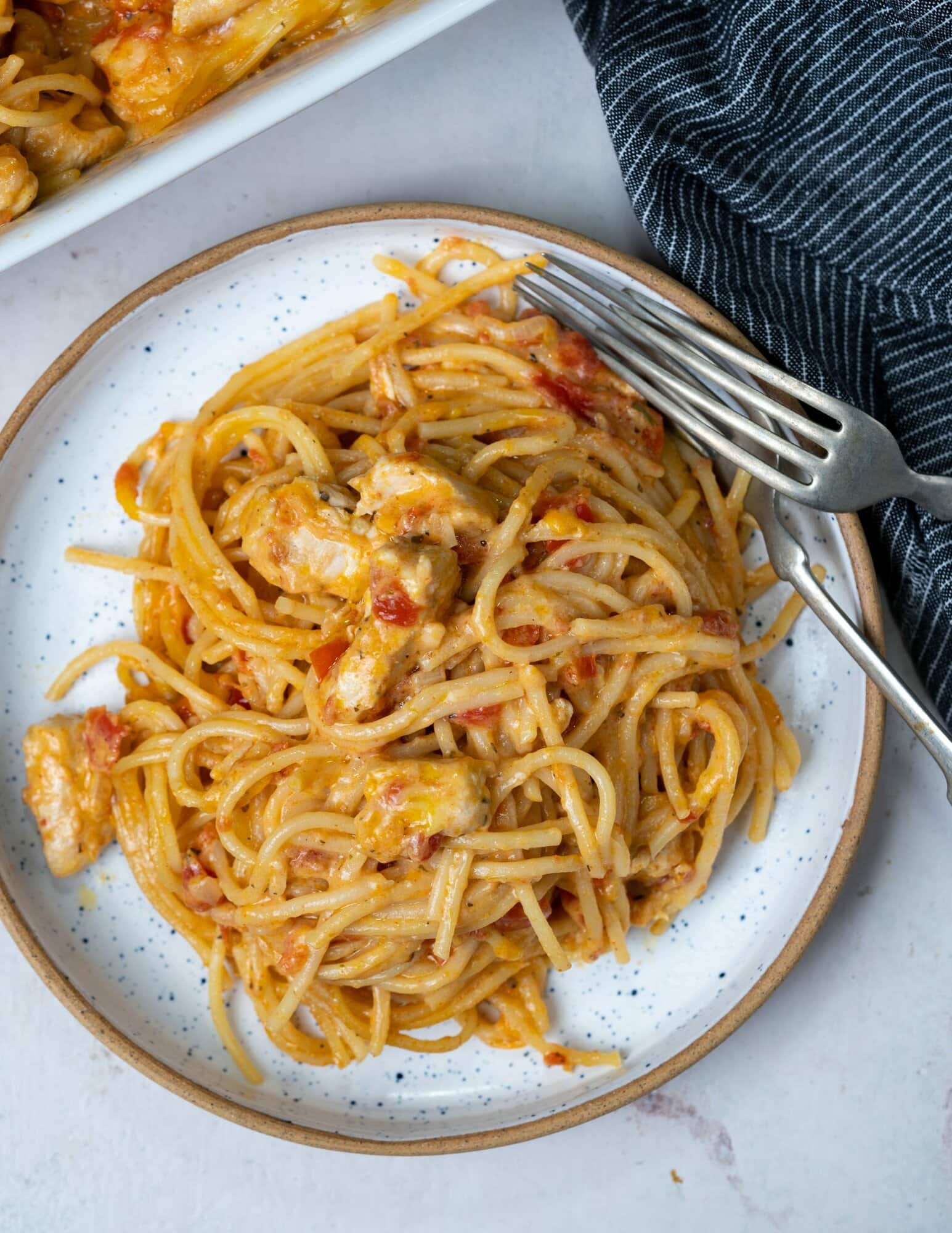 Store
You can easily freeze it by covering it with a double-layer foil or plastic wrap. Insulating it properly ensures that it has no exposure and remains safe. It will stay safe for up to 4 months.
You may move the whole dish to the refrigerator to thaw it overnight. The thawing step is a must for most frozen dishes unless it is supposed to be eaten frozen.
You may reheat the whole dish or slices in the oven for 5 minutes or in the microwave for 2 minutes.
Chicken-baked spaghetti is also refrigerable for up to 4 days in the fridge. Reheat it in the same way – either in the microwave or back in the oven.
Serve with
This is a fulfilling whole-meal by itself. You may pair it with a salad, green beans, asparagus or broccoli.
Other pasta recipes
Roasted Butternut Squash Pasta
Pasta Alla Norma (Eggplant pasta)
Salmon Pasta in Creamy Lemon Sauce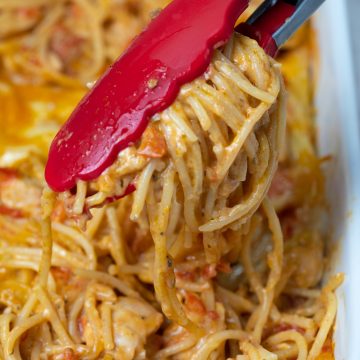 Chicken Spaghetti
Chicken spaghetti bake has the best of both worlds- baked cheesy deliciousness on top of yummy spaghetti in tomato sauce with seasoned chicken.
Ingredients
250 grams Dry Spaghetti 8 ounce
500 grams Boneless Chicken cut into bite-sized pieces
1 tablespoon Butter
1 tablespoon Olive Oil
½ teaspoon salt
½ teaspoon Pepper
1 teaspoon Garlic Powder
½ Onion
1 tablespoon minced Garlic
1 small Red bell pepper
2 tablespoon Flour
1 cup Chicken stock
½ cup Cream
1 14 ounce Diced tomatoes
1 teaspoon Italian seasoning
1 teaspoon Chilli powder (adjust as per taste)
1 cup Sharp Cheddar cheese
1 cup Shredded Mozzarella
Instructions
Season chicken with 1/2 teaspoon salt, 1/2 teaspoon pepper, and 1 teaspoon garlic powder.

Heat 1 tablespoon of oil and add seasoned chicken pieces. Cook for 4-5 minutes (stir in between) until it is no longer pink. Remove chicken from the skillet.

Add butter and remaining oil. Add chopped onion and minced garlic. Saute for a minute. Add chopped peppers and saute for another 30 seconds.

Stir in the flour and cook for 30 seconds.

Lower the heat. slowly add chicken stock in 2-3 batches and keep stirring to make it lump-free. Stir in cream and mix.

Add crushed tomato, Italian seasoning, chili powder, salt, and pepper. Mix well.

Switch off the flame and stir in half of the cheddar and Mozzarella cheese.

To a 9X13 inch baking dish, pour half of the above mixture into the bottom of the pan. Top it with cooked spaghetti. Pour the remaining mixture on top. Toss the pasta well to coat it with the sauce.

Top it with remaining cheese. Lightly cover it with aluminum foil.

Bake in a pre-heated oven for 20-25 minutes at 180 degrees Celsius. Remove foil and broil it in the upper rack of the oven for 2 more minutes.

Serve warm with some roasted veggies on the side.