Chicken Bacon Ranch Pasta
This post may include affiliate links that earn us a small commission.
This chicken ranch pasta with a creamy, cheesy sauce and the flavors of ranch seasoning and bacon is a delicious one-pot dinner for the family.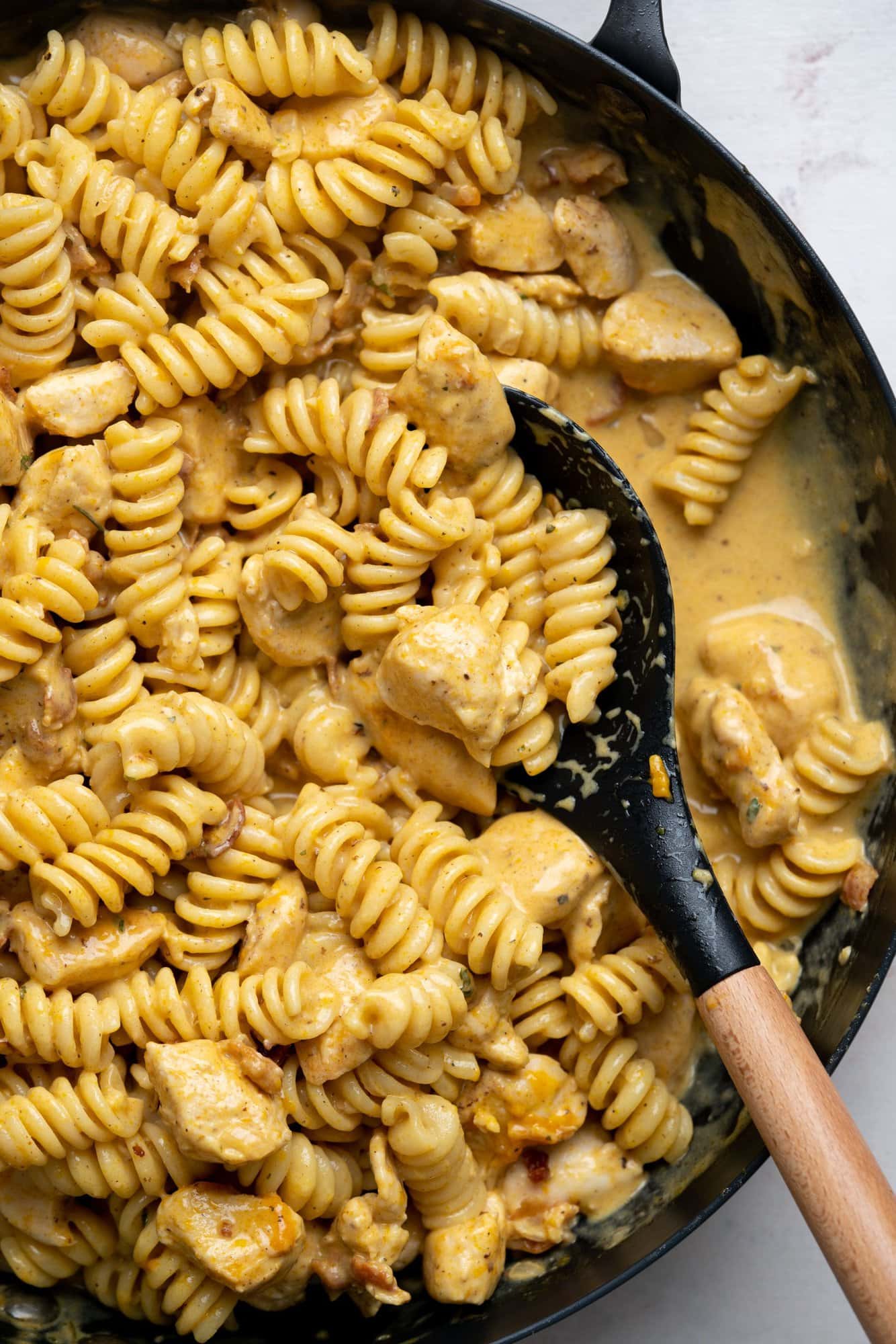 Want to take pasta and fuse it with original American essence and flavors? This chicken bacon ranch pasta is your answer. Chicken pasta with a delicious creamy sauce is topped with delightful bits of bacon to up the flavor. Ranch seasoning adds a herby and tangy taste to the pasta.
Flavours In Your Inbox
Subscribe for recipes straight to your inbox
Have got chicken and pasta, and wondering what to cook? These are some great ideas to make a delightful dinner – Chicken Pasta Salad With Lemon-Herb Dressing, Instant Pot Spicy Chicken Pasta, Chicken Parmesan Pasta, or Lemon Chicken Broccoli Pasta.
If you want an easy pasta recipe with a similar seasoning available in your pantry, like Fajita seasoning, make this tasty Chicken Fajita Pasta.
Ranch Seasoning
Ranch seasoning is the dry seasoning packet version of the hugely popular Ranch salad dressing. It is an excellent combination of herbs, spices, and dairy (buttermilk). The primary flavors in the seasoning come from onion, garlic, and herbs like dill. It has got a milky and tangy taste. It is a very versatile condiment that is the most sold and famous in the states.
I have used ranch seasoning from the store. If you can make ranch seasoning at home, that would be worth your time. It would be fresh and free from additives, and you can also tweak it to get the right taste and flavor.
I have used Ranch seasoning from Hidden valley. It is free from gluten and preservatives and has the usual ingredients of ranch seasoning – buttermilk, dried garlic, dried onion, lactic acid, and xanthan gum.
But that's not all. Store-bought seasoning packs also have maltodextrin, a processed white powder made from rice, corn, or potato starch. It also contains other undesirable additives that you can avoid if you make it at home.
Ingredients
Dry pasta – You can use any short pasta like fusilli or penne that works well with creamy sauces and little chunks of minced meat or veggies.
Boneless chicken breast – Boneless chicken breast is apt for this recipe. It is quick to cook and is tender and juicy, and compliments the soft pasta and creamy sauce.
Bacon – to add flavor to the dish. Fried bacon is cut into tiny pieces, sprinkled, and mixed.
Ranch seasoning – gives a great milky and tangy taste to the sauce. The widely used condiment gives this pasta sauce a unique flavor.
Chicken stock – is used to give the body to and form the base of the sauce.
Flour – is used to thicken the sauce.
Heavy cream – is added to get that rich and creamy texture.
Minced onion and onion powder – You can use white or yellow onions, which work well for saucy dishes. They are a bit sharp and release good flavor into the sauce.
Minced garlic and garlic powder – are used to flavor the sauce. Minced garlic is sautéed along with onion to enhance the taste of the sauce.
Cheddar cheese – is a semi-hard and mild cheese that is shredded and mixed with the sauce.
Butter – used to sauté the onions and garlic while beginning to cook the sauce. Butter provides way better flavor than olive oil.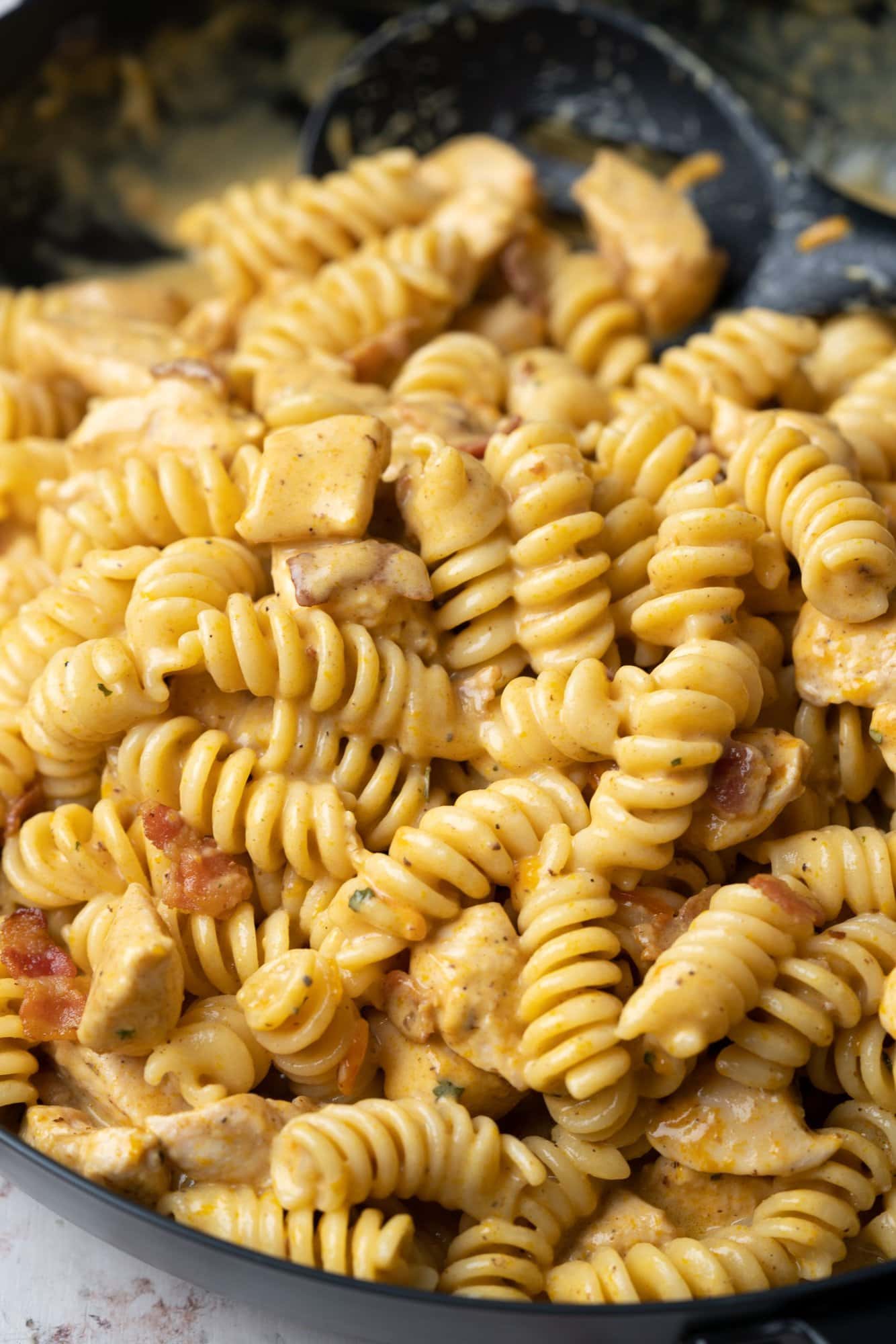 How to make – Instructions & Tips
Cook the pasta
The first step while making any pasta dish is to cook the pasta al dente. It means to cook the pasta, as per the packet instructions, to a soft level that still has a bite when eaten.
Bring water to boil in a large pot. Add salt generously and let it dissolve. Salt is key to getting properly seasoned pasta. Add pasta and follow the packet instructions to cook the pasta.
Do not throw away the pasta water, as it is full of starch and can be used to thicken the sauce if required later.
Sauté Bacon
Bacon is one of the best and most potent flavoring agents used in the kitchen. It elevates the taste of most pasta dishes. In a skillet, add bacon and cook until it becomes crisp. Heating bacon melts the fat and releases it in the form of oil.
Keep a tablespoon of the melted oil and discard the rest.
Cook chicken
Cut the chicken breast into small cubes. For pasta, chicken pieces should be small enough for you to pick them up along with the pasta.
Add the chicken pieces and spices like pepper, garlic powder, onion powder, and salt to a hot skillet. Mix well and cook it undisturbed for 3 minutes. Toss it and cook for another couple of minutes. Keep the chicken aside.
Make the sauce
On a hot pan, on medium heat, add some butter. Add shredded onions and garlic onto the pan and sauté them. Saute for a minute until the onion and garlic lose their raw smell.
Add the flour, mix everything well, and sauté it for 30 seconds. Take care that it doesn't burn.
On reduced heat, add chicken stock, but do so in small batches. Keep stirring and scrap the bottom too. The scraps stuck to the bottom have good flavor. So scrape them and mix them to improve the sauce's flavor. Meanwhile, the sauce keeps reducing, making it smoother.
Next, stir in the cream slowly. Add the shredded cheese and ranch seasoning. Mix everything well.
Add chicken and mix
Time to add the rest, the cooked chicken, bacon, and pasta. Take the pot off the heat. Add and toss everything well.
Serve & enjoy !!!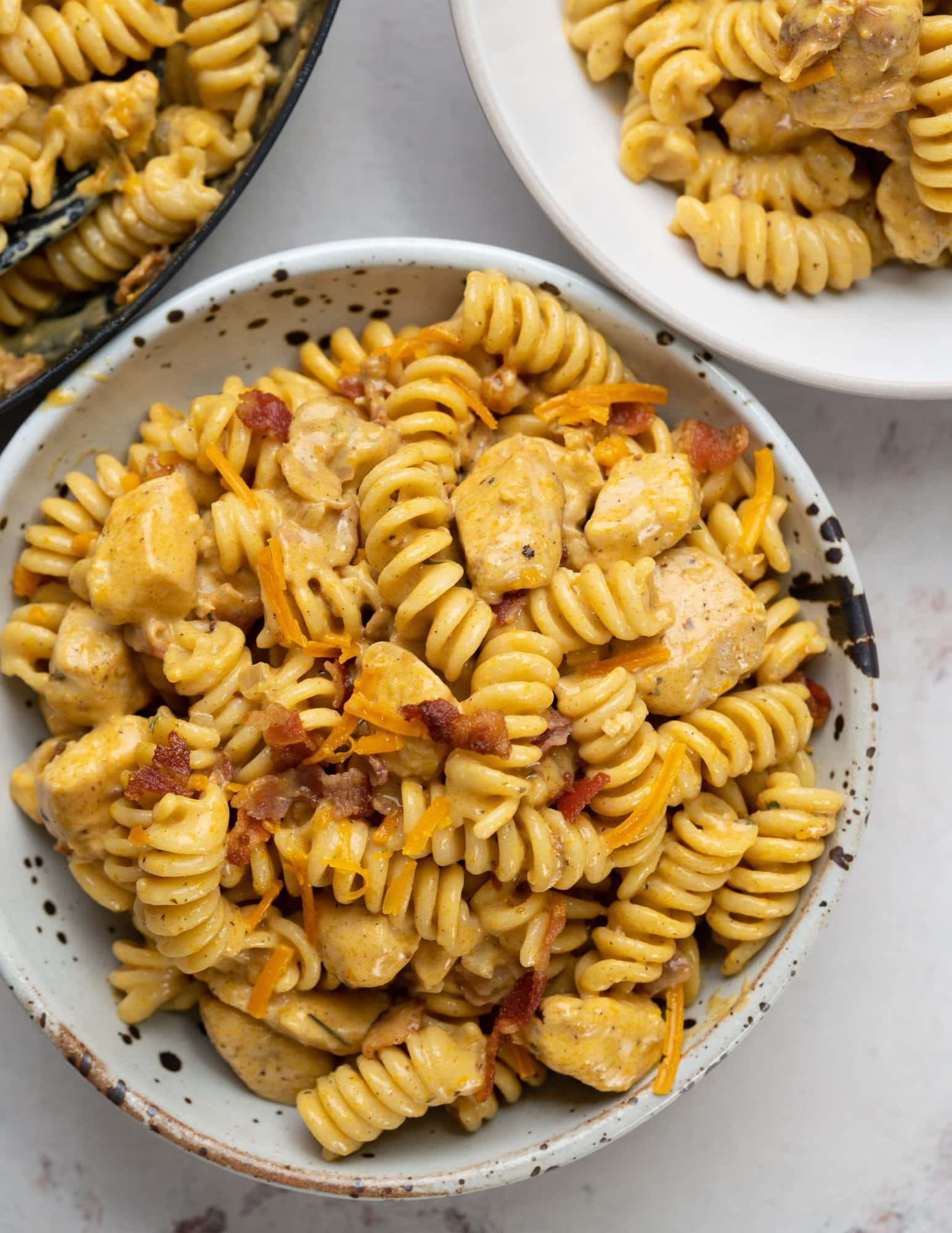 Store
You can keep it in the refrigerator for up to 4 days. The sauce contains ingredients like garlic and onion, which do not last long.
You may also keep the pasta and chicken prepared ahead and make the sauce when you need to serve.
Serve With
This chicken ranch pasta with bacon is a fulfilling one-pot dinner. You may serve it in some greens like lettuce, spinach, or arugula. Light salads go well as they increase fiber intake – Cucumber Strawberry Salad, Lemon Dill Potato Salad( No Mayo), or Apple Kale Salad With Apple Cider Vinaigrette.
Other Pasta Recipes
Pasta Alla Norma (Eggplant pasta)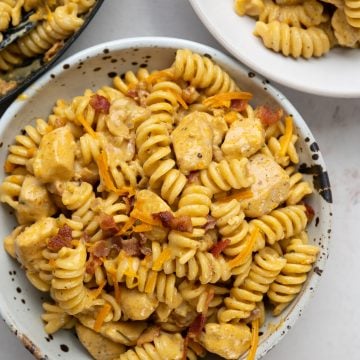 Bacon Ranch Chicken Pasta
An American pasta recipe, this chicken pasta with a creamy sauce and the flavors of ranch seasoning and bacon is a delicious one-pot dinner for the family.
Ingredients
8 ounce Dry Pasta
400 grams Boneless Chicken Breast cut into bite-size pieces.
6-7 strips Bacon
1 tablespoon Butter
½ teaspoon Onion Powder
½ teaspoon Garlic Powder
½ tablespoon Minced Garlic
2 tablespoon Minced Onion
1 tablespoon Flour
1 cup Chicken Stock
1 cup Heavy Cream
1 cup Shredded Cheddar Cheese
2 tablespoon Ranch Seasoning
Instructions
Bring a large pot of water to boil. Add enough salt.

Using a kitchen scissor cut bacon strips into bite-size pieces.

Heat a large skillet and cook bacon until crispy. Remove cooked bacon using a slotted spoon(drain extra fat).

Keep roughly 1 tablespoon of bacon fat in the skillet and discard the rest.

If the skillet has cooled down, heat it again for 30 seconds.

Add cubed chicken breast, salt, pepper, garlic powder, and onion powder. Toss well. Cook for 3 minutes undisturbed.

Flip and cook for another 2 minutes. Remove chicken from the skillet and keep aside covered.

Melt 1 tablespoon of butter. Saute chopped onion and garlic for about 1 minute. The onion should be softened and the garlic shouldn't be smelling raw.

Add 1 tablespoon flour. Saute for about 30 seconds. The mixture might stick to the bottom of the pan but make sure it doesn't burn.

Reduce heat. Slowly add chicken stock to the skillet in 2-3 batches. Scrap the bottom of the skillet and keep stirring to make a smooth sauce.

Lower heat. stir in the cream slowly. Add shredded cheese and ranch seasoning. Mix well and switch off the heat.

To the sauce add cooked chicken, cooked pasta, and bacon. Toss well.
Nutrition
Serving: 1servings | Calories: 857kcal | Carbohydrates: 54g | Protein: 43g | Fat: 51g | Saturated Fat: 26g | Polyunsaturated Fat: 4g | Monounsaturated Fat: 15g | Trans Fat: 0.2g | Cholesterol: 191mg | Sodium: 1210mg | Potassium: 717mg | Fiber: 2g | Sugar: 4g | Vitamin A: 1289IU | Vitamin C: 2mg | Calcium: 264mg | Iron: 2mg