Loaded Vegetable Pasta Bake
This post may include affiliate links that earn us a small commission.
An Easy and delicious Vegetable Pasta dish that brings the goodness of vegetables and the flavours of cheese and garlic to pasta. This pasta bake recipe is versatile and you can make it with veggies and ingredients from the pantry.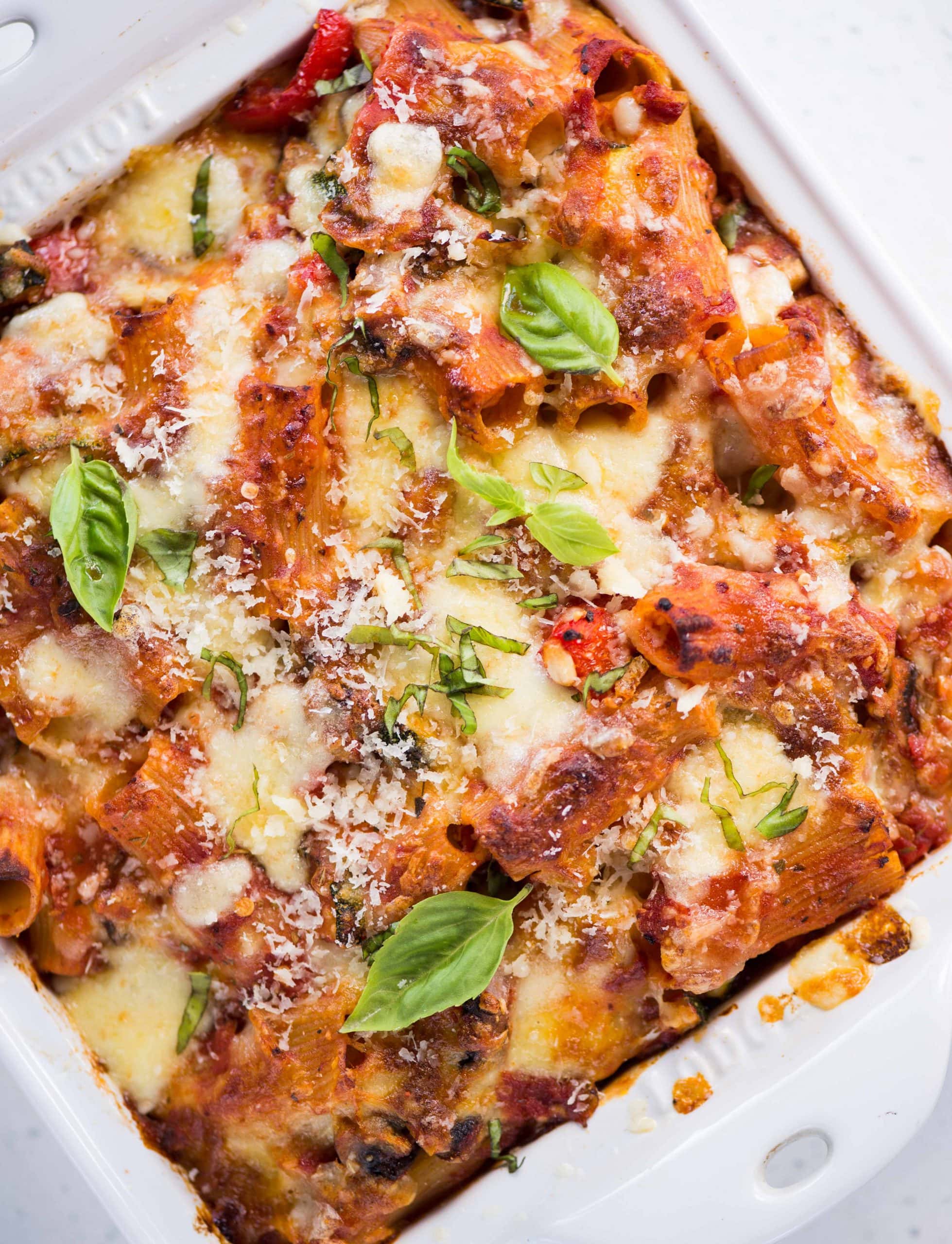 Well, what's not to love about this Cheesy Vegetable Pasta? Perfectly cooked pasta, fresh Vegetables, delicious tomato sauce, and of course lots of cheese. This Pasta Bake is going to be every pasta lover's favorite dish.
Do you find it hard to feed veggies to your kids? At least I do. Why kids, even my husband is not a big fan of Vegetables. I always find ways to sneak those veggies into a dish in a different form. This Vegetable Pasta bake is also very versatile. You can use any kind of veggies in this cheesy pasta bake. Most of the time I make this pasta bake to use those tiny portions of vegetables lying in the fridge.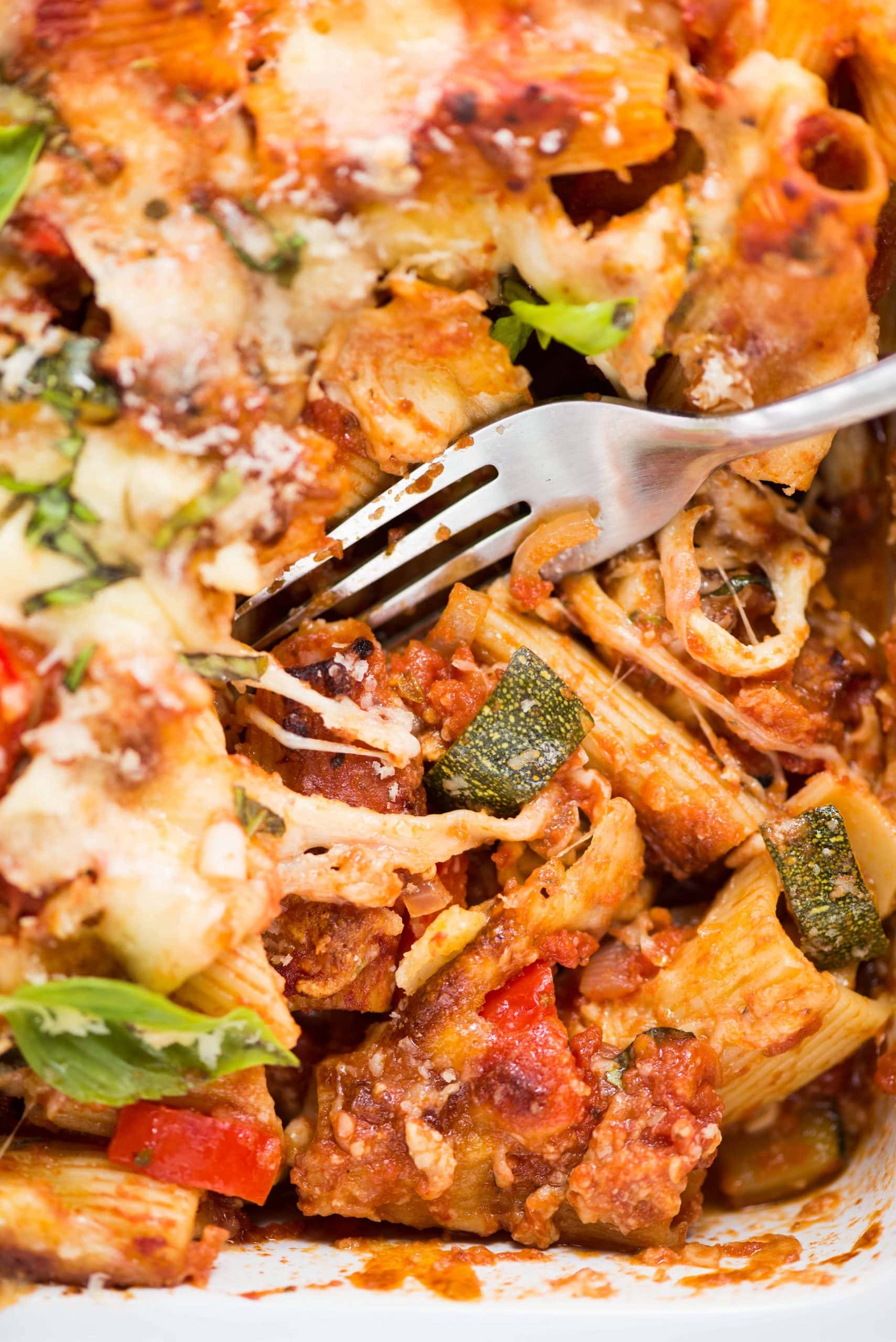 Ingredients needed to make Vegetable Pasta bake
This Vegetable Pasta Bake is very easy to make. With layers of pasta, vegetable, and a cheesy red sauce, it is very hard to resist
Vegetables – This has Mushrooms, Zucchini, red peppers, Onions. Asparagus, Carrots can also be used. Make sure to cut them to 1 inch long pieces.
Pasta – I have used Rigatoni here which works very well for mixing with sauce and cheese. You can also use other short pasta like Penne or Ziti. The ridges of Rigatoni or Penne rigate help in holding or gluing to the sauces and is thus preferred.
Sauce – Crushed tomatoes with onions, garlic, and seasoning, we are creating something in effect similar to Marinara sauce. You can also use bottled Marinara Sauce instead.
Seasoning – Italia seasoning or use can use a blend of dried herbs like Oregano, Basil & Parsely.
Greens – I do add baby spinach when I have it on hand. Add up to 2 cups of baby spinach when you are mixing the pasta and the sauce.
Cheese – A mix of Mozzarella and cheddar. Mozzarella has its characteristics light and no strong flavours yet stretchy. Cheddar has a stronger taste and is a relatively hard cheese. These are also widely available in stores.
Oil – You can use olive oil. Olive oil has a low smoking point so while you use it sauté the veggies, keep the heat at low to medium.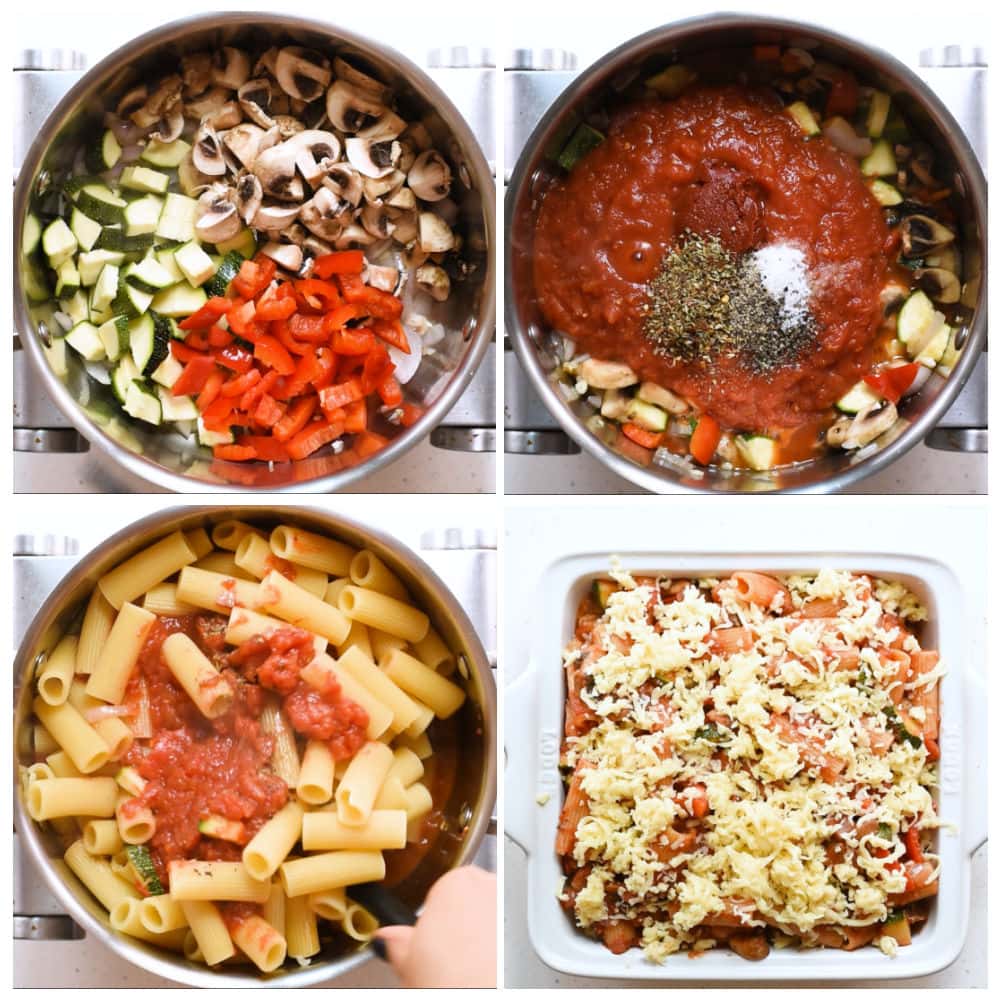 How to make Vegetable Pasta In 4 Easy steps?
This Vegetable Pasta Bake is very easy to make. With layers of pasta, vegetable, and a cheesy red sauce, it is very hard to resist.
COOK PASTA & VEGGIES: Cook pasta just until al dente. Because the pasta will be baked further along with the sauce. So be careful not to overcook the pasta. I like to keep the pasta 3/4 done (i.e. Just a little away from being al dente)
MIX PASTA, VEGGIES, AND SAUCE: Coming to vegetables, we need not cook the veggie well done. Veggies like zucchini, mushroom, peppers quicks pretty fast. It is important the veggies maintain their shape and crunch at the end of baking.
LAYER WITH CHEESE
BAKE – And we are done.
Equipment used
I would recommend using a wide skillet to make this vegetable pasta. Using a wide one will help you to sauté the onions, garlic, and vegetables initially and use the same later to layer the ingredients and cheese and put it in the oven to bake.
You could also use a different pan to sauté the veggies and then shift the ingredients once mixed with cheese over to a casserole dish.
So if you have a wide enough skillet which can fit in your oven too, go for it. Else you could just use different pans and casserole dishes.
The latter option in no way shall affect the end outcome which is a delicious and cheesy vegetable pasta. Do not get too worried about it.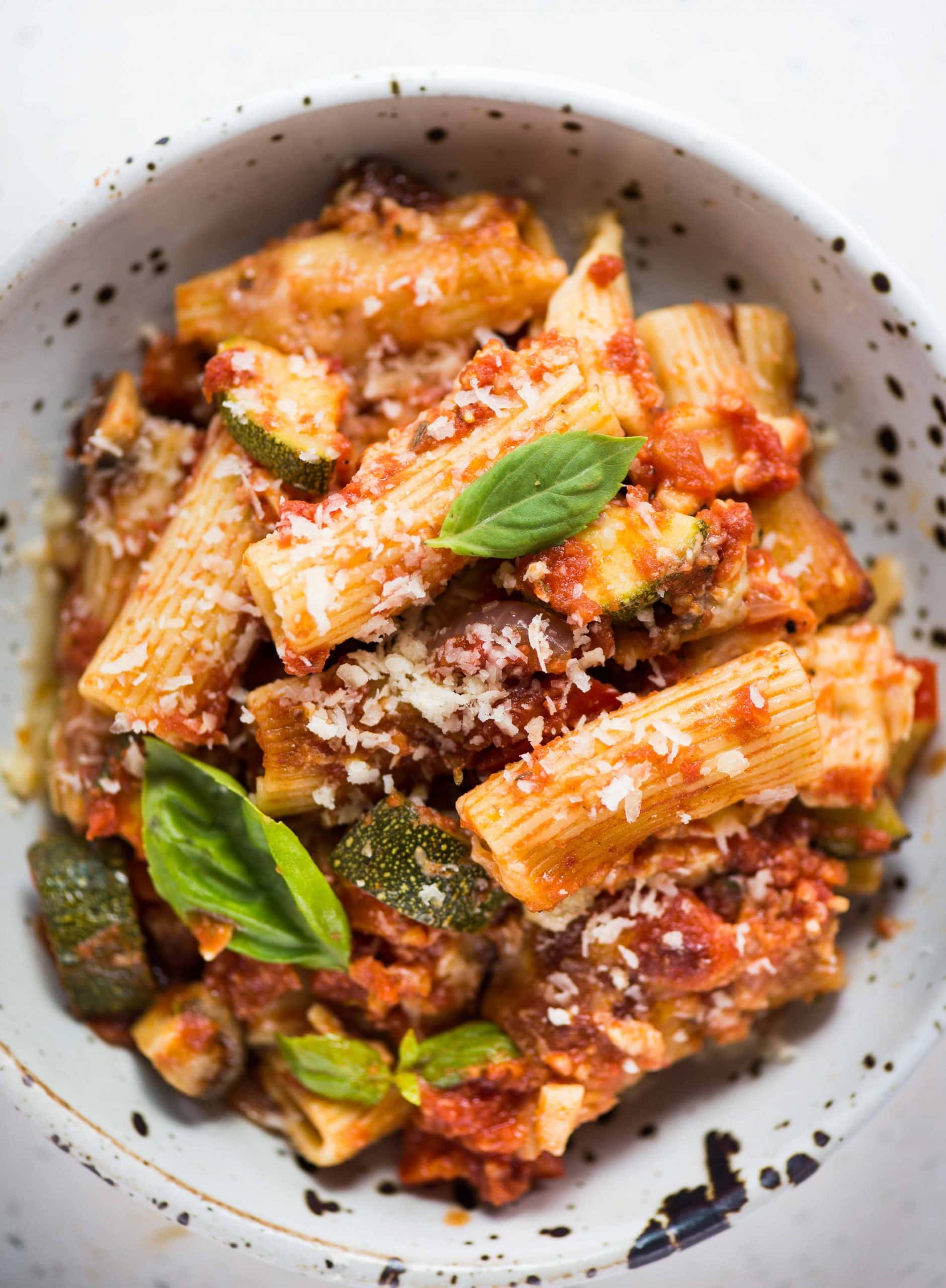 You can easily refrigerate the leftovers up to 3-4 days. Keep the leftovers in a food-grade container, cover, and refrigerate up to 3-4 days.
Flavours In Your Inbox
Subscribe for recipes straight to your inbox
Looking for similar easy pasta recipes for a weeknight? Here are a few of my favorite recipes
More Delicious Pasta Recipes…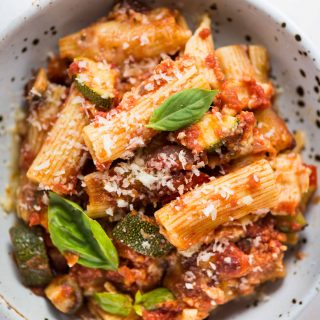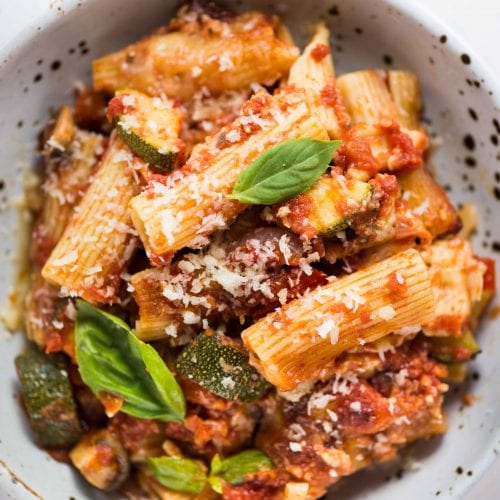 Vegetable Pasta Bake
This Easy Vegetable Pasta bake is loaded with Vegetables, has a Chessy Sauce and takes less than 30 minutes to make. A perfect weeknight meal or to serve a crowd.
Ingredients
250 grams Rigatoni (8 oz.)
2 Tablespoon Olive Oil
1 Tablespoon Garlic Minced
½ cup Onion
200 grams Button Mushroom
1 Cup Zucchini
1 Small Red Bell Pepper
1 25 oz Can Crushed Tomatoes
2 tablespoon Tomato Paste
2 teaspoon Italian Seasoning
¼ teaspoon Chili Flakes (optional)
2 Cup Mozerella
½ cup Grated Parmesan
Instructions
Pre-heat oven at 400 °F (200 °C).

Start with boiling water in a big pot. Salt it and add pasta. Cook pasta just until it is al dente. Rinse with cold water and keep aside. Its ok if the pasta is little underdone, as it will cook further while baking.

In the same pan used above or in another skillet heat oil.  Add Chopped Onion and minced garlic. Saute until onion has softened and no more raw smell from garlic.

Add chopped Zucchini, mushroom and red bell pepper. Saute on high for 5 minutes.

Add crushed tomato, tomato Paste, Italian Seasoning, salt and pepper. Mix well.

Add cooked pasta to the skillet and toss everything well.

In a 9X13 inch baking dish, spread half of the vegetable pasta mixture. Sprinkle half of the cheese. Spread the rest of the pasta mixture on top of the cheese layer.

Bake in a preheated oven for 20 minutes.

Carefully take out the pan, sprinkle parmesan on top. Serve hot.
Notes
This recipe involves two main prep steps that can also be done simultaneously.
You can sauté the vegetables, onions, and garlic while at the same time boiling the pasta and then strain it. First, keep the pasta for boiling while you heat the pan and heat the oil.
Follow the cooking instructions on the pasta packet specified by the manufacturer. Every label and type of pasta comes with its own set of instructions which may vary.
Nutrition
Serving: 1serving | Calories: 315kcal | Carbohydrates: 35g | Protein: 17g | Fat: 11g | Saturated Fat: 6g | Cholesterol: 37mg | Sodium: 368mg | Potassium: 231mg | Fiber: 2g | Sugar: 3g | Vitamin A: 777IU | Vitamin C: 20mg | Calcium: 296mg | Iron: 1mg