This post may include affiliate links that earn us a small commission.
Lemon  Kale Pasta has pasta tossed in a creamy lemon garlic sauce and topped with Parmesan. 
 I am sure you are gonna fall in love with this Kale Pasta. The zesty butter lemon garlic sauce is refreshing and so delicious. And if you are bored of eating the superfood kale in salads, then this kale pasta is a great way to have your greens.
Flavours In Your Inbox
Subscribe for recipes straight to your inbox
The pasta sauce is not loaded with cream. Butter, lemon and pasta cooking water makes enough sauce to coat the pasta and the veggies. Overall this light and refreshing Kale Pasta is a winner.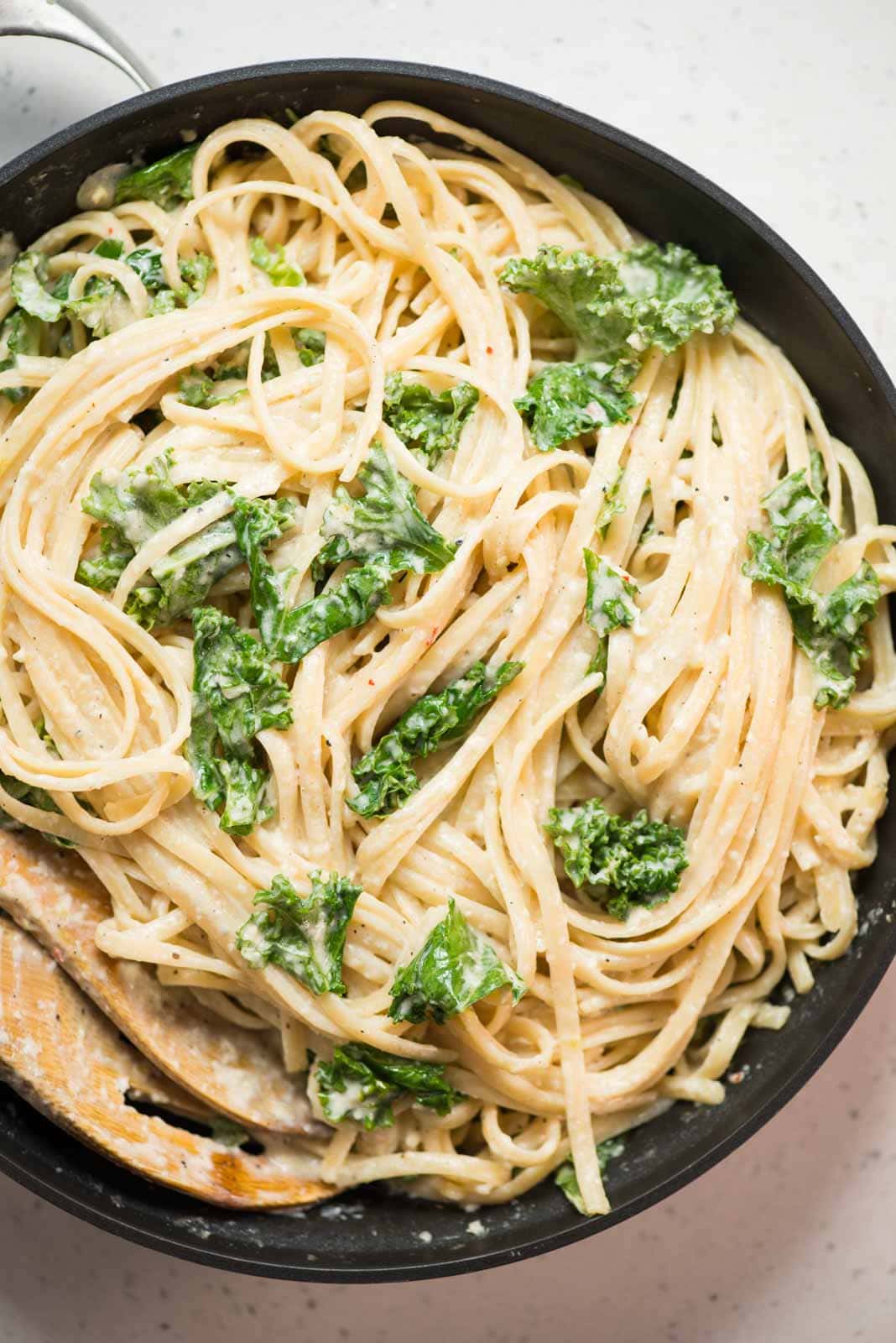 Starting the new year with this rather healthy Kale Pasta. I have been eating my heart out without worrying too much about calories since past few days. Cookies, cocktails, cheesy appetizers and what not. In the meantime, I was assuring myself that I going to start my healthy eating with the new year. And as promised I am back to my workout and healthy eating right after the New year.
This Lemon Garlic pasta is so refreshing and will totally surprise your taste buds. I do fancy Creamy pasta, but there are days I would rather like to have light sauce pasta for a change.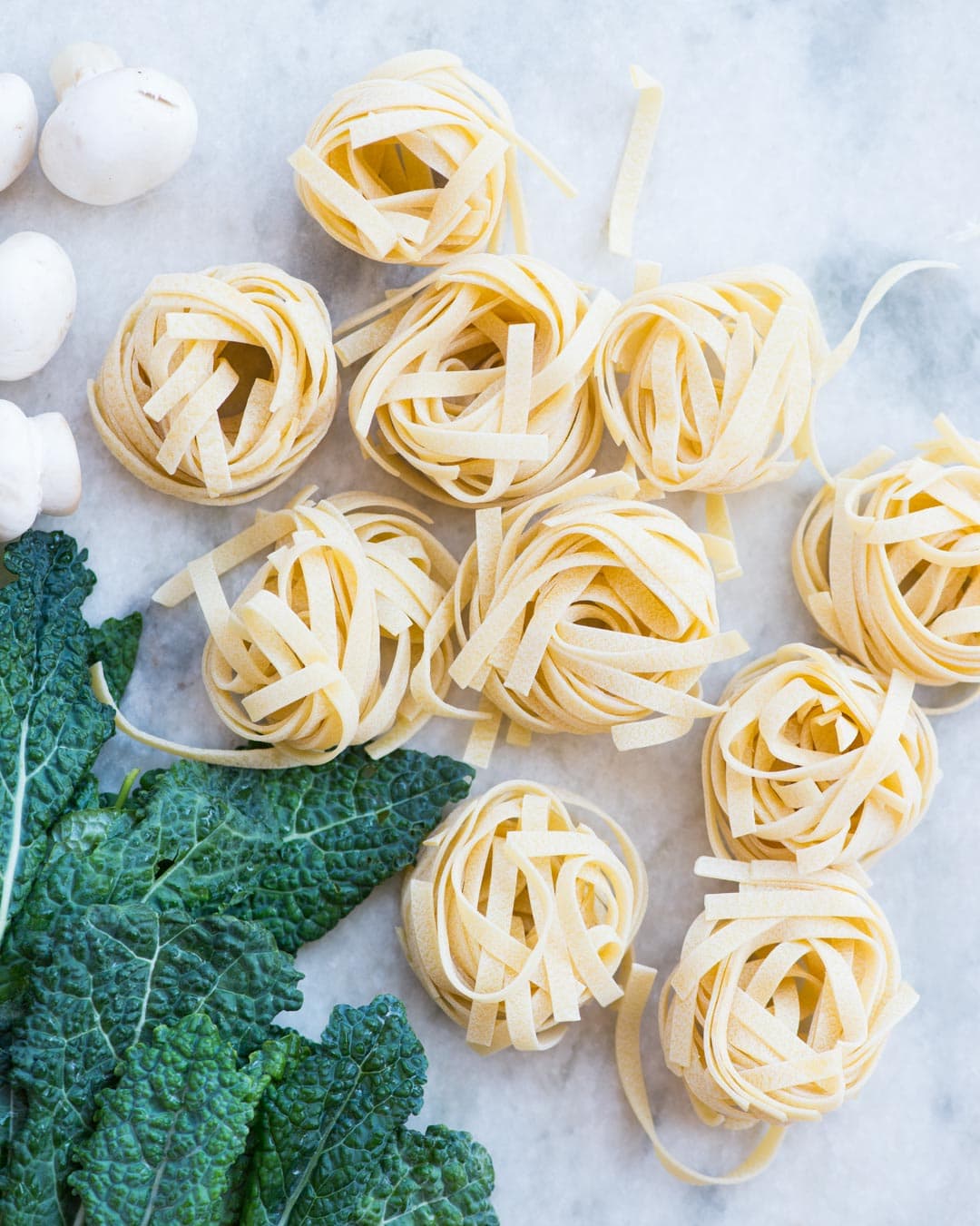 Delicious Lemon Garlic Kale Pasta
Pasta: Fettucine is my choice of pasta here. Because of its flat shape, it holds the sauce really well. You can use any kind of pasta you want. Make sure you cook the pasta right. While cooking salt the water generously. Reserve about 1/2 cup pasta water for later use.
Vegetables: I love to keep an equal ratio of pasta: vegetable. Kale is the star ingredient here. The slightly bitter taste of kale with lemon garlic sauce is just spot on. Mushroom ads flavour and meaty texture.
Delicious Sauce: The best part here is the sauce. Butter, garlic, lemon juice and pasta cooking water together form the sauce here. The sauce is thick enough to coat the pasta and veggies. Then when parmesan is stirred while the pasta is still hot, that makes the pasta creamy.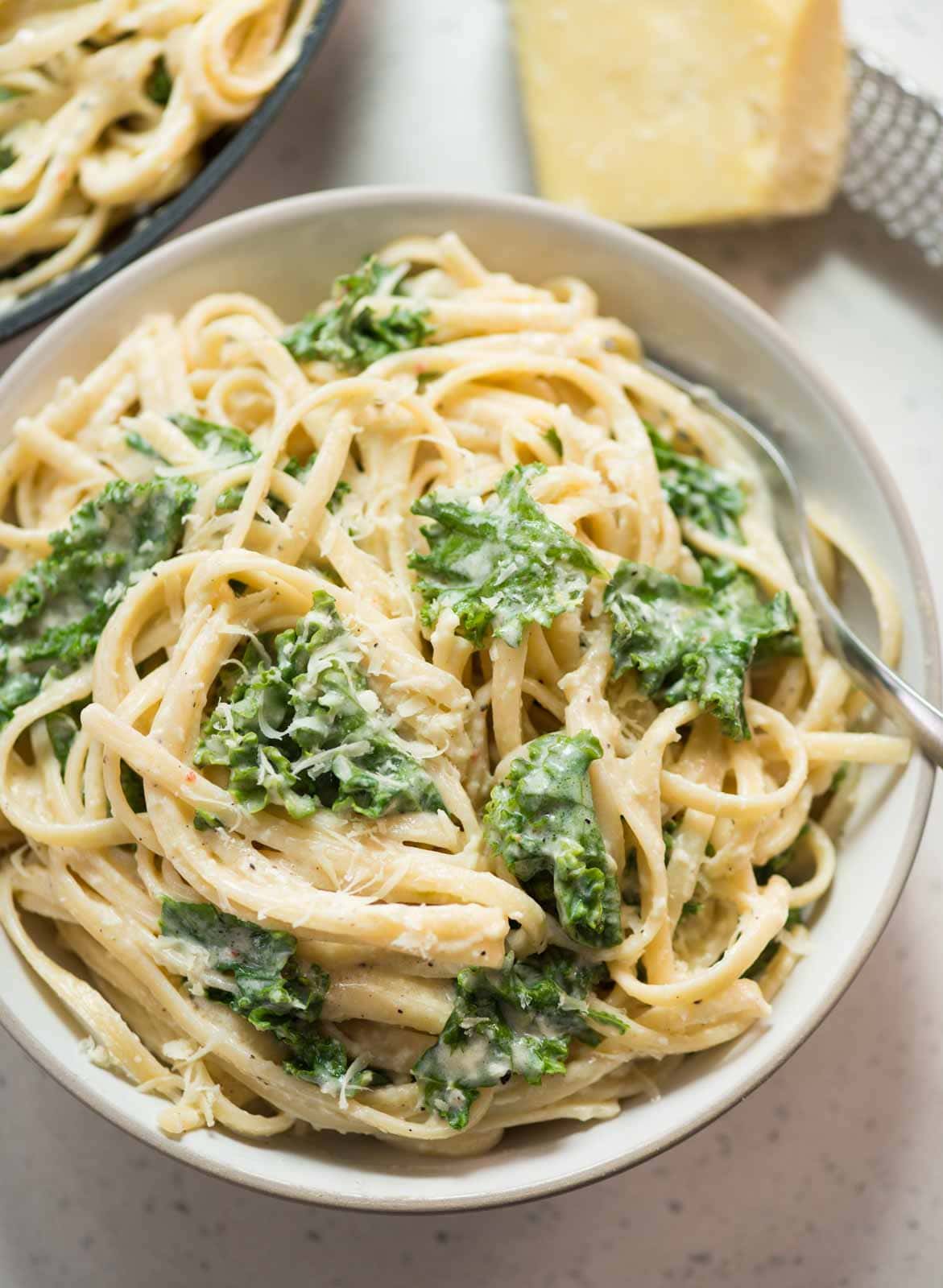 Other Pasta Recipes you might like
GARLIC MUSHROOM SPAGHETTI WITH BACON
CREAMY LEMON GARLIC SHRIMP PASTA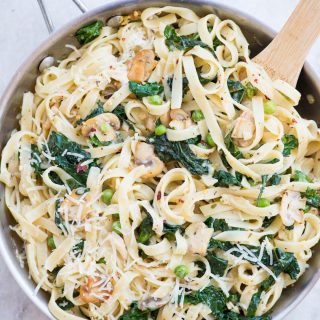 Lemon Garlic Kale Pasta
Lemon Garlic Kale Pasta. Pasta, Kale, Mushroom, peas tossed in a buttery lemon garlic sauce and topped with Parmesan. This one-pan delicious dinner is easy and quick to make
Ingredients
500 grams Fettuccine
2 Tablespoon Butter
1 Tablespoon Garlic Minced
200 grams Mushrooms
½ cup Green Peas
3 cups Kale
2 teaspoon Italian Seasoning
1 teaspoon Red Chili Flakes
2 tablespoon Fresh Lemon Juice
Salt and pepper
1 cup Parmesan Cheese Grated
Instructions
Clean Kale under running water. Remove the stems. Chop them roughly. Sprinkle little salt. Toss well and let it rest while preparing other vegetables.

Clean mushrooms and cut them into half.

In a big pot bring water to a boil. Salt generously. Add the pasta and cook it al dente.

While the pasta is getting cooked, In a pan heat butter and with little olive oil.

When the pan is hot, add sliced mushrooms. Saute until the mushrooms have softened and start browning around the edges.

Add minced garlic. Fry for 30 seconds. Stir in peas.

Squeeze the chopped kale well and add to the pan. Saute until kale has wilted and the colour has changed to deep green colour. About 5-6 minutes.

Add drained pasta to the pan. Add lemon juice, Italian seasoning, chilli flakes, salt, pepper and 1/2 cup (more if required) of reserved pasta water.

Toss everything until the sauce coats the pasta and the veggies well.

Take the pan off the stove. Grated parmesan cheese. Mix everything well.

Serve with more grated parmesan cheese on top.
Nutrition
Serving: 100gram | Calories: 687kcal | Carbohydrates: 101g | Protein: 32g | Fat: 19g | Saturated Fat: 9g | Cholesterol: 137mg | Sodium: 508mg | Potassium: 800mg | Fiber: 6g | Sugar: 5g | Vitamin A: 5772IU | Vitamin C: 72mg | Calcium: 439mg | Iron: 4mg