Mushroom Garlic Shrimp Pasta
This post may include affiliate links that earn us a small commission.
Mushroom Garlic Shrimp Pasta in a mildly spiced buttery sauce is light and loaded with flavour. Caramelized mushrooms, Juicy shrimps, Sundried tomatoes, all these goodness in one pan, makes it a perfect meal on any occasion.
You may also check out other shrimp based pasta recipes like Creamy Lemon Garlic Shrimp Pasta, or Cherry Tomato Pasta with Shrimp and a few seafood pasta like Tuna Pasta Bake or Cold Tuna Pasta Salad.
Flavours In Your Inbox
Subscribe for recipes straight to your inbox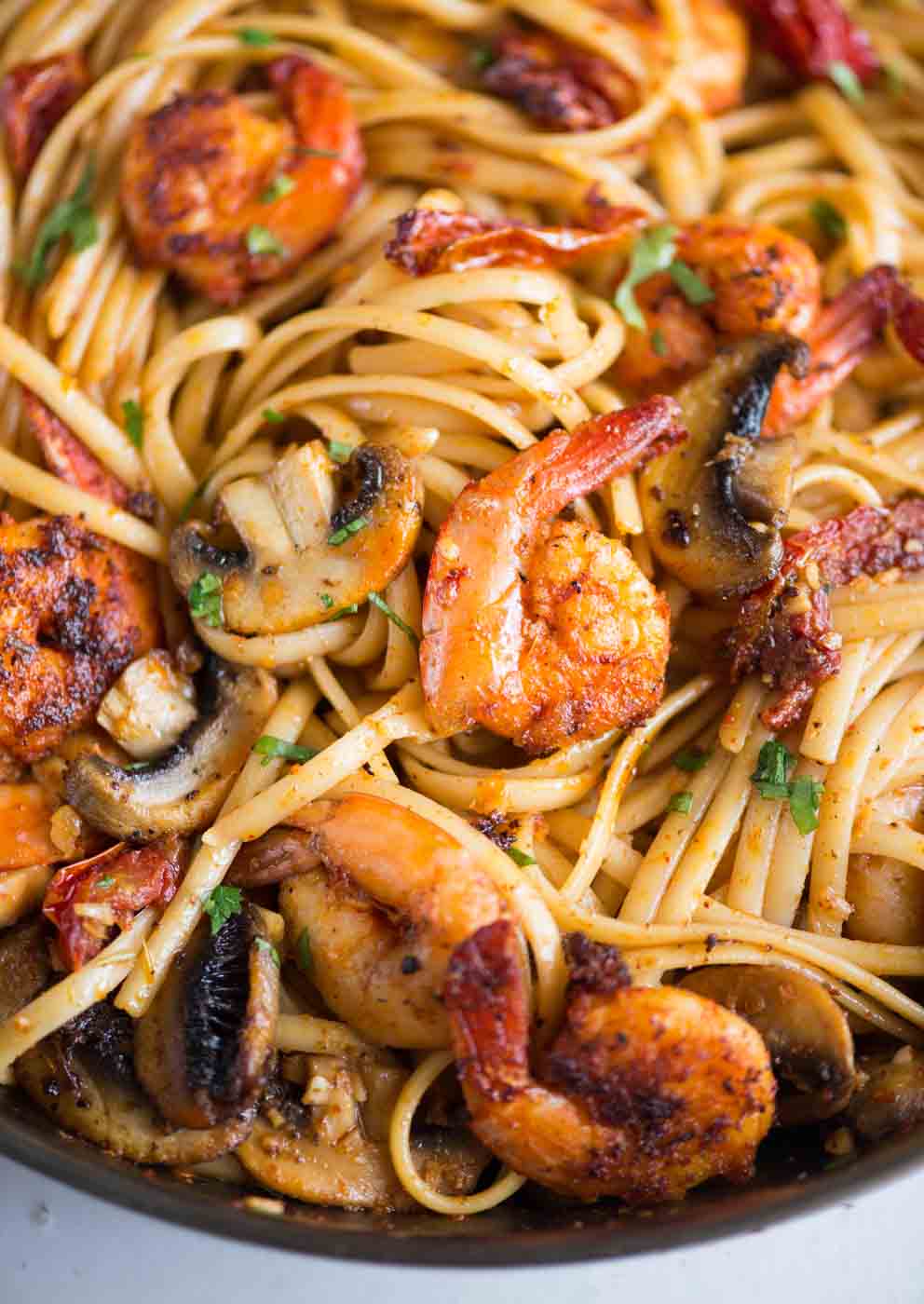 Not your regular creamy pasta, but this Spicy Mushroom Garlic Shrimp Pasta is so delicious. Shrimps are tossed in a spicy seasoning and then cooked in butter until it is tender and juicy. Shrimps, Caramelized mushrooms and sundried tomatoes make this Shrimp and Pasta dish close to any fancy restaurant-style pasta.
If there is one thing my daughter would eat without any tantrums, it is pasta. And she gave a thumbs up for this. Even my husband said it was nice to take a break from creamy rich pasta. It was a total win-win for me.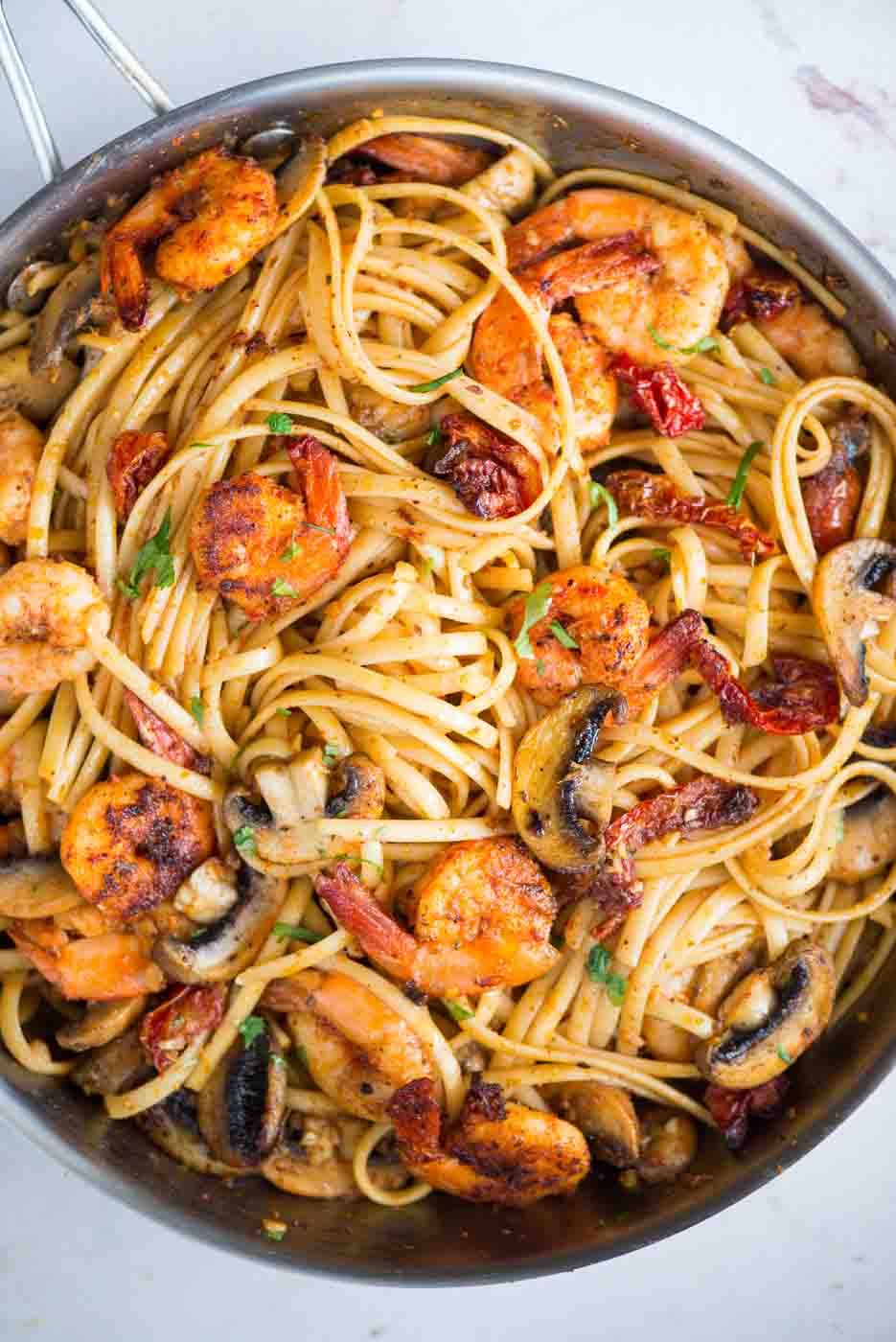 What Ingredients do you need?
This recipe calls for easily available ingredients.
Pasta– I have linguine here but just any shape of pasta will do.
Shrimps– Fresh or Frozen, both would work here. Clean and devein the shrimps. I like to keep the tails on because we absolutely love those crunchy bits.
Mushroom- Mushroom cleaned and sliced.
Seasoning– Italian seasoning, paprika, salt, and pepper. That's all.
Butter and Oil – Butter for the rich sauce. Because oil has a high smoking point, it prevents the butter from burning.
Sundried Tomatoes – These sweet and tart sundried tomatoes are just amazing. These have umami and the oil is also really flavourful.
Garlic- Well, garlic makes everything better. more, the better.
This recipe is also versatile and you can add pepper, and a hand full of spinach to it.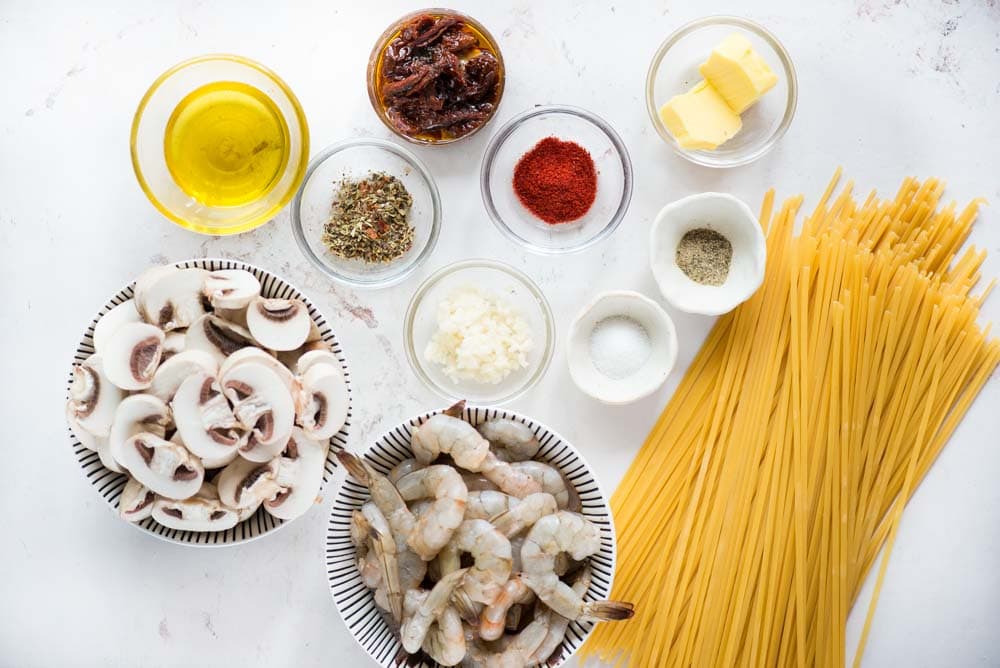 How To Make Mushroom Garlic Shrimp Pasta?
Start with cooking pasta in well-seasoned water until it is al dente, for about 8-10 minutes—Reserve half a cup of pasta water to use later.
While the pasta is cooking, heat butter, and oil in another pan. Cook shrimp along with seasoning until it's no pinker. Cooking shrimps don't take more than 3-4 minutes. Keep aside the shrimp in a bowl.
To the same pan add sliced mushroom. Cook undisturbed for 2-3 minutes for the mushroom to become golden brown. Toss and cook for another 1-2 minutes.
Add the rest of the ingredients, cooked pasta, shrimp, and any juice in the bowl back to the pan.
Toss everything well and the dinner is ready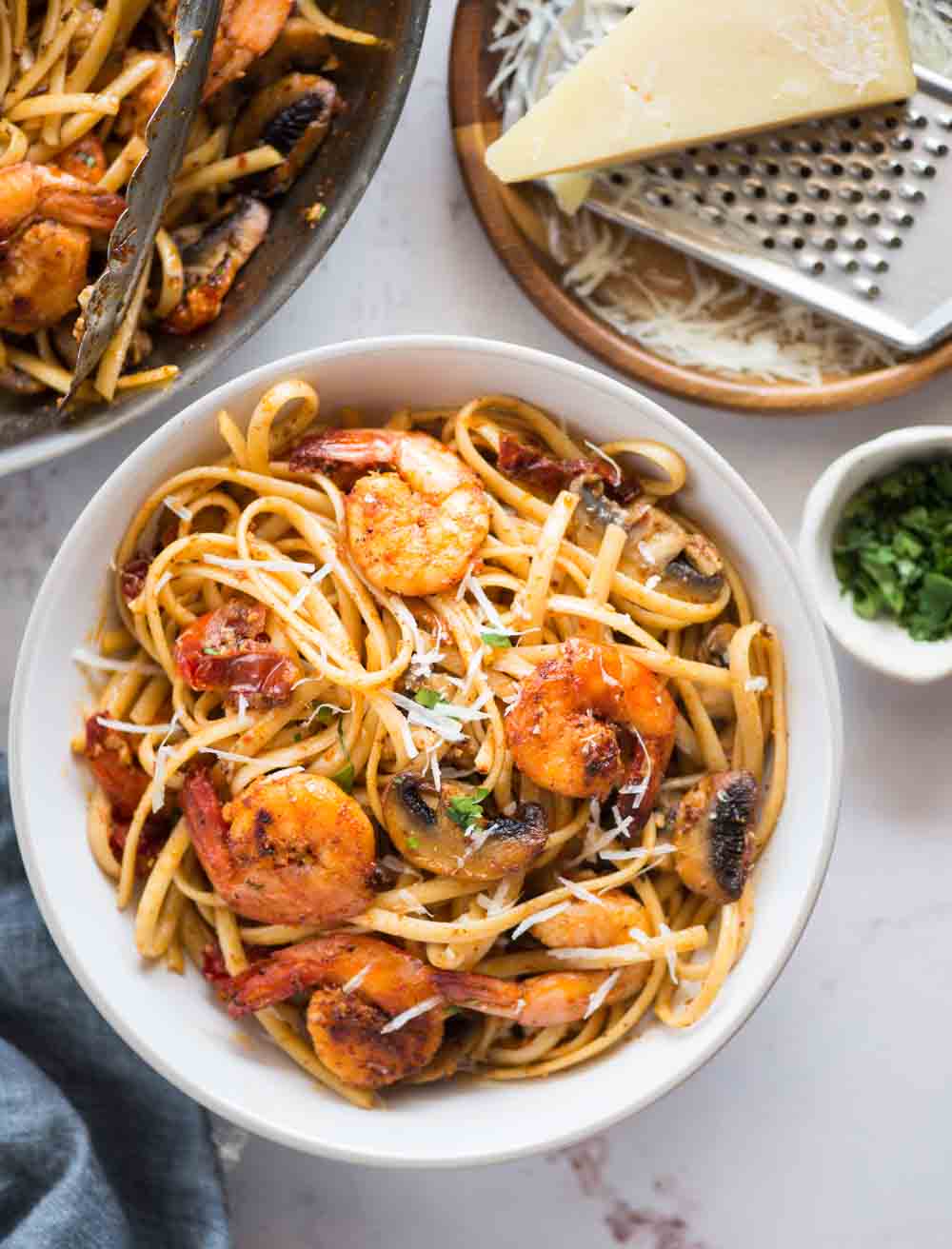 More Delicious Pasta Recipes
Cheesy Pasta Bake With Sausage
Garlic Cream Cheese Shell Pasta
Chicken Pasta Salad With Lemon-Herb Dressing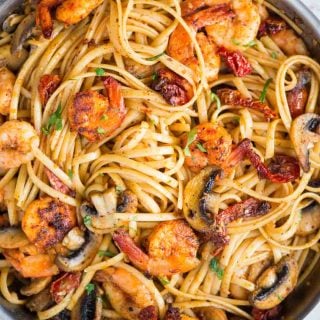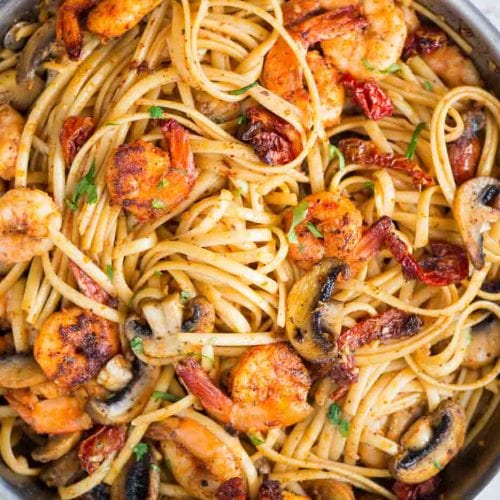 Mushroom Garlic Shrimp Pasta
Buttery and flavourful Shrimp pasta with mushrooms, sundried tomatoes, is the kind of dinner I wouldn't mind having on repeat.
Ingredients
250 grams Uncooked linguine 9-10 ounce roughly
250 grams Shrimps Cleaned and deveined
400 grams Mushroom Sliced
2 tablespoon Butter
½ tablespoon Oil
2 teaspoon Italian Seasoning
1 teaspoon Paprika
Salt to taste
½ teaspoon Black Pepper
½ tablespoon Garlic minced
⅓ cup Sundried Tomato ALong with 2 tablespoon oil from the jar
Instructions
Cook dry pasta in seasoned water until al dente.

Reserve 1 cup of cooked pasta water.

While the pasta is cooking, heat 1 tablespoon butter and oil in a pan.

Add Shrimp to the pan along with 1 teaspoon Italian Seasoning, paprika , salt and pepper.

Sear on medium high heat for 2 minutes, until shrimps are no longer pink.

Flip and sear on the other side for another 2 minutes. Remove from the pan and keep aside.

To the same pan add rest of the butter, followed by sliced mushrooms.

Cook mushroom undisturbed for 2-3 minutes then flip and cook for another 3-4 minutes.

Add minced garlic, rest of the Italian Seasoning, chopped sundried tomato along with its oil. Stir and cook for 30 seconds.

Add 1/2 cup pasta water. Let it come to a simmer. It will start to thicken slowly.

Add cooked pasta, Shrimp (along with any juice from the bowl while resting). Toss everything well. Add more pasta water if it feels dry.

Serve with some freshly grated parmesan on top.
Notes
If the Italian seasoning contains salt, then adjust the salt quaintity as per taste, keeping in mind pasta was also seasoned while cooking. 
Nutrition
Serving: 100g | Calories: 375kcal | Carbohydrates: 49g | Protein: 23g | Fat: 9g | Saturated Fat: 4g | Cholesterol: 173mg | Sodium: 543mg | Potassium: 375mg | Fiber: 3g | Sugar: 3g | Vitamin A: 236IU | Vitamin C: 7mg | Calcium: 104mg | Iron: 2mg