This post may include affiliate links that earn us a small commission.
This baked mac and cheese has the most amazing cheese sauce made with a blend of cheeses and a buttery, crunchy breadcrumb parmesan topping. Always a crowd pleasure and the ultimate comfort food.
Baked Mac and Cheese
My brain is wired in such a way that when it sees so much cheese, it understands that as 'comfort'. This timeless comfort food is a favorite of my daughter too. Honestly, most kids love this. This dish is indulgent, creamy, and cheesy. One of our absolute favorite Mac and Cheese recipes, I would say.
Flavours In Your Inbox
Subscribe for recipes straight to your inbox
Baked to perfection with a cheesy creamy sauce, elbow pasta, and topped with crunchy breadcrumb toppings The sauce is not only loaded with cheese, but it also has a balanced flavor from garlic, onion powder, Dijon mustard, and a dash of hot sauce.
For me, a good mac and cheese has to have the umami from mustard. Mac and cheese is loaded with creamy and cheesy sauce. My recipes are all about the balance of flavors. The sharp tanginess and acidity from the dijon cut through the richness of the cheese and bring contrast and a more balanced taste.
The visual appeal of mac and cheese is the golden crust that forms on the top when you bake it in the oven. You should be breaking that and finding a creamy interior below the surface. That's part of the fun when you serve it.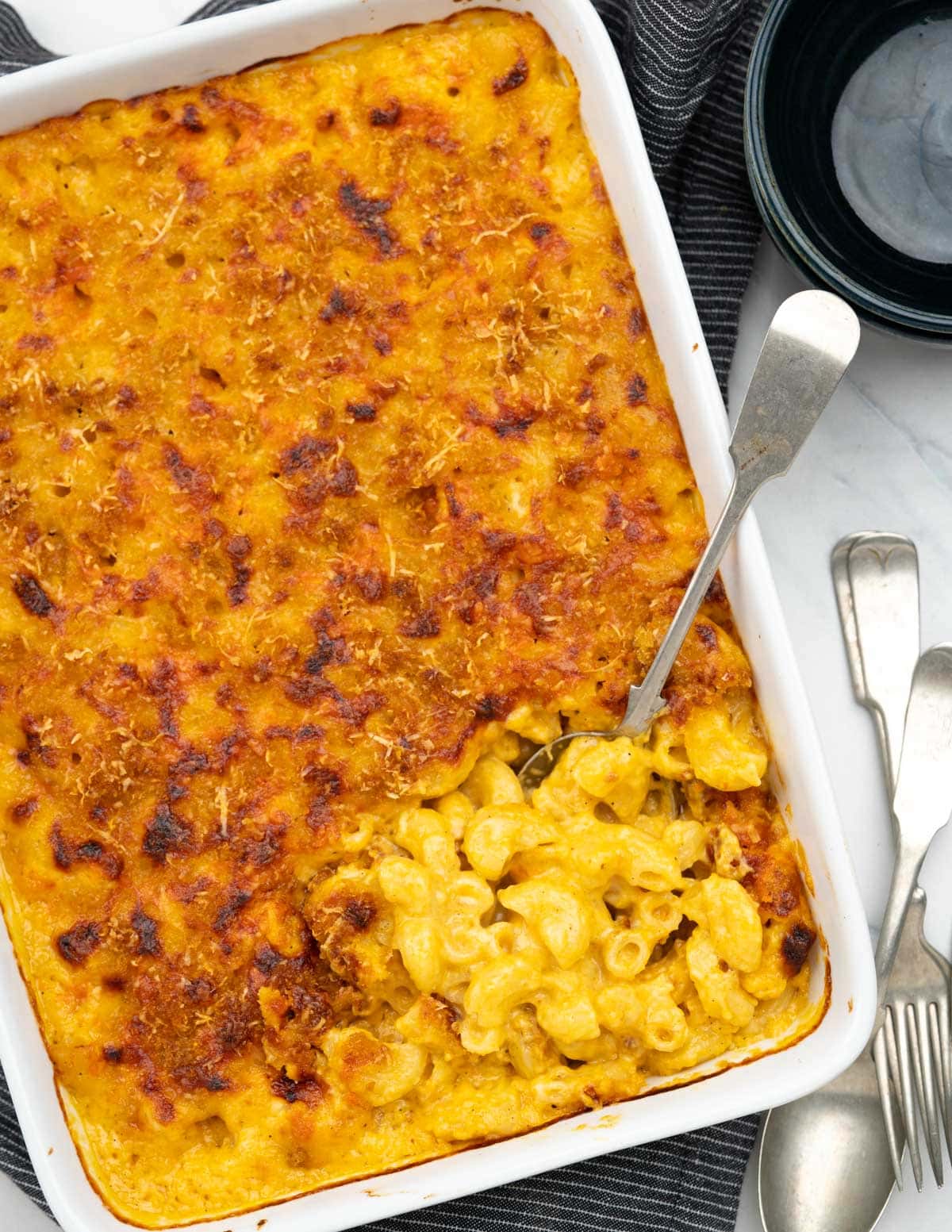 Ingredients
Pasta: Though you can use any short-size pasta here, we always associate mac and cheese with elbow pasta, and I have stuck to that. Remember to read the cooking instructions to cook the pasta less than al dente.
A blend of cheeses: I have gone with four varieties of cheese here: Mozarrella for the stretchiness that it gives to the pasta and the fun moments it creates while serving. Parmesan for its nutty flavor, Gruyere for it
Flour: is used to make the roux, which makes the dish creamy and smooth.
Butter: Used with flour to make that velvety texture of the roux.
Dijon mustard: offers a tangy and spicy taste to cut through all the cheesiness in the dish.
Hot sauce: The heat from the sauce brings a balance of flavors.
Milk: Milk is added to create a creamy texture. You can use Full-fat for a luscious creamy sauce or go light with low-fat milk.
Bread crumbs: Sprinkled on top to create a golden crust on the surface of the dish. You can mix them with melted butter for extra flavor.
Aromatics and spices: garlic powder, and onion powder are the go-to aromatics to add a depth of flavor to the sauce while pepper adds a slight heat and zing that would be welcome in a cheesy dish.
Salt: Use as per taste, to bring out all the other flavors.
How to bake mac and cheese
Cook the pasta underdone: To boil the pasta, salt the water generously, which makes the pasta taste much better. One important note: we do not have to cook it al dente. Just cook it to 3/4 done. Check for the packet instructions and calculate the time as 3/4th of that specified. The pasta should taste a bit underdone in the middle. It will cook to the full in the oven.
Prepare the Cheese Sauce: The roux that we make in this step gives a creamy and smooth texture to the cheese sauce. In a medium saucepan, melt the butter over medium heat. Stir in the flour to create a roux and cook for a few minutes until it turns light golden brown.
Add Milk and Cheese: I have used four cheeses here, bringing a medley of textures and flavors. Gradually whisk in the milk until the mixture thickens and becomes smooth. Lower the heat to low, then add the shredded cheese, salt, pepper, and hot sauce. Stir until the cheese is fully melted and the sauce is creamy.
Combine Pasta and Sauce: Add the cooked pasta to the cheese sauce, stirring until the pasta is evenly coated.
Baking: Preheat your oven to 360°F (180°C). Grease a baking dish with cooking spray or butter. Transfer the mac and cheese mixture to the dish, spreading it evenly.
Top with Breadcrumbs: Sprinkle breadcrumbs over the top of the mac and cheese. This will create a crispy crust when baked.
Bake: Place the baking dish in the preheated oven and bake for 20–25 minutes, or until the top is golden brown and the edges are bubbling. We do not have to cover the dish, as we want the top to brown.
Serve: Let the baked mac and cheese cool slightly for 5 minutes before serving. Any longer, the pasta will absorb more liquid and become mushy. Garnish with fresh herbs like parsley if desired.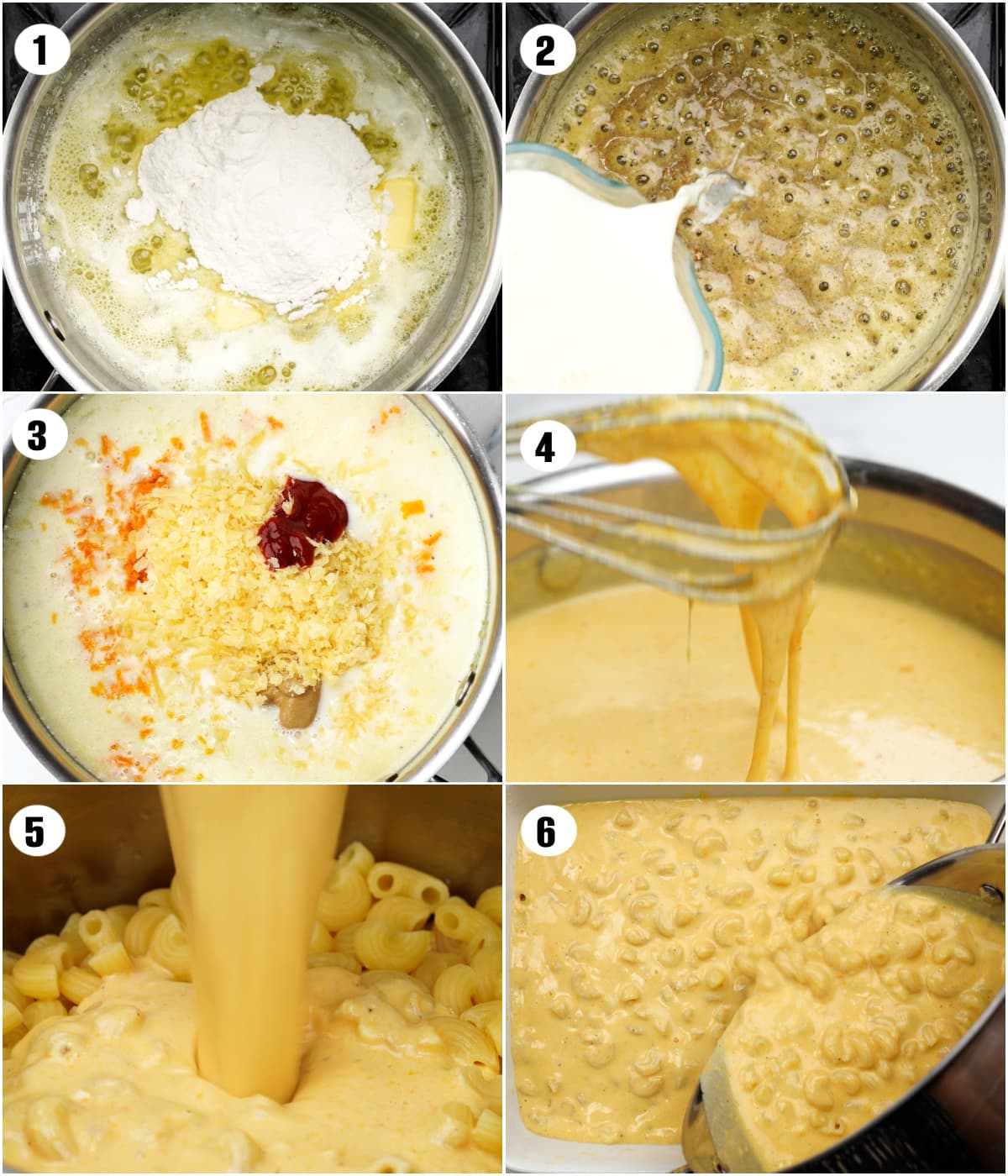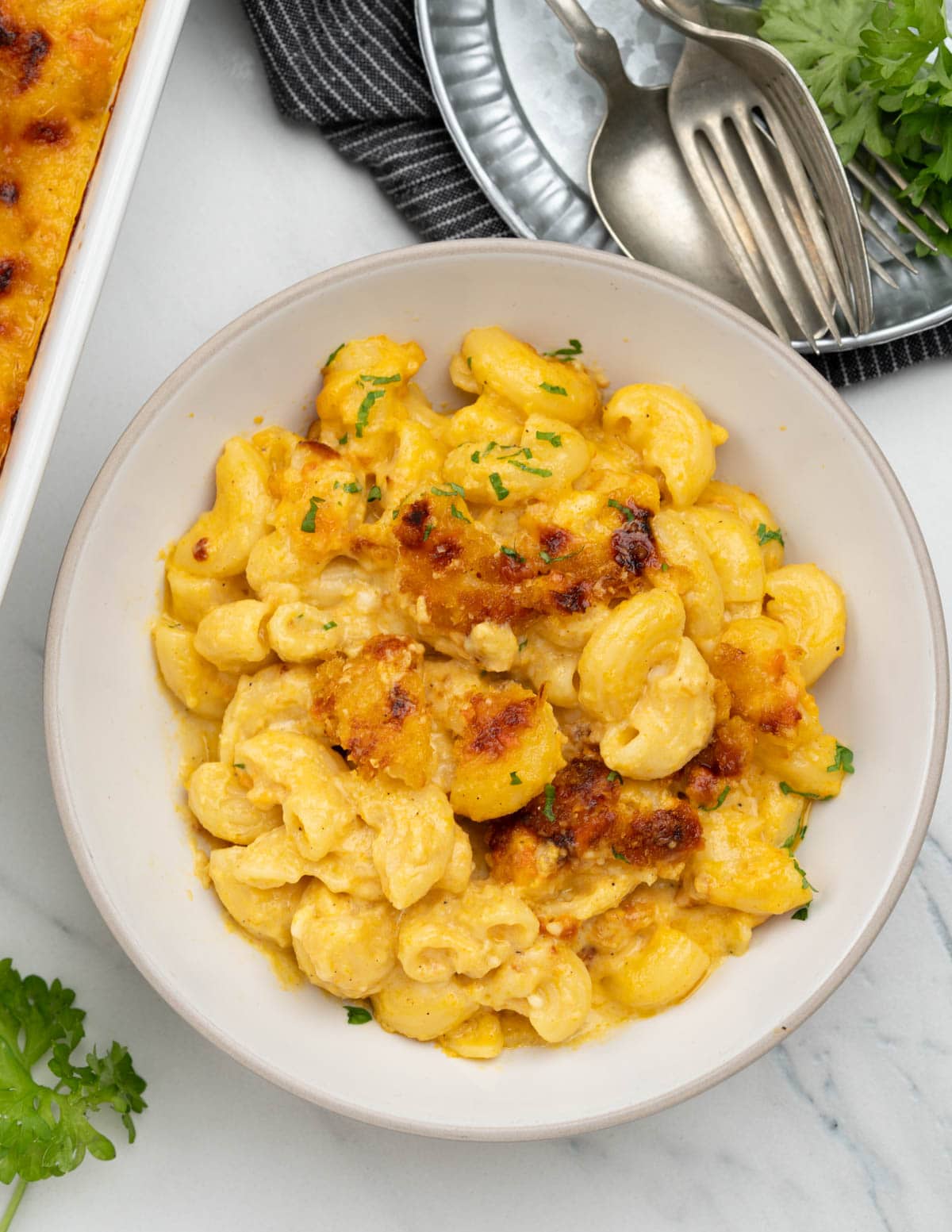 Storage instructions
Allow the dish to come to room temperature before refrigeration. You may move to smaller containers that are easier to store and you may reheat some or all later. For refrigeration, store mac and cheese in air-tight containers for up to 4 days.
You can also freeze the baked mac and cheese for upto 3 months in freezer-safe containers or freezer bags. Remove as much air as you can to prevent freezer burn.
Reheat the dish in the oven by preheating it to 360°F (180°C). Cover the top with an aluminum foil to prevent the top from over-browning for 5-10 minutes. Do not overheat else the cheese tends to become grainy. This is not ideal for multiple reheats. Also, if you notice any dryness after reheating, add some milk and stir them well.
What to serve with
Baked mac and cheese with all its goody creaminess and cheesiness can go with a number of sides that balance its richness.
Green salads – With a rich dish like this, go with some light salads with refreshing and light dressings like my Cherry Tomato Salad, Red Potato Salad, White bean salad with lemon vinaigrette and Cucumber Strawberry Salad.
Grilled chicken – Do not miss on some much-needed protein with this creamy delight. Easy ways to add some protein are to make these grilled recipes – Easy Grilled Chicken, Grilled Teriyaki Chicken, Rosemary Chicken Kebabs,
Roasted vegetables – Serving roasted veggies adds a smoky, charred taste to compliment a rich dish. Serve vegetables roasted with chicken to make a complete meal. Roast red potatoes, brussel sprouts or zucchini with lemon and pepper flavors in the oven.
Hot soup – A hot soup cleans the palette while gorging on such a rich, cheesy dish, while also balancing the nutrition. For inspiration, check out my Tomato Egg Drop Soup, Cauliflower Potato Soup or Healthy Vegetable Soup.
Crispy bacon – Make it more irresistible by sprinkling crumbles of crispy bacon on top.
Bread – Cheesy dishes go well with bread like No-Knead White Bread that can be toasted or baked with savory notes of garlic like Cheesy Garlic Bread.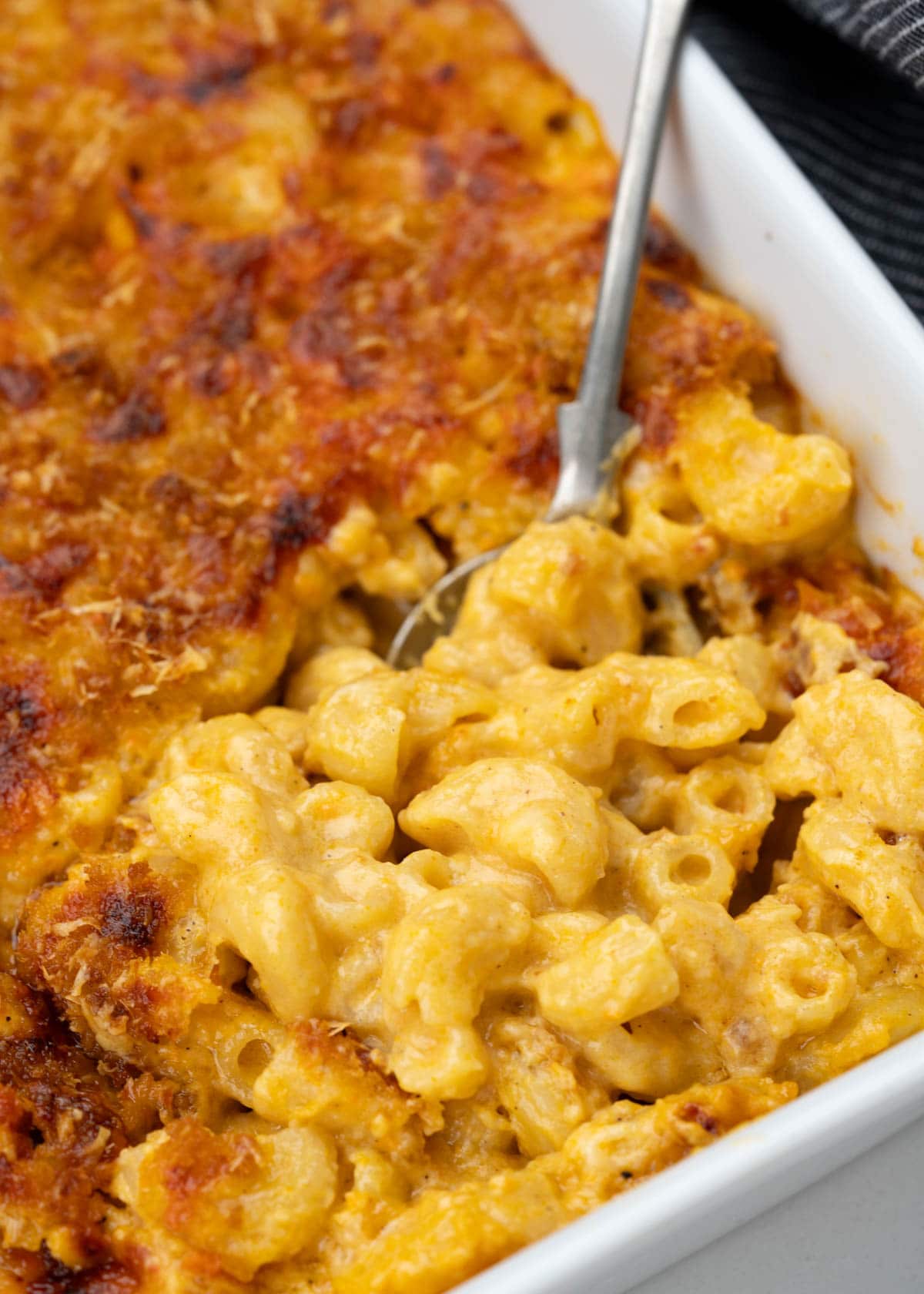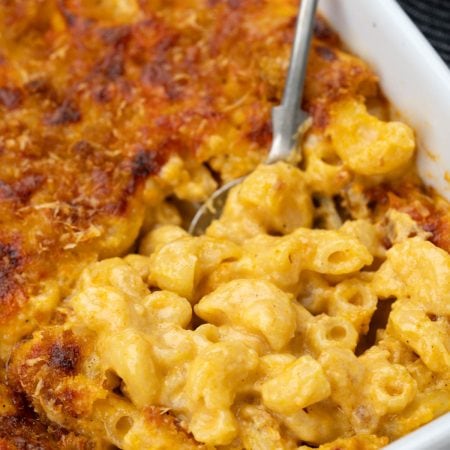 Baked Mac and Cheese
The three cheese sauce in this baked mac and cheese is anything but bland. Garlic, onion powder, and dijon mustard adds flavour and balances the rich cheese sauce.
Ingredients
400 grams Elbow Macaroni
3 tablespoons Plain Flour
3 tablespoons Unsalted Butter
4 cups Milk at room temp
½ tablespoons garlic powder
½ teaspoon onion
1 teaspoon hot sauce

 adust as per taste
2 cups Sharp Cheddar grated
1 cups Mozzarella shredded
1 cup Gruyerre
Salt & Black Pepper to taste
1 tablespoons Dijon Mustard
Fresh parsley/ Chives finely diced to garnish
For Breadcrumb Toppings
⅓ cup Parmesan grated (save half for top)
½ cup Breadcrumbs
3 tablespoons melted butter
Instructions
Preheat oven to 325 degrees F and prepare a 3 qt baking dish (9×13").  Set aside.

Bring a large pot of water to boil. Season well with salt. Cook macaroni until it is 3/4th cooked (when you bite into pasta, it should still be a little raw in the middle). Drain and run pasta under cold water to stop it from cooking further.

In a bowl, add breadcrumbs, melted butter, parmesan cheese, and a pinch of salt. Mix well and keep aside.

In another bowl toss all three cheeses (by mixing you can easily divide cheese mixture into two portions. One part you will add to the sauce and the rest to sprinkle on top)

In a large saucepan (that can hold 4 cups of milk and 3 cups of cheese) add butter and melt.

Stir in flour and cook on low heat for about 30 seconds (without browning it)

Slowly add 2 cups of milk little by little, while continuously whisking with the other hand. The mixture will start to thicken. Make sure there are no lumps. Add rest of the milk and simmer for a couple of minutes for the mixture to thicken a little further( keep whisking in between to avoid lumps)

Remove the saucepan from the heat. Stir in garlic powder, onion powder, pepper, dijon mustard. and hot sauce (if using).

Stir in 3 cups of cheese mixture in 2-3 batches. Mix until all the cheese has melted and the mixture is thick and creamy.

In a large mixing bowl, combine drained pasta with cheese sauce, stirring to combine fully. Carefully pour the pasta and sauce mix into prepared baking pan.

Sprinkle the rest 1 cup of cheese followed by breadcrumb parmesan mixture evenly on the top.

Bake for 15 minutes, until topping is bubbly and lightly golden brown.
Nutrition
Serving: 1serving | Calories: 616kcal | Carbohydrates: 52g | Protein: 28g | Fat: 33g | Saturated Fat: 19g | Polyunsaturated Fat: 2g | Monounsaturated Fat: 8g | Trans Fat: 0.3g | Cholesterol: 98mg | Sodium: 624mg | Potassium: 373mg | Fiber: 2g | Sugar: 8g | Vitamin A: 1029IU | Vitamin C: 0.4mg | Calcium: 664mg | Iron: 1mg