Oven Roasted Red Potatoes
This post may include affiliate links that earn us a small commission.
Red potatoes roasted with garlic, rosemary, butter, and olive oil in the oven until perfectly crispy. These roasted red potatoes are an amazing side dish to serve with almost any meal.
If you end up with burnt garlic bits while roasting potatoes, then I am going to share a trick that will give you crispy potatoes with golden, crispy garlic.
Flavours In Your Inbox
Subscribe for recipes straight to your inbox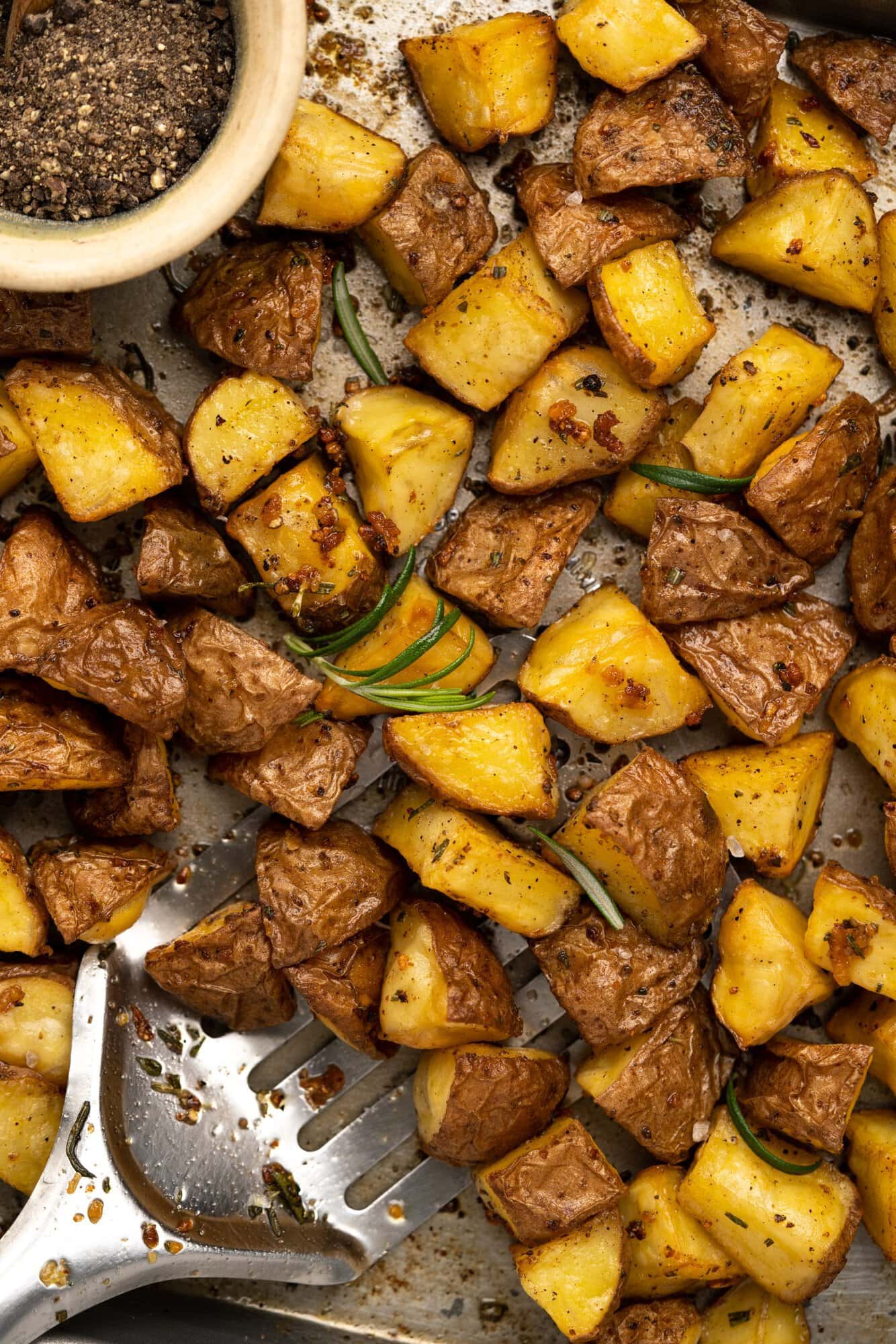 Rosemary Garlic Roasted Red Potatoes
These roasted red potatoes are perfectly seasoned, garlicky, and crispy. These are family favorites. It is such an easy, no-brainer recipe with the shortest list of ingredients. With very minimal prep, these get ready in no time and can be a quick weeknight side dish.
Potatoes are such a versatile vegetable and can easily be turned into a side dish. Make mashed potatoes, wedges, and salads, or serve them for breakfast; no one ever complains.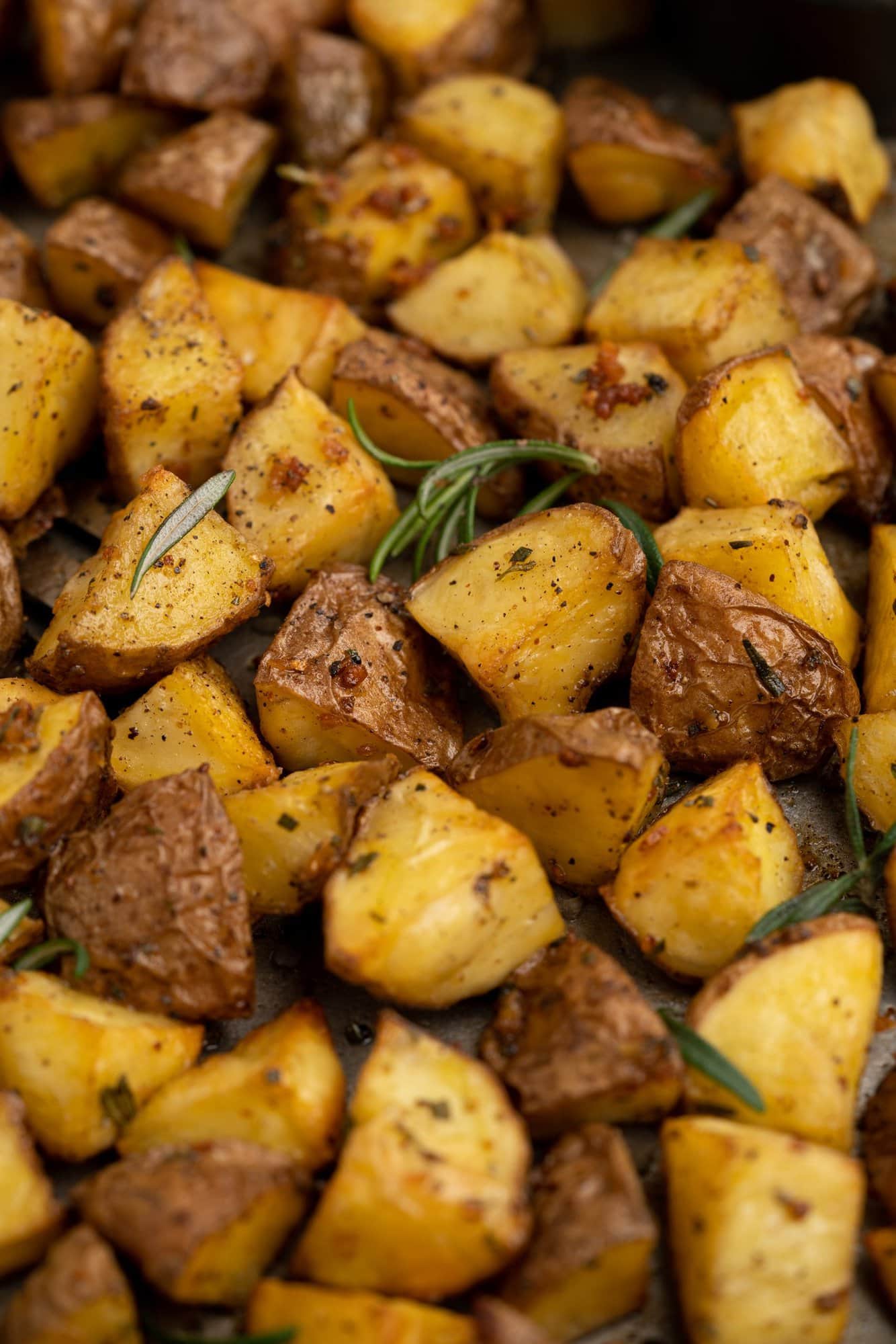 Ingredients you need
Red potatoes: If you can get hold of baby red potatoes, cut them in half. For large red-skinned potatoes, cut them into 1-1.5 inch cubes. The skin of red potatoes is thin, so keep them on while roasting. The skin on potatoes roasts beautifully and adds texture.
Garlic: fresh garlic minced. I use a garlic press for convenience. Garlic powder will work in a pinch, but nothing like fresh garlic.
Rosemary– Rosemary and potatoes are a pairing I love.
Butter and olive oil: Butter and olive oil together make these roasted red potatoes golden and crispy. Butter also adds richness, which makes roasted red potatoes good enough to serve on festive occasions like Thanksgiving or Christmas.
Salt and pepper: nothing like an underseasoned potato.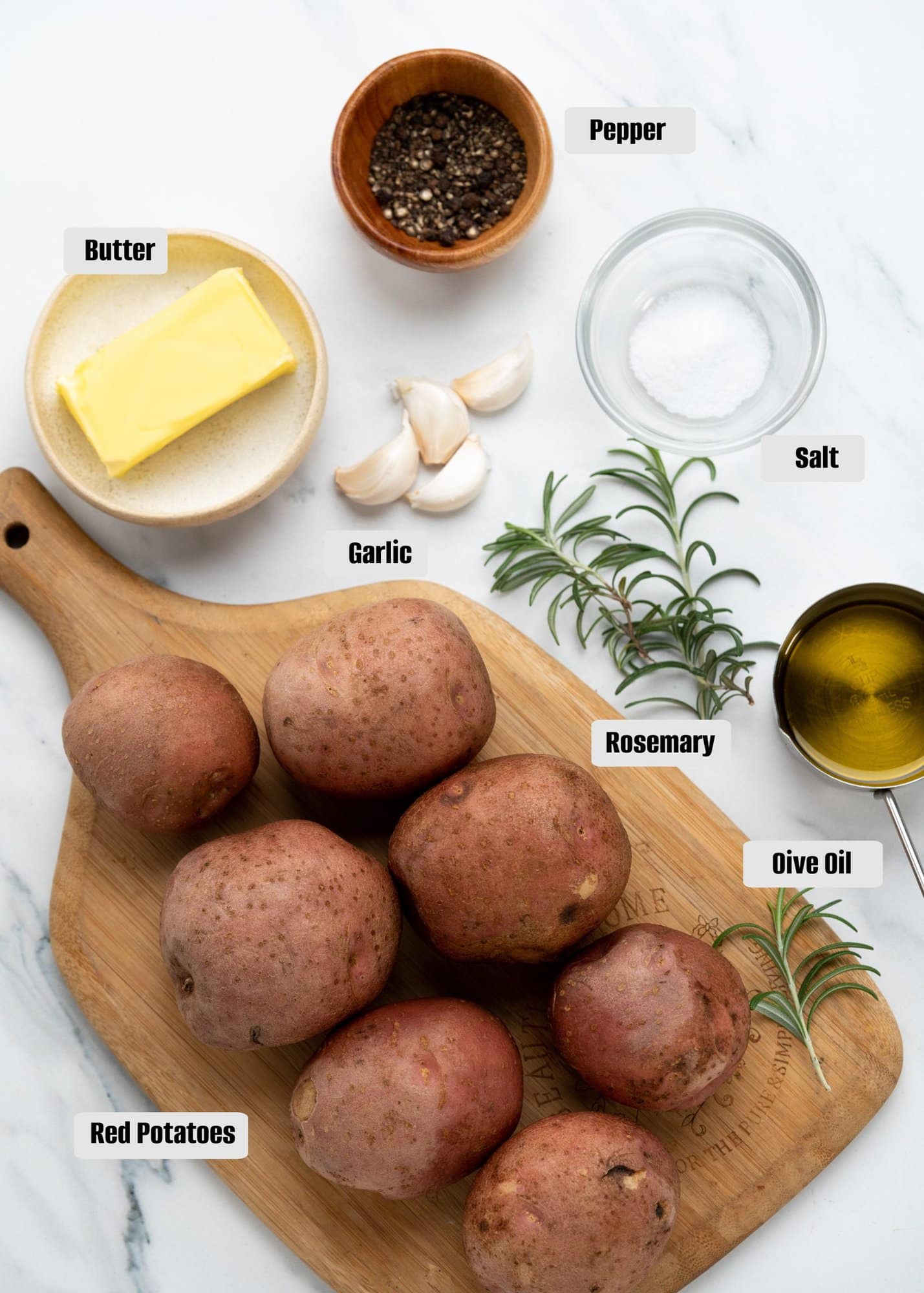 How to make Roasted Red Potatoes
There are no right or wrong ways to roast potatoes. Whether you boil it first and then bake or bake it just as it is, the end result is always delicious. You would hardly find any difference. Moreover, if your agenda is to put dinner on the table in 30 minutes, then chopping and roasting work best.
Clean the potatoes to get rid of any dirt. You can gently scrub the skin. Cut 1 inch -1 1/2 inch cubes. Keep the size uniform for even cooking. Then soak it in cold water to prevent it from going dark and also removes excess starch. Drain and pat dry potatoes.
Meanwhile in a microwave-safe bowl or a pan, add butter, olive oil, minced garlic, and chopped herbs. Microwave at an interval of 1 minute, for 2-3 minutes until the garlic is crispy golden brown in colour.
Instead of adding garlic and herbs to the potatoes at the beginning, we are making flavored butter and baking the potatoes until 80% done. Then towards the end add garlic and herb mixture. This way the potatoes have all the flavors and also garlic and herb doesn't get scorched.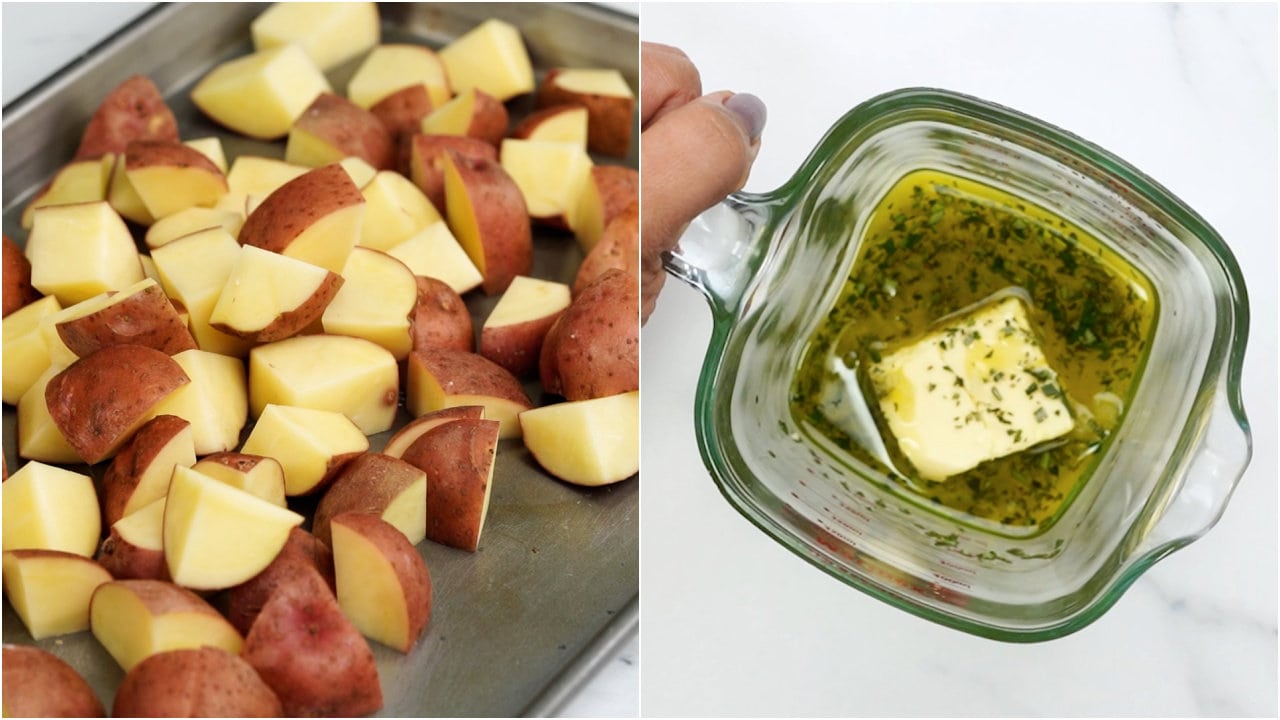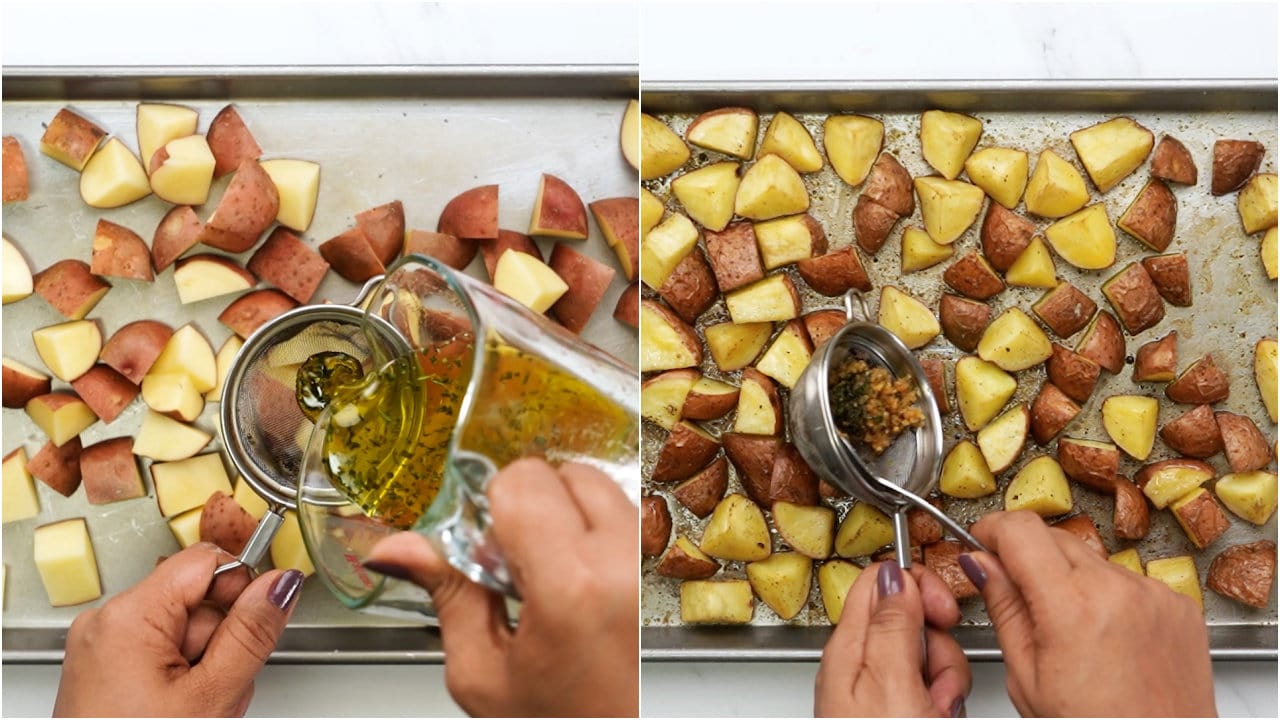 Leftovers can be stored for up to 3 days in an airtight container. It does lose its crispiness when stored. If you have an air fryer, pop them for 5-6 minutes and they will turn crispy again.
This recipe will work with regular or baby potatoes as well.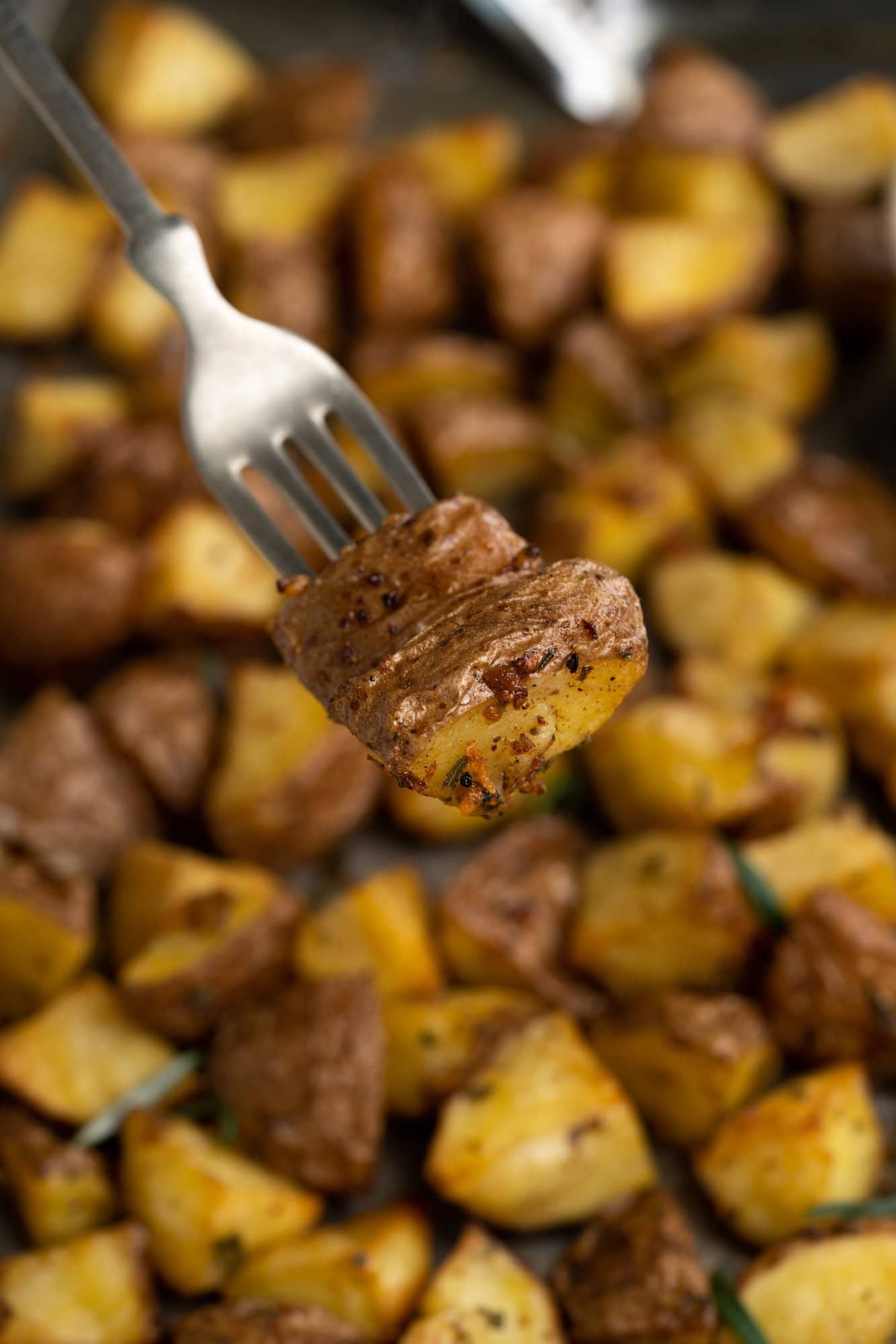 More roasted vegetables for a side dish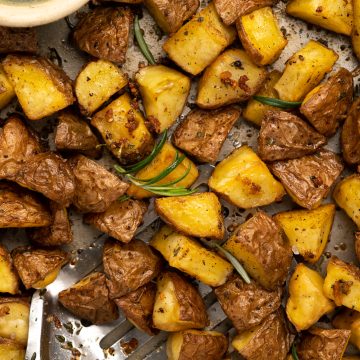 Oven Roasted Red Potatoes
Red potatoes roasted with garlic, rosemary, butter, and olive oil in the oven until perfectly crispy. These roasted red potatoes are an amazing side dish to serve with almost any meal.
Equipment
1 Small bowl to mix the seasoning and heat in the microwave
1 Baking Tray To bake in the oven
1 Baking sheet To cover the tray with potatoes
1 Strainer To strain the garlic rosemary infused mixture
Oven For baking the red potatoes
Ingredients
1.5 pounds red potatoes
2 tablespoons olive oil
2 tablespoon butter
1 teaspoons salt
½ teaspoon pepper
3-4 sprigs rosemary
1.5 tablespoon garlic
2 tablespoons chopped fresh parsley
Instructions
Preheat the oven to 400 degrees F (200 degrees C) and adjust the oven rack to the center position.
To make garlic rosemary-infused oil
In a saucepan or microwave-safe bowl, add olive oil, butter, minced garlic, and 2-3 rosemary sprigs minced. Microwave in 30 seconds intervals for about 2 minutes until the garlic looks light brown in colour.
Prep potatoes for roasting
Gently scrub and clean the potatoes. Cut potatoes into 1-inch squares. Place potatoes in 2 baking sheets, so that it doesn't overlap and are in a single layer.

Using a small strainer, strain the garlic-rosemary infused mixture into a bowl or directly into the baking trays( divided equally among both trays). Reserve the brown garlic bits and rosemary to be used later.

Sprinkle salt and pepper on the potatoes. Toss everything well.
Roast potatoes in the oven
Roast potatoes in the preheated oven until tender and golden brown, 25-30 minutes.

Remove the potatoes. The potatoes should be almost done by now. Add the reserved garlic and rosemary bit saved previously to trays. Flip and toss the potatoes again. Bake for another 10 minutes.
Serve
Take out the baking trays. Serve with fresh parsley sprinkled on top.
Nutrition
Serving: 1serving | Calories: 157kcal | Carbohydrates: 19g | Protein: 2g | Fat: 9g | Saturated Fat: 3g | Polyunsaturated Fat: 1g | Monounsaturated Fat: 4g | Trans Fat: 0.2g | Cholesterol: 10mg | Sodium: 438mg | Potassium: 527mg | Fiber: 2g | Sugar: 1g | Vitamin A: 126IU | Vitamin C: 10mg | Calcium: 17mg | Iron: 1mg