This post may include affiliate links that earn us a small commission.
Boneless chicken breast cooked crisp and smothered in a creamy lemon sauce that is bright and fresh. It is an easy and quick meal with very minimal prep, perfect to serve with pasta, mashed potatoes, or some sauteed/roasted veggies.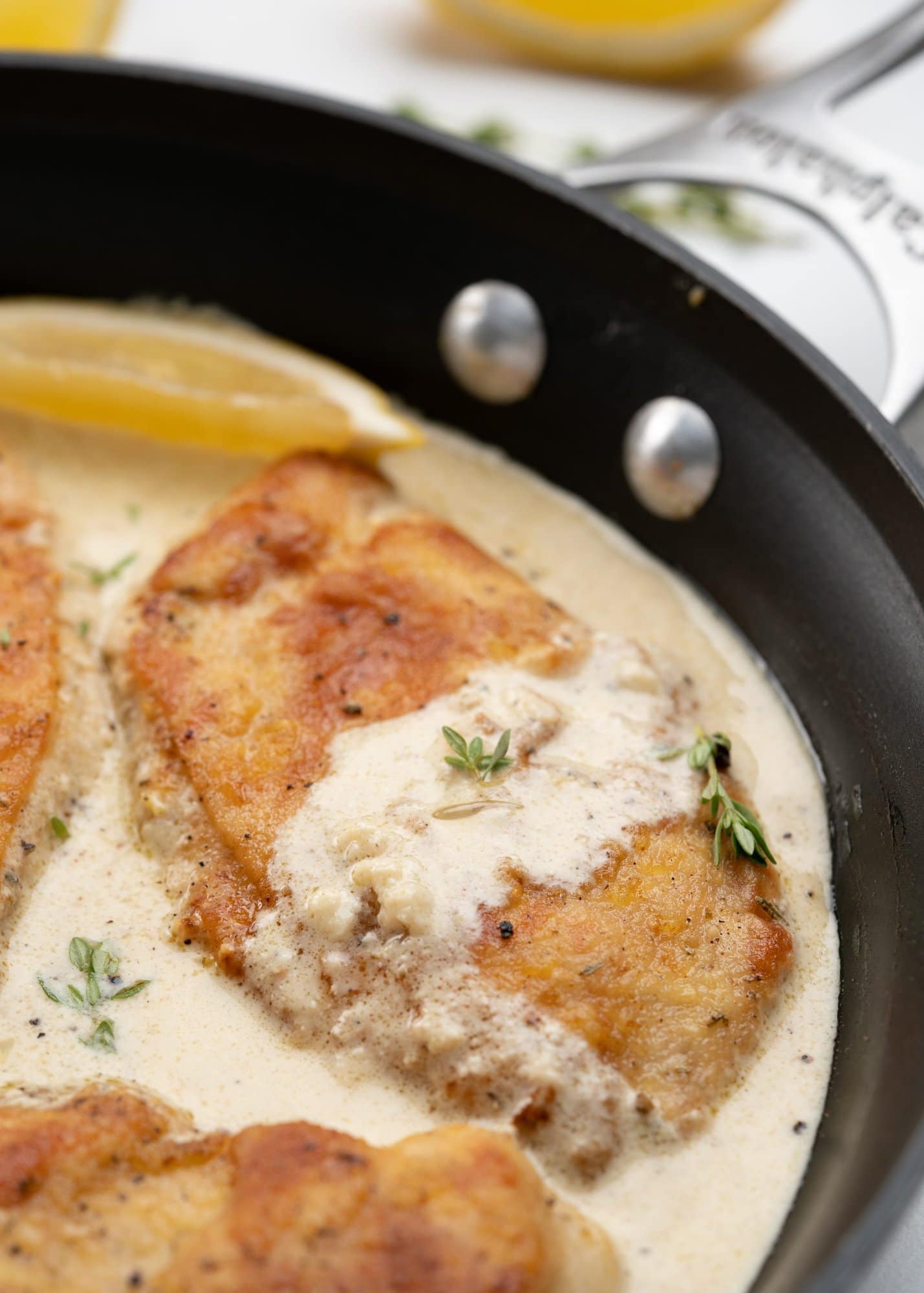 Creamy lemon chicken has crispy pan-fried chicken breast topped with a luscious lemon cream sauce. This boneless chicken breast recipe is one of the simplest yet most delicious recipes on the blog. Fresh lemon juice cuts down the richness of heavy cream and brings a delicate balance. There is enough lemon cream sauce in there to toss some pasta and make a meal out of it.
Flavours In Your Inbox
Subscribe for recipes straight to your inbox
Chicken breast is affordable and always comes in handy. For some chicken breast is boring and tasteless, but for me, it is like a blank canvas, you can make it interesting without a lot of fuss.
Lemon adds such a bright burst of flavor, is versatile, and can be paired with a variety of flavors. You can make a creamy dish, sweet and tangy dish, hot dish, one with herby flavors, or use it as part of a salad dressing.
You can also pair the sourness of lemon with the sweetness of honey, like in Lemon Honey Glazed Salmon and Honey Lemon Chicken.
To have a sour and hot pairing, there is Roasted Lemon Pepper Zucchini. Pair lemon with herbs like rosemary in Lemon Garlic Chicken Thighs, with cilantro in Cilantro Lime Chicken, or thyme like in this Lemon & Thyme Roast Chicken. Up the tanginess with capers by making Tilapia in Lemon Caper Sauce.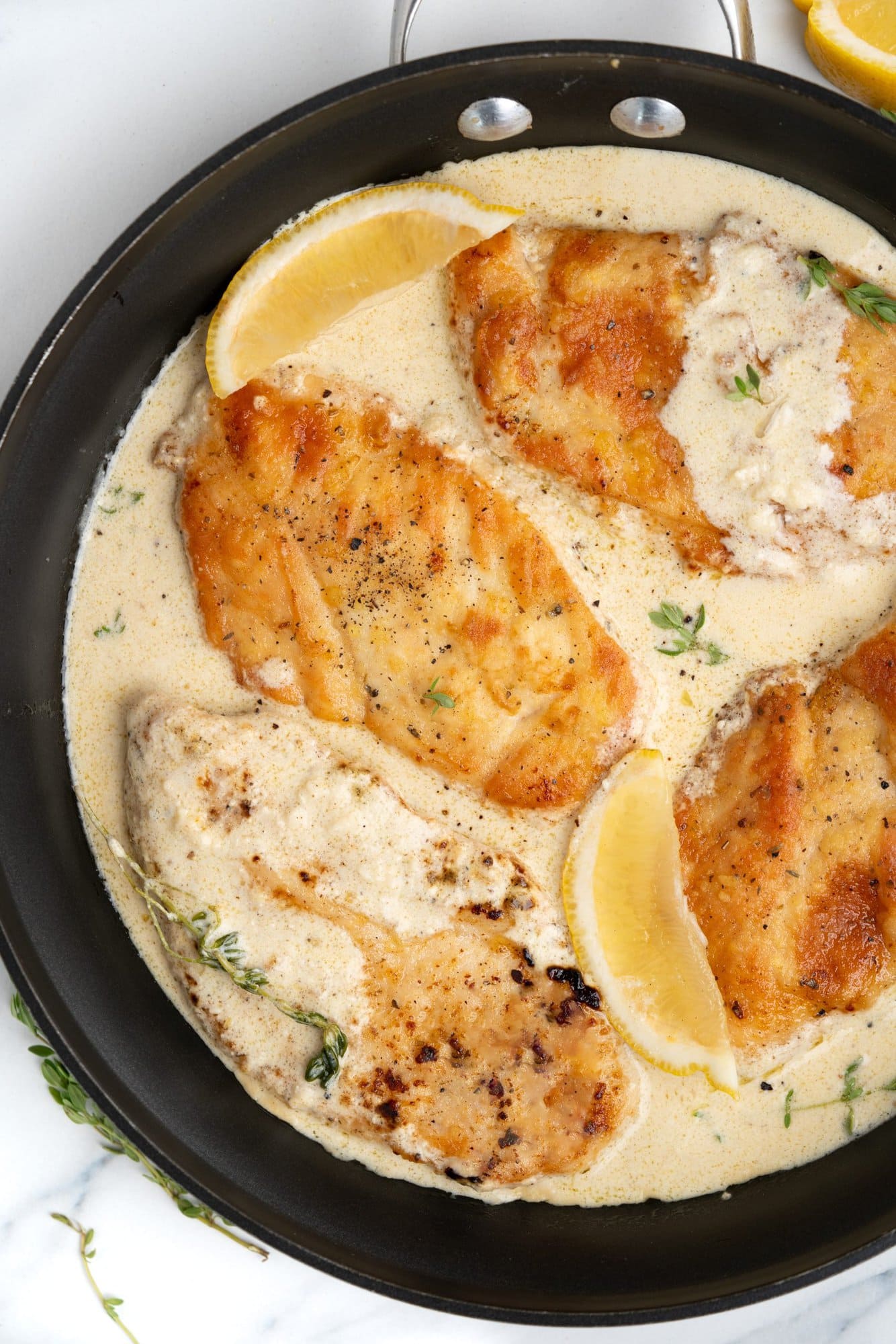 Ingredients for Creamy Lemon Chicken Recipe
You would probably be having all the ingredients in your pantry while going through the list.
Boneless chicken breast – Boneless chicken breast cut into cutlets. Use a meat mallet to pound the chicken and make it of even thickness.
Flour, Parmesan, salt, and pepper – To dust the chicken. Finely grated parmesan sticks to the chicken better than shredded parmesan.
Fresh lemon Juice – to add a bright, citrusy flavor.
Heavy cream – Heavy cream for a rich creamy lemon sauce.
Garlic and herb – without these two the sauce will lack flavor obviously.
Butter and Olive oil – Use olive oil to pan-fry the chicken breast. Butter adds a depth of flavor while making the sauce.
Chicken stock – adds a base flavor to the sauce.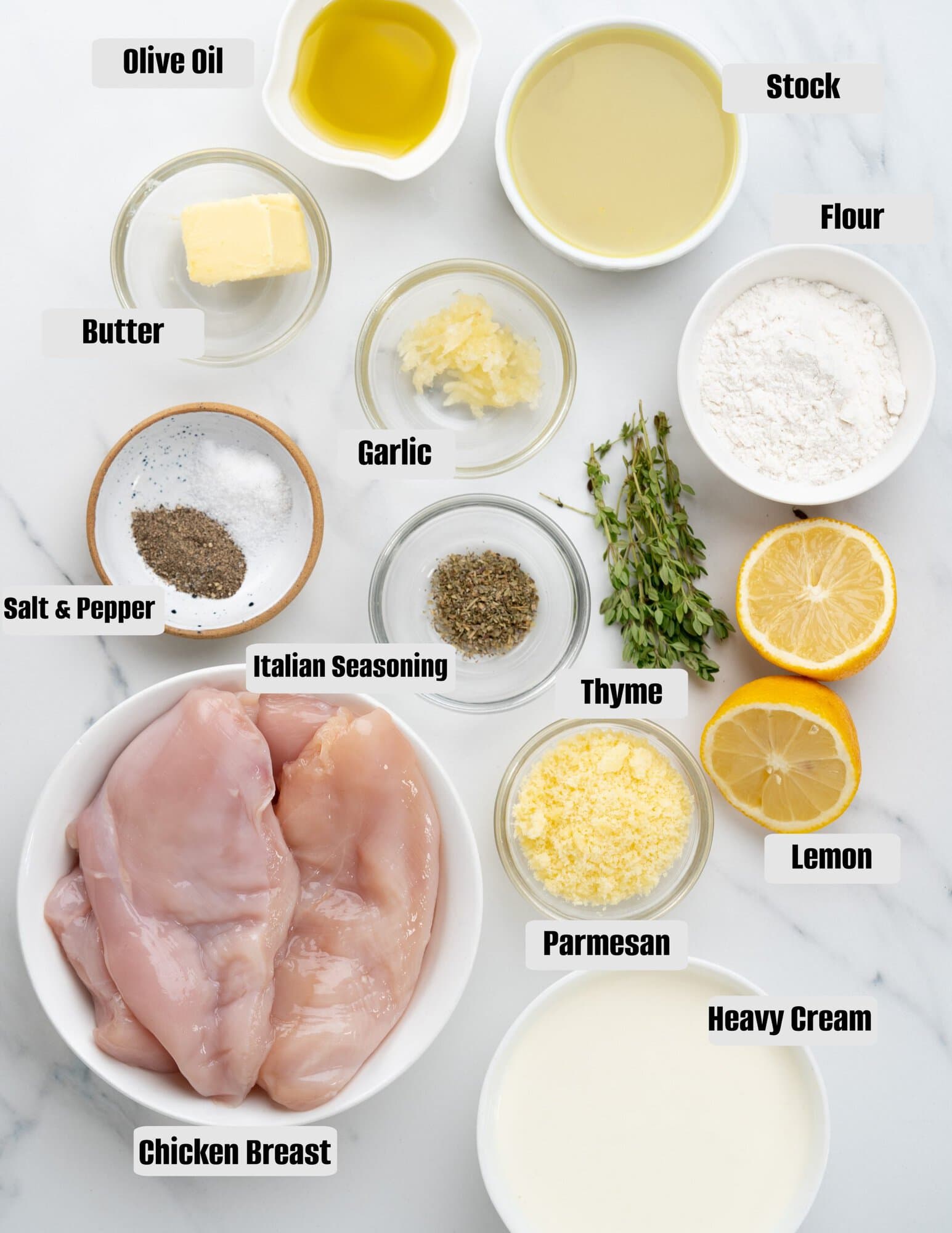 How to make Creamy Lemon Chicken
It doesn't take more than 20 minutes to make this boneless chicken breast dinner recipe. There is hardly any chopping and prepping involved. Just one pan to make this super quick dinner.
Make the flour and parmesan mixture for the chicken. Coat chicken really well on both sides and dust off extra flour.
After heating olive oil, pan-fry each side for 3 minutes, until it looks golden in color. Keep the chicken covered while making the sauce
Saute garlic and thyme in butter. then lower the heat and slowly add heavy cream. Followed by lemon juice.
Add back the chicken and pour sauce over.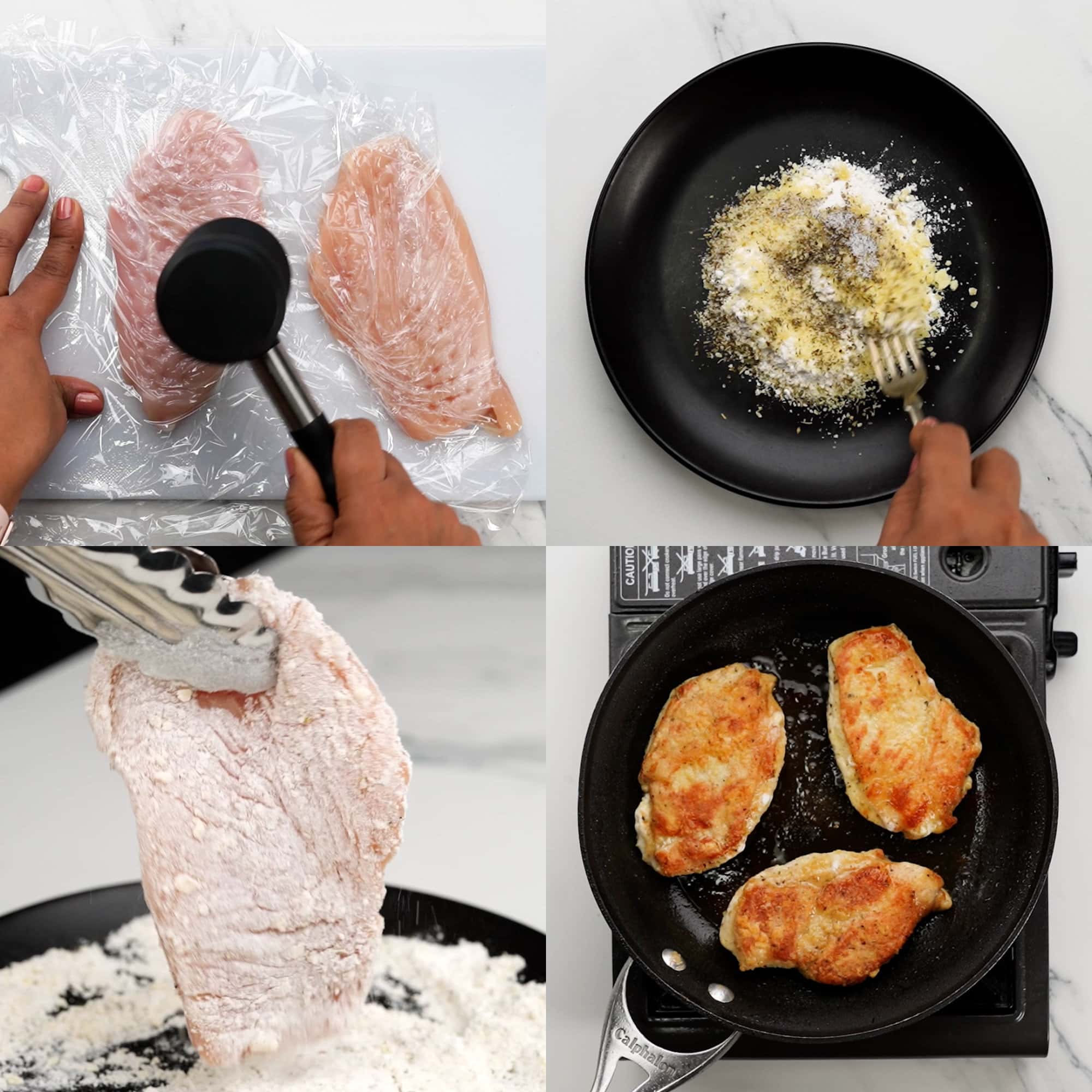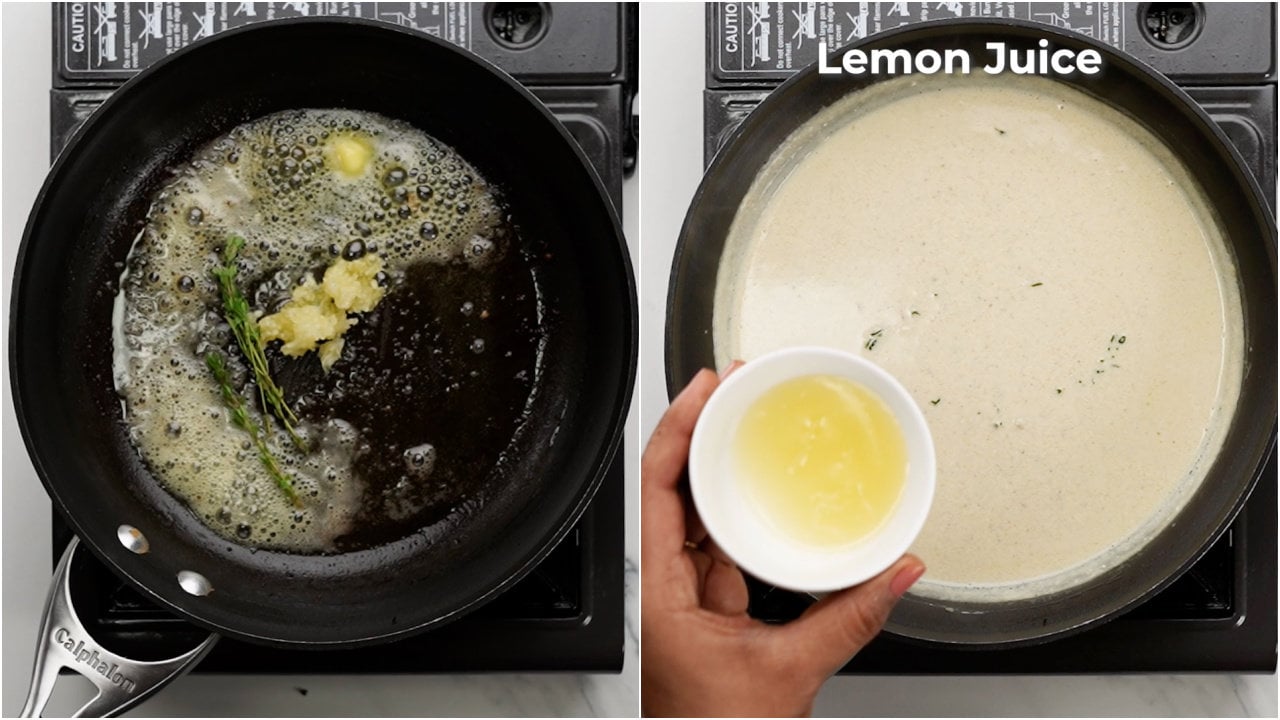 Things to note –
After coating the chicken breast, shake off the excess flour really well, else the outer coating will be thick and lumpy.
If you are frying chicken in multiple batches, clean the pan in between to remove any residual flour, else it will burn and stick to the next batch of chicken while frying.
To avoid the cream from splitting, lower the heat of the pan or take it off the flames and add cream slowly.
Frequently Asked Questions
Why dust chicken breast with flour before pan fry?
Instead of pan-frying chicken breast just like that, dust it with flour and parmesan cheese mixture and then fry it. Parmesan cheese adds an extra layer of flavor. And the sauce clings well to the crispy flour parmesan coating.
Heavy cream for the Lemon Sauce?
The thought of making a recipe lighter or healthier always comes to mind. The lemon sauce is what makes the dish and I wouldn't suggest replacing heavy cream with any lighter alternative. Fresh lemon juice cuts down the richness, so no way the sauce will feel rich/heavy.
Another reason is, heavy cream is high in fat content and doesn't split easily when heated or lemon juice is added. On the other hand half and half or low-fat cream have the chance of splitting.
Can we use Chicken thighs?
Yes, we can, if that's what you have on hand. But I would prefer lean meat (chicken breast) which pairs well with a creamy rich sauce.
Storing
Store the leftovers in an airtight container in the fridge for up to 3 days. Reheat in the microwave or in the oven. The sauce might get thickened once refrigerated. So add a bit of water or little stock to thin out the sauce.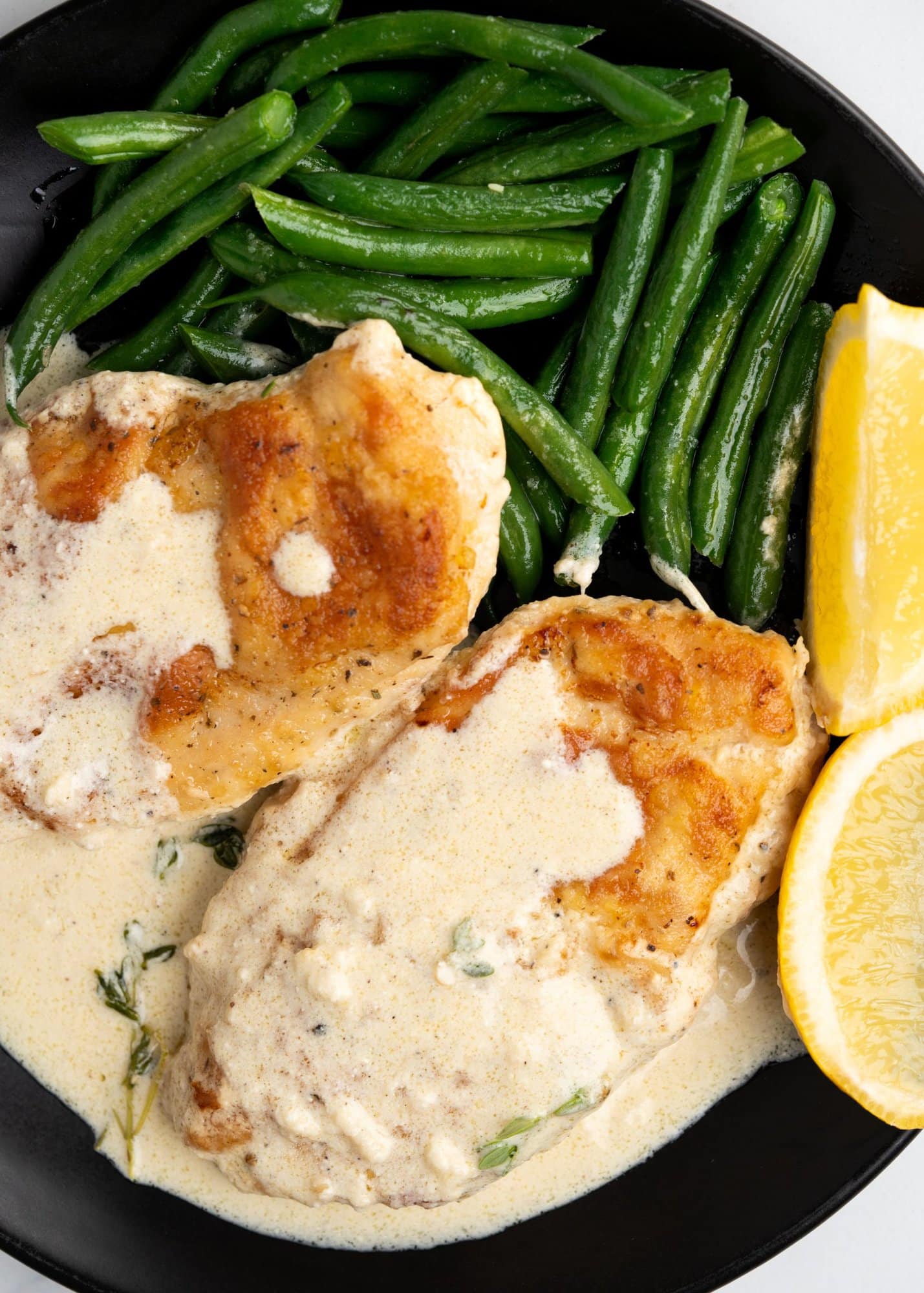 Creamy lemon chicken
Creamy lemon chicken has crispy pan-fried chicken breast topped with a luscious lemon cream sauce.
Ingredients
2 large chicken breasts
½ tablespoon minced garlic
2 sprigs thyme
2 tablespoons butter
1 tablespoon olive oil
⅓ cup chicken stock
2 tablespoons lemon juice
1 cup heavy cream
Salt & pepper
Fresh parsley chopped
For dredging
3 tablespoons Flour
2 tablespoons parmesan
½ teaspoons Italian seasoning
salt n pepper
Instructions
Cut chicken breast into two halves lengthwise. Use a meat mallet/rolling pin to pound the chicken on the thick parts, so that it is of even thickness and cooks evenly.

To dredge the chicken, mix together flour, parmesan, Italian seasoning, salt and pepper. Coat chicken breast well with the mixture by pressing it into the flour mixture and shake off any excess flour.

Heat olive oil in a pan. Swirl the pan to evenly distribute oil. Working in batches, add the chicken cutlets to the pan(don't overcook).

Cook chicken breast 3-4 minutes on each side. The crust should look crisp and golden brown. Keep aside the cooked chicken breast covered.

Clean the pan if you see burnt bits of residual flour from frying the chicken . Melt butter.

When the butter is just hot enough, add garlic and thyme sprig. Saute on low heat for a minute until it is aromatic.

Lower the heat, slowly add chicken stock, heavy cream, salt, and pepper. Deglaze the pan scraping any bits stuck to the bottom of the pan. Gently simmer it for about 30 seconds.

Add fresh lemon juice to the sauce and  allow the sauce to gently simmer for a couple of minutes. The sauce will start to thicken.

Switch off the flame, add the chicken back to the pan, and pour over the sauce.

Sprinkle fresh parsley on top and serve.
Notes
For the heavy cream not to split, lower the heat before adding the heavy cream. 
 In between cooking the chicken, if there is flour residue in the pan, clean it before cooking the next batch. This is to avoid burnt flour on the chicken
You can add fresh lemon zest for an intense lemon flavour. 
For us 2 tablespoons of lemon juice was good enough, you can increase the amount as per taste.
Nutrition
Serving: 1serving | Calories: 453kcal | Carbohydrates: 8g | Protein: 28g | Fat: 35g | Saturated Fat: 19g | Polyunsaturated Fat: 2g | Monounsaturated Fat: 11g | Trans Fat: 0.2g | Cholesterol: 157mg | Sodium: 261mg | Potassium: 520mg | Fiber: 0.3g | Sugar: 2g | Vitamin A: 1128IU | Vitamin C: 6mg | Calcium: 82mg | Iron: 1mg