Tilapia in Lemon Caper Sauce
This post may include affiliate links that earn us a small commission.
Crispy Pan-fried Tilapia is served with a decadent Lemon Caper sauce. This Tilapia recipe has a bright fresh flavor and just hits the spot. You need less than 20 minutes to make this restaurant-worthy meal at home.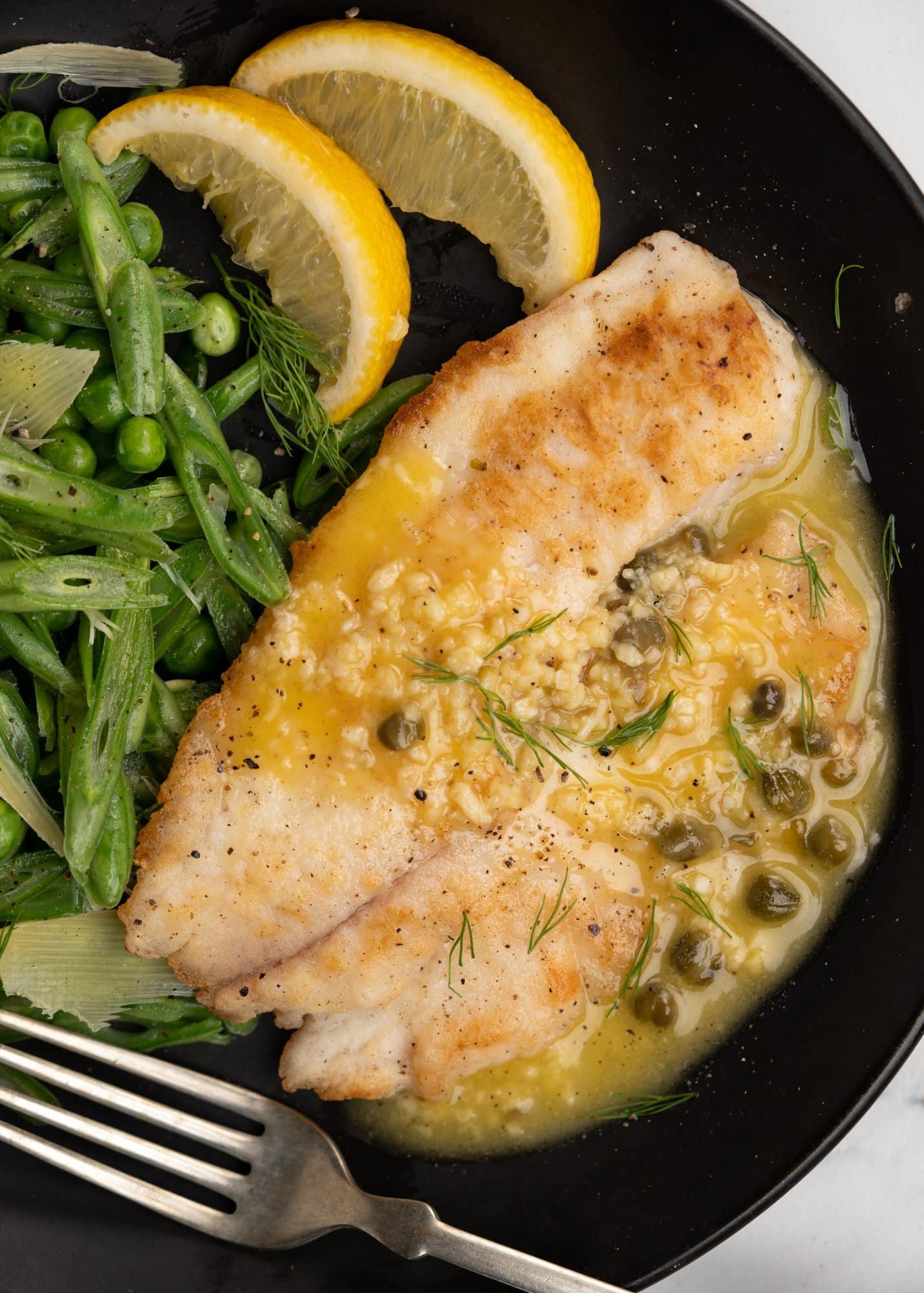 Looking for a fancy restaurant-style dinner that tastes incredibly good and can be made with little effort(no one has to know that though)? Pan-seared tilapia with buttery lemon caper sauce is the answer. I mean, look at the plate above, how impressive it looks. Tilapia fillets are dusted with seasoned flour and then pan-fried in a skillet. The lemon camper sauce is buttery, and tangy and pairs beautifully with tender flakes of fish.
This easy light weeknight dinner is also a perfect summer meal. Serve this with a fresh salad/ rice/ potatoes on the side for a complete meal.
Flavours In Your Inbox
Subscribe for recipes straight to your inbox
Well, it looks like Fish piccata, but the sauce doesn't have any cream or parmesan cheese in it.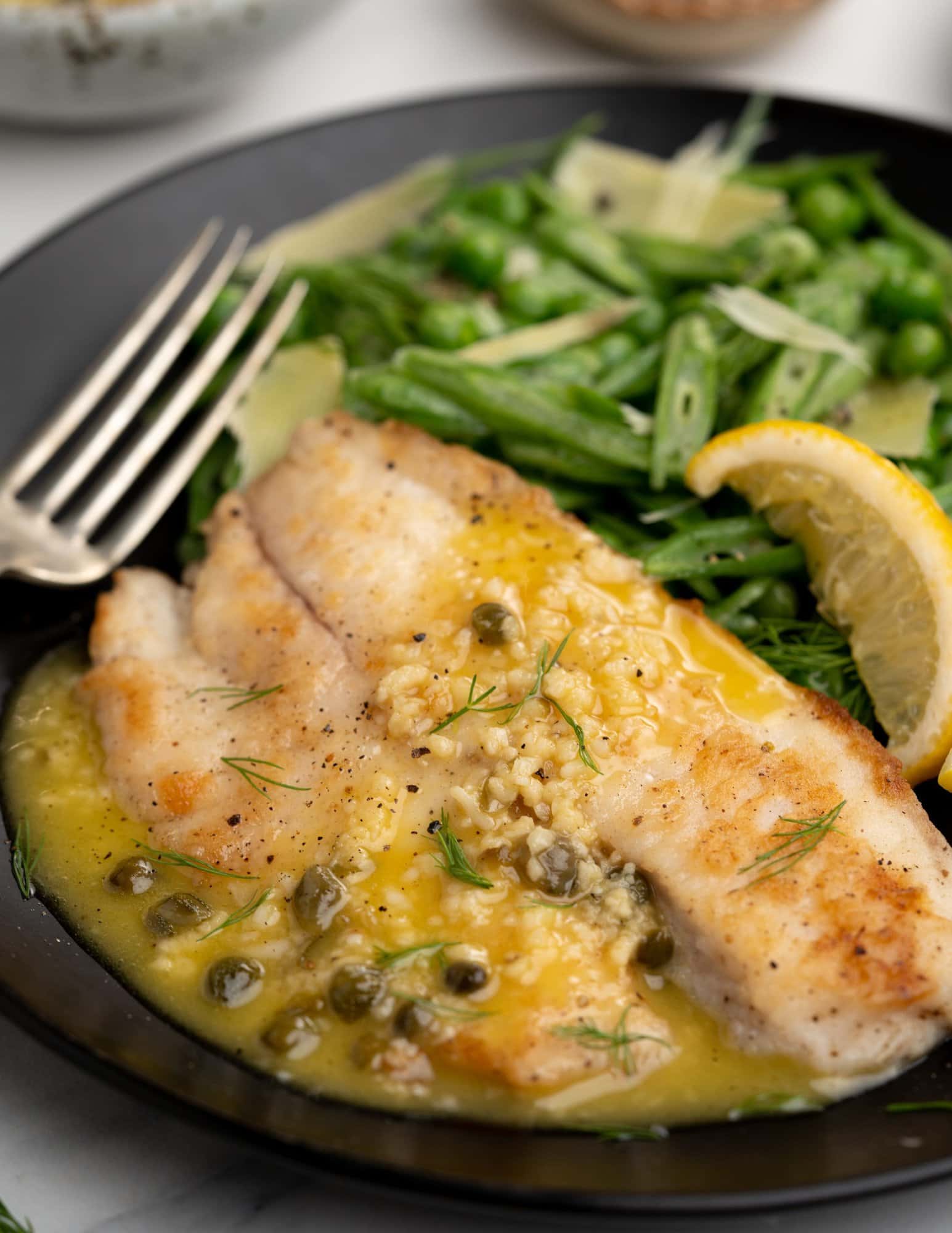 What is Tilapia?
Tilapia is a mild-tasting white fish. Unlike other fish, this doesn't have a strong fishy smell. The majority of Tilapia is commercially farmed. Because of its mild taste, it takes on most of the flavor. So if someone is not a big fan of fish, tilapia is a good one to start with.
if you are looking for an alternative to chicken, tilapia is also protein-rich, loaded with Omega-3, and low on calories.
These are sold in fillets. While buying look for large fillets that are firm to touch. Fresh fish doesn't have a strong fishy/ foul smell.
Ingredients Lemon caper sauce Tilapia
The list runs very basic and short. But I bet the flavors are nothing sort of ordinary.
Tilapia – Fresh or frozen anything will do. You can either use Tilapia fillets or loins. Loins are the thickest part of the fish fillets.
Flour – Flour for dredging the fillets. It creates a thin crust on the fish, which also helps in soaking up the sauce.
salt and pepper – To season the flour.
Olive oil – to fry the coated tilapia fillets.
Dill leaves – Dill leaves somehow sit perfectly with the rest of the flavors in this recipe. Parsley can also be used.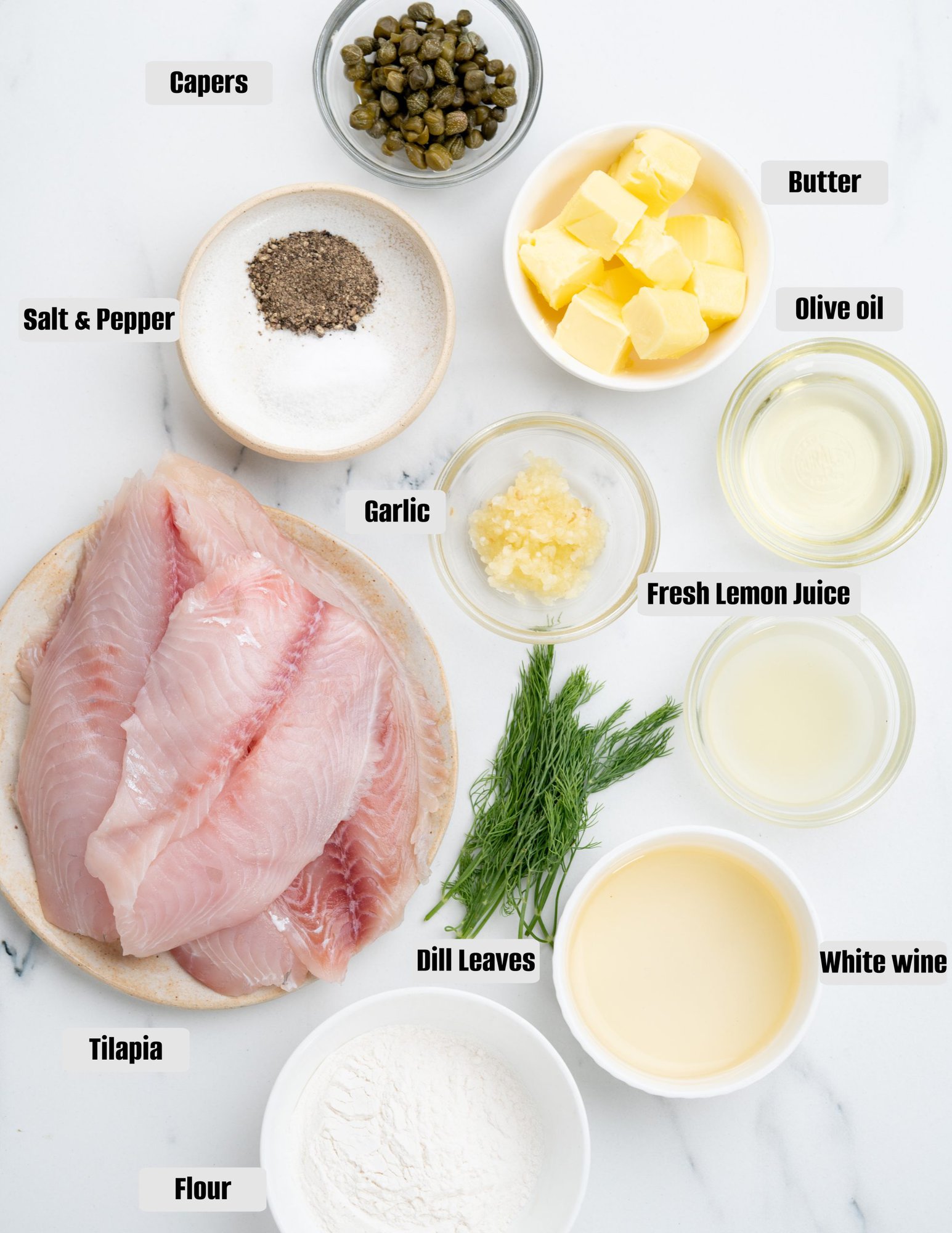 Lemon Caper Sauce
The beauty of tilapia is that its mild tasting, and it can marry well with any flavor. This lemon caper sauce is garlicky, lemony, and also buttery. There is no cream in it, the magic happens when butter and lemon juice emulsify together.
Lemon juice in the sauce cuts down the butter and brings balance. Fresh lemon juice is always preferred. White wine adds a depth of flavour to the sauce (no, you can't smell the alcohol).
Now coming to capers, these are small berries that are tangy, briny, and salty. Adds a pop of freshness. Usually added to pasta, sauces, and salads. Capers are widely used in Mediterranean cuisine. You can find capers in small jars in grocery stores near olive bottles.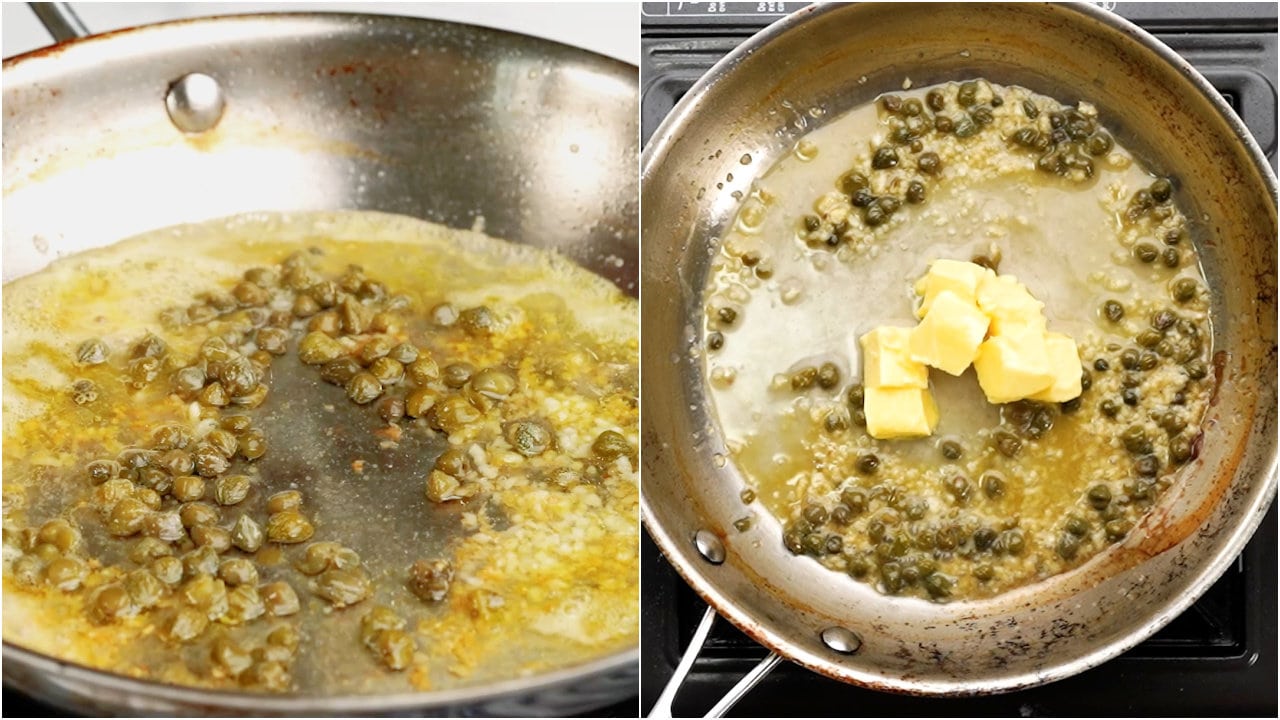 Making Lemon Caper Sauce– First cook garlic in 1 tablespoon of butter until the raw smell is gone. Be careful not to brown the garlic. Then add capers and white wine. Let the wine is cooked down to half. Next is to add lemon juice and butter. Whisk to bring together the sauce. Season with salt and pepper.
This lemon caper sauce can be served with any kind of fish, on pan-fried chicken, or seafood. Can be made a couple of days ahead and stored in the refrigerator. Heat it gently before serving.
To thin down the sauce a bit along with lemon juice add a couple of tablespoons of chicken stock to the pan.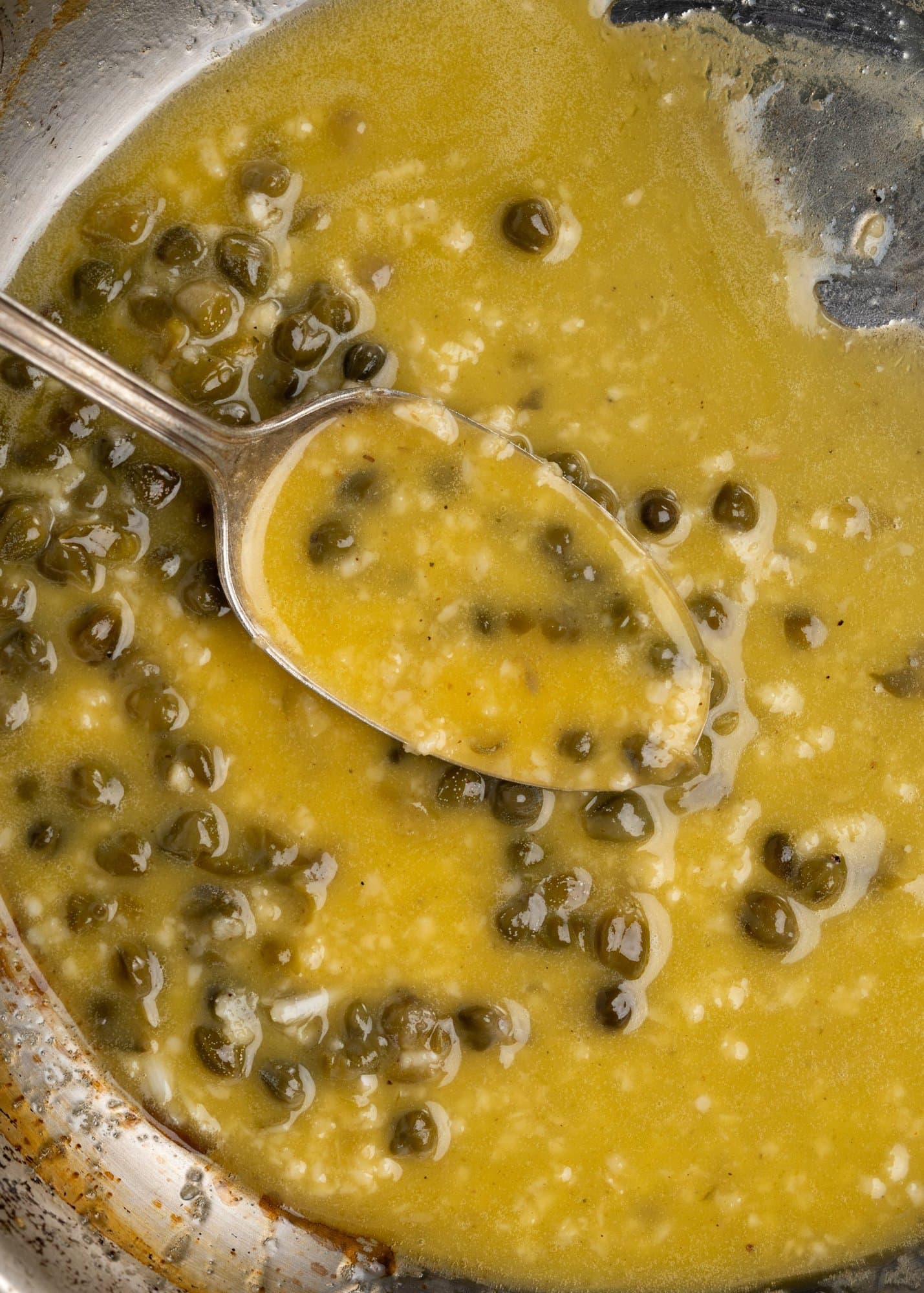 How to cook Tilapia?
Once the sauce is ready, cooking tilapia takes less than 10 minutes. For the best taste, cook the fish just before serving.
Pat dry the fish really well. Less moisture = more crispy
Coat tilapia with seasoned flour and shake off any extra flour. Coat all the fish and keep it ready.
Heat 2 teaspoon oil in a pan. Any pan will do. If using a steel pan make sure it's really hot( do the water droplet test) to prevent the fish from sticking.
Once hot, place 1-2 tilapia fillets at a time. Tilapia gets cooked really quickly. Cook the fillets for 2-3 minutes on each side. The edges will look crispy when done. Remove from the pan and keep it on a wired rack if not serving immediately. So that the fish doesn't get soggy at the bottom.
Before you cook the second set of fish, clean the pan to get rid of any flour residue to avoid any burnt flour on the fish.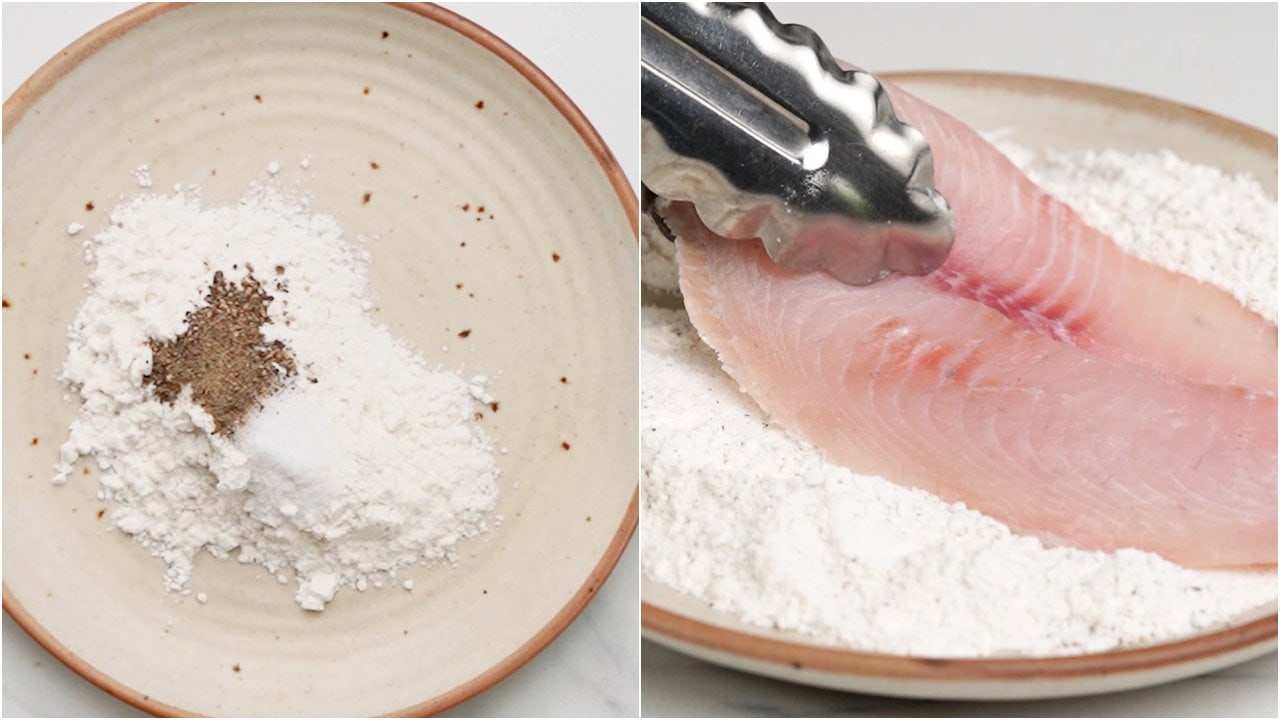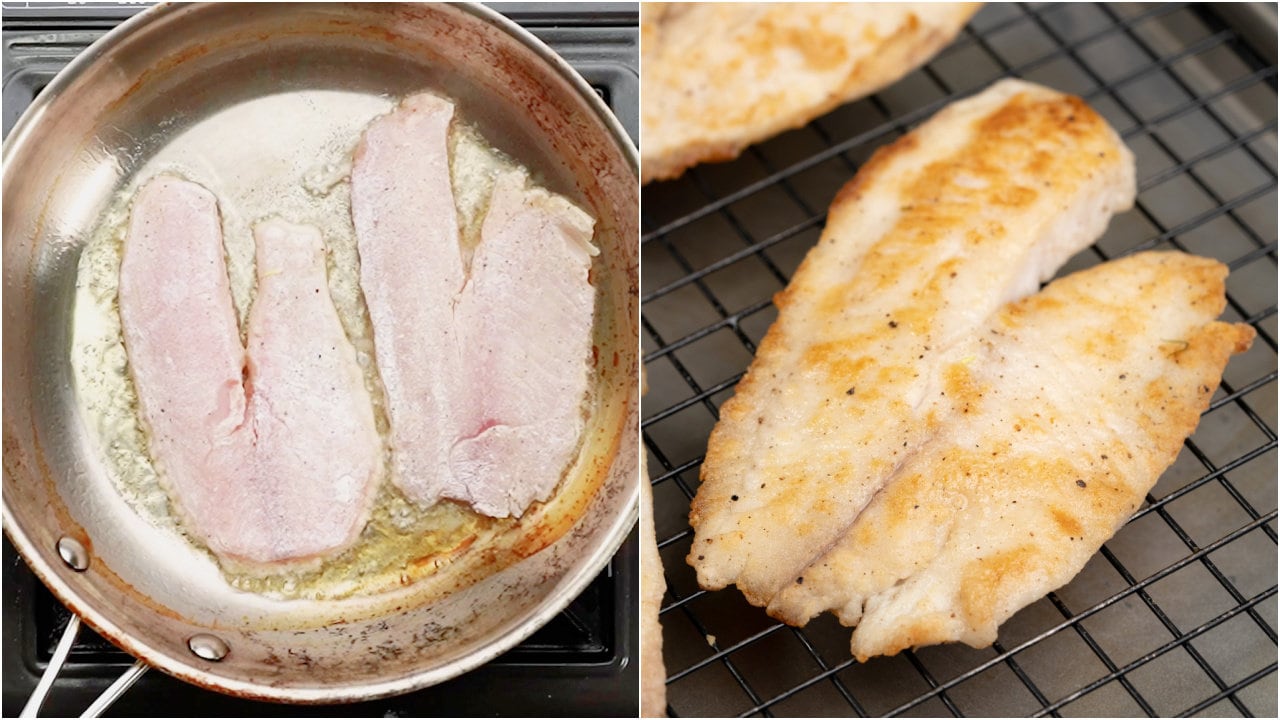 Serving Suggestion
During summer, a side of simple salad or grilled veggies will make this a light yet filling meal.
If you would like to add some starch then roasted potatoes, plain rice, or flavored rice like this Garlic butter rice will also pair. I would also love some crusty bread on the side to mop up all the delicious sauce.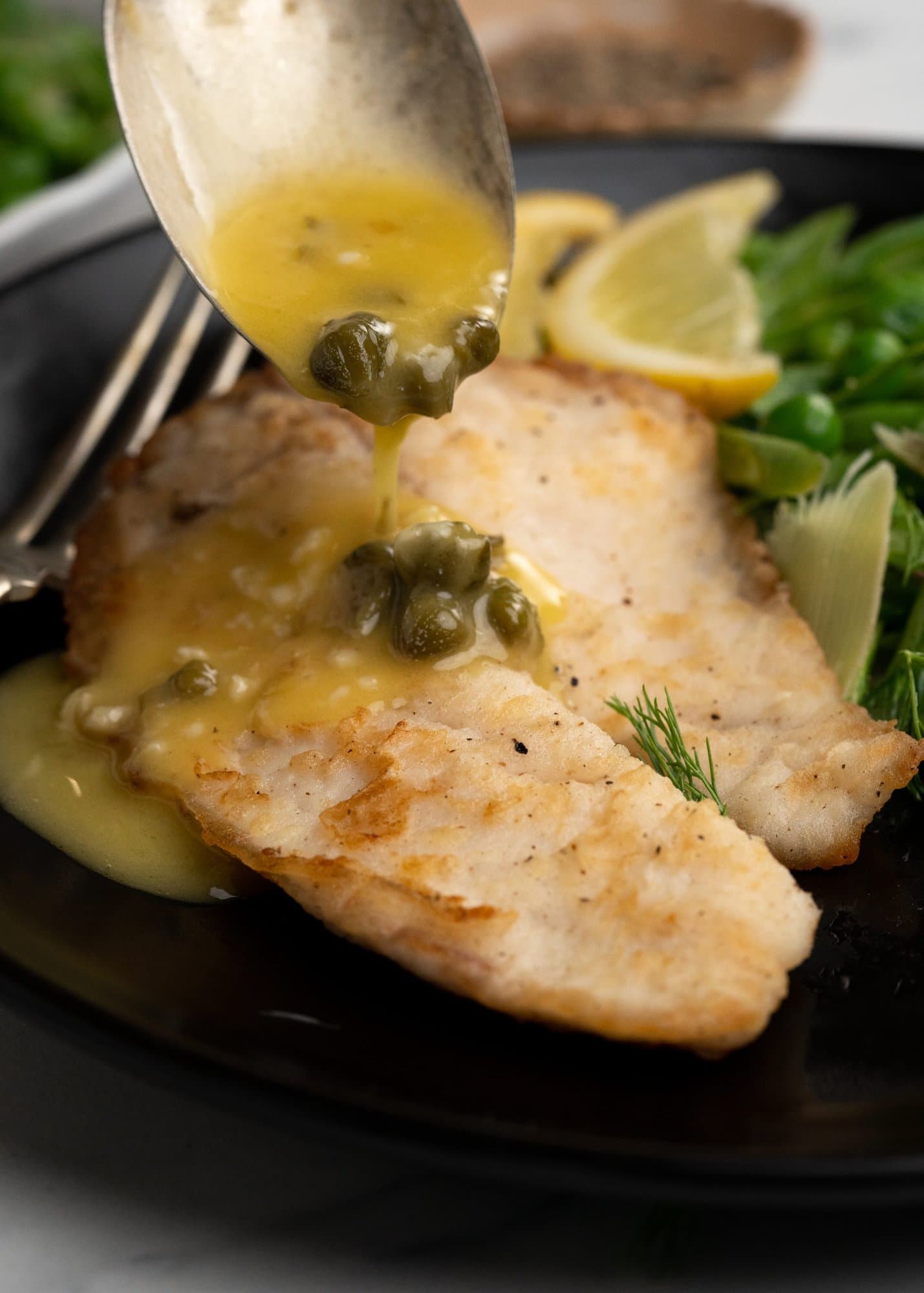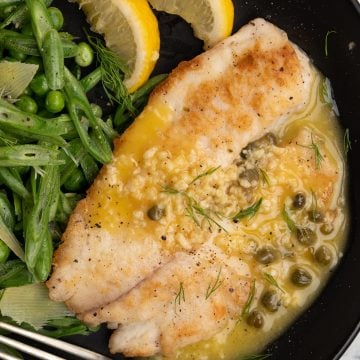 Tilapia with Lemon Caper Sauce
Crispy pan-fried Tilapia fish is topped with a bright, fresh lemon Caper sauce. One of our favourite Tilapia Recipes that take less than 20 minutes to make.
Ingredients
Tilapia
3 tablespoon Olive oil
4 Tilapia Fillets
¼ cup flour
¾ teaspoon salt
¼ teaspoon Pepper
2-3 teaspoon chopped dill leaves
Lemon Caper sauce
2 teaspoons capers drained
5 tablespoons unsalted butter
2 clove garlic minced (about 1/2 tablespoon)
⅓ cup white wine
2-3 tablespoons freshly squeezed lemon juice
salt to taste
¼ teaspoon pepper
Instructions
Lemon Caper Sauce
Heat 1 tablespoon of butter in a skillet. When the butter starts to foam, add minced garlic. Saute for 30-40 seconds, until the raw smell is no more. Take care not to brown the garlic.

Add drained capers and white wine. Let the wine cook for a minute and reduce half of its quantity.

Lower the heat, add fresh lemon juice and the rest of the butter. Let the butter melt. Whisk everything with a spatula, the sauce should come together and look creamy. Add salt and pepper. Let it simmer for 30 seconds for the sauce Switch off the flame. ( we are not reducing the sauce ).

* If you would like to thin down the sauce, add 1/4 cup low-sodium chicken stock along with lemon juice.
Cooking Tilapia
Pat dry Tilapia fillets really well.

In a plat or a wide bowl mix flour, salt, and pepper.

Coat Tilapia fillet with the flour mixture on both sides. Rub off any extra flour ( we are looking for a thin coat of flour on the fish) and keep it aside.

Heat 1.5 tablespoons of oil in a non-stick pan. Place 2 tilapia fillets in medium- hot oil. Cook for 3 minutes. Flip and cook for another 2-3 minutes.

Remove the fish from the pan and carefully place it on the serving plate. (If not serving right away, place the cooked fish on wired wrack to prevent it from getting soggy below).

Before frying the next batch of tilapia, clean the skillet with a paper towel to get rid of any flour residue in the pan). Add rest of the oil and when medium-hot cook the second batch of fish.

Serve pan-fried Tilapia, spoon lemon caper sauce on top, and garnish with chopped dill.
Nutrition
Serving: 1serving | Calories: 431kcal | Carbohydrates: 8g | Protein: 35g | Fat: 28g | Saturated Fat: 11g | Polyunsaturated Fat: 2g | Monounsaturated Fat: 12g | Trans Fat: 1g | Cholesterol: 123mg | Sodium: 556mg | Potassium: 558mg | Fiber: 0.4g | Sugar: 0.4g | Vitamin A: 441IU | Vitamin C: 3mg | Calcium: 29mg | Iron: 2mg