Lemon Honey Glazed Salmon
This post may include affiliate links that earn us a small commission.
Sticky, sweet, and lemony, this Lemon Honey Glazed Salmon is incredibly delicious. You can make a Salmon Rice bowl with this easy 20 mins recipe and your dinner is sorted.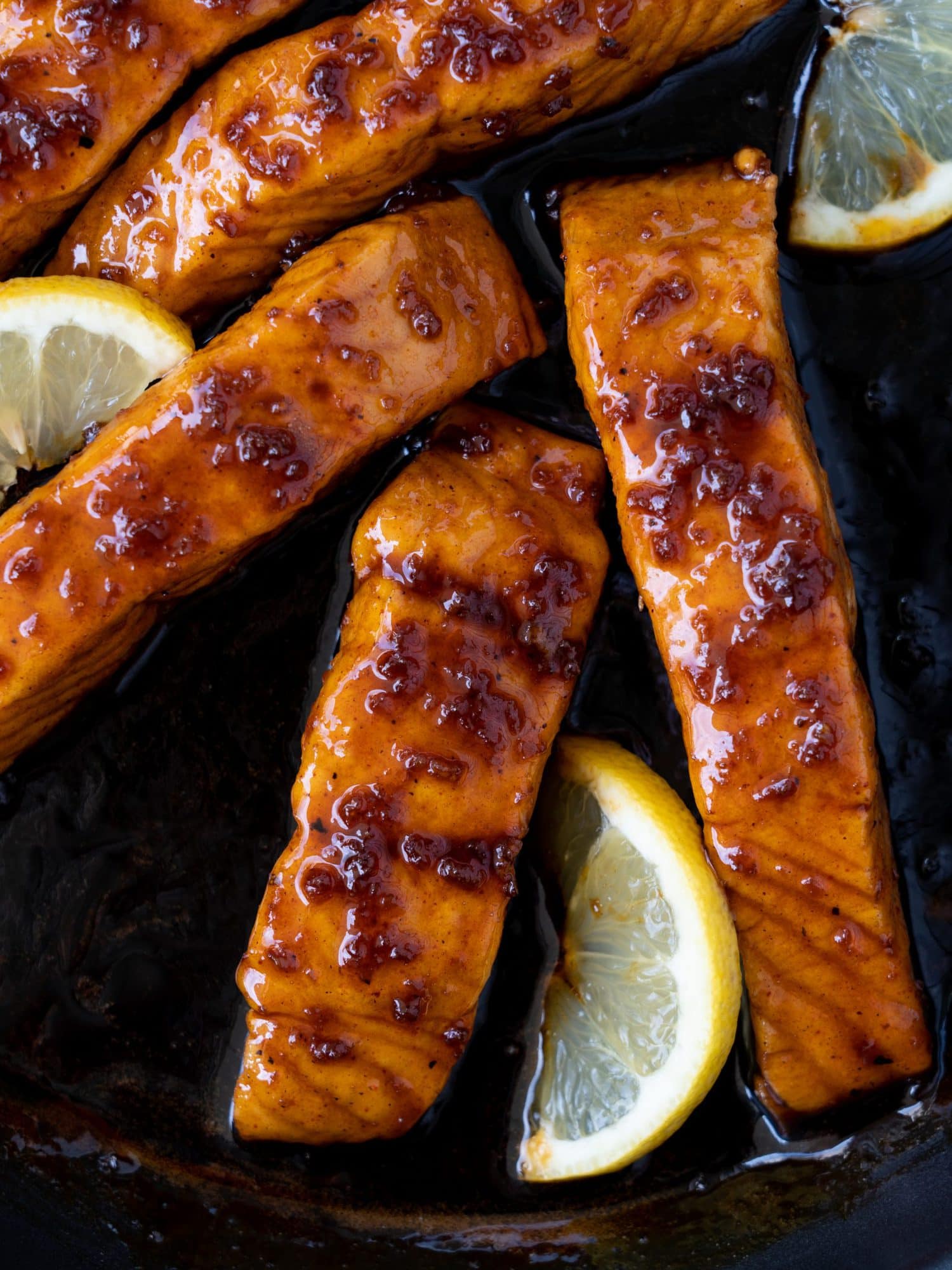 Lemon Honey Glazed Salmon – Tender Salmon fillets with crispy skin in a delicious garlic lemon honey glaze, sounds mouthwatering right? This healthy salmon recipe is easy to put together in just 20 minutes with a handful of ingredients. It is packed with so much flavor and you will definitely add this to your weeknight dinner menu.
Flavours In Your Inbox
Subscribe for recipes straight to your inbox
Salmon is high in protein and also rich in Omega'3 fatty acids. With its delicate flavor and texture, it is easy on the widely preferred fish. It also cooks faster.
Lemon Honey Glaze for Salmon
This Honey Lemon Glaze for the salmon is everything. It is sweet, and lemony and also has a savory note to it. A really well-balanced sauce and trust me you will end up licking the sauce right from the pan.
Cook minced ginger and minced garlic until aromatic. Then add soy sauce, honey, Sriracha, and chicken stock to the pan. Let it simmer and slightly thicken. It needs to be of light syrup consistency so that it sticks to the salmon.
Tips To Cook Salmon on the Stove
Worried about cooking salmon on the stove, that it might fall apart while flipping? What of it is undercooked or gets overcooked? With the right techniques, you can get perfectly cooked Salmon with crispy skin every single time.
It is always best to use fresh salmon fillets, as they are firm and easy to handle. If using frozen fillets, make sure you pick the ones that are thick.
Keep the skin on. It is easy to cook salmon with skin on, as it prevents the fillets from sticking at the bottom. And crispy skin Salmon is delicious.
Pat dry Salmon to remove extra moisture, to ensure the skin gets crispy. When the skin gets crispy, it leaves the pan easily.
Use a heavy bottom skillet to sear Salmon. It should be well-seasoned to prevent sticking.
Use a large skillet and place the fillets a little apart. If kept too close, instead of searing, the fillet will start to steam and you will end up with soggy skin.
Another important step, once you put the salmon on a hot skillet, cook it undisturbed for 3-4 minutes. Once the skin is crispy and the bottom half of the fillet look firm, then flip.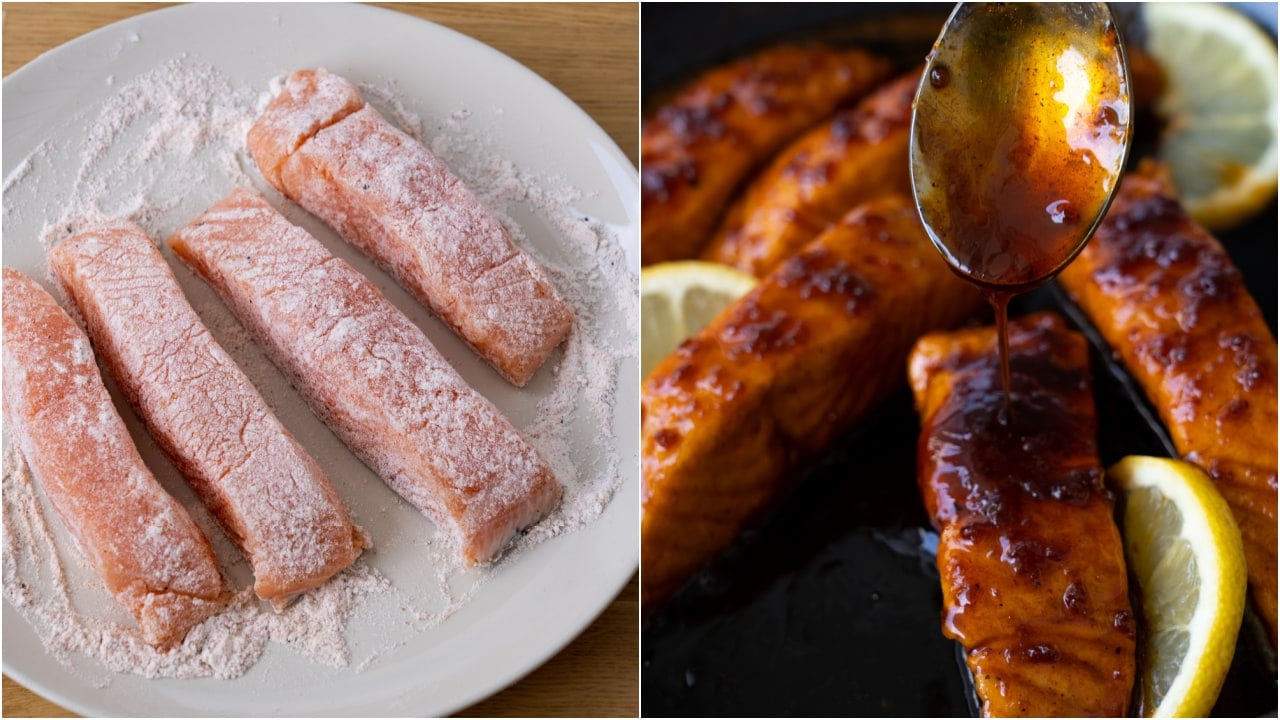 Steps to Make Honey-Glazed Salmon
I love it when recipes call for simple ingredients and involve a few steps. This Salmon recipe with lemon Honey glaze is super quick to make.
Start by coating the salmon fillets with a mixture of flour, salt, pepper, and paprika. Coating with flour makes the fillets crispy from all sides and also the sauce sticks better. Shake off the extra flour.
Heat olive oil in a large cast iron skillet. When the pan is nicely hot, put the coated salmon fillet's skin side down. Cook until crispy and flip. Remove the fillets and keep them aside.
To the same skillet, add butter followed by minced garlic. Cook until aromatic, then add all the sauce ingredients. Cook until the sauce has thickened a bit.
Add the fillets back to the pan and toss in the sauce.
Serve.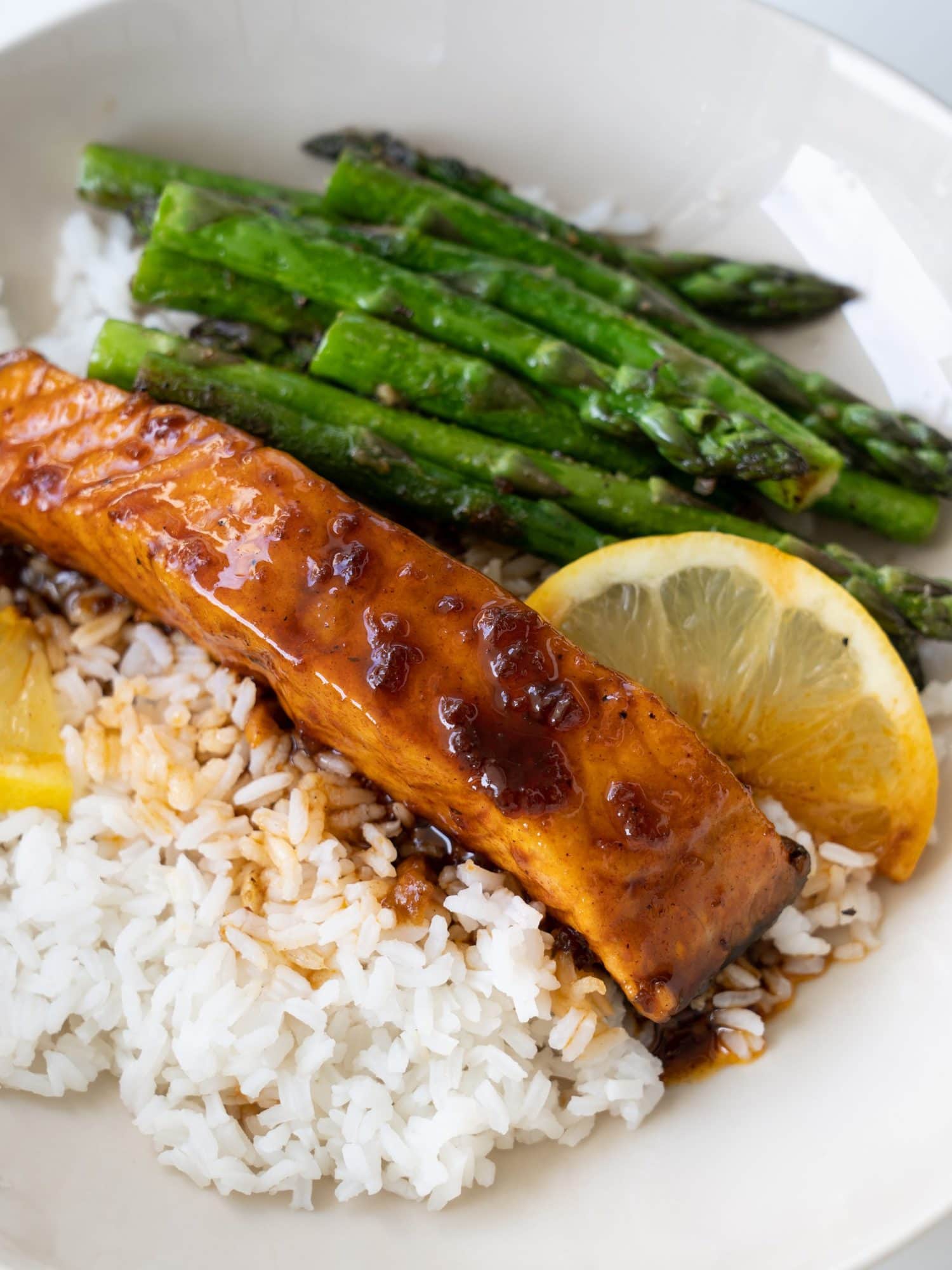 Serving Suggestion
Serve Honey Glazed Salmon along with some roasted veggies. I love to make rice bowls with rice, glazed salmon, and veggies like roasted Asparagus, Brocolli, or green beans.
More Fish Recipes to try
Baked Salmon in Chili Lime Marinade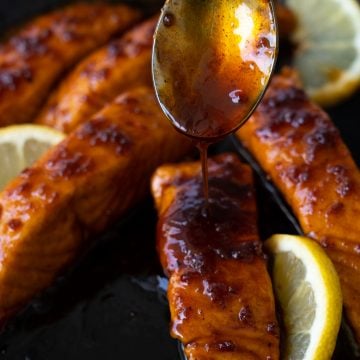 Lemon Honey Glazed Salmon
Salmon fillets are cooked until crispy and then tossed in a sweet lemony sauce made out of soy sauce, honey, and lemon juice.
Ingredients
4 Salmon fillets (approx 200 grams each)
2 tablespoon All purpose Flour
½ teaspoon Salt
½ teaspoon Paprika
¼ teaspoon Pepper
2 tablespoon butter
1 tablespoon Olive oil
For Lemon Honey Glaze
1 tabelspoon minced Garlic
½ cup Honey
¼ cup Soy Sauce (not dark)
2-3 tabelspoon Fresh Lemon Juice
¼ cup low sodium Chicken Stock
1 tablespoon Sriracha
Instructions
In a bowl mix flour, salt, pepper and paprika.

Remove the salmon from the refrigerator and let stand at room temperature for at least 10 minutes.

Pat dry salmon fillets in a kitchen towel. Put the fillets in the bowl and coat all the sides with flour.

Heat Olive oil and 1 tablespoon of butter large cast-iron skillet for about 2 minutes. When it is evenly hot, shake off extra flour from the fillets and arrange on the pan skin side down.

Cook the fillets undisturbed for 3-4 minutes. Using a long flexible spatula, carefully flip the fillets upside down. Cook for another 2 minutes. Remove from the pan and keep covered.

In a bowl add soy sauce, honey, Sriracha, Chicken stock, and Lemon Juice. Mix well.

To the same pan add the rest 1 tablespoon of butter. When the butter starts to bubble, saute minced garlic for about 30 seconds.

Next, add the sauce mixture and cook it on low for about 4-5 minutes until the sauce starts to thicken.

Place the cooked salmon fillets back on the pan skin side down. Spoon the sauce over the fillets and simmer for another 1-2 minutes.

You can also place a few slices of lemon while placing the salmon fillets back in the pan.

Garnish with green onion and serve.
Nutrition
Serving: 1serving | Calories: 478kcal | Carbohydrates: 39g | Protein: 36g | Fat: 20g | Saturated Fat: 6g | Polyunsaturated Fat: 5g | Monounsaturated Fat: 8g | Trans Fat: 1g | Cholesterol: 109mg | Sodium: 1313mg | Potassium: 918mg | Fiber: 1g | Sugar: 35g | Vitamin A: 372IU | Vitamin C: 3mg | Calcium: 31mg | Iron: 2mg