Baked Tilapia In Lemon Garlic Sauce
This post may include affiliate links that earn us a small commission.
Baked Tilapia, onion, and peppers in a delicious lemon garlic butter sauce is a healthy dinner made in under 30 minutes. Watch step by step baked tilapia recipe video.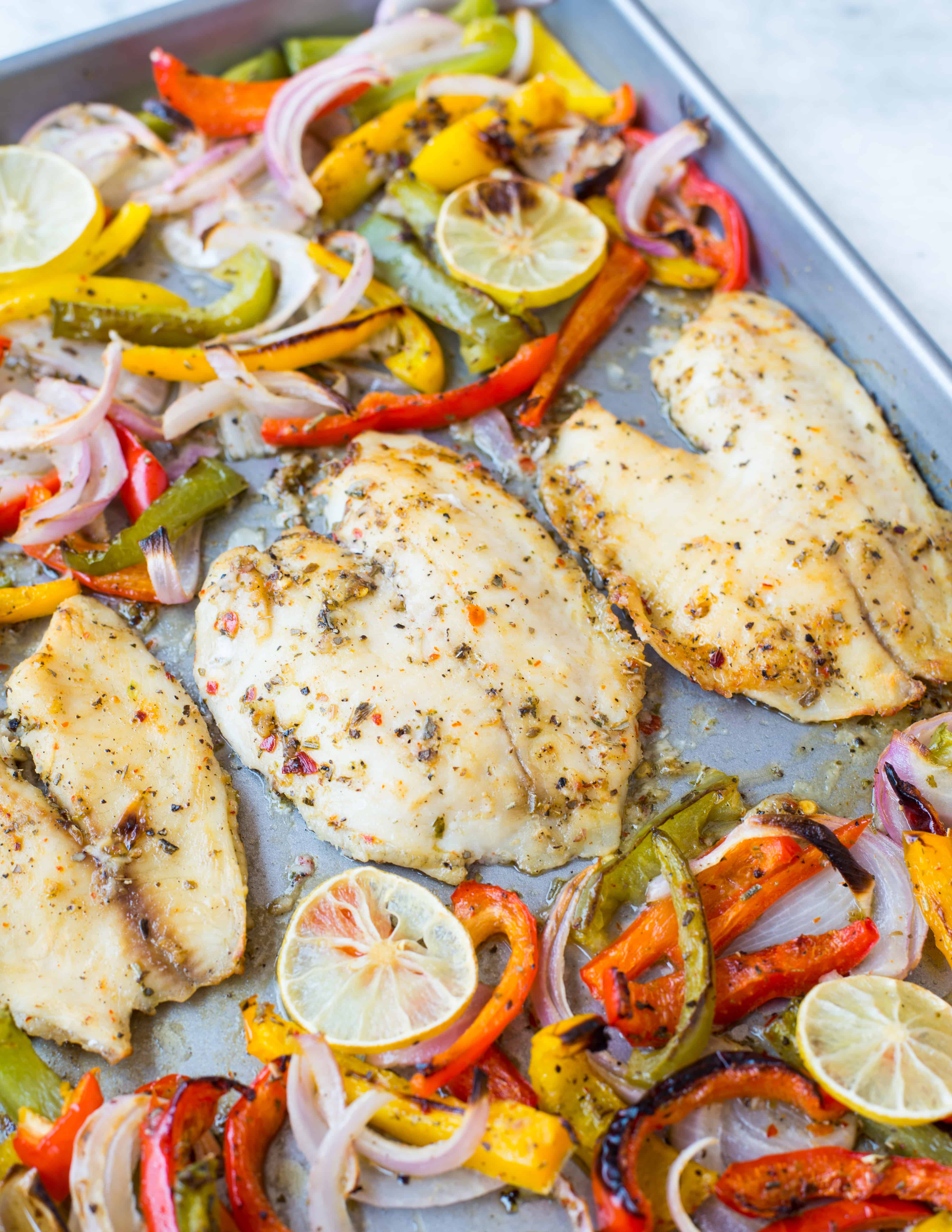 Love Fish ?? Love Sheet pan recipes? Then Oven Baked Tilapia and Veggies in lemon garlic sauce is the perfect dinner for you. It is super easy and quick to make. It is healthy and low carb too. The Buttery Lemon Garlic sauce is refreshing and packed with flavour.
Flavours In Your Inbox
Subscribe for recipes straight to your inbox
Moist, flakey Baked Tilapia fish with crunchy onions and peppers is going to be a family favourite for sure.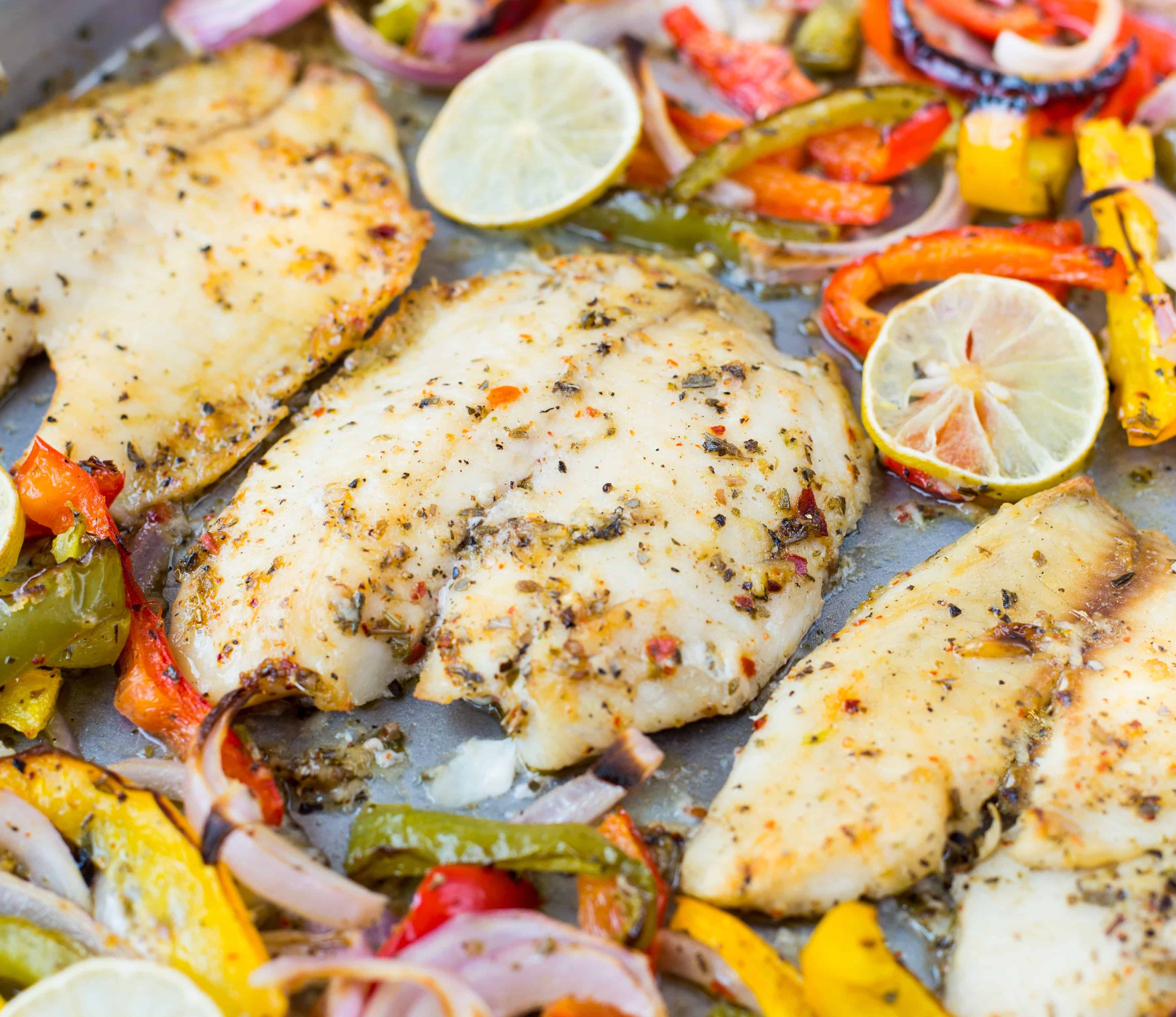 We love to eat fish at home. Though freshwater fish is preferable, we do try different kinds of fish. On Sundays, if you visit the local fish market, you would be really surprised to see so many varieties of fish. I always end up buying a new variety of fish, almost every week. I mostly make curry or pan fry it.
Last month we had baked fish with a delicious butter sauce while dining out. It was so very good. I could not stop myself from trying baked tilapia back home. It has been one of our favourite dinners since then.
I have used frozen tilapia here. You can use any other white fish instead of tilapia. Whichever fish you decide to use, two things that are important when it comes to baking any fish. First, a perfect seasoning, and second baking it right.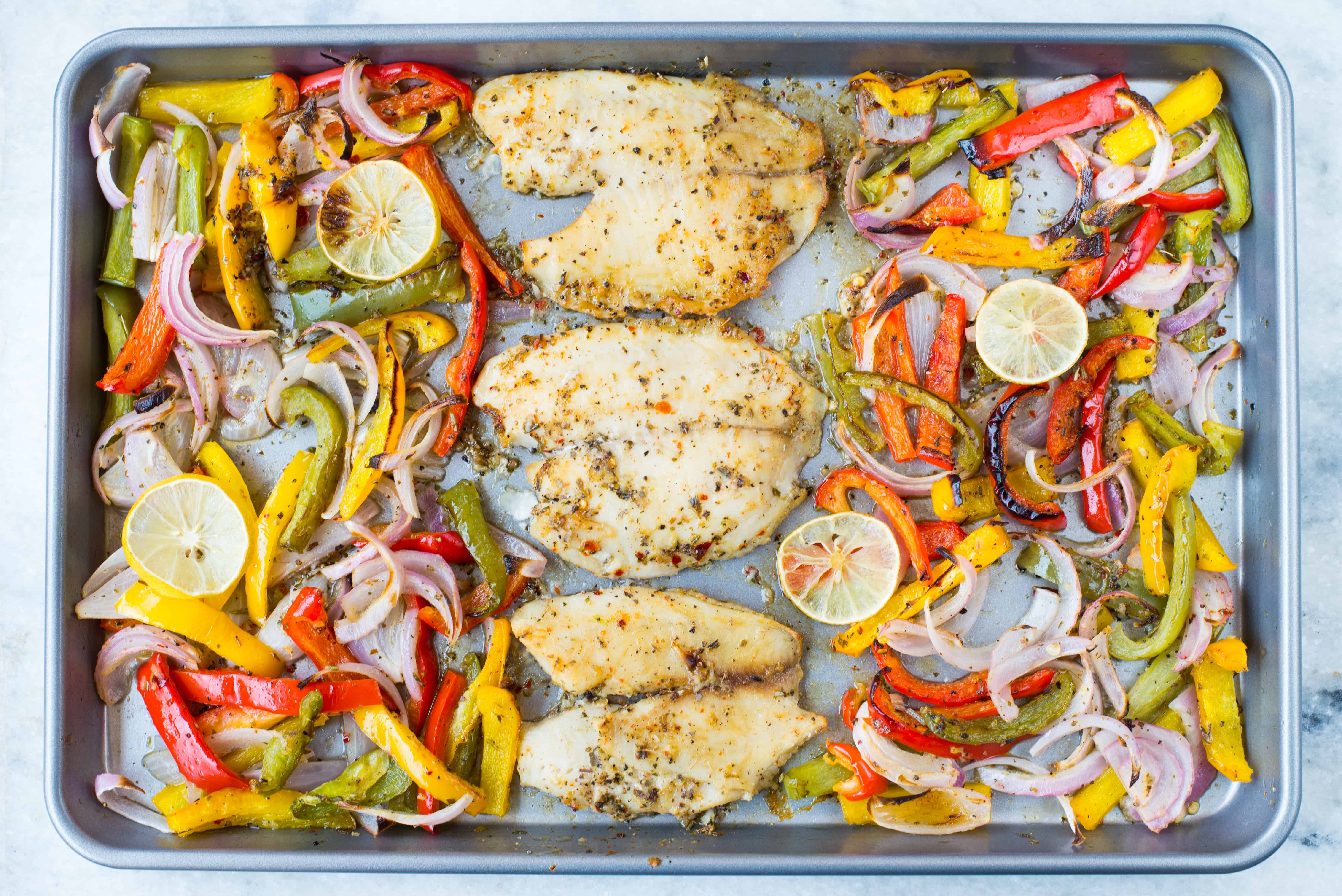 How Long To Bake Tilapia?
Tilapia is a very delicate fish, so it barely takes 12-15 min to get cooked. Once baked the fish turns white and flaky. For uniform cooking, make sure the fish is at room temperature.
How to make Baked Tilapia in Lemon Butter Sauce?
Because Tilapia is a mild fish, a good bold seasoning is a must for Baked Tilapia. This recipe uses a refreshing lemon and Italian herb marinade. Butter in the marinade helps to keep the fish moist and tender. Make sure you apply the marinade on both sides generously.
The next important step is baking tilapia at the right temperature and time. Tilapia is a very delicate fish and it is very easy to overcook it. For really moist and tender Tilapia, Bake at 200 C / 400 F for 10-12 minutes.
Once the fish is perfectly baked, you might find there is liquid in the pan. So what I do is, remove the fish and broil the veggies for 2-3 minutes. This makes sure your veggies are still crunchy and the liquid has reduced to a thick gravy.
If you are using frozen fillets, then make sure you thaw them completely before baking.
If you are using tougher veggies like broccoli, carrot etc, par-bake them first then follow the rest of the recipe.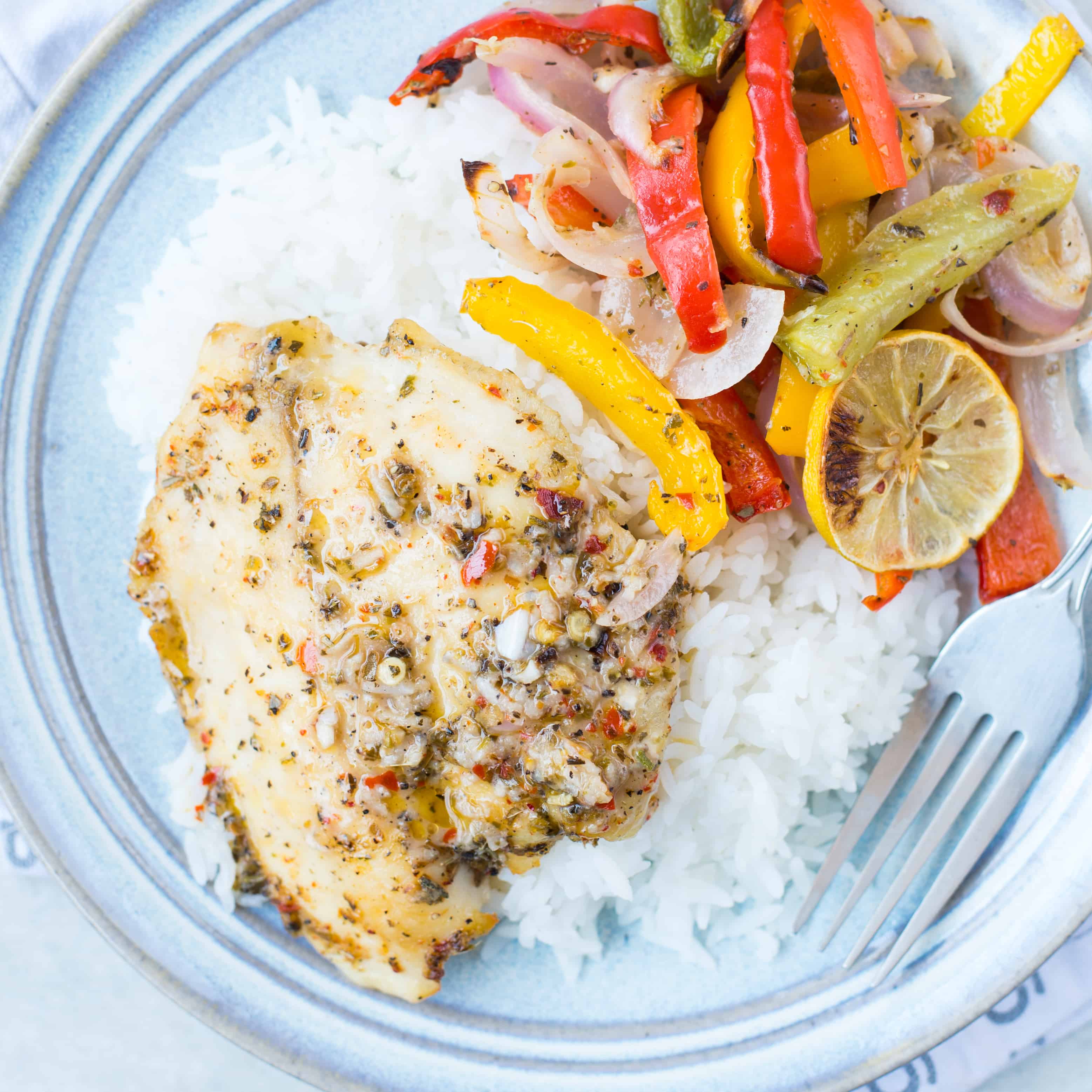 Serving Suggestion
This is in itself a complete meal. It has protein and veggies. And a delicious lemon butter sauce to drizzle on top. Yow can either have it as it is or serve it with rice or quinoa. For a low-carb meal, serve it with some cauliflower rice.
If you liked this Oven Baked Tilapia and Veggies recipe then, I have a few more such quick and easy one-pan dinner recipes for you to try
Easy Garlic Butter Shrimp and Vegetable Skillet
Lemon Herb Chicken, Asparagus, & Mushroom Skillet
Garlic Parmesan Mushroom Zoodles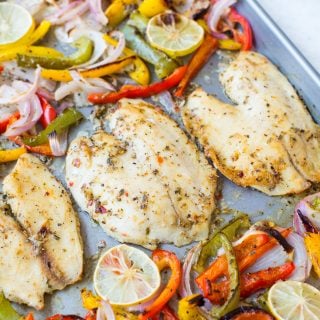 SHEET PAN LEMON GARLIC BAKED TILAPIA AND VEGGIES
Baked Tilapia with onion and pepper in a delicious lemon garlic butter sauce. This Sheet Pan Lemon Garlic Baked Tilapia and Veggies is a healthy dinner made in under 20 minutes.
Ingredients
500 gram Tilapia fillets (3-4 fillets)
2 medium onions Thick sliced
2 cups Peppers Cut in to medium thick strips
¼ cup melted unsalted butter
1 tablespoon Minced garlic
1 tablespoon Fresh Lemon Juice
2 teaspoon Italian seasoning (or Mixed dry herb)
1 teaspoon Red chili flakes (adjust per taste)
Salt and Pepper as per taste
3-4 fresh lemon slice
Instructions
For the marinade mix melted butter, garlic, lemon juice, herb, chilli flake, salt and pepper in a bowl.

In a baking tray add sliced onion and pepper. Add a couple of spoon of the above marinade. Mix well.

Then place Tilapia fillets. Brush rest of the marinade evenly on both the sides.

Place lemon slices.

Bake in a pre-heated oven at 200 C/ 400 F for 12-15 minutes.

Serve on a bed of rice alongside veggies. Spoon leftover lemon butter sauce from the pan.
Nutrition
Serving: 100g | Calories: 528kcal | Carbohydrates: 19g | Protein: 53g | Fat: 27g | Saturated Fat: 16g | Cholesterol: 186mg | Sodium: 151mg | Potassium: 1176mg | Fiber: 5g | Sugar: 8g | Vitamin A: 1410IU | Vitamin C: 132.1mg | Calcium: 95mg | Iron: 2.5mg