Easy Garlic Butter Shrimp And Vegetable Skillet
This post may include affiliate links that earn us a small commission.
This Easy Garlic Butter Shrimp and Vegetable Skillet is made with Fresh shrimp, butter, tons of garlic, cumin, and herbs. It is Protein-rich, low-carb, and ready in under 20 minutes.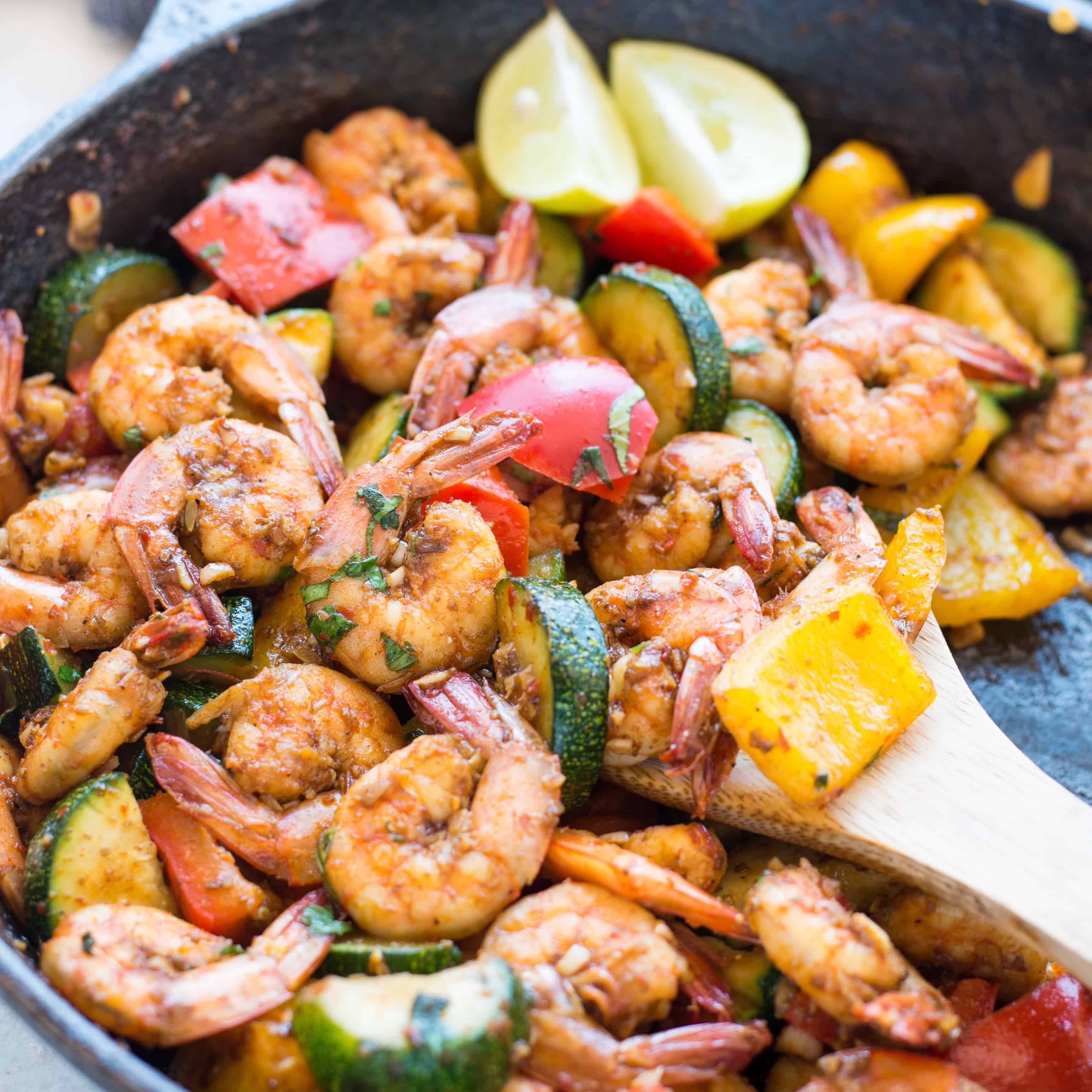 Hey guys!! Another low carb, super easy and quick recipe for you. This Easy Garlic Butter Shrimp and Vegetable Skillet have all of my favourite ingredients. You know what makes this Butter Garlic shrimp different from all other recipes out there?? It is the Roasted Cumin Powder. I love love love Cumin.
Flavours In Your Inbox
Subscribe for recipes straight to your inbox
You would find whole cumin seeds and roasted cumin powder in my kitchen any time of the year. The earthy aroma that cumin gives just so good. Cumin is widely used in Indian Cuisine. Whole cumin is used for tempering, while roasted powdered cumin is used in almost all types of curries and stir-fries. One of my favourite ways of using roasted cumin powder is to sprinkle on top of plain yoghurt.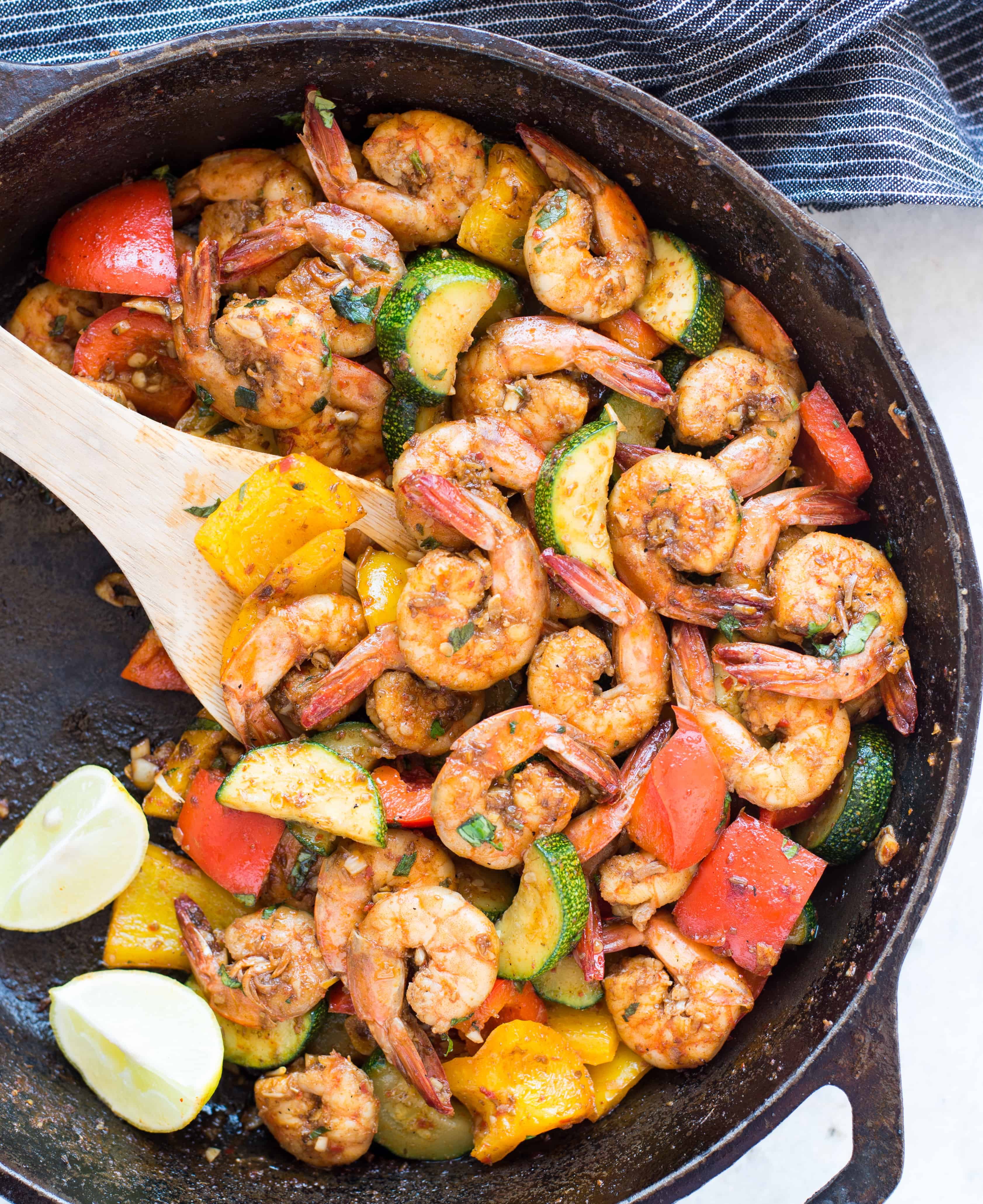 Garlic Butter shrimp is such a classic and one of our favourites. I make it quite often as an appetizer or to serve over pasta. This time I upgraded the usual Garlic Butter Shrimp to a wholesome and more flavourful meal. Crunchy peppers and Zucchini not only added that extra crunch but also provided required fibre.
All it takes is one Skillet to make this Easy Garlic Butter Shrimp and Vegetable Skillet, so less mess and minimal clean-up. I used my Lodge Cast Iron Pan here.
✔ One Skillet.
✔ Less than 10 ingredients.
✔ Take less than 20 minutes start to end.
✔ High in protein, Low Carb and loaded with vegetables.
✔ Most Importantly it is damn delicious.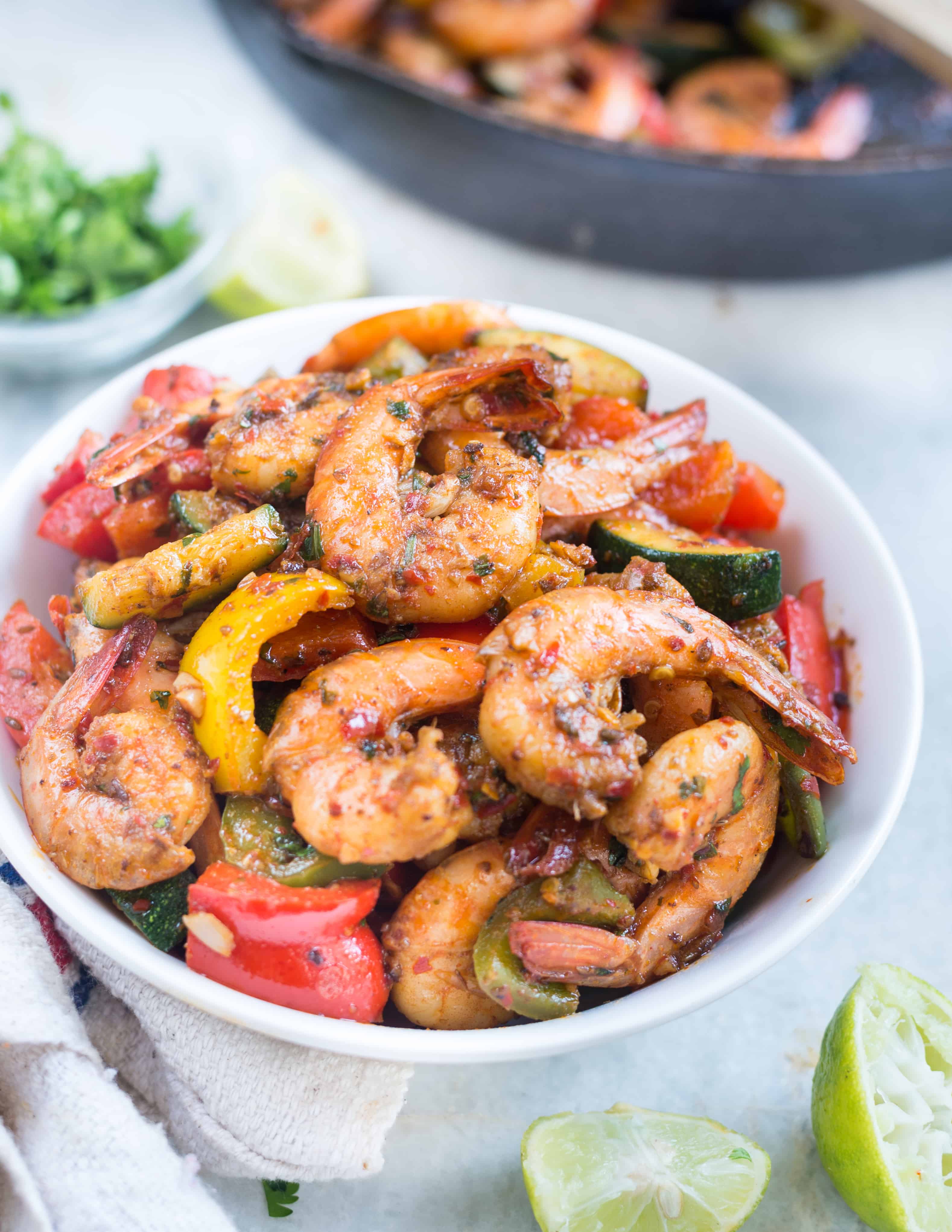 Let me walk you through the recipe really quick. Start with the freshest Shrimp. I like to keep the tail on because it looks pretty in Picture ;). Ok, not exactly !! Keeping the tail on adds extra flavour to the dish, so It is up to you to decide. Add butter (lots of it..) to the hot skillet, along with little oil to prevent butter from burning. Add clean shrimp, saute for a couple of minutes.
Next, add garlic, spices. Mix well !! Then add peppers and zucchini. Finish off the dish with a good squeeze of lemon and fresh parsley. Toss everything well.
And that's IT. Your dinner loaded with flavour and texture is ready in no time.
Enjoy!!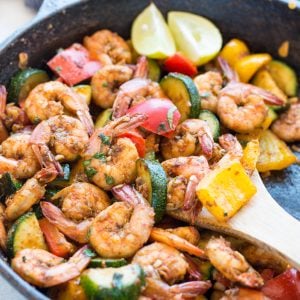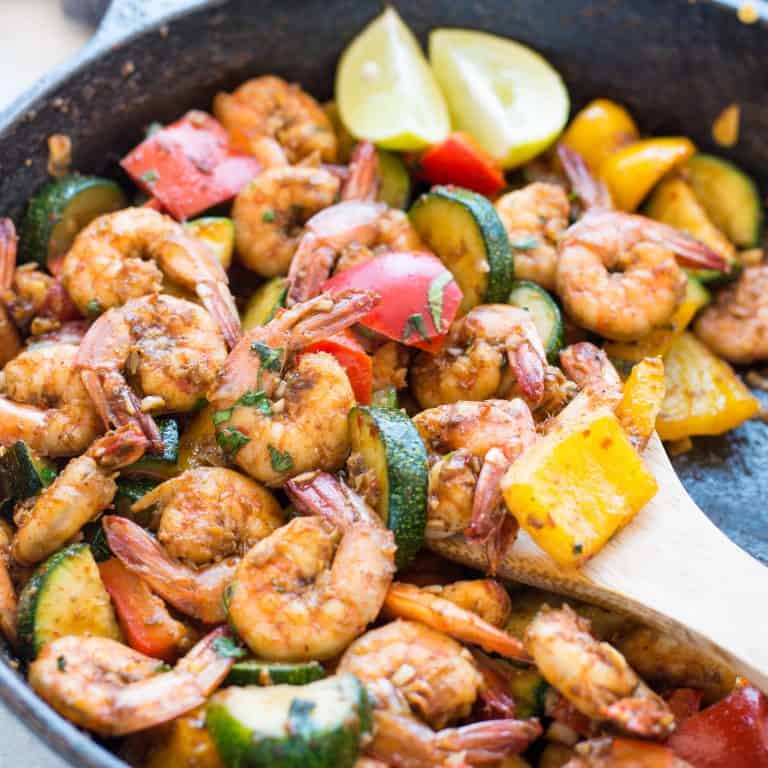 EASY GARLIC BUTTER SHRIMP AND VEGETABLE SKILLET
This Easy Garlic Butter Shrimp and Vegetable Skillet made with Fresh Shrimps, butter, tons of garlic, cumin and herbs.It is Protein-rich, low carb and ready in under 20 minutes.
Ingredients
500 grams Shrimp/Prawn (Medium Size)
2 tbsp cooking butter Unsalted
1 tbsp Minced garlic
1 tspn Roasted Cumin powder
1 tspn Red chili flakes
1 medium zucchini Cut into cubes
1 cup Assorted pepper (red and yellow bell peppers)
½ tbspn Fresh Lemon jiuce
Salt and Pepper as per taste
Fresh Parsley/Cilantro leaves for garnishing
Instructions
In a hot pan, add butter and little oil.

Add cleaned shrimps. Cook for 4-5 minutes, until the shrimps, turns pink in colour.

Add minced garlic. Fry for 1 minute.

Add cumin powder and chilli flakes. Mix well.

Add Zucchini and peppers. Mix and cook for 3-4 minutes.

Add fresh lemon juice and chopped parsley.

Toss everything quickly and switch off the flame.

Serve as it or on top of rice.
Notes
EASY GARLIC BUTTER SHRIMP AND VEGETABLE SKILLET ( STEP BY STEP RECIPE)
Nutrition
Serving: 100g | Calories: 83kcal | Carbohydrates: 6g | Protein: 1g | Fat: 6g | Sodium: 14mg | Potassium: 206mg | Fiber: 1g | Sugar: 2g | Vitamin A: 1340IU | Vitamin C: 56.9mg | Calcium: 14mg | Iron: 0.5mg