Asian Shrimp Garlic Noodles
This post may include affiliate links that earn us a small commission.
Crazy delicious Shrimp Garlic Noodles in a savoury Asian sauce is easy to make and a perfect weeknight dinner. A quick stir fry noodles with egg noodles, juicy shrimps and a handful of ingredients.

Shrimp Garlic Noodles, a quick-fix dinner that needs only a handful of ingredients (mostly pantry staple) and ready in under 20 minutes. What else one needs on a weeknight? Egg noodle tossed in an Asian style stir fry sauce on high heat in the wok for that smokey flavour. This Garlic noodle is a winner and there is no doubt that it will appear on your dinner menu quite frequently.
Flavours In Your Inbox
Subscribe for recipes straight to your inbox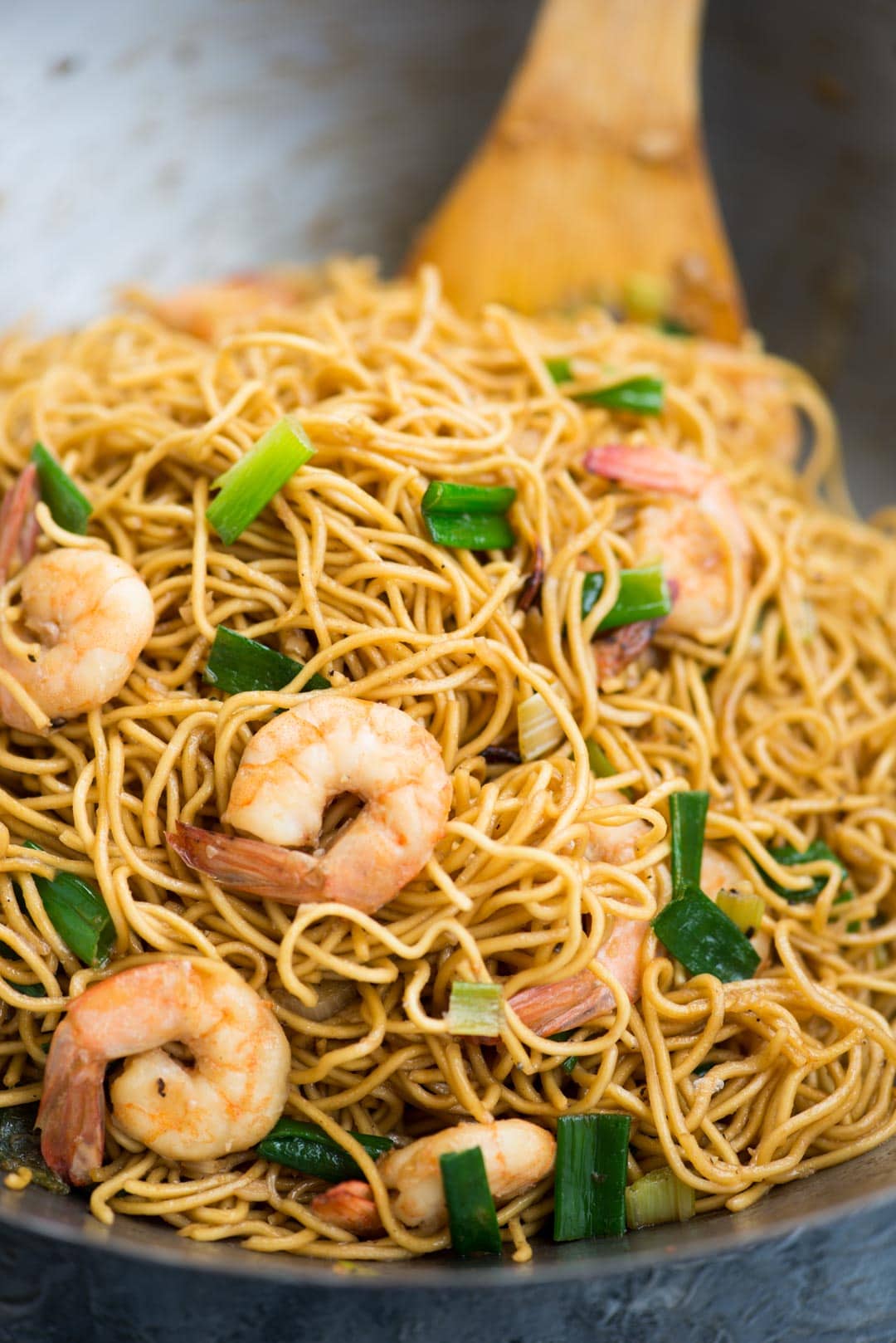 Honestly, I could eat noodles every single day. It is so easy to prepare, you can easily add any vegetable that's there in the refrigerator and takes less than 30 minutes to make. Noodles is a total life saviour when you are sort of time to make dinner. Cook the noodles while you are prepping the veggies and rest it takes just a few minutes to put together a meal.
A Chinese WOK works best for Stir-fries
One of the reasons why Asian Takeaways tastes better than homemade ones is the smokey charred flavour in the dish. Ingredients are tossed on high heat, really quickly to give the flavour. It's really difficult to recreate the same set up at home. Saying that using a wok will make your stir-fries a taste little closer to the restaurant version.
For making stir-fries, Fried rice or any kind of noodles a Chinese wok works the best. I recently got my wok from amazon and I am absolutely loving it. The wok is getting heated really well because of its thin material. Tossing in high heat also lends the smokey flavour to the noodles.
So if are making Asian style stir-fries at home frequently then, I strongly recommend investing in a Chinese wok.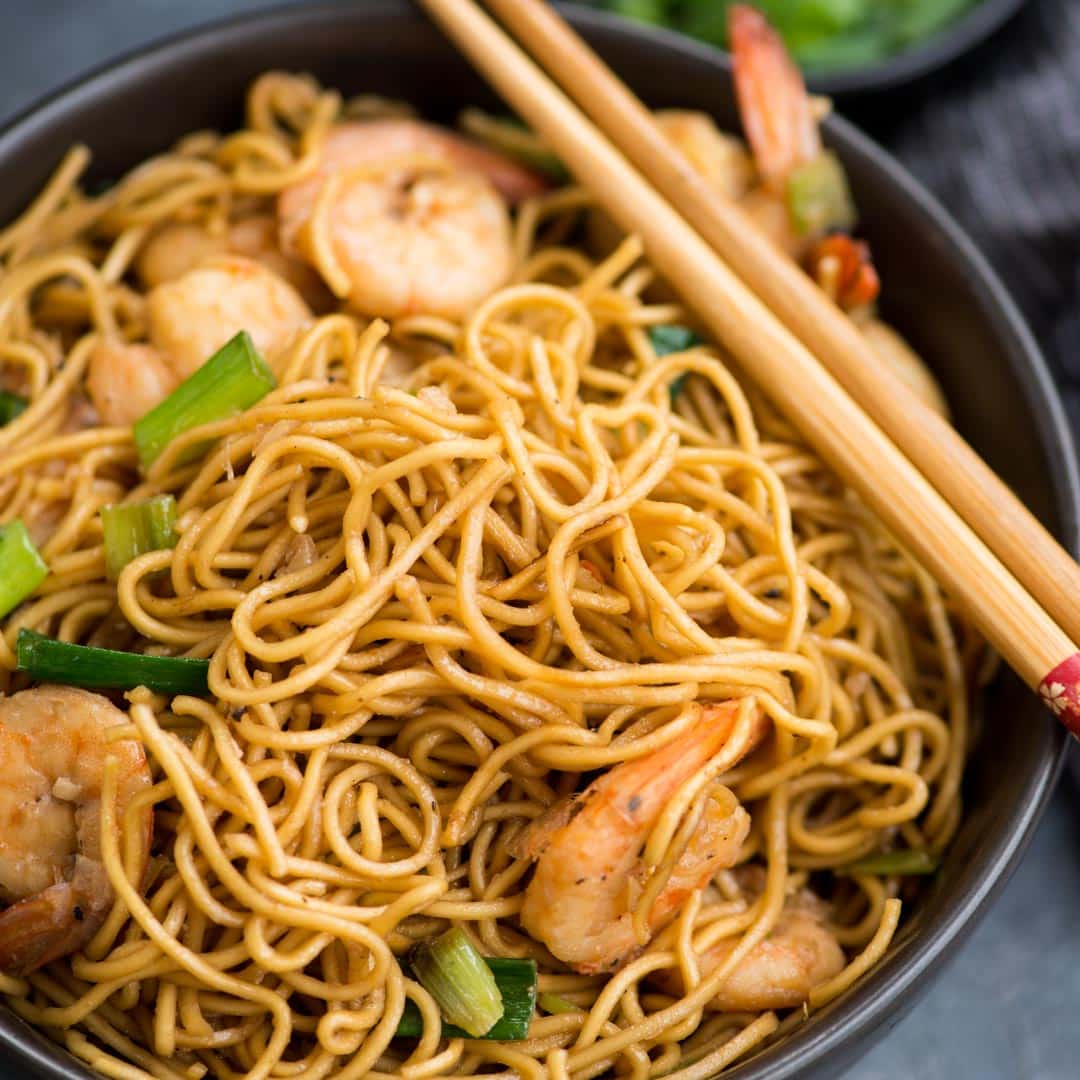 Helpful tips to Make Shrimp Garlic Noodles
Start with good quality noodles. I prefer to use egg noodles because of it has a chewiness. You can also use any other varieties of Asian noodles here.
Cook noodles as per the package instruction. I like to keep the noodles a little undercooked and cook it along with the sauce later. Once the noodles are cooked put it in a colander and run it under cold tap water to stop further cooking. I would recommend cooking the noodles just before you start prepping other ingredients. The longer it stands it starts to stick together.
Keep the stir fry sauce ready before you start cooking.
If using frozen shrimps, thaw them in advance.
I have kept it simple by adding only green onions. But you can add red bell peppers, carrots for extra nutrition.
More Asian Inspired quick dinner recipes…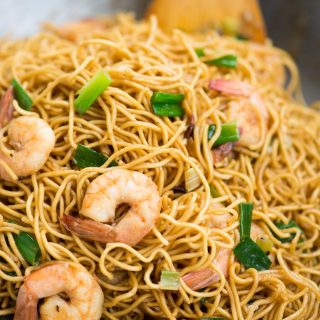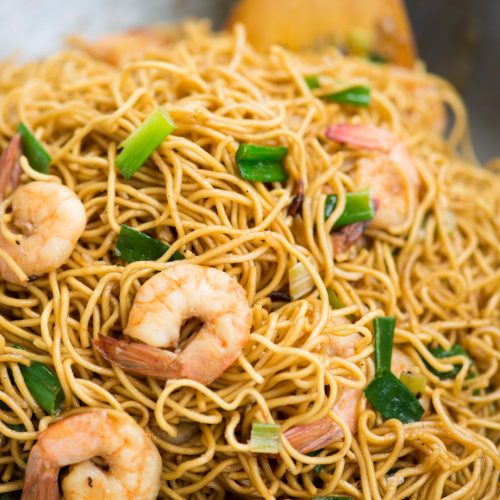 Asian Shrimp Garlic Noodles
Crazy delicious Garlic Noodles with Juicy Shrimps tossed in a savoury Asian sauce is easy to make and a perfect weeknight dinner. This quick stir fry noodles with egg noodles, juicy shrimps and a handful of ingredients is a favourite dinner.


Ingredients
250 grams Egg Noodles or any other Asian Noodles
200 grams Shrimps Cleaned and deveined
2 tablespoon Cooking Oil
2 tablespoons Garlic Minced
4-5 Green Onions white and green parts separated
For Stir fry Sauce
¼ cup Low Sodium Soy sauce
2 tablespoon Oyster Sauce
2 teaspoon Rice wine vinegar
2 teaspoon Sugar
½ teaspoon Pepper
¼ cup low sodium chicken stock or water
Instructions
Start with making the stir fry sauce. In a bowl mix all the ingredients for the sauce and keep aside.

Cook noodles as per package instruction until almost cooked. Drain, rinse under running tap water, drain and keep aside.

Heat a wok or a wide non-stick skillet. Once hot add oil.

Add minced garlic and stir it for 30 seconds.

Add shrimp, a couple of teaspoons of the prepared sauce. Toss on high heat for about 2-3 minutes. The shrimps will start to turn pink.

Add the white part of the green onion, Cooked noodles and the stir fry sauce to the pan. Keep the heat high and toss the noodles for about 2-3 minutes.

The sauce would thicken up a little bit and coat noodles well. Noodles will look glossy.

Switch off the flame. Add green onion. Mix and serve.
Notes
Watch step by step video added above the recipe
Nutrition
Serving: 100g | Calories: 382kcal | Carbohydrates: 50g | Protein: 21g | Fat: 11g | Saturated Fat: 1g | Cholesterol: 179mg | Sodium: 1186mg | Potassium: 283mg | Fiber: 3g | Sugar: 3g | Vitamin A: 158IU | Vitamin C: 6mg | Calcium: 116mg | Iron: 3mg