This post may include affiliate links that earn us a small commission.
Fresh green beans stir-fried with caramelized onions, garlic, and crispy bacon is one such side dish that has a place on the table all year long but especially on Thanksgiving and Christmas. These crispy tender green beans are a crowd pleasure and fall into the 'gimme more veggies' category.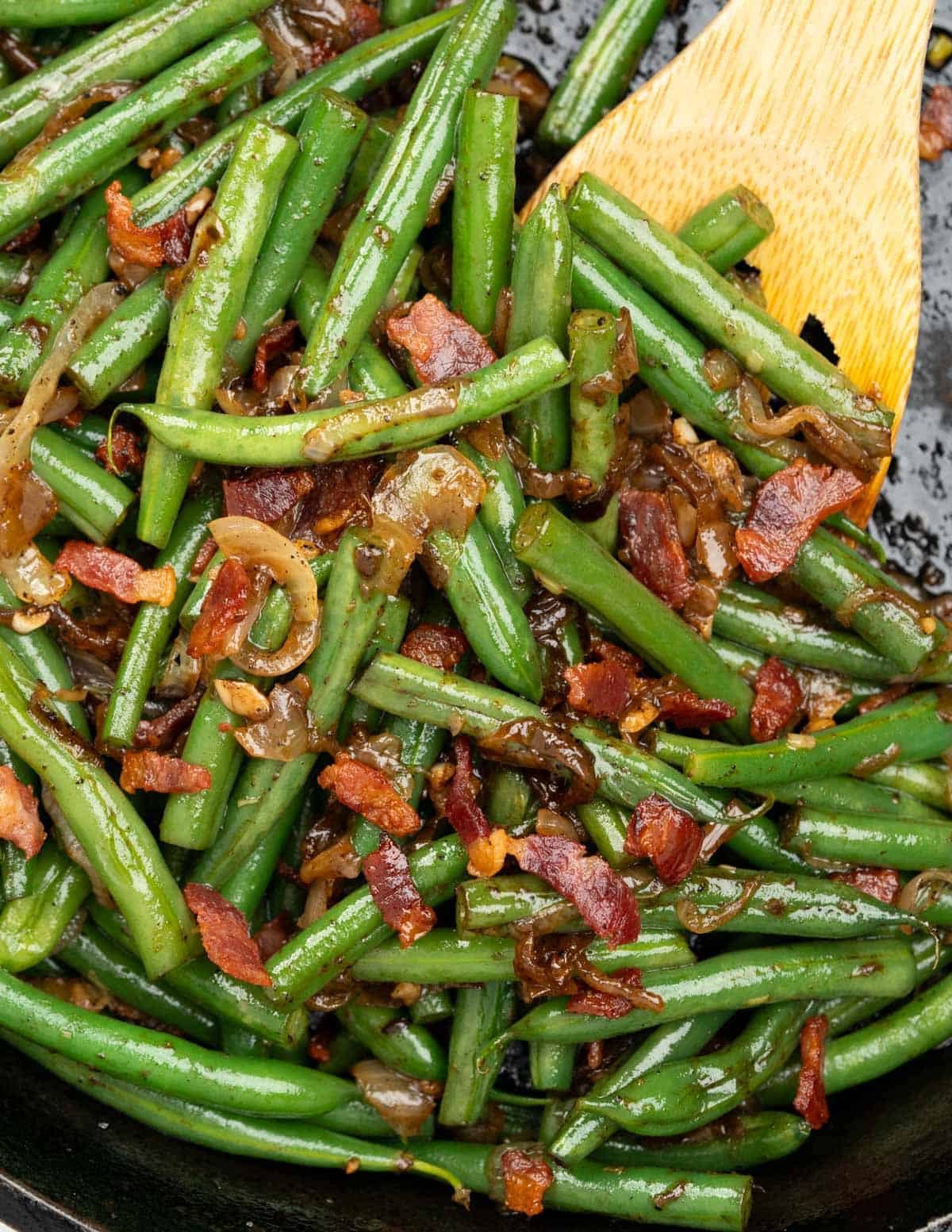 Tender buttery Green beans tossed in caramelized onions, garlic, and smoky crispy bacon is an easy side dish that's big on flavors and takes this humble veggie to a new level. It's time to move over Green bean casseroles during Thanksgiving/holidays and give this incredible Green bean side dish a try. It's half the effort, made on the stovetop, and is also a one-pan recipe.
Of all the veggie side dishes, Green beans come second on the list after Creamy Garlic Mashed Potatoes (no one can beat potatoes for that matter). Green beans are rich in fiber and add a bust freshness to any meal. Adding garlic and crispy bacon will only make this veggie more welcoming and make even a veggie hater to ask for more.
Flavours In Your Inbox
Subscribe for recipes straight to your inbox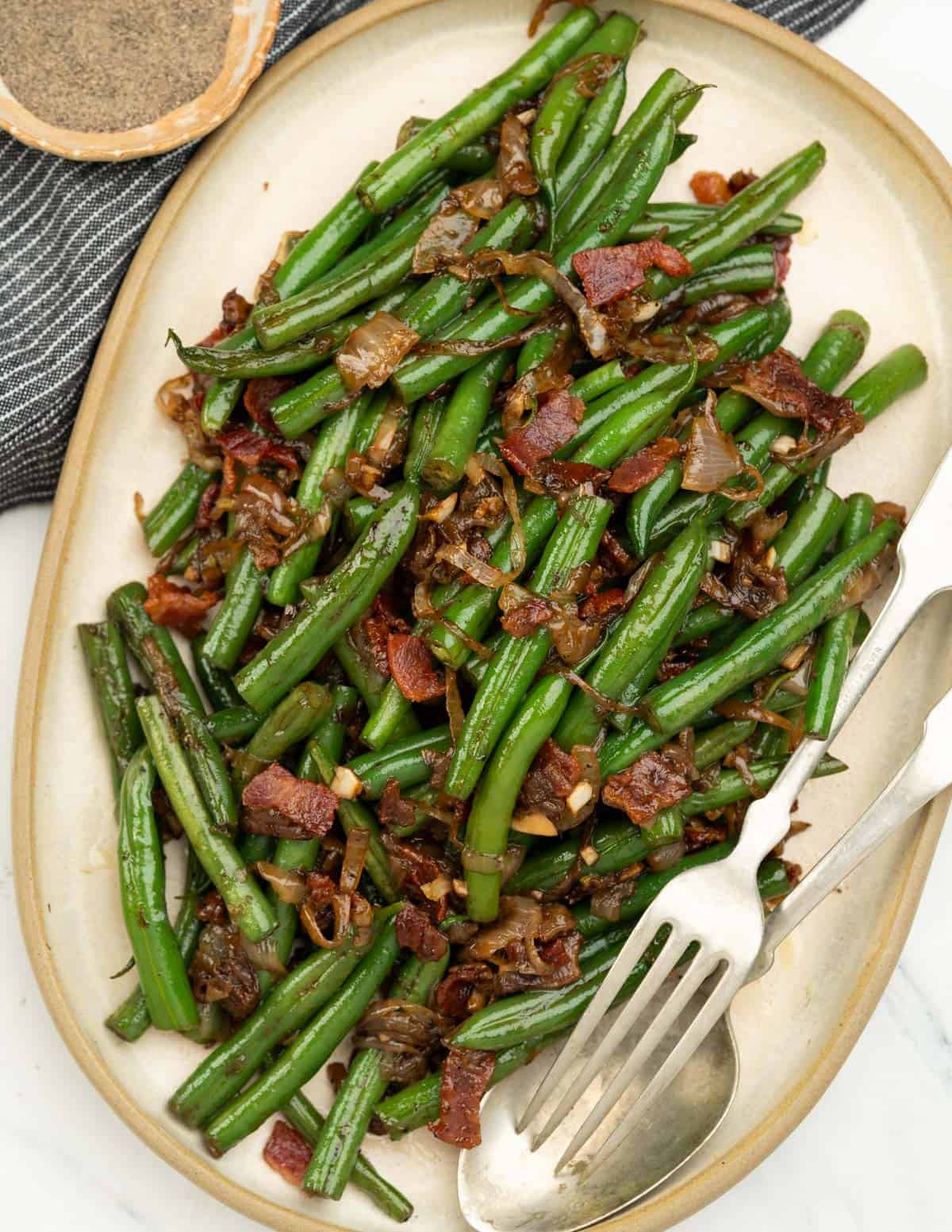 List of Ingredients
The list of ingredients is short and mostly pantry staples.
Green beans– Fresh tender green beans with a snap to them. Look for bright-coloured ones that are not stringy.
Onion, garlic– Thinly sliced onions. Caramelized onions have a sweetness to it and complement the savory flavors in the dish. I can never have enough garlic in a dish, so listen to your heart and add a good amount of it. Just make sure they are not finely minced or paste-like. Otherwise, they will get stuck at the bottom of the skillet.
Bacon– Thick-cut bacon or regular bacon strips, both will work in this recipe. To make things easy, use a scissor to cut bacon into small pieces.
Butter, olive oil – Just a blob of butter to give a richness to the dish. I would not skip it. Use olive oil for cooking onions, if you don't wish to use bacon fat.
Salt and pepper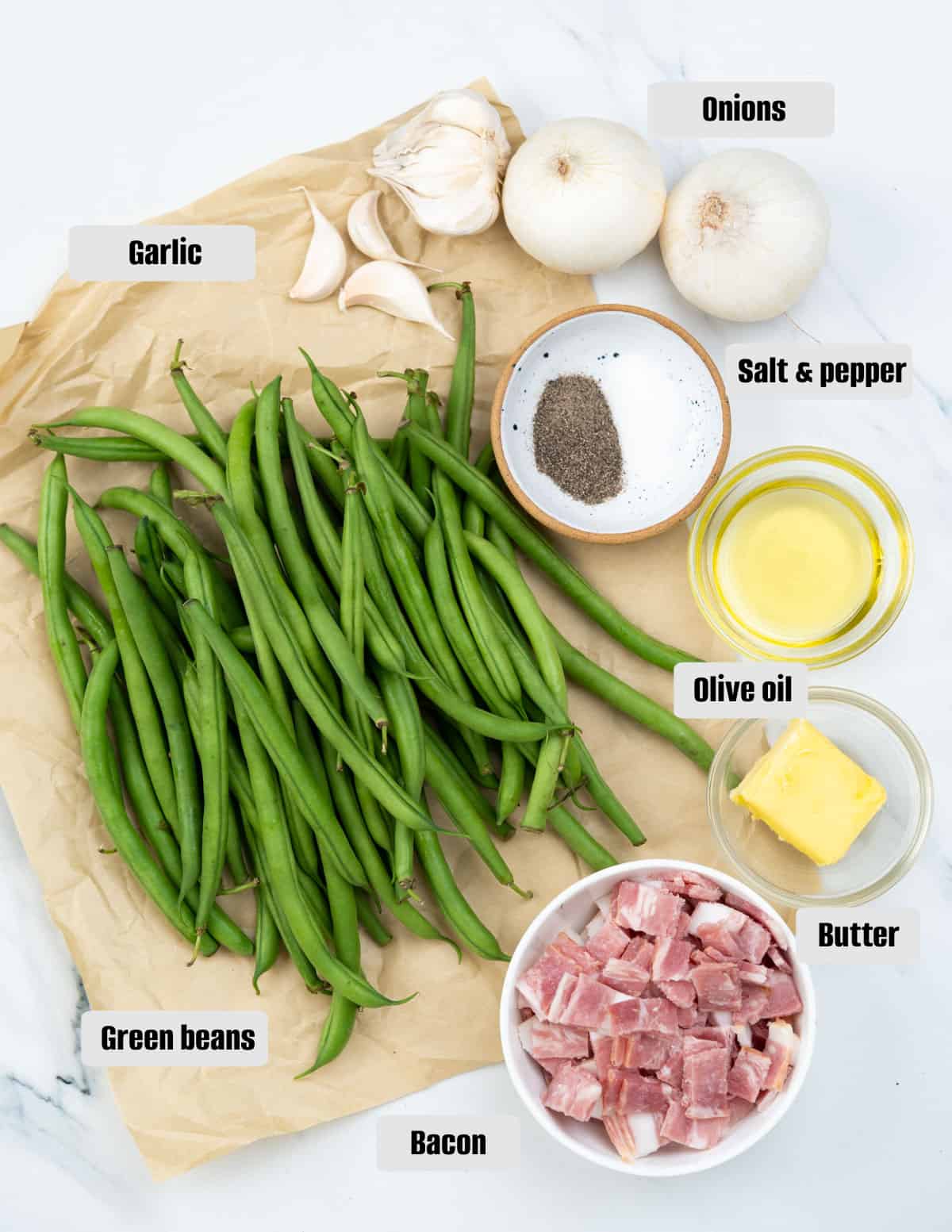 How to cook fresh green beans right?
Perfectly cooked green beans should be tender, still has a snap to it and above all it should retain the bright green colour after even after cooking. But before we talk about cooking, it is important to pick right beans. Looks for fresh bright green one with a snap to it. Thin baby beans(if that is even a term) is preferble over thick stringy ones. If the beans are long, then I would prefer cutting them to half. It will cook faster and also easier to eat as well.
Now coming to cooking, this one is the most fool proof and efficient way of cooking beans. This method ensures the beans is not over cooked, retains the bright green colour even after cooking and also has crunch to it. No cooking in boling water then dip in ice water business. First add prepared beans to the skillet, sear it on medium-high heat for about 1 minute. Beans get coated well with the fat ( oil/butter etc) . Then add water to the hot skillet and immedietely cover the skillet with a lid. The steam will cook the beans just fine.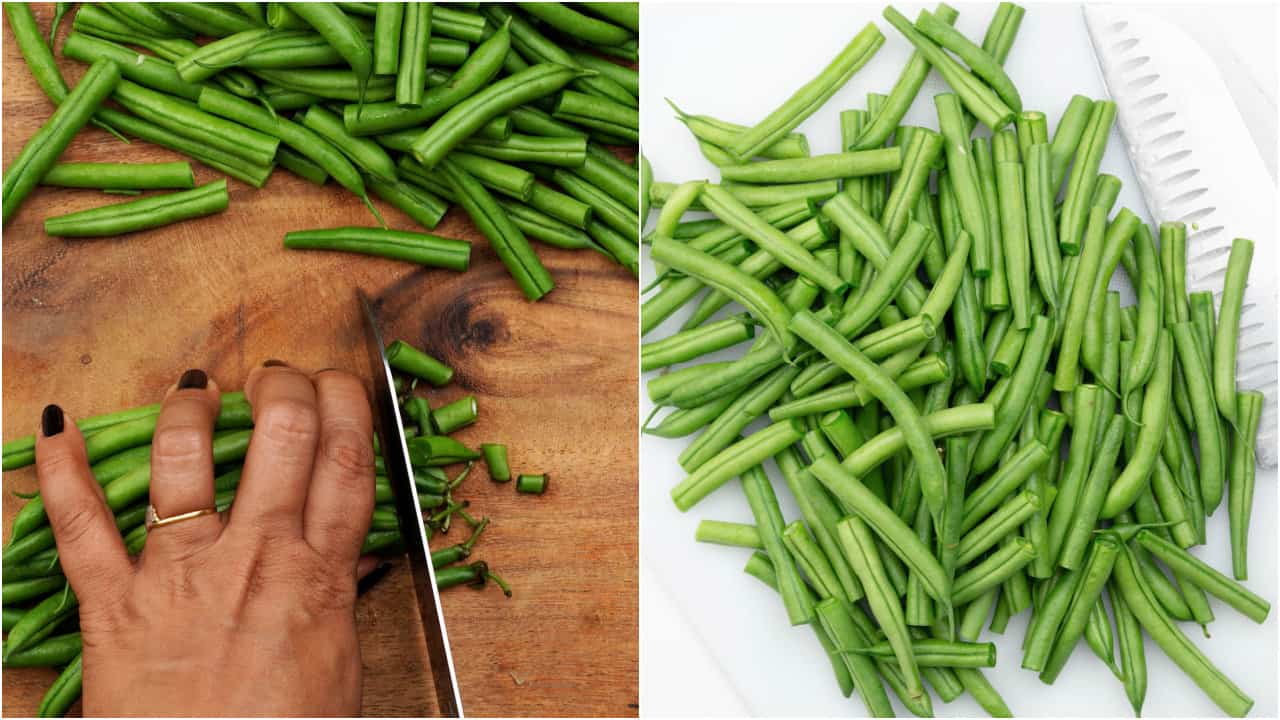 Steps to cook Green beans With Bacon
Once the green beans prep is done, you would need less then 30 minutes to make this.
First cook the bacon. Start with a cold skillet, it helps in perfect browning of bacon. Once cooked remove from the skillet. If not usinf bacon fat to cook the onions, then discard the fat and add olive oil.
Cook sliced onion until just start browning. Onion will brown further when cooked along with green beans. So if onion is browned too much in the first step, it will burn by the end of cooking the beans.
Add garlic along with beans. If garlic added along with onion, the garlic might burn by the time beans are done. Add salt & pepper and sear the green beans on medium to high heat.
Once seared, add water ( or chicken stock for more flavour) and immedietly cover the lid. Cook bean until crisp tender.
Towards the end add butter. Adding butter towards the end imparts flavour and gives the beans a glossy look. Finish it of by adding cooked bacon to the beans.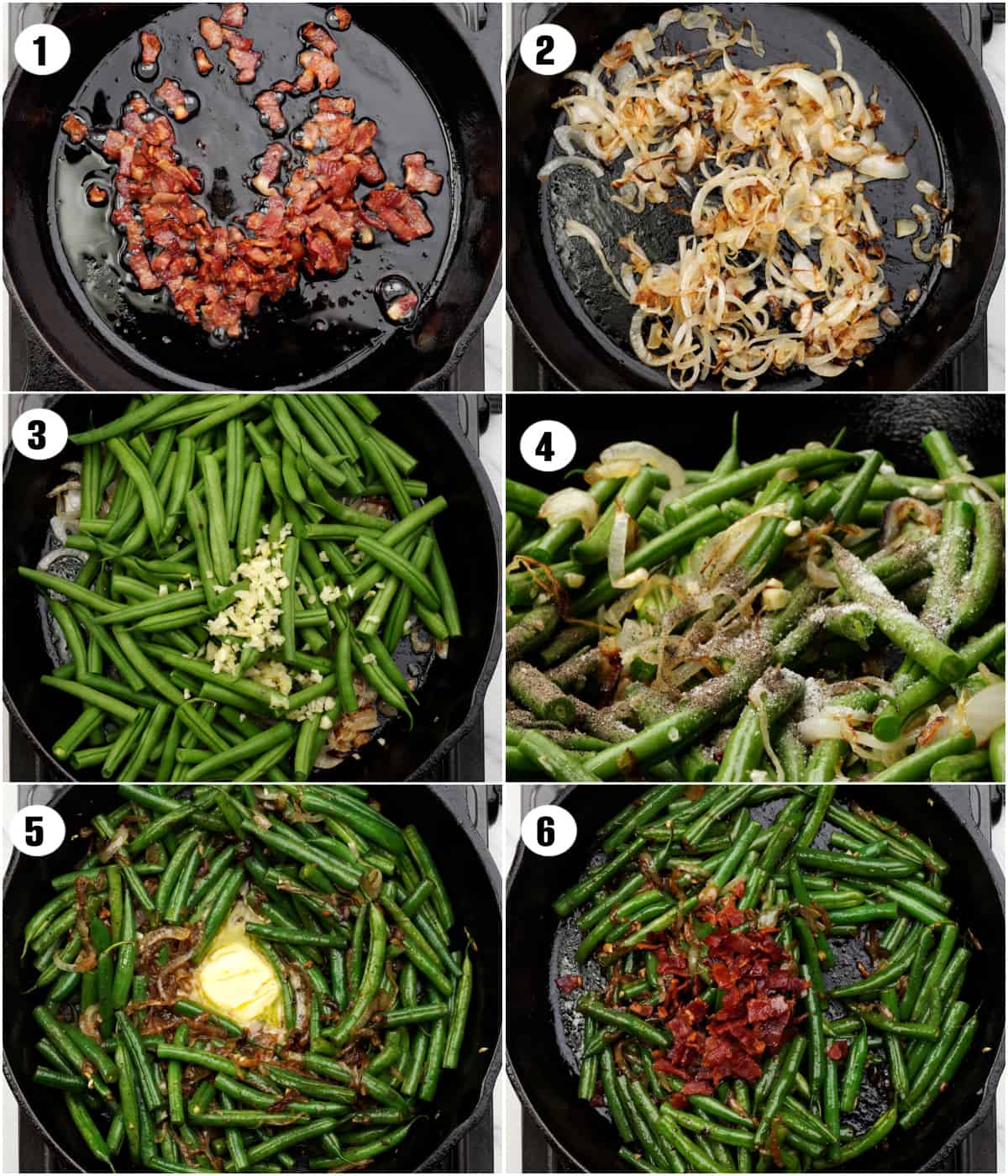 Helpful Tips
Its realy important to choose fresh tender green beans. Canned green beans are not for this recipe, reserve them for casserole. If using frozen green beans, then adjust the cooking time accordingly becuase they are already partially cooked,
Use a large 12 inch skillet and preferebly a cast iron one for good searing of green beans.
Make sure the lid of the skillet fit perfectly.
Drain cooked bacon really well in a kitchen towel. Grease from bacon will make the dish extra greasy.
After adding green beans to the skillet, make sure you stir it frequently, otherwise onions or garlic bits might get stuck at the bottom and burn.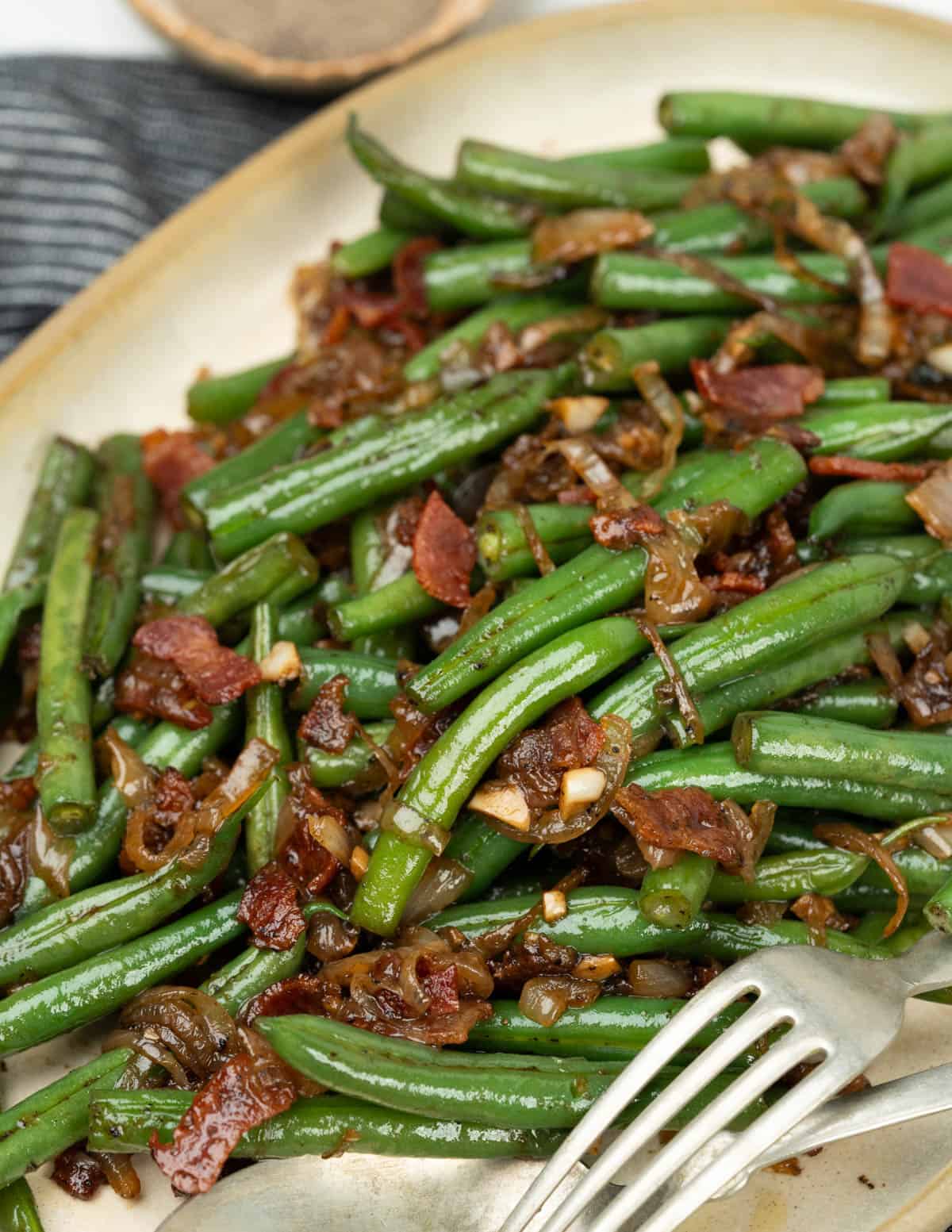 More Green Beans recipes
More Vegeterian Side Dishes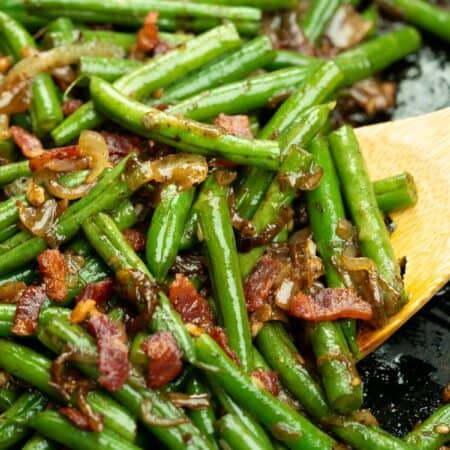 Green Beans with Bacon
Tender perfectly cooked green beans with crispy bacon, sweet caramelized onion and garlic. the trick is to cook green beans perfectly tender without losing their vibrant green colour.
Ingredients
500 grams Fresh Green beans
1 tablespoon Butter
2 tablespoons Olive oil optional, ref note 1
1 large Onion thinly sliced
3 cloves garlic
5-6 Bacon strips
¼ cup Water / Chicken stock
½ teaspoon Salt
¼ teaspoon pepper
Instructions
Prep green beans by trimming the stem end. Cut into halves, rinse, and shake dry.

Use kitchen scissors to cut bacon into small pieces. Add chopped bacon to a cold skillet. Let it cook until evenly crispy (stir in between for even cooking).

Remove crispy bacon from the skillet and drain in a kitchen towel. If using bacon fat for cooking the onions then keep about 2 tablespoons of bacon fat in the skillet and discard the rest. If using Olive oil, then discard all the bacon fat and heat olive oil.

Add sliced onion to the skillet and cook until it has softened and started to brown slightly. Because the Onion will cook further along with green beans, so no need to brown it completely, otherwise the onion will burn towards the end.

Add green beans and fine chopped garlic. Saute on medium-high heat for 2-3 minutes, stirring in between to prevent onion/garlic getting stuck at the bottom. The green beans should be well coated with the fat.

Sprinkle salt & pepper and mix well. Add 1/4 cup water(or chicken stock for more flavour) and quickly cover the skillet with a lid. Let the beans steam for about 4-5 minutes on low-medium heat.

Remove the lid and check if the beans are tender enough. if not cook for another 1 minute. ( Green beans taste the best when it's just tender but still slightly crispy).

Add butter and toss everything well to coat the beans with butter. Switch off the flame and add cooked bacon.

Serve hot.
Notes
If you prefer cooking the onion with remaining bacon fat, then you don't need Olive oil. 
Nutrition
Serving: 1serving | Calories: 281kcal | Carbohydrates: 51g | Protein: 13g | Fat: 7g | Saturated Fat: 3g | Polyunsaturated Fat: 1g | Monounsaturated Fat: 3g | Trans Fat: 0.1g | Cholesterol: 8mg | Sodium: 90mg | Potassium: 1502mg | Fiber: 19g | Sugar: 24g | Vitamin A: 4833IU | Vitamin C: 87mg | Calcium: 266mg | Iron: 7mg