Chicken And Green Beans Stir Fry
This post may include affiliate links that earn us a small commission.
Packed with umami, this Chicken and Beans Stir Fry is made with chicken thighs, charred green beans tossed in a flavourful stir fry sauce. Another quick and easy dinner recipe to add to your collection.
How about making Chicken and Beans stir fry for dinner? You just can not go wrong with stir-fries. Pick any protein, vegetable(a combination would do as well) and a good stir fry sauce, that's all. Healthy and nutritious one-pan dinner ready in under 30 minutes. Pairs perfectly with rice.
The reason I love stir-fries is that there are endless possibilities of combinations, perfect to use up any vegetables in the refrigerator. I make stir-fries at least once in a week. To make the process easy and quick, I do the prep over the weekend. So while making dinner it literally takes 15 mins to serve dinner.
Flavours In Your Inbox
Subscribe for recipes straight to your inbox
The beans are charred separately for maximum flavour. I tried steaming the beans separately and then add to the dish but I was not impressed with the texture. Cooking Chicken and Beans together resulted in overcooked mushy beans. So for the best flavour and texture cook green beans on a hot cast iron pan stirring frequently for about 2-3 minutes.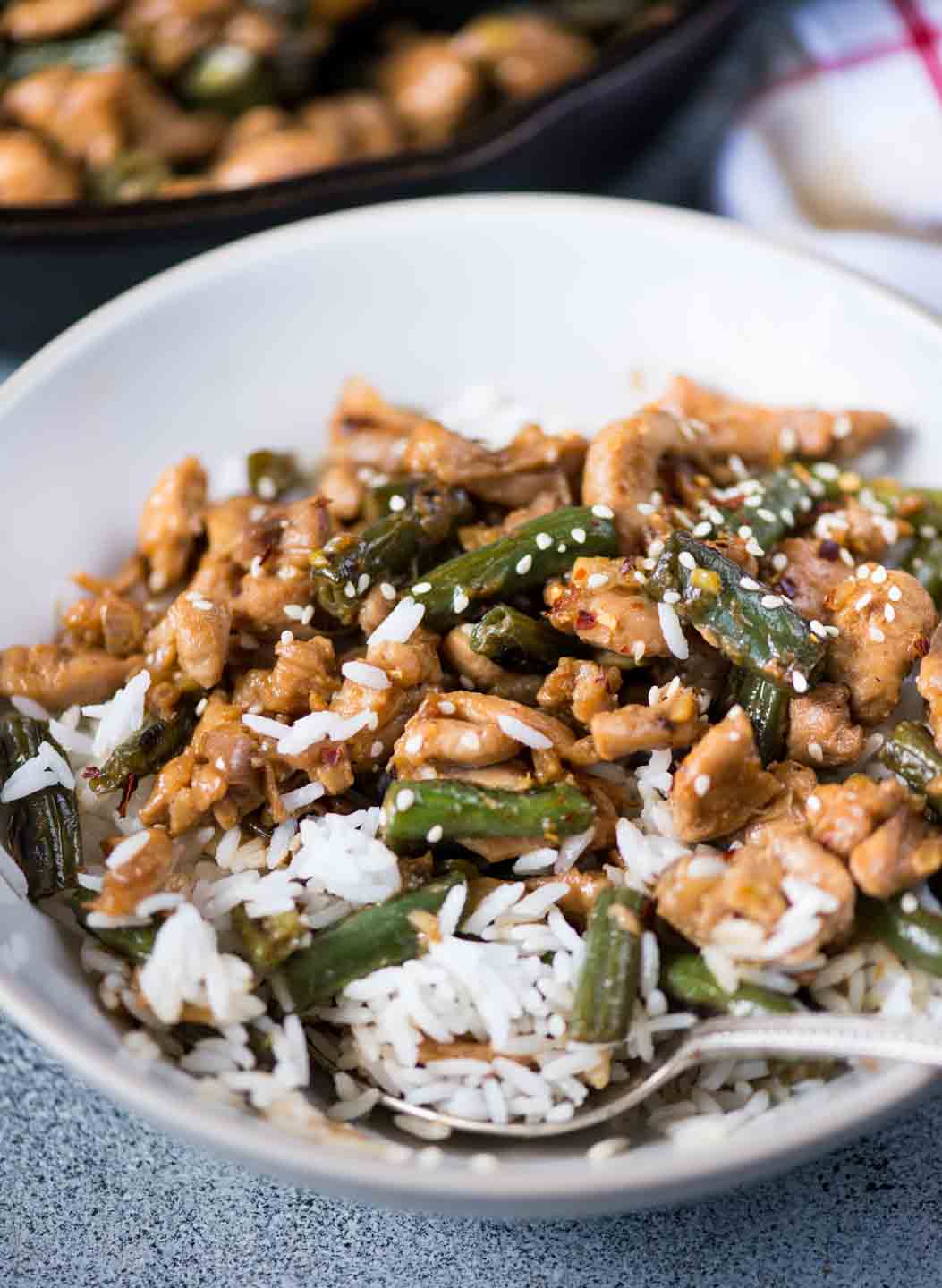 How To Make Chicken and Beans Easy and Quick?
Stir-fries are the quickest way to serve dinner for a hungry family. Below are a few tips to make the process really quick and best flavour.
It is all about the prep. Once the prep is done, then the rest will be done in no time. Keep all the ingredients ready and reachable. You can also do the prep work well ahead of time as I do. Over the weekend clean vegetables (in this case beans), drain any excess water, cut it to the desired size and keep in a food-grade container.
Mix all the ingredients for the stir fry sauce in a glass jar. Shake well and keep it ready. You can also make the sauce ahead and keep it refrigerated up to a week.
The smokey flavour that you get from the Chinese take out is because food is being tossed at very high heat in a wok. It is difficult to have the same set up at home. If you don't own a wok, then a cast iron pan would do.
Use a wide pan while searing the chicken. If the pan is crowded then the chicken will not get browned properly.
It Is All About The Stir Fry Sauce.
The stir fry sauce is pretty basics but packed with a punch of flavour. Use low sodium soy sauce to control the amount of salt. Chinese cooking wine makes a big difference and stir won't be the same once you start using it. Try to source it from an Asian store and bottle of it would last quite long.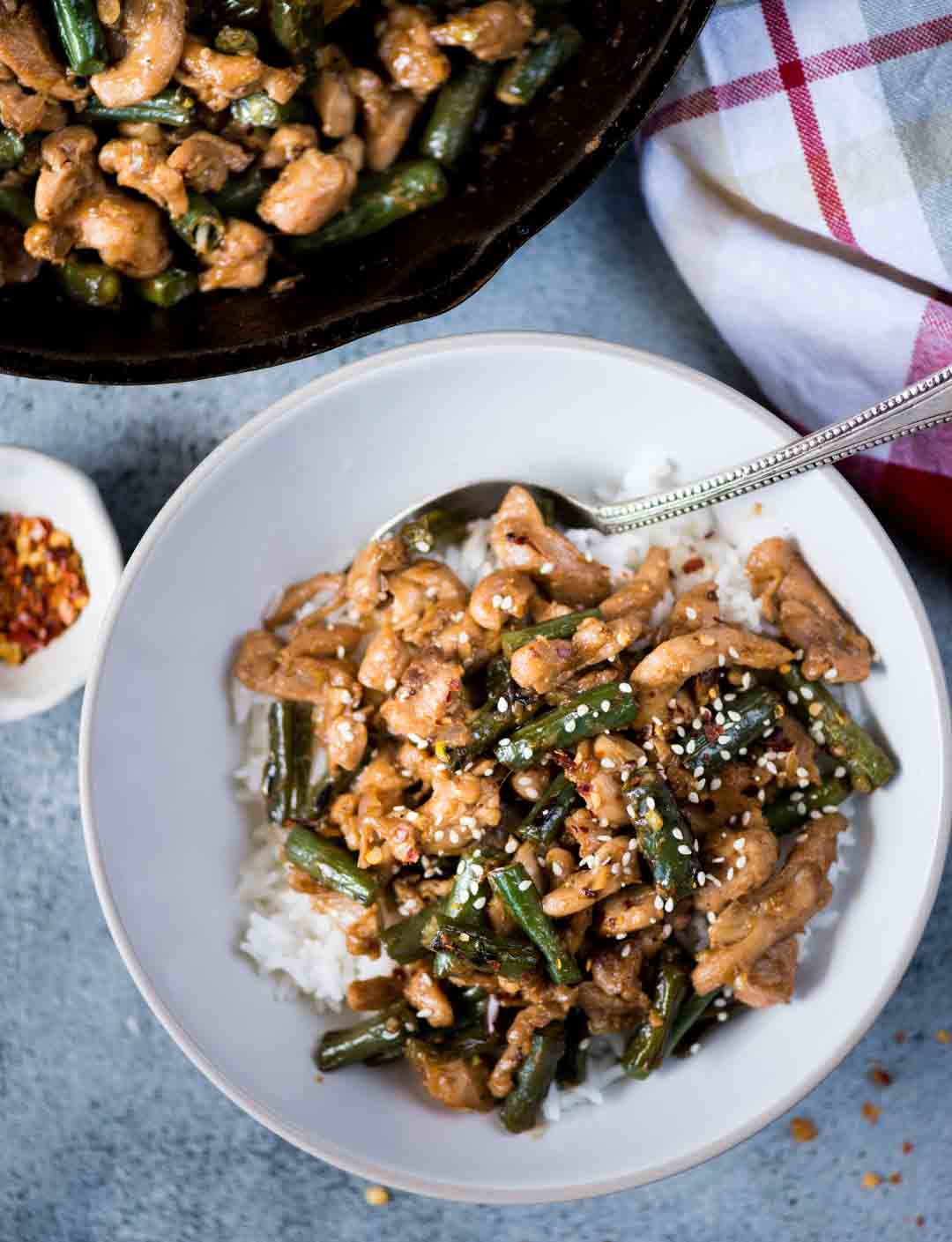 Can I Use Chicken Breast instead?
Chicken breast can be substituted for thigh in this recipe. Cut chicken breast into thin strips against the grain. The cooking time would vary because chicken breast tends to cook quite fast.
Other Quick Chicken Recipes for you to try…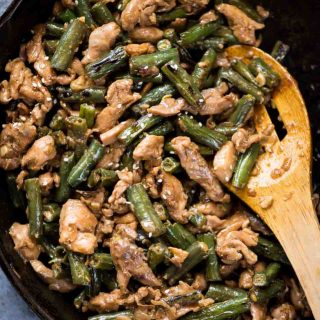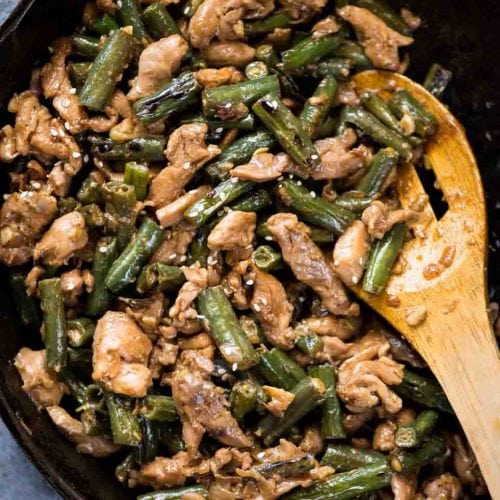 Chicken and Beans Stir Fry
this Chicken and Beans Stir Fry is made with chicken thighs, charred green beans tossed in a flavourful stir fry sauce. Another quick and easy dinner recipe to add to your collection.


Ingredients
1 pound Chicken thigh Cut into bite-sized pieces
½ pound Green Beans cut into 1 inch pieces
2 tablespoon Oil
½ Medium Onion
2 teaspoon Garlic minced
1 teaspoon Ginger
Stir fry Sauce
2 tablespoon Soy Sauce
1 tablespoon Oyster Sauce
1 teaspoon Sesame Oil
2 tablespoon Chinese Cooking Wine
2 teaspoon Sugar
1 teaspoon hot sauce or Sriracha
Instructions
Mix all the ingredients mentioned for stir fry sauce in a bowl.

In another marinate chicken with 2 teaspoons on the sauce.

While the chicken is marinating, heat oil in a heavy cast-iron skillet. When it is smoking hot, add chopped beans. Toss it on high heat for 2-3 minutes, stirring continuously.

Once you see charred bits on beans and beans is almost cooked but still has a crunch to it, remove from the pan. Keep aside.

To the same pan add rest of the oil to the same pan. Add chopped onion. Fry for a minute, until softens.

Add minced garlic and ginger. Cook for 30 seconds, until aromatic.

Add chicken and stir fry on high heat for 3-4 minutes.

Add cooked beans and remaining stir fry sauce to the skillet. Toss on high heat for about 1 minute, so that the chicken and beans are coated well with the sauce.

Serve hot over rice.
Nutrition
Serving: 100grams | Calories: 240kcal | Carbohydrates: 6g | Protein: 14g | Fat: 18g | Saturated Fat: 4g | Cholesterol: 74mg | Sodium: 496mg | Potassium: 261mg | Fiber: 1g | Sugar: 3g | Vitamin A: 320IU | Vitamin C: 6mg | Calcium: 24mg | Iron: 1mg