Oven-roasted Brussels Sprouts
This post may include affiliate links that earn us a small commission.
Oven-roasted Brussels sprouts are perfectly caramelized with a golden crust. The best thing is the sweet and spicy seasoning mix, which makes these roasted Brussels sprouts irresistibly delicious.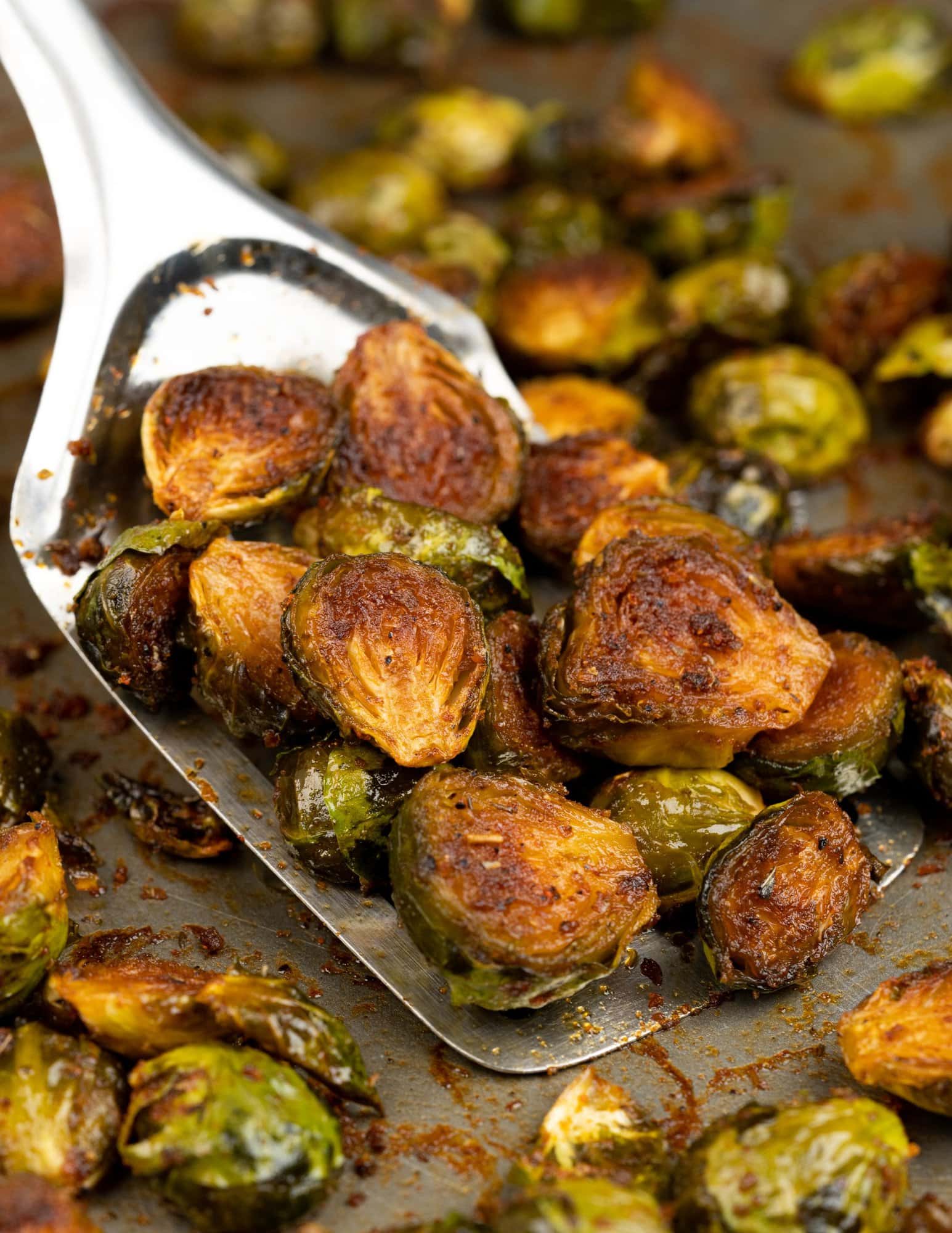 Brussels sprouts, Do you love or hate them?? If you run away from this veggie, then I am sure you have never tasted Oven Roasted Brussels sprouts. These Brussels sprouts are tossed in butter and a sweet & spicy seasoning mix, then baked until it is caramelized. They turn out to be sweet and smokey with a hint of spice.
Flavours In Your Inbox
Subscribe for recipes straight to your inbox
Brussels sprouts are layered like cabbages, taste mildly bitter in their raw but become sweeter when cooked, and are delicious when roasted.
Something I have learned from getting my kid to eat more veggies – introduce them to its roasted avatars. Works most of the time.
For someone who loves Brussels sprouts, a simple seasoning of olive oil, salt, and pepper is good enough to roast the veggie. But a good seasoning takes this veggie to a whole new level. This sweet and spicy seasoning mix is inspired by one of our popular recipes, sweet and spicy boneless chicken thighs. The seasoning is a perfect blend of sweetness and heat.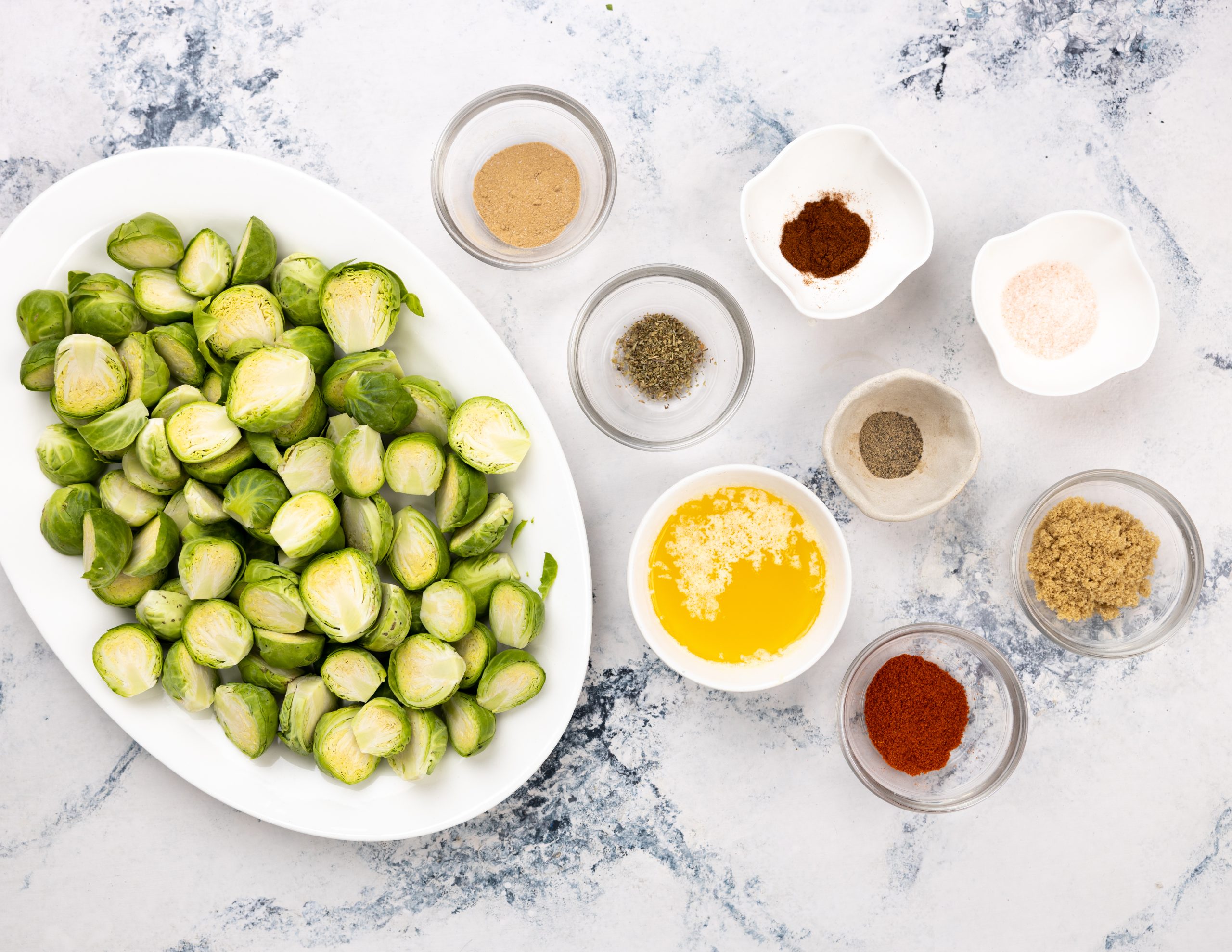 Ingredients
Brussels Sprout – pick Brussels sprouts that are green and firm to hold. The leaves should layer tightly around and look for any yellow or black spots. You can play safe by picking the smaller sprouts 1 inch to 11/4 inches in diameter. They are sweeter and tender.
Melted Butter – roasting in butter instead of oil gives a fantastic flavor.
Light brown sugar – sweetness balances the slight bitterness and heat from paprika.
Mild Paprika – For its mild heat and color, you may instead go for hotter variants based on your heat tolerance.
Smoked paprika – gives a smokey flavor to those roasted sprouts.
Garlic powder – my favorite aromatic, acts as a flavor base.
Italian Seasoning – a mix of dried herbs that's subtly sweet and savory and lifts the flavor.
Ground black pepper – adds a kick to the roasted sprouts.
Salt – add as per taste.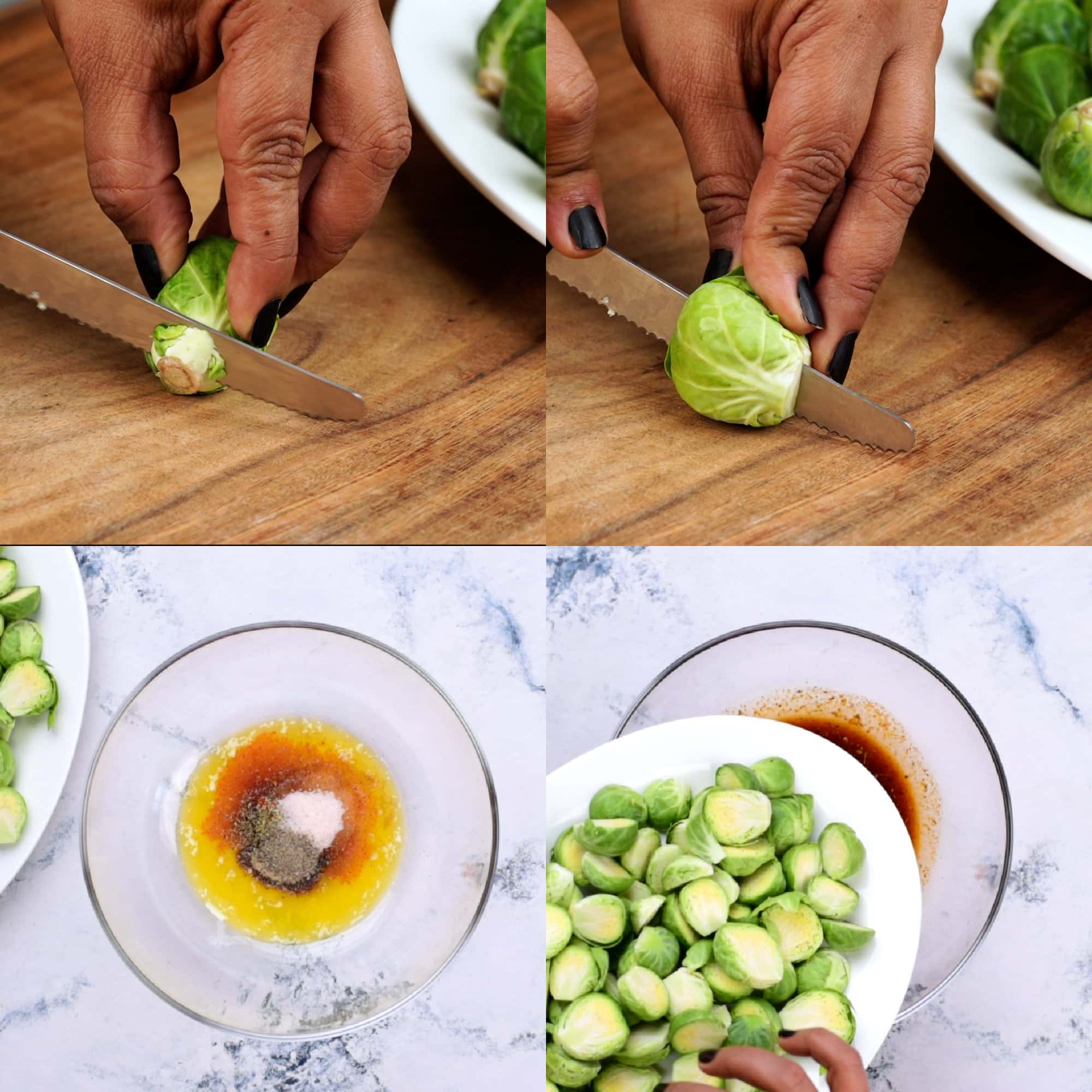 How to roast brussels sprouts in the oven
Roasting brussels sprouts in the oven works like a charm every time. You cannot go wrong with it. A super easy recipe and that's you will be reminded of it every time you pick brussels sprouts.
Prep
Preheat the oven to 400ºF. Line up a baking tray with foil or parchment paper. This will make it easy to clean the tray later.
You must prep the brussels sprouts by cutting the stem (the tough brown end). Prune any loose, yellow leaves. Chop the pruned sprouts into halves. For large ones, chop them into quarters.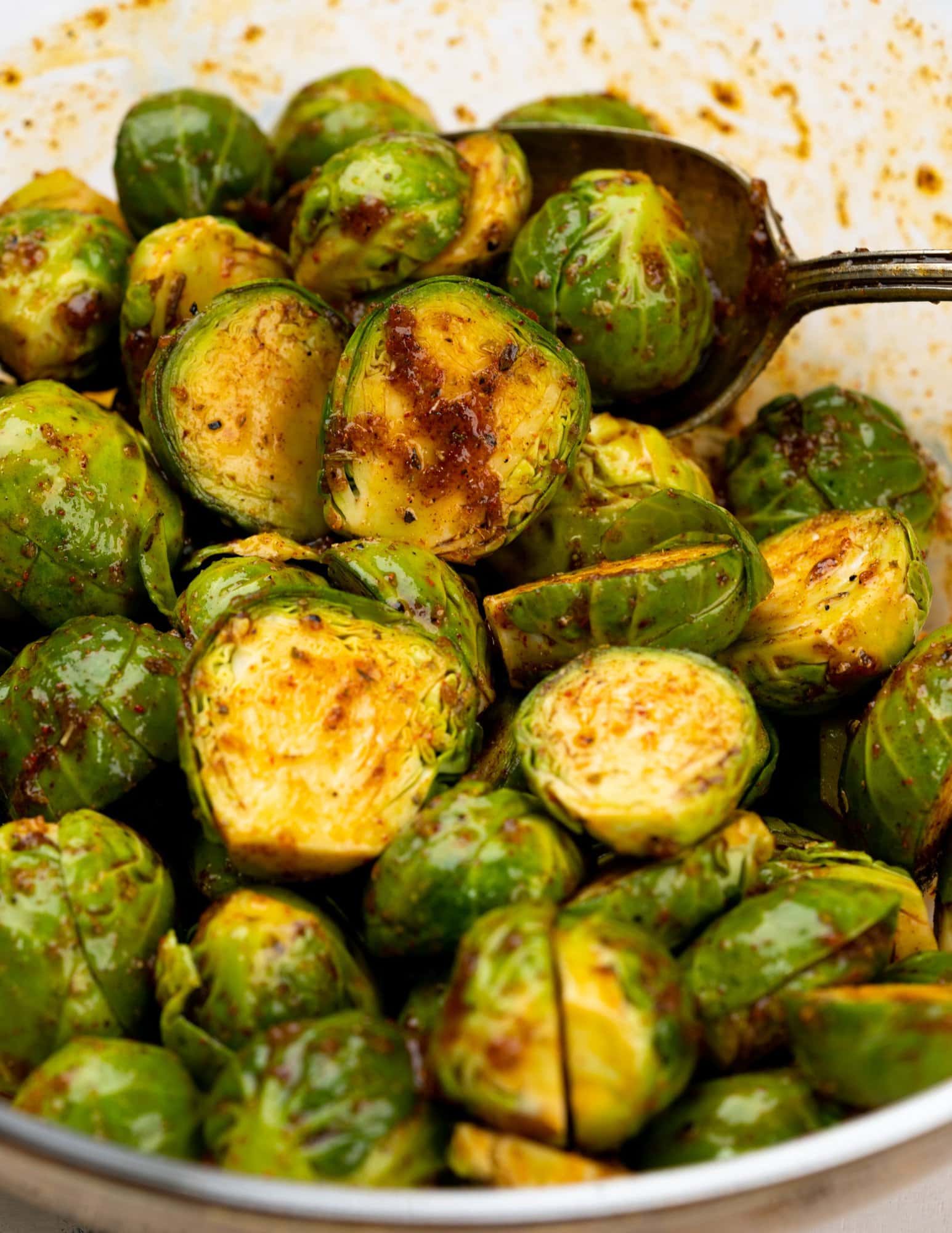 Mix with seasoning
In a large mixing bowl, add the melted butter, salt, paprika, garlic powder, and pepper, along with Italian seasoning. Mix it well. Add the prepped sprouts and toss them so the seasoning mix coats them evenly.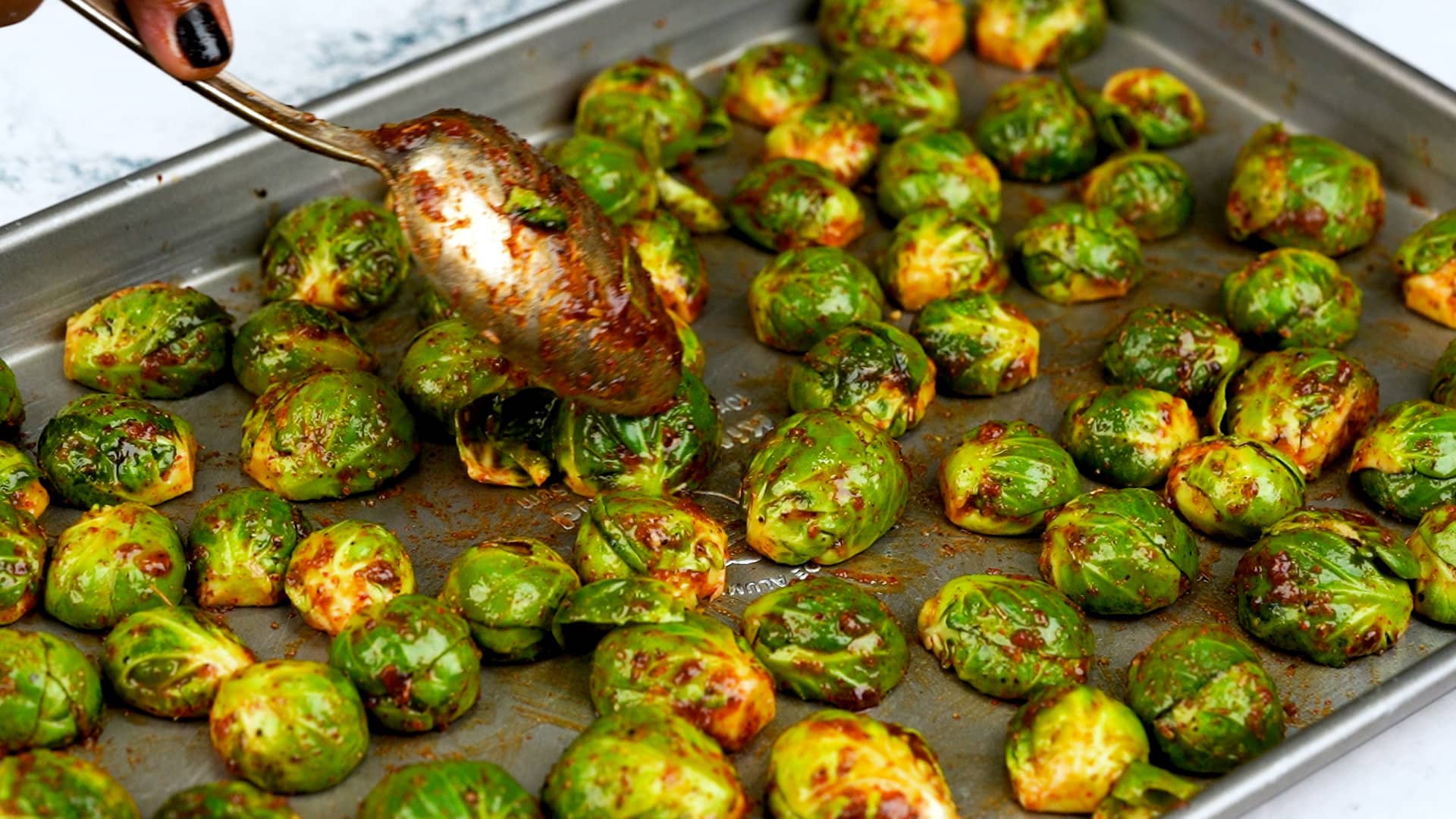 Bake in the oven
On the baking tray line with foil, arrange the sprouts in a single layer. Lay them with the cut side down, so they remain placed.
Place the baking tray on the middle shelf and bake for 25-30 minutes. Increase the baking time if the sprouts are larger. At the end of baking, you should see browning spots on the sprouts.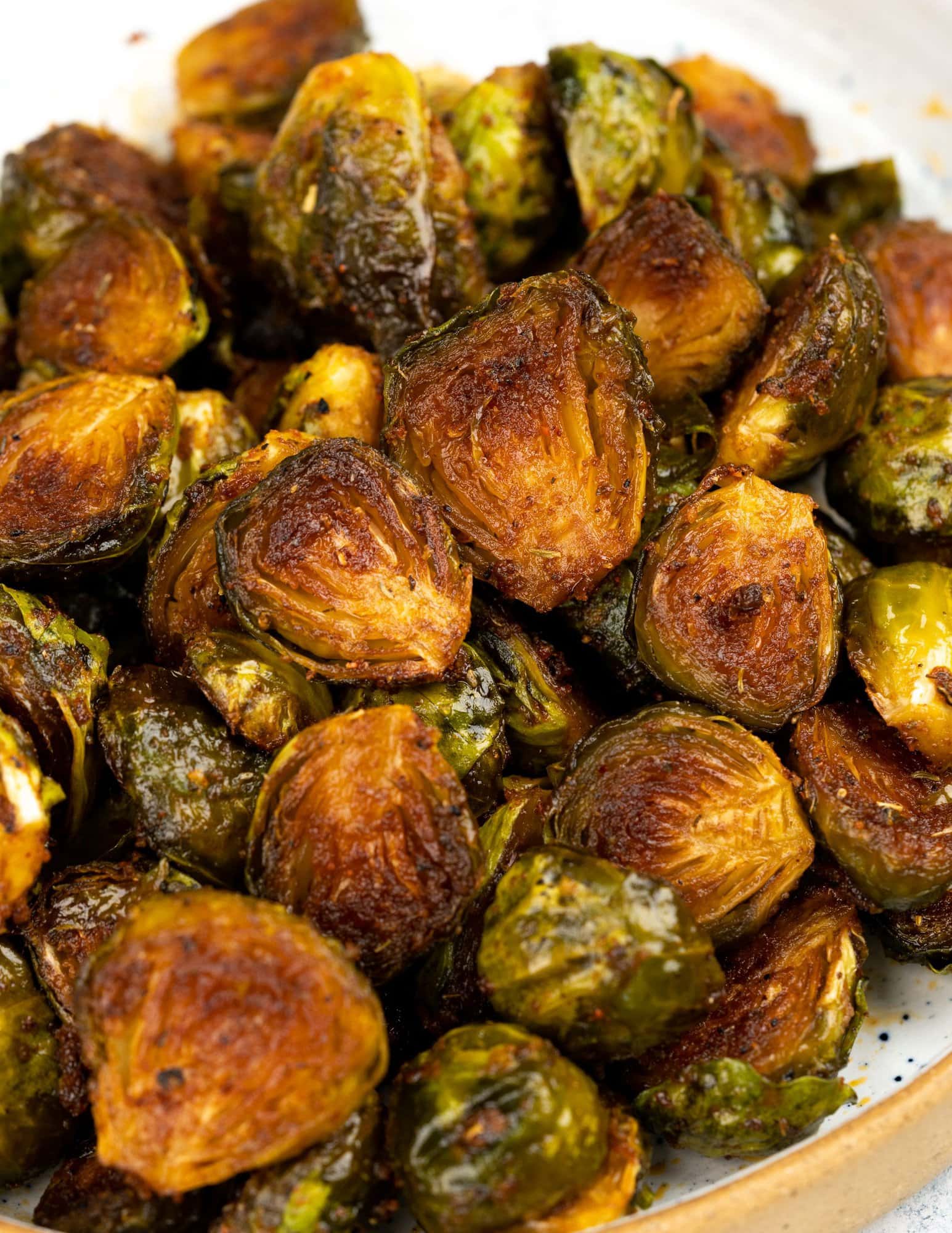 How to freeze roasted Brussels sprouts
Remove the pan containing the roasted brussels sprouts from the oven and let it cook completely. Transfer the roasted sprouts to freezer bags or air-tight containers. Put it int the freezer shelf for up to 6 months.
When you need to, take them out of the freezer and, preferably, transfer them to the refrigerator the previous night. Next day, take them out, place them back on the lined-up baking tray, and bake for 10 minutes. You shall get crisp roasted sprouts again.
You may also refrigerate roasted sprouts for up to 4 days. Reheat them in the oven again.
Serve with
Roasted Brussels sprouts are an easy and excellent side dish. Serve it with any vegetarian or meaty mains. Check out some of my vegetarian mains – Vegetarian Shepherd's Pie, Spinach Lasagna, Rice Pilaf With Dried Fruit and Nuts, or Garlic Cream Cheese Pasta.
Some delicious mains to go with roasted sprouts are – Maple Mustard Sheet Pan Chicken, Chicken Paprikash, Chicken Pot Pie, or Baked Meatballs In Garlic Butter Sauce.
Related Recipes
Oven Roasted Vegetables With Chicken
Fall Roasted Sweet Potato Salad
Cinnamon Maple Roasted Sweet Potatoes
Roasted Butternut Squash Pasta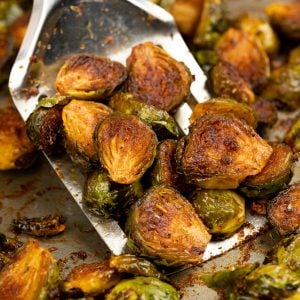 Oven Roasted Brussels Sprout
These Brussels sprouts are tossed in a sweet and spicy seasoning. Then roasted in an oven until it is perfectly caramelized on the outside and tender inside.
Ingredients
500 grams Brussels Sprout
¼ cup Butter
2.5 tablespoons Olive oil
2 tablespoon light brown sugar
½ teaspoon mild Paprika
½ teaspoon smoked paprika
1 teaspoon garlic powder
1 teaspoon Italian Seasoning
½ teaspoon ground black pepper
1 tespoon Salt
Instructions
Preheat the oven to 400 F. For easy cleanup, line a large baking tray with foil or parchment paper.

Using a pairing knife, cut off the brown tough end ( stem). discard any loose, yellow leaves. Cut each brussel sprout into half. If too large cut them into quarters.

In a mixing bowl, mix rest of the ingredients and add halved brussels sprouts to it. Toss well to coat each brussel sprout with the seasoning mix.

Arrange the brussels sprouts in a single layer with cut(flat) side down)

Place the baking tray on the middle shelf and bake for 25-30 minutes. If the brussels sprouts are too small or large, adjust the baking time accordingly.
Nutrition
Serving: 1serving | Calories: 216kcal | Carbohydrates: 18g | Protein: 5g | Fat: 16g | Saturated Fat: 10g | Polyunsaturated Fat: 1g | Monounsaturated Fat: 4g | Trans Fat: 1g | Cholesterol: 41mg | Sodium: 252mg | Potassium: 517mg | Fiber: 5g | Sugar: 9g | Vitamin A: 1540IU | Vitamin C: 106mg | Calcium: 64mg | Iron: 2mg