Maple Mustard Sheet Pan Chicken
This post may include affiliate links that earn us a small commission.
Juicy baked sheet pan chicken in maple mustard dressing is an easy-to-make recipe that you can easily meal prep. Veggies like sweet potato, brussels sprout, and onion get roasted along with chicken making it a complete meal.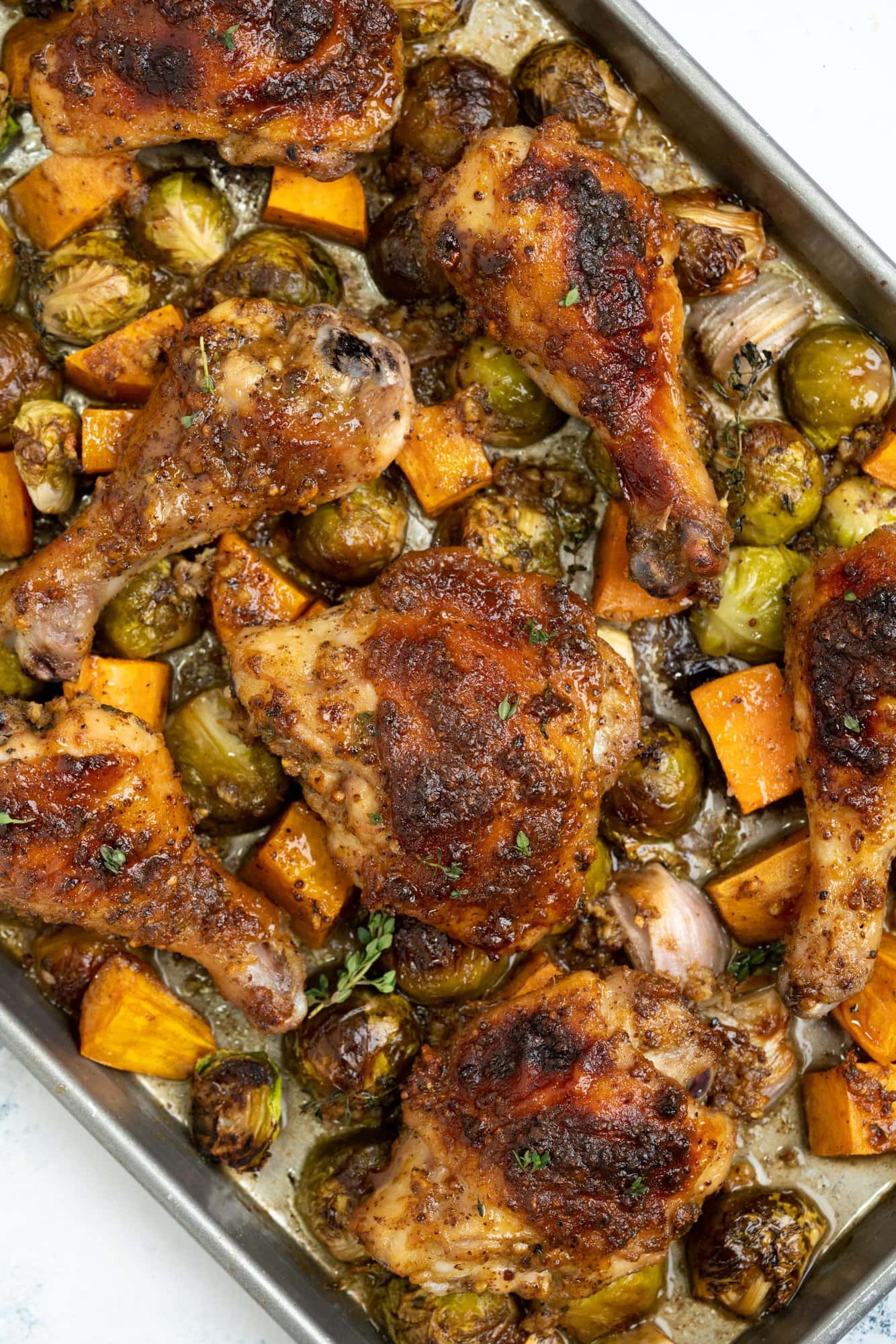 Sheet pan chicken dinners are the best. Trust me; I can't have enough of one pan recipe. The convenience of a sheet pan dinner is just unbeatable.
Flavours In Your Inbox
Subscribe for recipes straight to your inbox
This Sheet pan Chicken dinner is lip-smackingly good. Chicken thighs and legs are tossed in a sweet and savory maple mustard dressing, then cooked until crispy outside and juicy inside. I have also added sweet potatoes, brussels sprouts, and red onion, which gets cooked along with chicken and its drippings.
Baking this makes tender chicken with a nice crust, not just on the chicken but also on the vegetables. Charred and roasted vegetables taste better than veggies done any other way, and this is just one great roasted recipe.
I am a fan of sheet-pan, and one-pot recipes cause they are hassle-free in cooking and cleaning afterward. I had already shared a sheet pan recipe – Sheet Pan Sausage and Potatoes.
Why Do I Love Sheet Pan Chicken Dinners
Sheet pan chicken dinners rank alongside one-pot chicken dishes for their convenience of dumping everything onto a sheet pan or pot. This recipe works out in multiple ways –
Easy to make without handling multiple utensils. Just place everything onto a sheet pan and let the oven do the magic.
A massive relief while cleaning dishes – there is just one thing to handle.
Chicken and vegetables are all roasted together and make a great roasted meal. You can be versatile with the vegetables here – use what you love.
The maple mustard seasoning is a superb combination of sweet and tangy flavors.
Sheet pan dinner recipes are more convenient than one-pot dinners as they do not involve cooking. Toss everything with the marinade and bake in the oven for sheet pan chicken dinners.
For one-pot dinners, though you use a single pot during the entire process, cooking involves adding ingredients at multiple stages, based on their cooking time. Check out some one-pot recipes like One-Pot Lemon Pasta, One-Pot Mushroom Rice, and One Pot Tomato Basil Chicken Orzo.
Maple mustard marinade
I have used a maple mustard marinade balanced with sweet and pungent flavors from the maple syrup and mustard. And mustard does not just work great with beef but tastes terrific with poultry and vegetables.
I have used dijon and whole-grain mustard, which significantly boosts flavor. Most dijon mustard bottles use vinegar as a component, which helps in tenderizing meat and vegetables together.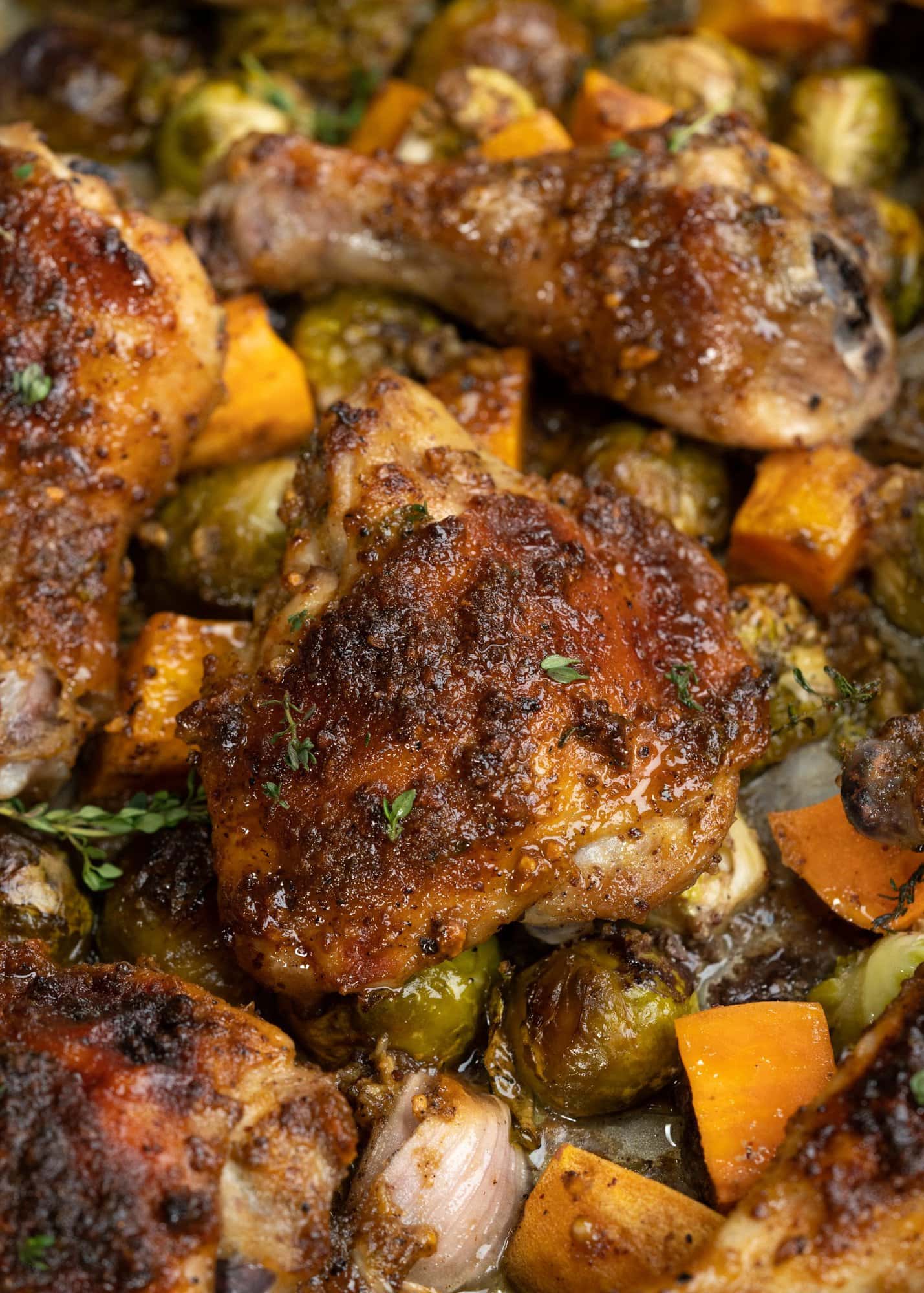 Ingredients
The main components of the dish are listed separately from the ingredients required to make maple mustard marinade.
Chicken thighs and legs – I prefer chicken thighs as it has more flavor and the bone-in pieces are the best for roasted recipes.
Brussels sprout halved – Phew. Brussell sprouts were not coming onto the shelves for some reason when I wanted to use them.
Chopped sweet potatoes – these potatoes' natural sweetness complements the marinade's tanginess.
Red onion – a bit spicy but balances the marinade and vegetables.
Thyme – herby flavors work great in roasted recipes.
Olive oil – use as fat for the marinade.
Salt and pepper – Salt to balance and bring out all the other flavors. They are used in the marinade too.
For marinade
This recipe uses dijon and whole mustard, the flavor drivers, along with maple syrup.
Butter – the fat in butter adds richness to meat and vegetables
Maple syrup – adds sweetness to the marinade.
Dijon Mustard & Whole grain Mustard – adds a pungent and tangy taste and is an excellent choice for a meat marinade.
Minced Garlic – my favorite aromatic, which you will find everywhere.
Thyme leaves – for that herby flavor.
Substitutions
For the vegetables, you may add broccoli, tomatoes, or mushrooms. Oven-roasted cauliflower tastes great and is a nice addition.
I recommend using chicken thighs, especially with the bone-in, for this recipe. Chicken breast is not suitable as the vegetables take some time to roast, and the chicken breast will dry by that time. Bone-in pieces will take more time than boneless ones and thus works best.
How to make sheet pan chicken
Prep
There are two things to do here: line the sheet pan/baking tray with parchment paper. Second, chop the vegetables and thyme leaves and shrugs.
Marinate
Toss the chopped vegetables with olive oil, salt, and pepper in a big mixing bowl and mix properly. Place the vegetables evenly on the baking tray.
You must pat the chicken pieces dry using a kitchen towel. With the mixing bowl used earlier, add all the ingredients required to make the maple mustard marinade. Add the chicken pieces and toss everything around, so the chicken is coated with the marinade.
Post-mixing, you should cover the marinated chicken and let it rest. Resting ensures that the marinade gets time to work its magic on the chicken, allowing it to absorb flavors slowly and lock its moisture.
Meanwhile, you can preheat the oven while the chicken rests for at least 15 minutes.
Bake the chicken and veggies
Next, lay the chicken pieces over the vegetables and sprinkle the thyme sprigs.
Place the baking tray in the oven and heat it until the chicken is done. You may use a kitchen thermometer. The temperature should read 165°C / 330°F.
Take the tray out and brush the residual juices on the chicken pieces and vegetables. Serve & enjoy!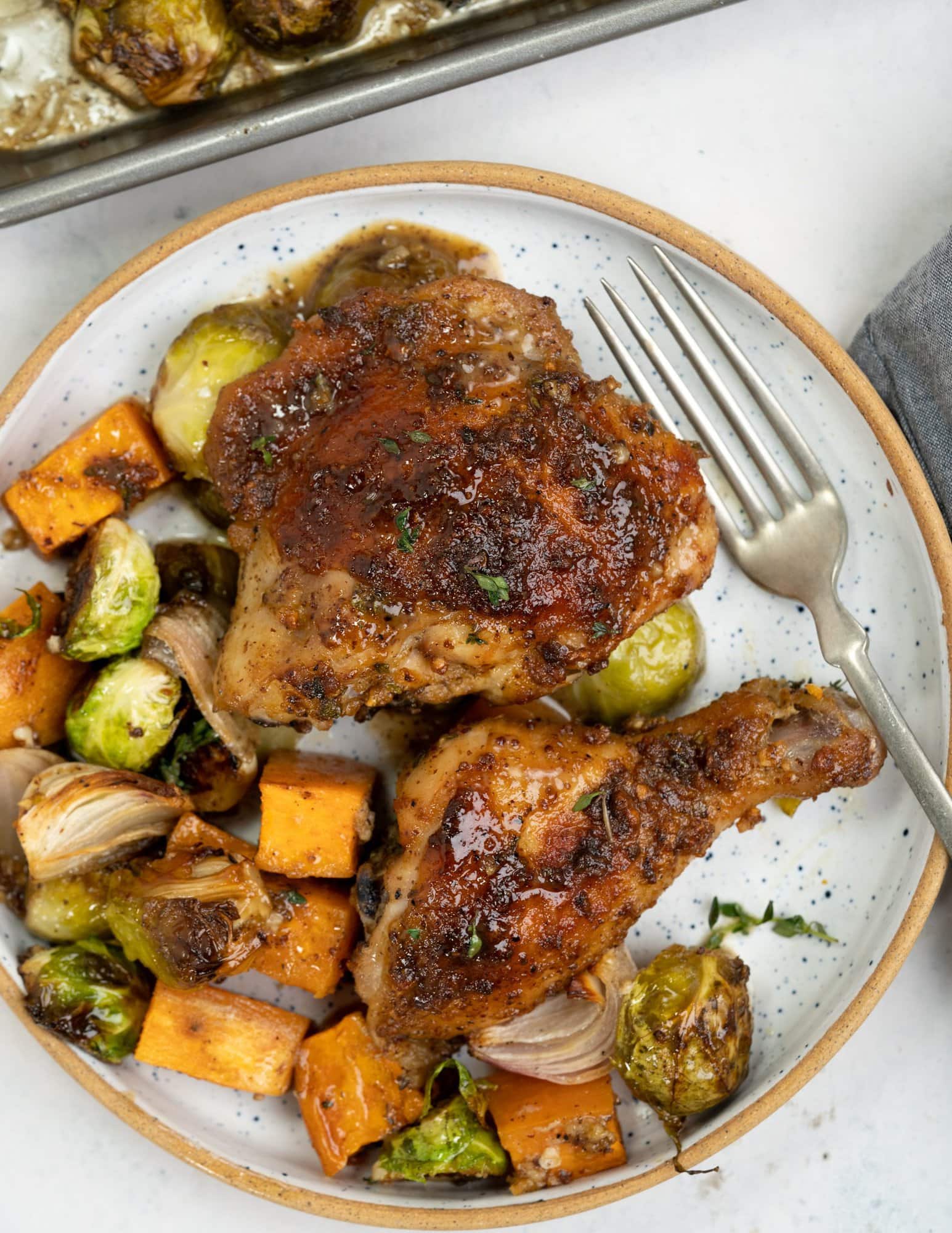 Store
You can easily store the chicken and veggies in an air-tight container or bag. You can freeze them for a few months. If you have to serve them in a matter of days, store them in the refrigerator for up to 4 days.
You can reheat the leftovers in the oven to make the skin crisp on the chicken. Or for a quick-serve, reheat it in a microwave too.
Serve with
With this sheet pan chicken and vegetable dinner, you already cover good protein and fiber. You can make it a complete meal with white or brown rice. You can have a little sauce from the marinade with the rice.
Have it with some green beans with salt and pepper. If you substitute potatoes with other vegetables, add Roasted Garlic Mashed Potatoes.
One-pan chicken recipes you might like
Chicken and Cabbage Stir-fry – Garlic and curry powder make this simple chicken and cabbage stir-fry delicious.
Baked Chicken and Potatoes – Juicy chicken and tender potatoes cooked in a butter garlic herb sauce.
Mozzarella Chicken – Pan-seared chicken is cooked in chunky tomato sauce and topped with mozzarella.
Lemon herb chicken, Asparagus, & Mushroom – Chicken and asparagus with mushrooms is a fresh, healthy, low-carb dinner.
Honey Garlic Chicken Thighs – Seared chicken thighs are cooked in a sweet, savory, sticky honey garlic sauce.
Creamy Garlic Chicken and Broccoli – Chicken and broccoli cooked in a creamy garlic sauce.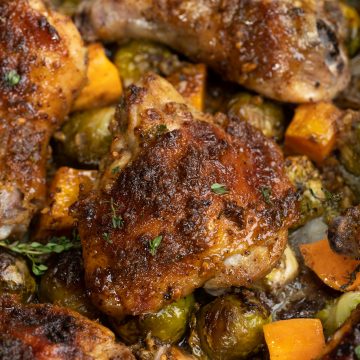 Maple Mustard Sheet Pan Chicken
Sheet pan chicken dinner with veggies. The maple mustard dressing brings together the chicken and veggies with its robust flavor. Fuss frees dinner recipe
Equipment
1 Sheet pan also known as baking tray
Oven to roast the chicken and veggies
1 Bowl to mix veggies with salt and pepper and also marinate the chicken
Ingredients
1 kg Chicken thighs and legs
400 grams Brussels sprout halved
1 Sweet potatoes chopped
1 Red Onion quartered
2 sprigs Thyme
2 teaspoon Olive Oil
salt and pepper to taste
Maple Mustard Marination
4 tablespoon melted butter
2 tablespoon maple syrup
1 heaping tablespoon Dijon Mustard
1 heaping tablespoon Whole grain Mustard
1 tablespoon Minced Garlic
½ teaspoon pepper
1 teaspoon Salt
2 teaspoon fresh thyme leaves
Instructions
Prepare a large baking tray with foil/parchment lining.
Season Veggies
In a big bowl, toss halved brussels sprouts, chopped sweet potatoes, and quartered onions with 2 teaspoons of olive oil, salt & pepper to taste.

Transfer the veggies to the prepared baking tray. Spread evenly.
Marinate Chicken
Pat dry the chicken with kitchen towels.

To the same bowl (used to season the veggies), add all the ingredients mentioned under maple mustard marination section above. Mix it well.

Add chicken pieces. Toss everything well. Cover and let it sit for 15 minutes. (resting is optional).
Oven – Bake and roast
While the chicken is resting, preheat the oven to 425°F .

Arrange chicken pieces on top of veggies. Sprinkle the thyme sprigs.

Brush any remaining marination in the bowl on the chicken. ( if the marination has thickened because of the butter, microwave for 10-12 seconds and the leftover marination from the bowl can be brushed easily on the chicken)

Bake for 40 minutes or until the chicken is done.

Remove the baking tray from the oven. Brush the chicken with the pan juice from the pan.

Serve warm.
Nutrition
Serving: 1serving | Calories: 558kcal | Carbohydrates: 31g | Protein: 28g | Fat: 36g | Saturated Fat: 14g | Polyunsaturated Fat: 6g | Monounsaturated Fat: 14g | Trans Fat: 1g | Cholesterol: 163mg | Sodium: 855mg | Potassium: 956mg | Fiber: 6g | Sugar: 12g | Vitamin A: 9324IU | Vitamin C: 92mg | Calcium: 104mg | Iron: 3mg