Quick Chicken Cabbage Stir-fry
This post may include affiliate links that earn us a small commission.
Simple Chicken and Cabbage stir fry with aromatics like garlic and curry powder is really quick to make. This Cabbage stir fry is delicious and low-carb.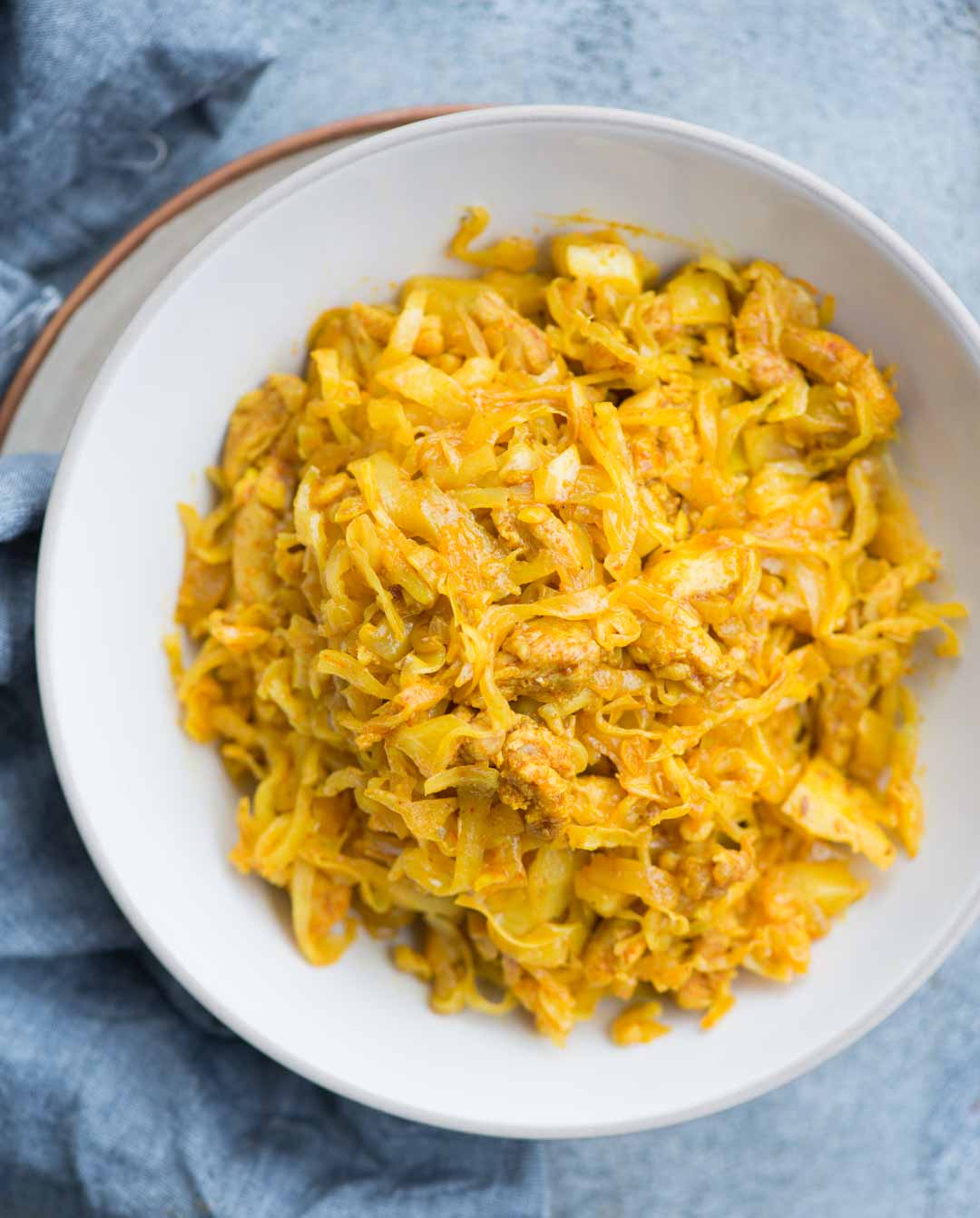 A simple Cabbage Stir fry with Chicken and warm spices is a healthy, family-friendly meal. This Cabbage stir fry recipe is a clear winner with juicy, tender chicken and slightly crunchy cabbage.
Flavours In Your Inbox
Subscribe for recipes straight to your inbox
What sets this recipe apart from others is the use of curry powder. It is so flavourful that even a cabbage hater would ask for a second serving.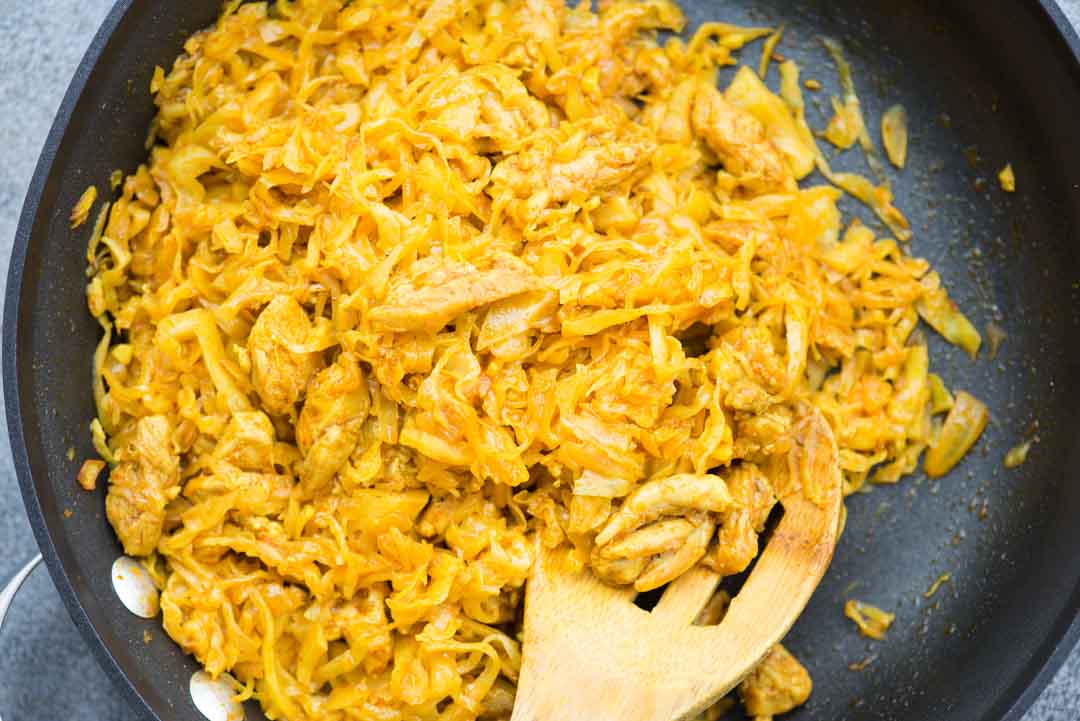 Cabbage is a very common vegetable in India. We make stir-fries of different kinds, Cook them with lentils, make fritters, and use them in salads. Chicken and cabbage are not a common combination. When I was on Keto, I mixed them together instead of frying cabbage and chicken separately. The recipe is the same as the regular Cabbage stir fry that we have been eating since forever. And now this combination appears frequently on our menu.
How To Make Cabbage Stir Fry With Chicken?
Start with sauteing onion and garlic in oil until aromatic.
Then add the dry spices and cook for 30 seconds. Cooking spices in oil helps to develop flavor. After adding dry spices, the mixture tends to burn, so keep an eye and cook on low flame.
Then add chicken to the pan. I like using chicken thighs here because they remain juicy and have fewer chances of getting dry. You can also use chicken breast, but you must take care of the cooking time.
Once the chicken is cooked, add shredded cabbage. Cook until the cabbage is cooked, yet there is a crunch.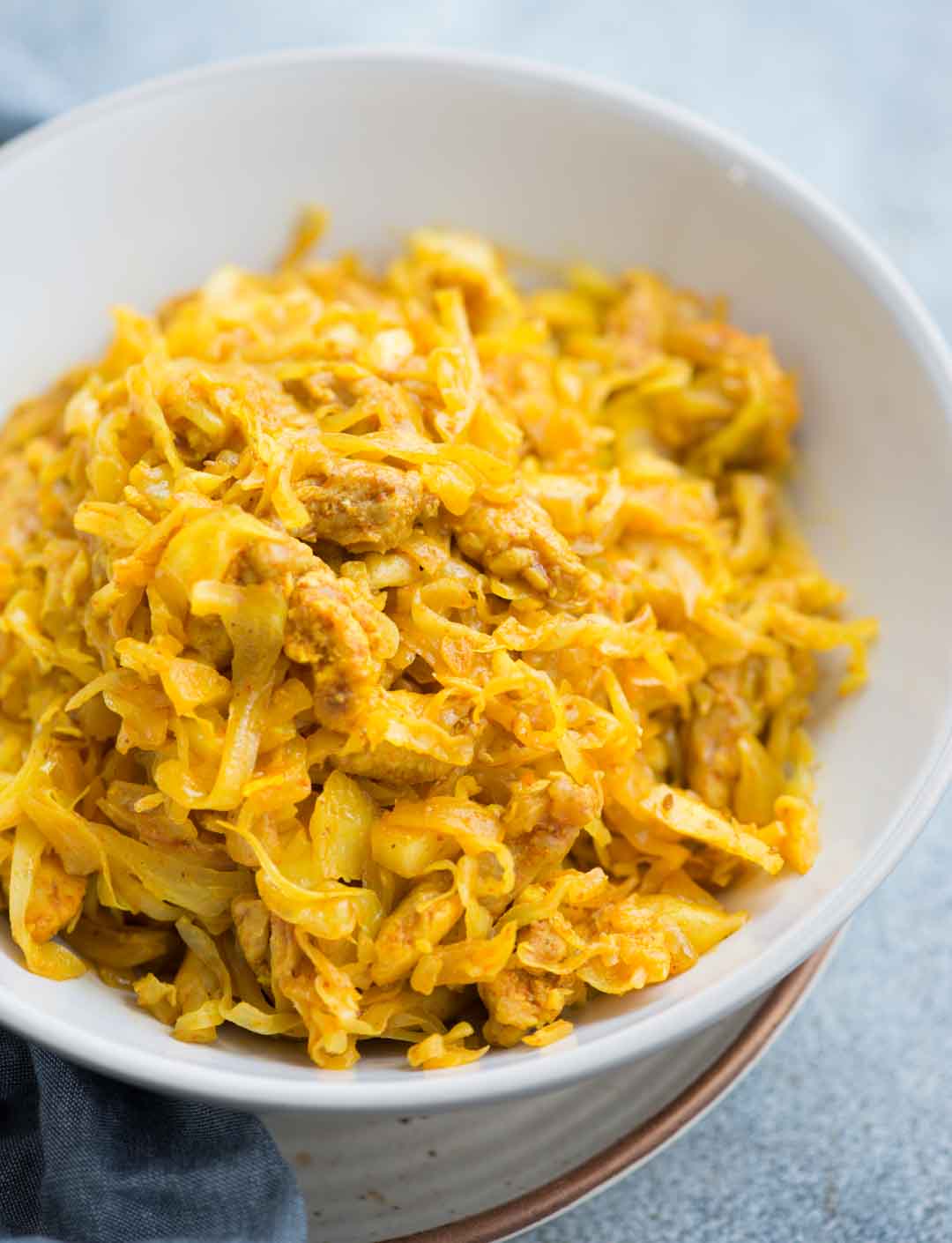 Few Helpful Tips…
This freezes really well, so you can make and freeze a big batch of it.
To save time, use shredded cabbage available in supermarkets.
Using a big head of cabbage, use the required amount here, and rest you can shred and freeze. If you love cabbage as much as I do, try this Low Carb Cabbage Chicken Taco Soup.
Cabbage, once cooked, tends to lose a lot of water. So add some salt towards the end when the quantity has reduced by more than half. Doing so will give you an idea of the amount of salt you need to add.
One-pan chicken recipes you might like
Baked Chicken and Potatoes – Juicy chicken and tender potatoes cooked in a butter garlic herb sauce.
Mozzarella Chicken – Pan-seared chicken is cooked in chunky tomato sauce and topped with mozzarella.
Lemon herb chicken, Asparagus, & Mushroom – Chicken and asparagus with mushrooms is a fresh, healthy, low-carb dinner.
Maple Mustard Sheet Pan Chicken – Chicken gets roasted along with veggies in a maple mustard dressing.
Honey Garlic Chicken Thighs – Seared chicken thighs are cooked in a sweet, savory, sticky honey garlic sauce.
Creamy Garlic Chicken and Broccoli – Chicken and broccoli cooked in a creamy garlic sauce.
Step-by-step video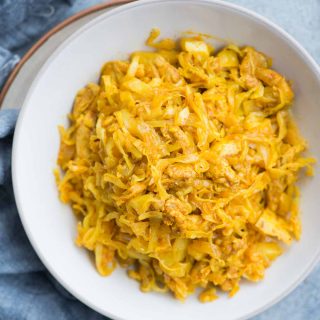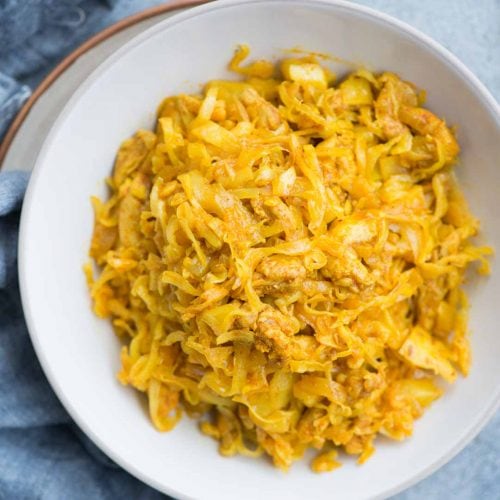 Cabbage Stir Fry with Chicken
Simple Cabbage stir fry with Chicken, aromatics like garlic, cumin and curry powder is really quick to make. This Chicken Cabbage stir fry is delicious and low carb too.


Ingredients
250 grams Chicken Thigh Cut into thin strips
3-4 cups Cabbage Shredded
2 teaspoon Oil
½ tablespoon Garlic minced
1 small Onion Chopped
½ teaspoon Turmeric Powder
1 teaspoon mild Curry Powder
½ teaspoon Chilli Powder
salt to taste
Instructions
Start by heating oil in a pan. Add garlic and saute for 30 seconds.

Add chopped onion and cook for 1-2 minutes until onions have softened and no more raw smell coming from it.

Add all the spices and cook for 30 seconds until aromatic.

Add chicken and cook for 2-3 minutes along with the onion spice mixture.

Add shredded cabbage to the pan, give everything a good mix. Cover and let the cabbage cook for 3-4 minutes.

Once the cabbage is cooked and reduced to half of the quantity season with salt. Mix well.

If you want the cabbage to be soft and well cooked, then after adding salt cook for another 3-4 minutes.

Serve along with some rice if prefered.
Notes
Add a chopped red bell pepper or a carrot for variation. 
If you don't have curry powder, add roasted cumin powder instead. 
Adjust the amount of chilli powder as per taste. 
Nutrition
Serving: 100g | Calories: 179kcal | Carbohydrates: 6g | Protein: 11g | Fat: 13g | Saturated Fat: 3g | Cholesterol: 61mg | Sodium: 63mg | Potassium: 243mg | Fiber: 2g | Sugar: 2g | Vitamin A: 174IU | Vitamin C: 21mg | Calcium: 30mg | Iron: 1mg