Roasted Beetroot Arugula Salad With Balsamic Dressing
This post may include affiliate links that earn us a small commission.
Arugula salad with roasted beetroots, fresh arugula leaves, goat cheese, walnut, and a delicious balsamic dressing. It is easy to put together and is a perfect side dish to go with dinner.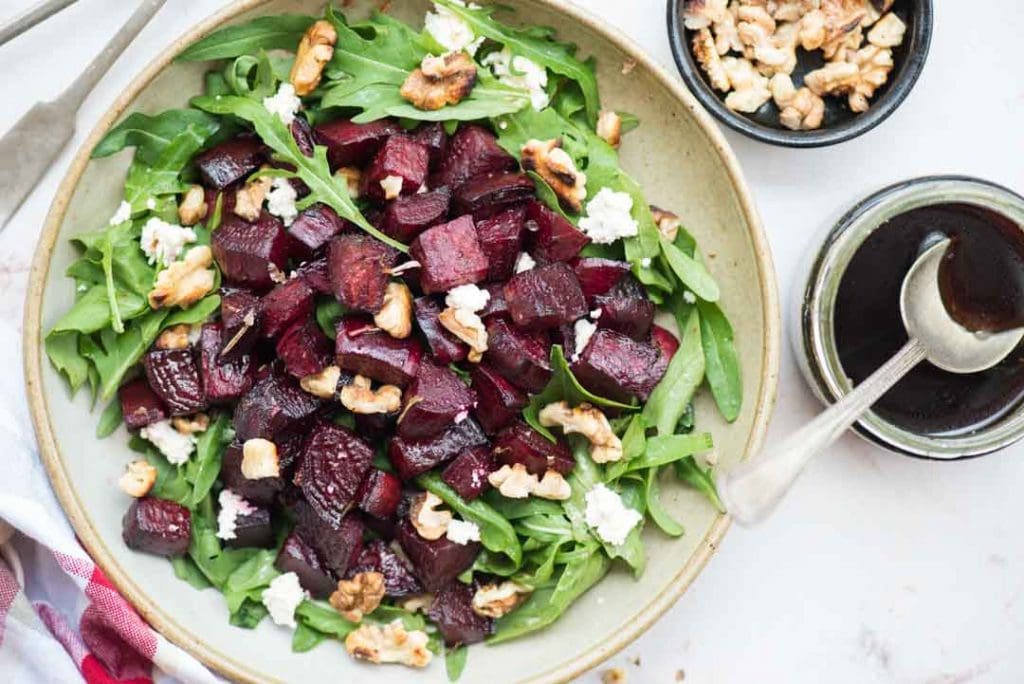 This Arugula salad is loaded with leafy greens, roasted beetroot, and a perfect side. Sweet roasted beetroot, peppery arugula, salty goat cheese and to bind everything together there is sweet and tangy balsamic dressing.
Flavours In Your Inbox
Subscribe for recipes straight to your inbox
The balsamic dressing is slightly tangy and sweet. One of my favorite dressings, easy to put together, and very versatile dressing.
This balsamic dressing serves a dual purpose here. Beetroot is tossed in the same dressing and roasted. So instead of plain boring roasted vegetables, we have sweet flavourful beetroot for our salad.
I have also got salads with other interesting salad dressings – Ramen Noodles Salad With Peanut Dressing, Chinese Chicken Salad With Sesame Dressing, Apple Kale Salad With Apple Cider Vinaigrette, and Chicken Pasta Salad With Lemon-Herb Dressing.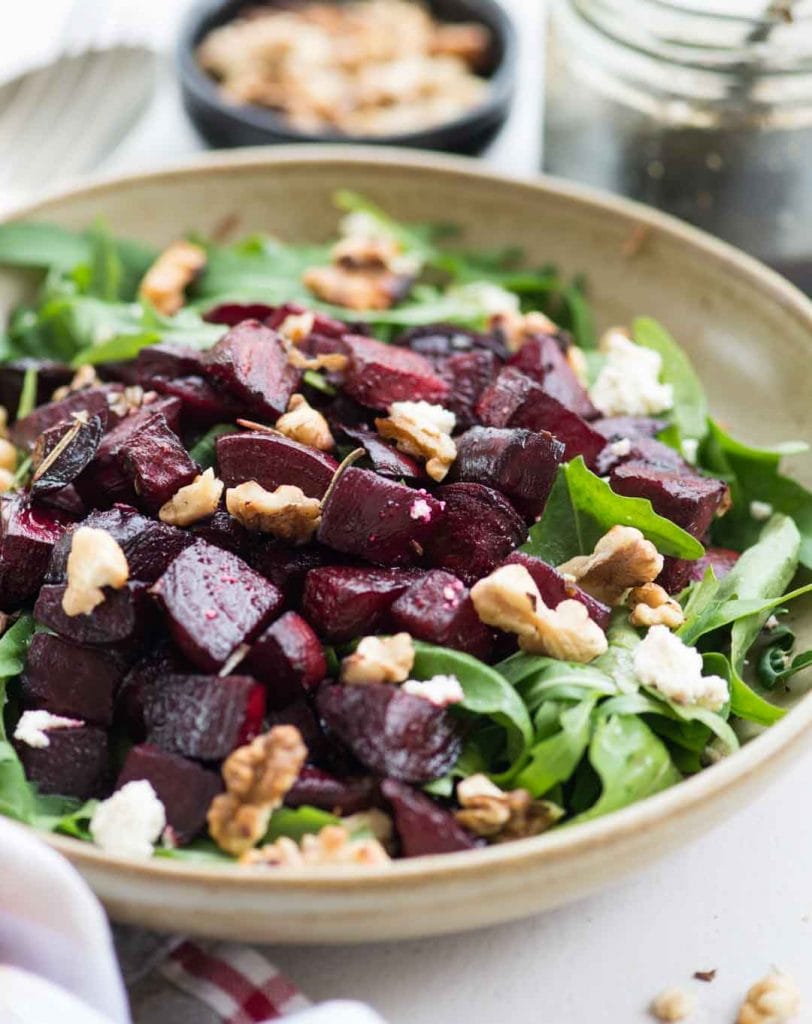 Ingredients For Arugula Salad
Fresh Baby Arugula leaves
Beetroot
Toasted walnut
Goat cheese
That's all you need for the salad. Try substituting toasted walnut with these candid walnuts for extra crunch.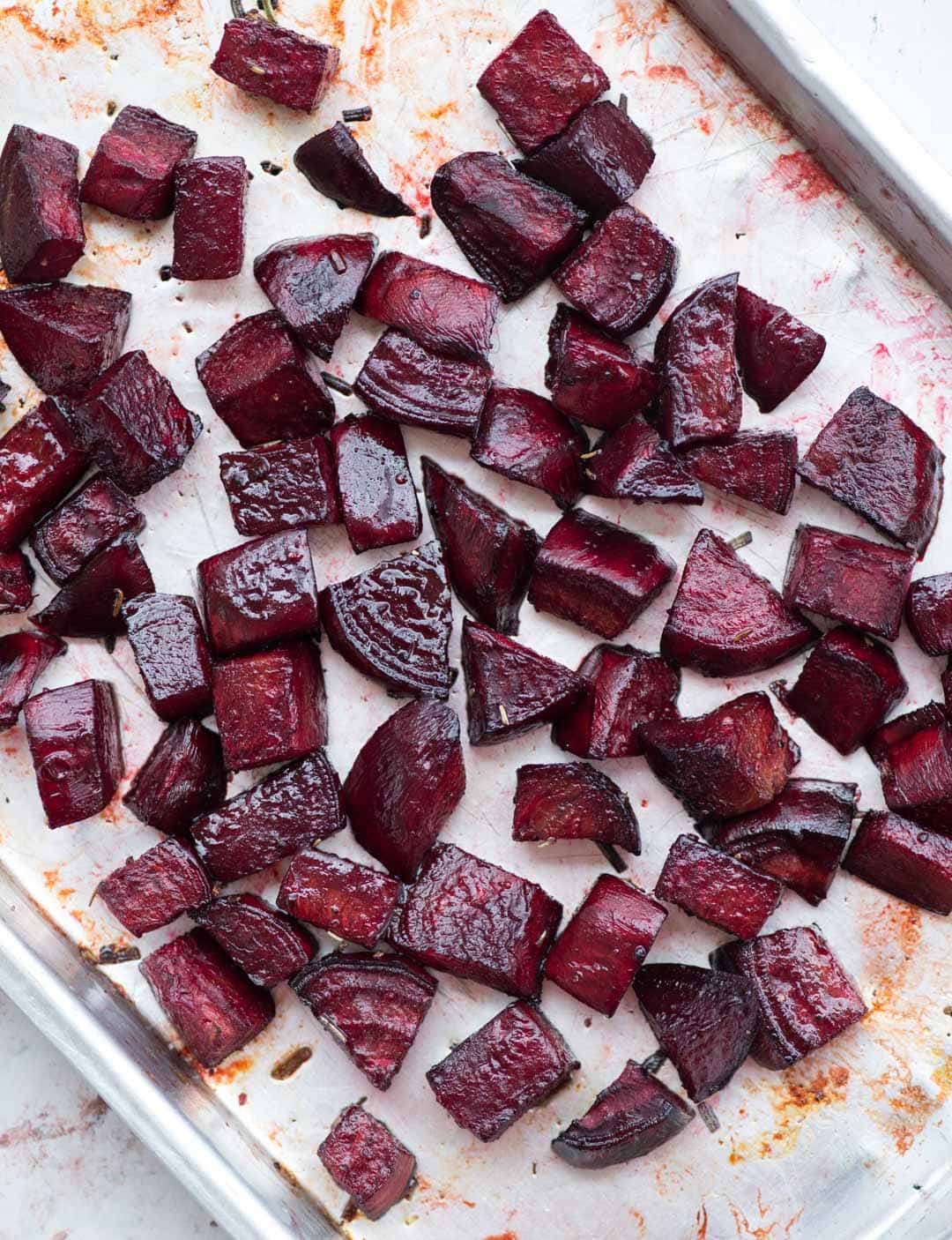 All-Purpose Balsamic Dressing
Balsamic Vinegar dressing is a kind of a staple in my kitchen. I love this dressing a lot. It is sweet and tangy. This dressing works perfectly as a marinade too. I use the same dressing for marinade chicken( you should try it), carrots, assorted vegetables, etc.  Even in this recipe instead of roasting beetroot only with salt and pepper, toss it with the balsamic vinaigrette and bake it.  My beetroot-hating husband also was impressed after having a bite.
You need just 4 ingredients for the balsamic dressing-
Good quality Balsamic Vinegar
Honey / Sugar
Olive oil
Salt & Pepper
This dressing is all about balance. So adjust the seasoning and add more honey or salt if required.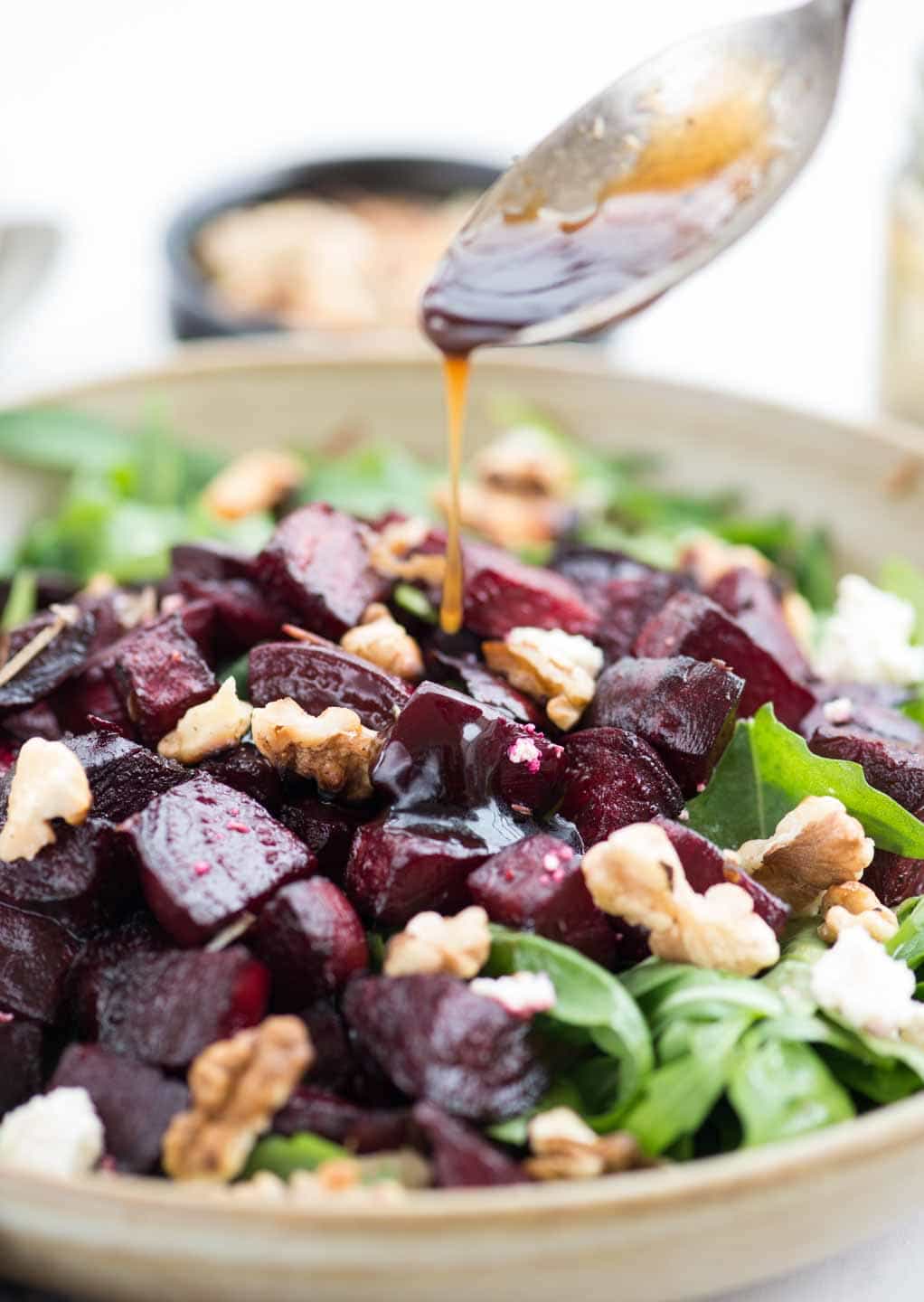 Prepping Instruction For Arugula Salad
Prepare the ingredients ahead and assemble them in a jiffy during dinner time. You can easily double the quantity and serve this salad to a crowd.
Clean and peel the beetroot first. Many dread cutting beetroot because of red stains on their hands. Though the red color can be washed off easily, use a kitchen glove while cutting beetroot. Beetroot size should be bite-size.
You can bake beetroot well ahead of time and let it cool completely before adding it to the greens.
Use packed toasted unsalted walnuts or toast at home and store them in an airtight container. If toasting at home let it cool completely before adding it to the salad.
Cleaning greens is something we neglect most of the time. I always make sure to clean my green and put it in a colander to drain as much water as possible.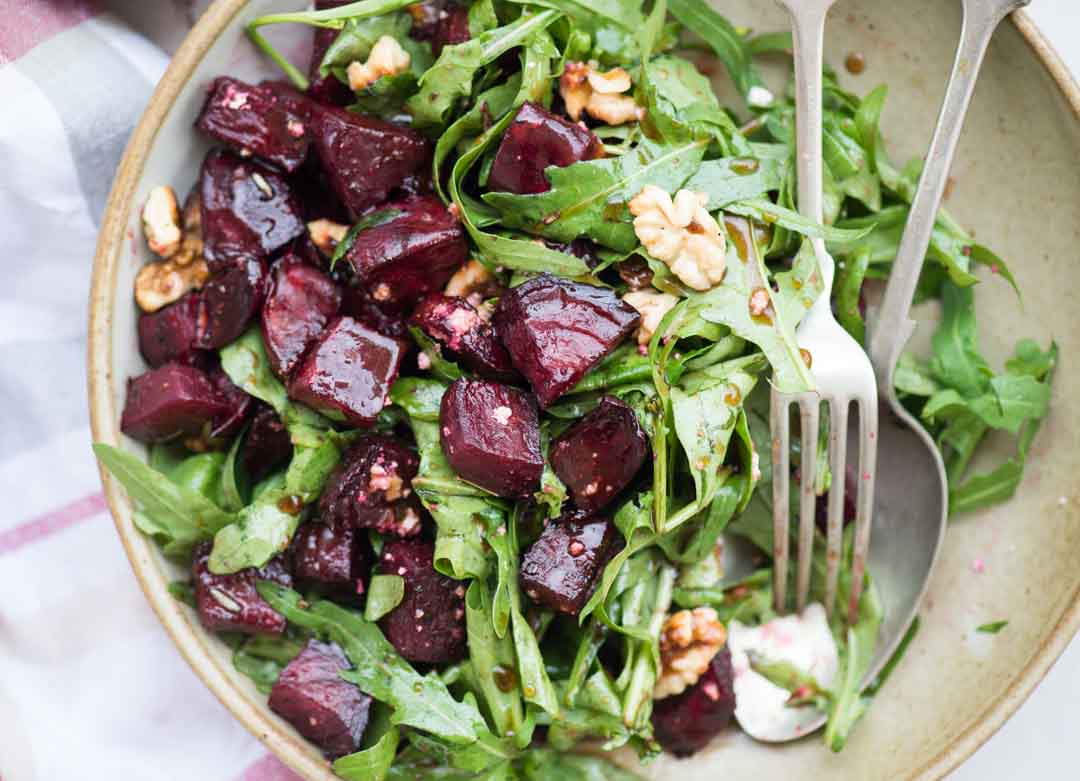 Serving Suggestion
Perfect for light lunch or dinner when served as it is. This salad can also be served along with the protein-based main course like
Baked Garlic Parmesan Chicken & Potatoes
Instant Pot Chicken In Creamy Tomato Sauce
Honey Soy Baked Chicken Drumsticks
Other Salad Recipes
Fall Roasted Sweet Potato Salad
Lemon Dill Potato Salad( No Mayo)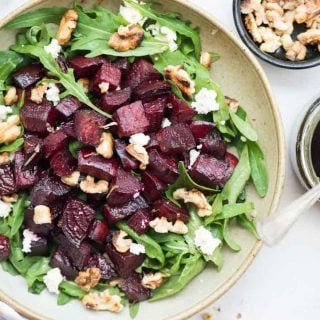 Roasted Beetroot Arugula Salad
Arugula salad with roasted beetroots, fresh arugula leaves, goat cheese, walnut and a delicious balsamic dressing. It is easy to put together and is a perfect side dish to go with dinner.
Ingredients
2 large beetroots
1 sprig Rosemary
3 cups baby arugula
½ cup toasted walnut
⅓ cups Goat Cheese or feta
For Balsamic Vinaigrette
2 tablespoon Balsamic Vinegar
2 tablespoon Honey
¼ cup Olive Oil
Salt & Pepper
Instructions
For the Balsamic dressing add all the ingredients to a jar, close the lid and shake well to mix everything well.

Clean, peel and cut beetroot to bite-size pieces.

Preheat oven to 400°F ( 200 °C).

Toss beetroot pieces in 2 tablespoons of above dressing. Bake for 20 minutes or until cooked tender and is caramelized around the edges.

Let roasted beetroot cool down a bit.

In a big salad bowl add baby arugula, roasted beetroot, toasted walnut. Drizzle dressing as per taste and toss well.

Top with crumbled goat cheese while serving.
Nutrition
Serving: 100g | Calories: 366kcal | Carbohydrates: 26g | Protein: 8g | Fat: 27g | Saturated Fat: 6g | Cholesterol: 9mg | Sodium: 183mg | Potassium: 571mg | Fiber: 5g | Sugar: 20g | Vitamin A: 596IU | Vitamin C: 9mg | Calcium: 87mg | Iron: 2mg