Lemon Dill Potato Salad( No Mayo)
This post may include affiliate links that earn us a small commission.
Herby and lemony Dill Potato salad is a perfect summer salad. It is light and refreshing made with tangy olive oil and lemon dressing.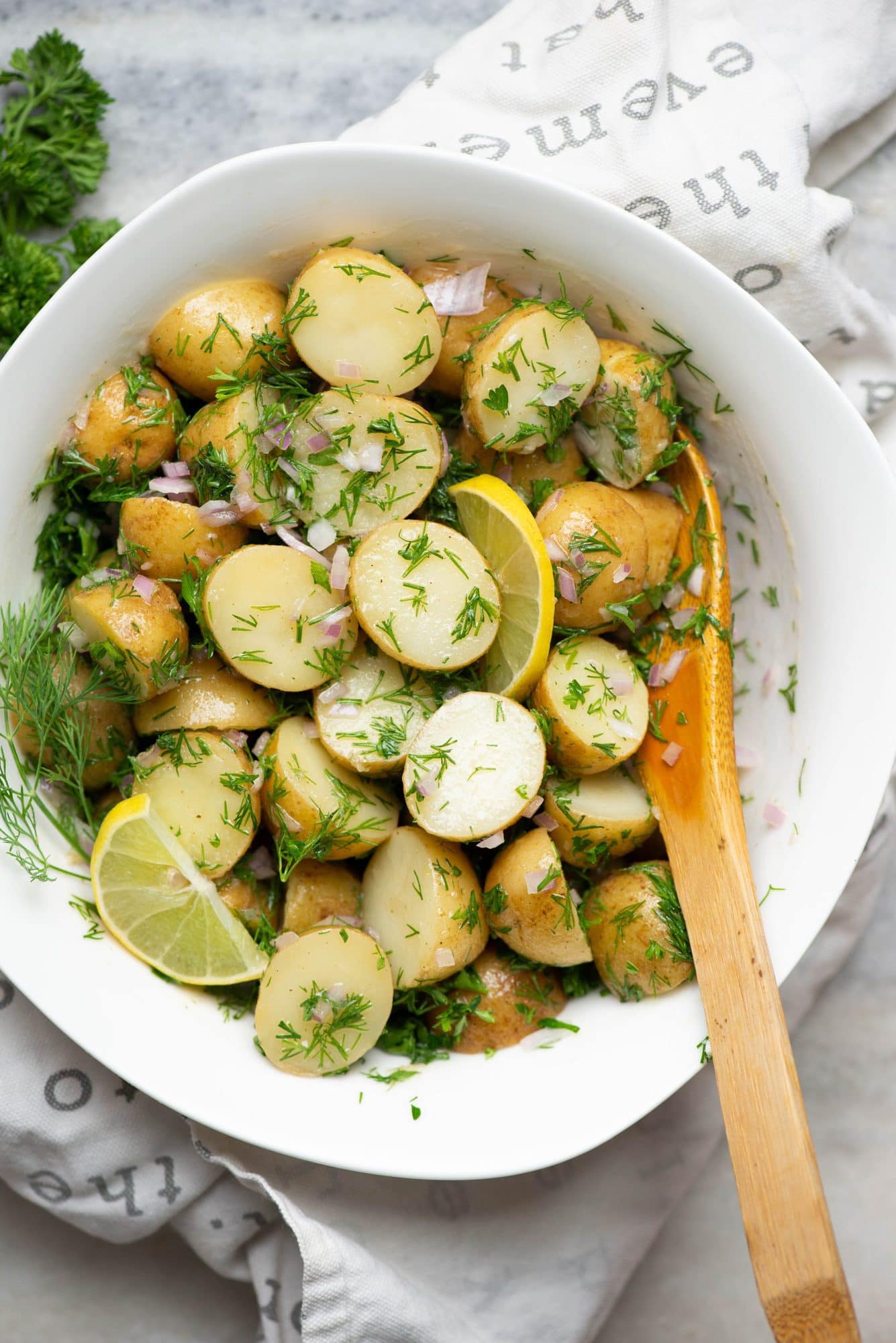 Well, who doesn't love a creamy mayo-based Potato salad? But for a change, if you are looking for a potato salad that is not heavy, then this Dill Lemon Potato salad is a must-try.
Flavours In Your Inbox
Subscribe for recipes straight to your inbox
Tender potatoes are tossed in tangy olive oil and lemon dressing and lots of fresh dill leaves. This refreshing salad is something you would love to eat when it is hot outside. A perfect side dish to pair with barbecues or take to a picnic.
Dill is an underrated herb and often gets replaced by parsley, basil, or other popular herbs. Dill has a very unique flavor and works really well in salads and sandwiches like this Cucumber Sandwich.
Best potatoes to use for potato salad
The best potatoes for the salad would be red potatoes or new seasonal potatoes. But literally, you can use any potatoes on hand. I like to use baby potatoes. Just cut them into halves.
If using large potatoes, cut them into bite-sized pieces.
Keeping the skin on is a personal choice. I love to keep the skin on because it is high in fiber. But you can absolutely peel them.
Tips to make a great dill potato salad without mayo
Cook the Potatoes Right – We need fork-tender potatoes. While undercooked potatoes are a big no-no, overcooked potatoes will fall apart while tossed with the dressing.
Season water while cooking Potatoes – It is very important to salt the water really well while cooking the potatoes.
Adding vinaigrette in two stages –The good thing about potatoes is it soaks up the flavor added to them when it is warm. Drain potatoes and when it is still hot add half of the seasoning. Hot potatoes soak up the flavor really well and the dressing sticks well.
Let the potatoes rest in the dressing. The tender cooked potatoes taste all lemony, tangy with the freshness of dill leaves.
Once cooled down add the rest of the ingredients and more dressing if required.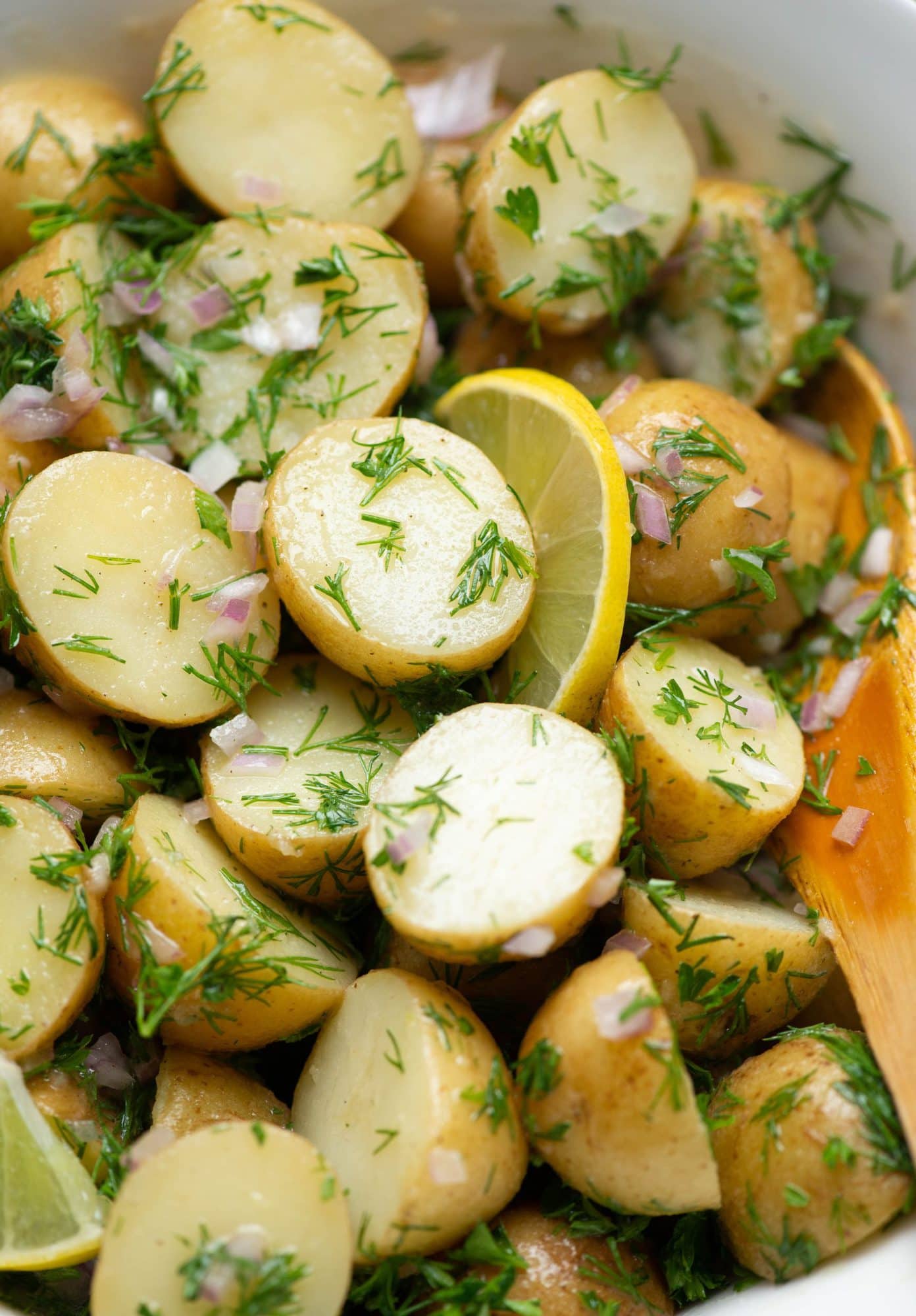 Make ahead and Storage Tips
If you are planning to make for a crowd or make it ahead, you can easily make it a day or two before. It tastes absolutely delicious when served chilled.
You can also store the leftover for up to 3 days in the refrigerator.
Summer Salad Recipes
Ramen Noodles Salad With Peanut Butter Dressing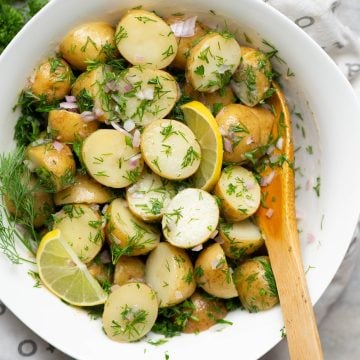 No mayo Lemon Dill Potato Salad
Potato salad tastes equally delicious when made without mayo. This lemon herb vinaigrette ads a punch to the salad and makes it a perfect side dish.
Ingredients
500 grams Potatoes
¼ cup Red Onion chopped
2 tablespoon Fresh Dill Leaves
2 tablespoon Parsely
For Lemon Vinaigrette
¼ cup Olive Oil
2 tablespoon Fresh Lemon Juice (ref note 2)
1 Garlic Clove minced (1 teaspoon)
1 teaspoon Dijon Mustard
½ teaspoon Salt & Pepper
½ teaspoon Sugar
Instructions
In a glass jar with a lid, add all the ingredients for the dressing. Close the lid and shake it really well.

If using baby potatoes cut the potatoes into halves. For large potatoes, cut into small cubes. Cook potatoes in salted water until it is fork-ender.

Drain cooked potatoes and place in a bowl. While potatoes are still hot, add half of the dressing.

Once the potatoes have cooled down, add chopped onion and herbs. Taste and add more dressing if required.
Notes
You can also add chopped celery to the salad.
Lemon juice and lime juice are not the same. Lemon juice is less sour than lime juice and has a sweetness to it. If you are using Lime( in India we get Lime), reduce the juice to 1 tablespoon. You can add more lime juice to the dressing later as per taste. 
Nutrition
Serving: 1serving | Calories: 224kcal | Carbohydrates: 24g | Protein: 3g | Fat: 14g | Saturated Fat: 2g | Polyunsaturated Fat: 1g | Monounsaturated Fat: 10g | Sodium: 22mg | Potassium: 551mg | Fiber: 3g | Sugar: 2g | Vitamin A: 4IU | Vitamin C: 28mg | Calcium: 19mg | Iron: 1mg