This post may include affiliate links that earn us a small commission.
Two of the favorite summer salads combined in this roasted corn pasta salad. Charred Sweet corn and pasta tossed in a creamy mayo-based dressing can be served as a side dish.
This corn pasta salad is on the lines of the Cold Tuna Pasta Salad and ricotta pasta salad – combine pasta with cheese, fish, or chicken. There are so many ways you can get creative with these.
Flavours In Your Inbox
Subscribe for recipes straight to your inbox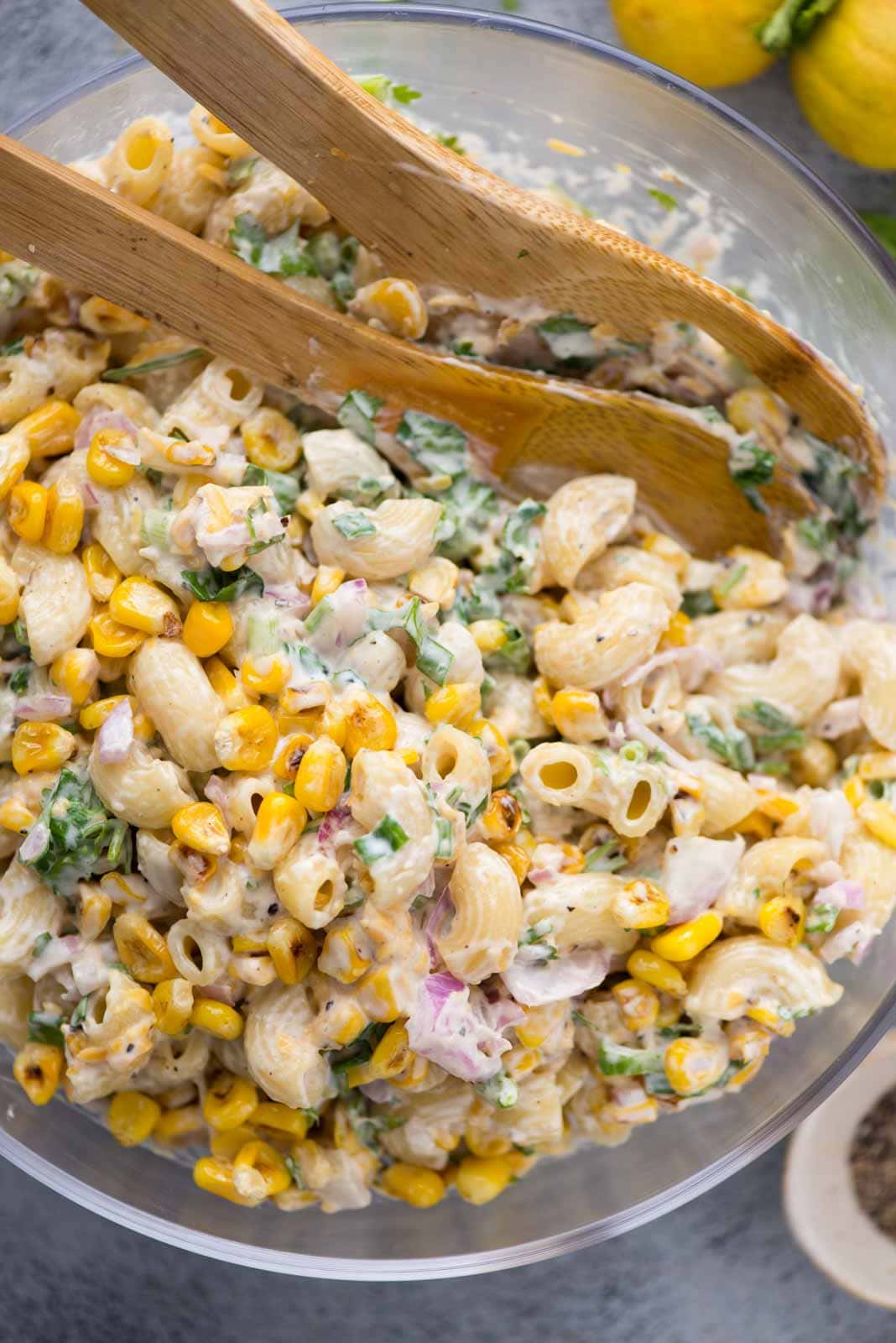 A simple salad is the best side dish for a summer picnic, BBQ party, or potluck. This creamy pasta salad also lets you use corn in abundance during summer.
We love pasta, which you can make from the number of pasta dishes here. While considering salads, we have tried many pasta salads the family loved. The kid goes for the pasta, and we love the veggies and dressings along with the pasta.
Check out Roasted Corn Salad for another corn salad recipe with veggies but without the pasta. I have used corn in many delicious recipes, like dips in Chessy Corn Dip, chowder recipes like this Instant Pot recipe, and Bacon and Shrimp. Corn makes excellent appetizers like these cheesy corn fritters.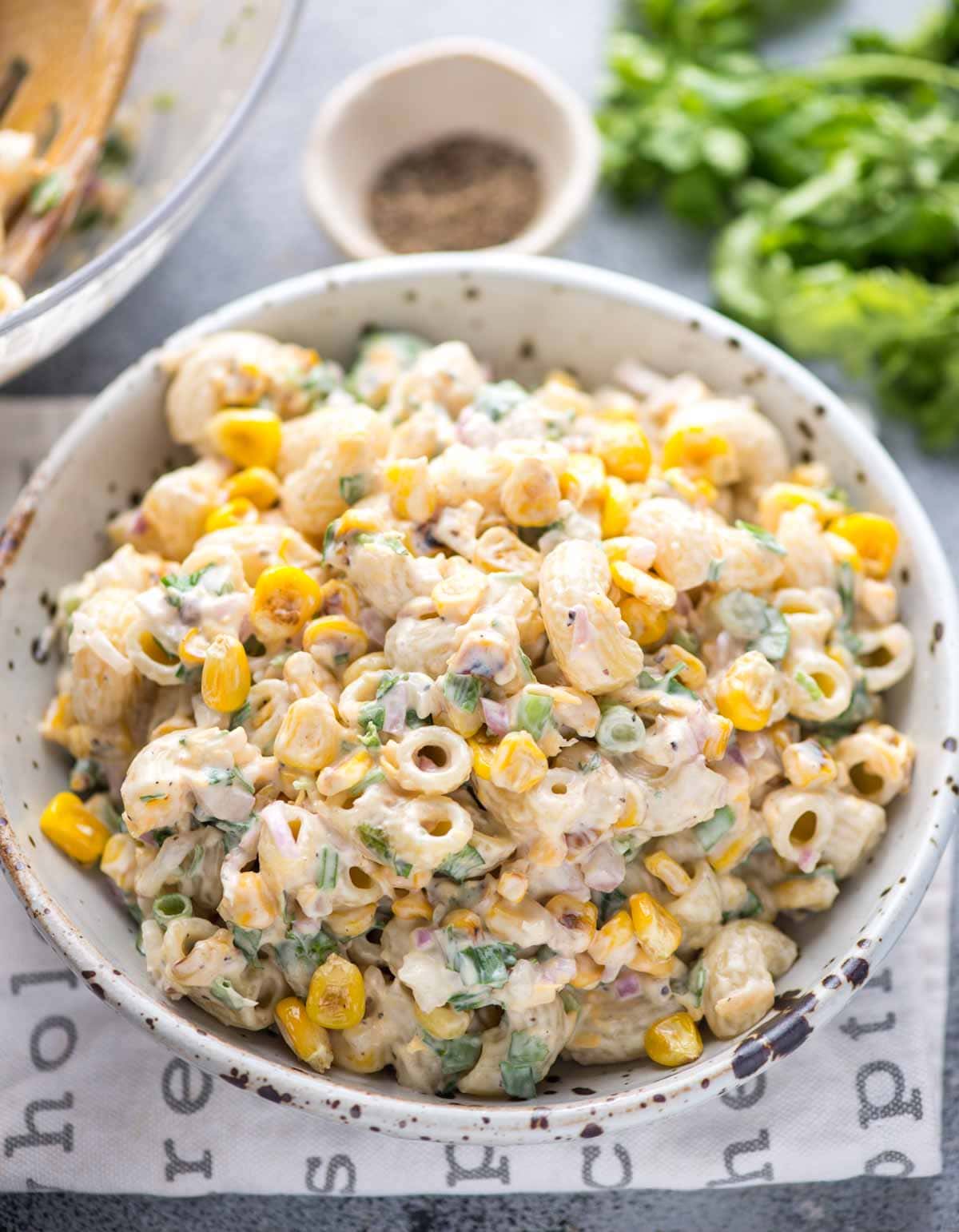 Ingredients For Corn Pasta salad
To make the mayo-based salad dressing:
Mayo
Sour cream
Lemon Juice
Garlic Powder
Pepper
Along with the salad dressing, you need the following:
Pasta – any small-sized byte pasta
Corn – fresh(preferred)/Frozen
Cheese – Cheddar is used in this recipe.
Onion, green onion, Coriander leaves – You can also add chopped bell pepper and celery.

Step-by-Step Instructions
I would say making a pasta salad is easy enough. Yes, you have one more step of boiling and preparing the pasta, but that task takes a few minutes.
And the pasta is a major part of the salad, and it substitutes for a few chopped and sliced veggies for a traditional salad.
Mayo-based Salad dressing
Mix all the ingredients for the dressing. This creamy dressing can be made a few days ahead and kept refrigerated.
You could also use Greek yogurt instead of sour cream.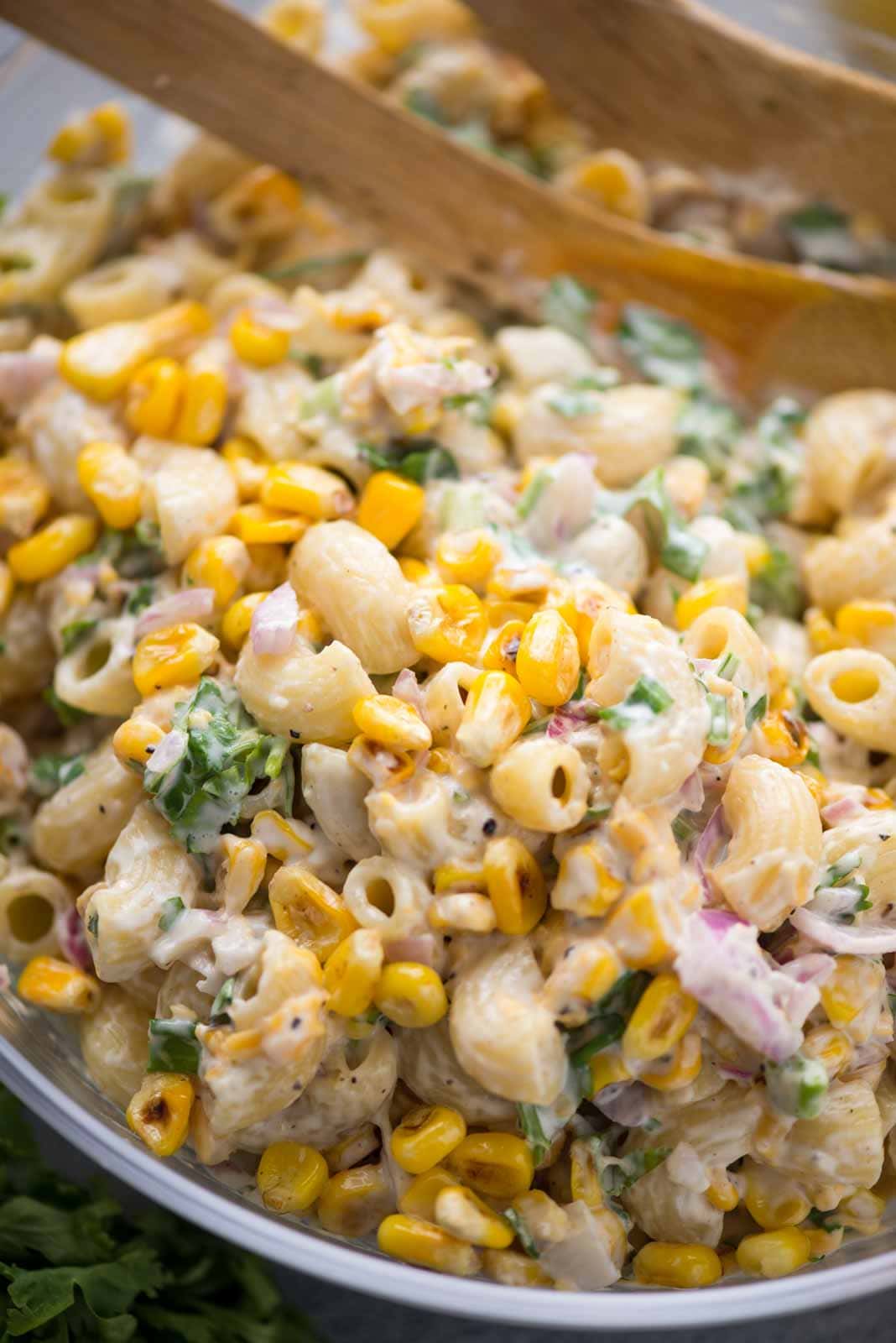 Storage Instructions
An open Can of mayo can last up to two months in the refrigerator. The pasta salad will have veggies and is better consumed within five days when stored in an air-tight container.

Place the salad in an air-tight container and place it in the refrigerator. When you are ready to have it again, take it out of the refrigerator and leave it out for an hour to come to room temperature. You can have it a bit earlier if you prefer it cold.
Serve with
You can have it as lunch or dinner as the pasta makes it fulfilling, or let this corn pasta salad's fresh and vibrant flavors shine along with other mains.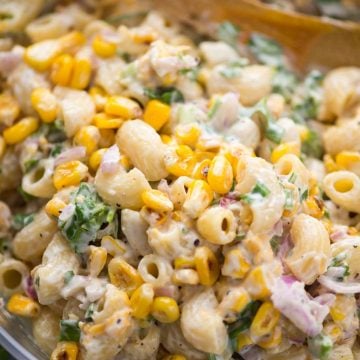 Creamy Corn Pasta Salad
Roasted summer corn, pasta, and lots of crunchy ingredients tossed in a creamy Mayo dressing. Tastes like a classic pasta salad, easy to make for a bigger crowd.
Ingredients
200 grams pasta
3 ears of corn (about 3 cups)
salt and pepper to taste
2 teaspoon oil
½ cup green onion
½ onion chopped
⅓ cup fresh coriander chopped
1 cup cheddar cheese
Salad Dressing
½ cup Mayo
⅓ cup sour cream
2 teaspoon fresh lemon Juice
1 teaspoon garlic powder
pepper to taste
Instructions
Make Creamy Pasta Salad Dressing
Add mayo, sour cream, garlic powder, salt, and pepper in a bowl. Mix well and keep it covered and allow the flavours to come together. Meanwhile, prepare the other ingredients.
For Pasta Salad
First, put a pot of salted water to boil for the pasta. When the water comes to a boil, add pasta and cook al dente.

While the pasta is cooked, cut the corn kernels off the cob.

Heat a skillet(preferably cast iron). Add oil. Add corn kernels to the hot pan. Season with salt and pepper. Cook for 5-6 minutes, stirring in between.

The corn is done when small brown spots appear on the corn.
Assembling
Let the pasta and corn cool down a bit. It should not be hot.

In a big salad bowl, add cooked pasta, roasted corn, chopped onion, green onion, coriander, cheddar cheese.

Add the desired amount of prepared dressing. Toss well to combine.
Notes
Recipe notes:
If using frozen corn, don't thaw. 
You can add a chopped Jalapeno if you like. 
Chopped red pepper would also be a great addition. 
Use small-shaped pasta, as it is easier to eat and you get to eat a bit of all in every spoonful.
Nutrition
Serving: 1g | Calories: 615kcal | Carbohydrates: 54g | Protein: 17g | Fat: 38g | Saturated Fat: 12g | Trans Fat: 1g | Cholesterol: 51mg | Sodium: 385mg | Potassium: 427mg | Fiber: 4g | Sugar: 8g | Vitamin A: 762IU | Vitamin C: 9mg | Calcium: 253mg | Iron: 2mg