Restaurant Style Matar Paneer
This post may include affiliate links that earn us a small commission.
Soft paneer and matar in a flavorful onion tomato gravy, this matar paneer recipe will remind you of your favorite restaurant for sure. Without any cream or cashew, this curry still is thick and perfect to scoop with roti or naan.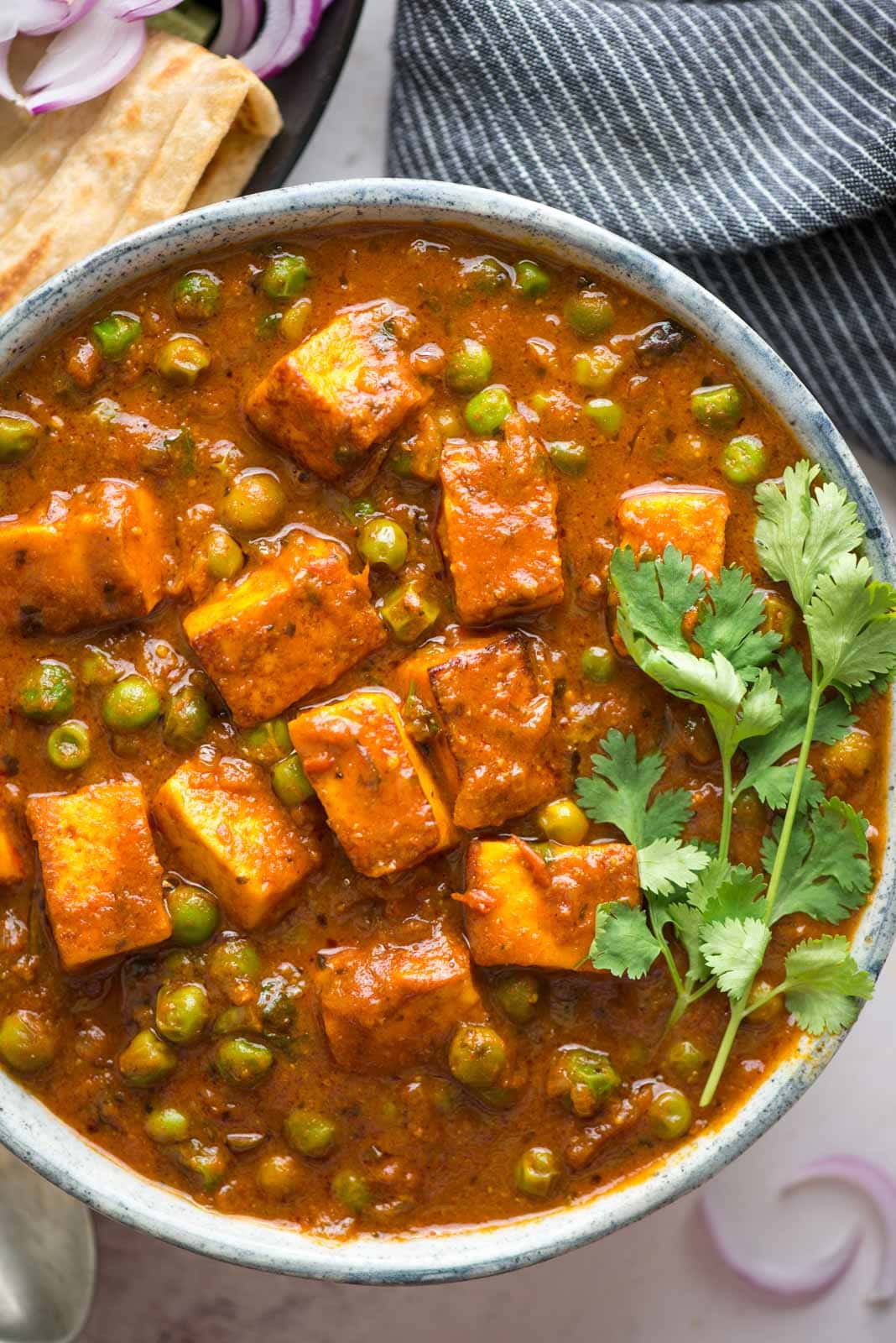 Matar paneer is one of those curries that appears on every Indian household menu. Chunks of paneer, green peas in an onion tomato gravy is a simple curry and can be made in a number of ways. I am going to share my version which is really simple and homestyle but packed with flavor.
Flavours In Your Inbox
Subscribe for recipes straight to your inbox
Unlike other matar paneer recipes you find on the internet, this version doesn't have any cream or cashew in it. Well, my point is every curry doesn't need to have cream in it. Let's save the cream for other recipes. But if you really like it creamy, I will give a few options for that as well.
The gravy is spicy and tangy, something you can make regularly at home without worrying about extra calories of cream or any nuts.
Ingredients
The list of ingredients might seem overwhelming especially if you are not Indian but most of the spices are commonly used Indian spices and you can use them in other Indian recipes.
Paneer – Soft fresh milk cheese primarily used in India. It resembles somewhat halloumi but is a bit firm in texture. While homemade is best you can use any brand of Paneer from the store.
Green Peas – Fresh seasonal green peas are the best. That's why I end up making Matar paneer quite a lot during winter because of the availability of fresh pea. But Frozen peas work equally well and it is handier.
Onion, ginger garlic paste – finely chopped onion. Ginger garlic paste is either homemade or store brought.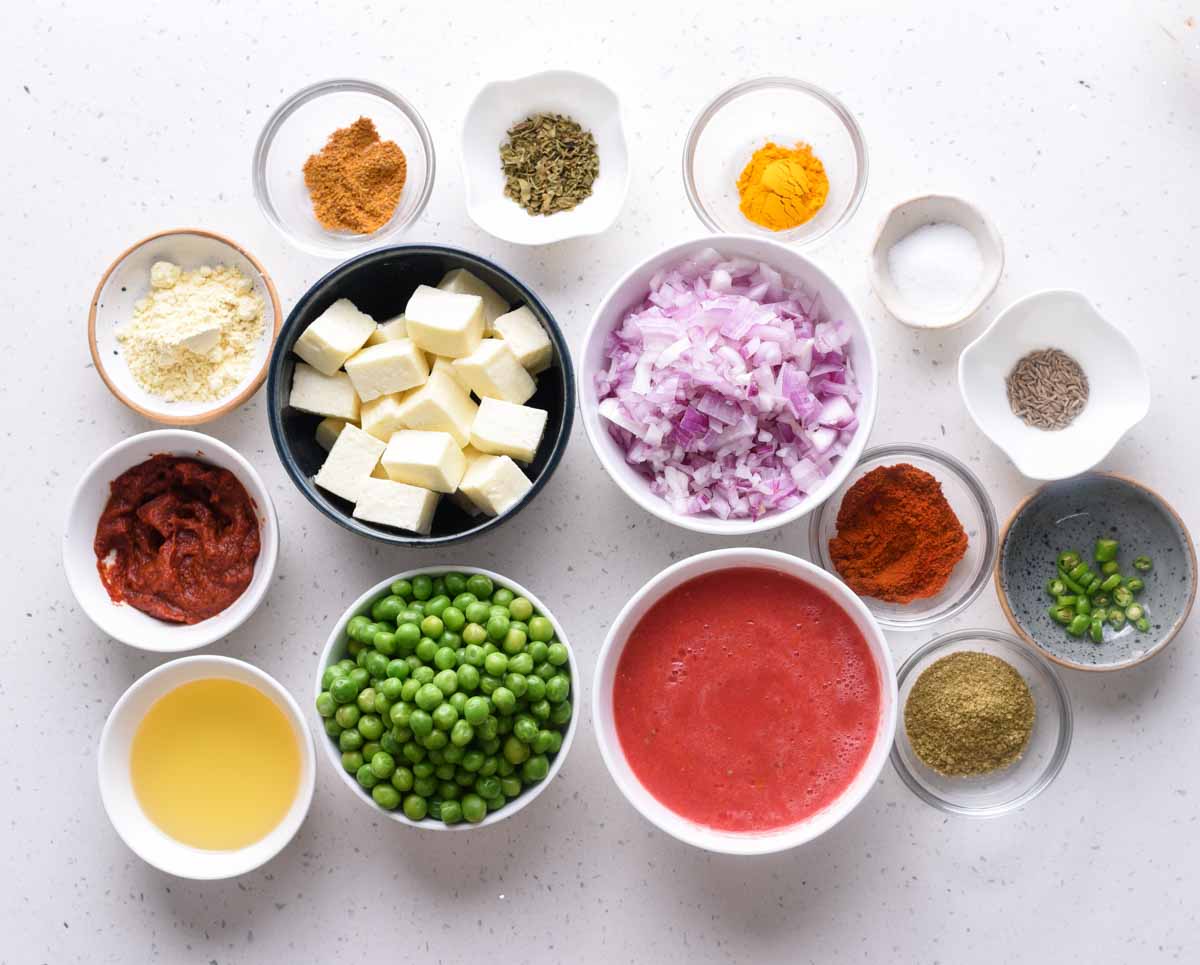 Tomatoes– Fresh Tomato pureed and also tomato paste for an intense tomato flavor.
Spices– The list is long here but again very commonly used spices. Turmeric powder, Chilli powder, garam masala powder, Kasuri methi(dried fenugreek leaves).
Besan/ gram flour – It acts as a thickening agent. You can barely taste it in the gravy but it binds together the gravy and make it thick without any cream or nuts.
Tips for the perfect Gravy
For most of the Indian curries especially which have onion tomato gravy all you need is a bit of patience. Cook the onion and tomato mixture slow and caramelize it.
Frying paneer is optional. Don't deep fry it. Just a little caramelization on the surface is enough. Paneer after frying smells amazing. To make it extra soft, after frying put paneer in slightly salted warm water. Another advantage of frying paneer is it doesn't break easily and holds its shape well.
Chop onions fine. The best hack is to use a food processor to save time and effort.
Use freshly ground spices for the best result. Different garam masala has different intensities. I make garam masala at home and it is quite intense. So I use only 1/2 teaspoon. You can increase as per your taste.
I used homemade tomato puree from fresh tomatoes. The packaged puree is quite intense, so you can use 1/2 cup instead of 1 cup. Tomato paste is optional and you can skip it.
It is important to cook the onion and tomato gravy on low heat so that the raw smell is gone and the mixture is aromatic.
If you want the peas to be nice and plumpy don't cook them for too long. If using fresh seasonal peas, blanch them. Boil water, add peeled fresh peas, let it come to a boil. You would see the peas starting to float. Remove and put them in an ice bath. If using frozen peas, then the above step is already done before freezing. Add peas towards the end for it to retain shape and color.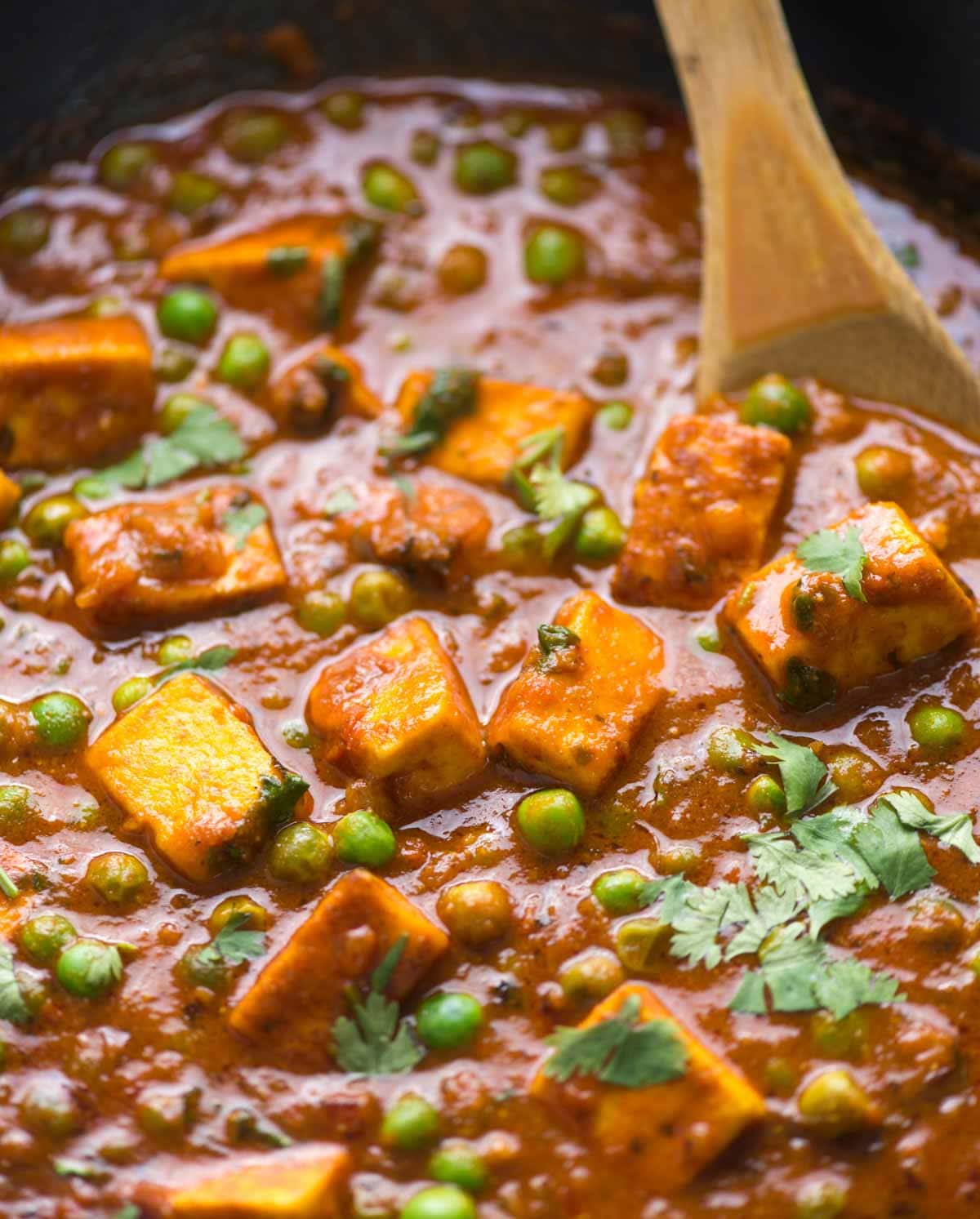 Love Creamy Matar Paneer?
Well, if you love matar paneer to be creamy and rich, then you can either add pureed cashew or cream. In that case, skip Besan/gram flour.
Soak 8-10 cashews in warm water for about 20 minutes. Puree it. After adding tomato puree, when it's half cooked and the mixture is about to come together, add cashew puree. Cook everything until you see oil leaving on the edges.
You can also add cream. If adding cream, again skip adding gram flour. Reduce the amount of water to 1 cup. Stir in cream 5 minutes before switching off the stove. Mix well.
Serve with
This curry can be had with roti (Indian flatbread), plain white or brown rice, Jeera rice, Vegetable pulao, or Paneer pulao.
Store
You can store matar paneer in an air-tight container for up to 4 days in the refrigerator. Heat it in a microwave-safe container for up to a minute and then serve it.
More Indian Curry Recipes…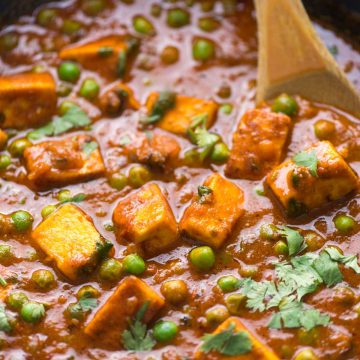 Matar Paneer Recipe
Soft chunky Panner and green peas in an onion-tomato-based spicy tangy and flavourful gravy, this is one of the curries that is prepared in every Indian household and loved by all.
Ingredients
250 grams Paneer cut into cubes
250 grams Green peas
4 tablespoon Oil
1 teaspoon Cumin
2 medium Onions finely chopped
1 tablespoon Ginger garlic paste
2 Medium Ripe Tomatoes pureed (about 1 cup) (ref note 1)
1 Green Chili chopped
2 teaspoon Coriander powder
½ teaspoon Turmeric powder
1 teaspoon Red chili powder adjust as per taste
1 tablespoon Gram flour/ Besan
2 teaspoon Kasuri Methi crushed
1.5 cup water (ref. note 2)
½ teaspoon Garam masala (ref. note 3)
⅓ cup fresh coriander leaf chopped
Instructions
Heat 2 tablespoon oil in a skillet. Add cubed paneer to the pan. Fry undisturbed for 2 minutes until you see small brown spots. Flip the cubes and cook for another 2 minutes. Using a slotted spoon take out the paneer and keep it on a kitchen towel to drain extra oil.

To the remaining oil in the skillet, add the leftover 2 tablespoon oil. Once it is warm, add cumin seed and let it splutter.

Add chopped onion and saute on medium heat. Sprinkle a pinch of salt to fasten the cooking process.

First, the onion would soften and look translucent. Then gradually it will turn nice golden brown. This would take somewhere around 8-10 minutes.

Add ginger and garlic paste. Cook for 1-2 minutes until the raw smell is gone.

Lower the heat. Now to the pan add turmeric powder, coriander powder, chilli powder, chopped green chilli and gram flour/ Besan.

Saute for a minute, stirring frequently until the raw smell is gone. If you feel it is burning, sprinkle few drops of water.

Increase back the heat to medium heat. Add tomato paste if using, followed by tomato puree. Mix well and cover. Let it cook until it has reduced and oil starts oozing from the sides. Keep stirring in between to prevent it from burning.

Add Kasuri methi, mix well. Add 1.5 cups of water. Cover and let it come to a boil.

Add garam masala, fried paneer, and peas. Cook for another 5-6 minutes.

Add chopped coriander towards the end and serve.
Notes
 If you are in India, You can either use organic country tomato or hybrid tomatoes. Country tomatoes are a bit tart but full of flavour. If using country tomatoes, reduce the puree to 3/4 cup. 
Adjust the amount of water as per the consistency you need. 
Different garam masala has different intensities. I make garam masala at home and it is quite intense. So I use only 1/2 teaspoon. You can increase as per your taste.
Nutrition
Serving: 1serving | Calories: 325kcal | Carbohydrates: 16g | Protein: 11g | Fat: 24g | Saturated Fat: 8g | Trans Fat: 1g | Cholesterol: 33mg | Sodium: 62mg | Potassium: 337mg | Fiber: 5g | Sugar: 7g | Vitamin A: 920IU | Vitamin C: 31mg | Calcium: 276mg | Iron: 1mg