Cherry Tomato Pasta with Shrimp
This post may include affiliate links that earn us a small commission.
Cheery Tomato Pasta with shrimp has a summer vibe to it. This tomato pasta is light and refreshing with fresh cherry tomato, garlic, olive oil, and lots of fresh basil and shrimp.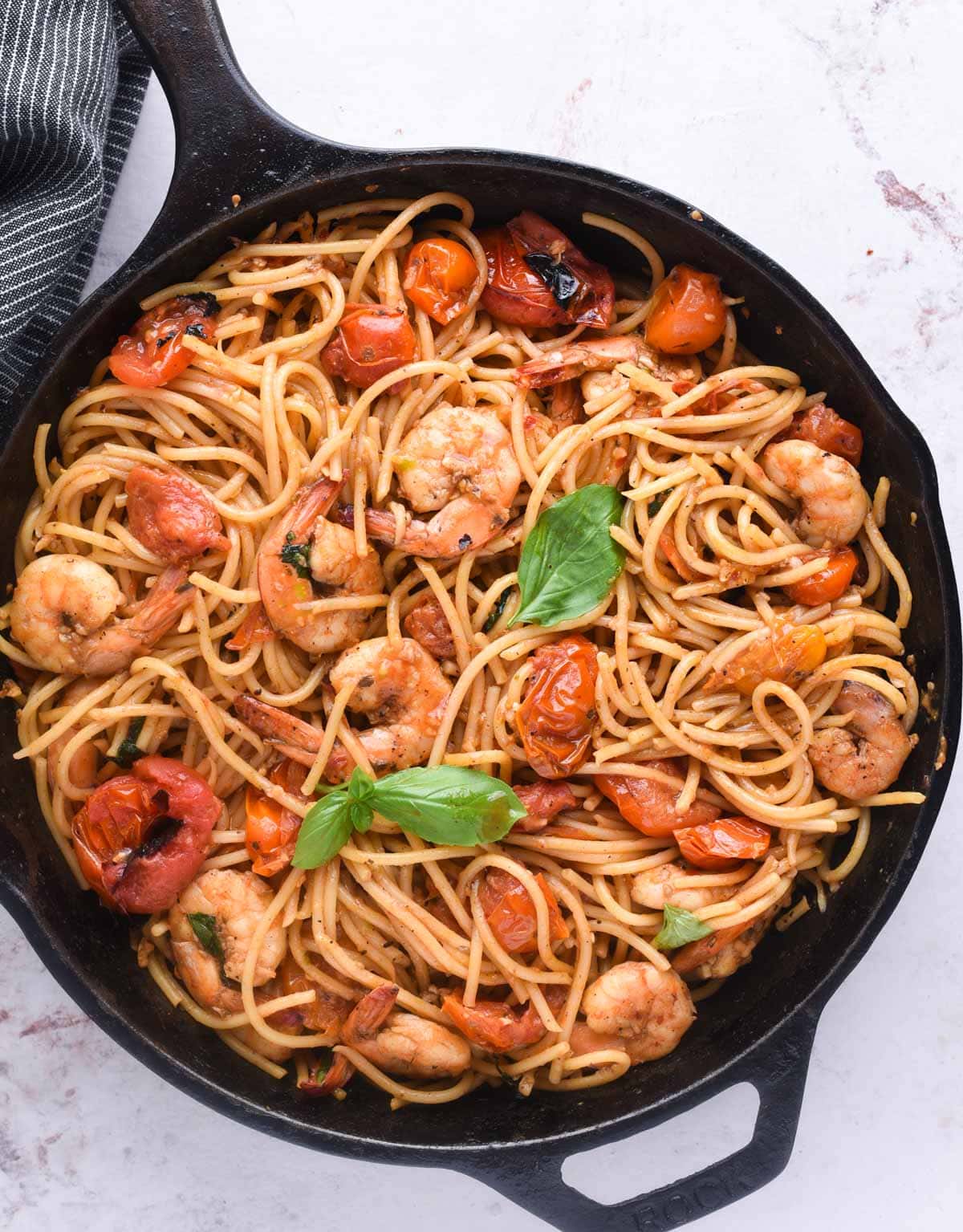 This cherry tomato pasta with shrimp is light with the freshness of cherry tomatoes and basil. Sweet and slightly tart cherry tomato makes a delicious sauce without adding cream or cheese.
Flavours In Your Inbox
Subscribe for recipes straight to your inbox
This pasta recipe takes me back to Venice. I can still remember the freshness of the pasta. No fancy stuff; you could taste the fresh tomatoes, shrimp, and fresh hand-rolled pasta. I wanted to recreate the dish for a long time.
Cherry tomatoes are an excellent substitute for regular tomatoes as they pack a more intense flavor, are smaller, and last longer in the refrigerator. Cherry tomatoes vary from regular tomatoes in appearance and slightly in taste but have the same nutrition profile. While regular tomatoes are bigger and often oval, cherry tomatoes, as their name suggests, are smaller, have a round shape, and look like cherries.
They look bright red and are often sweeter or milder (in sourness and tartness) than regular ones. For recipes, cherry tomatoes work well if you need a slightly sweeter taste profile. Regular tomatoes are great for the slightly sour or tart taste you need in many recipes.
Ripe cherry tomatoes are also good for snacking or included in salads or fruit bowls. Technically, it's seen as a vegetable but is a fruit. 
You may look at other shrimp pasta recipes – Creamy Lemon Garlic Shrimp Pasta or Mushroom Garlic Shrimp Pasta.
I love the intense flavors of cherry tomato and have shared a quick and classic pasta recipe with it – 30-minute Cherry Tomato Pasta. Check out my – Sun-dried Tomato Pasta for a variation with sun-dried tomatoes.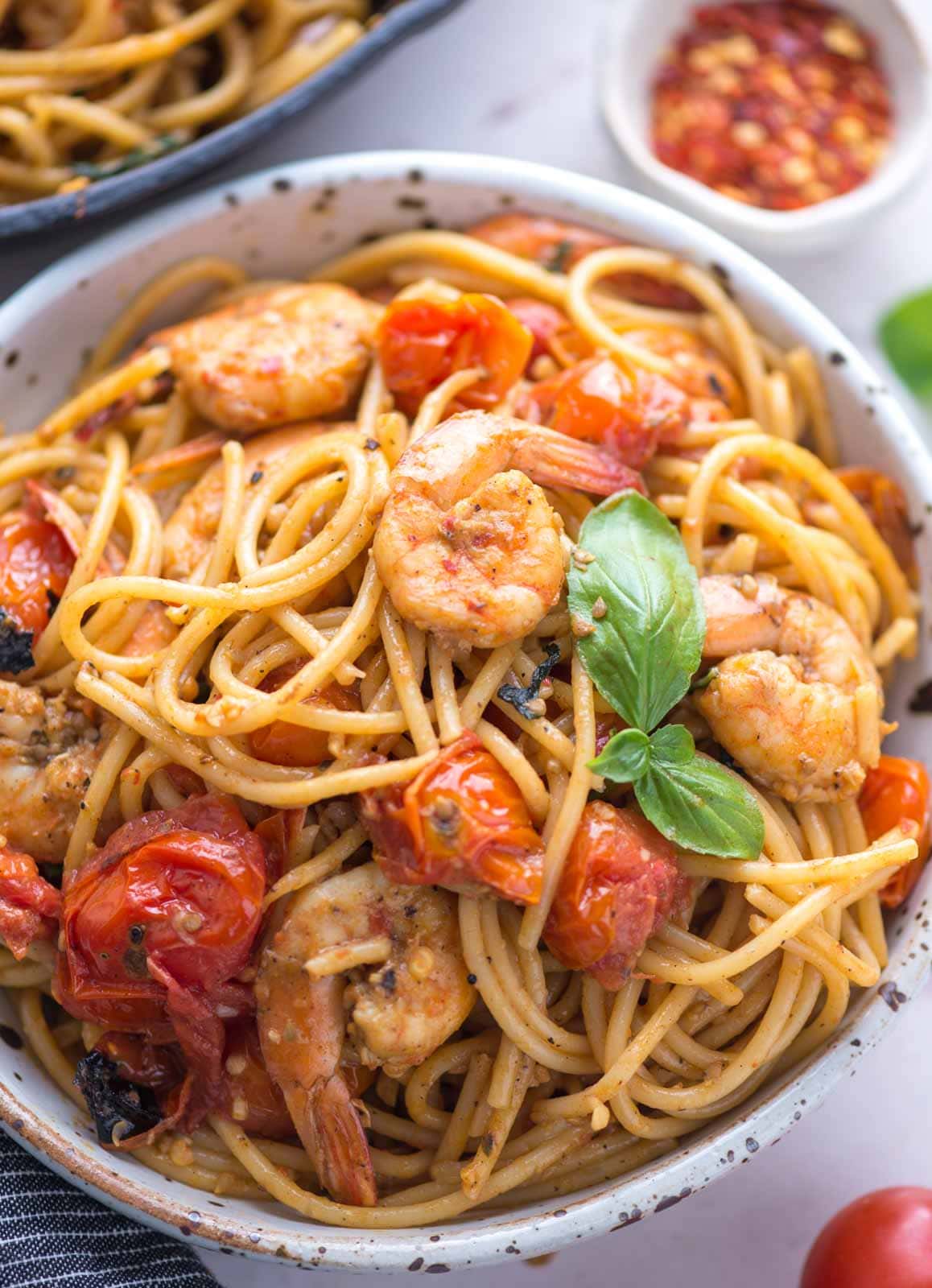 Ingredients
You do not always need cream or cheese to make a good pasta dish. A handful of fresh seasonal ingredients can be turned into a delicious pasta sauce.
Extra-virgin olive oil – has a flavor and is healthy and a ubiquitous choice while making Italian dishes.
Cherry tomatoes – bright red tomatoes add color, a hint of sweetness, and a little sourness.
Basil – adds freshness and a herby flavor
Garlic – popular aromatic that's used widely to uplift any dish.
Oregano – Italian herb usually added to pizza but can be added to the sauce to add a depth of flavor. A little goes a long way.
Chili Flakes – give a note of heat.
Shrimp– I love how well shrimp and tomato work together. But for a vegetarian version, you can skip shrimp. It will still be delicious without shrimp.
How to make – Step-by-Step Recipe
It starts with sautéing the shrimp. Always drain all the shrimp's water before adding it to the pan for even brown. Sauté seasoned shrimp until it turns pink.
Remove the shrimp, and to the remaining oil, add cherry tomatoes. Toss it on high heat to get nice blisters on the tomatoes, adding flavor. With the back of a spoon, gently presses a few tomatoes.
Add garlic and the rest of the seasoning.

Next is to make the sauce for the pasta. The cup of pasta water reserved while draining is precious here. With all the starch from the pasta, the pasta cooking water, when added, helps to thicken the sauce.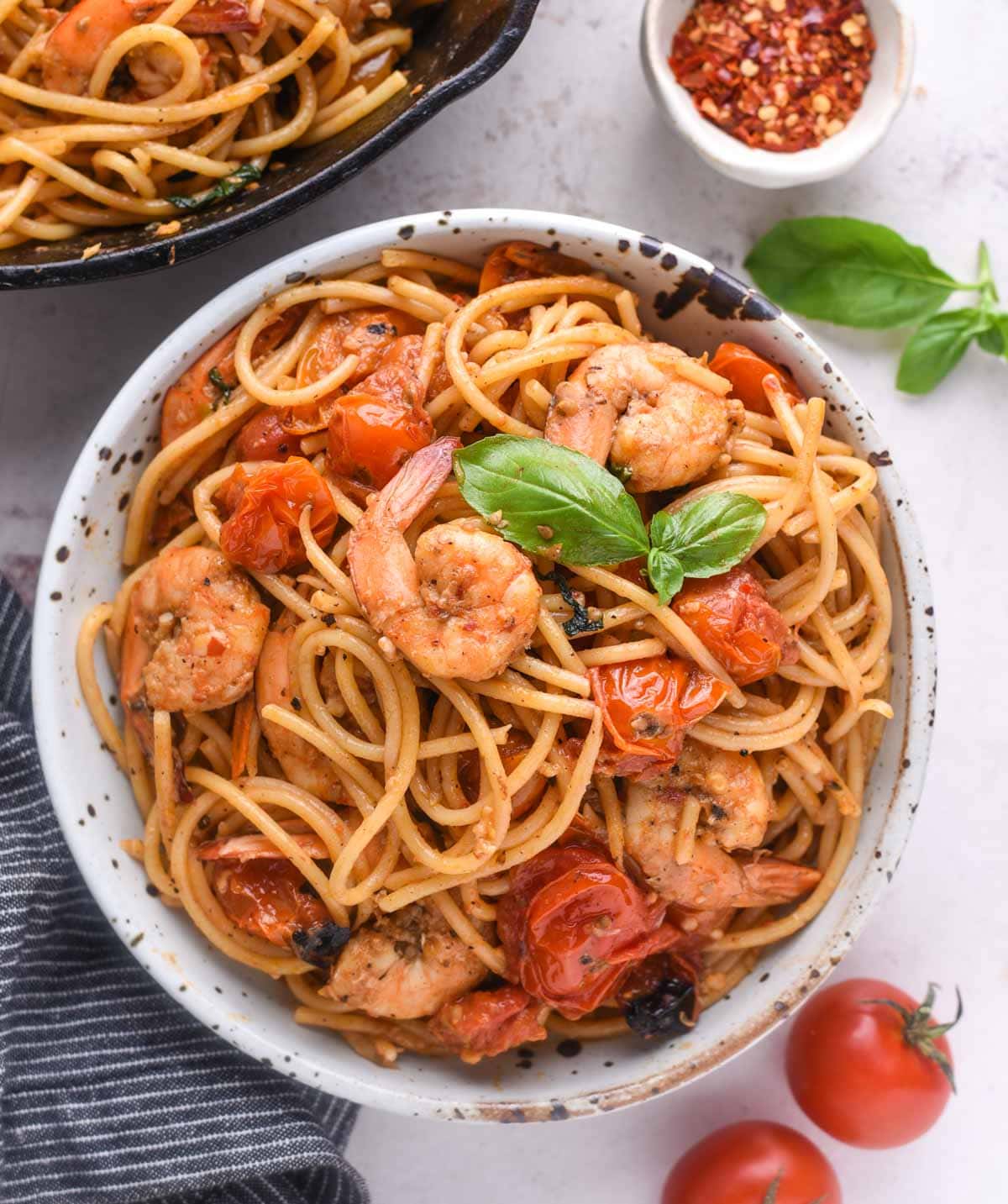 Store
This recipe has shrimp, and that will not stay well for long. If you plan to have them within the next day or so, you can refrigerate them together in the refrigerator for 3-4 days.
If not, storing the cooked spaghetti and the tomato sauce with shrimp separately is recommended. Cooked pasta can stay in the fridge for a week, and the tomato sauce lasts 3-4 days.
Store them in an airtight container. To reheat, doing so in the microwave is fine. Just splash some reserved pasta water before you reheat, as the sauce will thicken in the refrigerator.
Serve with
Pasta with tomato sauce is a popular Italian dish and this dish has shrimp added to it. It makes for a wholesome meal with fiber from tomatoes and protein from the shrimp.
That is a meal or can be paired with various side dishes.
More pasta recipes that you might love
Pasta Alla Norma (Eggplant pasta) – Classic Italian dish made with traditional flavors but has a healthy twist – baked eggplants.
One-Pot Lemon Pasta – Refreshing, delicious lemony, creamy sauce tossed with spaghetti.
Chicken Parmesan Pasta – One pot dinner recipe with chicken parmesan and pasta.
Creamy Spinach Pasta – A quick recipe to make creamy parmesan sauce and pair it with the goodness of spinach.
Salmon Pasta in Creamy Lemon Sauce – Light and fresh lemon sauce pairs well with flaky, tender salmon and pasta.
Spicy Mushroom Chicken Pasta – Pasta with mushroom and chicken in a rich garlicky tomato sauce is creamy and has a perfect hint of spice.
Roasted Butternut Squash Pasta – Butternut Squash, onion, garlic, and herbs are roasted and blended to make a creamy pasta sauce. Top with crunchy breadcrumbs.
Chicken Bacon Ranch Pasta – Ranch seasoning and bacon add flavors to another creamy and cheesy sauce.
Pesto Pasta Salad – Salad recipe with bold flavors from fresh handmade pesto mixed with cherry tomatoes, rocket leaves, pine nuts, and bocconcini cheese.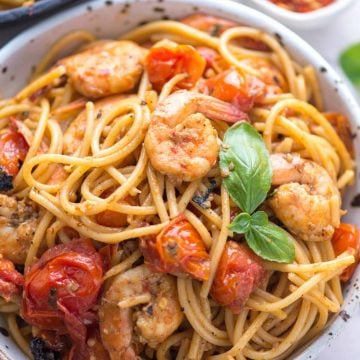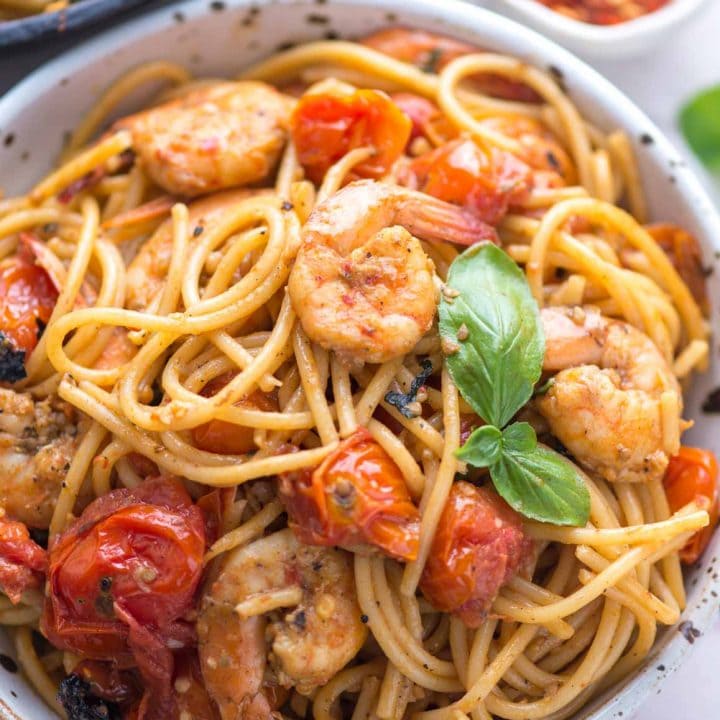 Cheery Tomato Pasta with Shrimp
This tomato pasta recipe is the perfect way to use the abudance of cheery tomato during summer. This pasta is refreshing and light. No cheese or cream yet so delicious cherry tomato pasta.
Ingredients
300 grams Shrimp cleaned
250 gram Spaghetti
400 grams Cherry Tomatoes
3 tablespoon Olive oil
2-3 cloves Garlic minced
½ teaspoon Red Chilli Flakes (adjust as per taste)
1 teaspoon dried Oregano
⅓ chopped Italian Basil
salt and pepper to taste.
Instructions
Cook pasta as per package instruction. Drain and toss in a dash of olive oil. Keep aside. While draining reserve 1.5 cups of pasta cooking water.

Heat 1 tablespoon of oil in a heavy cast-iron skillet. Add drained shrimp. Season it with salt and pepper.

Cook shrimp undisturbed for 2 minutes on each side. Remove from the skillet and keep aside.

To the same pan heat the remaining oil. Add cherry tomatoes. Toss in medium-high heat.

Once the tomatoes are half cooked and small blisters appear on them, smash few tomatoes with the back of a spatula.

Add minced garlic, oregano, chilli flakes. Saute for a minute to get rid of the raw smell of garlic.

Add 1 cup of reserved pasta cooking water. Scrap the bottom of the pan. Let it cook for 1-2 minutes, until it has a slightly thick sauce-like consistency.

Check the seasoning and add more salt if required. (ref note 1).

Add cooked shrimp, cooked pasta, and chopped basil.

Toss everything well. Let it cook for 1-2 minutes, for the sauce to thicken and coat the pasta well.

If it looks dry, then add the remaining 1/2 cup of pasta water.

Serve with more basil leaves on top.
Notes
Seasonal ripe cherry tomatoes are slightly sweet. But if the sauce tastes tart, add a pinch of sugar to balance the tartness. 
Nutrition
Serving: 1g | Calories: 422kcal | Carbohydrates: 52g | Protein: 25g | Fat: 13g | Saturated Fat: 2g | Cholesterol: 189mg | Sodium: 602mg | Potassium: 435mg | Fiber: 3g | Sugar: 4g | Vitamin A: 572IU | Vitamin C: 26mg | Calcium: 145mg | Iron: 3mg