Pasta Alla Norma (Eggplant pasta)
This post may include affiliate links that earn us a small commission.
Classic Pasta Alla Norma, or pasta with eggplant, has all the traditional flavors but is made with a healthy twist. Baked eggplants as a healthy and delicious choice to compliment the fresh basil and tomato-based sauce.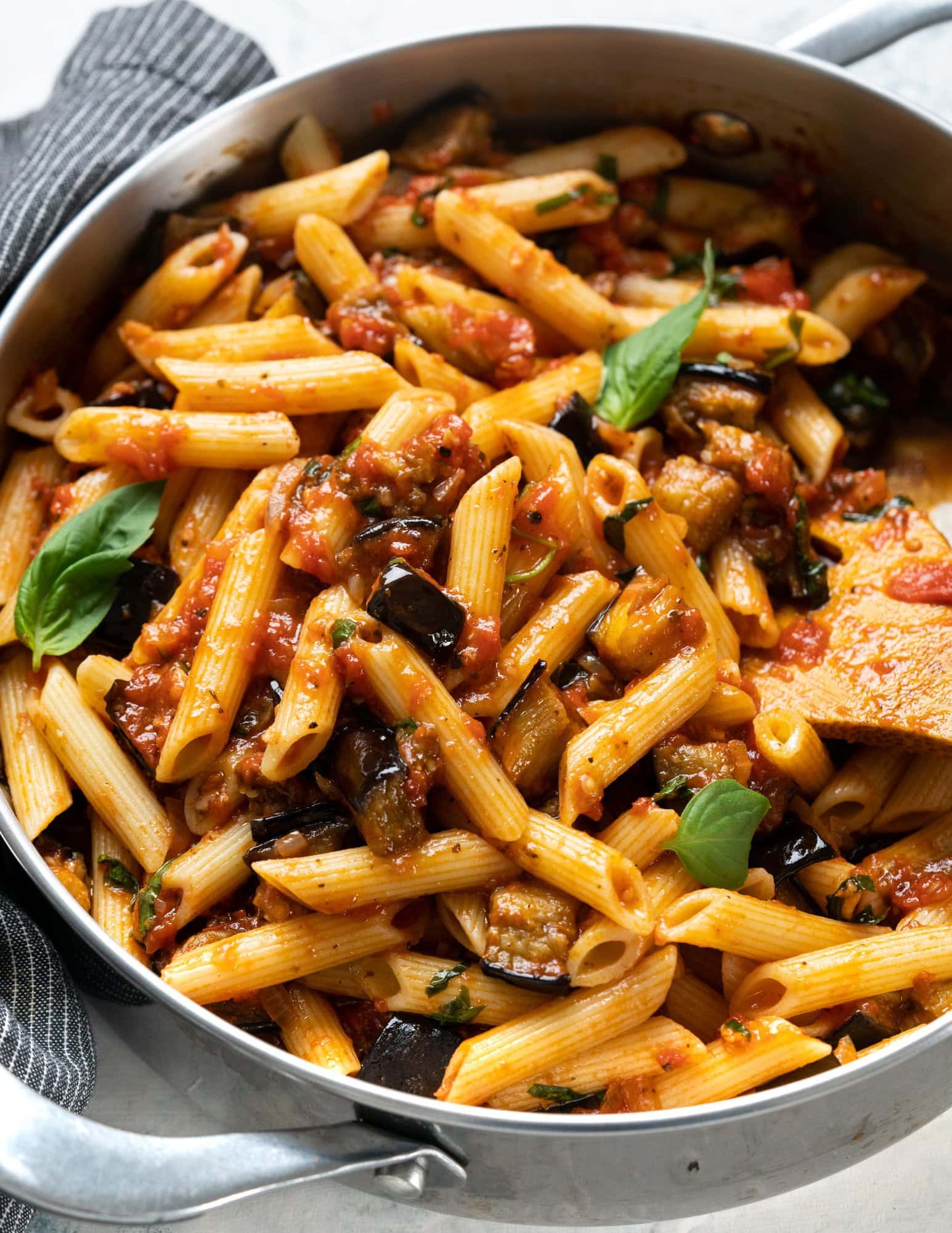 Pasta Alla Norma or Eggplant Pasta
Parma Alla Norma is a classic dish in the southernmost part of Italy. It can be meant as 'Pasta as a masterpiece'.
Melanzane, or eggplant, as it is commonly called, is a staple of Southern Italian cooking. Most readers would have encountered it in the most popular dish with melanzane as its star – the Eggplant Parmesan.
Pasta (spaghetti or other pasta), fried eggplant, chopped basil, and shredded cheese sprinkled on it constitute the ingredients of a classic Pasta Alla Norma. I have added some other ingredients for their flavor, heat, and taste to elevate the dish.
The twist in this Eggplant pasta is that I have baked the eggplants instead of frying them. Not only have they come out as delicious as their fried version, got the job done with a couple of spoonfuls of oil and came out with a healthy version. Mind you; the baked eggplant does not turn out as soggy as the fried oil since there is little oil to soak up.
I first tasted the classic 'Pasta Alla Norma' during our trip to Italy. It was as good as other famous pasta, but the eggplant being the hero in the dish, which I like, was just delicious and offered a good variation in terms of the palette to the other pasta we had during our travel.
Check out these authentic recipes for Italian flavors – Italian Sausage & Orzo Soup, Pesto Pasta Salad, or Italian Chopped Salad.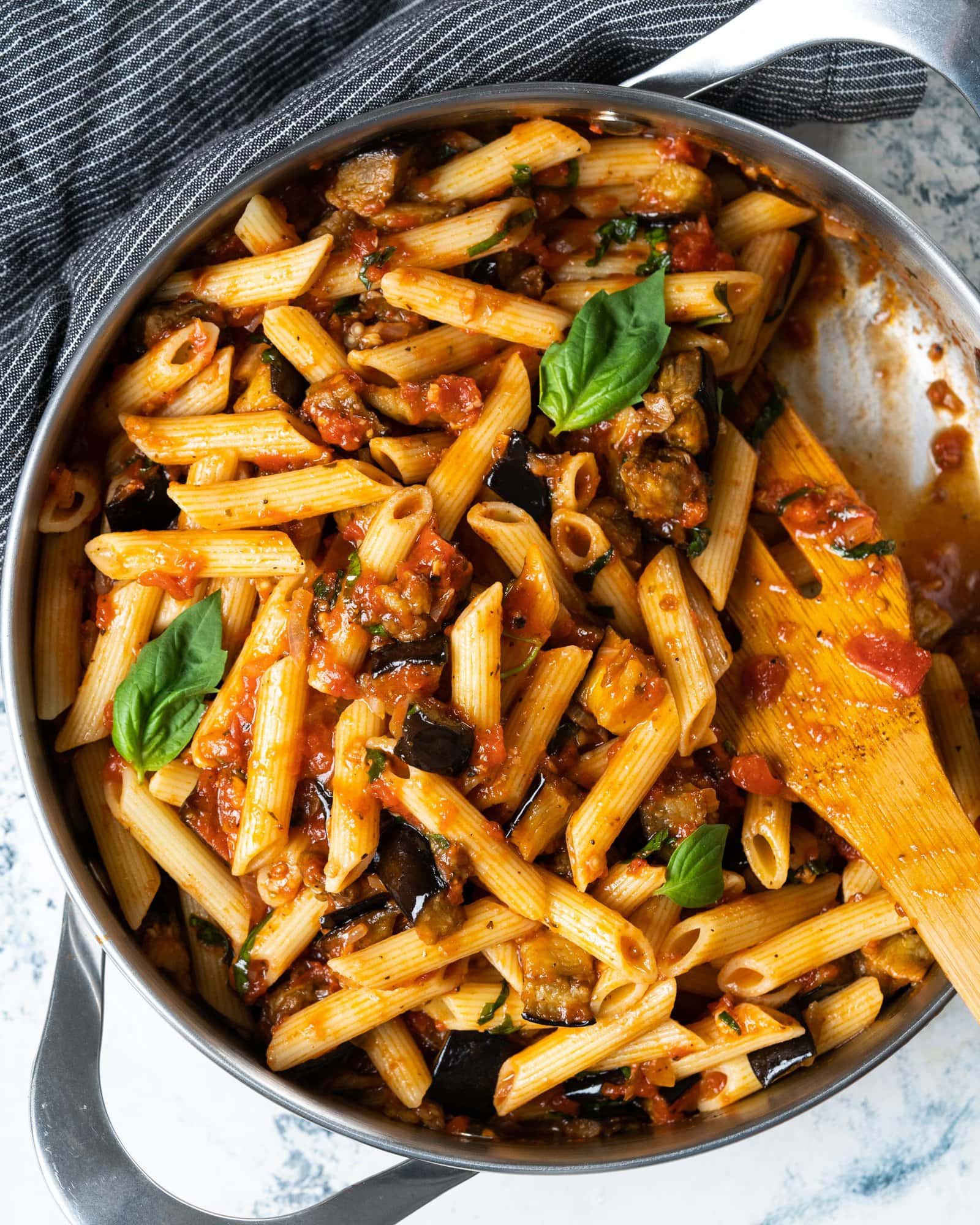 History of Pasta Alla Norma
How did this delicious eggplant pasta get its name? Legend says the famous Catanese writer Nino Martoglio exclaimed – "This is a real 'Norma'!" referring to a masterpiece. Norma is one of the most famous operas ever, composed by another Catanese, Vincenzo Bellini.
Whatever its origins, Pasta Alla Norma has become a signature dish of Sicilian cuisine. Its popularity spread, making it available in every trattoria across the Italian peninsula.
Ingredients
Dry Pasta – You can use any pasta in this recipe. I have gone for penne pasta which I like a lot. It works well in a lot of pasta recipes. My daughter finds it easier to pick 🙂
Eggplants – Baked and not fried. Cut into cubes and put on a tray. Equally delicious and healthier. Chop to 1-inch size cubes.
Parmesan cheese – I had parmesan instead of ricotta. You may use either.
Chopped Basil – Basil elevates the pasta to another level.
Olive oil – gives a deep and rich flavor.
Onion – caramelized onions give a sweet and dense flavor to the sauce.
Garlic – What would the world have done without garlic !! Use fresh garlic.
Tomatoes – provide the base for the sauce.
Italian Seasoning – get a good quality seasoning. I have used McCormick's perfect pinch of Italian seasoning.
Sugar – to balance the tartness of tomatoes.
Red pepper flakes – provide a bit of heat. Use as per taste.
Salt – is used for baking the eggplant and is added to balance out the flavors in the sauce.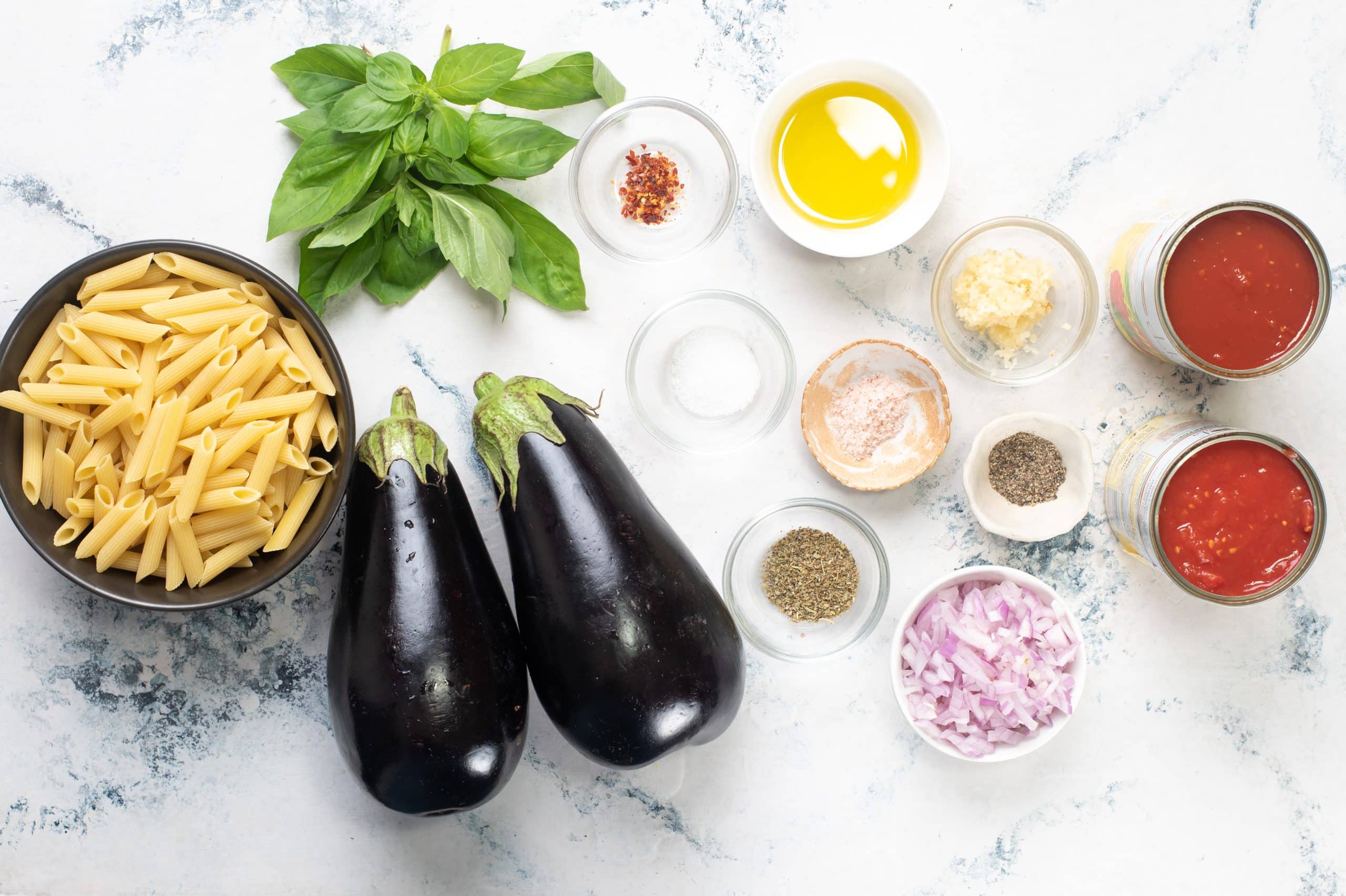 How to make
Cook pasta Al Dante
Follow the manufacturer's instructions in the packet while cooking the pasta. Drain the pasta water and keep the pasta aside. Do not throw away the pasta water. It has plenty of starch from the pasta. Adding this to the sauce later will be useful to thin it down.
Bake the eggplant
Preheat the oven. While the pasta gets cooked, add the eggplant cubes to a baking tray along with olive oil, salt, and pepper flakes.
Bake for 20 minutes first. Flip the cubes and bake again for 10 minutes more. Keep the baked eggplant aside.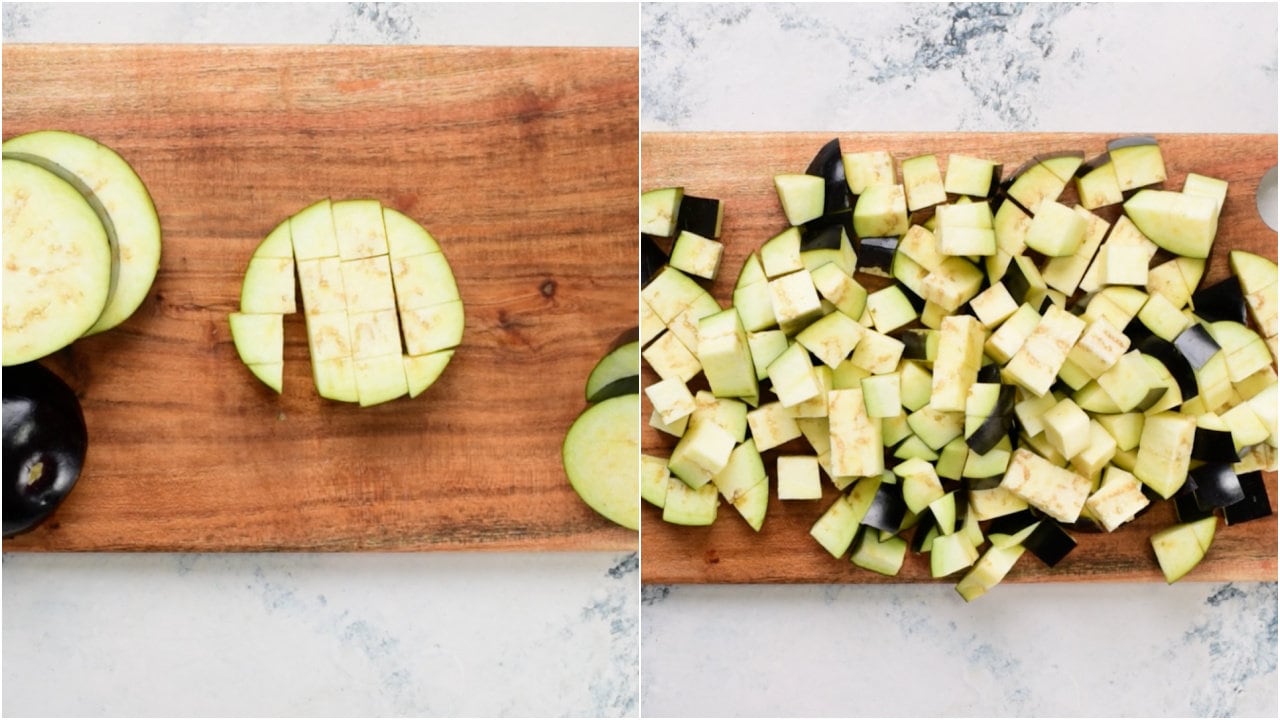 Cook the pasta sauce
In a heated pan, heat the remaining oil. Sauté the onion and garlic till the onion softens and turns pink, and the garlic feels aromatic and loses its raw smell.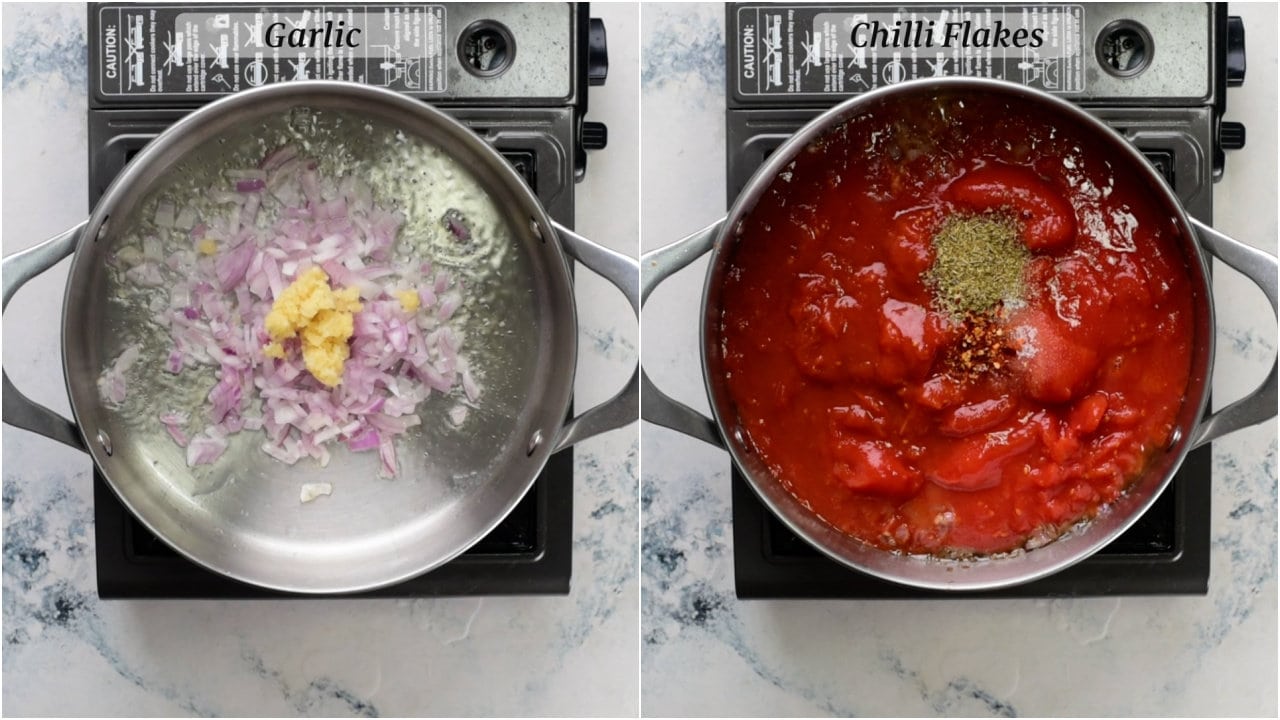 Add the rest of the sauce ingredients – crushed tomatoes, seasoning, salt, sugar, and pepper. Let the tomatoes soften and simmer for 8 minutes. Let the sauce come together.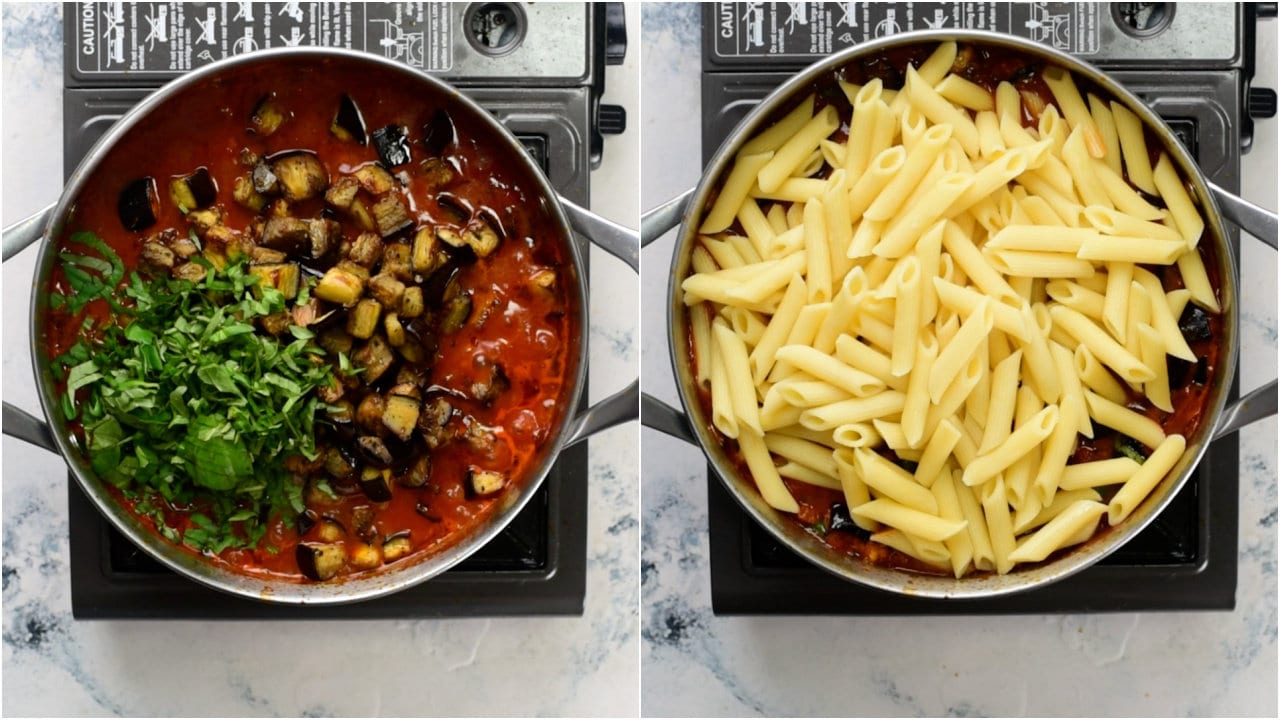 Add the baked eggplant. Gently mix it and simmer for another couple of minutes. Now, add the cooked pasta. Switch off the flame. Toss the pasta and the sauce well.
Sprinkle chopped basil and cheese on top.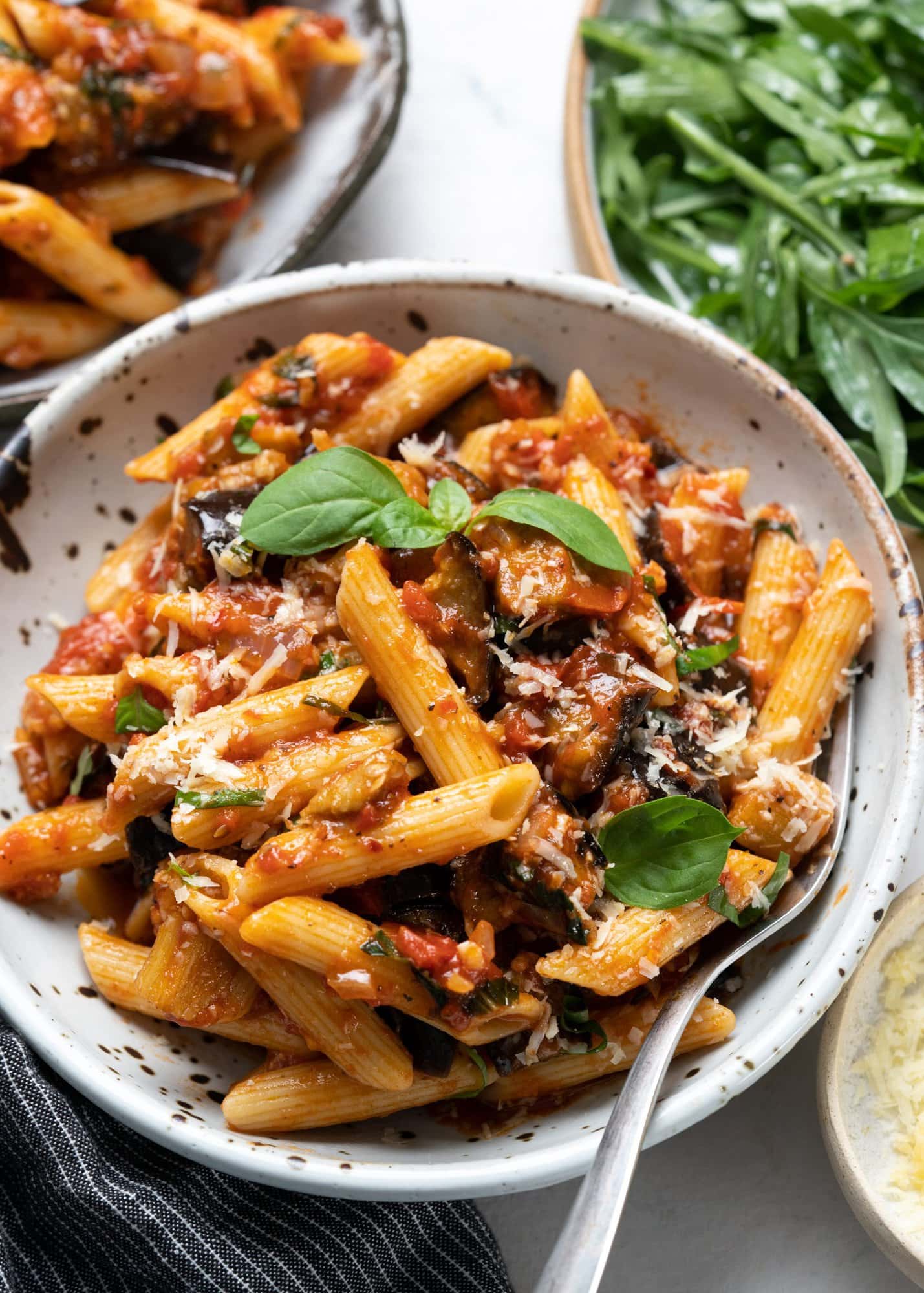 Store
If you want to refrigerate the Pasta Alla Norma, do not add the pasta to the sauce. You can store the sauce and eggplant mixed in an air-tight container for up to 4 days.
Remove from the refrigerator; you can reheat the sauce and the pasta in the microwave for up to a minute. Mix and toss well.
While serving, garnish with freshly chopped basil and shredded cheese.
Serve With
This is a one-pot dish and a complete meal by itself. You have enough vegetables in eggplant and tomato, plus the goodness of cheese and basil. Eggplant has that meaty bite that serves well in place of any protein.
You can enjoy the dish as it is or pair it with some great side dishes.
More pasta recipes that you might love
30-minute Cherry Tomato Pasta – Classic Italian pasta made with intense flavors from cherry tomatoes.
One-Pot Lemon Pasta – Refreshing, delicious lemony, creamy sauce tossed with spaghetti.
Flavours In Your Inbox
Subscribe for recipes straight to your inbox
Chicken Parmesan Pasta – One pot dinner recipe with chicken parmesan and pasta.
Creamy Spinach Pasta – A quick recipe to make creamy parmesan sauce and pair it with the goodness of spinach.
Salmon Pasta in Creamy Lemon Sauce – Light and fresh lemon sauce pairs well with flaky, tender salmon and pasta.
Spicy Mushroom Chicken Pasta – Pasta with mushroom and chicken in a rich garlicky tomato sauce is creamy and has a perfect hint of spice.
Roasted Butternut Squash Pasta – Butternut Squash, onion, garlic, and herbs are roasted and blended to make a creamy pasta sauce. Top with crunchy breadcrumbs.
Chicken Bacon Ranch Pasta – Ranch seasoning and bacon add flavors to another creamy and cheesy sauce.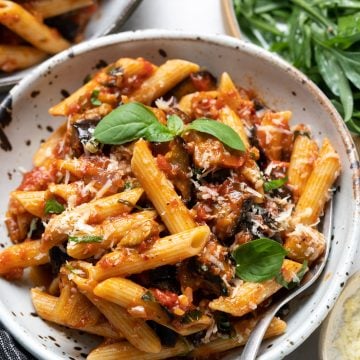 Pasta Alla Norma (Eggplant pasta)
In this classic Italian dish, eggplants are deep-fried( baked in this case), simmered in a rich tomato sauce, and then tossed in pasta. A wholesome vegeterian pasta with meaty eggplants.
Ingredients
250 grams Dry pasta
2 large Eggplants
4 tablespoon Olive Oil
½ Onion, chopped
1 tablespoon Minced Garlic
2 14 oz Crushed Tomatoes
1 teaspoon Italian Seasoning
1 teaspoon Sugar (See notes)
½ teaspoon Red pepper flakes
½ cup Chopped Basil
½ cup Parmesan cheese to garnish
Instructions
Cut eggplants into 1-inch cubes. (Check the video below or the step-by-step pictures to see how to cut eggplants)

Pre-heat oven to 400 F.

Toss cubed eggplants in 2 tablespoons oil, 1/2 pepper, and 1 teaspoon of salt.

Arrange seasoned eggplant cubes in a baking tray. You might have to divide in between two trays to avoid overcrowding.

Bake it for 20 minutes, flip and bake again for 10-12 minutes.

While the eggplants are in the oven, cook pasta al dente. Reserve 1/2 cup of pasta cooking water.

In a pan, heat the remaining olive oil. Saute chopped onion and garlic for about 3-4 minutes. The onions should have softened and the garlic should be aromatic.

Add crushed tomatoes, Italian seasoning, salt, pepper and sugar. With the back of the spoon press any big chunk of tomato. Simmer the sauce for 5-6 minutes for the tomato to breakdown.

Add baked eggplants and chopped fresh basil. Mix and simmer for another 2-3 minutes.

Add cooked pasta. If the sauce looks too thick, add 1/4 cup of pasta water( more if you need saucy pasta). Mix well.

Serve with freshly grated parmesan on top.
Nutrition
Serving: 1serving | Calories: 470kcal | Carbohydrates: 62g | Protein: 15g | Fat: 19g | Saturated Fat: 4g | Polyunsaturated Fat: 2g | Monounsaturated Fat: 11g | Cholesterol: 9mg | Sodium: 214mg | Potassium: 690mg | Fiber: 9g | Sugar: 11g | Vitamin A: 226IU | Vitamin C: 6mg | Calcium: 187mg | Iron: 2mg