This post may include affiliate links that earn us a small commission.
Make a quick pesto salad by tossing together fresh ingredients. This summer salad is vivid with cherry tomatoes, rocket leaves, pine nuts, and bocconcini cheese mixed with fresh handmade pesto with bold flavors.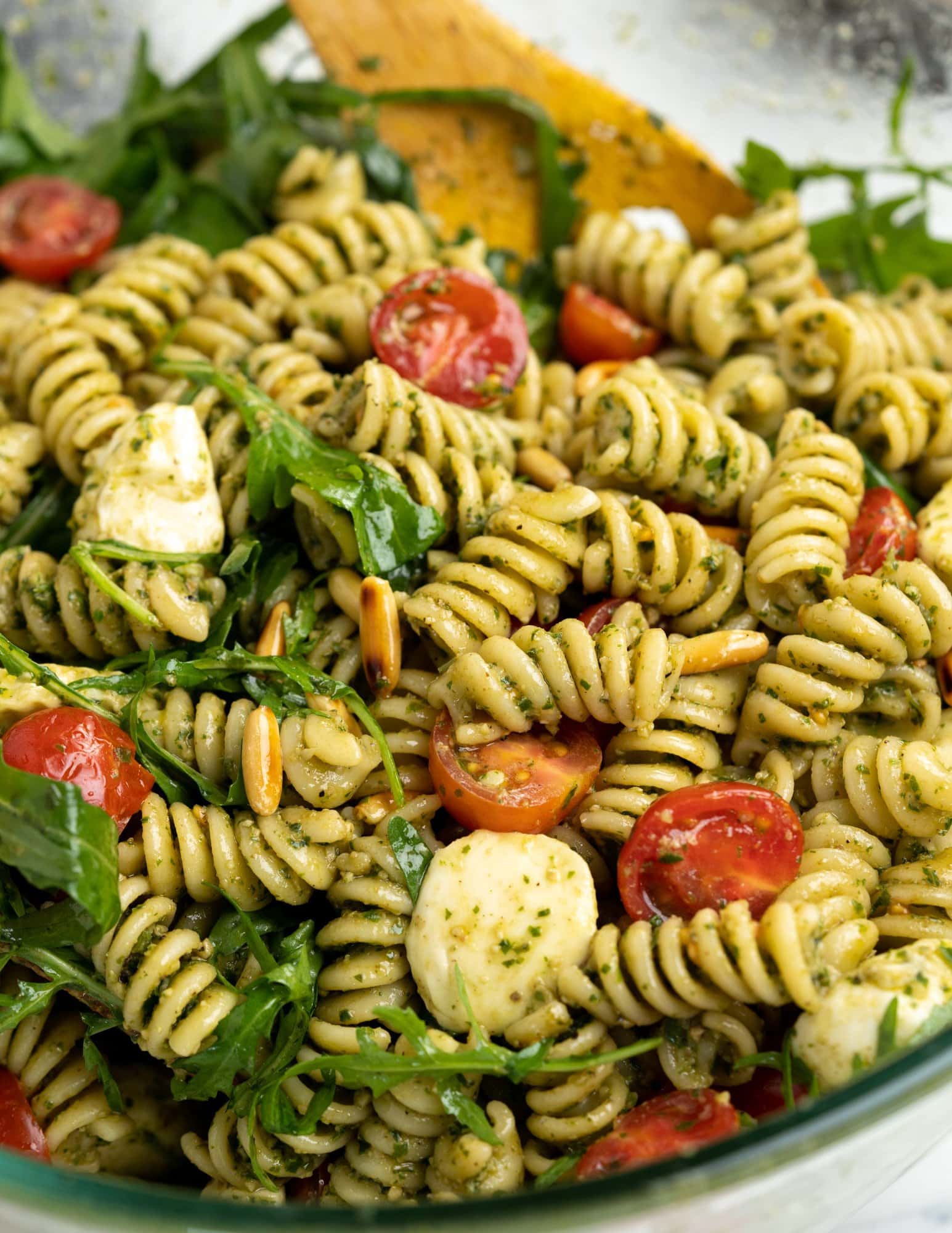 This pesto pasta salad recipe is for you when you are not in the mood for a long cook. Besides cooking the pasta, everything else is tossed around to make this pasta salad.
The pesto sauce adds fresh and rich flavors to the pasta salad, while the cheese, veggies, and nuts make this a fulfilling dish enough to be considered a meal. Note that this is no light salad.
Pesto pasta salad is best eaten cold, making it a convenient dish to make ahead. Freshly made pasta salad with homemade pasta is best served in a family meal or even for sharing among a group.
Homemade pesto sauce is one of the most vibrant and flavorful sauces you can easily make at home. It is versatile enough to be drizzled over pasta, made into a more creamy sauce, and served with Creamy Pesto Chicken. You can combine it with orzo and shrimp, like in Shrimp Orzo Salad With Pesto.
Cold salads often served are dry in texture. Adding a tablespoon of mayonnaise or sour cream helps make this into a creamy pesto pasta salad that will not feel dried out even when served cold long after you make it. Use a generous amount of pesto sauce to help in this case.
Flavours In Your Inbox
Subscribe for recipes straight to your inbox
Besides cooked pasta, pesto salad boasts a high nutritional content as a dish made of primarily fresh ingredients, including basil, olive oil, cheese like mozzarella and parmesan, cherry tomatoes, and arugula.
It is packed with carbohydrates from the pasta, good fat from the olive oil and cheese, and fiber from the greens and tomatoes. Add nuts to the count, and you increase your minerals and protein.
Check out these authentic dishes for recipes with Italian flavors – Italian Sausage & Orzo Soup, Italian Chopped Salad, or Pasta Alla Norma (Eggplant pasta).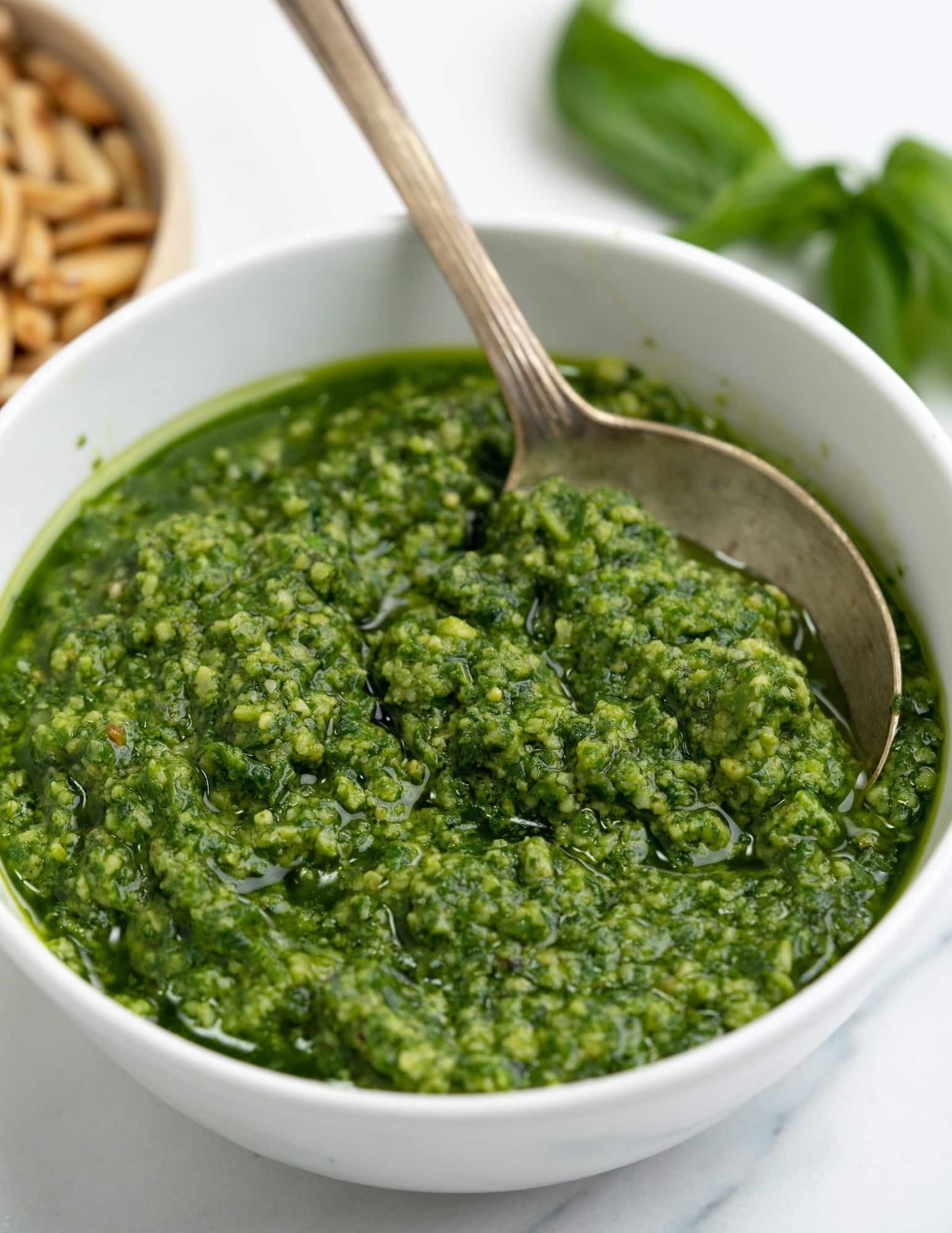 Intense flavors of the pesto
Ah, pesto sauce! Few things come close to the bold flavors of freshly made pesto. You can find pesto in little jars at the store, but trust me, fresh homemade pesto is the real deal. It has intense flavors that hit you when you taste them, even in small quantities.
Pesto has its roots in Italian cuisine, specifically in the Liguria region. After red tomato sauces, pesto is Italy's second most popular sauce and topping for pasta.
"Pesto" comes from the Italian word "pestare," which means to crush or pound. It was traditionally made with a mortar and pestle, giving it a slightly coarser texture than modern versions. However, today most people use a food processor or blender for convenience to produce a faster and smoother texture.
We will use ingredients to make pesto the way it is traditionally made: fresh basil leaves, olive oil, pine nuts, garlic, parmesan cheese, lemon, salt, and pepper. It will be a perfect combination of flavors: a fresh, herby taste from the basil; salt from the cheese; and a nutty, garlicky flavor from the pine nuts and garlic.
The texture of homemade pasta is supposed to be a coarse paste. It is not to be a smooth paste like chutneys, which you find in many recipes and brands alike. I have outlined in the 'How to make' section the methods, both traditionally – using a mortar and pestle and also with a food processor
Basil is the heart of traditional basil pesto sauce. Still, you will find variations using herbs like arugula, spinach, and sun-dried tomatoes, while pine nuts can be substituted with almonds or walnuts.
The science in pesto
The science behind the rich sauce of pesto is a partial emulsion. An emulsion is created when molecules of two dissimilar elements, like oil and water, stick together to make a thick, creamy sauce.
While making pesto, the stirring required makes the emulsion, dispersing the oil molecules among the water released from fresh basil leaves. Pesto does not need an emulsifier, a third ingredient that holds water and oil together.
Pesto made in a food processor also forms an emulsion due to the hard mixing method of the processor. This happens faster than the mortar method, which requires continuous pounding to achieve the same result.
Such partial emulsion-based sauces like this can tend to separate when left alone for too long. To bring the emulsion back, you only need to stir them well again.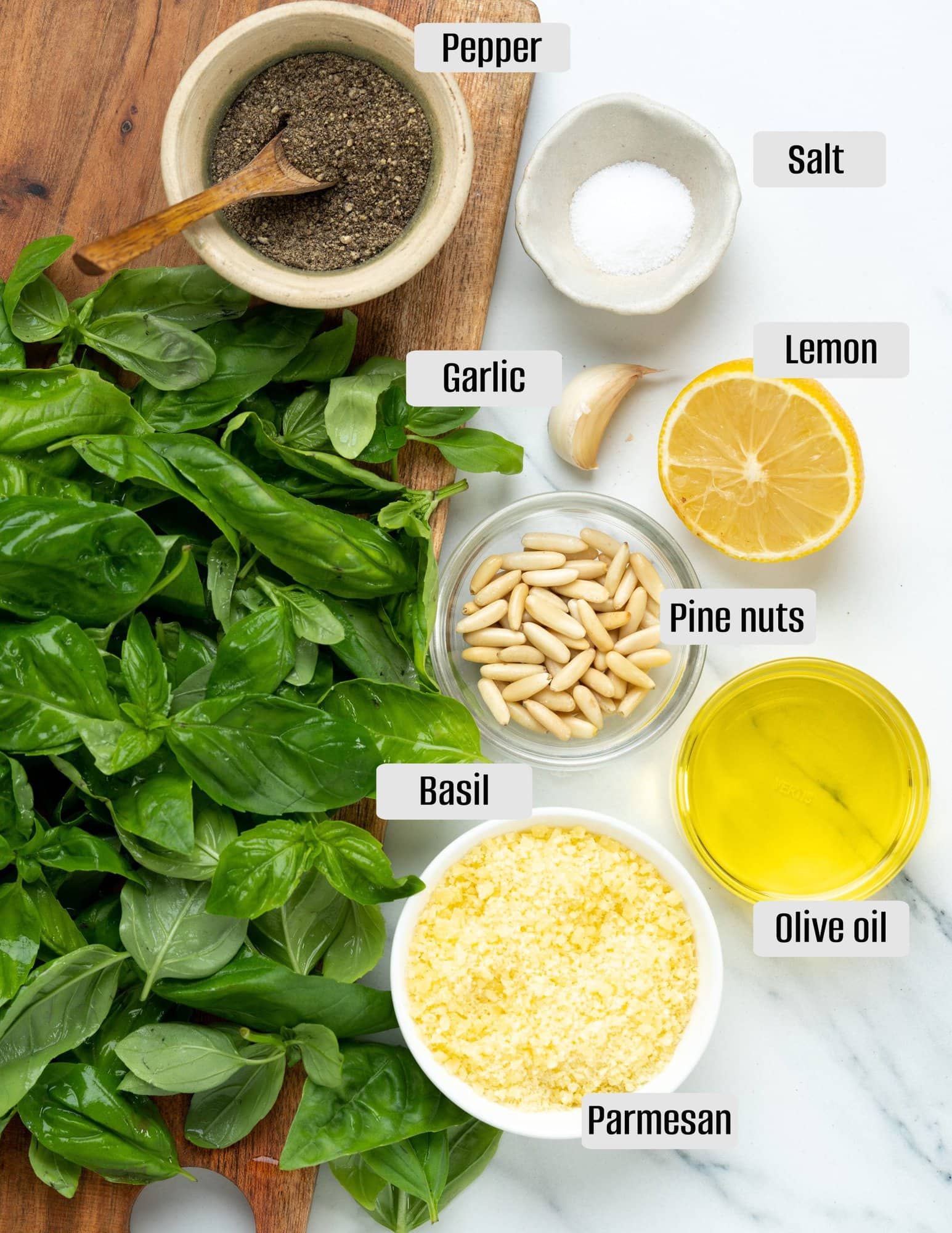 Ingredients needed
For pesto sauce
Some variations substitute some of these ingredients or add a few. I have listed the traditional list of ingredients to make pesto sauce. Pesto gets its magic umami from the freshness of the ingredients, so make sure the ones you get are fresh.
Fresh basil leaves – the herb that gives pesto its identity. Get basil that is fresh and looks green, and reject ones that are yellow or brown. Rinse basil leaves in cold water and allow them to dry.
Extra-virgin olive oil – the source of fat and responsible for the emulsion that makes this sauce thick and
Pine nuts – give that nutty taste and add a bit of creaminess to the pesto once grounded. Best toast the nuts before adding them to pesto. You may experiment using walnuts or almonds too.
Garlic – add a little to give the sauce an excellent depth and savory taste—one of my favorite aromatics used in most sauces and gravies.
Lemon juice – adds a slightly citrusy flavor and prevents the sauce from turning brown. Lemon juice is acidic and inactivates an enzyme that causes exposed herby sauce to turn brown.
Parmesan cheese – shredded parmesan adds saltiness, depth, and richness to the sauce.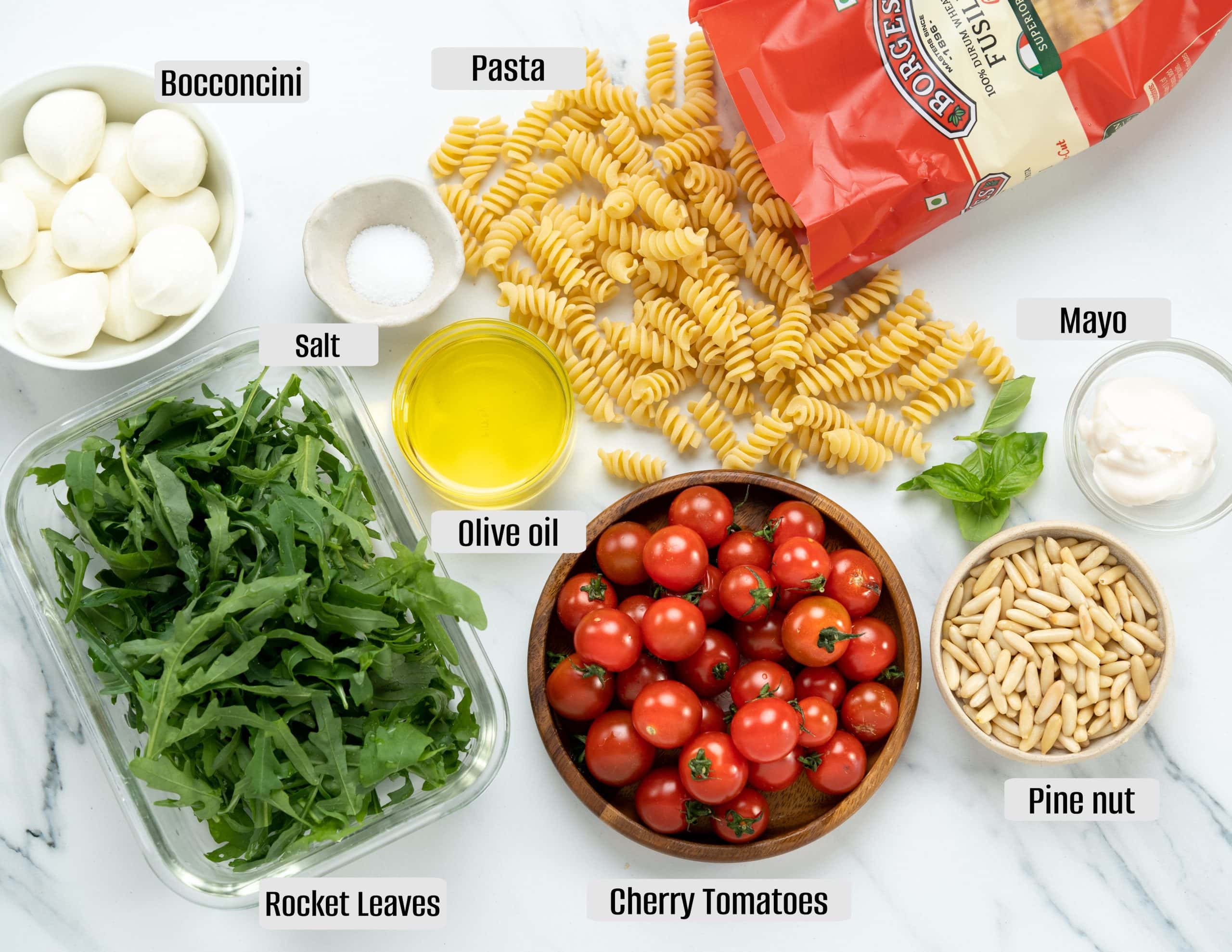 For pasta salad
Apart from the pesto that we make, the pesto pasta salad recipe needs the following fresh ingredients:
Short-sized pasta – To allow the pesto sauce to cling to the pasta, we use short-sized pasta like fusilli. The sauce clings to the spiral ridges or coils of fusilli. Other alternatives are penne, farfalle, shells, macaroni, and rigatoni. As per packet instructions, boil it in a large pot of salted water.
Olive oil – is used to mix with cooked pasta, so they do not stick together. It also improves the taste and flavor of the pasta.
Cherry tomato – is excellent in pasta due to its juicy and fresh flavor as they pop into your mouth.
Rocket leaves – are a healthy green that is best torn and added to pasta. They add freshness and a bit of tartness.
Bocconcini – fresh mozzarella pearls that are soft cheese and taste great in a salad. Feta cheese can be used along with or as a substitute.
Mayo – when mixed with the pesto, helps the pesto sauce stick to the pasta while making the pasta a bit creamy. Sour cream is another good substitute. They also do not let the pasta dry when you serve it cold.
Pine nuts – toasting pine nuts bring the nutty crunch prominently.
Salt & pepper – as per taste.
(optional): You may add chopped veggies like carrots or chickpeas to make it more fulfilling. Corn would be another good addition.
How to make fresh pesto pasta salad
Cook pasta Al dente
Pasta is cooked al dente in a large bowl of boiling water seasoned generously with salt. Follow the packet instructions on the right time to cook the pasta.
Once cooked, drain the pasta water using a colander. Drizzle on some extra-virgin olive oil and toss well. Allow the pasta to cool while you make the pesto.
Make pesto sauce
You can make pesto the traditional way, using a mortar and pestle. This is undoubtedly time-consuming, but it gives you a lot of satisfaction in producing the right texture and great flavors. The way to do this is to first pound the garlic and pine nuts with a bit of salt to form a paste. Salt helps by breaking them down and releasing moisture.
Add fresh basil leaves, a little at a time, and continue pounding them. Repeat it until you add all the basil. Toward the end, stir in the cheese and olive oil and mix everything.
The modern way is to use a food processor or blender. I prefer the food processor, which is best for chunky or textured pesto. The blender works too, but because of its more powerful motor, it is usually used to make super smooth things, like a puree.
You can run this in a food processor and stop when you see the pesto has a slightly grainy and coarse texture, which I prefer. Processing further will keep making the pesto too smooth, which is still ok.
Assemble the pasta salad
Put pasta in a large mixing bowl and pour the pesto sauce and mayonnaise on the cooled pasta. Next, add the chopped cherry tomatoes, halved bocconcini (small mozzarella balls), and toasted pine nuts. Sprinkle with salt and pepper. Toss everything well and check if the pasta is coated with the pesto.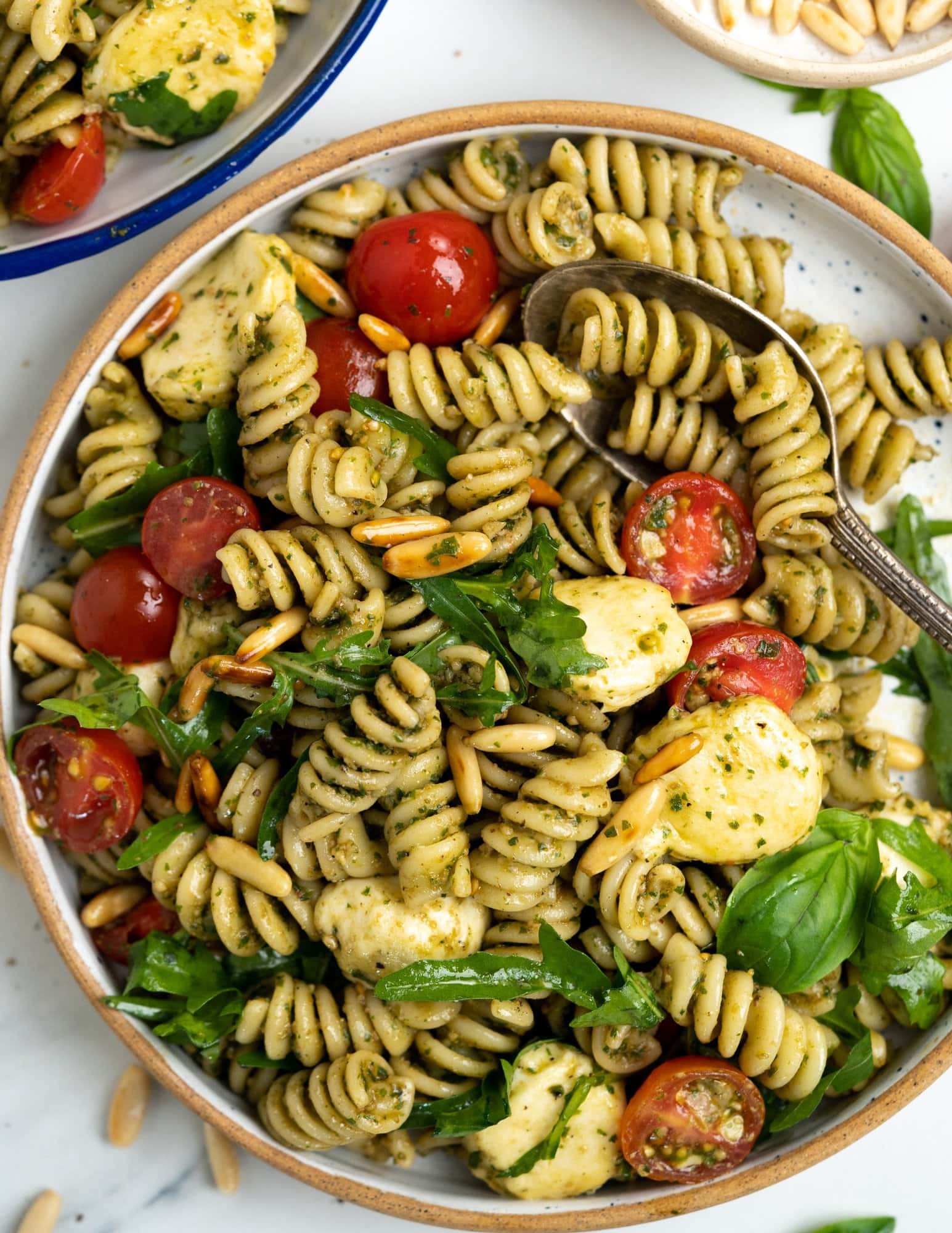 Storage instructions
Pesto pasta salad is often served cold, so it is essential to store it promptly to preserve its freshness. You can refrigerate it for three days, but it is not meant for freezing.
Store it in an air-tight container or wrap it properly so it does not absorb other flavors in the refrigerator. Pasta tends to become soggy by absorbing all the liquids in the salad, for which you may also store the pesto and mayo separately and toss everything around before serving or taking out.
What to serve with
Pesto pasta salad is made of fresh and rich ingredients and can be a light meal. It is delicious and versatile to be a good side dish, and you can pair it with:
Related pasta salad recipes
Cold Tuna Pasta Salad – an easy summer salad that is healthy with the goodness of tuna, macaroni, olive oil, and veggies.
Roasted Corn Pasta Salad – charred sweet corn and pasta tossed in a mayo-based dressing.
Creamy Tuna Pasta Salad – a summer meal with tuna, egg, macaroni, and peas tossed in a combo of mayo and Greek yogurt dressing.
Chicken Pasta Salad With Lemon-Herb Dressing – a delicious pasta salad with Grilled chicken, pasta, and veggies tossed in a refreshing Lemon-Herb Dressing.
Easy Ricotta Pasta Salad – a summer pasta salad for potlucks made with cherry tomatoes, bell peppers, and ricotta cheese.
Easy and Zesty Quinoa Salad – Quinoa, vegetables, and feta cheese with an olive oil vinaigrette.
Fall Roasted Sweet Potato Salad – A pecan and soft feta sprinkled over the garlic and Dijon mustard dressing.
Cucumber Strawberry Salad – The freshness of cucumber and the sweet juiciness of strawberry make a great combo.
Lemon Dill Potato Salad( No Mayo) – Dill leaves sprinkled over another toss of herby, lemony dressing, and potatoes.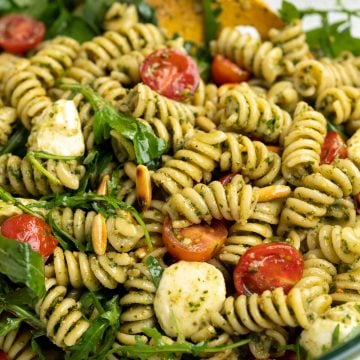 Pesto Pasta Salad
Pasta tossed in fresh basil pesto, cherry tomatoes, fresh rocket leaves, and bocconcini cheese. This summer salad is packed with fresh flavors from the pesto.
Equipment
1 Pot for cooking pasta in salted boiling water
1 Mixing bowl to toss around pasta ingredients
Ingredients
Pasta Salad
500 grams Pasta

Preferably fusilli, or other of choice

1

2 tablespoons Salt for cooking pasta
1 tablespoon Olive oil
1 tablespoon Mayo / Sour cream
1.5 cup cherry tomatoes
275 grams bocconcini drained(more if you prefer)
2 handfuls baby arugula (more if you prefer)
⅓ cup pine nuts
¼ teaspoon salt
¼ teaspoon pepper
Pesto
¼ cup pinenuts toasted
3 cups tightly packed basil leaves
1 garlic clove chopped
½ cup

grated parmesan



½ teaspoon salt
¼ teaspoon pepper
2 teaspoon

lemon juice



⅓ cup Olive oil
Instructions
Bring enough water to a boil. Season well with salt. Add pasta and cook al-dente. Drain pasta well in a colander. Place it in a large mixing bowl.

Drizzle a tablespoon of olive oil over pasta, toss well, and allow it to cool completely.
Make Pesto
Clean basil leaves. Discard hard stems. Drain well in case it is washed under water.

Add basil leaves, pine nuts, grated parmesan, chopped garlic, lemon juice, salt, and pepper to a food processor. Pulse 3-4 times. While the food processor still running, slowly add olive oil and keep processing until the pesto is quite smooth.
Pasta Salad
To the cooled-down pasta, add all the pesto and mayo. Mix well.

Add cut cherry tomatoes, halved bocconcini, arugula, and toasted pine nuts. Sprinkle 1/4 teaspoon of salt and pepper. Toss everything well to coat.

Serve!!
Nutrition
Serving: 1serving | Calories: 700kcal | Carbohydrates: 67g | Protein: 24g | Fat: 39g | Saturated Fat: 8g | Polyunsaturated Fat: 8g | Monounsaturated Fat: 14g | Trans Fat: 0.01g | Cholesterol: 25mg | Sodium: 2821mg | Potassium: 392mg | Fiber: 4g | Sugar: 4g | Vitamin A: 419IU | Vitamin C: 10mg | Calcium: 275mg | Iron: 2mg