This post may include affiliate links that earn us a small commission.
This recipe makes mayonnaise at home in minutes. Make this mayo with whole eggs for easy prep, and use a stick blender for a fail-proof and creamy, rich texture every time.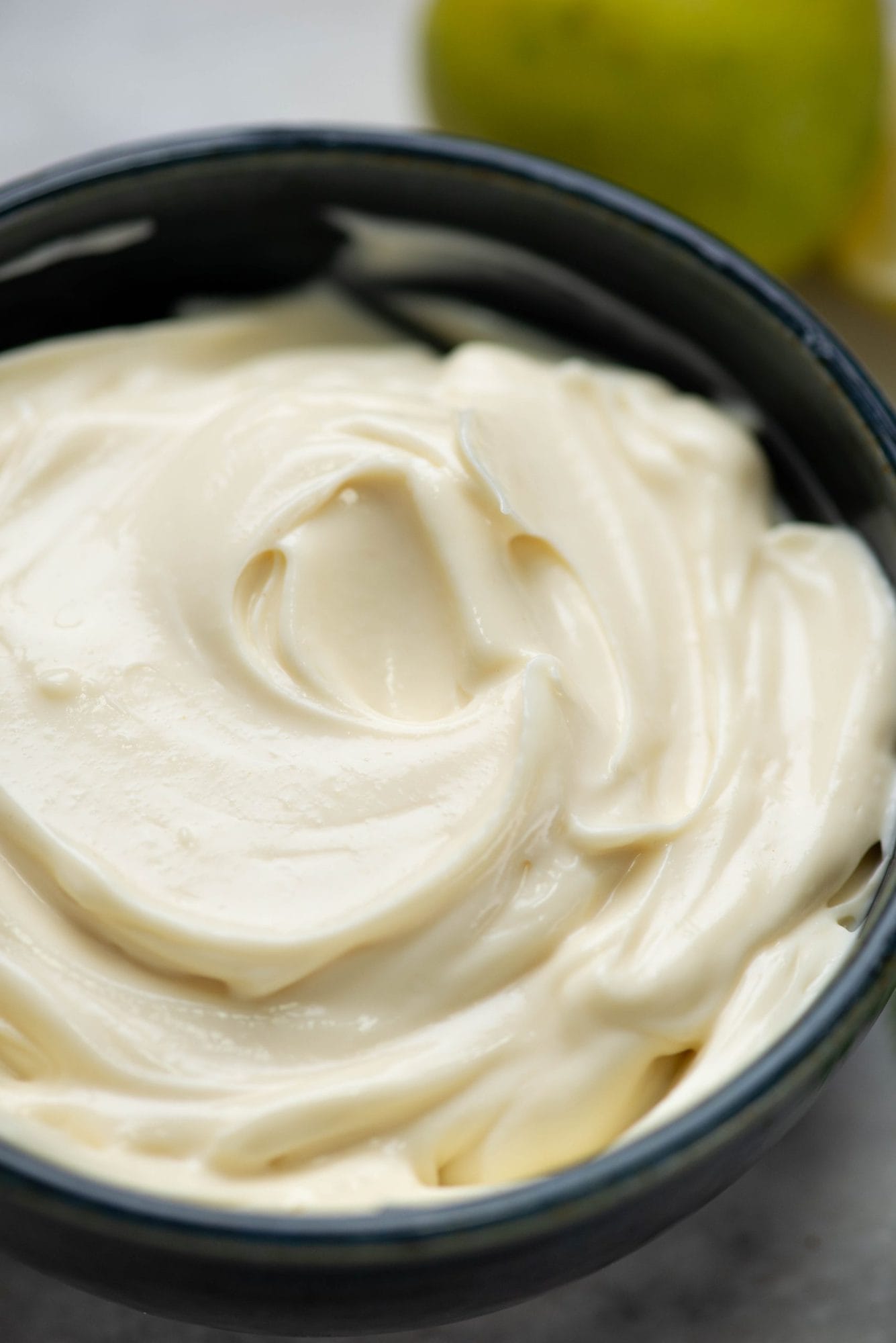 What is mayonnaise?
Mayonnaise comes from the French. And what a hit it has become! Now it is made and available the world over.
Flavours In Your Inbox
Subscribe for recipes straight to your inbox
Mayonnaise or mayo is a thick, creamy, cold dip or dressing. It is widely used as a dressing in salads, as dips with fries, or as a condiment or sauce in sandwiches, burgers, and hamburgers.
Mayo is also a thick saucy emulsion from drizzled oil into raw eggs. Emulsification, a procedure that forces different liquids to form a suspension and stay stable, is a natural phenomenon and is the force behind mayo.
Chemistry of Emulsification
Often, you will have two or more liquids that are un-blendable. They cannot mix as they do not dissolve in each other. Take oil and water as an example, as these do not dissolve.
But emulsification as a step helps fat/oil droplets suspend in water to form many well-known emulsions. An acid among the ingredients breaks down the fat into tiny bits, which can be dispersed throughout the watery liquid.
For emulsification to work, it needs fat and water. We have refined oil here for fat; the liquid is the watery substance of egg yolks.
It also needs an emulsifier and stabilizer. The proteins present in egg yolks act as emulsifiers that help bind the fat and water molecules. Also, eggs have a natural protein called lecithin. But you need an agent to break down the proteins and release lecithin. Here, lemon juice is the acid that helps break the proteins in egg yolks and stabilizes the mixture.
With eggs providing the emulsifier, mustard does the magic of stabilizing the emulsion. Dijon mustard is creamier, but you can use regular mustard.
But what triggers emulsification? The mixture of oil and eggs needs to be whisked continuously. You may use a conventional whisk or hand-held blender, or food processor.
While the whisking or blending needs to be slow or short, the trick lies in slowly adding the fat/oil, more like drizzling the oil into the mixture while whisking it.
You may know or wonder at all the science behind this simple procedure. Worry not; making this happen and creating rich, creamy, and delicious mayonnaise is easy at home.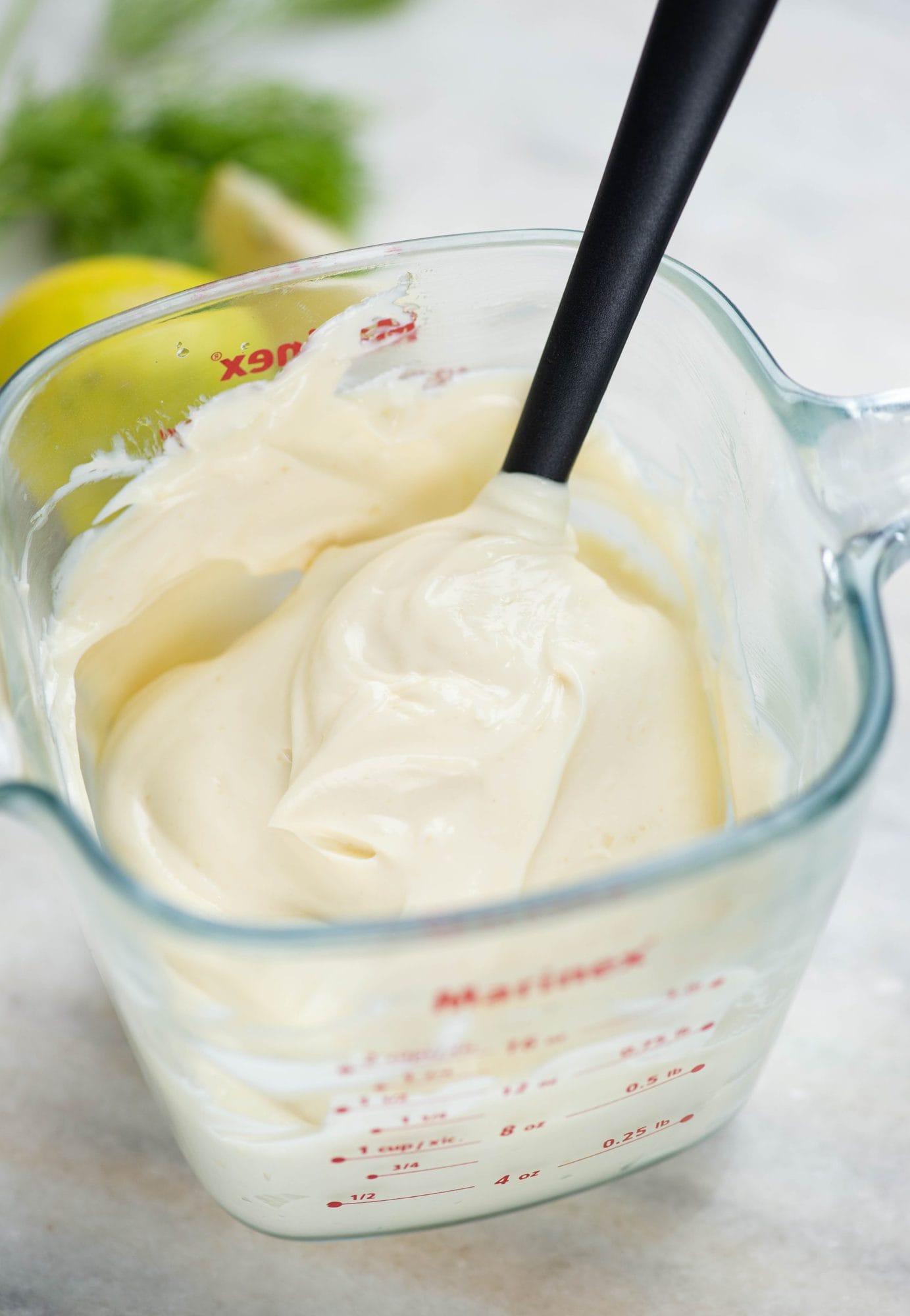 Right technique – Food processor Vs. Stick blender
I have made mayo many times using a variety of methods. I find making mayo using a stick blender is the best method. This technique is FOOL-PROOF. You can not go wrong with this. Get creamy mayo each time.
The conventional method is to whisk manually or use a food processor. If you use those, you must drizzle or add some oil ( a teaspoon at a time) while the mixture emulsifies. The trick here is to let the increasing mixture emulsify and maintain the suspension when more oil is added.
So what is the risk? Many times, the mayo may split while you do this. Once it does, the entire mixture is wasted. And this happens more time than many cooks let know.
You do not have to play slowly with the oil using the stick blender method. Just add all the ingredients and start blending. That saves time and effort.
An important technique here is to blend it in short bursts. Blend for 10 seconds. Rest. Blend again for 10 seconds. Rest. Keep doing that until you see the emulsion formed. Do not run stick blenders for long since they heat reasonably quickly.
It takes six bursts and a minute and a half to get the emulsion. What can be easier and quicker than this?
Congratulations! You did the job without taking the trouble and care of drizzled oil. You get this right every time.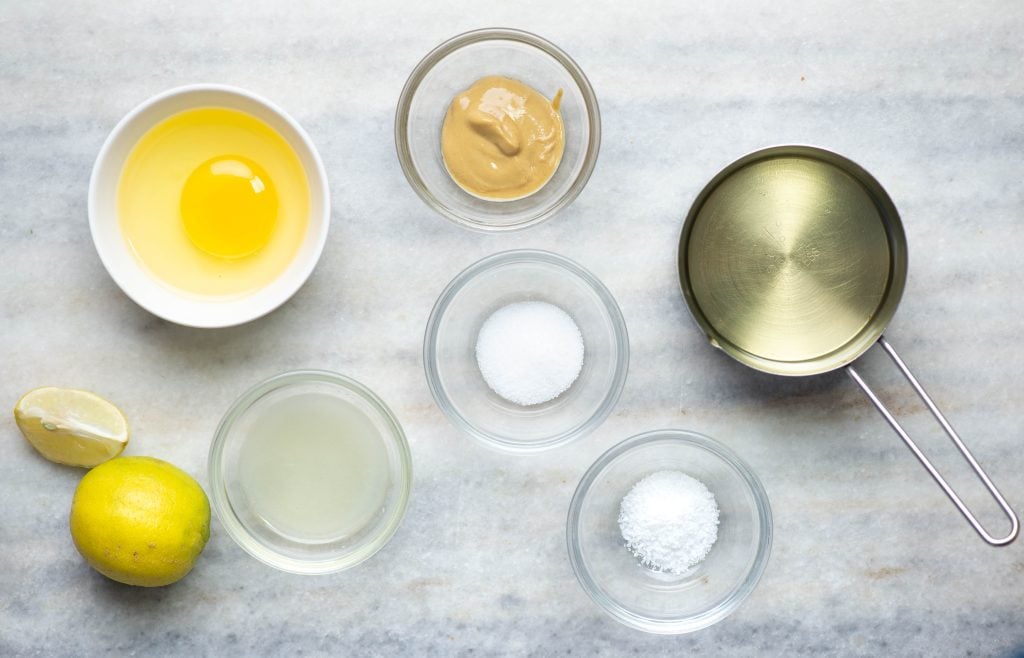 Ingredients
Whole eggs – We are going to use the yolks and whites together. You can buy raw eggs or pasteurized ones.
Olive Oil – Get good quality refined extra-virgin olive oil because you will benefit from the taste and flavor. Plus, refined oils will not have a strong or rancid taste that will break up the mayo. You can use other neutral-flavored and refined oils like avocado, sunflower, or canola.
Dijon Mustard – Added for both flavors and to keep the emulsion stable.
Lemon Juice – helps to keep the emulsion stable.
Salt – Brings out the flavors of the mayo.
Sugar (optional) – This is optional, but a little sugar balances the tartness of the mayo beautifully and tastes delicious.
How to make mayonnaise at home
Take a glass container or steel bowl with a narrow bottom. I used a stick blender to whisk away the mixture. This type of container shall also work if you use a food processor or blender.
Pour the eggs into the bowl. Add all the oil to it. Add salt, sugar, and lemon juice to the bowl. Now keep blending in short bursts until you see it mixed well.
Keep blending in bursts until you see the emulsion formed.
Pat yourself and serve rich, creamy mayo in a variety of ways.
Tips to make the best mayonnaise
Many recipes including the original version call for only yolks but whole eggs are used widely too. It makes the task easier as you do not have to separate them.
Additional egg whites in whole eggs have more protein too that helps in emulsification.
If you are worried about health risks from raw eggs, use pasteurized eggs instead. Not only are they healthier, they have a longer shelf life too.
Use a refined oil as anything else carries a risk of splitting the mayonnaise. Refined oils do not have a strong taste or flavor which would be too overbearing in the mayo which is mostly oil and egg.
You may also use a blend of refined or light oils.
You may substitute lemon juice with vinegar. These acidic ingredients help in breaking down the proteins and add flavor too.
Store
Once made, you need to seal the container, which keeps mayo. Also, it is advisable to keep it in the refrigerator. You can store mayonnaise in the fridge for not more than 4 days.
Since homemade mayo uses raw eggs, they tend to last shorter than store-bought commercial mayo made from pasteurized eggs with a longer shelf life.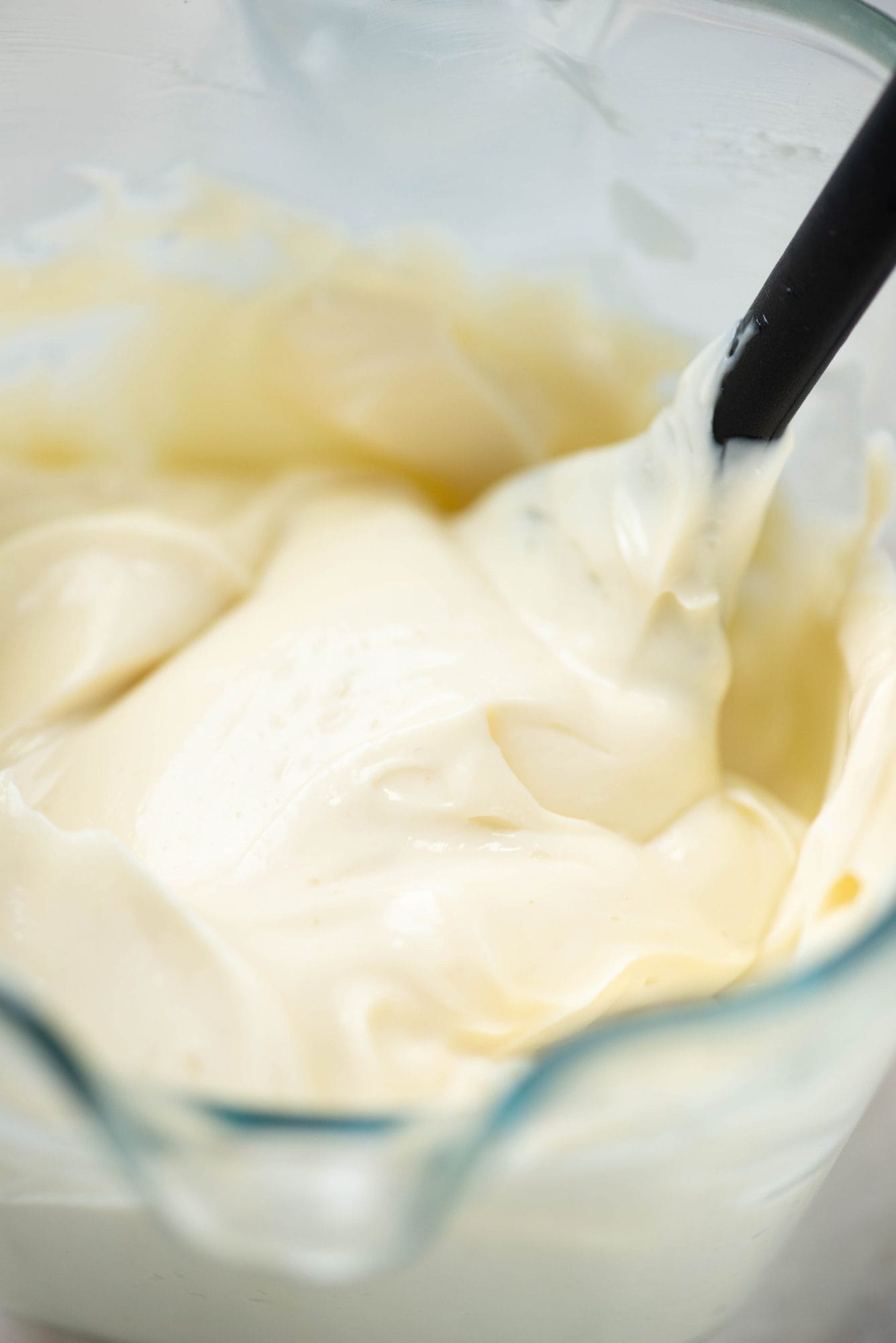 Frequently Asked Questions
How to fix broken mayonnaise
A broken mayonnaise needs an emulsion stabilizer. Mustards act very well to stabilize the emulsion. To key to fixing the mayo is to do so in parts.
 
Take a tablespoon of broken mayo and add a teaspoon of mustard and a little lemon juice. Beat it until it is creamy. Now, keep adding the rest of the mayo, one tablespoon at a time, and beat if required.
 
If you see it become oily at the surface, whisk it again by adding a tablespoon of water.
Is it safe to eat mayonnaise?
You can make your homemade mayonnaise much safer by using pasteurized eggs. Pasteurized eggs do not carry the risk of semolina or other bacteria or germs.
 
Store-bought mayo too uses pasteurized eggs, so they are safe to consume. Many brands do not use eggs at all and instead use emulsifying agents, so raw eggs' risk does not matter.
Can I make mayonnaise with just egg yolks?
Indeed, you can do that. I have used whole eggs for convenience without compromising the taste and texture of good mayonnaise.
 
The original recipe calls for egg yolks, giving your mayo a more rich texture. Many brands make mayo with just egg yolks, but yes, the yolks are not used in the correct ratio to oil and are thus diluted.
Is mustard a must for the mayonnaise?
You can make mayo without using mustard. Mustard gives mayo a nice flavor and stabilizes the emulsion further as it too has small amounts of lecithin. Thus the emulsion forms quickly too.
 
It may take a bit more time without mustard but would not vary significantly in texture. You will miss the enhancing flavor of mustard, though.
Can I not use raw eggs?
Using egg is a must in this recipe. As long as the egg is fresh or pasteurized it is safe to use raw eggs.
Recipes that use Mayonnaise
Italian Parmesan Peppercorn Dressing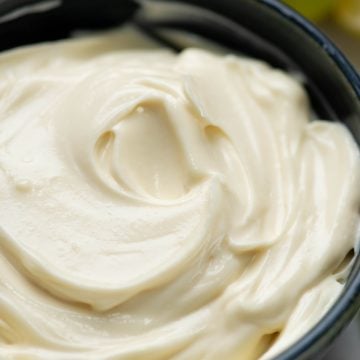 Homemade Mayonnaise
This recipe makes mayonnaise at home in minutes. Make this mayo with whole eggs for easy prep, and use a stick blender for a fail-proof and creamy, rich texture every time.
Ingredients
1 large Egg at room temperature
1 cup Neutral flavoured Oil (ref note 1)
1 teaspoon Dijon Mustard
1 tablespoon Lemon Juice
½ teaspoon Salt
½ teaspoon Sugar (optional) ( ref note 2)
Instructions
In a glass jar or a glass container with a narrow bottom, add Egg, mustard, lemon juice, salt, sugar (if using), and oil in the given order.

Place a stick blender in the jar with the blade of the blender touching the bottom of the jar. Press the on button and pulse for 10-15 seconds without moving the blender.

Once you see the mixture start to emulsify (thicken), move the blender up and down, pressing the pulse button at the same time to mix all the ingredients.

Scrap the bottom and side of the jar with a spatula to bring everything together.

If not using immediately, store in an airtight container and store it up to a week.
Notes
Use avocado oil/ neutral flavoured oil or light flavoured olive oil. Avoid unrefined extra virgin olive oil as it will give a bitter taste. 
Sugar is optional and you will not find any recipe using it. Personally, I prefer adding sugar as it gives a nice balance. 
Don't use a larger/wider jar. Make sure the width of the jar bottom is just a little wider than the head of the blender. 
This recipe will not work in a food processor. 
Nutrition
Serving: 1cup | Calories: 1330kcal | Carbohydrates: 2g | Protein: 4g | Fat: 147g | Saturated Fat: 21g | Polyunsaturated Fat: 16g | Monounsaturated Fat: 106g | Trans Fat: 1g | Cholesterol: 124mg | Sodium: 862mg | Potassium: 63mg | Fiber: 1g | Sugar: 2g | Vitamin A: 183IU | Vitamin C: 4mg | Calcium: 23mg | Iron: 1mg