This post may include affiliate links that earn us a small commission.
Egg Bhurji, also known as Anda Bhurji, is a scrambled egg side dish from the Indian subcontinent. Eggs and a few everyday spices with onions, tomatoes, and butter makes this street-style dish a national favorite.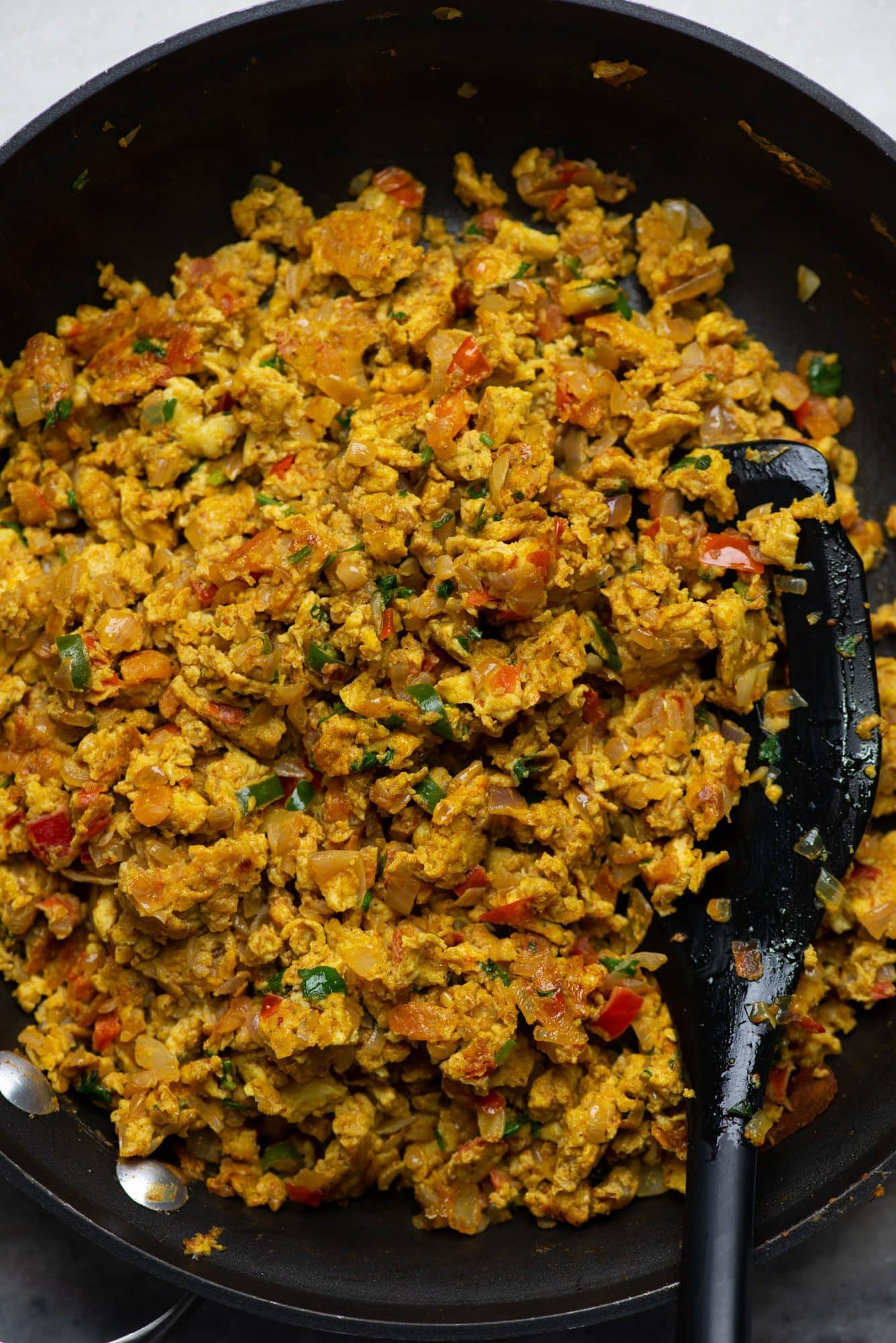 Looking for egg recipes from India? Please look at my Egg Fried Rice or Dhaba Style Egg Curry.
Flavours In Your Inbox
Subscribe for recipes straight to your inbox
Anda Bhurji
Along with omelets, Anda bhurji would be the second most popular and loved dish made from eggs. In terms of making time, too, it would place second. What about flavor? It beats the omelet by a wide margin.
Egg bhurji is so famous in the subcontinent. Among the Indian diaspora, you will not find a single eatery or restaurant that serves eggs, not whipping this in an instant and catering to its faithful customers.
Among dishes made from eggs, it is a favorite of many. While it is mainly a side dish in a meal, you can also use it as stuffing with flatbread to make a roll or sandwich.
This recipe brings you street-style bhurji, similar to the one you can find in your favorite corner eatery. Make it in a cast iron or wok with a bit of butter added to get a hit of nostalgia.
Egg bhurji vs Scrambled eggs
Egg Bhurji is not very different from scrambled eggs in the making. It just takes a bit more time as this is a dry dish. Remember scrambled eggs consistency and keep it on the heat for a few more minutes while sautéing it—results in a more dry but well-fried texture. The added spices and flavor from onions and tomatoes elevate it to a higher level.
Also, unlike scrambled eggs, the eggs for egg bhurji are not mixed with cream or milk. They are just beaten and kept aside and added at the last minute.
Scrambled eggs are a bit soft, and there is a hint of un-doneness to them. At least, that's how I prefer my scrambled eggs. It would be best if you did not make them dry. Egg bhurji, instead, is sauteed till the end until it is fully cooked and dry.
It is supposed to be dry to blend well with all the other spices and aromatics used to make them.
Ingredients
This recipe mimics your street style Anda bhurji has complex flavors from your everyday spices and masala for a simple dish. These are all ingredients that you can find in any Indian kitchenette.
Eggs – beat them with a fork or whisk.
Onion – sauteed onions bring a sweetness and a ton of flavor to the bhurji.
Garlic – flavor bomb used with ginger in most Indian recipes
Ginger – adds slight heat, aroma and flavor to the dish
Green chilis – for heat, add as per your tolerance.
Tomatoes – chopped tomatoes provide sourness and help in making the masala base.
Turmeric powder – used for color and taste.
Pav bhaji masala – this spice blend is versatile and elevates the flavor in bhurji and many dishes.
Red chili powder – added to get color and bit of heat.
Butter – added towards the end to get more flavor, testament to street-style bhurji.
Oil – use any refined oil especially sunflower.
Coriander Leaves – used for garnish on top of bhurji.
How to make
Beat eggs and prep – beat the eggs in a small bowl with a fork or whisk until the whites and yolk blend together.
Heat oil and sauté onions – Heat the pan and sauté onions first. Keep doing until it turns soft and slight pink. Add garlic, ginger and green chilis. Sauté them until you notice the raw smell is gone from garlic and ginger.
Add tomatoes – sauté it and let it simmer for some time. The tomatoes will wilt and become mushy by releasing water and making a base for all the following masala to stick to and blend in.
Masala base – now is the time to add turmeric, red chili and pav bhaji masala. Mix everything to the tomato onion base and sauté it until the masala loses its strong smell and blends with the base.
Pour beaten eggs – pour the mixture all over the masala. It will start forming clumps immediately on coming in contact with the hot masala. Sauté the mix for a minute or two until you see the clumps forming to small even shapes. This has to be done until the moisture dries up and you get a dry clumpy texture blended with all the masala.
Serve and garnish – garnish chopped coriander leaves on top.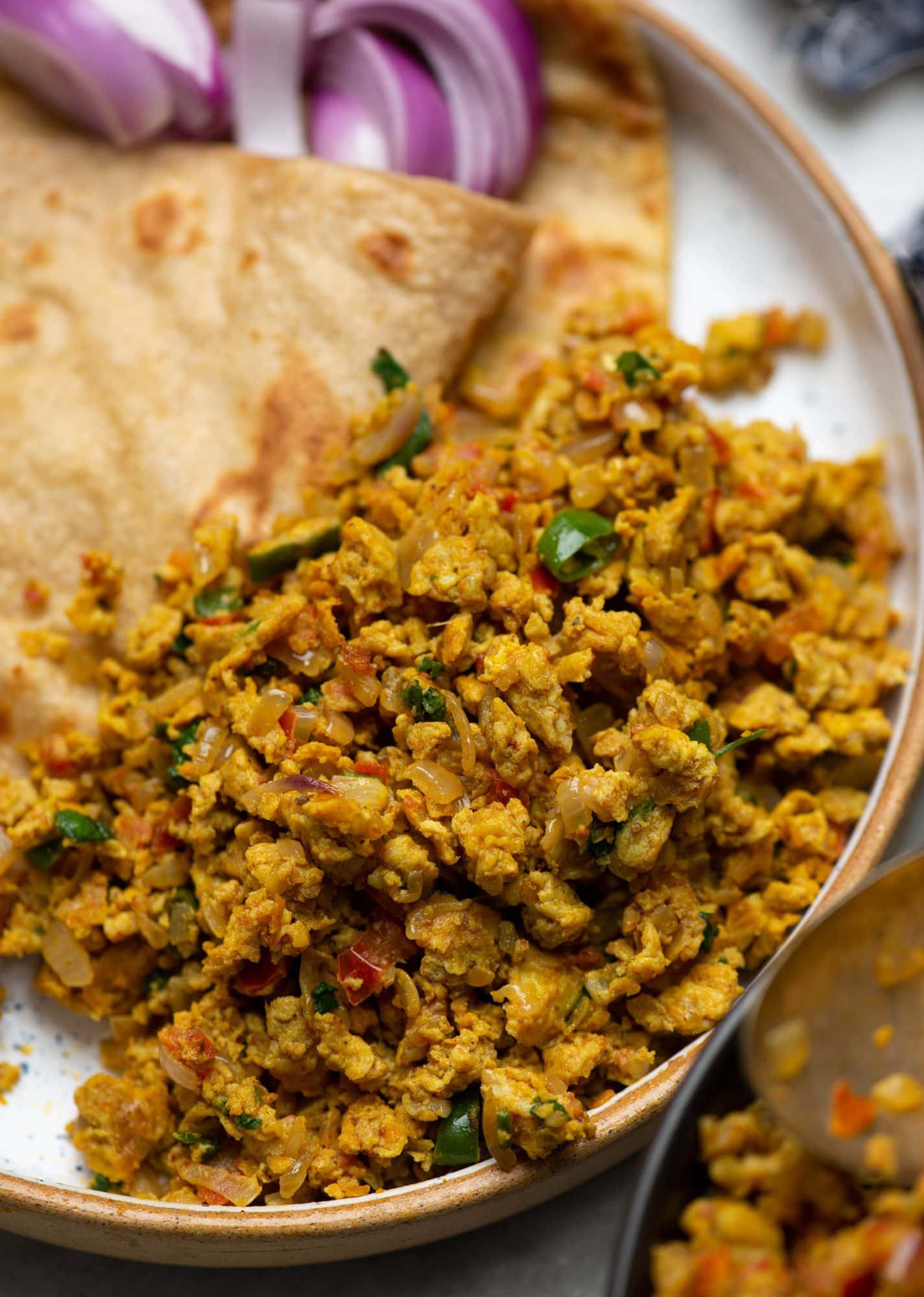 Serve With
Egg bhurji is a versatile dish. Serve it with plain white or brown rice, Jeera rice, One Pot Mushroom Rice, Veg Pulao Recipe, or as it popularly had with Indian flatbreads like Roti or Paratha.
You can also use this as a stuffing in Rolls (made of roti or all-purpose flour) and sandwiches. This is an easy savory stuffing that you can make.
Store
You can store this in an air-tight container for up to 4 days in the refrigerator. Just take them out and heat in a pan or, better still, microwave in a safe container for 30 seconds.
Egg bhurji is store-proof and tastes the same when it is slightly reheated. You may sprinkle a little water to add moisture if you see it become too dry.
Other Indian Recipes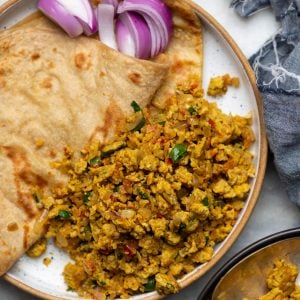 Street style Egg Bhurji
Egg Bhurji, also known as Anda Bhurji, is a scrambled egg side dish from the Indian subcontinent. Eggs and a few everyday spices with onions, tomatoes, and butter makes this street-style dish a national favorite.
Ingredients
6-7 large eggs
3 tablespoon Oil
2 medium Onion finely chopped
1 teaspoon Ginger finely chopped
2-3 Green Chilies Chopped
2 medium Tomatoes finely Chopped
½ teaspoon Turmeric Powder
½ teaspoon Red chili powder ref note 1
2 teaspoon Pav Bhaji Masala ref note 2
Salt to taste
2 tabelspoon Butter ref note 3
½ cup chopped Coriander leaves
Instructions
Break eggs into a bowl. Add two large pinch of salt. Using a fork beat well.

Heat oil in a skillet. Add finely chopped onion. Saute for 3-4 minutes until it is softened. Keep stirring to prevent it from sticking.

Add chopped green chilies, chopped ginger, and tomatoes.

Cook until tomatoes are softened. Smash the mixture with the back of the spoon to bring together the onion and tomato mixture. It will take around 4-5 minutes.

Add turmeric powder, chilli powder, pav bhaji masala, and salt. Mix well and cook for 1-2 minutes on low flame.

Sprinkle a bit of water if the onion mixture sticks to the bottom of the pan.

Add in beaten egg. let it cook unrest for 30 seconds. Then using a spatula mix in the egg with the onion-tomato mixture. Keep breaking any big lumps of egg mixture.

Switch off the flame when the egg is just done. Eggs will continue to cook even after you take off the pan from heat.
Notes
Because we are also adding green chilies, use red chili powder accordingly. Pav bhaji masala has also chili powder in it. 
 You can also use Chicken masala instead of Pav Bhaji Masala. 
If you can get hold of Amul butter I would always recommend it. 
 We are adding salt to the egg and also to the onion mixture. Amul butter also has salt in it. So add salt accordingly. 
Nutrition
Serving: 1serving | Calories: 245kcal | Carbohydrates: 10g | Protein: 11g | Fat: 18g | Saturated Fat: 3g | Polyunsaturated Fat: 4g | Monounsaturated Fat: 10g | Trans Fat: 1g | Cholesterol: 280mg | Sodium: 194mg | Potassium: 343mg | Fiber: 3g | Sugar: 5g | Vitamin A: 1005IU | Vitamin C: 15mg | Calcium: 62mg | Iron: 2mg