This post may include affiliate links that earn us a small commission.
A curry that has beat chicken tikka masala must be quite something. Meet Chicken Korma – the new favorite of many across the globe, especially the UK.
It is a regular in most Indian restaurants that serve North-Indian cuisine and other regulars like kebab, pulao, or tikka masala.
Flavours In Your Inbox
Subscribe for recipes straight to your inbox
Korma is a royal dish and goes back 400 years to the early 16th century. It is documented to have been served in the Mughal durbars of Shah Jahan. There are reports that it was served during the inauguration of the Taj Mahal. Now that's quite a history and one I bet few dishes can match.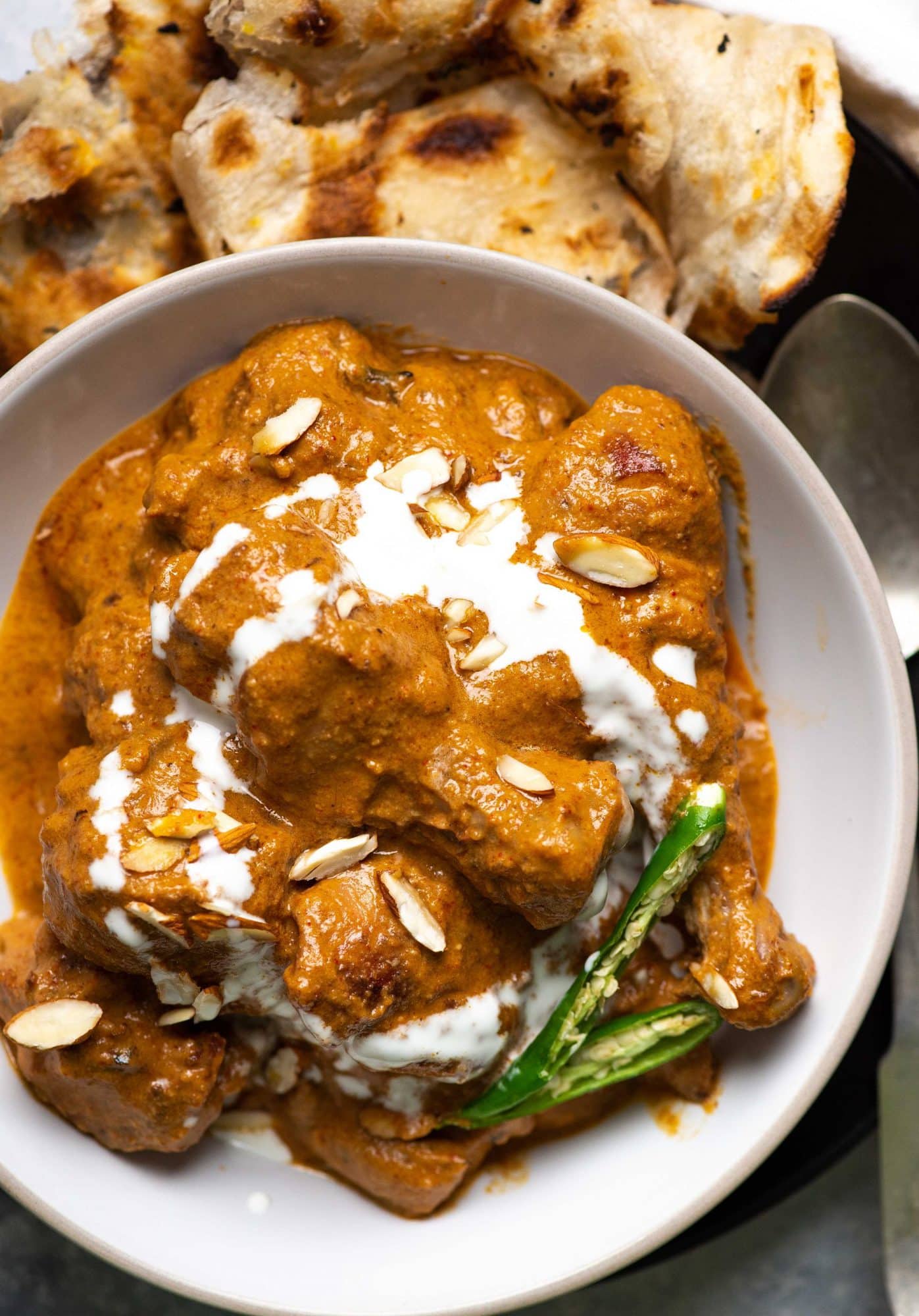 Korma vs Curry
Korma by itself is an Indian curry coming from Mughal cuisine. It differs from other Indian curries in its mildly spicy flavour and coriander, cardamom, and dry fruits. Indian curry is a family of dishes with a sauce/gravy that is spiced for heat – using cumin and pepper.
Like many other Indian curry dishes originating from the Mughal cuisine, the chicken korma recipe uses dry fruits like almonds, cashews, and other nuts and, in many cases, cream or milk. These give a very creamy and dense texture to the gravy.
Korma technique
The method used to make korma curry uses two techniques – Braising and tempering. This combination of techniques is quite peculiar to Indian chicken korma.
Chicken is initially cooked with spices in high heat and then left to simmer on low heat, similar to braising meat in western cuisine. In the end, the Korma must be tempered – certain spices sautéed in ghee or oil, including garlic and chili, are added to the dish and mixed.
Since the choice of meat here is chicken, you can cook it quicker than red meat.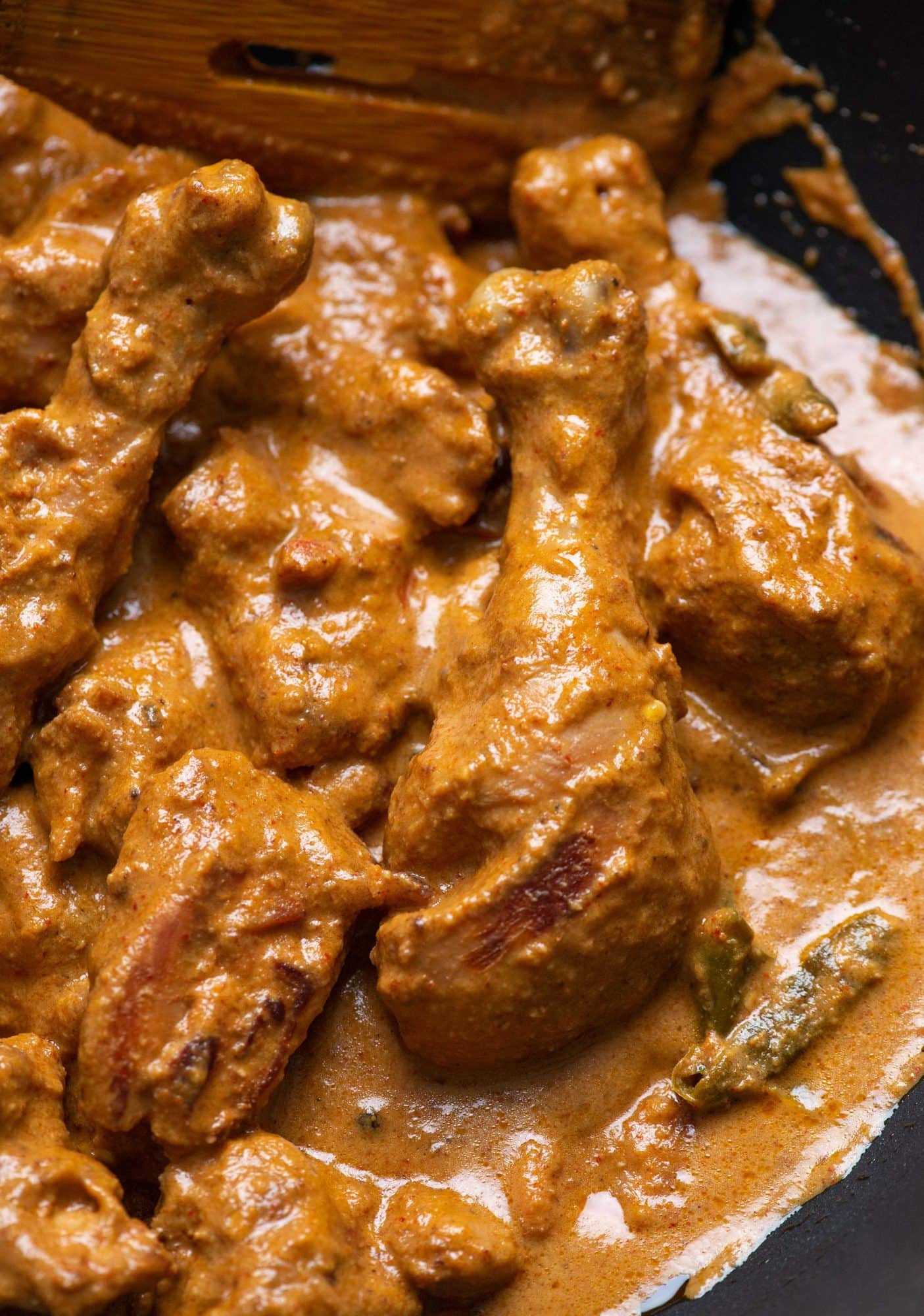 How to make
This famous curry found in restaurants worldwide has also given rise to packed Korma sauces available in stores. I would advise you to make the korma at home instead, where you can get much more flavor and with no preservatives.
Though the ingredients may seem too many, korma is not difficult to make. Just follow the recipe steps, and you will make a delicious and easy chicken korma dish for dinner.
Prep
Marinate chicken with spices and yogurt.
Fry onions
Make a paste of onions and yogurt in a grinder.
Make a paste of 8 soaked almonds
Cook Korma
Heat a skillet, add ghee and once it melts, add whole spices
Add marinated chicken and cook on high heat for 5-6 mins.
Add green chilli, toasted desiccated coconut, onion paste, and almond paste. Mix well and stir it in high heat for 5 minutes to caramelize the masala.
Add water, a bit of sugar, and salt to taste.
Cover and cook for 15 minutes on low heat.
Switch off-gas. Add garam masala and nutmeg and mix.
Tips
Add bone-in chicken pieces. Recommend not to mix bone-in and boneless chicken pieces. Boneless chicken tends to cook early and can be easily overcooked to become tough by the time other pieces are cooked through.
Marinate chicken for atleast an hour. It is better to leave chicken marinated overnight if you can.
After the initial high-heat cooking along with masala and mixing them with the chicken, let it cook on low heat for the rest of the time. Cooking chicken on low heat breaks down the protien and makes the meat tender.
Use kewra water for a wonderful aroma and rich flavour.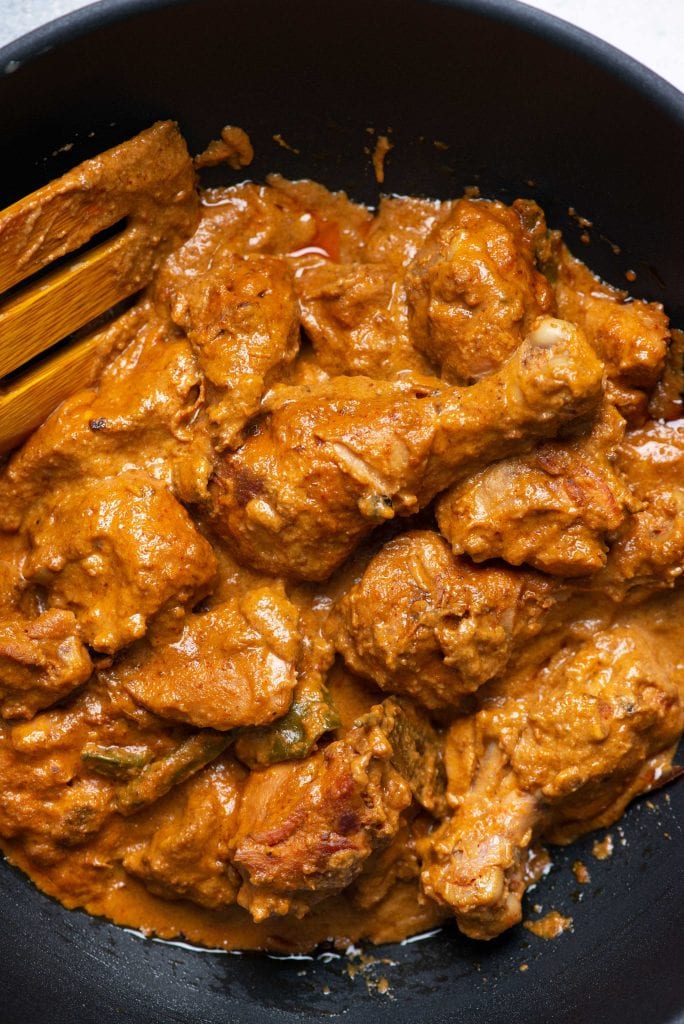 Serve with
Chicken korma curry is usually served with Indian flatbreads like Naan, paratha, or roti. Spread Ghee on these flatbreads before serving, which increases the flavour and keeps them soft.
It also goes well with rice, especially served during lunch in many places in India. You can use plain steamed rice, basmati rice, or Jeera rice.
Raita (salad made with curd) usually accompanies Korma curry in an Indian meal.
Store
You can store Marinated chicken for up to 24 hours in the refrigerator. Store cooked korma in an air-tight container for up to 4 days.
It is advisable to let it rest outside until 30 minutes before heating it. You can heat it in the microwave for up to a minute after taking it out of the refrigerator.
Other Indian Curries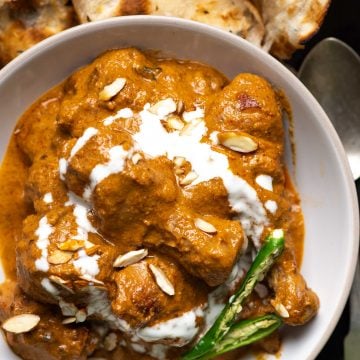 Chicken Korma Recipe
Ingredients
1 kg Chicken with bone
2 large Onions Thinly sliced
½ cup Oil To fry Onion
½ cup Thick Curd whipped
2 tablespoon Desiccated Coconut
8 Almonds/ Whole Cashew
2 Green Chilies
2 tablespoon Ghee
½ teaspoon Sugar
½ teaspoon Garam masala
⅛ teaspoon Nutmeg a big pinch
Whole Spices
4 Green Cardamom
3-4 Cloves
1 Black Cardamom
1 whole Mace
1 Bay leaf
1 inch Cinnamon
5-6 Black peppercorn
For Marinating Chicken
1.5 tablespoon Ginger Garlic Paste
2 tablespoon Curd whipped
2 teaspoon Red Chilli Powder
1 teaspoon Kashmiri Red Chilli Powder
1 tablespoon Coriander powder
1 teaspoon Garma Masala
1 teaspoon Salt
Instructions
Marinate Chicken
Clean Chicken. Add ginger garlic paste, curd and rest of the spice powder. Marinate for at least 4 hours up to 24 hours.

Soak almond/Cashew in warm water for 20 minutes. Make a puree with water.

Toast coconut until light golden brown in colour and aromatic.
For Fried Onion Paste
Heat oil in a deep pan. Add thinly sliced onion. Add a pinch of salt. Cook on medium to high heat for 7-8 minutes. When the Onions have softened reduce the heat and cook further. Keep stirring in between for even browning. When the Onion is light golden brown in colour, remove from the pan, drain extra oil and keep it aside.

Keep in mind not to brown the onions too much, else it will turn bitter. Once the onions are out of the pan, while resting the colour will darken a little more.

Make a thick paste of fried onion and curd.
Making Chicken Korma
Take out the marinated chicken from the refrigerator and let it rest for 30 minutes on the kitchen counter.

In a kadhai/skillet heat ghee. Add whole spices and cook for 30 seconds until aromatic.

Add marinated chicken and stir fry it on high heat for 7-8 minutes. Keep stirring to avoid burning. The chicken will get nicely seared with few brown spots here and there.

Add slit green chile, toasted coconut, brown onion paste, almond puree. Mix well and cook for 5 minutes on high heat.

Lower heat, add 1.5 cups of water, sugar and salt to taste(remember there is salt in marination). Mix well, cover and cook on low heat for 20 minutes.

At the end add 1/2 teaspoon on garam masala and 1/8th teaspoon nutmeg. Mix well and switch off the gas.
Notes
Chicken with bone ( preferably leg and thigh) pieces works the best. I wouldn't recommend using boneless chicken because the cooking process is longer and boneless chicken will get overcooked. 
 Keep a closed eye while frying the onion, as they will turn from light brown to dark in no time. 
You can add a few drops of kewra water towards the end. Kewra water has a very strong flavour, so if you like the flavour just add a few drops towards the end. 
Nutrition
Serving: 1serving | Calories: 477kcal | Carbohydrates: 10g | Protein: 34g | Fat: 33g | Saturated Fat: 12g | Polyunsaturated Fat: 6g | Monounsaturated Fat: 13g | Trans Fat: 1g | Cholesterol: 140mg | Sodium: 580mg | Potassium: 494mg | Fiber: 3g | Sugar: 4g | Vitamin A: 479IU | Vitamin C: 11mg | Calcium: 83mg | Iron: 2mg